Walking boots are a key piece of outdoor gear for enjoying your time hiking and hillwalking. Your ankles will thank you for the extra protection, your endurance upped, and your grip enhanced, which means that you can spend more time embracing the great outdoors.
There are many different makes, models, and types of walking boots, from classic leather boots to modern hiking shoes. This can make picking the right pair appear daunting. But it isn't. It's simply a case of knowing what kind of hiker you like (fastpacking, alpinism, long-distance trekking, etc.) and choosing from the appropriate range of options. And that usually comes down to fit.
If you like fastpacking and alpinism, for example, it would be prudent to have a pair of lightweight boots or hiking shoes and mountain boots. These endeavours are very different from one another, and so too are the requirements for the suitable types of footwear.
The best walking boots at a glance:
Best walking boot 2023: Scarpa Rush Trk Pro GTX – View on Snow and Rock
Best lightweight walking boot: Inov-8 Roclite G345 GTX V2 GTX – View on Inov-8
Best budget walking boot: Keen Circadia Waterproof Boot – View on Keen Footwear
Best women's walking boot: AKU Trekker Lite III GTX – View on Alpine Trek
In this guide, we explain the different types of walking boots and what to look for when buying hiking boots. This will help you quickly hone in on exactly the right walking boots for you. We've also gone one further and recommended our best-tested walking boots from each category.
The best walking boots in detail:
Best walking boot 2023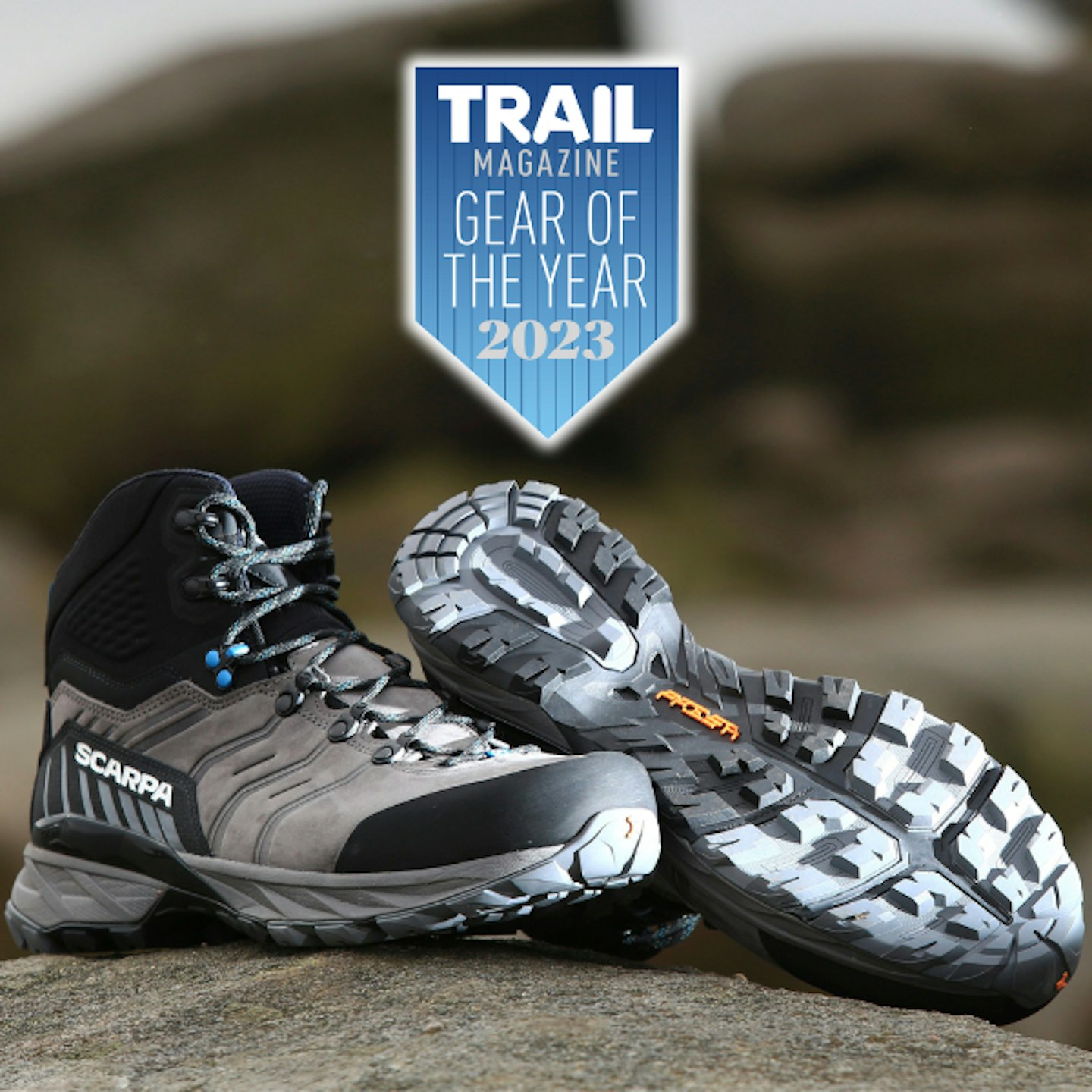 Live For The Outdoors
Description
Ellie loved the new women's Rush Trk Pro straight out of the box, so much so that we've given them
Pros
Impressive performance for a relatively lightweight boot
Can be re-soled
Good cushioning
Excellent grip
Cons
Boot last won't suit everyone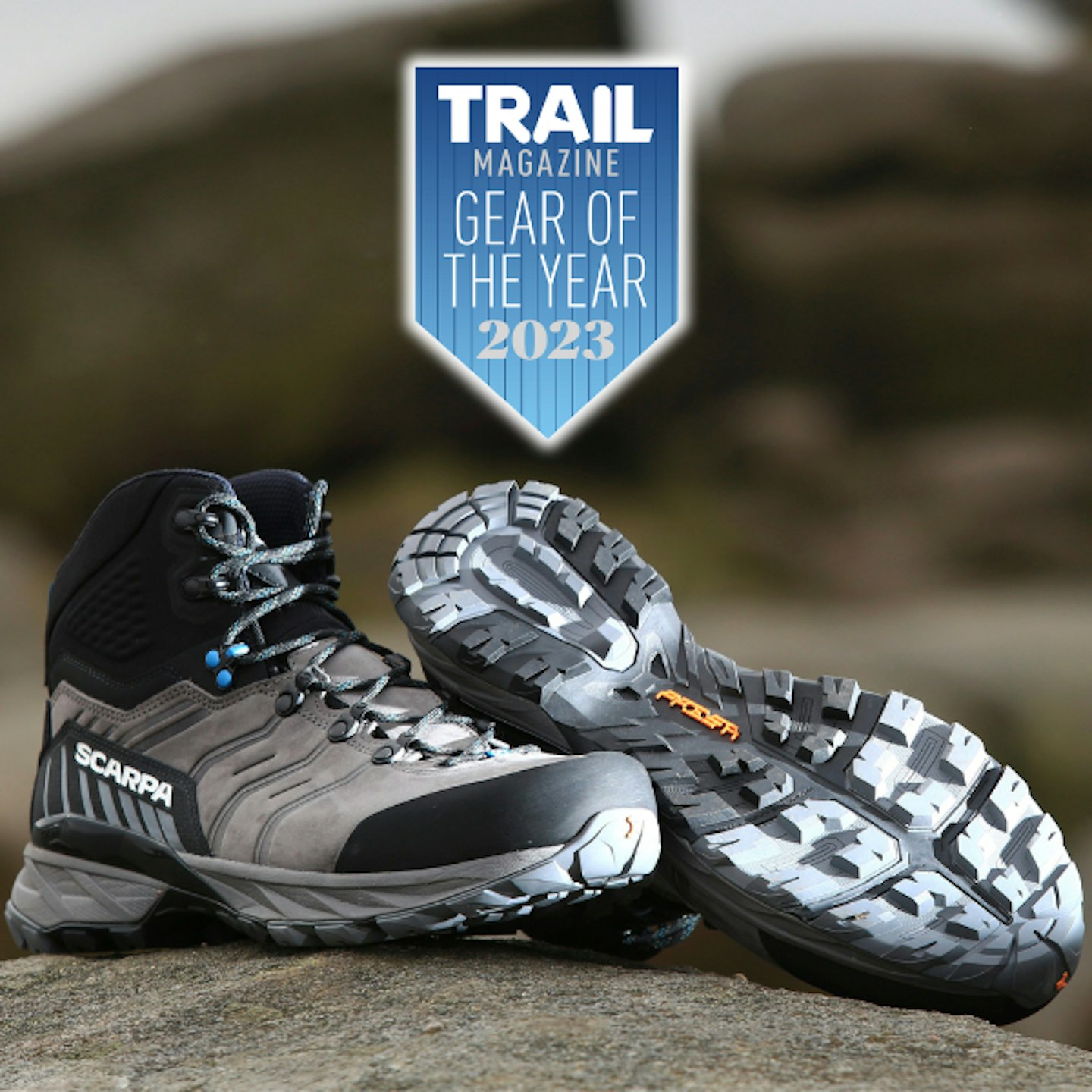 Best winter walking boot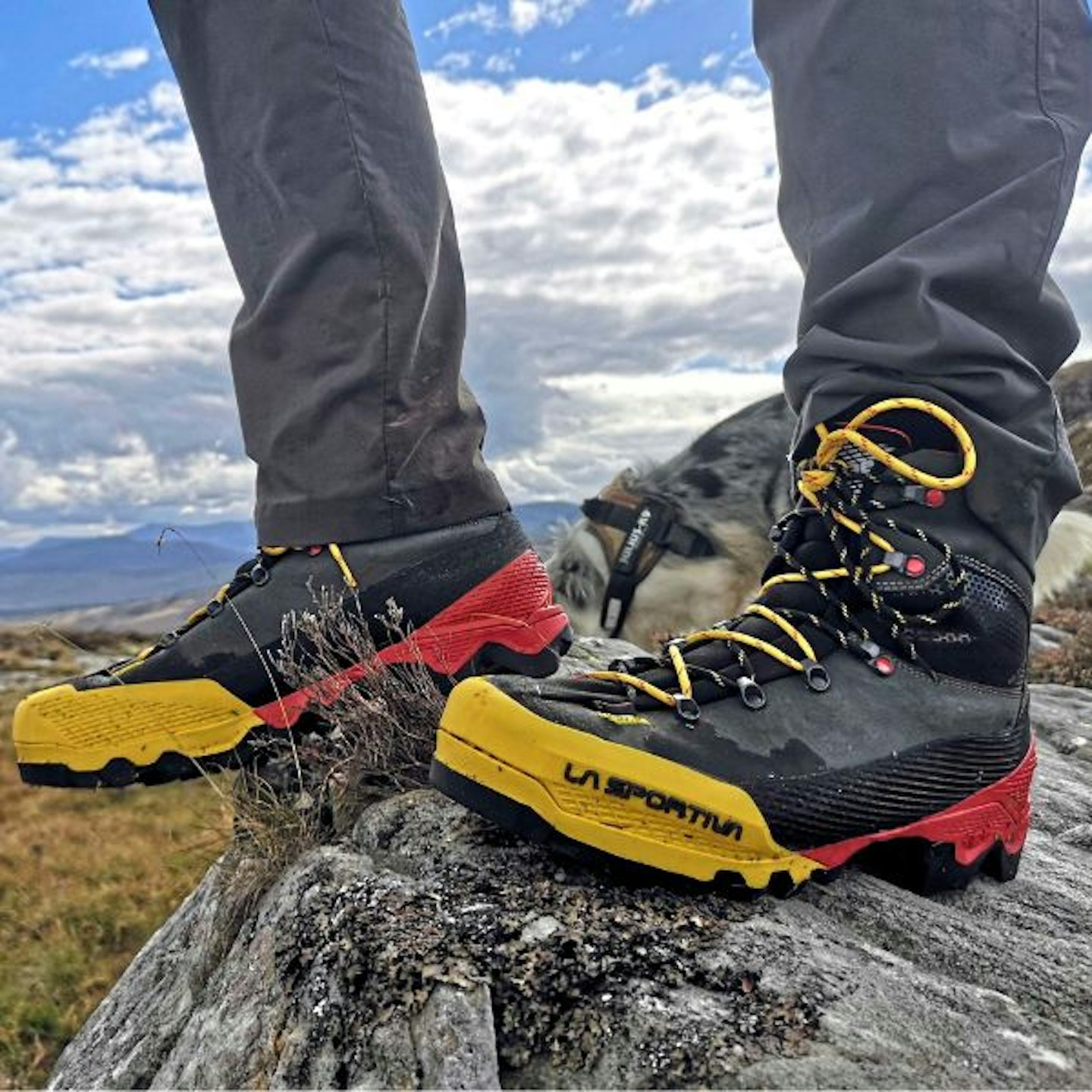 Live For The Outdoors
Price:
£290.95 (RRP £345)
Description
The Aequilibrium LT GTX is the ideal mountain boot because it perfectly balances walking comfort,
Pros
Ideal traits for winter hillwalking
Soft collar for maximum wearing comfort
Lighter than many winter/mountain boots
Cons
Less precise fit with crampons than others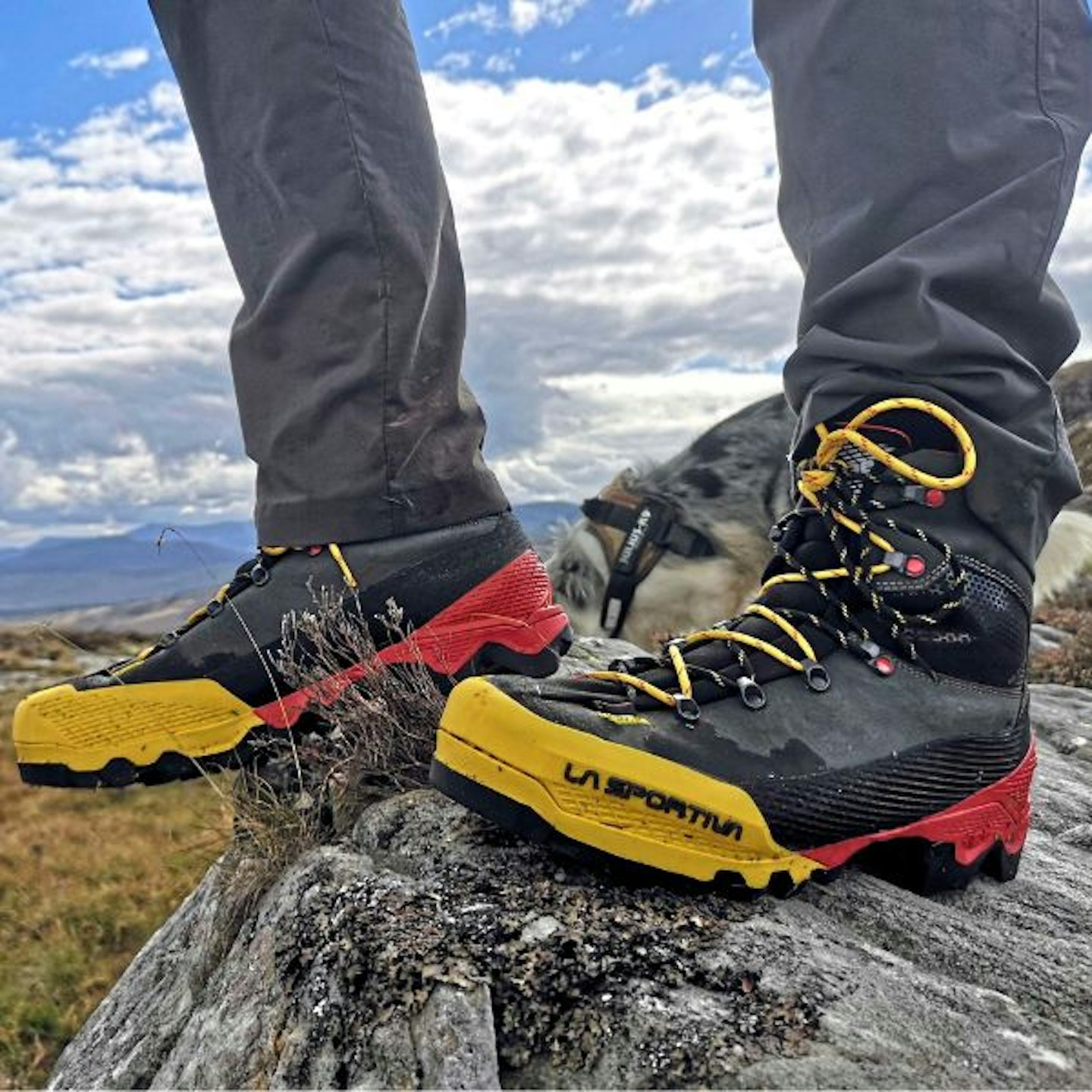 Best lightweight hiking boot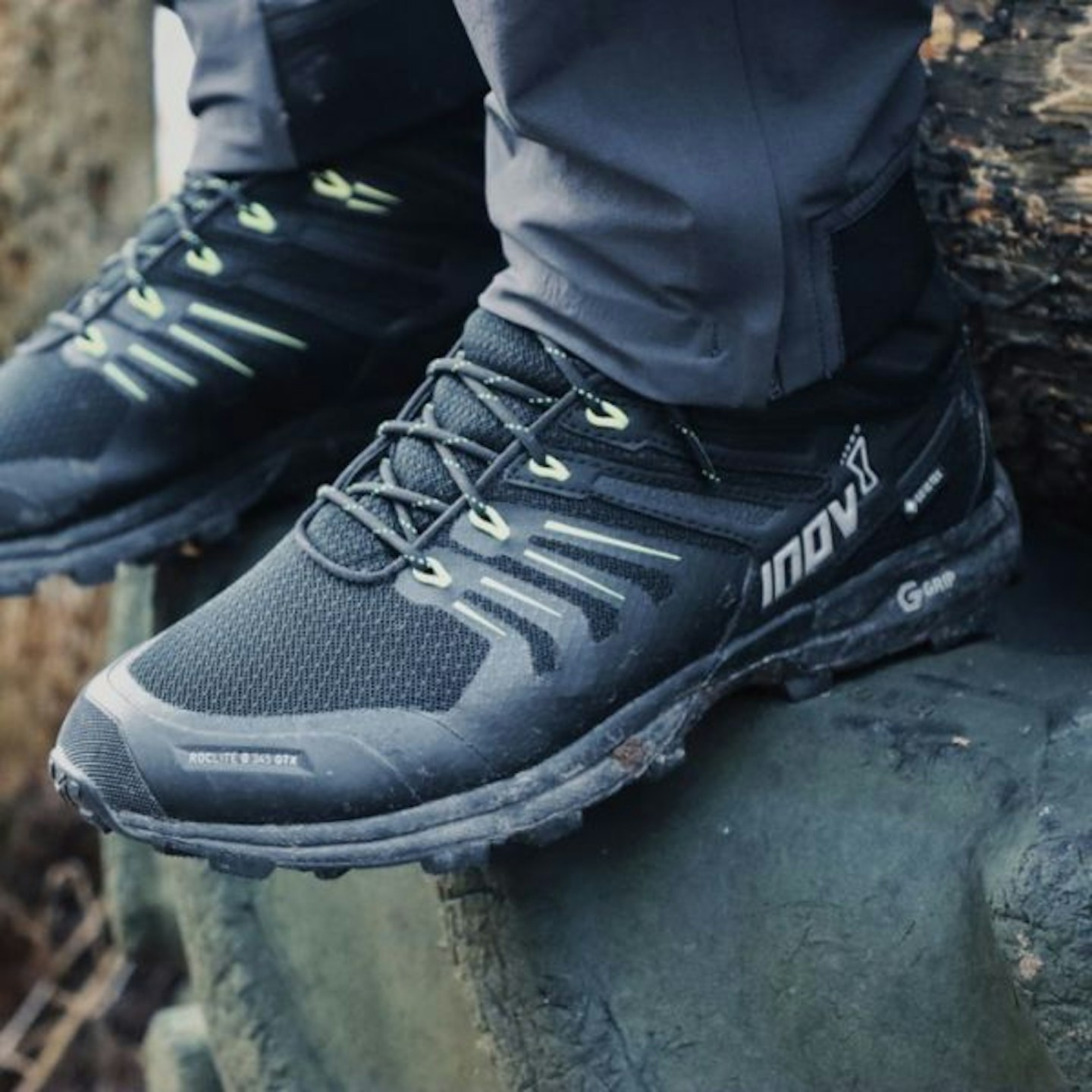 Inov-8
Description
This is a very deceptive hiking boot because it fits more like a trail running shoe. But it's
Pros
Deceptively tough
Very lightweight
Vegan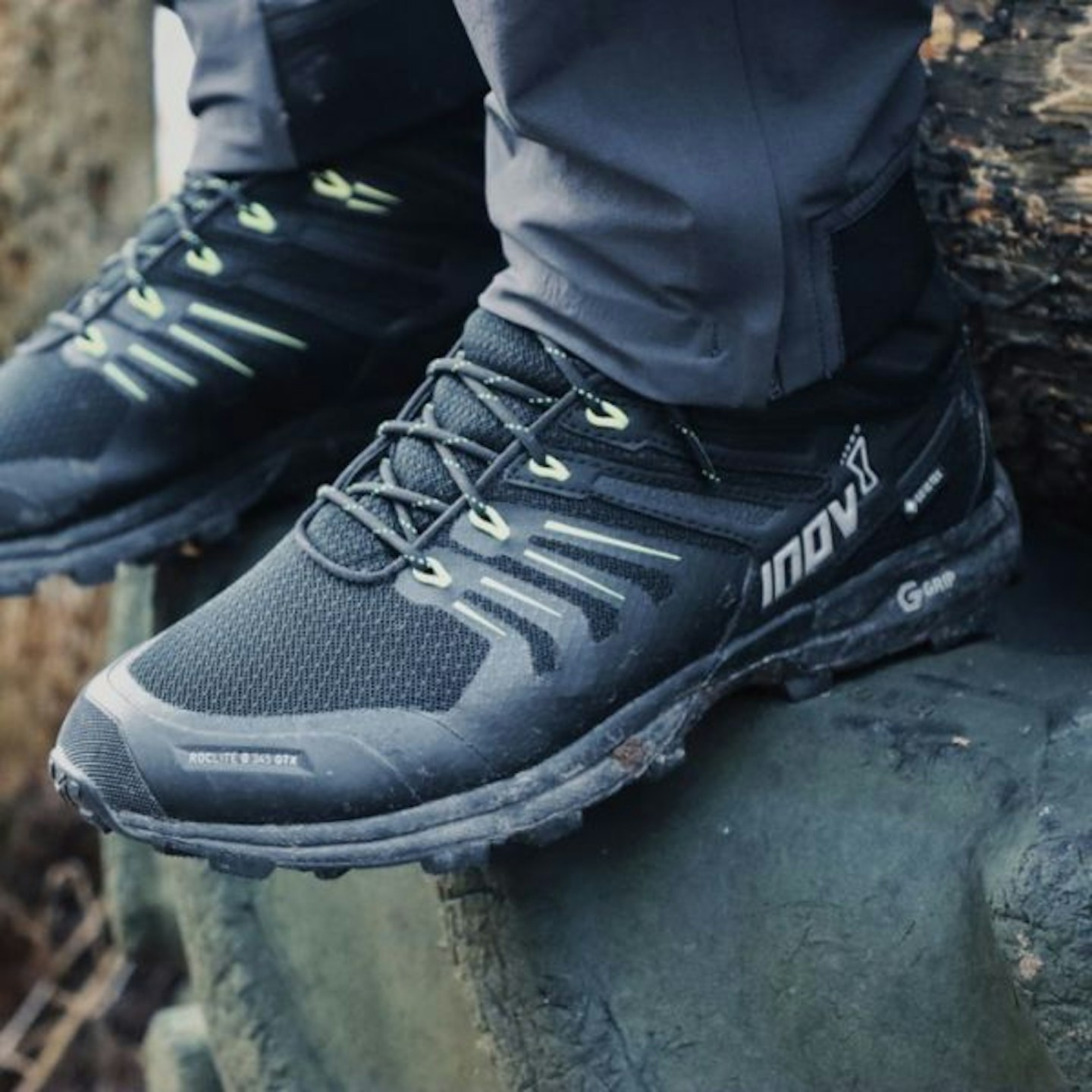 Best budget walking boot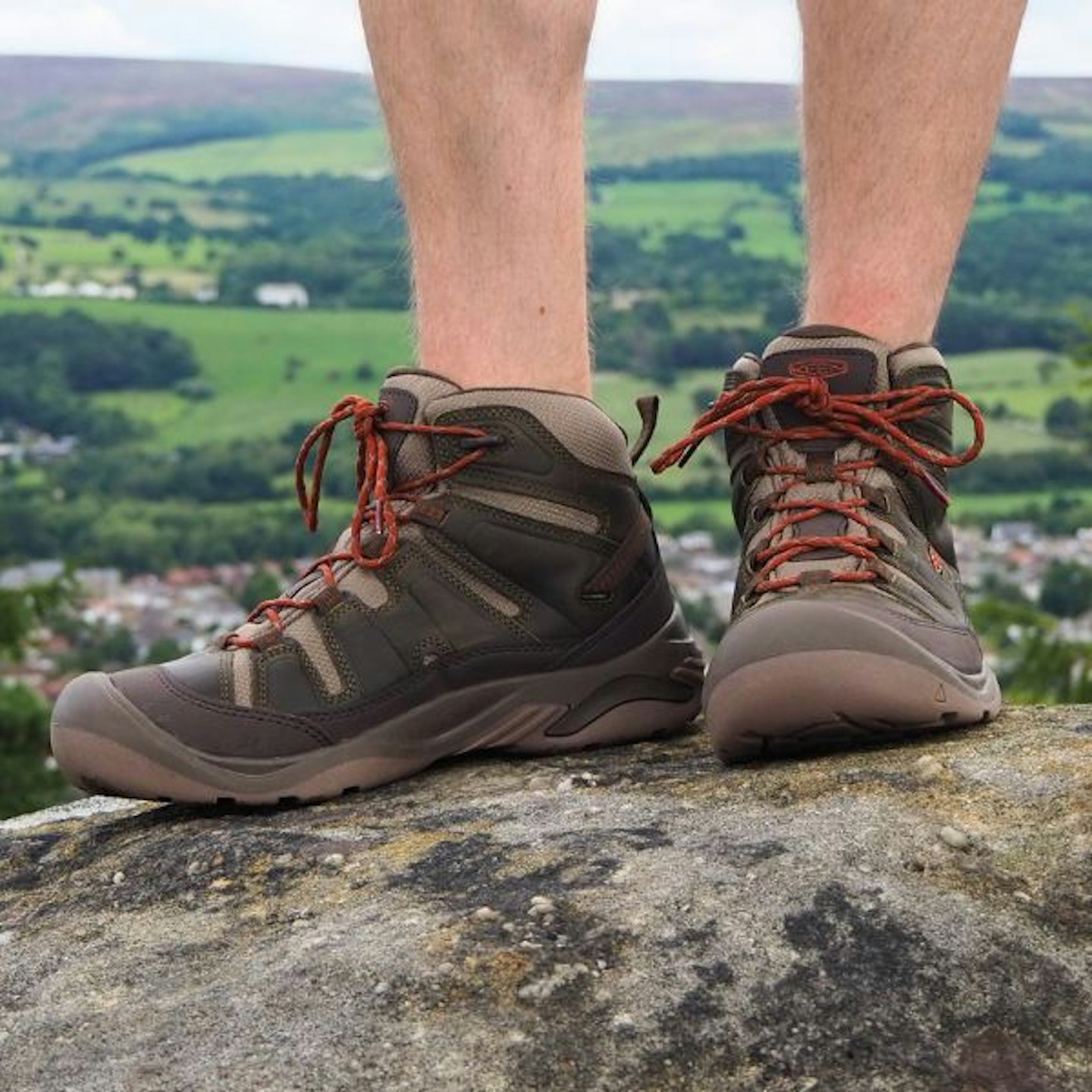 Live For The Outdoors
Description
Where some hiking footwear are star performers in some areas and quite sub-par in others, the Keen
Pros
Wider fit
Sustainable
Durable
Cons
Not the best grip on muddy terrain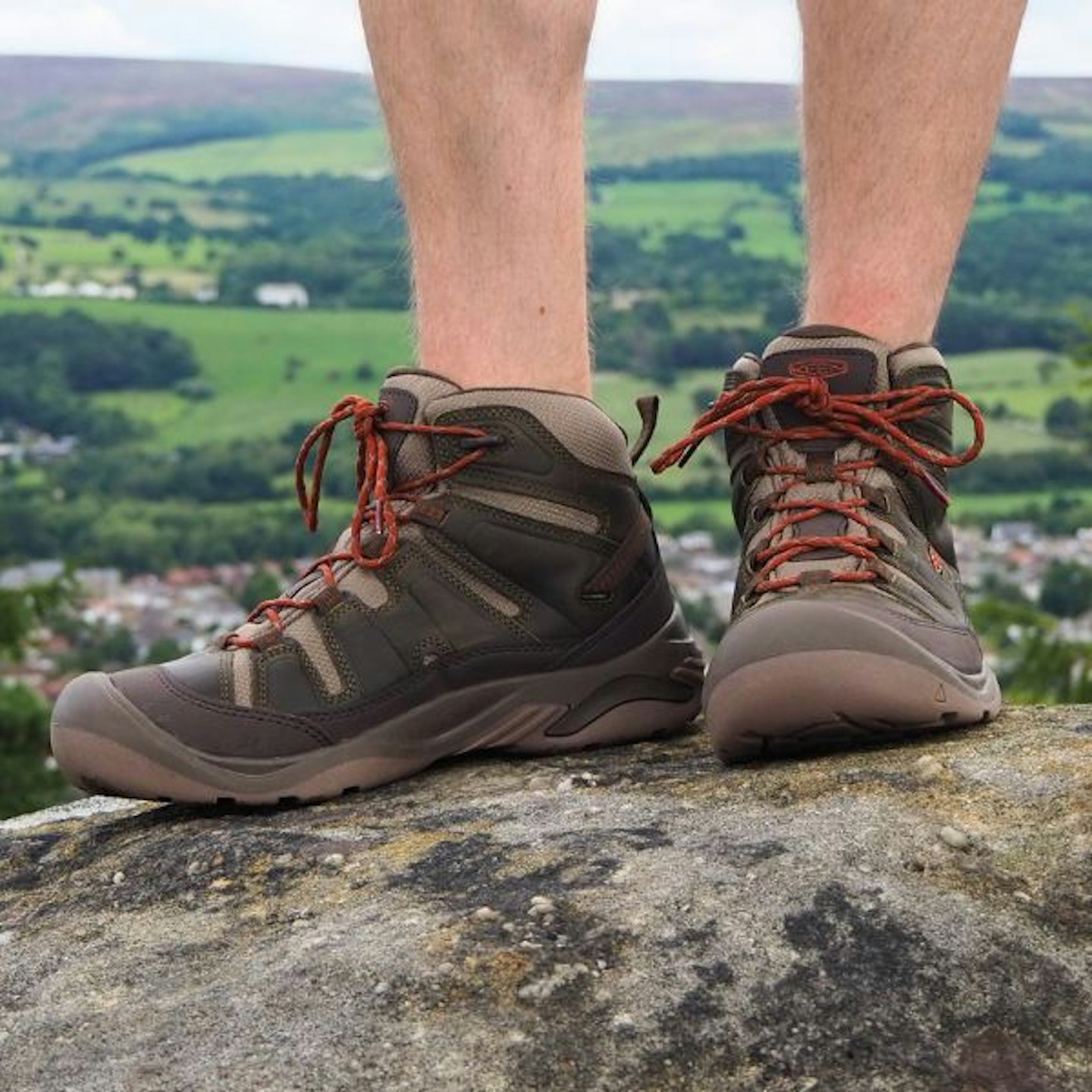 Best women's walking boot
Description
For an all-rounder brilliant women's boot, it's hard to beat the women's Trekker Lite III GTX.
Pros
Lightweight
Supportive
Versatile
Excellent traction
Cons
Take a little breaking in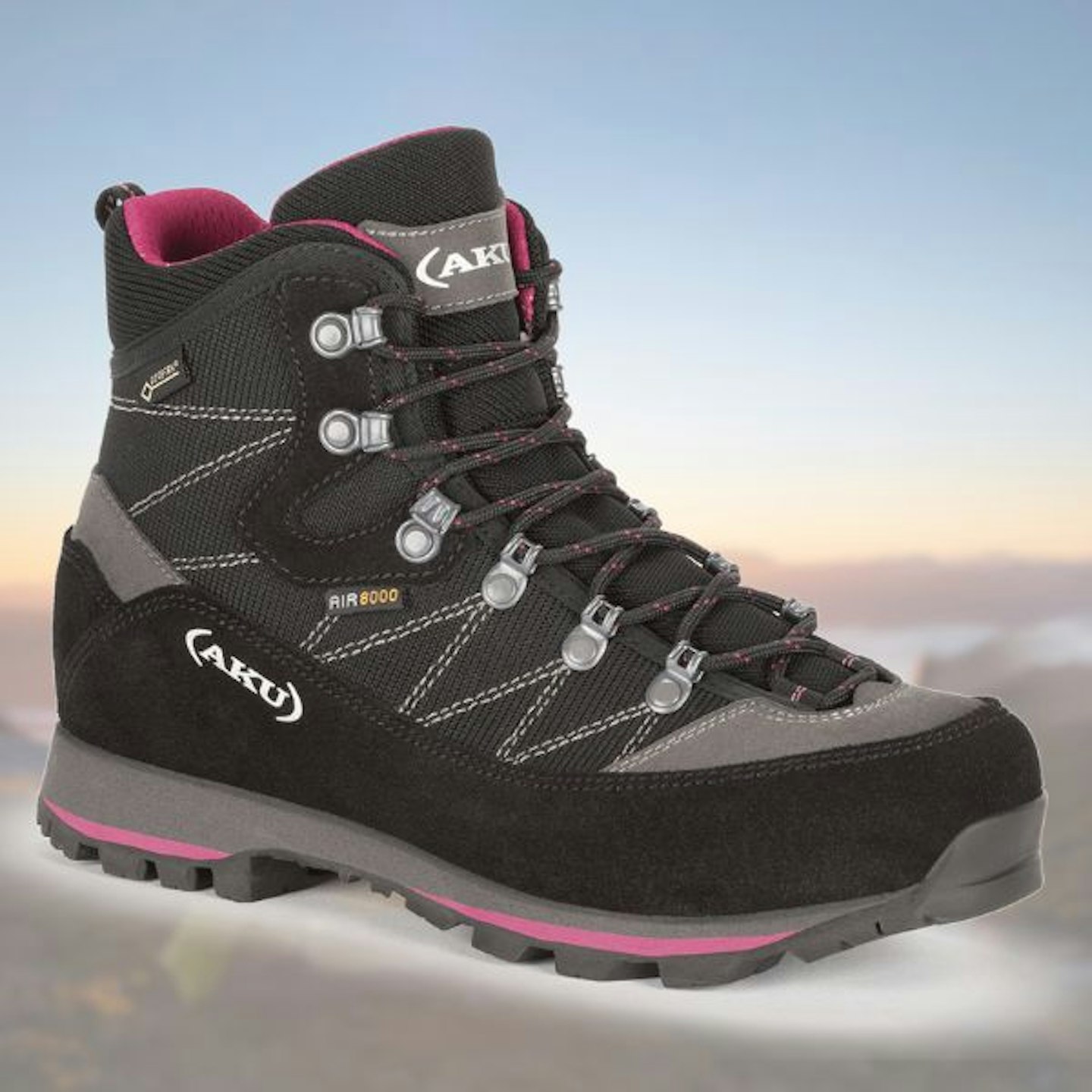 Best leather walking boot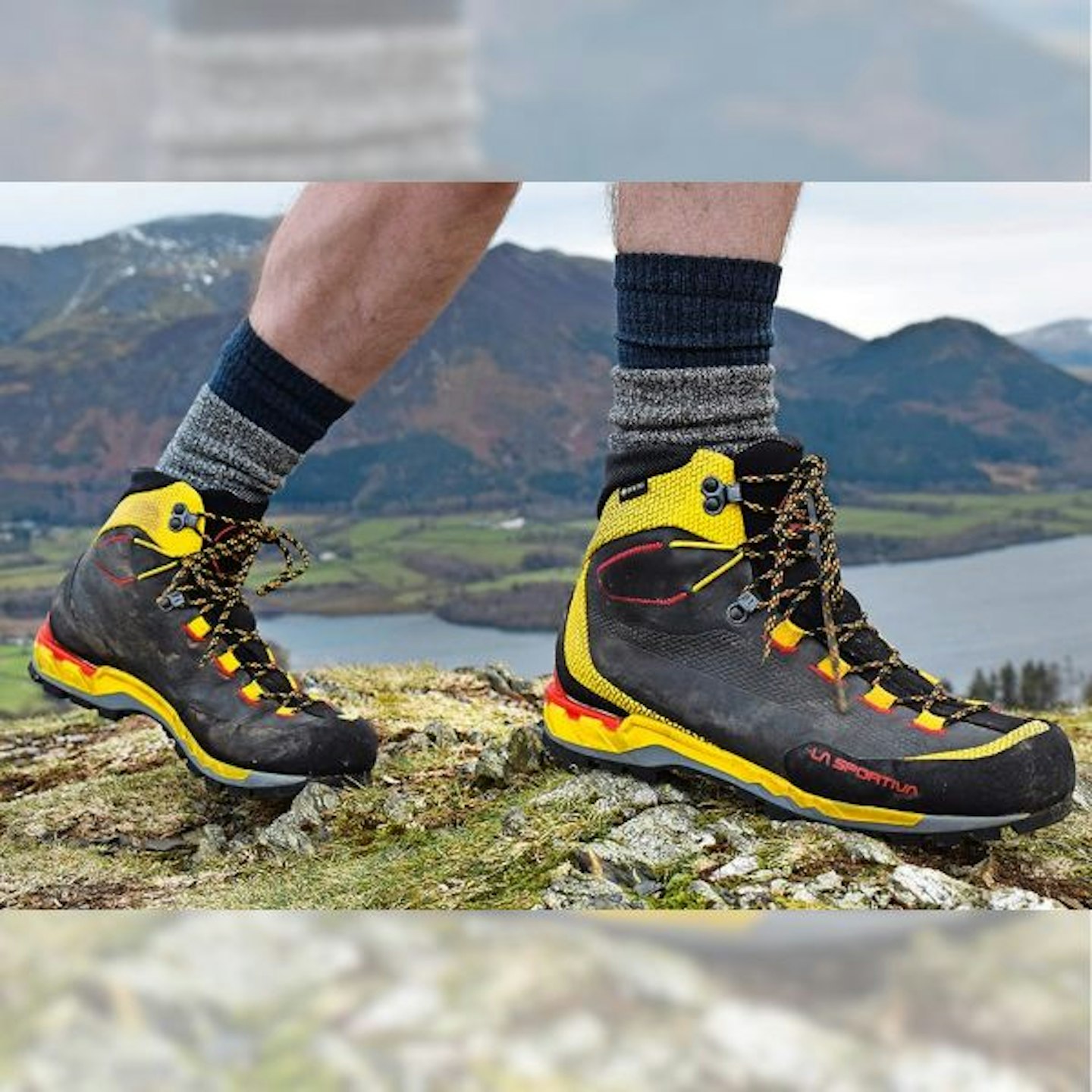 Live For The Outdoors
Description
We will kick off by admitting this is a slightly more technical leather boot than many people
Pros
Fantastic grip and support
Very comfortable
Durable
Cons
Overkill for some
Quite stiff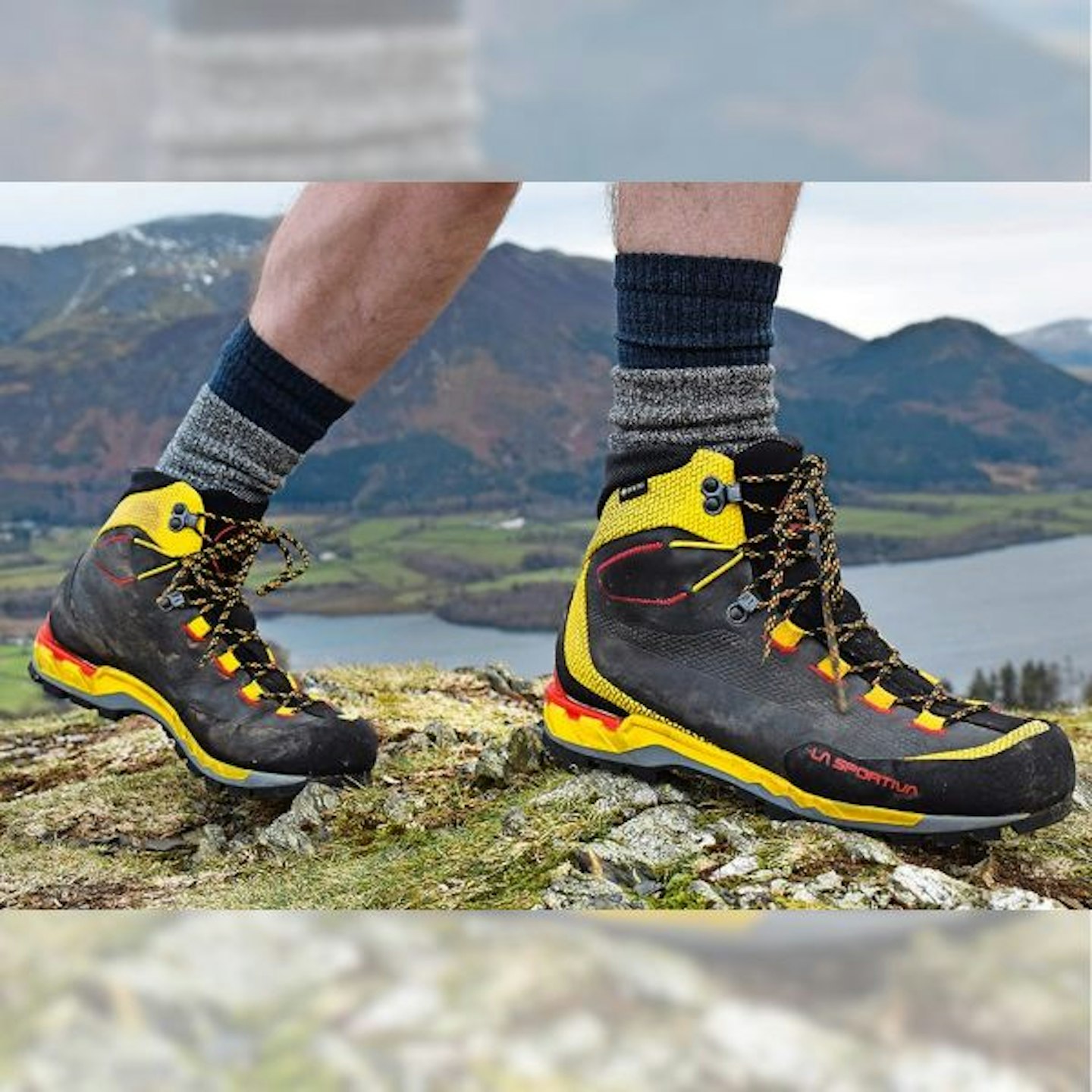 Best vegan hiking boot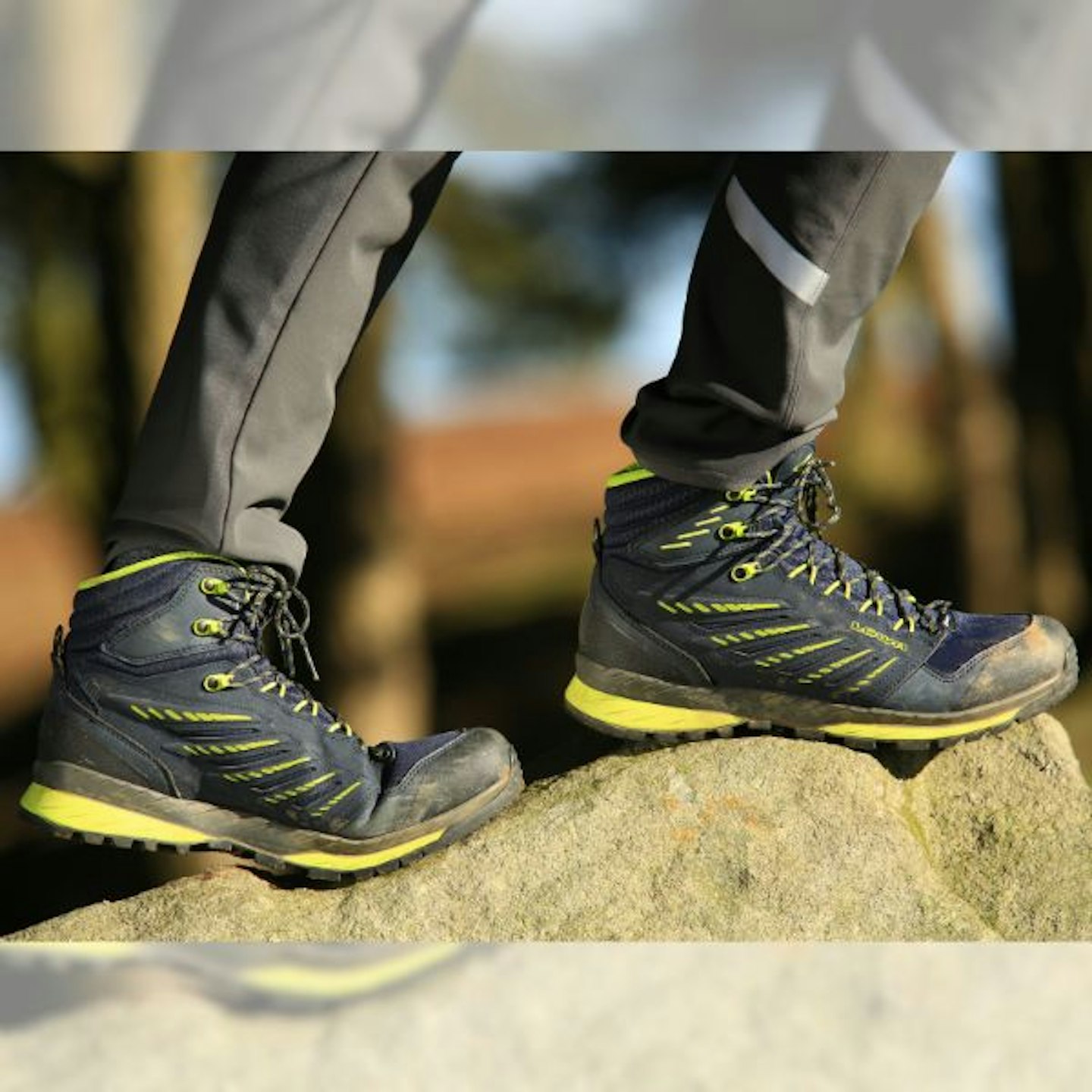 Live For The Outdoors
Description
We found Lowa's Trek EVO GTX Mid to be a very talented 2-3 season boot for hillwalking and
Pros
Great for long walking days
Excellent waterproofing
Comfortable
Can be re-soled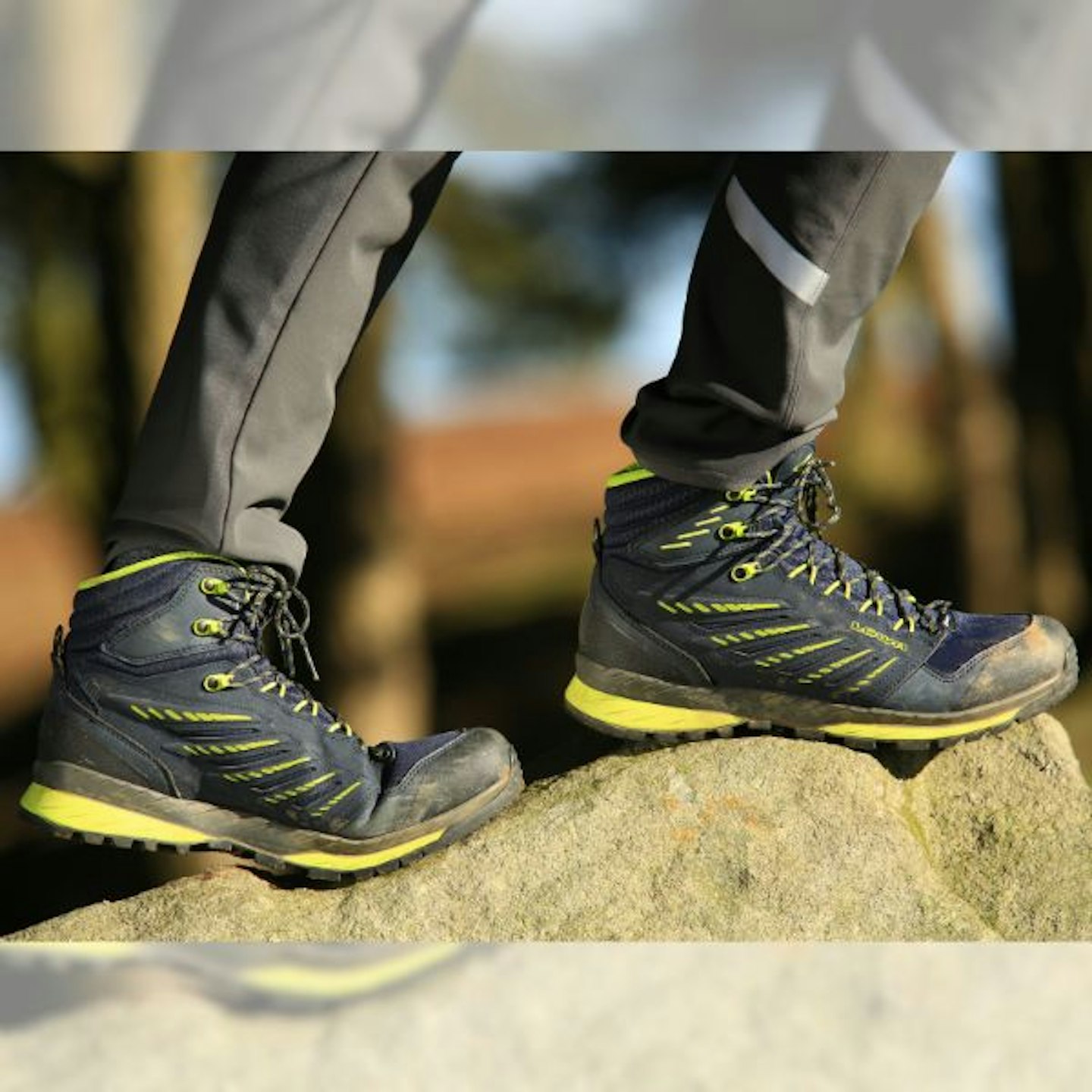 Hiking shoes and sandals
Best hiking shoe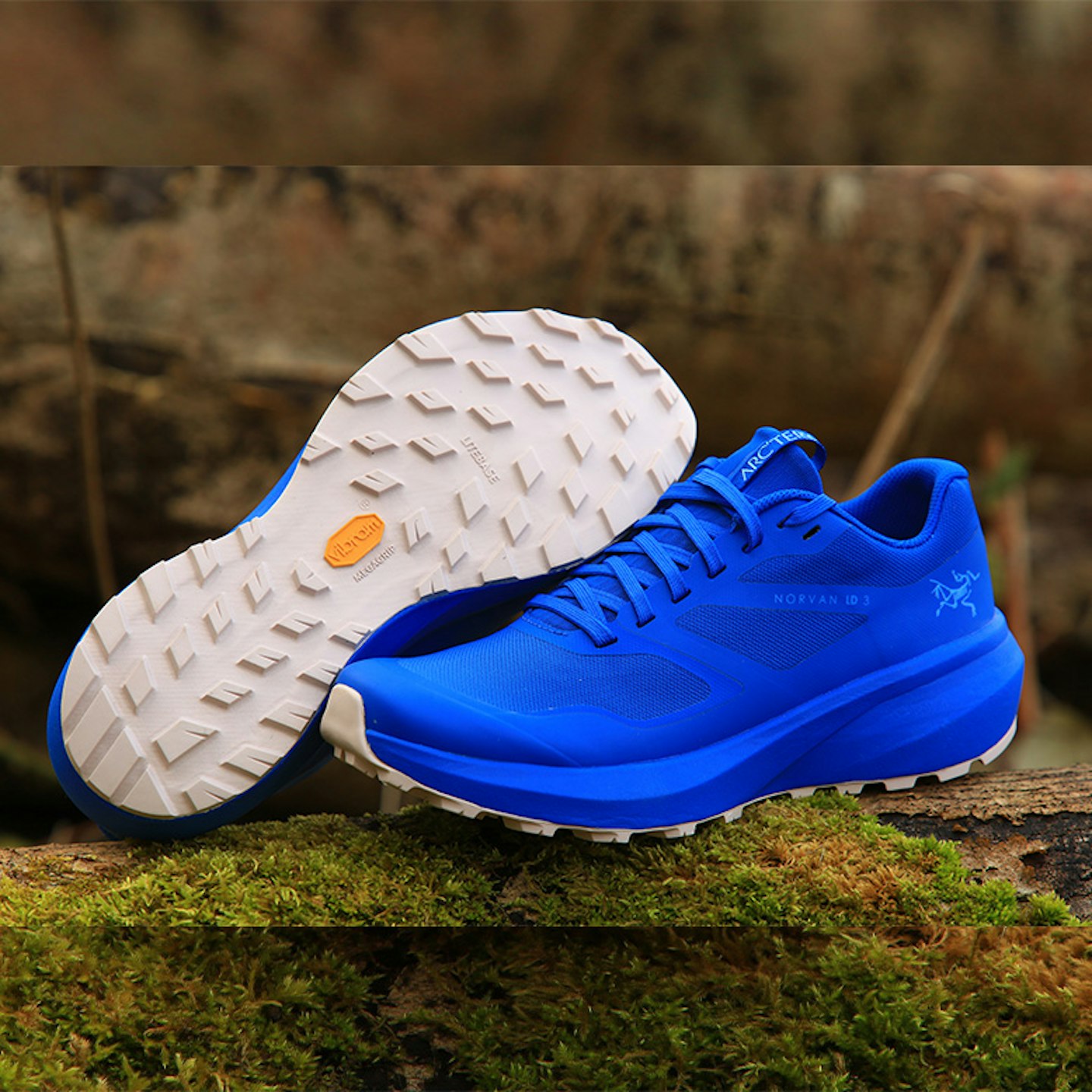 Live For The Outdoors
Description
The Norvan LD3 is technically a trail running shoe. And as a mighty good one, the Norvan LD3 also
Pros
Ultralight
Precise, technical design
Generously cushioned
Cons
Cushioning won't suit all tastes
Too light for some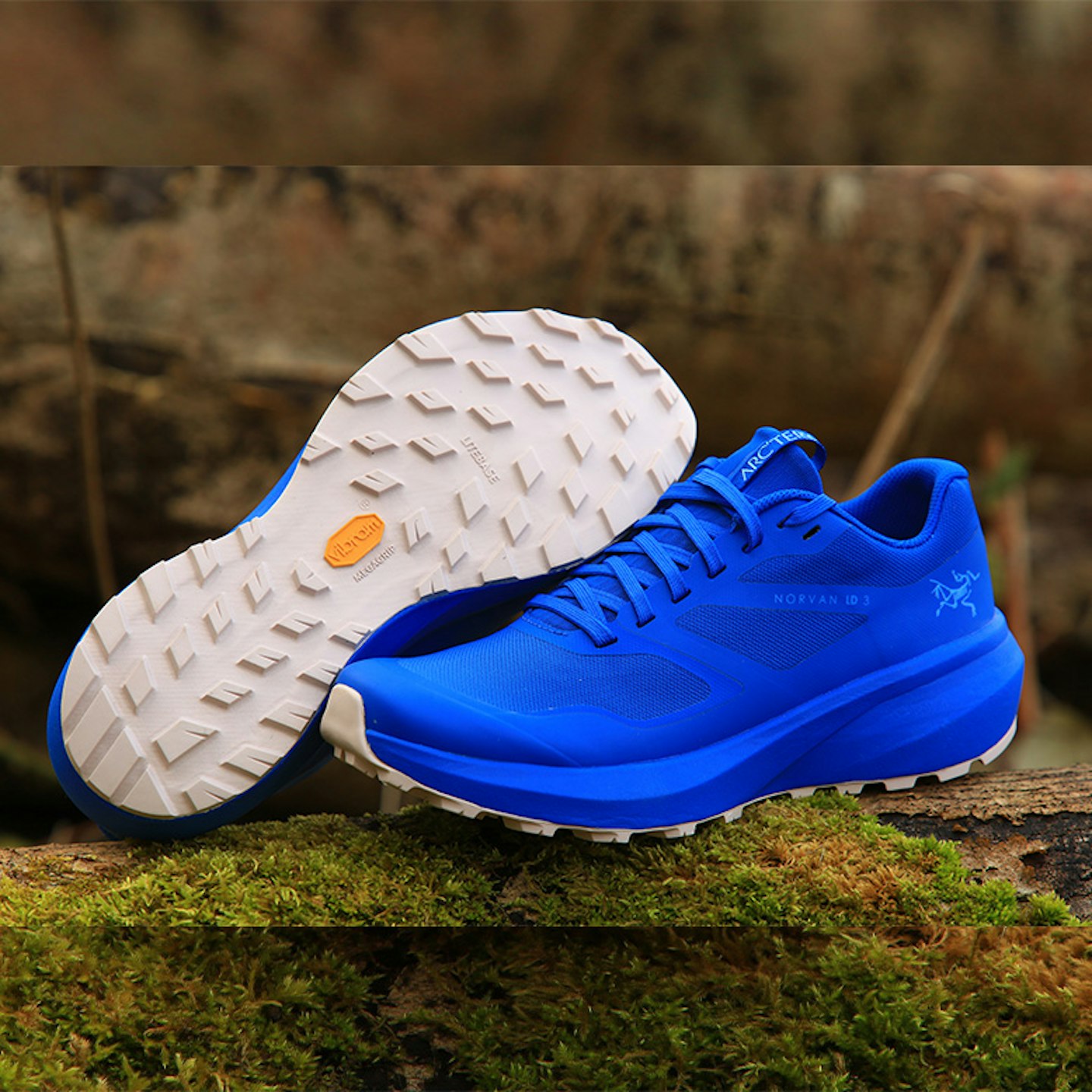 Best approach shoe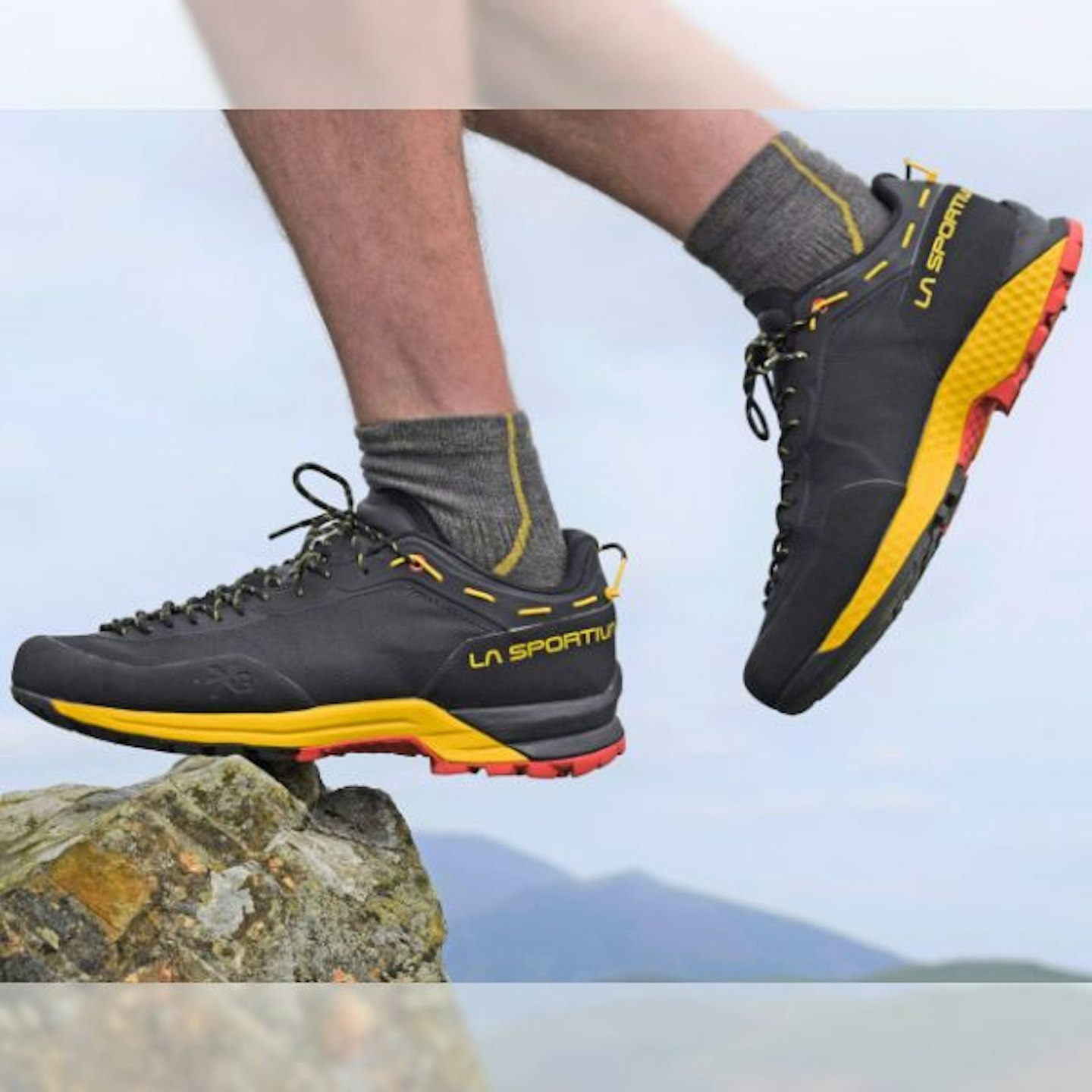 Live For The Outdoors
Description
La Sportiva' is probably the most well-known brand for alpine and via ferrata-type footwear. That
Pros
Lightweight
Lots of stiffness for climbing
Excellent outsole
Cons
Not the toughest approach shoe
A bit stiff for longer walks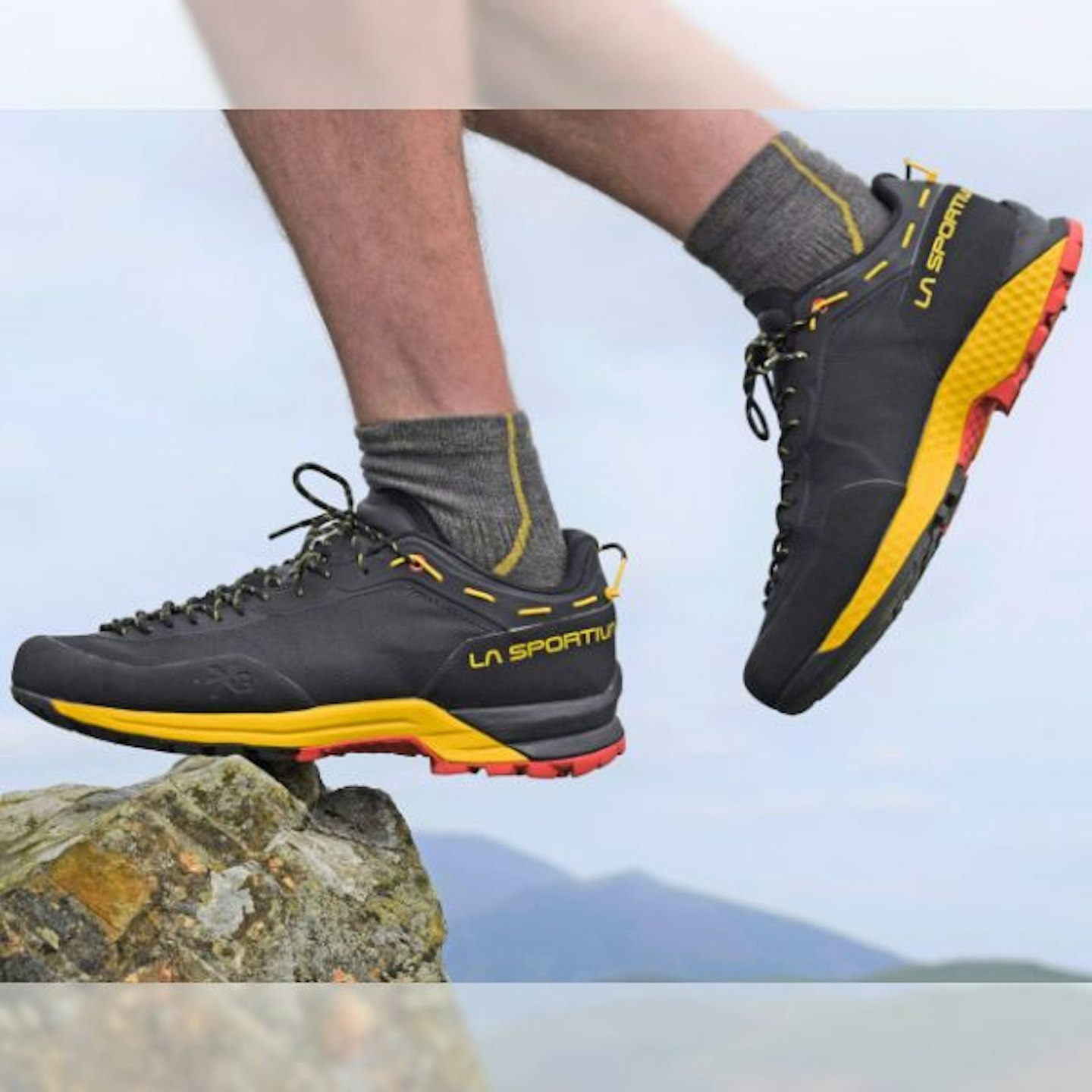 Best hiking sandal
Description
It's not a looker, but it's sure a performer. The Newport is a blend of shoe and sandal, gaining
Pros
Tough construction
Protective toebox
Easy lace-lock bungee system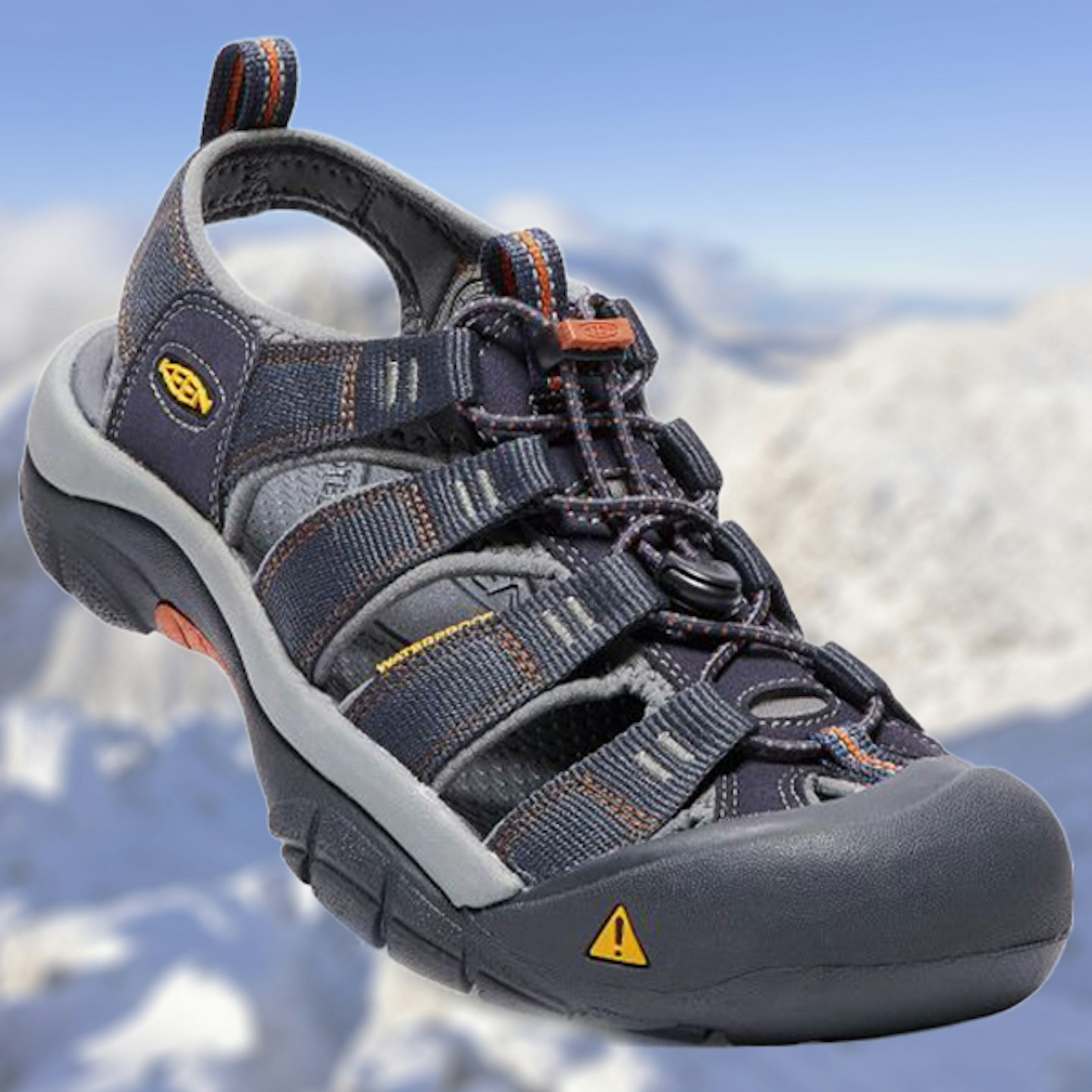 Hiking boot categories
If you go into a footwear store or an outdoor retailer, walking boots and shoes only tend to be split into shoes and boots. But within hiking boots, there are grades that indicate what a walking boot is intended for, called B-ratings. This grading system goes from B0 to B3.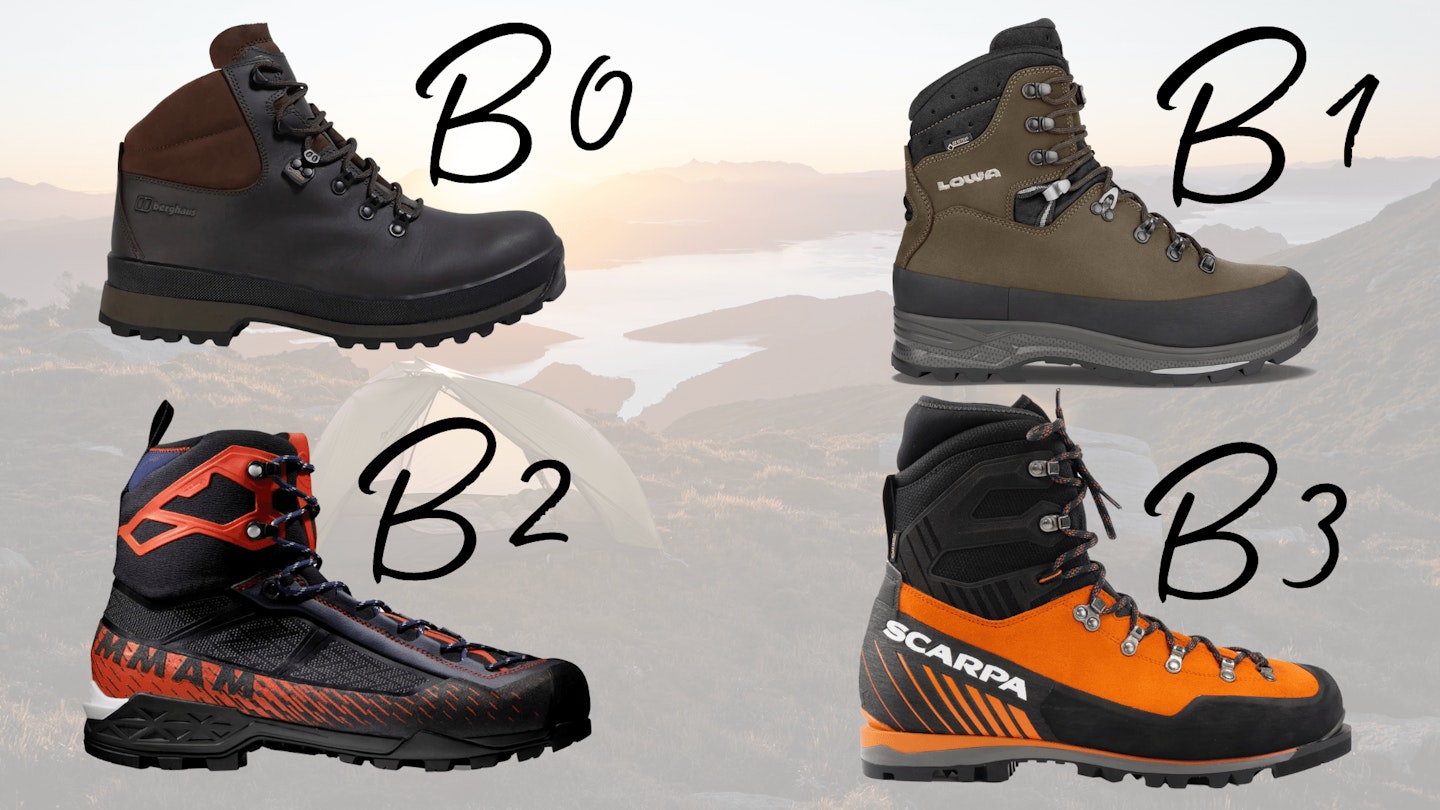 B0: These are your most typical walking boots. Lightweight synthetic hiking boots and general hillwalking boots fall into this category. They are relatively flexible and often have little break-in time. B0 boots aren't compatible with crampons and are intended for unchallenging terrain.
B1: These are noticeably stiffer than B0 boots and are compatible with basic strap-on-type C1 crampons. They are great for scrambling a bit higher up mountains and winter use. B1 boots offer more protection than B0 boots.
B2: These are a step into alpine footwear. B2 boots are stiff, with some flex for hillwalking. But these are intended for mountains. They're compatible with C2 crampons.
B3: These are for alpine use only. B3 boots are very stiff because they offer lots of lateral support for climbing. Mountaineers can use C3 crampons with B3 boots, but C2 crampons are also often used.
What to look for in walking boots
B-rating
Use the B-rating system to quickly identify the best type of walking boot for you. For most, this will be B0 or B1. B0 boots are often referred to as 3-season boots, and B1 boots 4-season or winter boots.
Features
Leading on from B-ratings, within each grade, boots still vary from one another. For example, you might think a B0 boot is best for you, but know they'll see some serious action. In this case, look for B0 boots with extra durability features such as a toe bumper and rand, deeper lugs, and perhaps a Gore-Tex waterproof liner.
It's all about your personal requirements. Don't worry about being too fussy because there will be several suitable options for you, whatever your requirements.
Fit
You want hiking boots to have about a thumb's width of room beyond your big toe and be quite snug at the heel. If you can get a finger down each side of your Achilles with your foot shoved as far forward as possible, you're about right. Walking boots need to hold your foot securely without being uncomfortably tight.
Everyone's feet are different; likewise, boots have different fits. Some brands like Keen are known for a wider fit, while others like Salomon are narrower. And while there is universal sizing, it still varies from brand to brand. Your best bet is to try things on. And don't forget about socks either - their thickness affects fit too.
Upper
The upper is the external material of a walking boot. Leather is very popular and used to be the only option. Leather is hard-wearing but can take some breaking in. Today, more hiking boots are being made from synthetic material, even alpine boots. They're often lighter than leather alternatives, which makes synthetic a great option for fast summer hiking. But predictably, they aren't usually as durable.
Sustainability
There are two parts to think about here: how the boot is made and how well it is made. Low-impact and sustainable production is key, but so too is longevity.
In terms of production, third-party certifications such as Leather Working Group or Bluesign are useful indications of footwear being produced in a responsible way. The use of recycled materials is important, too, especially with synthetic hiking boots.
High-quality boots not only last longer but are nicer to wear, perform better, and are cheaper over the longer term. Top-quality boots can last decades if you care for them properly. They can often be re-soled too.
Hiking boots care and cleaning
Crucial to the longevity and performance of hiking footwear is caring for and cleaning them properly (it's very easy).
Head to our dedicated guide on how to clean walking boots to learn the best way to keep your hiking footwear performing at its best for as long as possible.
Hiking boot glossary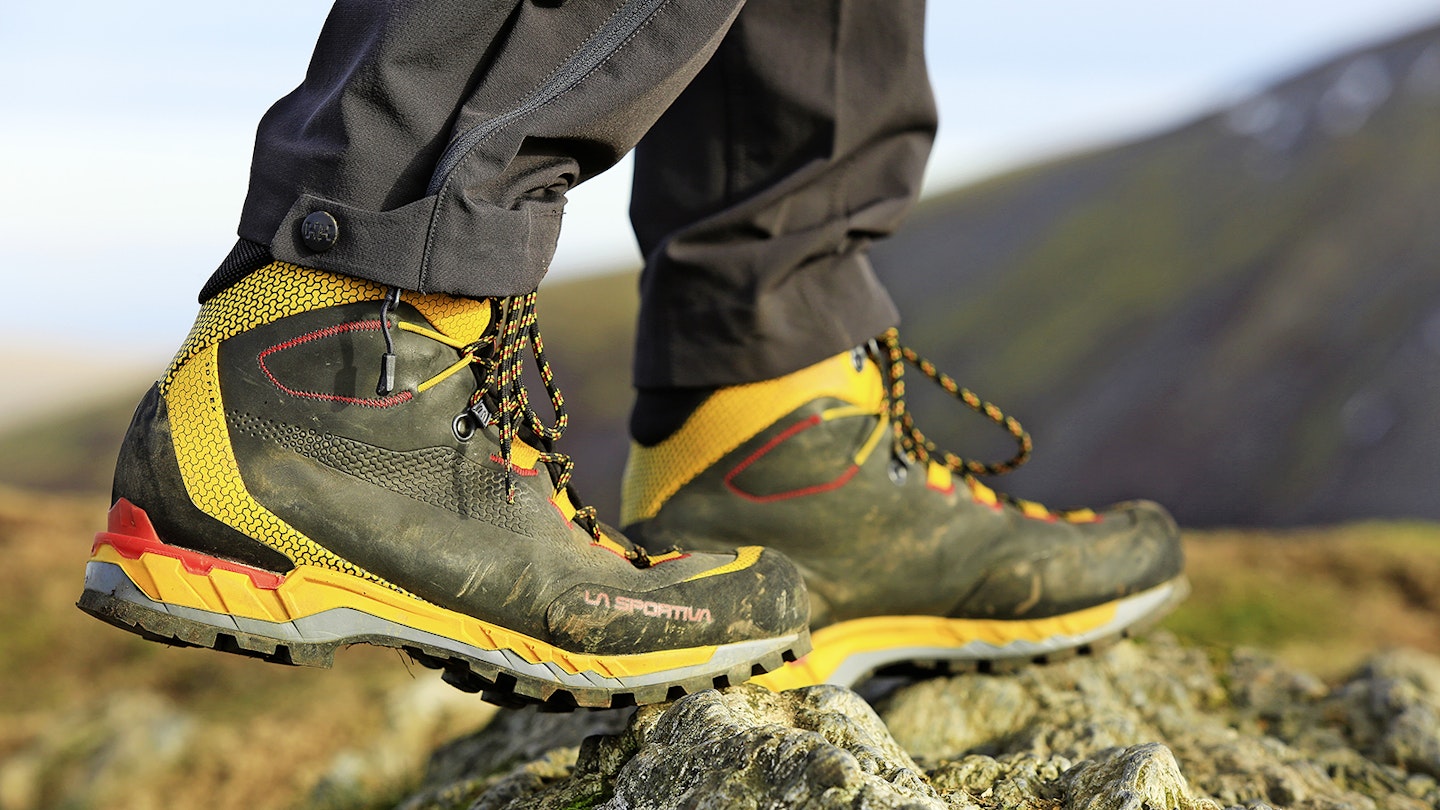 Ankle cuff
The ankle cuff is the section of the boot that sits around your ankle. Higher cuffs offer additional ankle support, which helps you traverse uneven ground while also reducing the risk of sprains. The height of the ankle cuff can also help fend off water, mud and debris from entering the boot - which is always a nuisance. Some boots have a lower cuff. While this makes the boot lighter, it reduces the above benefits.
Often, the height of an ankle cuff is referenced in the title of a boot. For example, low, mid and high.
Upper
The upper of a hiking boot is the exterior material of a hiking boot above the sole. This will either be leather or a synthetic material.
Midsole flex
Midsole flex is a way of looking at the flexibility of a boot and the rigidity of its sole. This is important to note, as a flexible sole is preferred for even ground, while a rigid sole offers superior performance on inclines, scrambles and rough ground. You can test the longitudinal midsole flex by bending the boot from toe to ankle and twist the sole to check lateral flex.
Toe box
A toe box protects your toes from the peril of stary rocks and heavy items. The harder the toe box, the more protection offered.
Rand
Rand is a rubber layer that can wrap around the toe, sole or whole boot. It can sit between the sole and upper, and it offers additional protection and improved durability.
Outsole
Well-spaced deep lugs can bite into the soft ground without clogging. A deep heel breast – the step between the heel and midfoot area of the sole unit – is vital for providing braking power in descents.
How we test
The hiking footwear we test undergo thorough, real-world testing. As soon as they arrive with us, they get latched to one of our experienced gear testers and stomp off into the hills.
We consider myriad factors when testing and reviewing hiking footwear, from the obvious, such as comfort and performance, to the less obvious and intricate, such as sustainability.
Get half-price digital OS Maps! Trail and Country Walking magazine members get 50% off an annual subscription to OS Maps for 12 months! Find out more here.
Don't forget to subscribe to the Live For The Outdoors newsletter to get expert advice and outdoor inspiration delivered to your inbox!
Chris Williams is a Digital Content Writer for Live For The Outdoors. He trained as a journalist in New Zealand and has been working on Live For The Outdoors since 2021.