Finding the best kit for hiking and hillwalking isn't easy. With so much kit out there, it's a big job sorting the champions from the chaff. So, every year Trail magazine puts together a 100-page Gear Guide showcasing the very best products for spring and summer.
But you don't need all hundred pages to know what's what. The main highlights of our Gear Guide are the winners of the coveted Gear of the Year awards, and the competition for this year's top spots has been fierce, snarling even.
The standard in 2023 is as high it's ever been. We've seen some incredible innovations in cutting-edge technology, and we're also thrilled to see brands making impressive strides toward producing more ethically sourced and sustainable outdoor kit. To survive the gauntlet and be crowned as gear of the year, you've got to be responsibly constructed and perform at the very highest level. It's no easy task.
So, without further ado, here are LFTO's picks for the best pieces of outdoor gear in 2023.
The Winners
Scarpa Rush Trk Pro GTX – Best walking boot
Hoka Anacapa Breeze Low – Best hiking shoe
Helly Hansen Odin 1 World Infinity Shell – Best waterproof jacket
Mountain Equipment Shroud Hooded Jacket – Best insulating layer
Atom Packs The Atom+ EP50 – Best hiking backpack
Black Diamond Storm 500-R – Best hiking headtorch
Wild Country Helm Compact 1 – Best backpacking tent
Rab Neutrino 400 – Best hiking sleeping bag
Best walking boots: Scarpa Rush Trk Pro GTX
TRAIL MAGAZINE VERDICT: We could talk all day about how versatile this piece of kit is. Its unique position as a highly durable leather boot that also feels light and agile is what makes it one of the best walking boots of 2023. For us, there's none better – especially for Ellie Clewlow who tested this boot and immediately fell in love.
The Rush Trk Pro is a slightly more luxurious and hardy version of the standard Rush Trk boot. The Pro boasts oiled nubuck leather uppers rather than suede, as well as all-metal lace hooks and eyelets. These two upgrades make a huge difference when it comes to the durability and longevity of these boots.
Hooks can be replaced, leather lasts forever, and it can even be resoled! This may well be the boot to last you a decade, as long as you can gel with the slim midfoot and heel. The form-fit approach is perfect for some, providing excellent control for technical terrain. However, others may not get along with Scarpa's precise sizing, even with generously roomy toebox in mind.
To learn more about this boot, read our Scarpa Rush Trk Pro Walking Boots review.
Best hiking shoe: Hoka Anacapa Breeze Low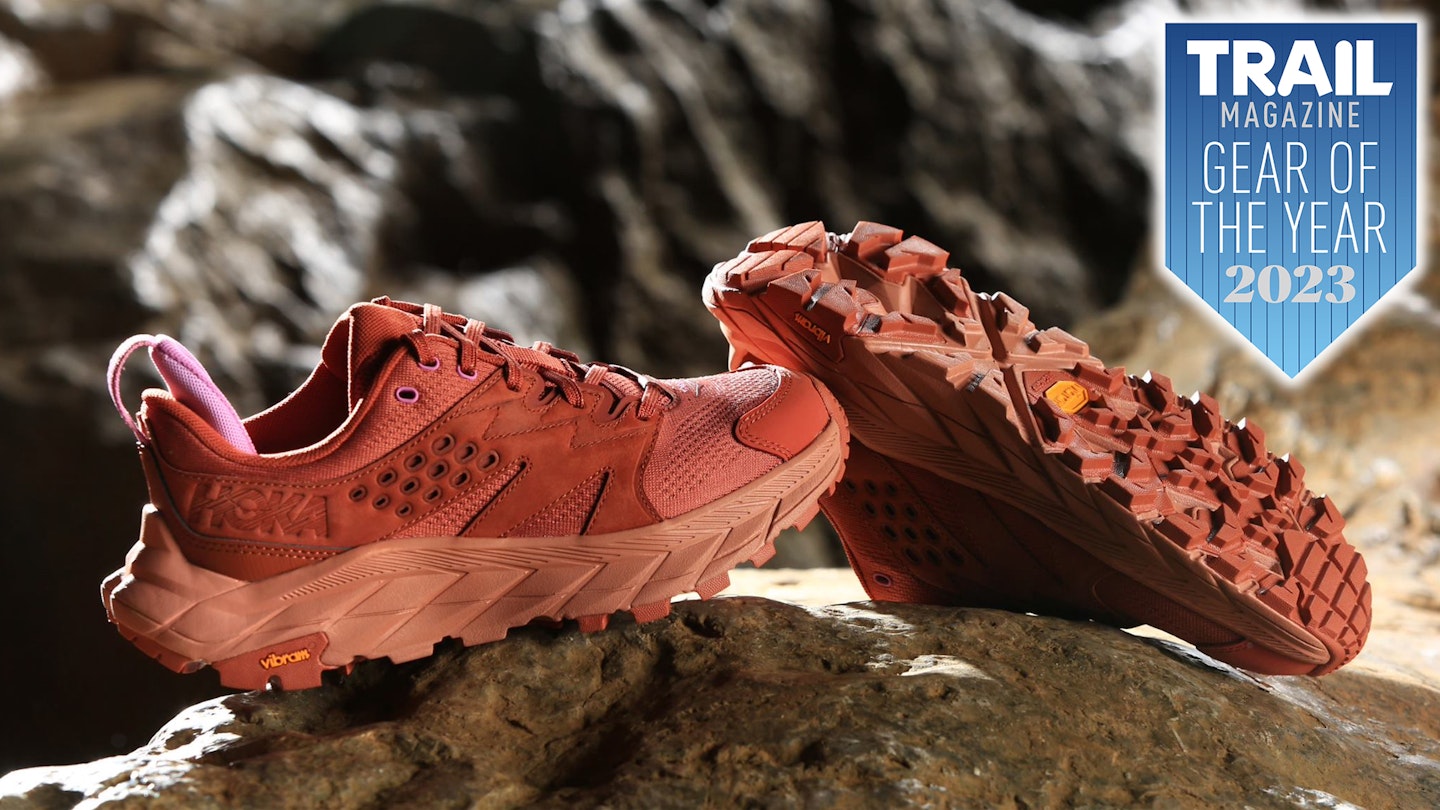 TRAIL MAGAZINE VERDICT: It's time to treat those feet. Here we find a unique contender amongst the best hiking shoes of the year. The kings and queens of comfortable trail running shoes have finally branched into the wild world of... walking. So far, we like what we see. While their somewhat gaudy style may not align with everyone's tastes, these funky pieces of footwear have far more to offer than just bold designs.
First, they're ridiculously comfortable. The compression moulded EVA foam midsole combines elegantly with Hoka's unique Hubble heel® technology. The idea is to gently catch your step, soften the foot strike, and smoothly transition (or 'rock') you onto your forefoot. All while the thick rubber outsole handily absorbs any bumps or rocks as you walk. An ideal tool for a long day on the trails.
Along with the plush cushioning, the Anacapa Breeze Low has a pleasantly breathable upper made from 100% recycled yarns. Earning bonus sustainability points is the liner, which is made from 50% soy-based material. This 50% gets us halfway to achieving our ultimate dream of owning a completely edible hiking shoe.
Read all about this unique walking shoe in our Hoka Anacapa Breeze Low Review.
Best hiking shoe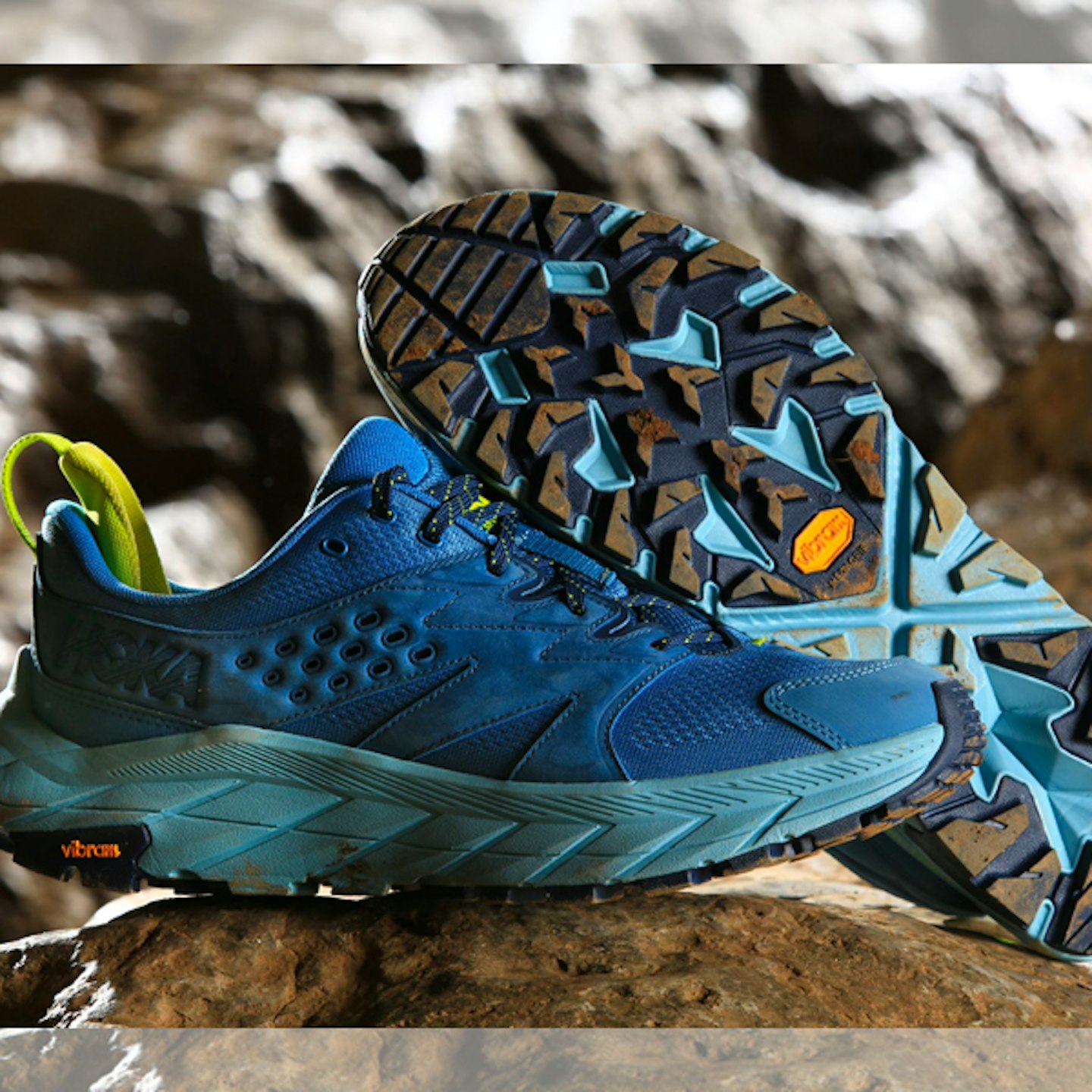 Live for the Outdoors
Description
Best waterproof jacket: Helly Hansen Odin 1 World Infinity Shell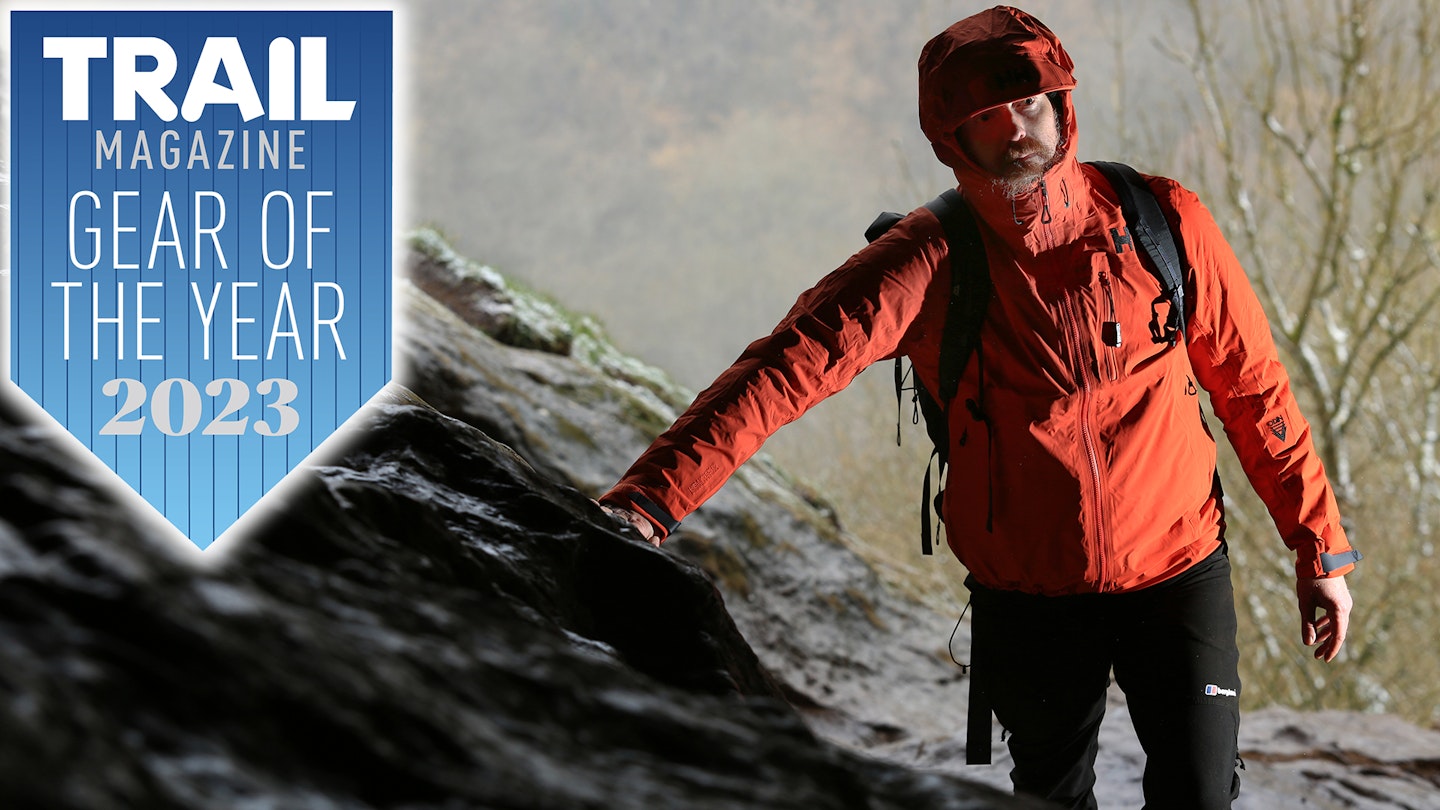 TRAIL MAGAZINE VERDICT: Ultralight and comfortable yet durable and reliable against harsh conditions. This hard shell from Helly Hansen is inarguably one of the best waterproof jackets we've ever tested. Constructed with advice from mountain rescue professionals, the Odin 1 World infinity is filled to the brim with handy features. We're honestly surprised there are no bells to accompany the emergency whistle that doubles as a zip puller.
Helly Hansen's tech is streets ahead of many of their competitors. Your average bombproof jacket can weather the worst storms at the cost of being chunky, hot, and stiff. No such sacrifice is required here. Thanks to Hansen's in-house LIFA Infinity membrane, the Odin smashes it out the park on waterproofing and breathability.
The best part: the microporous membrane that creates this killer combo is constructed with absolutely no chemicals or PFCs. It's seriously impressive to see one of the best performing pieces of kit to also be highly sustainable. For more info on construction and performance, check out our Helly Hansen Odin 1 World Infinity Review.
Best Insulating Layer: Mountain Equipment Shroud Hooded Jacket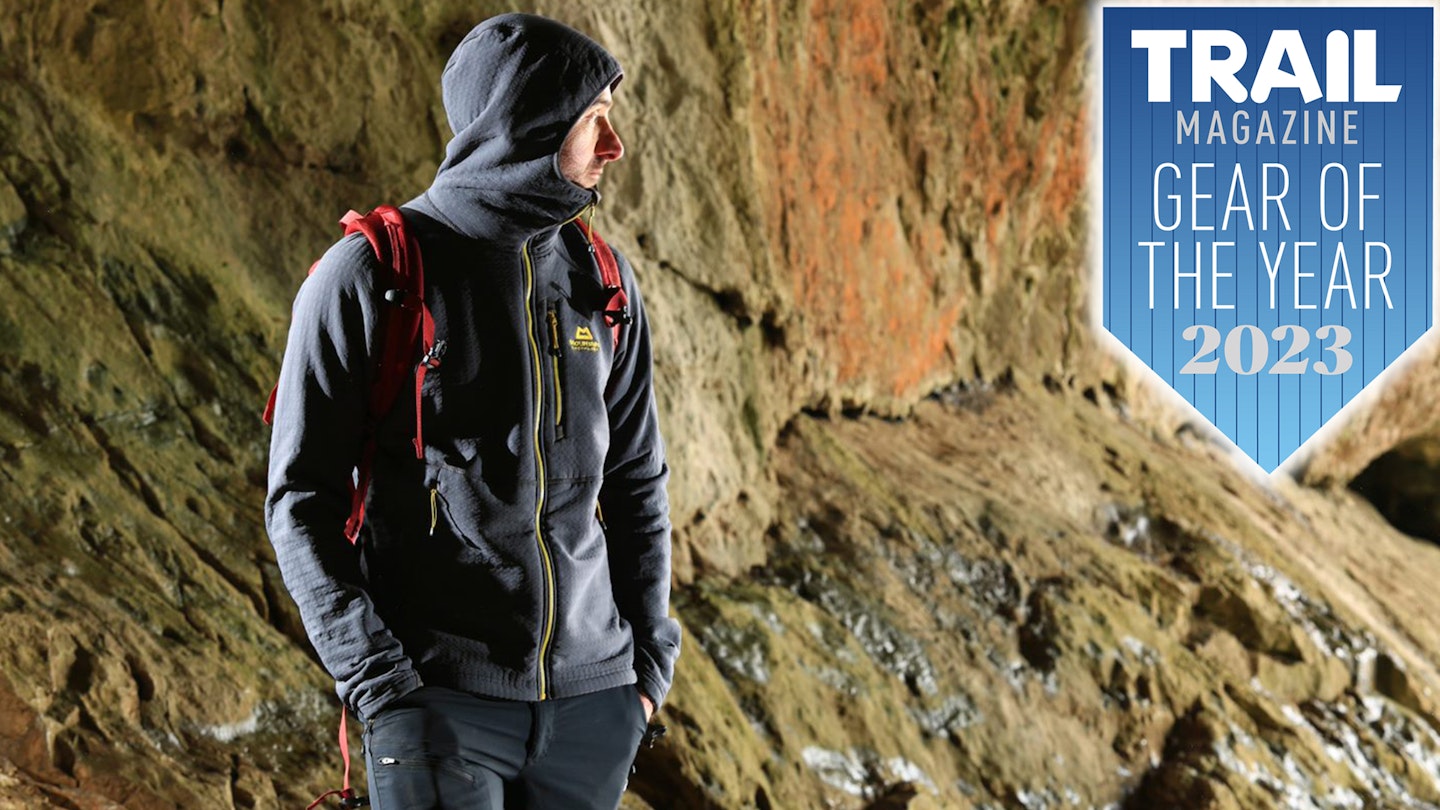 TRAIL MAGAZINE VERDICT: Is it a fleece? A soft shell jacket? Something standalone, or perhaps a mid-layer? The answer is simply yes. This fascinating piece from Mountain Equipment can be just about anything thanks to its high-tech construction.
The Shroud's fluffy warmth and impressive weather resistance place it firmly amongst the best mid-layers for 2023. Mountain Equipment have managed to marry a tough and protective outer with a lofty inner that feels snug and cosy. We tested it out in notably poor conditions, and we're very impressed with the Shroud's performance.
Perhaps the niftiest feature on show here is the 'zoned construction'. This jacket is tough where it matters, but also sports some lighter, stretchier fabric in key places (we're mainly talking armpits). This greatly increases freedom of movement, making the Shroud an ideal technical layer.
Find out more in our Mountain Equipment Shroud Hooded Jacket Review
Best hiking rucksack: Atom Packs The Atom+ EP50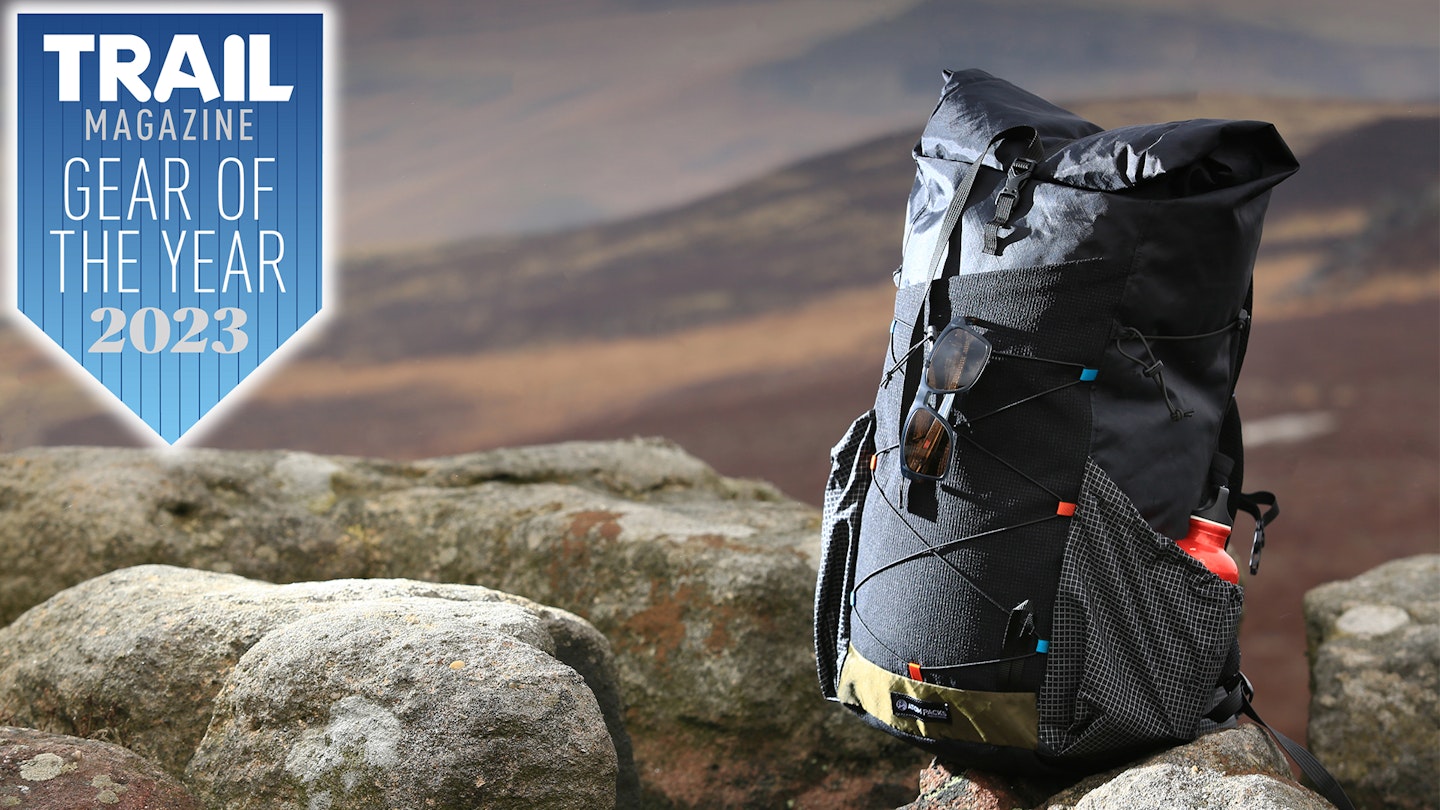 TRAIL MAGAZINE VERDICT: It's tough for us to review this as if it's just one pack. In fact, the Atom+ EP50 is this year's winner precisely because it offers a uniquely customisable design.
Each pack is handmade to order by, we assume, a sweet old lady in Keswick. Atom remains one of the last bastions of UK-produced outdoor gear, and their site allows you to place an order with specified colours, features, and even materials! Atom's truly bespoke approach allows customers to design the best hiking backpacks for their individual needs.
To top it all off, this pack is ultralight and tailored to your sizing. These two aspects combine to produce a pack that fits snugly and naturally against your back while also being so light that you may feel like you're wearing nothing at all. Weighing in at just 750g, this pack is perfect for heading out on long, demanding expeditions, offering that little extra luxury for your back and shoulders.
Check out our Atom Packs The Atom+ EP50 Review to learn more.
Best hiking headtorch: Black Diamond Storm 500-R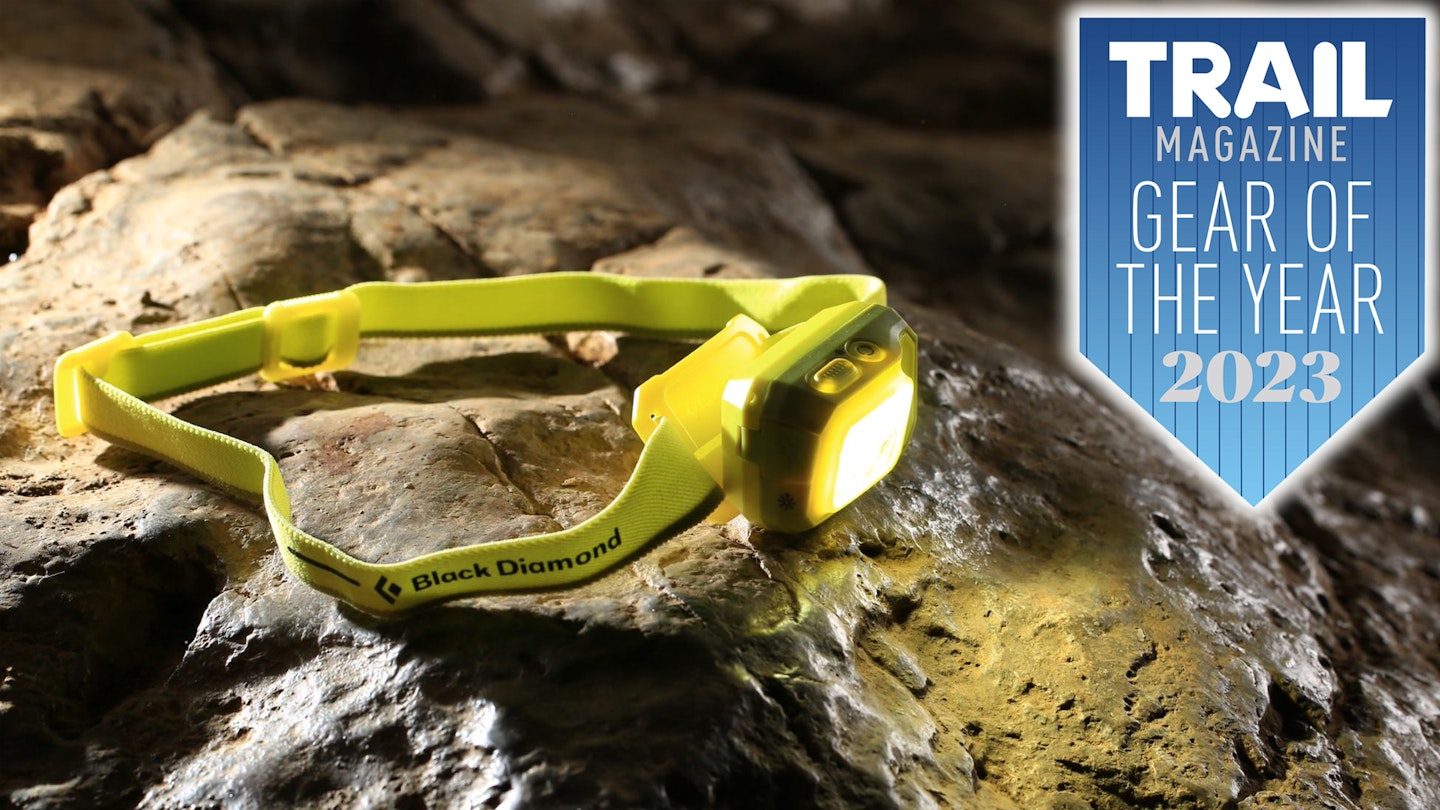 TRAIL MAGAZINE VERDICT: With equally generous helpings of functionality and raw power, we're confidently calling the Black Diamond Storm 500-R one of the best headtorches for 2023. We'd gladly rely on this impressive bit of gear for a full week's trek and then some.
Packed with a ton of options for lens efficiency, we're fans of just how much control this headtorch gives us. You can find your ideal settings and save them to avoid having to start back on default every time it takes a nap. The Storm 500-R also makes it temptingly easy to blast a beam out at its 500 lumen max, thanks to the new 'powertap' function. Just tap the side of the light unit to light up the trail ahead, then tap again to return to your preferred settings.
Complete with a secondary white flood light, colour change capabilities, and a rechargeable high-capacity battery, this headtorch is a solid all-in-one for your outdoor lighting needs.
Find out more from our Black Diamond Storm 500-R Review.
Best backpacking tent: Wild Country Helm Compact 1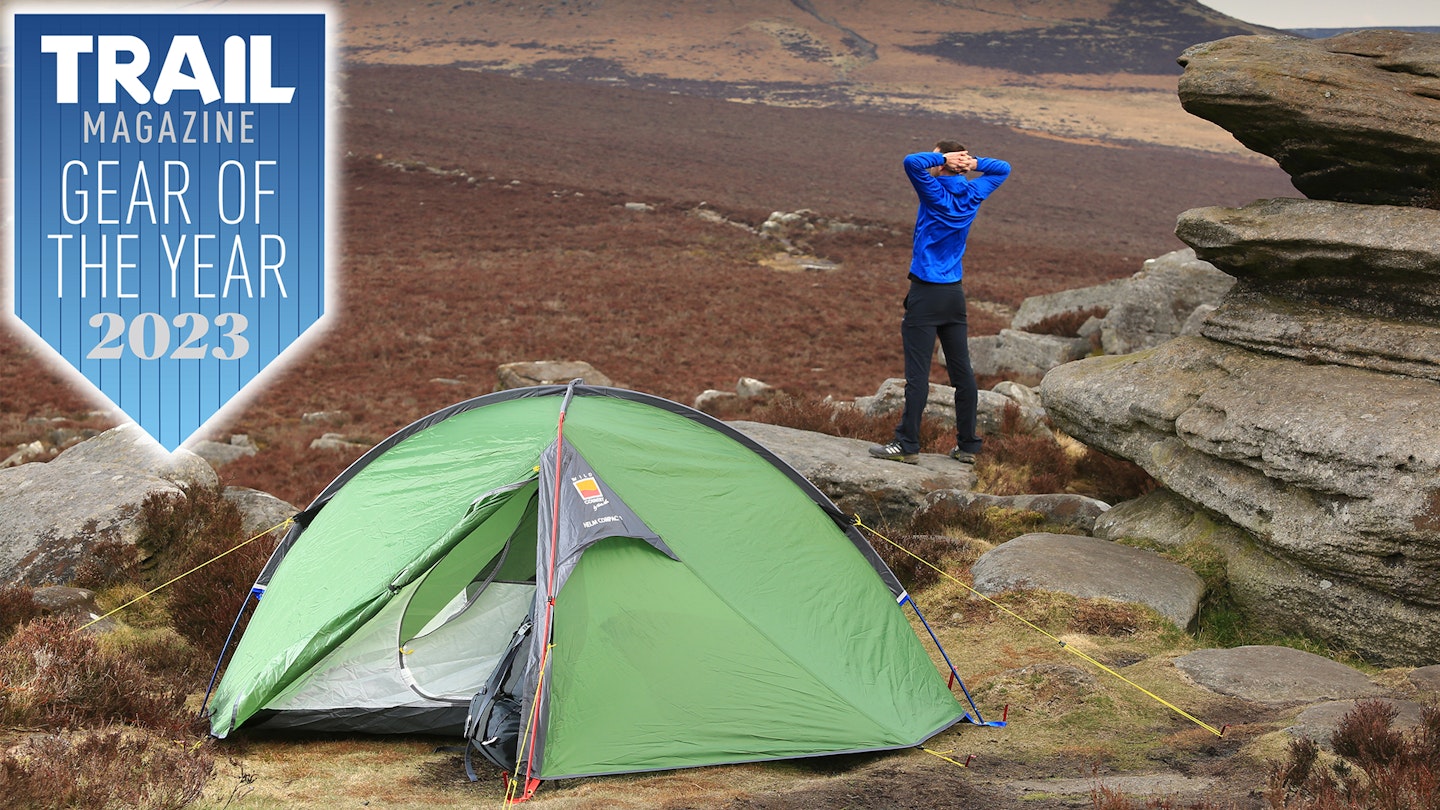 TRAIL MAGAZINE VERDICT: By far the best value for money we've ever seen in the world of 1-person tents. The Helm Compact 1 is manages to be one of the best tents for hiking and backpacking in 2023 for a fraction of the price of its competitors. That point is more significant than ever as UK outdoor enthusiasts are increasingly feeling the need to cut down on costs.
Our testers loved its fast pitching, all-in-one design, which also makes this tent an ideal option for starting your wild camping journey. The Helm Compact 1 is full of practical features and, perhaps most significantly, demonstrates reassuringly robust build quality.
We've pitched this tent in severe conditions and were amazed to see it standing up to heavy winds with no problems. With comparable performance to top-of-the-line brands, a generous amount of space, and packing down to just 30cm x 17cm, this one is a no-brainer.
For more info, check out our Wild Country Helm Compact 1 Review.
Best 3-season sleeping bag: Rab Neutrino 400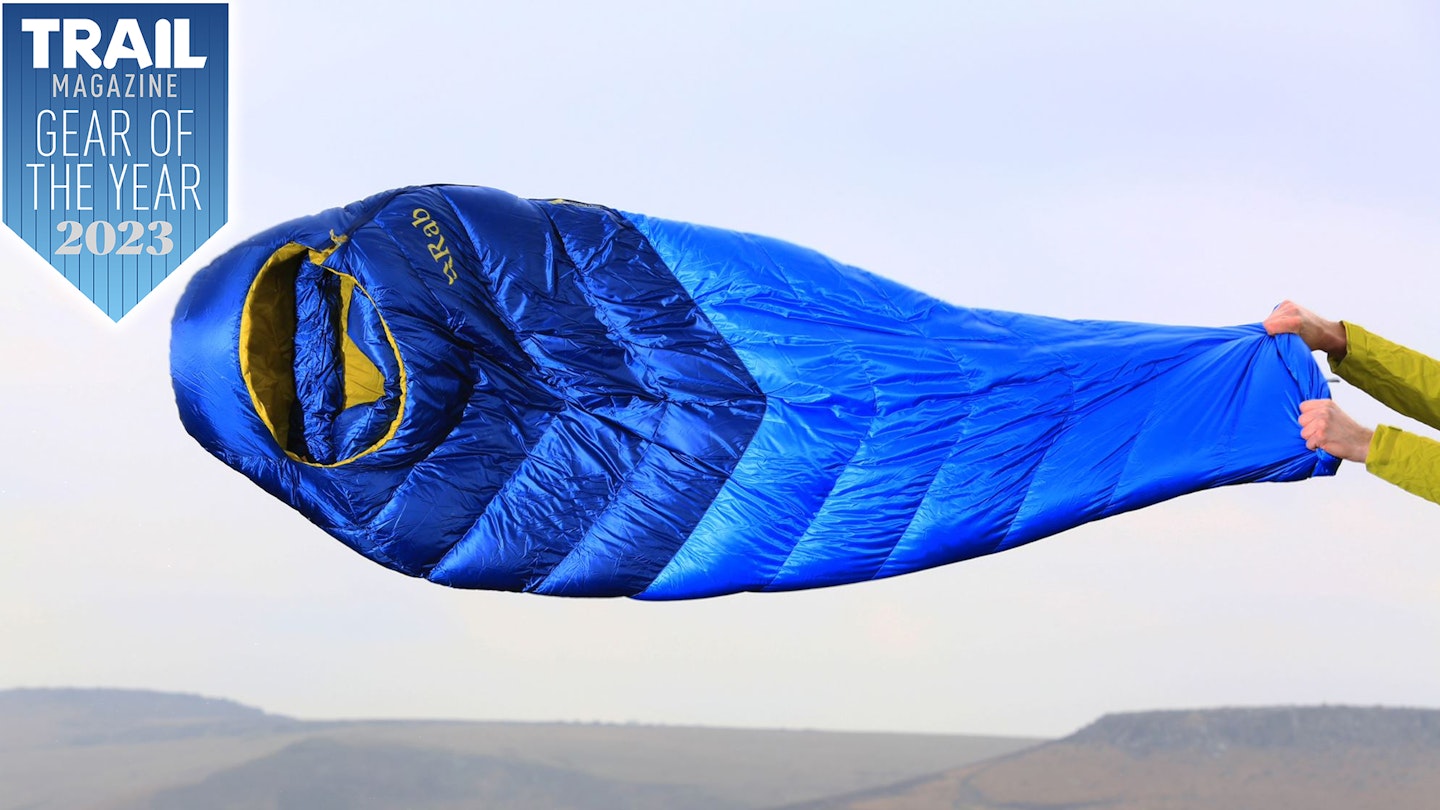 TRAIL MAGAZINE VERDICT: Prepare for the swaddling of a lifetime. Plush, smart, and mummyish in the all the right ways, Rab's Neutrino 400 stands out from the rest of the range as one of the best sleeping bags for 2023. We like it for the little details like the angled footbox and internal stash pocket. Features that are often overlooked.
The crowning achievement for the Neutrino 400 is its clever baffle design. Those are the individual pockets of down fill, quite crucial when it comes to things like keeping you warm. While most bags go for horizontal baffles, the chevron-style arrangement in the Neutrino 400 allows for more loft, fewer cold spots, and uses less overall material.
We're also very pleased to see some newly implemented sustainability upgrades. Rab have used PFC-free DWR treatments as well as increasing the amount of recycled materials in their construction, particularly in the Pertex Quantum shell. Seeing these changes have absolutely 0 effect on performance gives us a good feeling about Rab's hi-tech sleeping bags going forward.
For more info, read our Rab Neutrino 400 Review.
Best 3-season sleeping bag
Don't forget to subscribe to the Live For The Outdoors newsletter to get expert advice and outdoor inspiration delivered to your inbox!
For the latest reviews - including extra photos and kit that won't appear online - pick up a copy of the current issue of Trail magazine!