A good pair of hiking sandals is just what you need when it comes time to liberate your feet in the baking summer heat. With tough and grippy outsoles as well as durable uppers, chunky walking boots are no longer the only option for tackling tricky terrain.
In theory, summertime and hiking are a match made in heaven, like jam and cream, or fish and chips, or those two dogs from that Disney film who slurp up the same bit of spaghetti. However, reality is never so simple. It just isn't possible to enjoy a rewarding hill climb and a beautiful view when your big hiking shoes are roasting your feet well past medium rare!
Hence, this simple yet underrated fix. It's a typical move to buy bunch of camping gadgets to mitigate the ongoing assaults of midges and pollen in the summer (for which, if you're interested, we've recommended some helpful products at the end of this article). But, for whatever reason, the problem of overheating feet seems to have slipped under most of our radars. Not anymore though – sandals are the one buy that can instantly transform your summer adventures.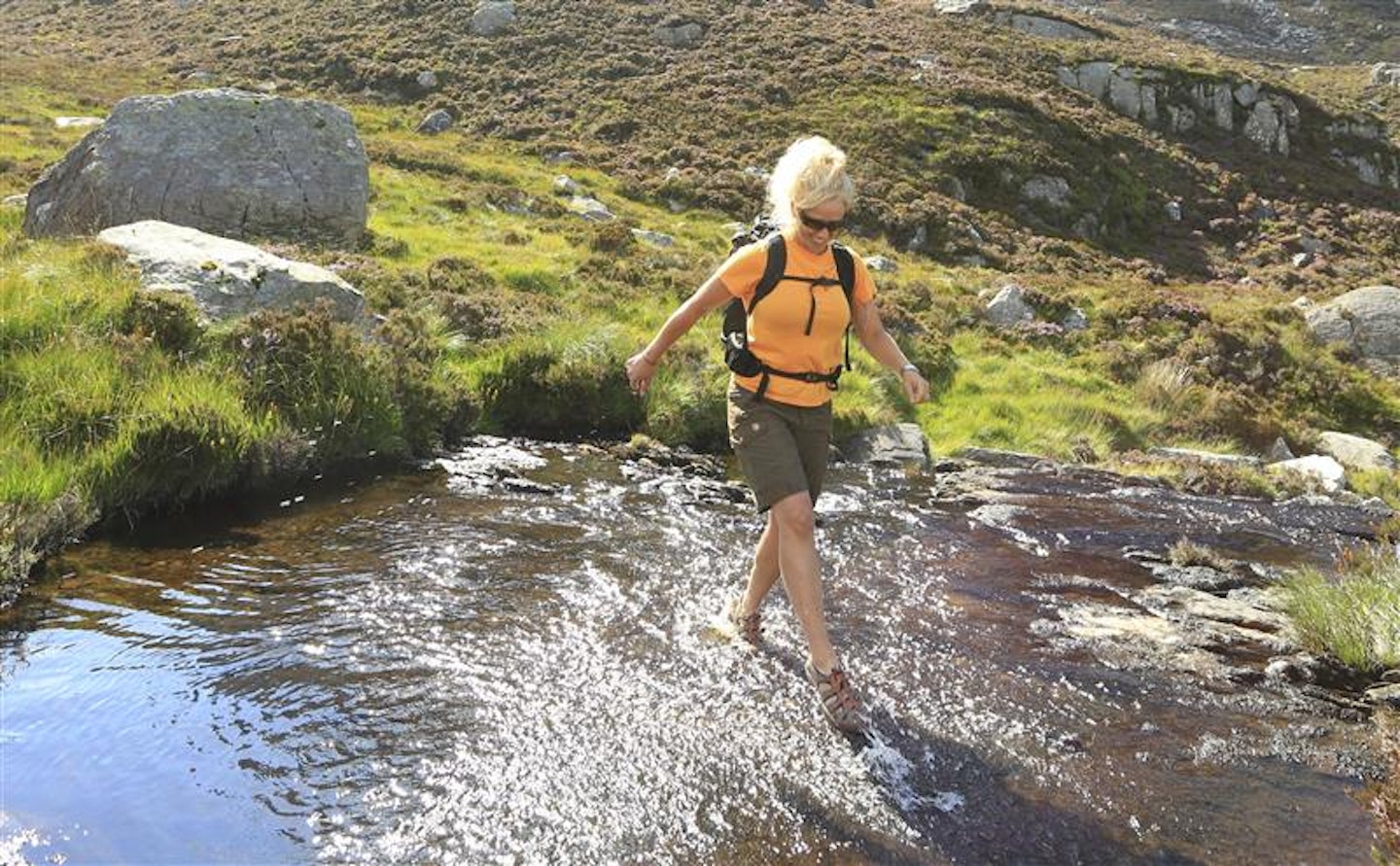 Modern tech has lead to some fantastic innovations across the whole outdoor industry. This year, as summer rolls in, we've been testing the latest and best hiking sandals from leading outdoor brands. We're looking for ultra-protective, technical sandals that can handle all kinds of terrain while still facilitating good airflow and a lightweight feel. That's a lot to ask, and we've only included the very strongest contenders in this roundup.
Our Shortlist
Keen Newport H2 Sandal – Best in test
Lizard Super Hike – Best value
Merrell Speed Fusion Strap – Best sandal for long hikes
Teva Terra Fi 5 Universal – Best hiking sandal for tough terrain
Craghoppers Locke Sandals – Best minimalist hiking sandal
Ecco Offroad – Best leather hiking sandal
Finding the hiking sandals that work for you can totally revolutionise your wild walks in the sun. Whether you're looking for plush cushioning for song easy treks, or a stiff and protective outsole to take on the tougher terrain, we've got your back. Take a look at our picks and see which style suits your approach.
The Best Hiking Sandals in Detail
Best in Test
Description
Described by some as 'the World's Ugliest Sandal', Keen's aim with the Newport was simple: create
Pros
Tough construction
Protective toebox
Easy lace-lock bungee system
Best Value
Description
What impresses us about the Lizard Super Hike is how it manages to be light and minimalist while
Pros
Excellent technical performance
Straps lock firmly
Lightweight and comfortable
Best for long hikes
Description
These rugged and comfortable sandals from Merrell may cost a pretty penny, but we reckon they're
Pros
Very comfortable footbed
Rugged outsole
Great cushioning on heel strap
Best for tough terrain
Description
At first glance this looks just like a regular sandal, best suited to holidays and park walks, but
Pros
Feel light on your feet
Good sustainability credentials
Surprisingly durable outsole
Cons
Flexible footbed doesn't provide much support
Best minimalist sandal
Description
While not the chunkiest of sandals, these Craghoppers have a lot going for them if crag-hopping is
Pros
Sustainable construction
Uniquely incorporated insect repellent
Cons
Not as tough as other choices
Best leather sandal
Description
Pros
Long-lasting materials
Flexible and lightweight
Very comfortable fit
Cons
Prioritises comfort over technical performance
What To Look For In Hiking Sandals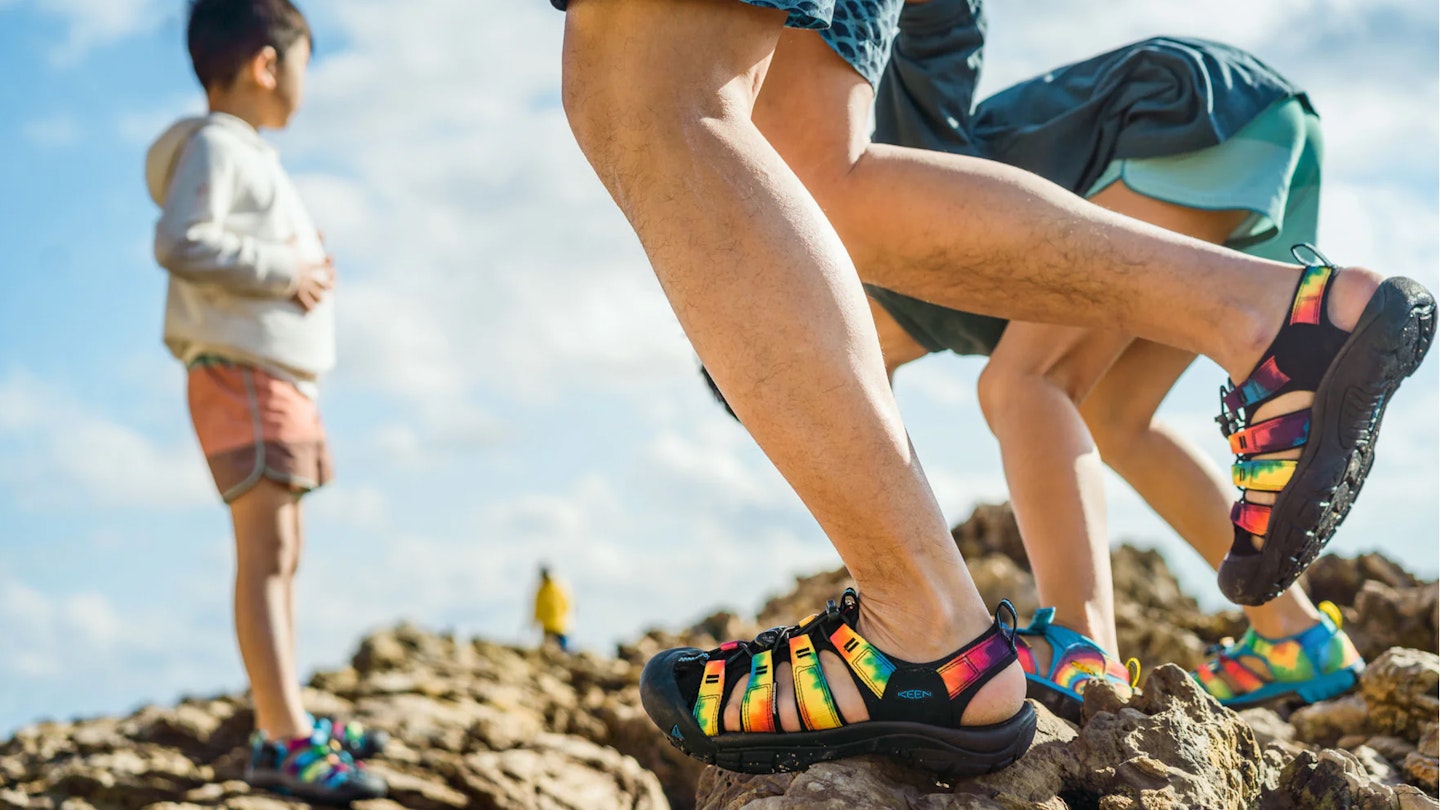 Material
Any decent hiking sandal needs to be crafted from quick-drying materials that won't wear out after a handful of adventures. You also want the outsole to grip well even when wet; sandals and water go hand-in-hand. The excellent traction offered by Vibram rubber soles is used in some of the best models, while padded neoprene and leather are also popular thanks to their comfort and durability.
Good walking sandals can be costly, but you're mainly paying for the quality of the materials. If you plan on picking up a pair for anything remotely challenging, we think it's well worth the cost. Cheaper models sold for casual beach trips simply don't stack up.
Style
It's worth considering the type of hiking sandal that best suits your needs. Even at the top level, there's a lot of variation in how much support and protection different sandals offer. Minimalist models may just feature a grippy sole and a y-strap to hold your foot in place, which may be all you need. If you're going to be hitting some harder terrain, you'll need something much tougher.
The most rugged sandals all look like a hiking shoe's skeleton. The rib-cage design excellently serves a dual purpose, providing the breathability and freedom of a sandal with the protective shield and toe box of a trail shoe. You won't find better – but you will have to come to terms with not caring how you look.
More kit for surviving summer
These recommendations come from our tough-as-nails gear editor, Ben Weeks. There is nobody else on the LFTO team who would even dream of facing down the amount of midges that Ben deals with on a regular basis. The guy is like Superman, but rather than being born with ultra-strong skin, he makes use of specialised outdoor kit to become impervious to damage. Here are the essential bits of gear that Ben won't go through summer without:
Best insect repellent
Description
This spray was developed and tested in Scotland – home of the heinous midge horde. Smidge is our
Best head net
Description
Whack this over your face and feel smug as you storm through cloud after cloud of midges and
Best allergy tablets
Description
It's a tough gig being an outdoor gear tester with severe hayfever. One member of the LFTO team –
Get half-price digital OS Maps! Trail and Country Walking magazine members get 50% off an annual subscription to OS Maps for 12 months! Find out more here.
Don't forget to subscribe to the Live For The Outdoors newsletter to get expert advice and outdoor inspiration delivered to your inbox!