Winter hillwalking is more challenging than your average summer day hike. Figures from the Mountain Rescue England and Wales (MREW) 2022 Annual Review and Scottish Mountain Rescue's (SMR) 2022 Statistics Report reveal that – unsurprisingly – the months of April through to September are usually the busiest when it comes to callouts from hillwalkers.
But there also tends to be a noticeable annual spike of incidents in January. The most common contributory factors leading to MREW callouts were human error and bad decision making. But this was followed by adverse or freak weather, which includes heavy rain, snow and strong winds. Meanwhile, north of the border, 28% of all Scottish Mountain Rescue mountaineering call-outs last year involved winter hillwalkers.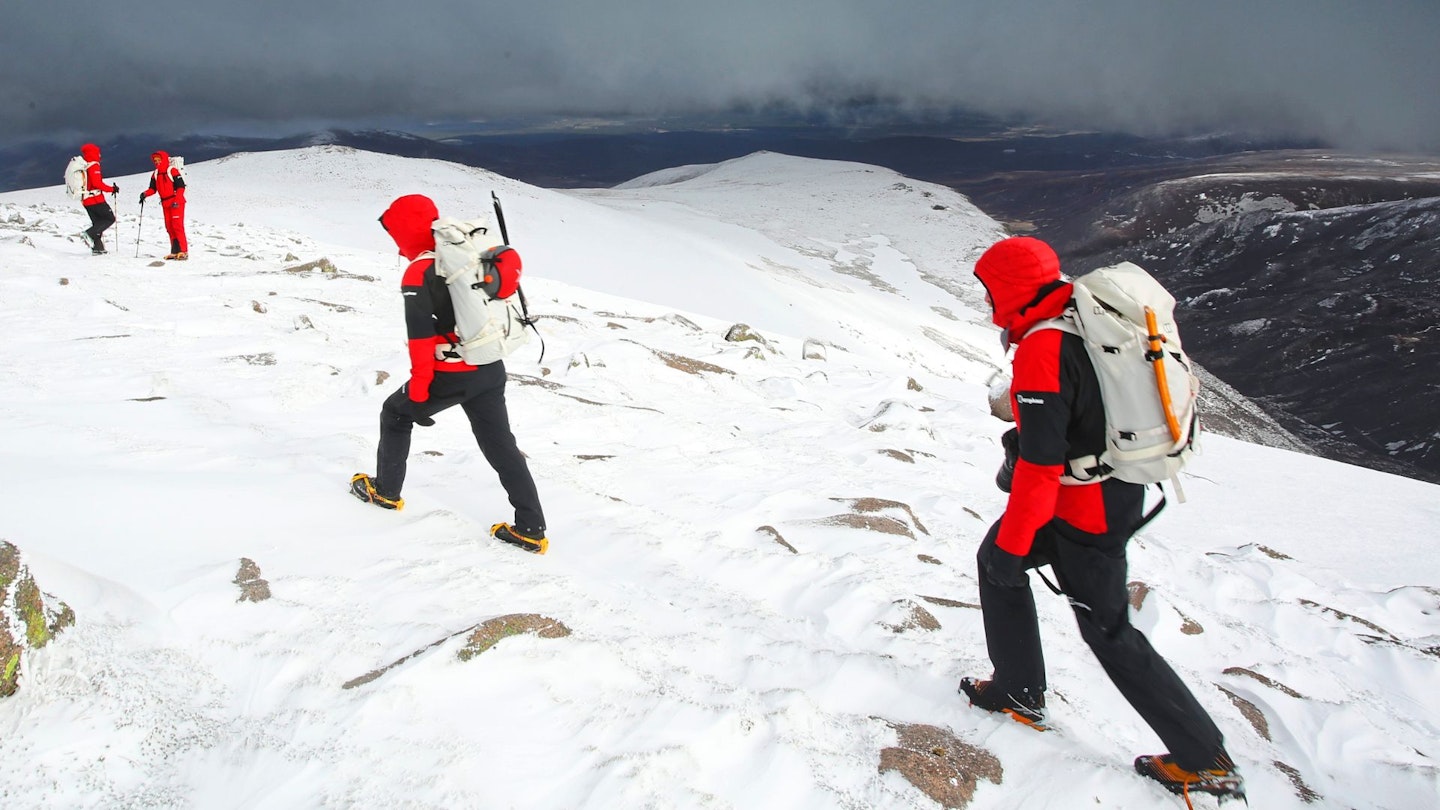 Of course, accidents can happen to anyone, no matter how well prepared, equipped or skilled they are. But having the right set of skills and equipment can hugely lessen the chances of an avoidable Mountain Rescue callout. That's especially true in winter, when factors like plunging temperatures, poor weather, limited visibility and difficult conditions on the ground can all make finding your way and staying safe in the hills and mountains considerably trickier.
This might mean sharpening up your skills by taking a winter hillwalking or winter mountaineering course. It might also mean investing in a bit of specialist kit. In some cases, your summer hillwalking kit might work for the colder months, but in other cases, it's well worth upgrading or buying more rugged equipment suitable for the winter season.
This guide is all about the gear you need for winter hiking.
Clothing layers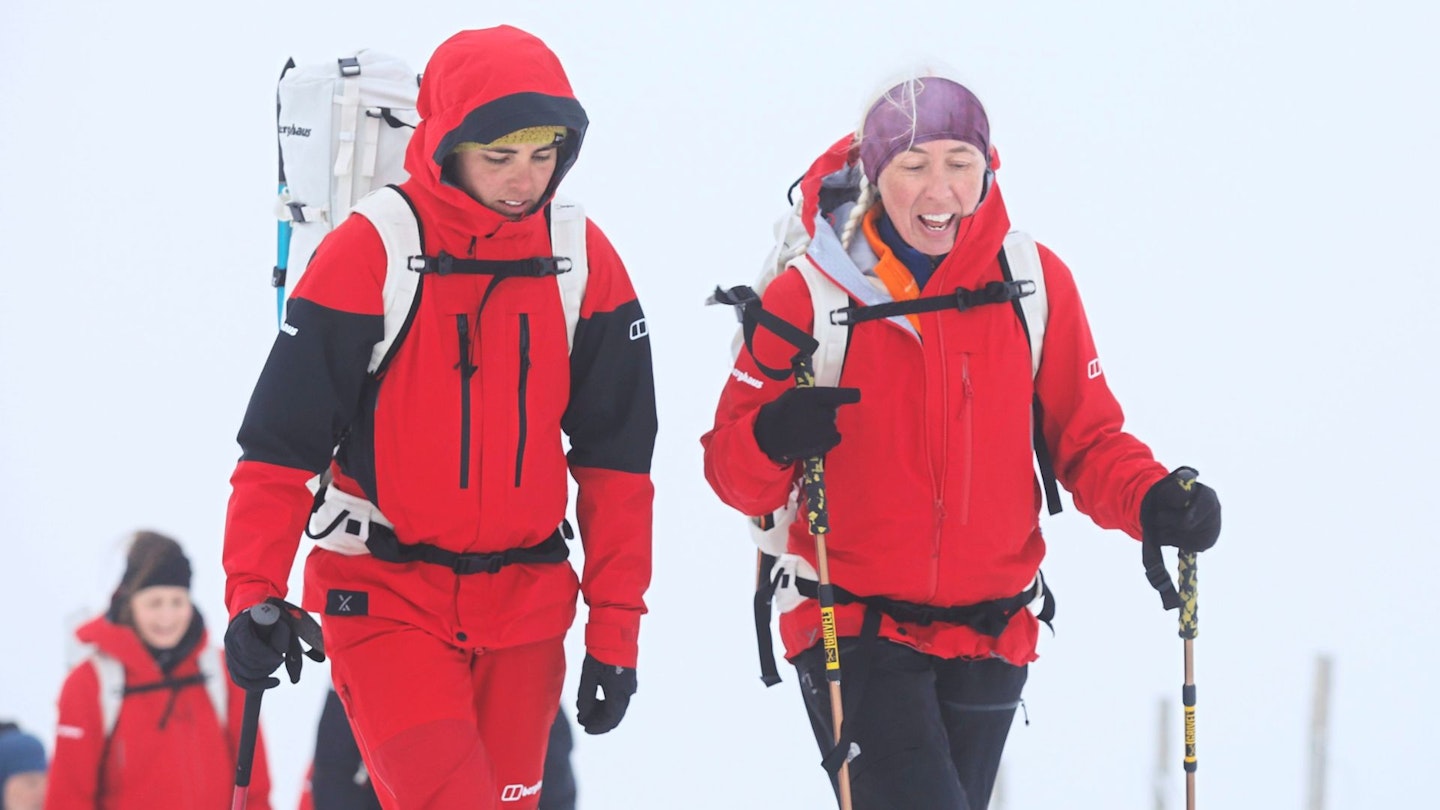 Good layering is the key to staying dry and comfortable in the hills. In winter you'll need a warm, fast-wicking synthetic or merino wool base layer with an insulating mid layer over the top.
A fleece jacket or breathable insulation layer works well, as does a softshell jacket. In extreme cold you may want to wear base layer tights under trousers.
When it comes to outerwear, you'll need a rugged and reliable waterproof shell, as well as waterproof overtrousers or ski-style salopettes.
Pack at least one extra or spare insulating layer too – ideally, a chunky insulated winter jacket like a synthetic or down 'puffy', or a climbers' belay jacket. This is useful to throw on whenever you are static, or if you're forced to stop unexpectedly.
Feet, head and hands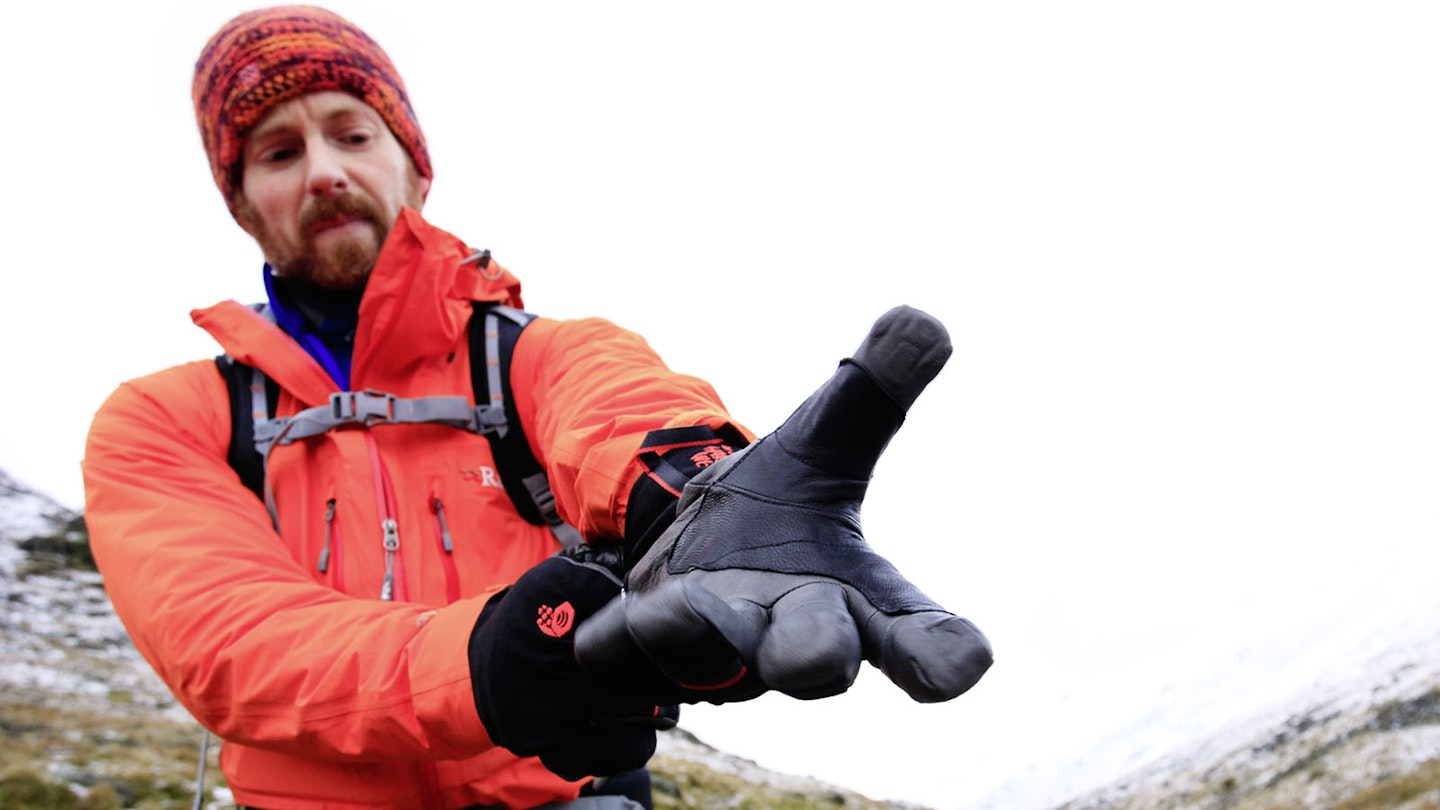 Wear a warm beanie hat that covers your ears fully (and carry a spare in your pack). If you're mountaineering, a low-profile beanie without a bobble will fit much more easily under a climbing helmet.
A buff, neck gaiter or even a balaclava can all guard against windburn or frostnip.
Warm gloves or mitts are vital, and many winter hillwalkers carry multiple pairs so they can keep hands dry throughout the day. A common system is to wear a pair of 'thinnies' or liner gloves, with a thicker gauntlet over the top. This means you can remove your gloves to perform finer tasks without exposing hands to the cold. Gloves with wrist leashes will help to prevent them from getting lost.
Calf-length or even knee-length winter walking socks are the best way to keep toes warm, as they preserve circulation better. Look for socks with high wool, acrylic or polyester content for optimum warmth.
Footwear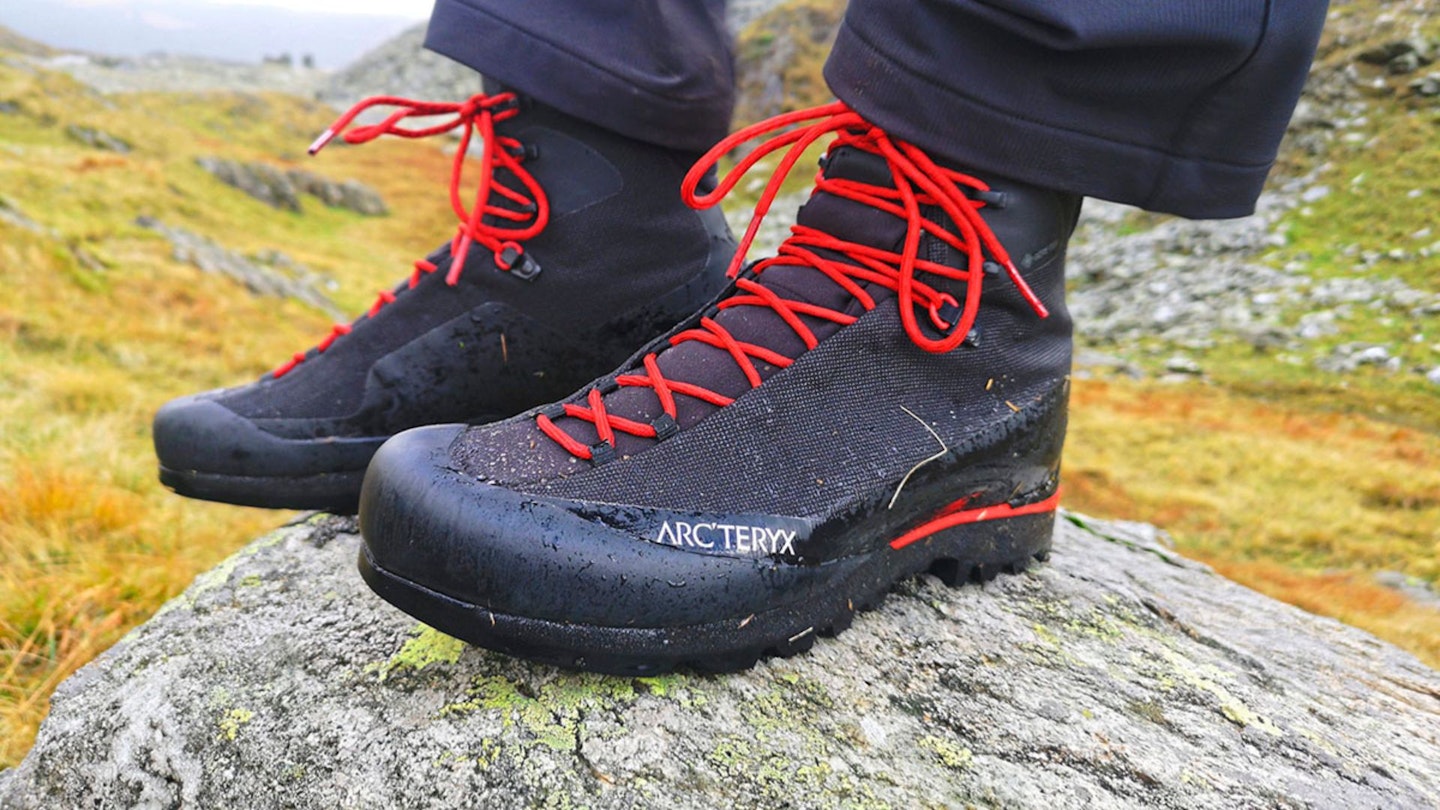 In winter, boots become more than just footwear – they become vital safety tools for negotiating rock, snow and ice. You'll need stiff B1 or B2-rated winter boots for use with crampons.
Look for boots with deep, widely spaced lugs, and a sharp or undercut heel breast for extra downhill traction. It's worth carrying spare bootlaces too.
Hardware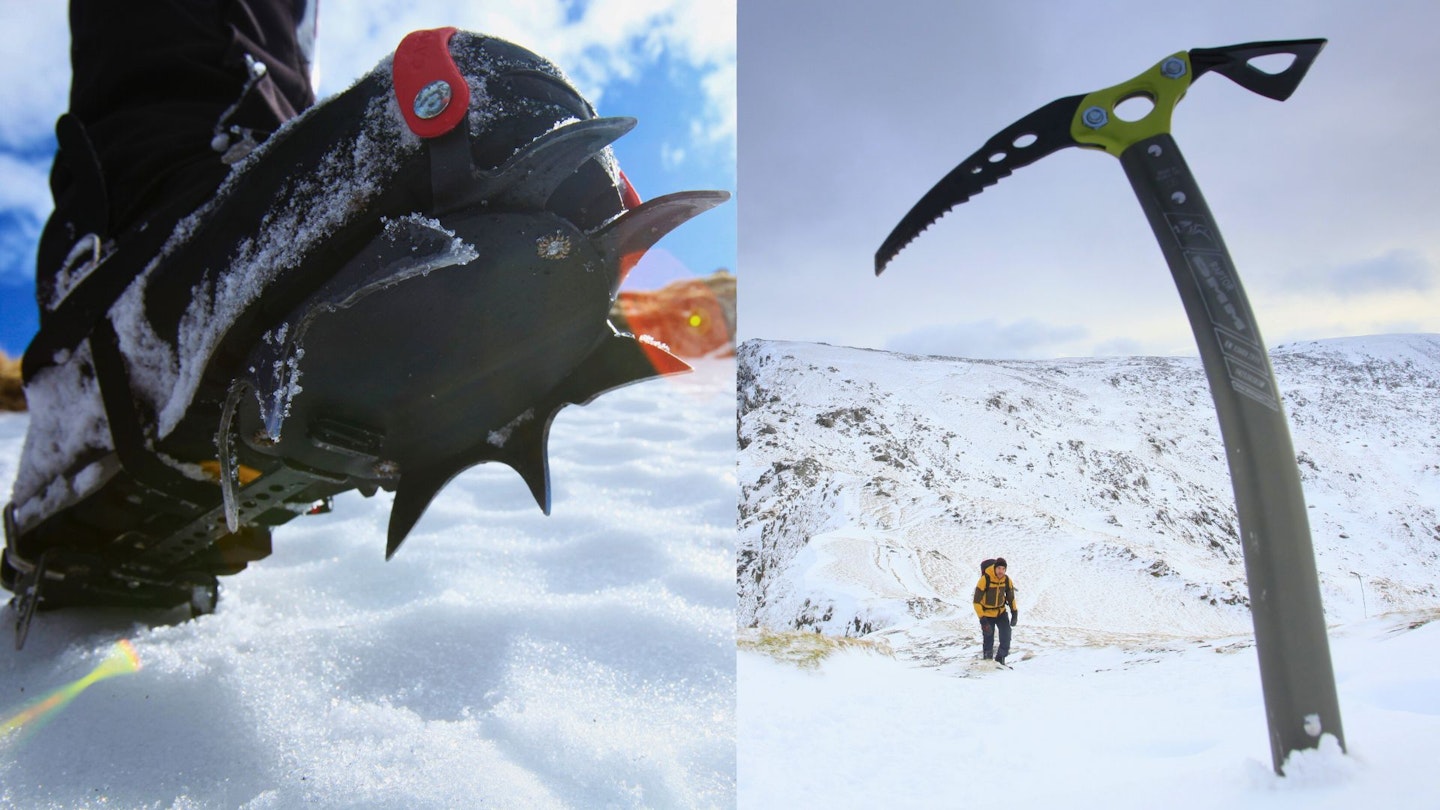 For winter hillwalking, you'll need an ice axe and a pair of 10- or 12-point crampons. It's a good idea to carry a small multi-tool too. This can be useful for fixing and adjusting crampons.
Trekking poles are also extremely useful in winter, providing extra stability in snow and ice.
First aid kit
You should be able to treat minor injuries like cuts, grazes and blisters yourself, so carry a decent first aid kit.
Don't forget to include sunscreen. It's easy to burn your chin, lips and nose in the mountains due to high levels of ultraviolet (UV) exposure. Snow can also reflect up to 90% of UV radiation. Consider packing moisturiser too, which can help with dry or chapped skin caused by cold.
Eye protection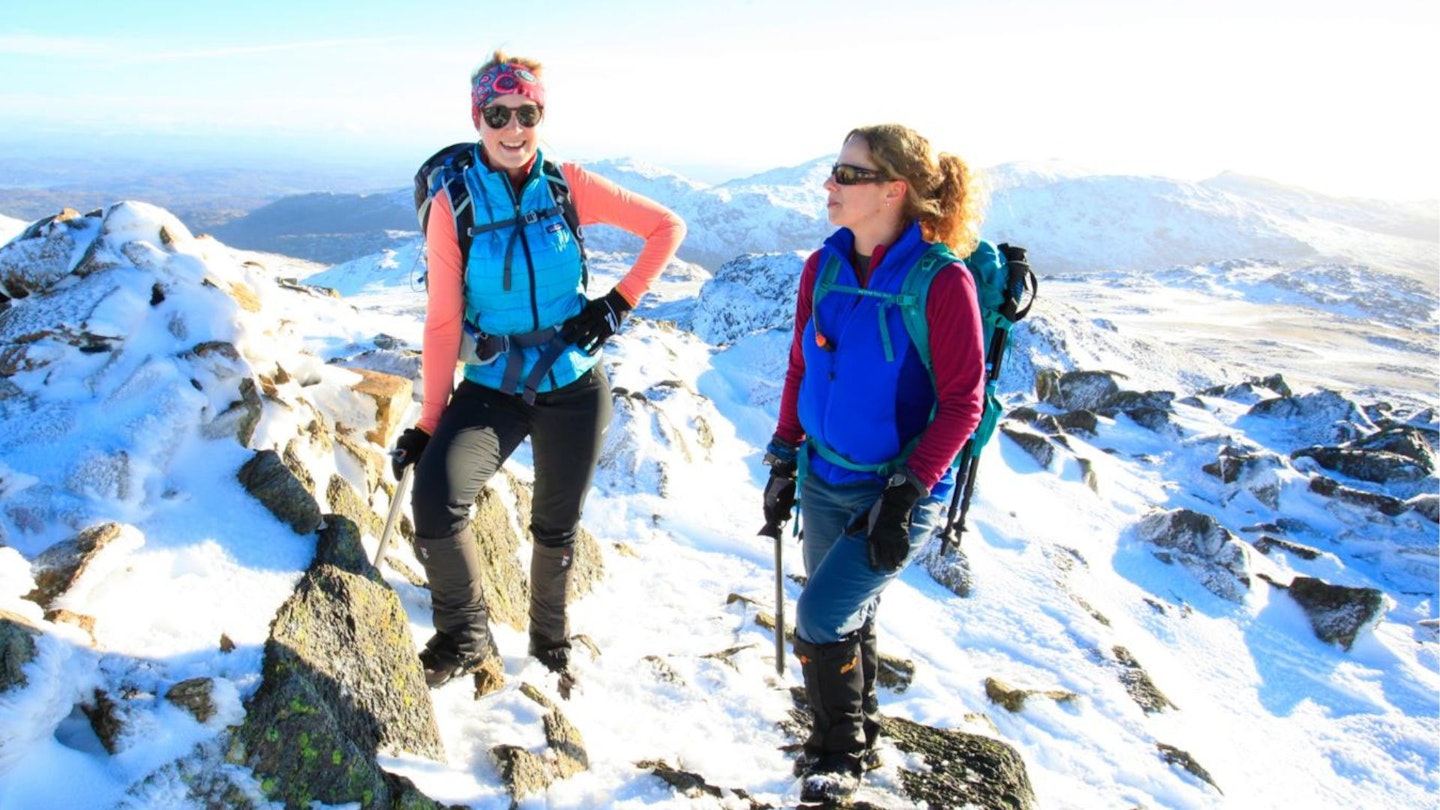 Sunglasses or ski goggles protect against snow dazzle, buffeting wind and spindrift. Goggles offer more protection than glasses but can be prone to misting up. One way to reduce this is by choosing double layer lenses.
Polarised lenses can help with contrast in snowy conditions, but clear lenses are better than coloured lenses in low visibility and at night.
Navigation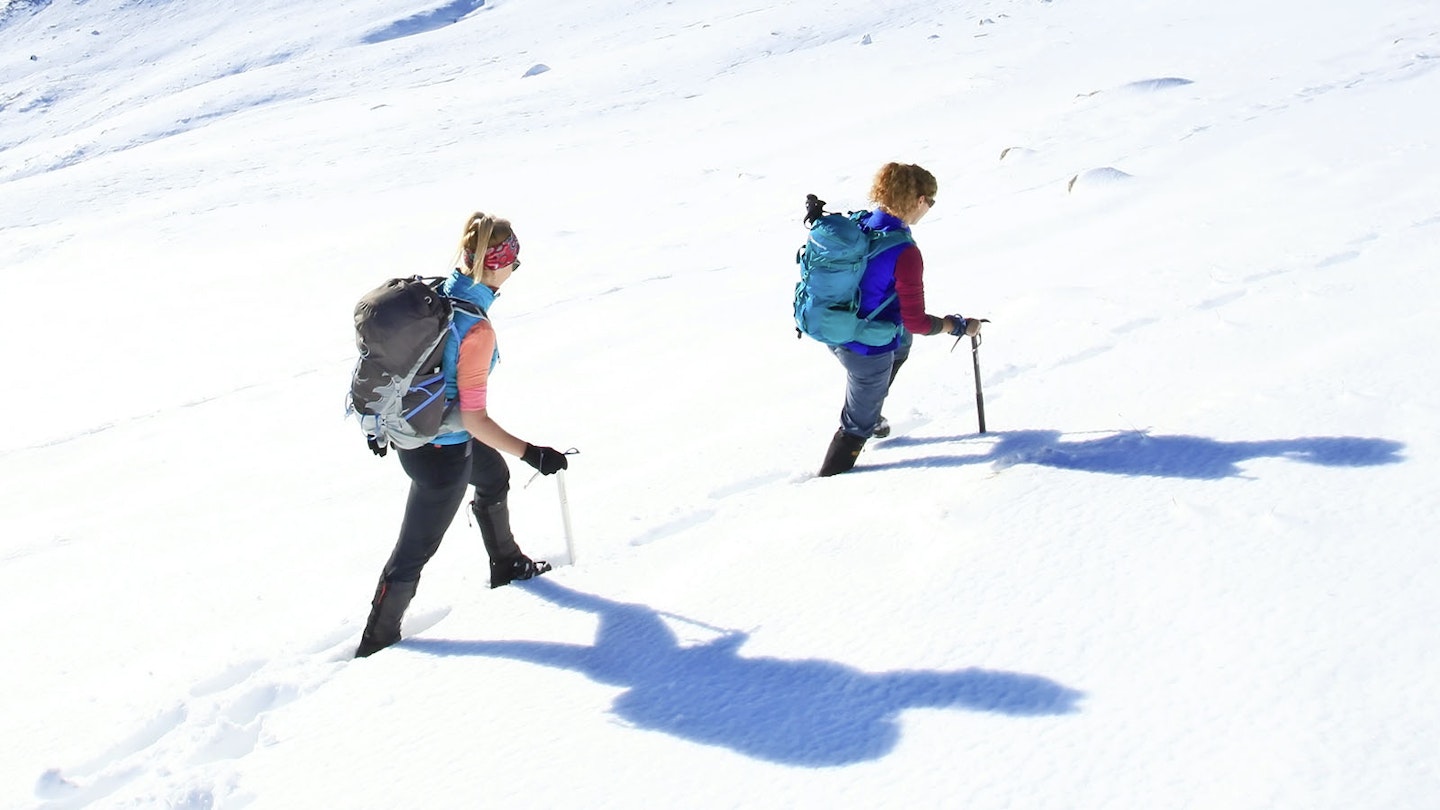 Always carry a reliable baseplate compass and a weatherproof map – either a waterproof map or a standard paper map housed in a map case.
Check your compass for air bubbles too. Though these aren't usually a problem, in cold weather they can expand and prevent the needle from moving. Air bubbles are caused by microscopic cracks in the plastic housing, which enters when the internal liquid contracts in the cold.
Keep your compass on you, so it's well protected and warmed by your body heat. If you usually navigate with a smartphone or GPS unit, ensure you're also carrying a charging cable and a fully charged power bank. Charge all the phones in the party before setting off – and maybe keep at least one switched off, for emergency calls and text messages only.
Where possible, carry devices in an inside pocket to keep them warm and maximise battery efficiency. You can also buy thermal or insulated phone pouches or socks to help preserve and protect battery life.
Lastly, wear a reliable wristwatch – it doesn't have to be a smartwatch. The important thing is that it tells the time accurately! This can be very useful for timings and pacing when navigating, as well as estimating remaining daylight and monitoring the day's progress.
Light and sound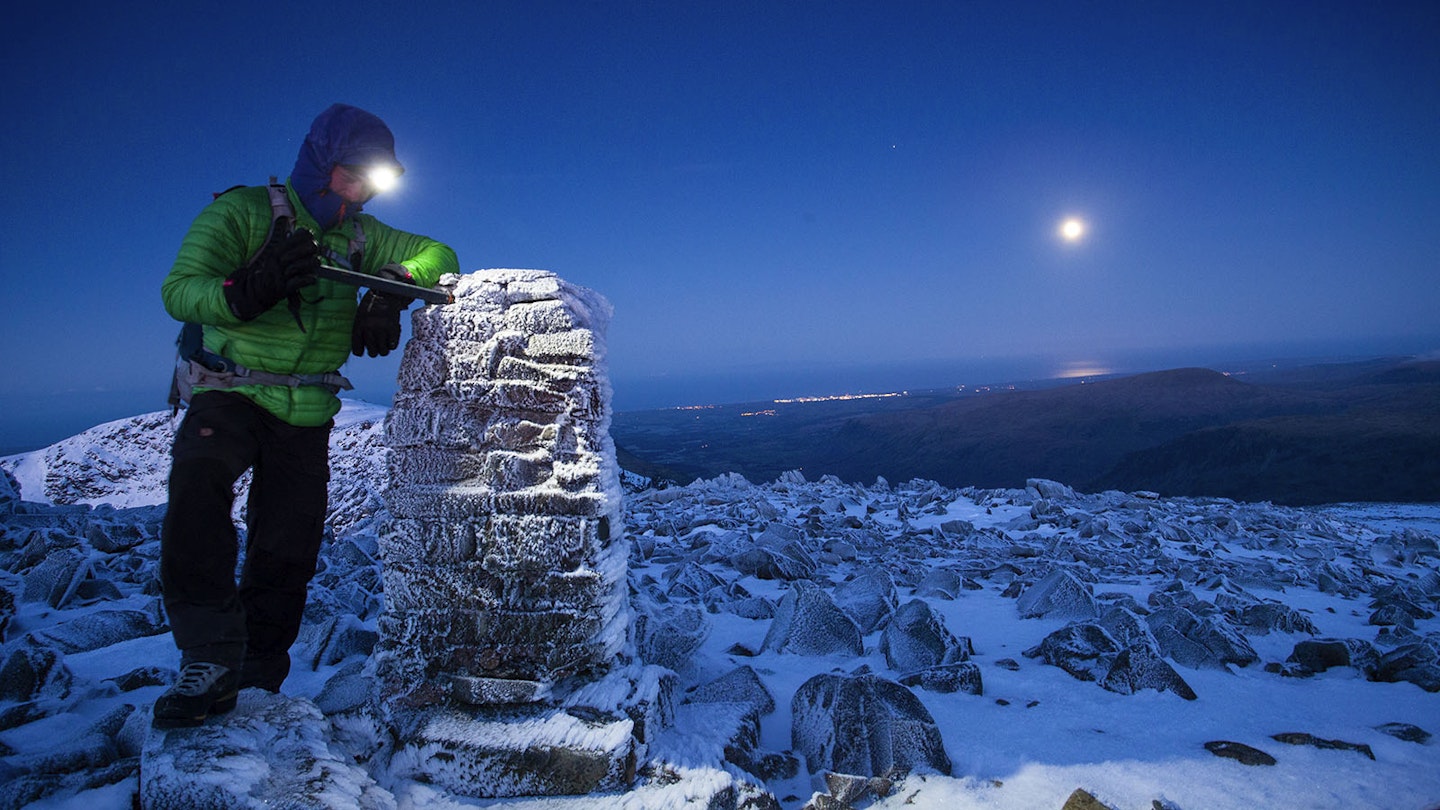 Carry an emergency whistle. The piercing sound of a whistle carries much further in the mountains than the human voice, so it can be vital in an emergency. Many hiking backpacks have a whistle integrated into the chest strap buckle.
A head torch is another vital bit of winter kit, even if you don't intend to stay out in the dark. Take spare batteries, or better still a back-up headtorch. Bear in mind that lithium-ion cells work better in the cold than disposable alkaline AA or AAA batteries. Again, if your head torch uses a rechargeable battery, carry a charging cable and power bank.
Emergency shelter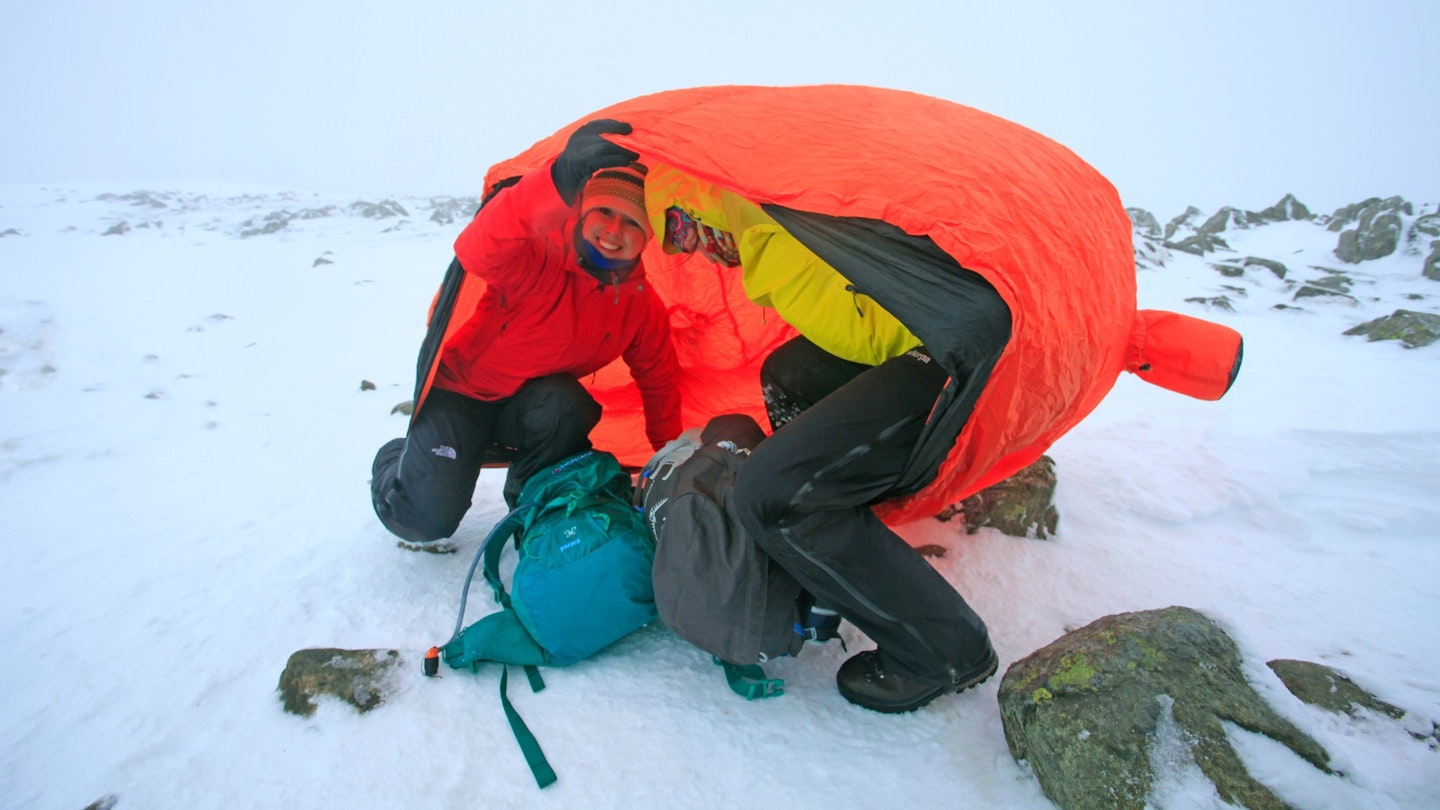 Getting casualties out of the wind and under cover is critical in winter, so carry a storm shelter or bothy bag. Different sizes can accommodate different numbers of people, with each person lifting it over their head and then sitting on the inside edge.
Look for a shelter that is fitted with a window and an air vent. In addition, a survival bag or bivvy bag can be useful in case of injury or benightment (and is far better than a silver space blanket).
Avalanche gear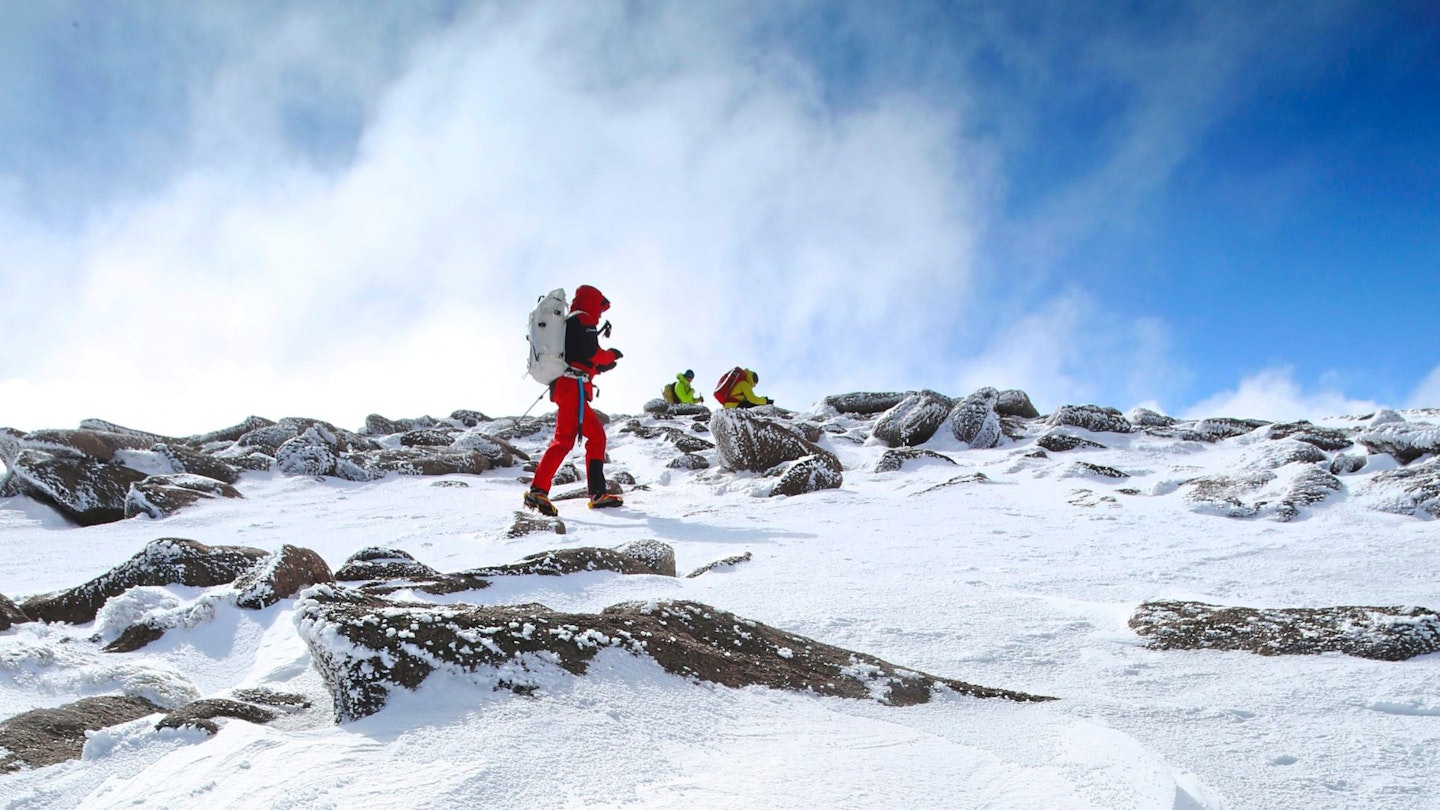 Avalanches don't happen in the UK, do they? Actually, there were 156 recorded avalanches in Scotland's mountains in 2022. That's why the Scottish Avalanche Information Service (SAIS) publishes a daily forecast of avalanche, snow and climbing conditions for six areas of Scotland throughout the winter season.
Avalanches are an occasional hazard in the mountainous areas of England and Wales too. Avalanche warnings were issued in both Eryri and the Lake District after heavy snowfall in 2018 and 2019 respectively. So, if you're venturing into terrain where avalanches are a possibility, think about carrying the following kit.
Slope card
This credit card-sized plastic tool is very useful for indicating slope angles when assessing avalanche risk.
Avalanche probe
An essential part of avalanche safety, a probe or wand is a folding metal rod used to search through avalanche debris. It can help you find a buried victim and measure the burial depth.
Snow shovel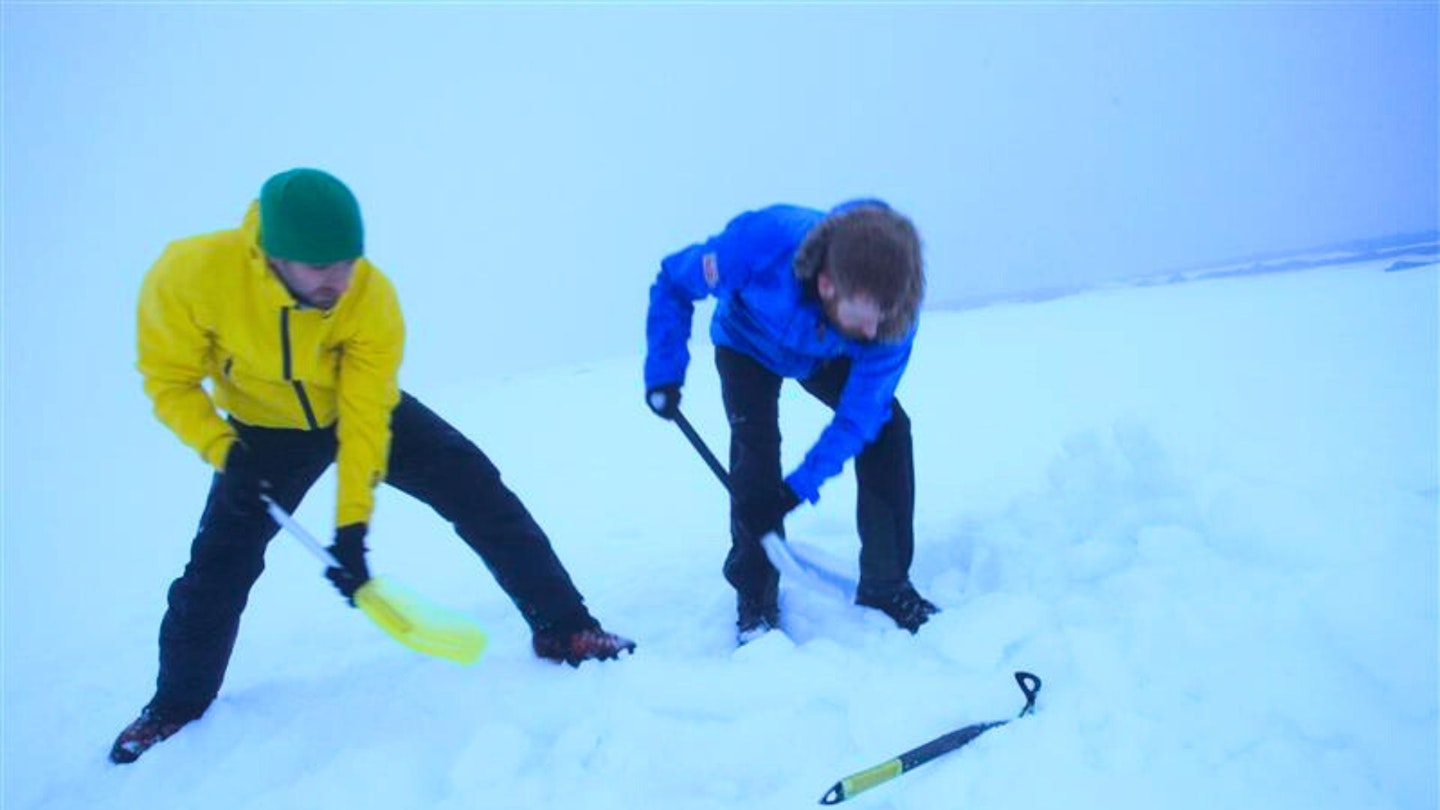 A shovel can be used to dig out avalanche victims, as well as for digging emergency show holes and shelters.
Emergency beacon
Avalanche transceivers constantly transmit a low powered pulsed signal while you're in the hills. Should you get caught in an avalanche, anyone in your party that is safe will switch their beacon from 'transmit' to 'receive', which allows use as a radio direction finder. The searchers in your party can then use their beacons to find your location and dig you out of the snow. They only work up to 100m or so.
A Personal Locator Beacon (PLB) works differently. These devices can be used to provide Mountain Rescue and other emergency services with your personal data, emergency contacts and location information. When activated, teams can track the GPS position (or coordinates based on triangulation if GPS data isn't available) from the beacon to locate and rescue you.
A SPOT beacon works similarly but can also be used in a non-emergency scenario to let family and friends know you are OK, even if you're out of range of a mobile phone network.
Rucksack and dry bags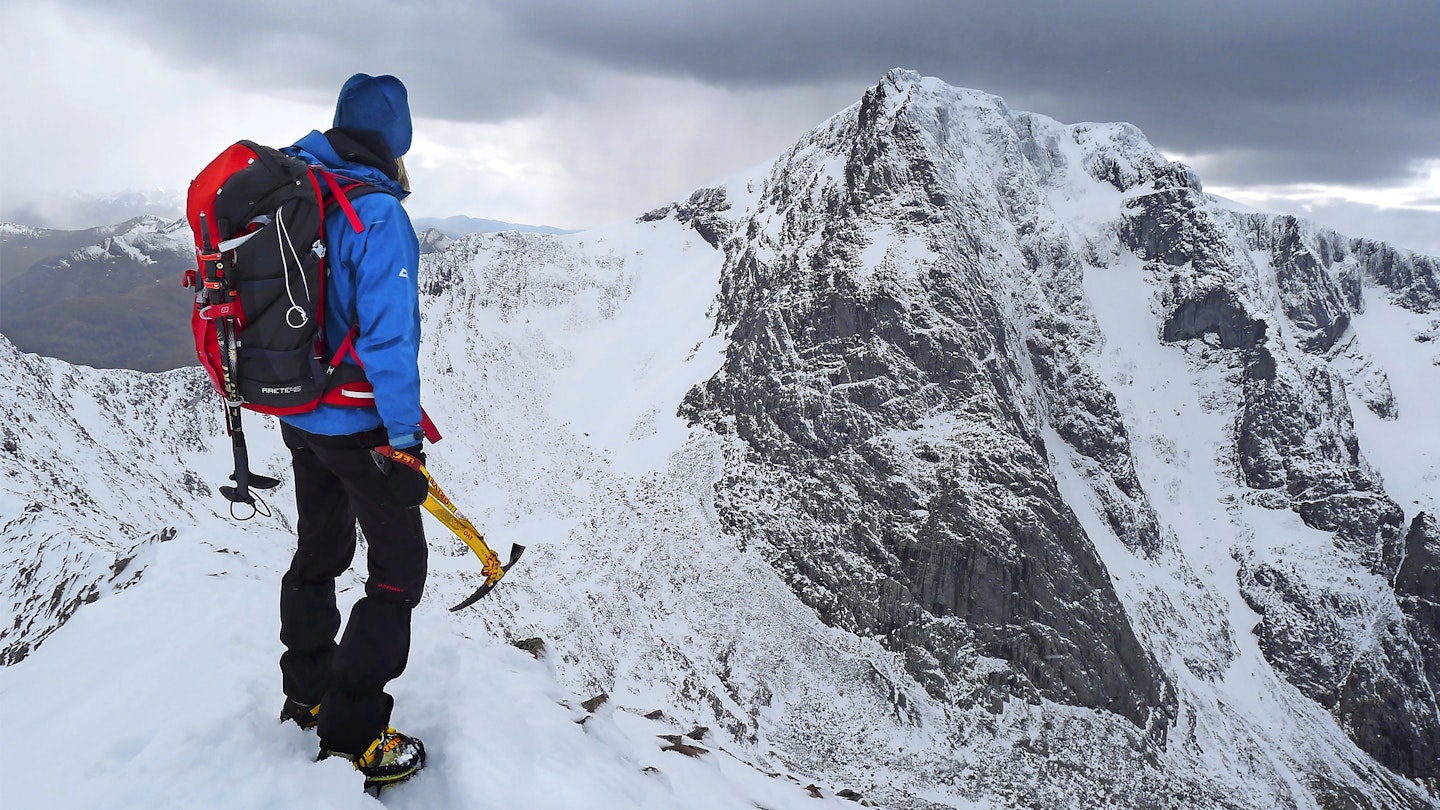 All this gear needs to fit in your rucksack, which normally means carrying a winter mountain pack of about 45 litres in volume. In addition, to keep the contents safe and well organised, it's worth buying a set of colour-coded dry-bags, which is far more practical for winter walking than a waterproof pack liner or a rucksack cover.
Get half-price digital OS Maps! Trail and Country Walking magazine members get 50% off an annual subscription to OS Maps for 12 months! Find out more here.
Don't forget to subscribe to the Live For The Outdoors newsletter to get expert advice and outdoor inspiration delivered to your inbox!
Matt Jones is a freelance gear tester for Live For The Outdoors and Trail Magazine. He has walked several long-distance backpacking trails in New Zealand, the USA and throughout the UK.