Perhaps the most important piece of dedicated hill walking gear, the walking boot has evolved dramatically over the years. Where once a stiff brown leather boot was your only option, now a vast array of choices lies at your feet. And the good news is there are plenty more women's-specific options these days.
Of course, with so many options to choose from ensuring you get the right pair for your feet might seem even more of a challenge. It doesn't have to be, though.
Without a doubt the best way to get the right boots for you is to go to a proper boot-fitting retailer whose expertise will have you skipping up the hills in no time. And to help you ask the right questions and give the relevant factors due consideration, reading this guide before you go can only help.
Walking boot diagram: the parts that make a hiking boot
The key to improving one's understanding walking boots is knowing the collection parts that make them.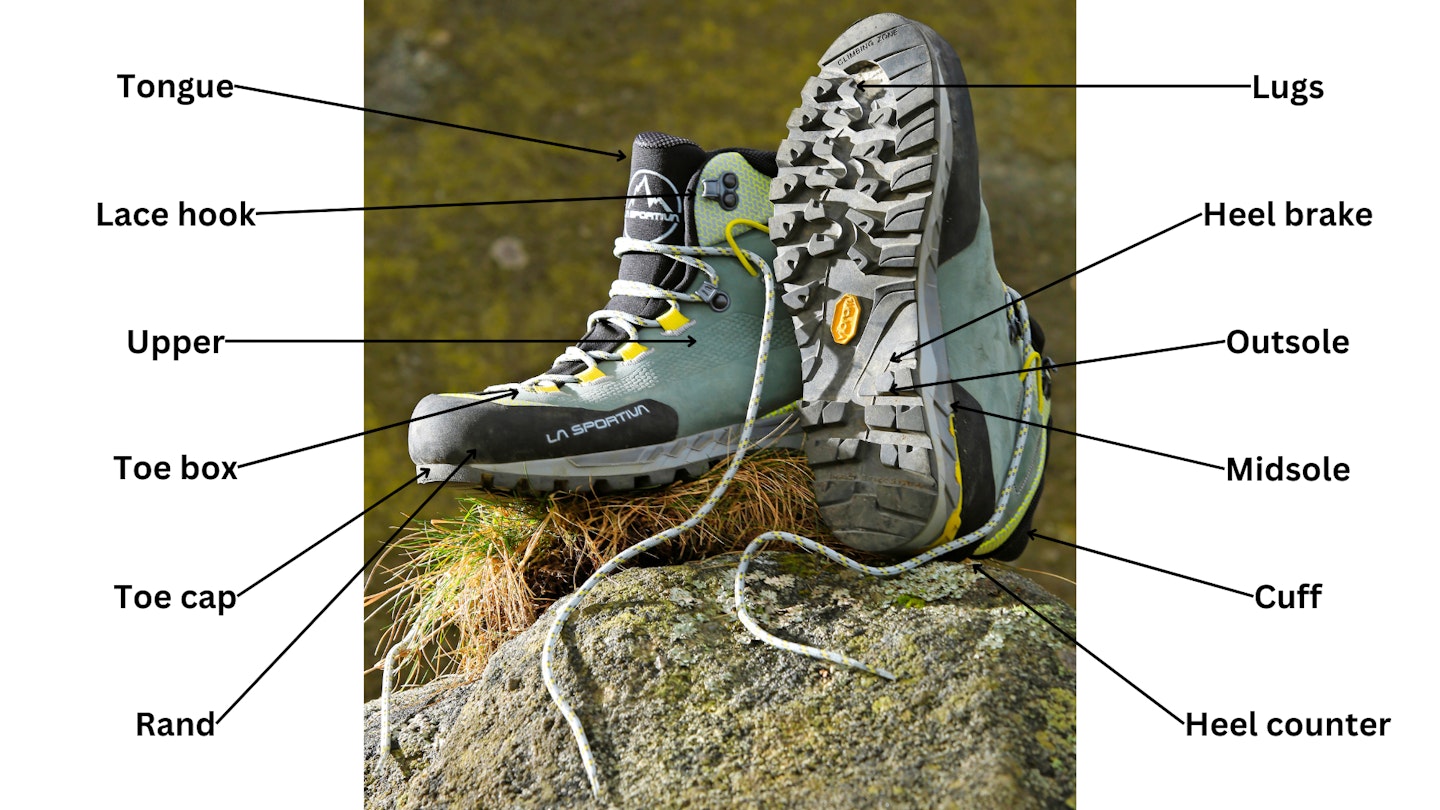 Lugs: The tread on the underside of the boot that gives you grip. Lugs vary in size and shape to suit different types of terrain. For example, chunky, widely spaced lugs prevent build-up of dirt and are great for mud. Meanwhile, thinner tread patterns are better on rock. The rule of thumb is that the deeper and more aggressive lugs are, the more grip you have.
Outsole: Refers to the underside of the boot. Outsoles are usually made from a type of durable synthetic rubber such as thermoplastic polyurethane (TPU). Some brands produce their own outsoles but many use Vibram soles.
Rand: A protective guard that runs along the boot, just below the upper. Some rands protect just the toe, while other boots (primarily those designed for trekking) have a full wraparound rand. The rand is sometimes called the mud guard.
Toe cap: A lip that extends up from the outsole, but may also sit inside the toe box. The toe cap exists to provide extra protection.
Toe box: The space where your toes sit. Boots vary on how wide this space is and getting it right for you is crucial to comfort.
Midsole: The midsole is for cushioning the foot. It sits between the outsole and inner sole and usually made from EVA or polyurethane, although some footwear brands are exploring the use of algae to make walking boots more sustainable. Part of the midsole is the shank. This is a piece of stiff material (usually steel) to provide extra stability.
Heel counter: This is for heel stability and to add structural strength to the boot. It's a hardened section of the boot just behind your heel.
Upper: This is the main outer fabric of the boot above the sole. This fabric can be leather or a synthetic material.
Eyelet: These allow you to lace the boot the way that's best for you. Some boots have lacing systems that extend all the way from the collar to the toe to provide the most secure fit possible.
Cuff: This top section of the boot is padded for comfort and provides protection around the ankle and lower calf.
Tongue: The tongue provides easier entry and like the collar, is padded for comfort. To help keep debris and water out, some tongues are attached to the upper (i.e., are gusseted).
Lining: Behind the upper is the lining. It protects the foot from uncomfortable internal seams but many boots also incorporate waterproof fabrics into the lining, such as Gore-Tex. The lining also needs to be breathable for comfort.
Inner sole: These removable footbeds are designed to give the foot arch support.
Boot grading system
Boots are graded in terms of stiffness from B0 to B3. General hillwalking and lightweight boots have a B0 rating. B0 boots aren't compatible with crampons.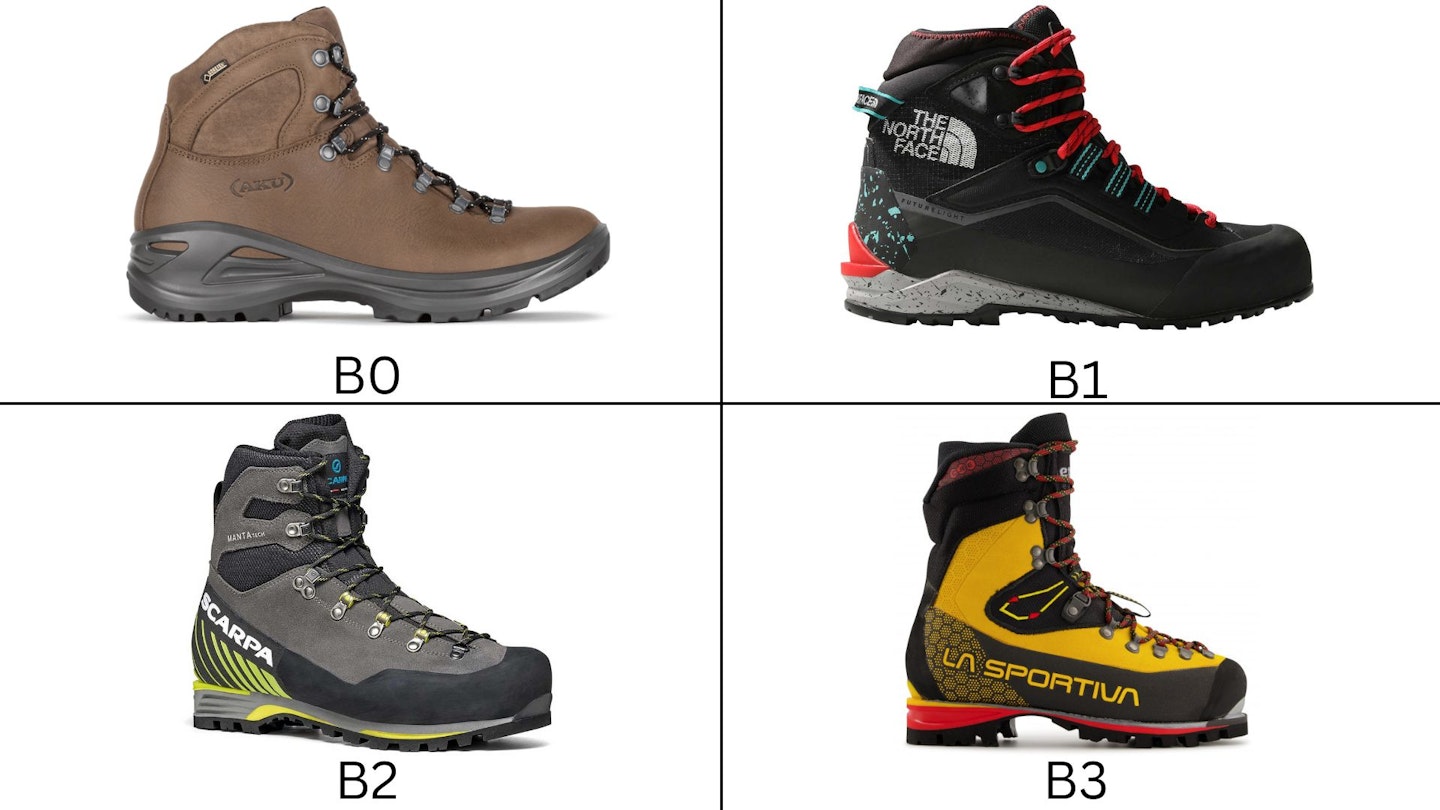 B1 boots are still reasonably light and flexible, and the most comfortable for walking. They fall into the 3-4 season boot category and are quite versatile. Some can take a C1 crampon, providing enough security for easier UK winter walking in snow.
B2-rated boots have a stiff upper and wraparound rand and can be fitted with C2 crampons. But B2 boots still possess some flex and cushioning. These are great for winter because B2 boots give you rigid technicality for ice and snow when required but also enough comfort for long spells covering grass, mud and rocky paths.
B3 boots are very rigid and designed for ice climbing and technical mountaineering. They're overkill for most UK hillwalkers but are very good indeed for deep winter mountain treks.
Where are you walking?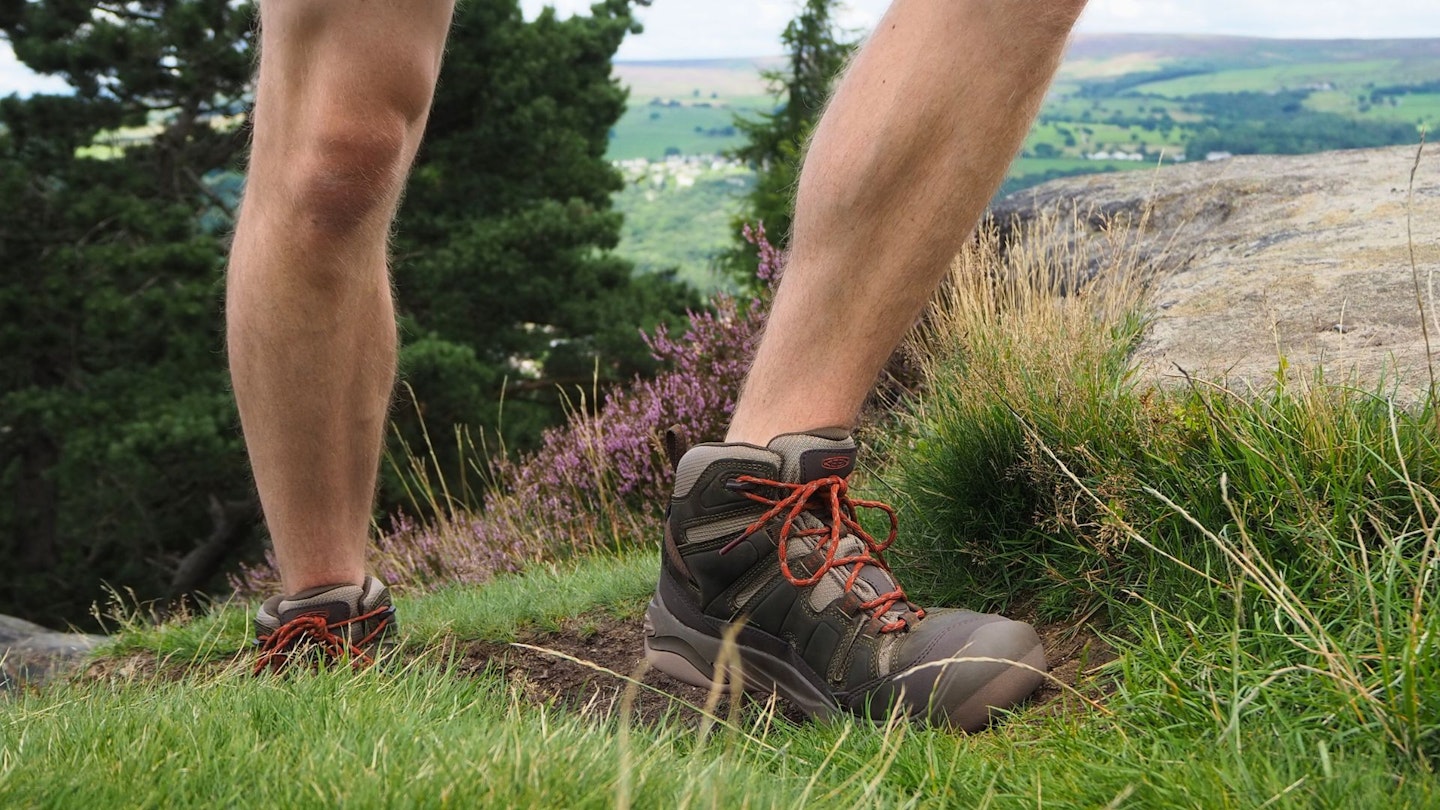 Do you stick to paths and grassy slopes, or do you prefer scree chutes and rocky ridges? Different boots are built for different terrain. Factors like the strength of the toe box, the level of ankle support, the lug pattern, and the upper materials varying wildly depending on the end use.
To make things easier, boots fall into a category of the B0-B3 boot grading system. Price is always a factor too. Less expensive boots can offer impressive bang for buck on easier walks. But they reach their limits when the going gets steep and/or you head above the snowline.
When are you walking?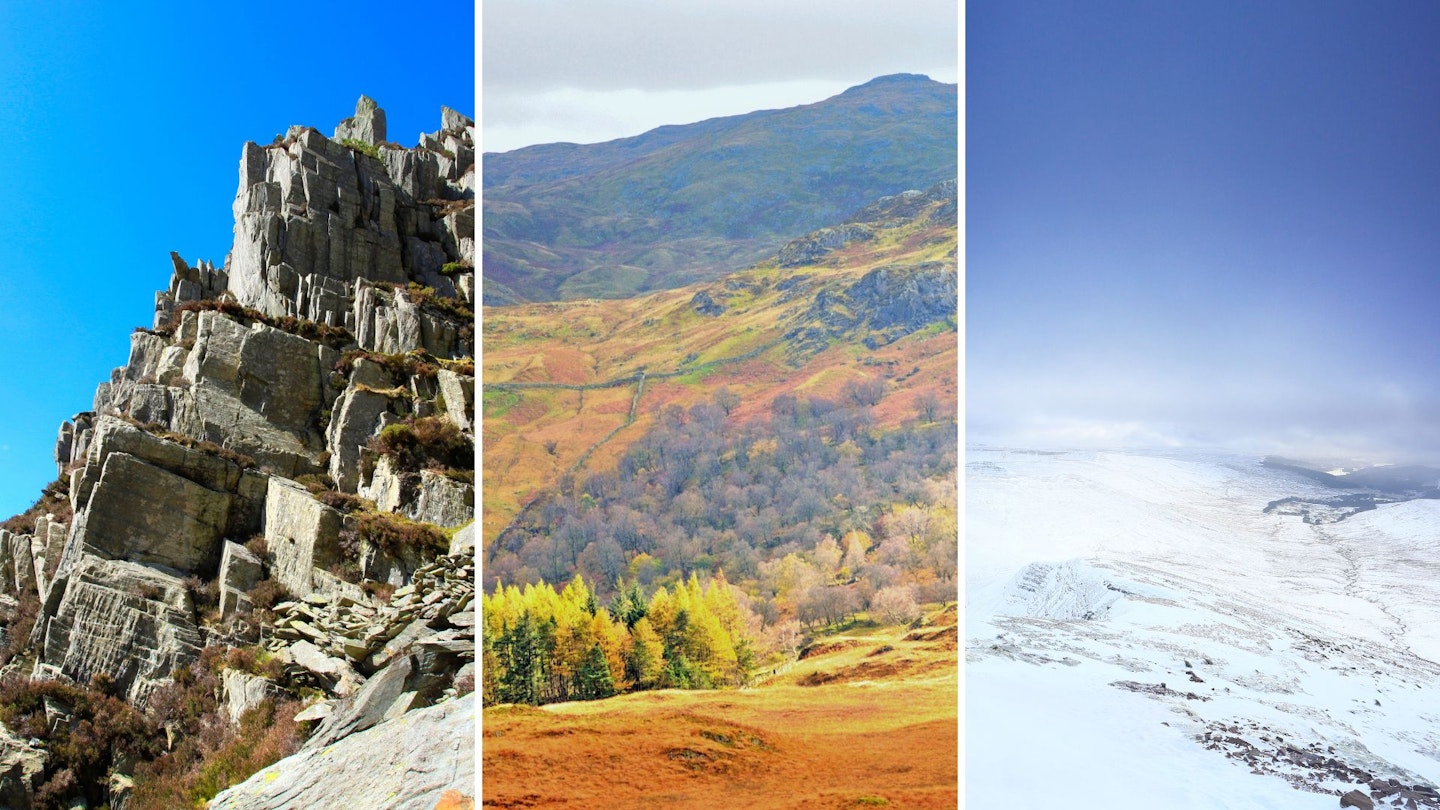 Most people do the majority of their hillwalking in spring, summer and autumn, which is where the term 3-season boot comes from. They're generally ideal for the typical conditions associated with each season, so pretty much anything apart from snow and ice. If you're heading out in winter you should upgrade to a dedicated winter boot. These are warmer, stiffer, more heavy-duty with the capability of kicking into ice and snow, and usually crampon compatible too.
Leather or synthetic?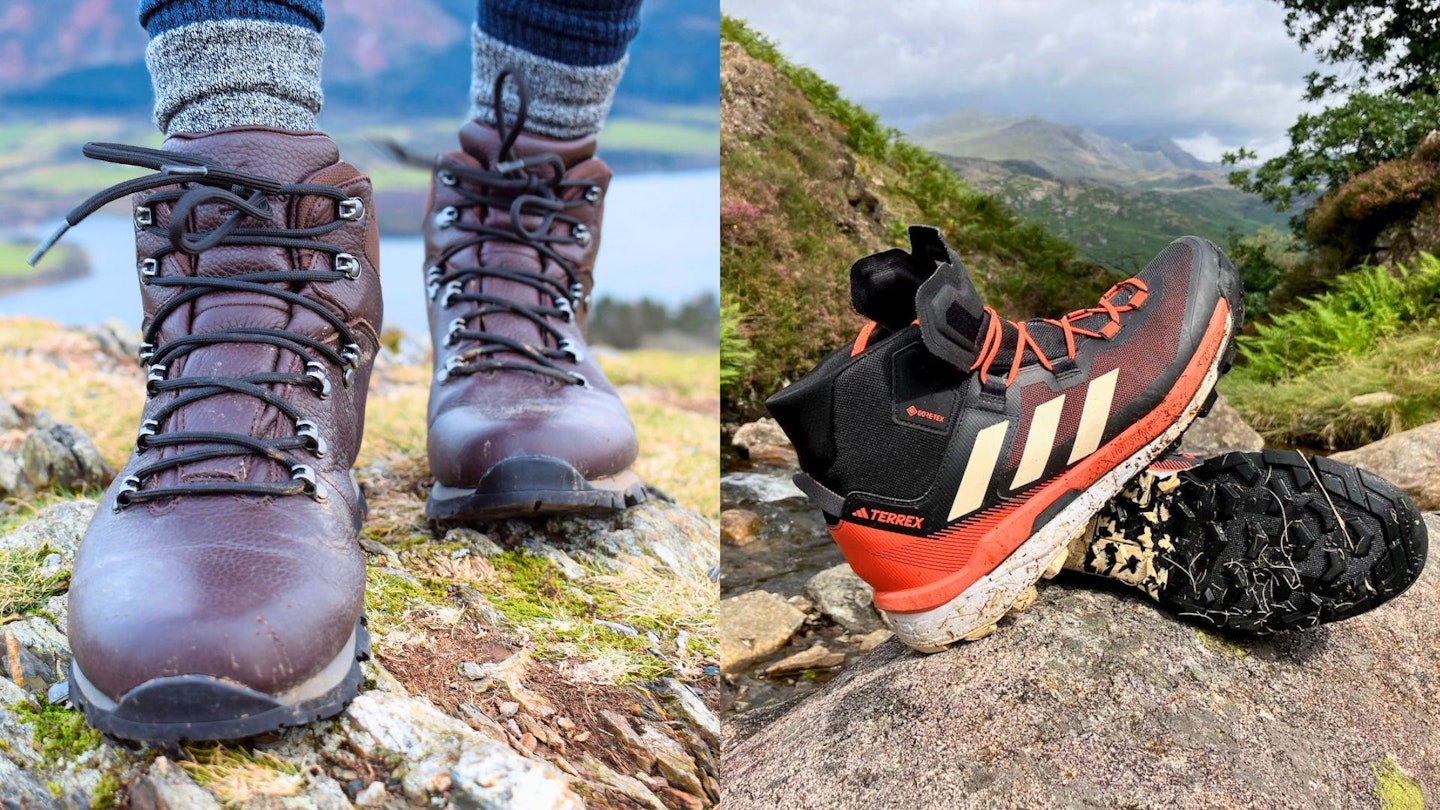 This is probably the first big choice facing you when buying a pair of walking boots. The traditional leather hillwalking boot is still very popular in terms of durability and its levels of protection from the elements. But synthetic materials are catching up fast and the differences are becoming less obvious.
Weight and fit, for example, are probably more important factors to consider than the type of material used. If you want leather boots for their durability or style, but still want something lightweight there are options that use thinner leather and often employ mesh inserts.
Find the right fit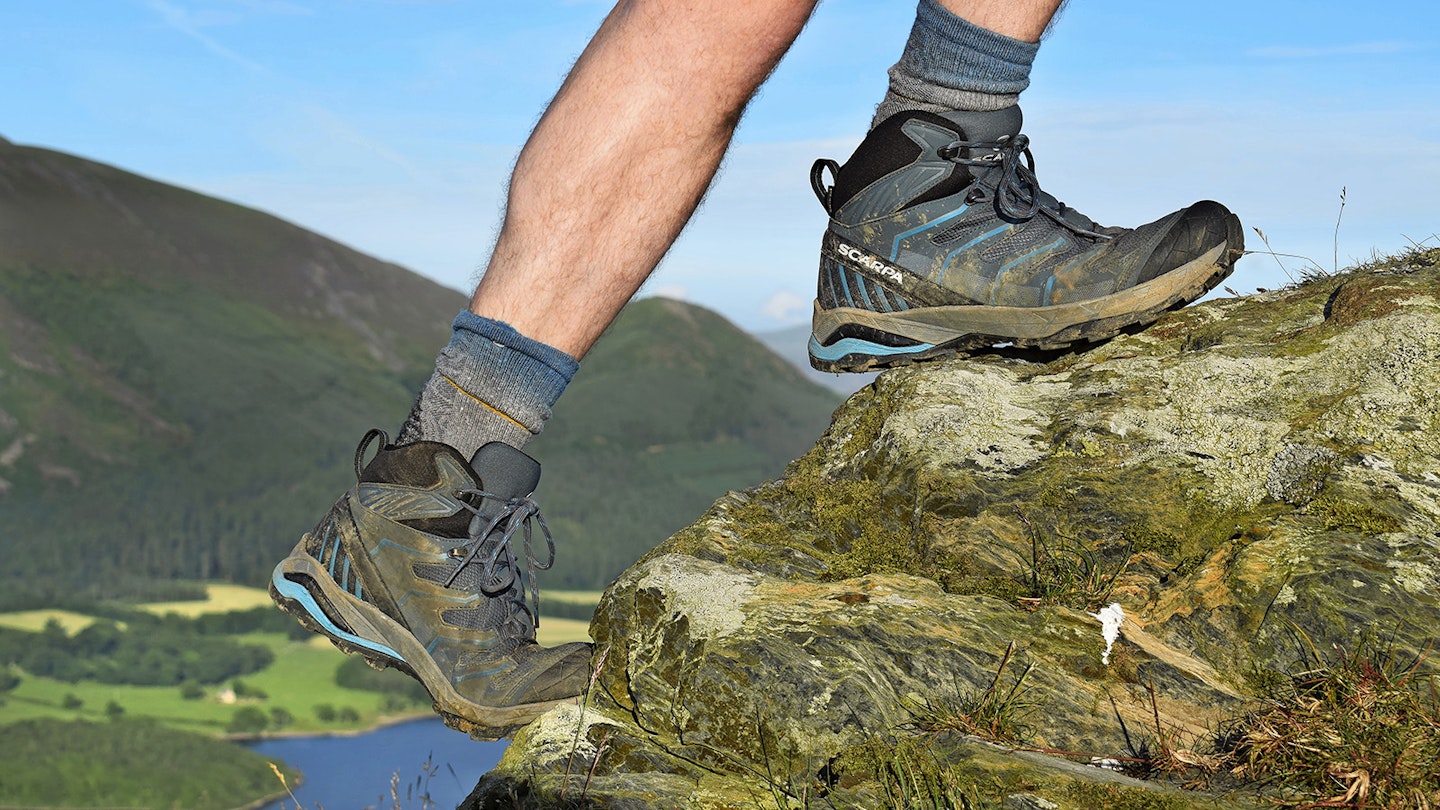 It's always tempting to go for the most high-spec options, but remember you'll be walking a long way, on steep terrain, and carrying heavy loads. Comfort is key. Once you've picked the features you want in your boot, focus on finding the most comfortable option you possibly can.
Boot fit isn't just about the size of your foot, it's about its shape too.
The inside of the boot should be slightly longer than your foot (about a finger's width), because you don't want your toes bashing against the front while you walk downhill. Check you have about a finger's width of room between your toes and the end of the boot. Then shove your foot as far forward as possible and stick a finger behind your Achilles tendon. If your finger can squeeze in, you've got the length right.
Midsoles don't give or soften over time, so getting width right from the beginning is crucial. Your foot should be cradled in place without pinching on the sides. Remember, feet swell a little after long distance walking, so take this into account when trying on boots. Also try them on with the socks you'll use with them.
The upper should also feel snug and comfy, so your feet don't slide from side to side. The best thing to do is visit a good outdoor gear shop, where you'll get professional fitting advice. Even after you've bought boots, wear them around the house for a couple of days before your first outing. This will allow you to make sure they're the right fit while keeping them in like-new condition in case you need to change them.
Not all boots are waterproof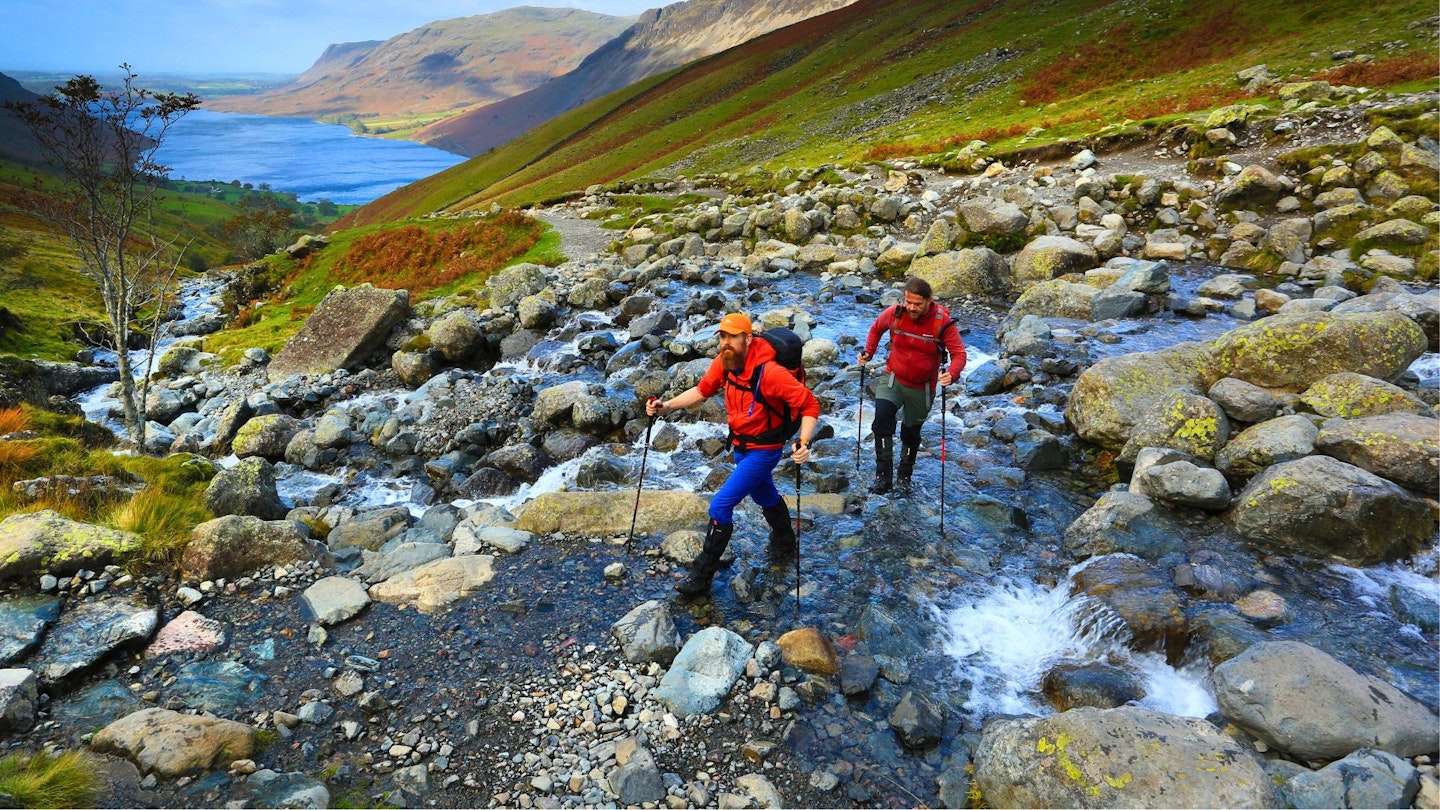 Most walking boots tend to be waterproof, but always check before you buy so you don't get a surprise later down the line. Gore-Tex linings are found in lots of modern boots, while many brands also make their own bespoke waterproof materials. Remember, you don't just need your feet to stay dry, you also need them to stay cool while you walk, so if you do go for waterproof try to find a membrane that's as breathable as possible.
Get good grip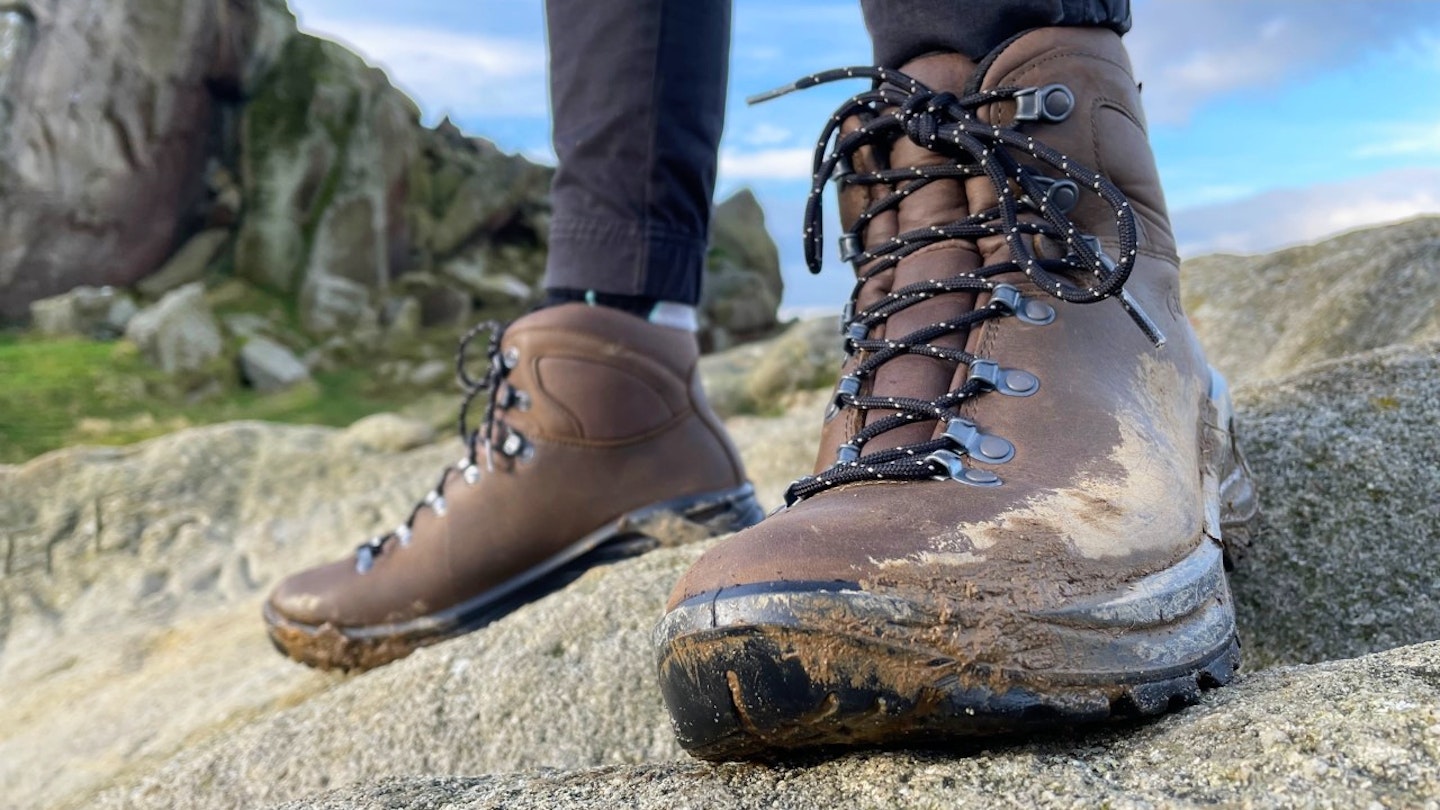 The grooves on the base of your outsole are known as lugs, with the depth and pattern determining the level of grip you get. The general rule is that the deeper the lugs and the deeper the heel breast (the cutaway bit between the forefoot and feel), the more grip you will get. For winter walking and hiking on loose or rocky terrain, good grip is very important; while for easier trails, you'll get away with a shallower outsole tread.
Does your boot pass the flex test?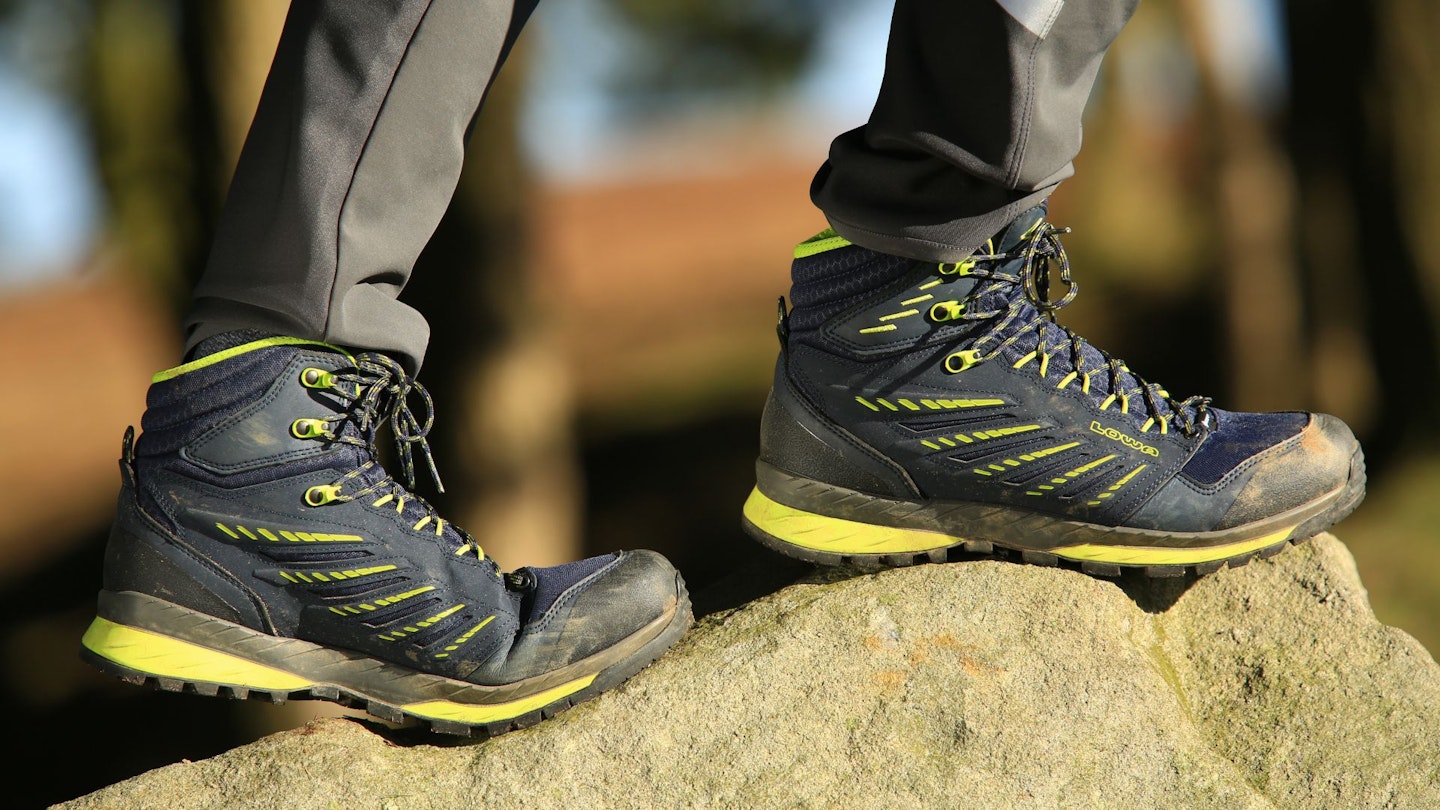 A good way to test the stiffness of a boot is to hold it at the toe and heel, then try to bend it in the middle. Once you've done that, try twisting it too. The harder it is to bend and twist, the more suited it will be to more serious terrain. Another good tactic is to pinch the heel and press the toe to see how protective those parts of the boot are. The more solid they are, the more they'll withstand bashing your feet on rocks!
Care and cleaning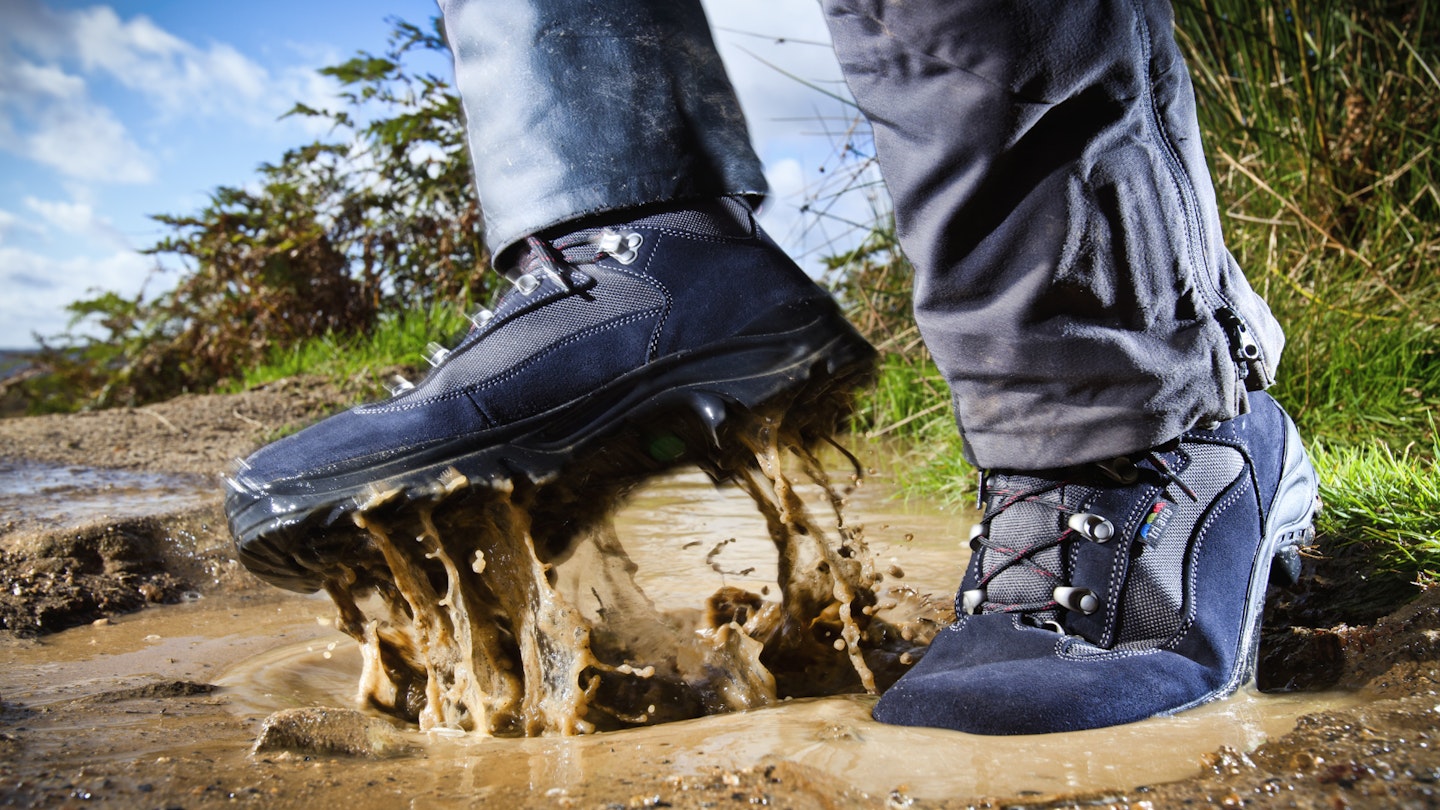 Walking boots get a hard life but can last many years, provided they are cared for. A crucial part of this is cleaning and conditioning the fabrics so they remain in good condition and can continue perform at their best. Check out our footwear care guide for a detailed examination of how to care for your footwear.
Get half-price digital OS Maps! Trail and Country Walking magazine members get 50% off an annual subscription to OS Maps for 12 months! Find out more here.
Don't forget to subscribe to the Live For The Outdoors newsletter to get expert advice and outdoor inspiration delivered to you inbox!