Loved and loathed by hikers in equal measure, waterproof trousers are a popular piece of clothing for hikers. They're generally used as an emergency layer over regular hiking trousers or shorts when the heavens open. But some offer more than that.
While a lot of waterproof trousers include inexpensive, lightweight nylon sleeves for your legs, others are designed to be worn all day in the mountains, using high-performance fabrics for the best weather protection, breathability, and durability. It's a broad scale.
The best waterproof trousers at a glance:
Best in Test: Mountain Equipment Makalu Pants - View on Cotswoldoutdoor.com
Best Value: Berghaus Deluge 2.0 Pant - View on Berghaus.com
Best for comfort: Rab Kinetic Alpine 2.0 Pant - View on Cotswoldoutdoor.com
We've put together our recommendations for the best waterproof hiking trousers. In addition, to help you when looking around for waterproof hiking trousers, we have included a buying guide with a list of important features to consider.
The best waterproof trousers in detail
Best in Test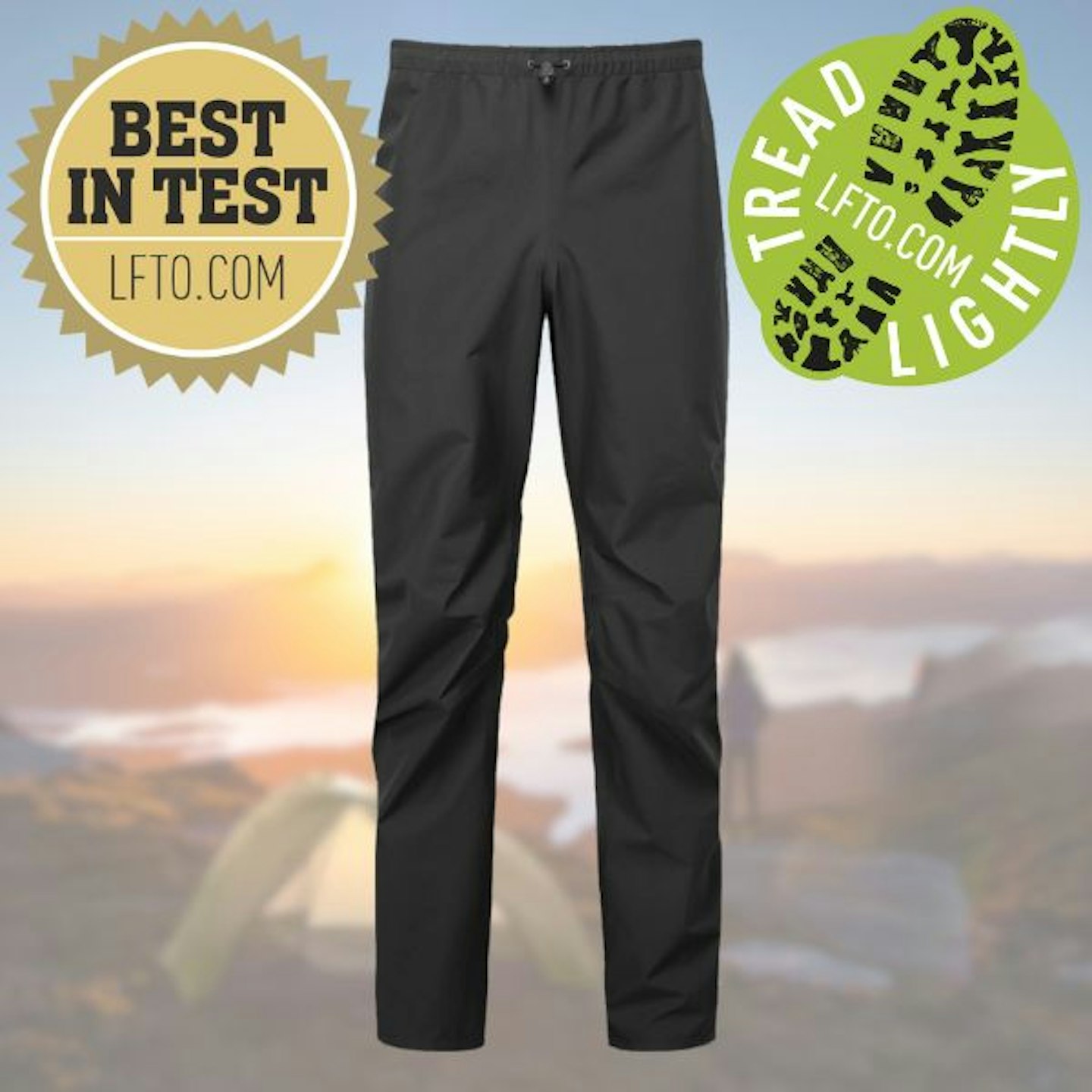 Description
These Makalu waterproof trousers are a classic recipe for high performance but with a slight
Pros
Very high waterproof rating
Easy to put on and take off
Mountain Equipment a Fair Wear Foundation member
Made from more sustainable Gore-Tex ePE
Provide classic Gore-Tex performance and durability
Cons
Not the best drawcord
Overkill for some
Best Value
Description
In the mountain environment – particularly during the colder, wetter months of the year – it's
Pros
Durable
¾ length zips
PFC-free
Berghaus a certified B Corp
Covered by Repairhaus
Cons
A bit noisy
Heavier than some others
Best value Gore-Tex trousers
Description
Although many brands now have proprietary membranes, Gore-Tex is still regarded as the name to
Pros
3-layer construction
Durable
Sprayway a Fair Wear Foundation member
Cons
Not PFC-free
Only half-length zips
Best budget waterproof trousers
Description
Made from PFC-free recycled nylon, these Marmot waterproof trousers have side zips from ankle to
Pros
Affordable
Very packable
Recycled and PFC-free
Very easy to layer with
Cons
Not suitable for mountain use or torrential rain
Not the toughest construction
Best for comfort
Description
Although designed for Alpine wear, the requirements of this use – the ability to put them on and
Pros
Feel more like softshell than hardshell trousers
Highly breathable
Allow high freedom of movement
Look good
Rab a Fair Wear Foundation 'leader'
PFC-free
Cons
Slim cut not ideal for layering
Best waterproof trousers for the mountains
Description
Berghaus' Extrem range made a reappearance in winter 2022/23. Having tested some of the range in
Pros
Tough
Useful multi-use waistband design
Great for alpine conditions
Supported by Repairhaus
Best lightweight/packable waterproof trousers
Description
Alpkit states that the Parallax "weigh about the same as your average sandwich". It doesn't
Pros
Very lightweight
Good waterproof and breathability ratings
Highly packable
Alpkit a certified B Corp
Alpkit offers repairs (UK only)
Cons
Only knee-height zips
Not as durable as 3-layer construction
Best for protection
Description
Salopettes are hard to beat in terms of protection, and are often the choice for mountaineers
Pros
Big size range
Good value for salopettes
Fantastic weather protection
Good breathability
Cons
Heavy
Not recycled or PFC-free
Only suitable for harsh mountain conditions
Key features to look for in waterproof trousers: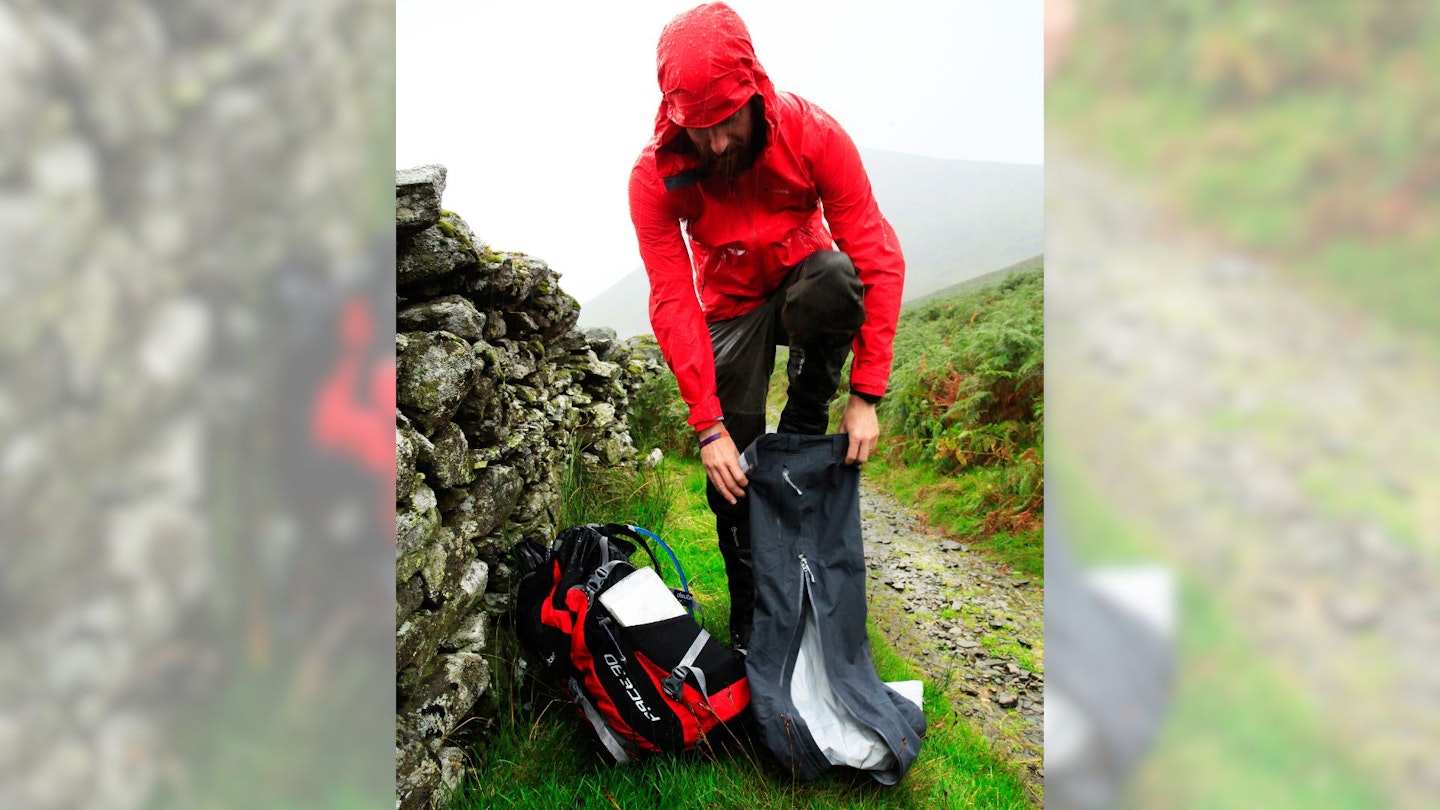 Waterproofing: The hydrostatic head (HH) figures tell you how waterproof a fabric is. Some waterproof trousers keep you dry in a light shower; some in a torrential downpour; and others will keep the water out even if kneeling in a puddle or the snow.
Fit: Often used as overtrousers, waterproof trousers can be quite baggy. But if the knees are articulated they can be designed to fit a little closer. Look for a seam around the knee area and a slightly angled shape in the leg, if you want a closer fit.
Packability: As a shell, waterproof trousers are generally quite packable. Though, the tougher and heavier the fabric, the less packable they are. By the same token, very light and packable options don't have as much prolonged weather protection and durability.
Waistband: This area is commonly elasticated for extra comfort. A drawcord allows extra control of fit, while Velcro tabs, press studs or belt loops allow further enhancement of security. The ability to attach braces is ideal for scrambling or mountaineering.
Zips: Leg zips make it easier to pull on waterproof trousers over chunky hiking boots and also offer a means of venting heat. Full-length zips from ankle to hip are the most convenient, while shorter zips that only go from ankle to knee can still require some wrestling to get them on.
Breathability: Waterproof trousers need to be breathable enough to let hot air and moisture escape, or you could still end up uncomfortably damp.
Height: Regular waist-height trousers are suitable for general hillwalking in all seasons, but more technical winter mountaineering salopettes offer beneficial upper body protection.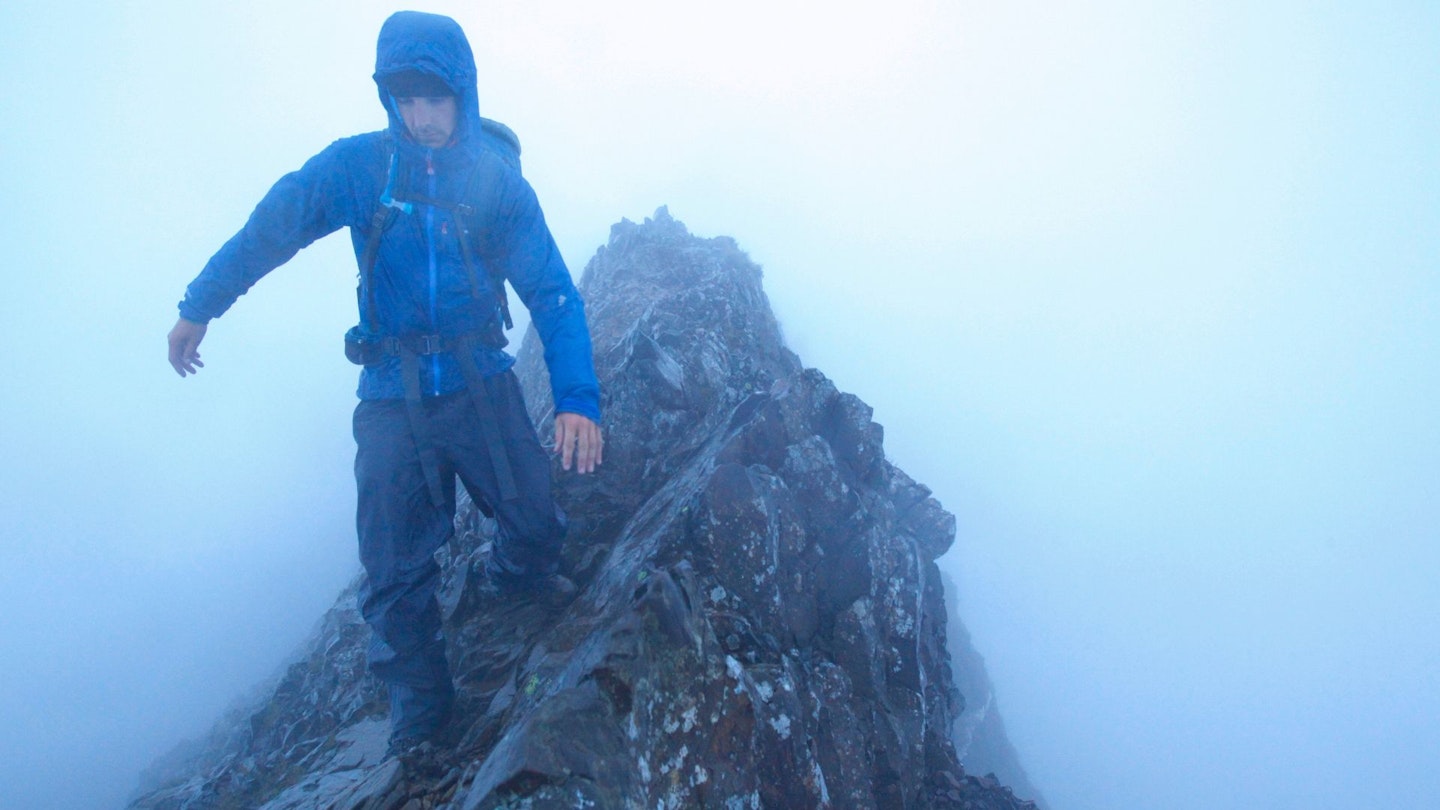 Fabrics: Higher-priced waterproof trousers use tough, breathable 3-layer laminated fabrics. Mesh linings improve breathability, but make a trouser heavy and can snag when you are putting the trousers on over boots. A lightweight or cheaper trouser may use 2-layer or 2.5-layer fabrics that tend to show condensation a little more.
Toughness: Waterproof trousers should be tough enough to cope with the terrain you intend to use them on. Look for an extra panel of material inside the ankle if you are going to be really hammering this area on mountain walks.
Waterproof trousers care and maintenance
The Durable Water Repellent (DWR) finish added to waterproof outdoor clothing needs to be maintained. Over time, the finish that was added during the manufacturing process wears off. If you don't maintain it, water will not bead on the surface of the material as it should, and instead, begin to seep through.
When you notice this starting to occur, it's time to restore the DWR on your gear. The products we recommend come from Granger's. In addition to being good value, easy to apply, and effective, Granger's products are Bluesign approved and PFC/fluorocarbon-free.
Granger's Performance Repel Plus is a fantastic spray for all waterproof fabrics. Apply it after a wash, using Granger's Performance Wash instead of regular washing liquid. Nikwax also has similar and equally effective versions that are PFC-free, too.
How we tested
Unsurprisingly, our testing of waterproof trousers involves a lot of wet weather walking. We put in a lot of demanding miles to find out not just how waterproof they are, but how breathable, comfortable, and durable they are.
Chris Williams is a Digital Content Writer for Live For The Outdoors. He trained as a journalist in New Zealand and has been working on Live For The Outdoors since 2021.
Don't forget to subscribe to the Live For The Outdoors newsletter to get expert advice and outdoor inspiration delivered to your inbox!