You don't always need a tough winter pack, but in volatile alpine conditions, this style of hiking backpackchanges from a niche sub-genre to a core essential.
As we roll into the coldest months of the year, the LFTO team has been testing a range of winter backpacks that are durable enough to make it in the mountains. There's a lot that goes into choosing the pack that's right for you. We've considered features like trekking pole and ice axe attachments, as well as the Denier and Hydrostatic Head of the fabrics.
A good mountaineering pack is ideally around 40-50 litres in order to carry all the gear you'll need. Winter in alpine conditions means a lot more kit than the rest of the year.
At the end of this roundup, we've included some comprehensive advice on how to select the right winter backpack. Our list is fairly diverse, though everything here is virtually bombproof. We wouldn't recommend going any easier on the specs. Here are our top picks for truly memorable winter mountain adventures.
The best winter mountaineering packs at a glance:
Best in test: Mammut Trion 50
Best value: Salewa Ortles Guide 45
Most sustainable: Osprey Mutant 52
Best pack for heavy snow: Berghaus MTN Guide 45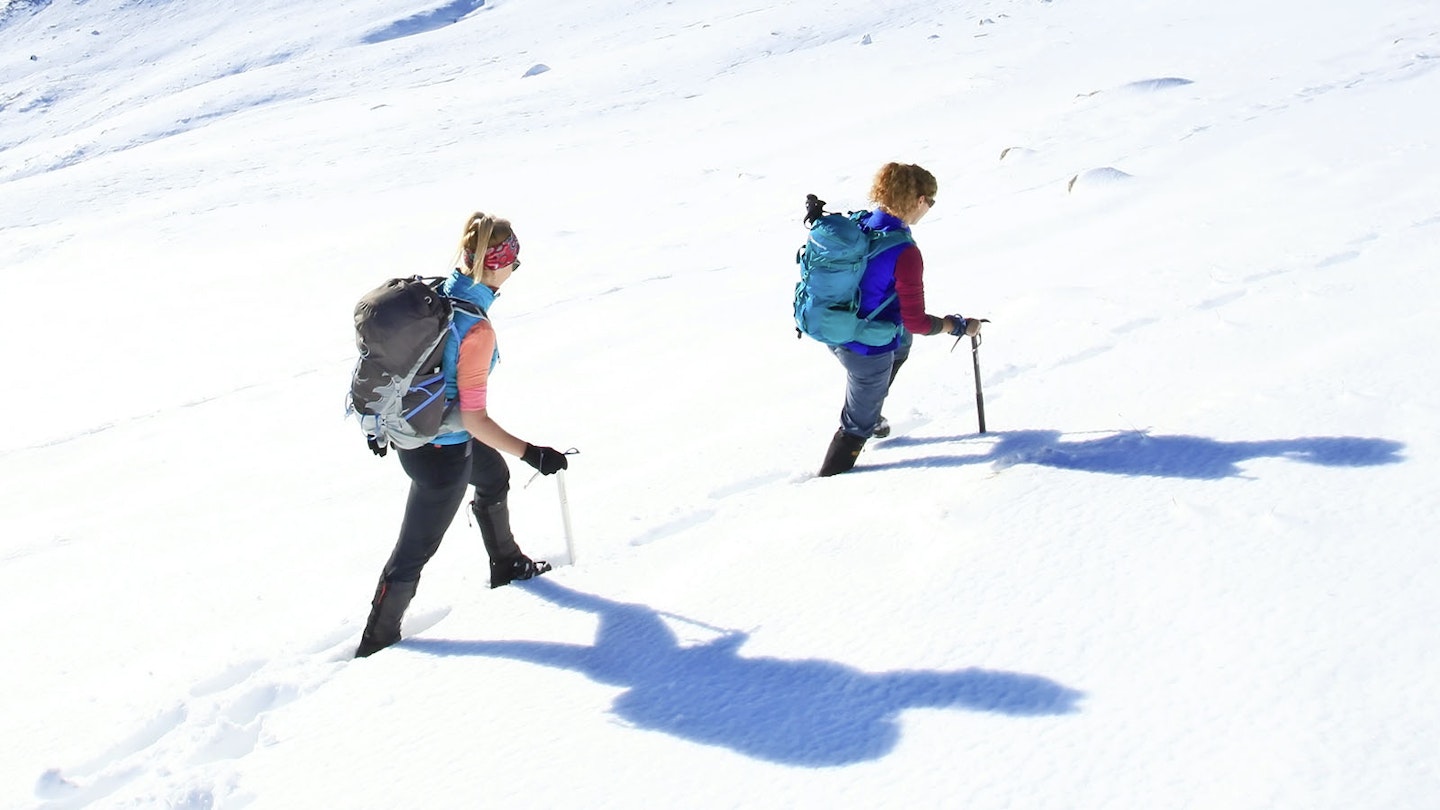 The best winter mountaineering packs in detail
Best in test
Description
Pros
Lightweight
Tough
Comfortable with a heavy load
Plenty of features
Cons
One size
Non-adjustable back length
Best value
Description
This robust pack is built from high-tenacity double ripstop nylon, with a reinforced base. The
Pros
Easy Access to main compartment
Durable construction
Suitable for year-round use
Cons
Back panel can be cold and doesn't shed snow well
Most sustainable
Description
Osprey's Mutant 38 is a Trail favourite, but it is a couple of litres short of our 40-50 litre
Pros
Good fit
Comfortable and supportive
Highly durable
Deuter Freescape Pro 40+
Features 5/5 | Fit 4/5 | Comfort 3/5 | In use 4/5 | Value 4/5
Overall score: 80%
Pros: Plenty of storage space, surprisingly versatile, rear-access zip
Cons: Doesn't bear heavy loads as well as others
Weight 1.51kg (not strippable) | Volume 40+ litres | Sizes One size (women's Freescape Pro 38+ SL available) | Main fabrics Bluesign-approved recycled 235D, 420D, and 630D**| Sustainability** Bluesign-approved, recycled main fabric, Deuter a Fair Wear Foundation leader
Best features
Description
Though primarily designed for ski mountaineering, this pack works well for winter walks and
Pros
Plenty of storage space
Surprisingly versatile
Rear-access zip
Cons
Doesn't bear heavy loads as well as others
Best pack for heavy snow
Description
This is a true 'bomber' mountain pack from Berghaus' technical Extrem collection. It's extremely
Pros
Two sizes
Customisable lid
Stands up to heavy winter conditions
Cons
Other choices are more comfortable
Technical features are overkill for some
Most rugged
Description
This is a big, burly pack with a technical focus on Alpine climbing and mountaineering, which is
Pros
Hardy
Excellent lid design
Two back lengths
Great mountaineering features
Cons
Heaviest on test
Strict alpine focus won't suit all hillwalkers
What to look for in winter mountaineering backpacks
Function and design: Mountaineering packs generally have a slim, long shape, with minimalist external features and a close-to-the-body fit. You want a no-nonsense design that's ideal for technical activities in winter. Hiking packs tend to be slightly wider, with side pockets, intricate features and high-tech back systems.
Lid: The lid covers the top main opening to the rucksack. Some lids are fixed to the backpack while others are detachable with a 'floating' design. A current trend is towards lidless backpacks with roll-top closure.
Weather resistance: Backpacks are usually made from water-repellent materials and the fabrics will often withstand a heavy shower or two. But they aren't infallible (particularly when seams aren't sealed or external zippers are exposed). Some packs come with waterproof covers, while others are better paired with a waterproof pack liner.
Back panel ventilation: Back panels made from perforated foam or padding carry the load directly next to the body. This approach is comfy and stable, but sweaty. Mesh back panels, conversely, hold the pack's bulk away from your back, thus improving ventilation. However, the load can feel like it's levering away from you.
Pockets: Zippered hipbelt pockets are handy for stashing gear you're likely to need on-the-go. Internal zippered pockets are great for car keys or a wallet, and elasticated side pockets are perfect for a water bottle. Some packs also feature large stuff pockets made from stretchy mesh.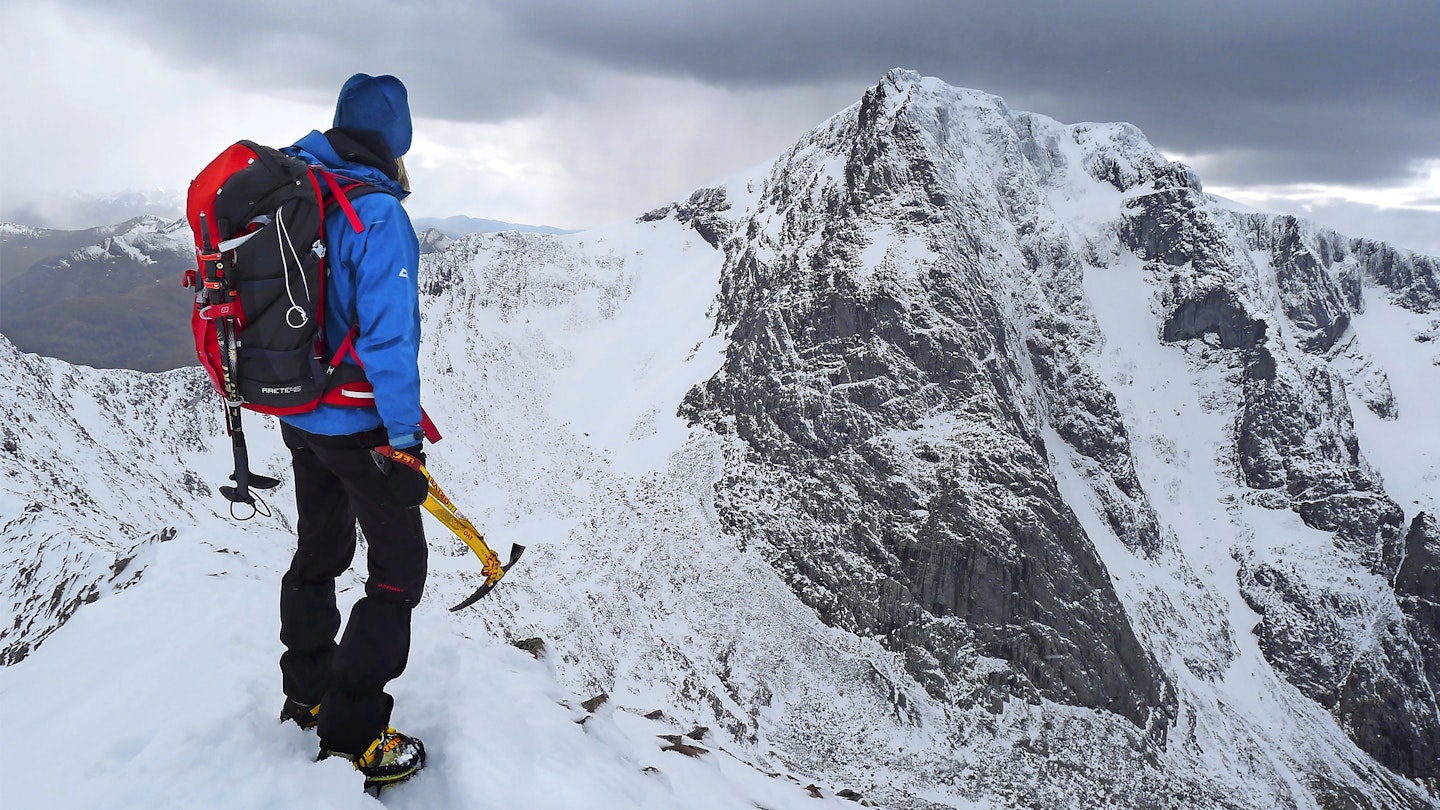 Straps: External compression straps, webbing loops, toggles, and bungee cords can be used for attaching items such as ice axes, trekking poles and crampons.
Shoulder straps: Shoulder straps should fit comfortably and be adjustable to your body shape. Padding thickness and contouring will affect the overall load-bearing comfort of shoulder straps. A sternum strap enables lateral connection of the shoulder straps to boost comfort and stability, while load lifter straps adjust how close the upper part of the backpack is to your back.
Back system and hipbelts: All backpack systems have the same goal: to transfer the load to your hips and provide a comfy carrying experience. You'll need a stiffer frame and a thickly padded pre-curved belt for heavier loads. It's important that the belt that wraps snugly around your hips, bearing weight without feeling excessively tight. Manufacturers often state a maximum load (kg) a backpack is designed to carry.
Back length: It's vital to pick a backpack with a size appropriate for your torso length. Trying on a loaded pack is the easiest way to do this. Some backpacks come in various length options, some are adjustable via webbing straps or Velcro, and some come in only one size.
How we tested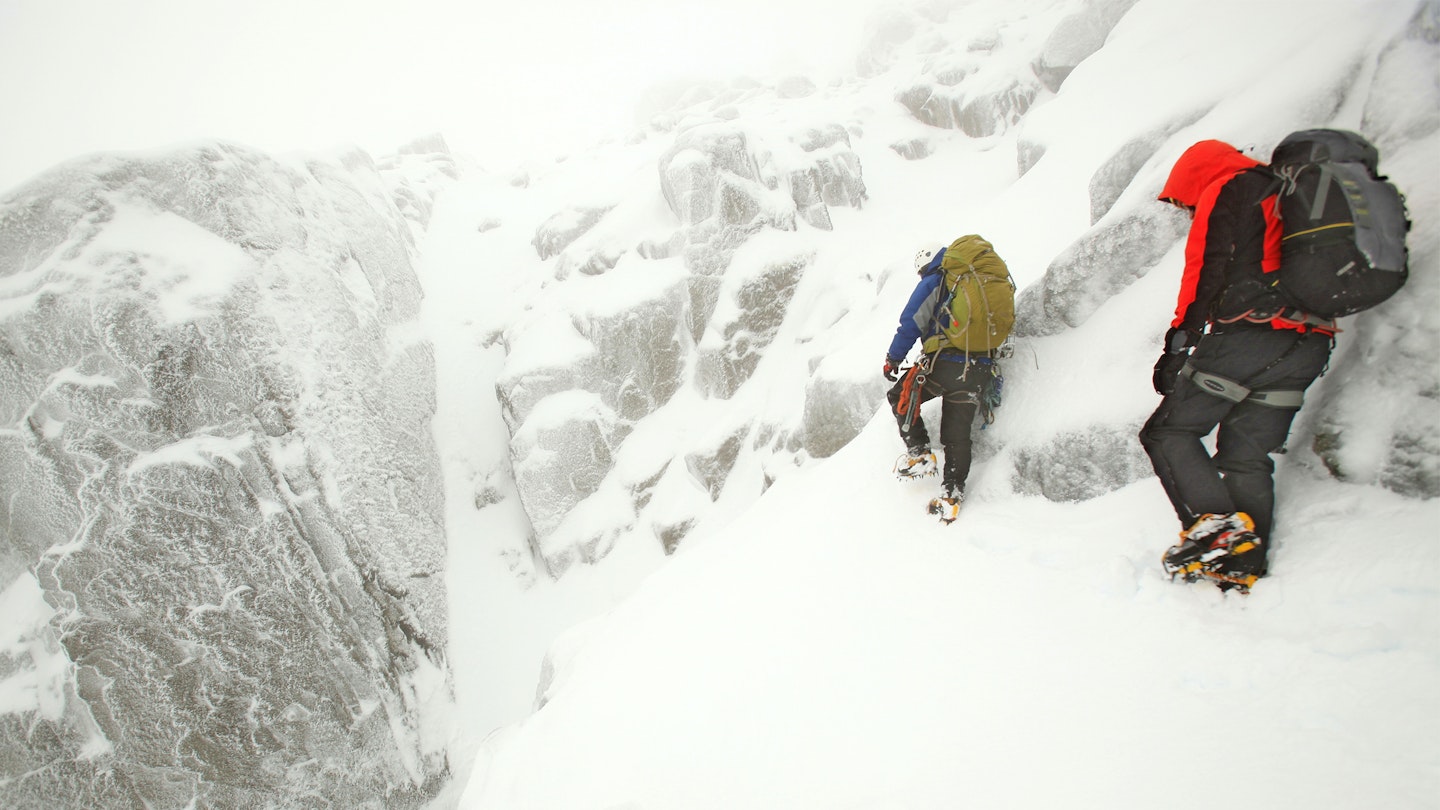 These packs came with us on a blizzard-filled testing trip in Snowdonia. Crunching up Snowdon's Pyg Track in crampons, with ice axes in hand and big hiking packs on our backs, we were glad we'd thought to take not only our winter hardware but also plenty of extra layers. It was seriously cold, even when working hard. The wind howled as we made our way up to the marker stone on Bwlch Glas.
Fumbling with thick gloved hands, we fished around inside our packs for buffs and goggles to fend off the stinging spindrift. There was no sanctuary until we reached the shuttered entrance of the summit café, long closed for winter.
We hunkered down in the doorway for a few minutes and quietly toasted our efforts with swigs of hot chocolate from a flask. We've never been so grateful for having the right kit. This climb occured on just the sort of day when a big, tough pack is the perfect choice.
Rucksack care and maintenance
The technical fabrics used to make rucksacks are tough and durable, but the right cleaning products are needed to maintain their performance. With rucksacks, we recommend either Grangers Footwear and Gear Cleaner, or Nikwax Tent and Gear SolarWash.
Read our in-depth guide on how to care for your rucksack for everything you need to know about rucksack care.
Don't forget to subscribe to the Live For The Outdoors newsletter to get expert advice and outdoor inspiration delivered to your inbox!
For the latest reviews - including extra photos and kit that won't appear online - pick up a copy of the current issue of Trail Magazine!