When winter rolls around, UK mountains can become a battleground: walkers vs weather. You'll typically experience precipitation in all its forms – rain, hail, sleet and snow – and sometimes all in one day. Which means that winter waterproof hiking jackets become far more than just an emergency layer.
A winter hardshell waterproof jacket acts as your first line of defence in the battle against the elements, providing essential protection from biting wind, stinging rain and whirling spindrift. Because you're likely to be wearing it all day, a winter waterproof needs to be far more rugged and robust than its summer counterpart – tough enough to withstand constant abrasion from pack straps or climbing harnesses, as well as scrapes from rock and ice.
The best winter waterproof jackets
Best in Test
Description
We wore the Alta III during an extremely wet six-day hike of the 90-mile Dales High Way in
Pros
Well-priced
Very comfortable
Innovative
Cons
Heavy
Too warm
Only suitable for cold days
Best Value
Description
Mountain Equipment's Lhotse/Manaslu jacket has long been a Trail favourite (it won best waterproof
Pros
Well-priced
Excellent hood
Good features
Cons
Not as breathable as other products
Baggy arms
Description
Billed as "a proven performer in the most severe alpine conditions", the Marmot Alpinist is a
Pros
Gore-Tex Pro
Strong design
Good features
Cons
Exceptionally expensive
Stiff
Crinkly
Description
The original Torridon jacket – with its functional design and bright colour panelling – became a
Pros
Well-priced
Bombproof design
Double zipper stormflap
Retro styling
Description
Top of the range in Berghaus's current line of waterproof jackets, the Ridgemaster 3L is made from
Pros
Fair price
Good features
Well-designed
Cons
No women's version
Hood adjustment isn't the best
RET rating could be better
Description
Suitable for year-round use in poor conditions, the Rohan Ventus has a fuss-free design with good
Pros
3-layer construction
Good stats
Fully-featured
Comfortable
Cons
Overpriced for a proprietary membrane
Description
As always with Alpkit products, the Definition represents excellent value and despite the sensible
Pros
Good value
Impressive stats
Nice features
Cons
Badly positioned vents
Athletic fit won't suit all body shapes
What to look for a winter waterproof jacket
Breathability
Waterproof jackets can feel clammy and sweat-inducing, so breathable fabrics are designed to keep rain out but simultaneously allow sweat to escape. Does this work? Some argue yes, others believe when you're exercising hard it's virtually impossible to avoid sweaty condensation.
Breathability is commonly measured in two ways: an MVTR (moisture vapour transmission rate) in g/m²/24hr, with a higher figure indicating better breathability (20,000g/m²/24hr is considered a premium score); or a RET (resistance to evaporative heat transfer) score, with (confusingly) a lower figure indicating better breathability (a RET value of 0-6 is considered very good).
Hood
A good hood should fit snugly and comfortably, but also move easily with the head so you can see where you're going. Volume adjustment enables a fine-tuned fit, and ideally you want a stiffened brim and wired peak to keep rain off your face.
Cuffs
Adjustable cuffs – sealed with Velcro, or sometimes toggles or clips – are important because they enable a tight, fine-tuned fit around the wrist, preventing rain ingress.
Waterproof ratings
Gore-Tex tells us all of its fabrics have a minimum 28,000mm hydrostatic head rating (HH – a technical measurement of waterproofing), but doesn't state different figures for its different technologies such as Gore-Tex Pro, Gore-Tex Performance and Gore-Tex Paclite.
Some brands use in-house proprietary membranes in their jackets, rather than using Gore-Tex, and consequently state their own HH ratings. In this round-up, we've only selected jackets with a minimum HH of 20,000mm.
Zips
Zips can be a point of weakness liable to water ingress. For maximum waterproofing, choose a jacket with a water-resistant zip protected by a sturdy stormflap.
Movement
Ideally you want a jacket that moves and flexes with you, providing unhindered freedom of movement for dynamic mountain activities.
Ventilation
It's easy to overheat wearing a waterproof hard shell, so good ventilation is key. Commonly underarm zips (also known as pit zips) allow heat to escape.
Fit
This is all about personal choice. Some will prefer a tighter, more athletic fit; others will favour a baggier cut with more room for layering underneath.
Pockets
Big pockets are great for storing OS maps, gloves, packs of Jelly Babies and whatever else you intend to put in them. Mesh-lined pockets aid overall ventilation but sealed pockets are more waterproof.
Construction
Jackets are generally categorised as 2, 2.5 or 3-layer, depending on how the waterproof layer is attached to other layers. For winter 3-layer jackets are the most durable, with the waterproof layer sandwiched between a face fabric and inner scrim.
Weight
While ultralight 3-season jackets can weigh under 300g, in this round-up we've opted for tougher, stronger jackets with a heftier build ranging from 486g to 834g, with the majority clocking in between 500g and 600g. Generally speaking, the higher weight indicates the use of more durable and protective materials designed for the worst of conditions.
Waterproof ratings explained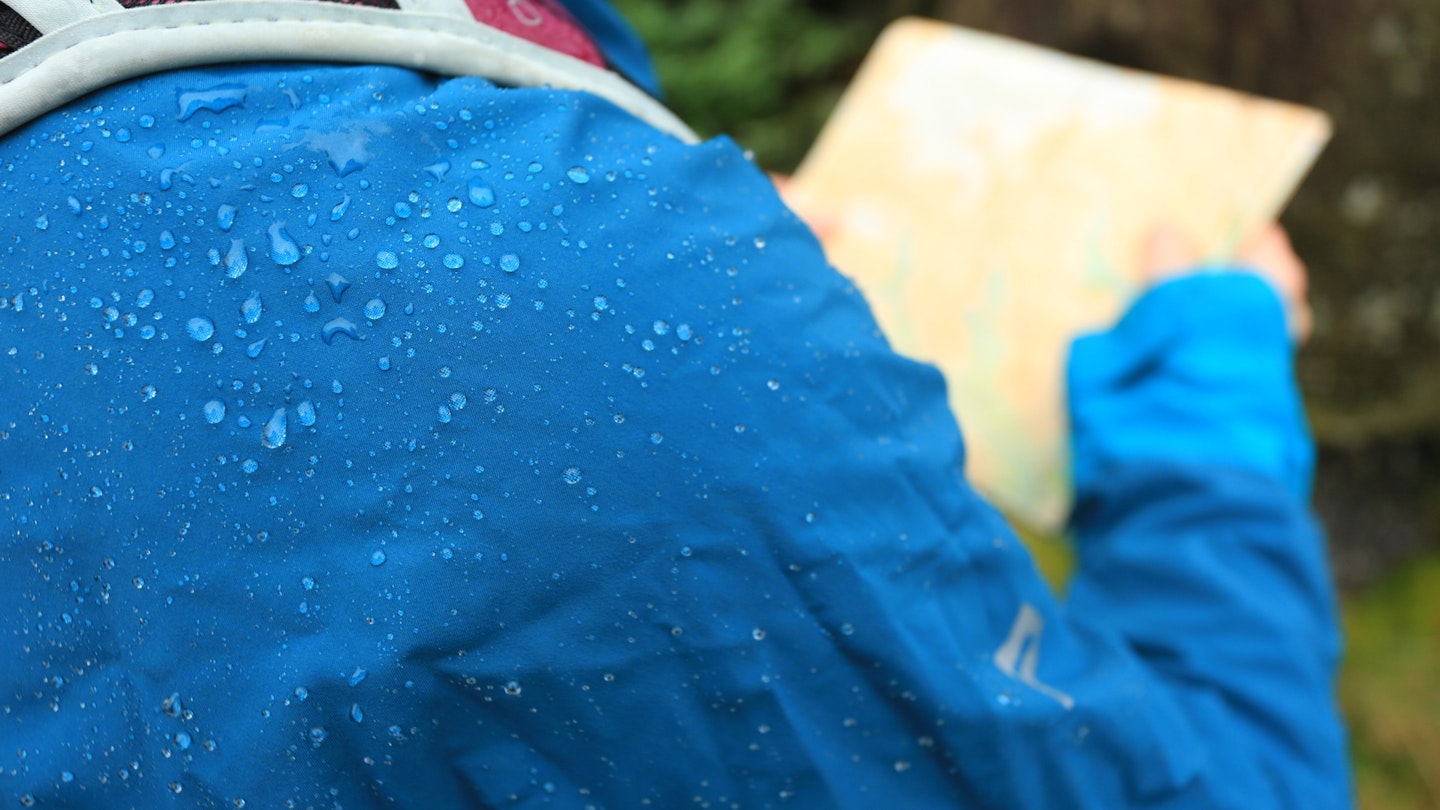 Like fill power with down insulation, waterproof ratings are very simple but widely misunderstood, or not known at all. Hydrostatic head is the industry standard for measuring waterproof fabrics; the waterproof fabrics used for waterproof jackets, tents, and so on.
The hydrostatic head figure given (for example, 10,000mm), indicates how high a column of water sitting on the fabric would need to be before water begins seeping through. It's perhaps a slightly odd thing, but it's an effective means of measurement. It's all to do with pressure. Obviously, testing labs don't actually use such volumes of water, they use machines that apply equivalent downward pressure. Thus, a waterproof jacket with a hydrostatic head rating of 15,000mm for example, can withstand a 15-metre column of water before it leaks through.
Winter waterproof jackets should have a hydrostatic head of at least 20,000mm. It's not only more intense wet conditions they have to deal with, but the pressure from bigger, heavier winter packs.
Zips and seams are usual weak points in a jackets waterproofing. To combat this, some waterproof jackets have waterproof zips (or fabric cover flaps) and taped seams. Keep an eye out for these features when shopping around.
Waterproof jacket care and cleaning
Hiking jackets get a real workout and it doesn't take long for the fabric to get covered in muck and perspiration. A dirty jacket doesn't perform as well as a clean one, and its breathability and water repellency can suffer. Luckily cleaning and reproofing is easy.
Grangers and Nikwax both produce effective water-based, PFC-free gear cleaners and proofers. Used together, they clean waterproof fabrics, restore breathability, and revitalise water repellency.
Read our guide to waterproof garment care to find out all you need to know.
Recommended
Description
Use instead of washing liquid in the washing machine. Use 25ml per load. Bottle is made from
Recommended
Description
Spray evenly onto just-cleaned and still damp fabrics. Remove excess with a damp cloth and allow
Recommended
Description
You can use this either in the washing machine or by hand. Very effective gear cleaner if
Recommended
Description
This works in a similar way to the Grangers equivalent above. After cleaning, evenly apply this to
Get half-price digital OS Maps! Trail and Country Walking magazine members get 50% off an annual subscription to OS Maps for 12 months! Find out more here.
Don't forget to subscribe to the Live For The Outdoors newsletter to get expert advice and outdoor inspiration delivered to your inbox!