There are only a handful of places in the UK with hills and mountains that can rival the Lake District for great hiking routes. This iconic area is as appealing for the casual walker as it is for those who prefer a tough mountain scramble. With its rich hillwalk history, the Lakes belongs on any outdoor enthusiast's bucket list.
The Lake District National Park is home to England's highest mountain Scafell Pike, plus many more notable peaks including Helvellyn, Blencathra, the Langdale Pikes and Cat Bells. Each peak is amazing fun to scale, and you can probably bag them all with just a decent pair of lightweight hiking boots and some commitment.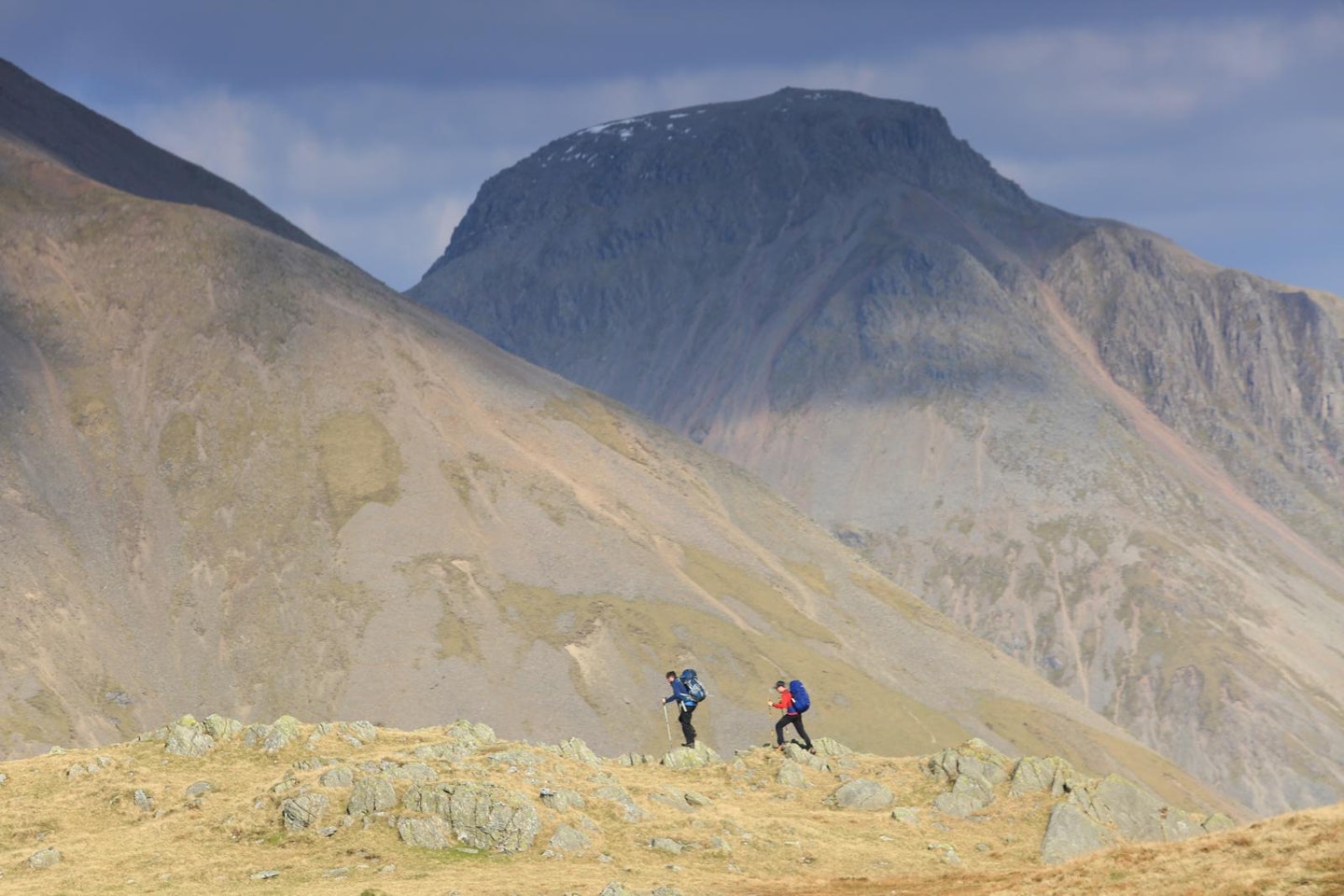 There are so many great walking routes in Cumbria it can be hard to know where to start, so we've picked out 10 of the best Lake District mountain walks to help you get started.
10 best walking routes:
• Helvellyn via Striding Edge | 12.8km | 838m ascent
• Cat Bells | 8.46km | 629m ascent
• Great Gable | 8.35km | 813m ascent
• Scafell Pike | 12.5km | 1047m ascent
• Blencathra via Sharp Edge | 7.76km | 740m ascent
• Langdale Pikes via Jack's Rake | 11.8km | 799m ascent
• The Old Man of Coniston | 8.46km | 750m ascent
• High Street via Riggindale | 9.28km | 643m ascent
• The Buttermere Fell | 15km | 1263m ascent
• Fairfield Horseshoe | 16.83km | 996m ascent
We've included routes ranging from beginner to expert difficulty. If we're honest, it doesn't take long to go from one end of the skill gap to the other. A week amongst these peaks is enough to gain a huge amount of confidence and proficiency on more technical routes. If you're looking to improve your scrambling, start off on one of our moderate routes and work through to the harder stuff. It'll make for a seriously rewarding trip!
Don't forget Trail magazine members get 50% off an annual subscription to OS Maps, where you can download digital routes for all of these walks.
The best walks in the Lake District in detail:
The Route
Distance: 12.8km / 7.9 miles
Elevation Gain: 838.7m
Difficulty: Advanced
There is a reason this is the most famous of all Lake District scrambles. This ascent of Helvellyn is classic of a mountain day will get you puffing on the climb up to your first ridge of the day. There's no doubt about it, Striding Edge is a thriller.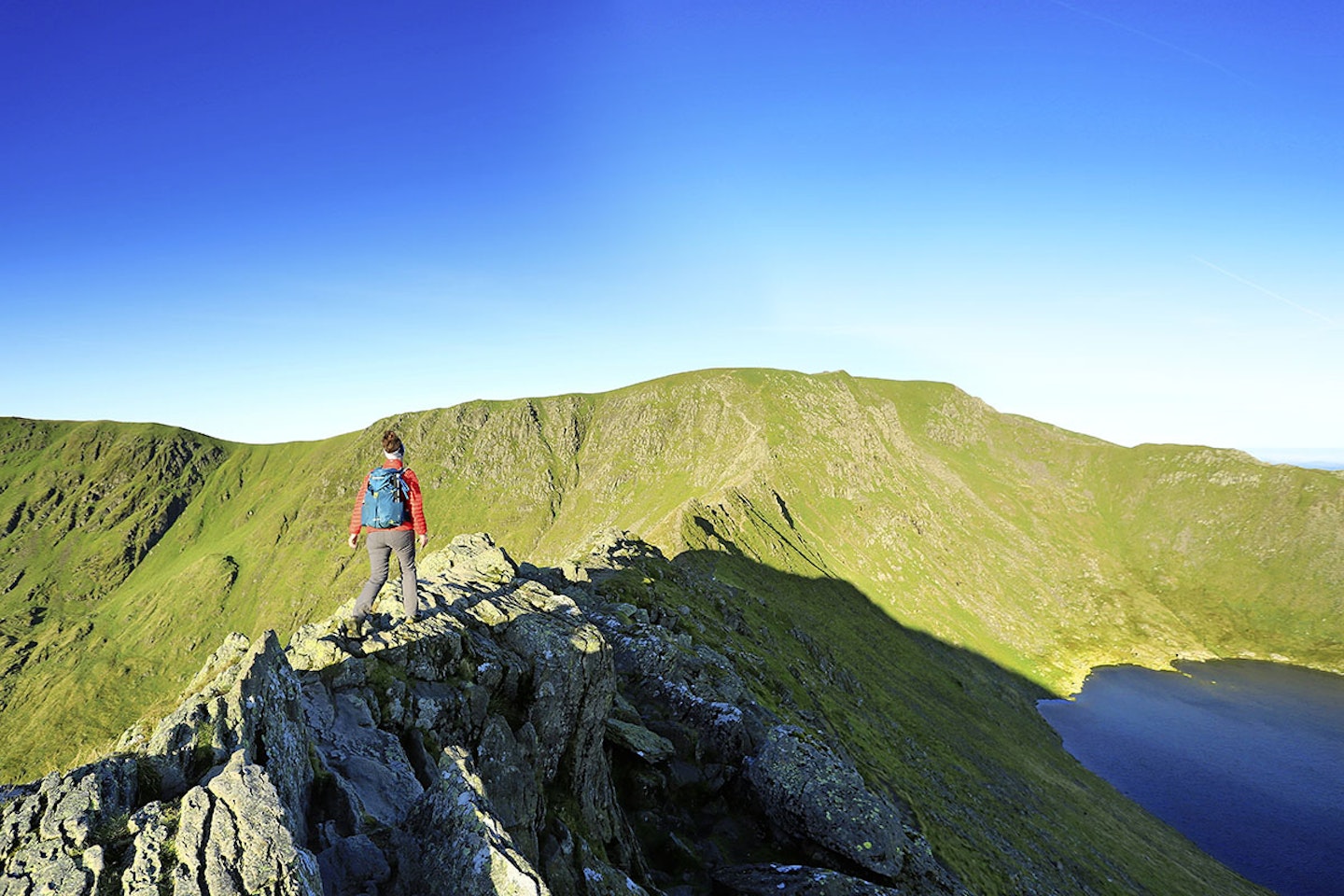 The Grade 1 scramble is enough to require respect but wide and enough to be a manageable challenge for most. To learn more about this route, check out our guide on how to scramble Striding Edge.
If this route doesn't get you into scrambling, nothing will. There's something magical about picking your way through the tangle of rock with careful foot and hand placements that connects you to the mountain. The 12km route reaches the top of Helvellyn at 950m and descends by Swirral Edge, your second ridge of the day.
The Route
Distance: 8.46km / 75.3 miles
Elevation gain: 629.39m
Difficulty: Intermediate
No trip to the Lakes is complete without a quick blast up Cat Bells. This small peak overlooking Derwent Water provides stunning views of the northern Lakes and is a great introductory hill for beginners to sample their first small steps into mountain walking.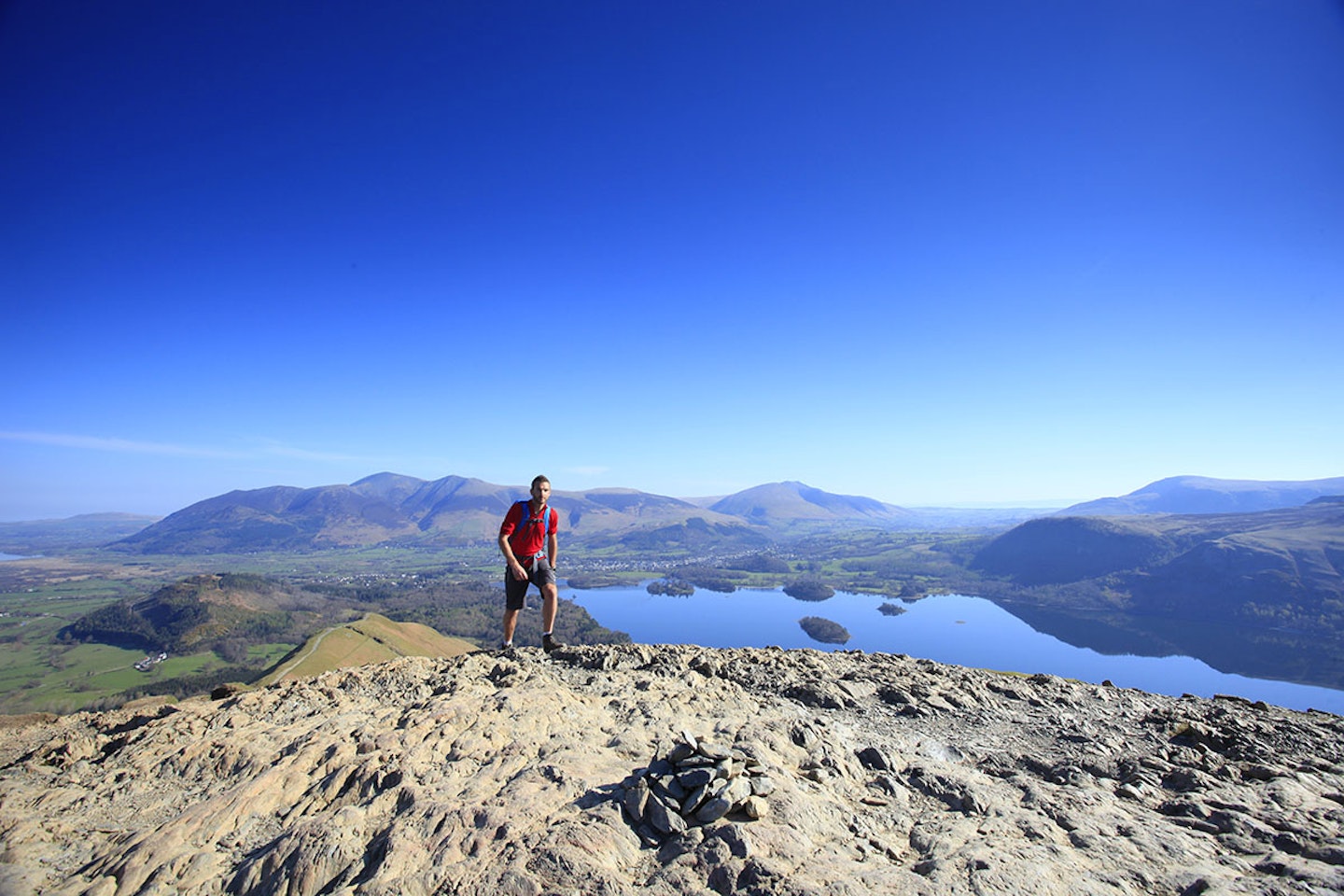 Starting from Hawes End, its 451m summit is reached in no time at all, with various options from the top. Even for seasoned hillwalkers, it is a great little hill, oozing with character, with easy access from the A66, for when time is short.
The Route
Distance: 8.35km / 5.18 miles**
Elevation Gain:** 813.83m
Difficulty: Advanced
This historic hulk of a mountain can be tackled via many routes, and on a fine day, the views from its 899m summit rival that of any in the Lakes. One superb option for a great mountain day out is the route from Seathwaite via a (usually) easy scramble up Sour Milk Gill path, over the summit of Green Gable and then down from the summit of Great Gable past Sty Tarn, and via the footpath following Taylorgill Force.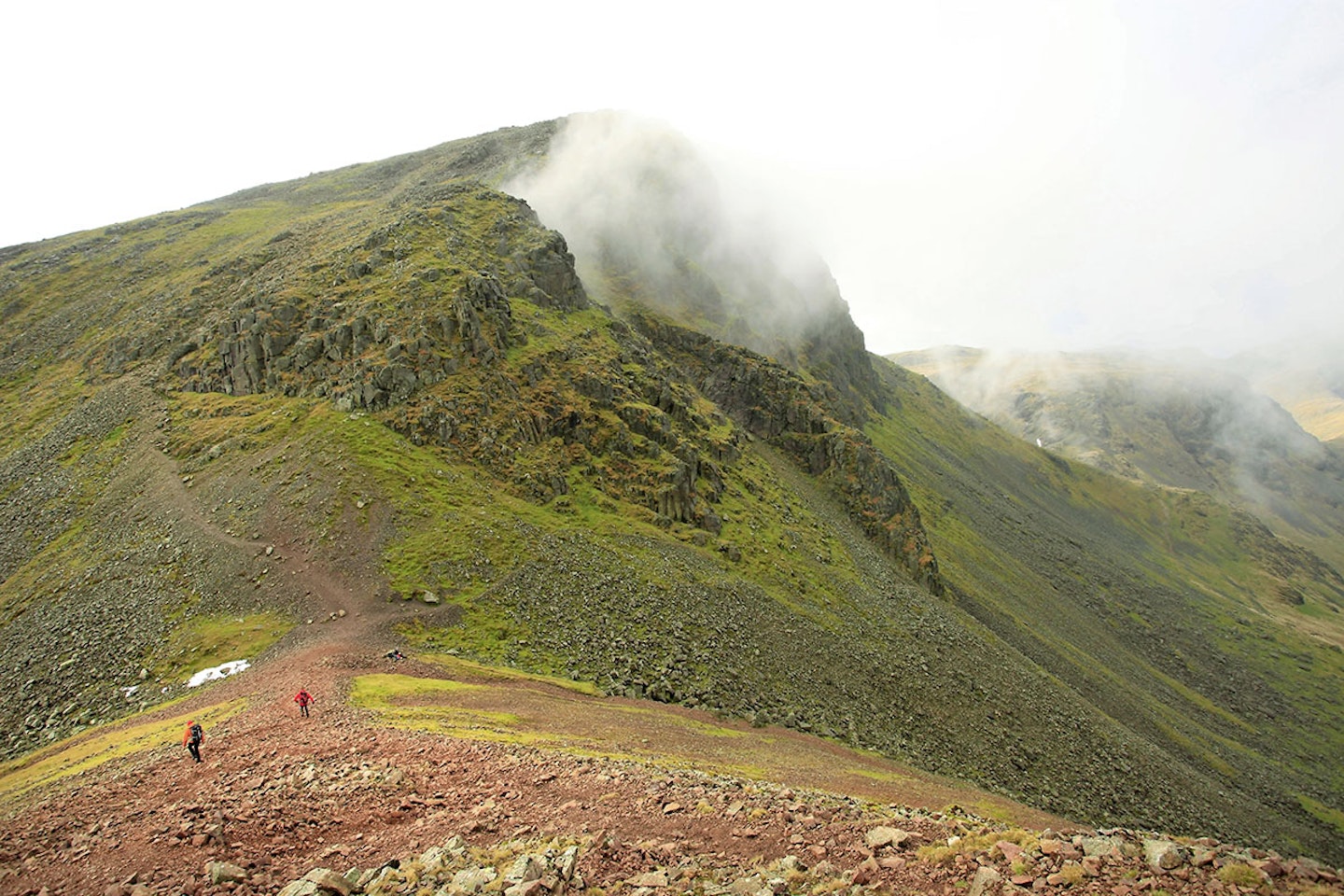 The mountain has been a training ground for some of the earliest climbers who cut their teeth on classic climbs like Great Gable and Kern Knotts, and every Remembrance Sunday (November) hundreds of people make the ascent for a service held at the summit.
The Route
Distance: 12.5km / 7.8 miles**
Elevation Gain:** 1047.43m
Difficulty: Intermediate
No list of must-do Lakeland walks could omit the highest peak in England. There are many well-trodden routes up Scafell Pike, some include Grade 1 and 2 scrambles, others are just fine mountain walks. If you don't fancy the more treacherous scrambles, check out or favourite Scafell Pike Walking Route.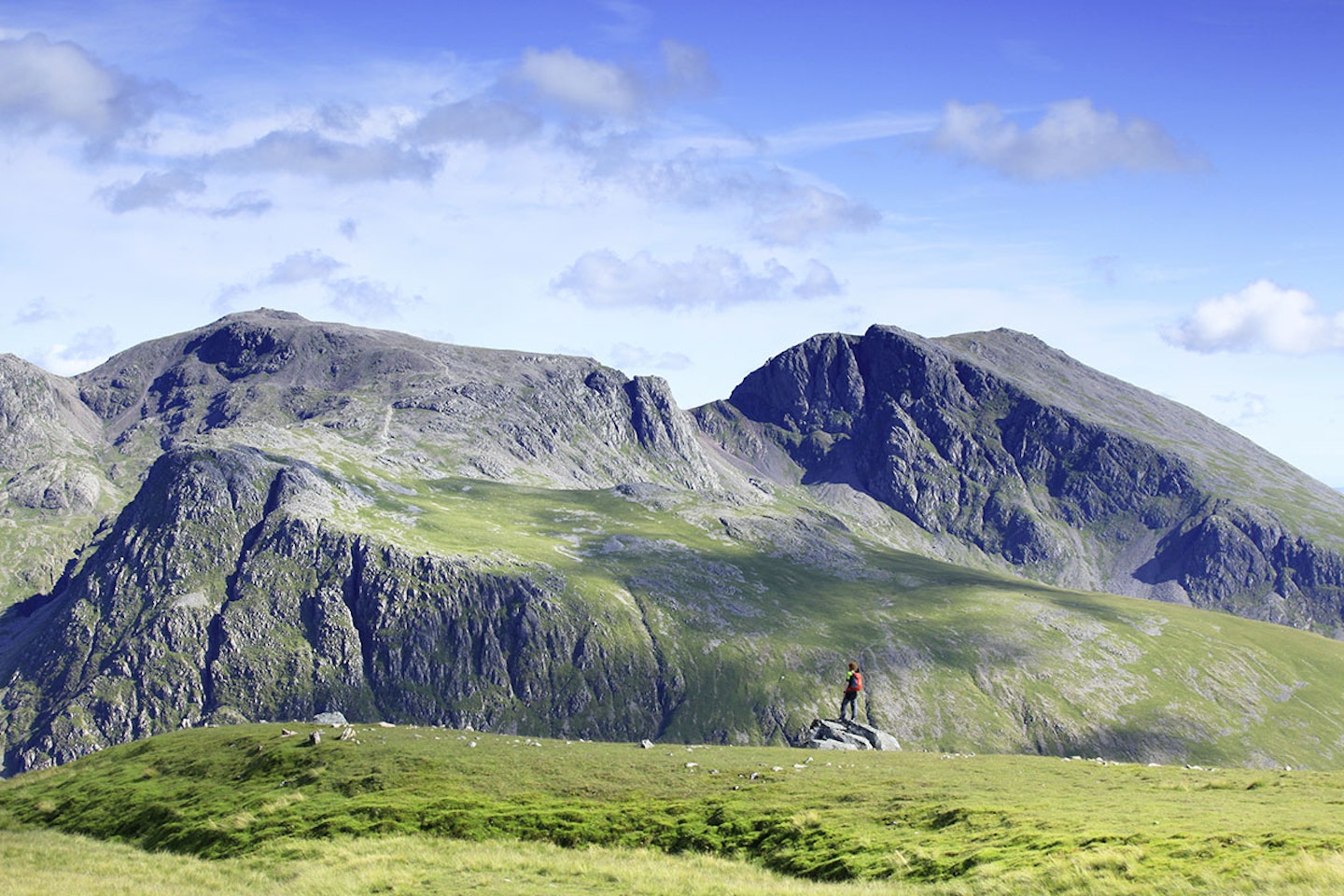 Surrounded by peaks, the views are incredible and you can include several summits in one outing. Start at Wasdale Head and you can experience the birthplace of British climbing at The Wasdale Head Inn.
The Route
Distance: 7.76km / 4.8 miles**
Elevation Gain:** 740.43m
Difficulty: Expert
From Threlkeld in the north of the Lake District you can squeeze two of the Lakes most exciting ridges into a neat 10km walk to remember. Sharp Edge is not that technically difficult and is classed as a Grade 1 scramble (the lowest level) but it does require a head for heights!
Even easy scrambles need to taken seriously. Take a look at our Guide to Scrambling Sharp Edge for more info on this fun but somewhat tricky route.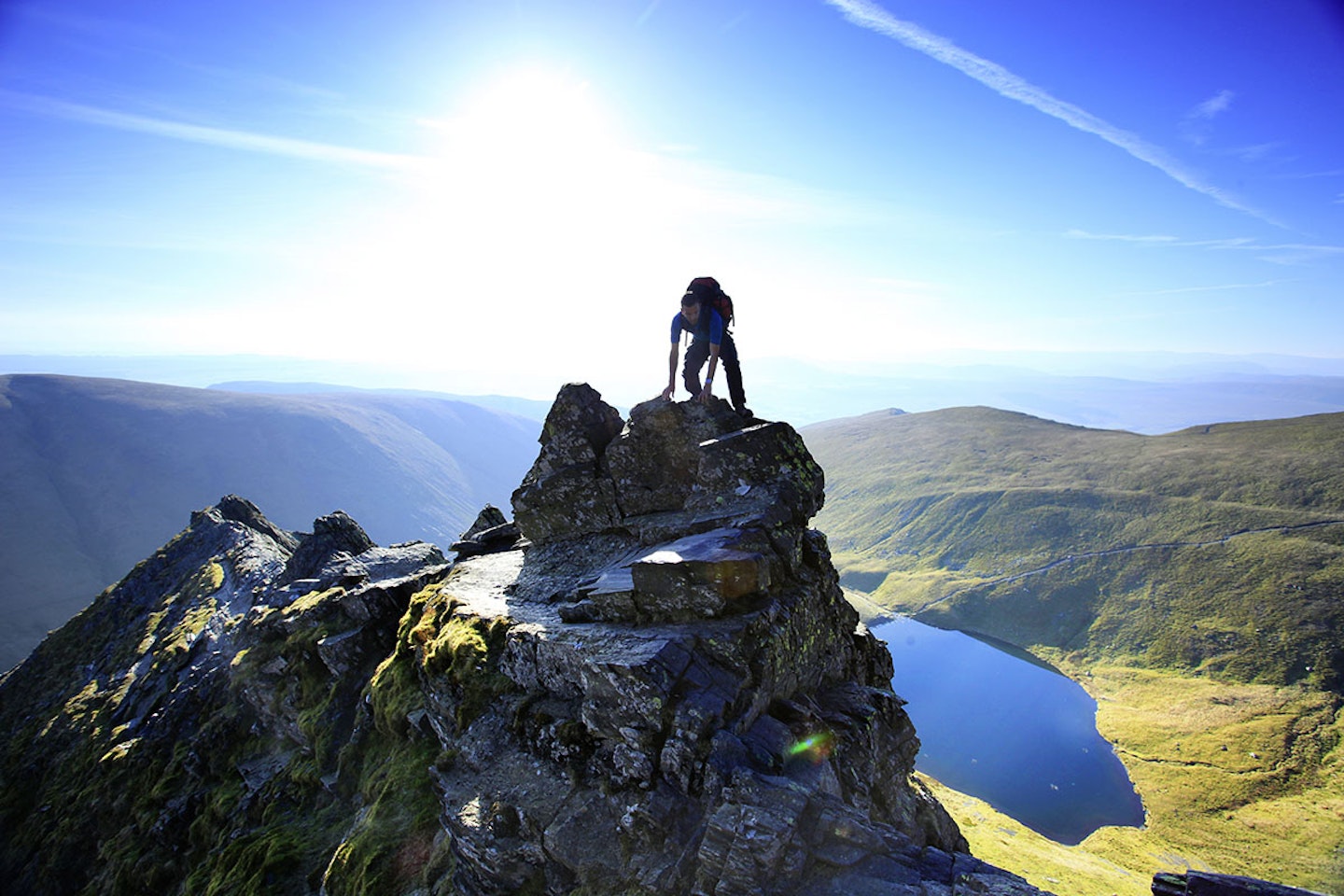 That moment when you pop out on Blencathra (868m) is a feeling like no other and you will go home glowing with a sense of achievement and exhilaration… but if you include Hall's Fell ridge as your descent , the fun isn't over yet – this airy ridge isn't quite so pointy as the first, but it will still have you reaching for the rock. This is a great walk to do if you want to test your mettle and if conditions are good!
Adventurous mountain route
The Route
Distance: 11.87km / 7.38 miles**
Elevation Gain:** 799.72m
Difficulty: Expert
There are few more iconic mountain profiles in England than the Langdale Pikes, cutting an instantly recognisable figure on the skyline when approached from the southern Lake District. There's plenty of variety to be found when exploring these peaks, from the cliffs and gullies of Pavey Ark to the perfect rocky summit cone of Pike of Stickle and the Neolithic axe factory on the steep slopes below slopes below.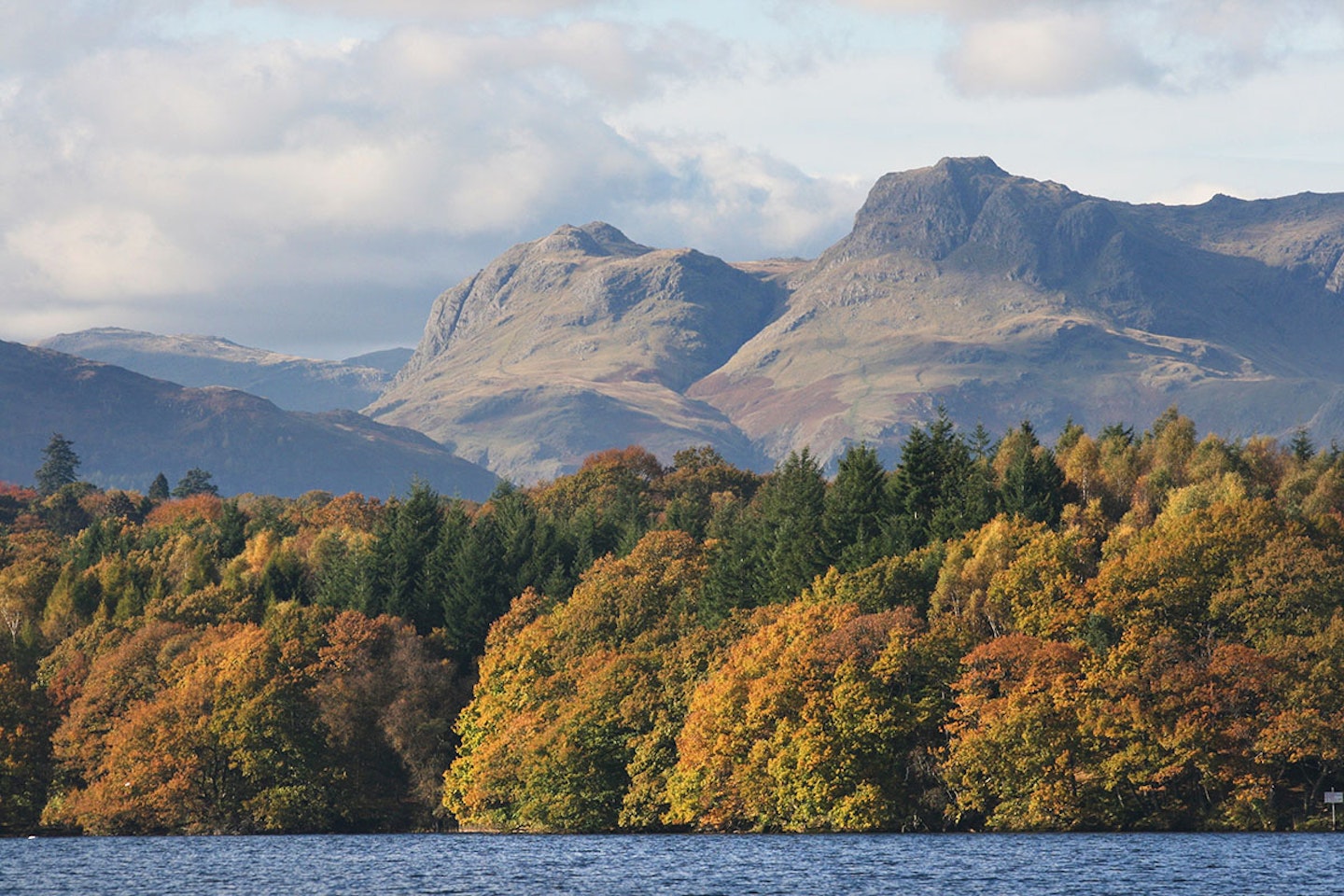 Climb the steep path beside Stickle Ghyll to Stickle Tarn, then if you're feeling brave tackle the Grade 1 scramble of Jack's Rake to the summit of Pavey Ark. From there, the summits of Harrison Stickle, Loft Crag and the Pike of Stickle are just a short walk away before descending back to the valley.
The Route
Distance: 8.46km / 7.53 miles**
Elevation Gain:** 750.53 m
Difficulty: Moderate
Possibly the perfect beginner mountain, offering everything from dramatic cliffs and hidden tarns to historic mines and aircraft wrecks. The most popular way to climb the Old Man is directly from Coniston village, with huge views over Coniston Water opening up behind as you ascend.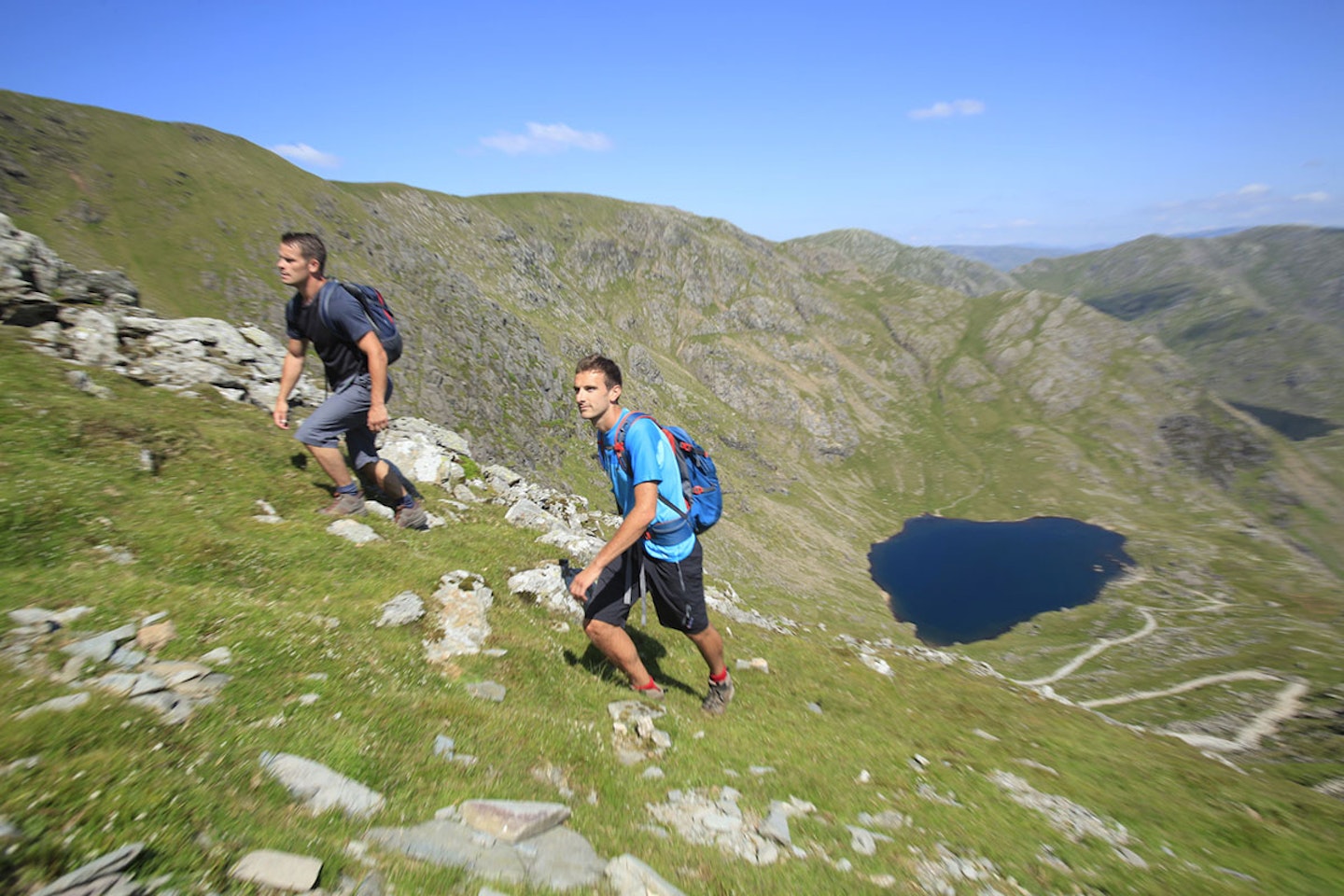 The awesome mountain tarn of Low Water is a great spot for a rest (possibly even a wild swim in summer) before making the final push to the mountain's giant summit cairn. There are plenty of great options for onward routes from the top, including a descent via Dow Crag to the west, or carrying on north for a full round of the Coniston Fells taking in Swirl How, the Prison Band and Wetherlam.
The Route
Distance: 9.28km / 5.76 miles**
Elevation Gain:** 643.07 m
Difficulty: Moderate
The plateaued summit of High Street marks the highest point in the Lake District's Far Eastern Fells and is named after the Roman Road which once ran over the summit, linking together the towns of Penrith and Ambleside. The most spectacular route of ascent is up the broad Riggindale ridge from the secluded shores of Haweswater.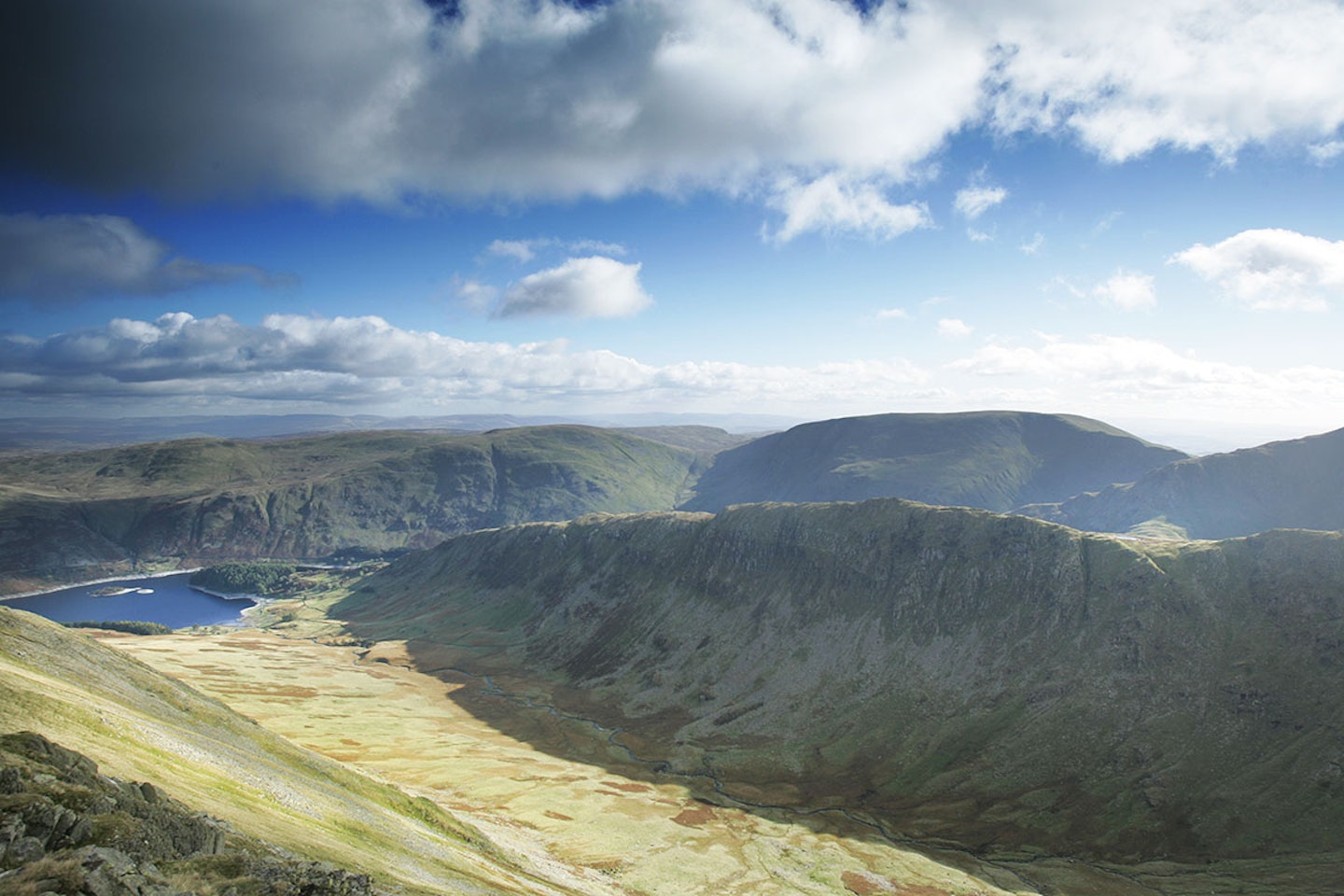 Until recently this was the home of England's last resident eagle, who sadly disappeared in 2016. This is a great hillwalk rather than a daring scramble, but if you link it with a descent via Mardale Ill Bell and the Nan Bield Pass, you'll mix in plenty of dramatic and rocky scenery too.
The Route
Distance: 15.08km / 9.37 miles**
Elevation Gain:** 1262.25m
Difficulty: Moderate
In terms of spectacular Lake District scenery, Buttermere takes some beating. An idyllic lake framed by mountains, including two of the most distinct in the National Park. Fleetwith Pike may only be 648 metres tall but its shapely north-west ridge forms the backdrop to many a Lakeland postcard, while neighbouring Haystacks (587m) cuts a craggy silhouette against the skyline.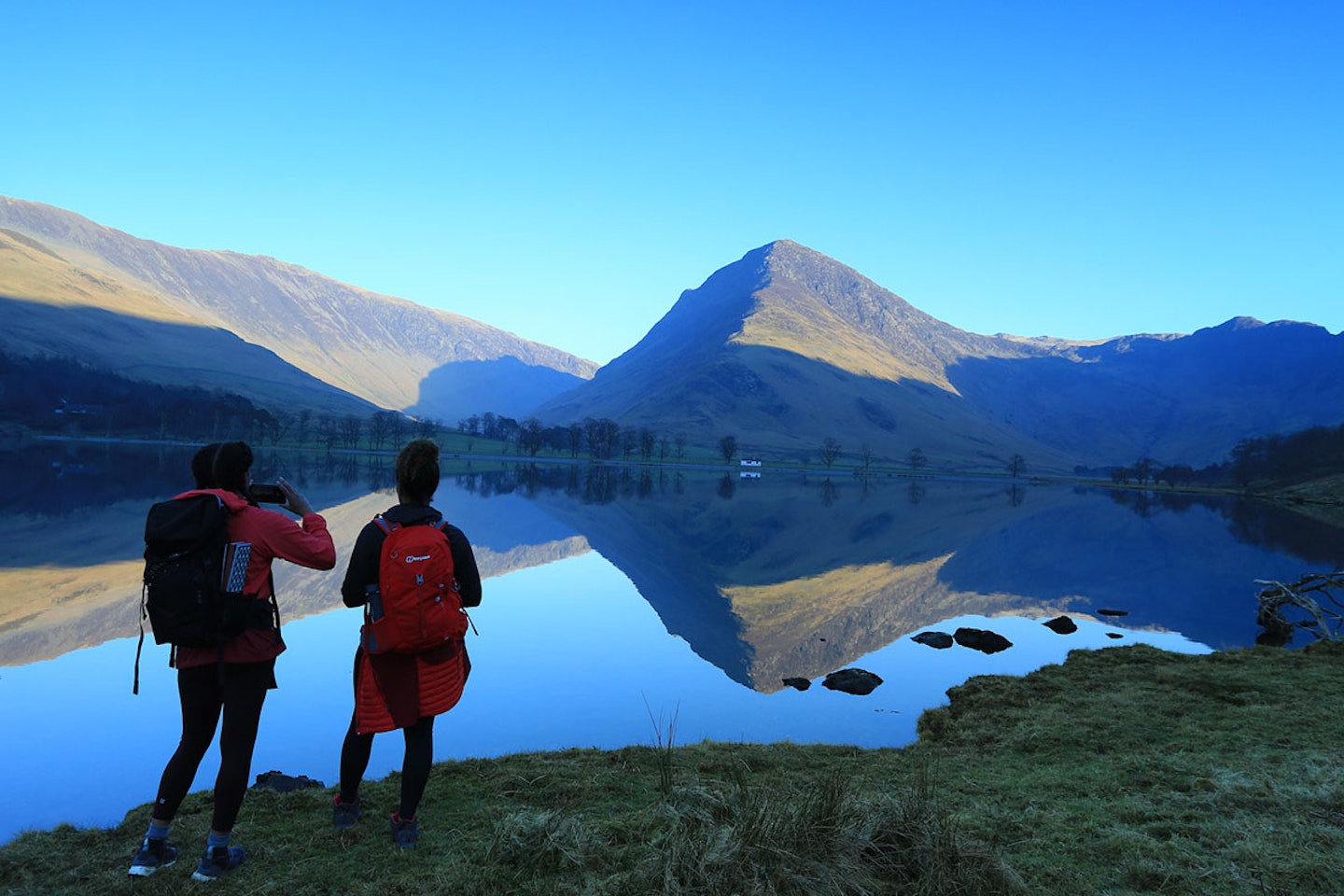 The best way to get to know these fells is with a long route that also takes in Red Pike, High Stile and High Crag, giving you great views into the Ennerdale valley and the nearby peaks of Great Gable, Pillar and Scafell Pike. There are even two bothies tucked beneath Fleetwith Pike's summit, which are great options if you want to turn this into an overnight trip.
The Route
Distance: 16.83km / 10.5 miles**
Elevation Gain:** 996.72m
Difficulty: Advanced
This is one of the Lake District's classic hillwalking rounds, a peak-bagging circuit that starts and finishes in the picturesque town of Ambleside which is overflowing with great gear shops, pubs and B&Bs.
If you're into bagging Wainwright fells (the 214 peaks included in Alfred Wainwright's Pictorial Guides to the Lakeland Fells) this walk chalks off eight of them with relatively little effort, in the sense that there isn't much ascent and reascent between each peak. The horseshoe is named after the 873m mountain of Fairfield, the highest point of this route and a fantastic viewpoint where you can look south down the entire stretch of Lake Windermere or north to the famous ridges of Helvellyn.
What to consider when planning a hiking trip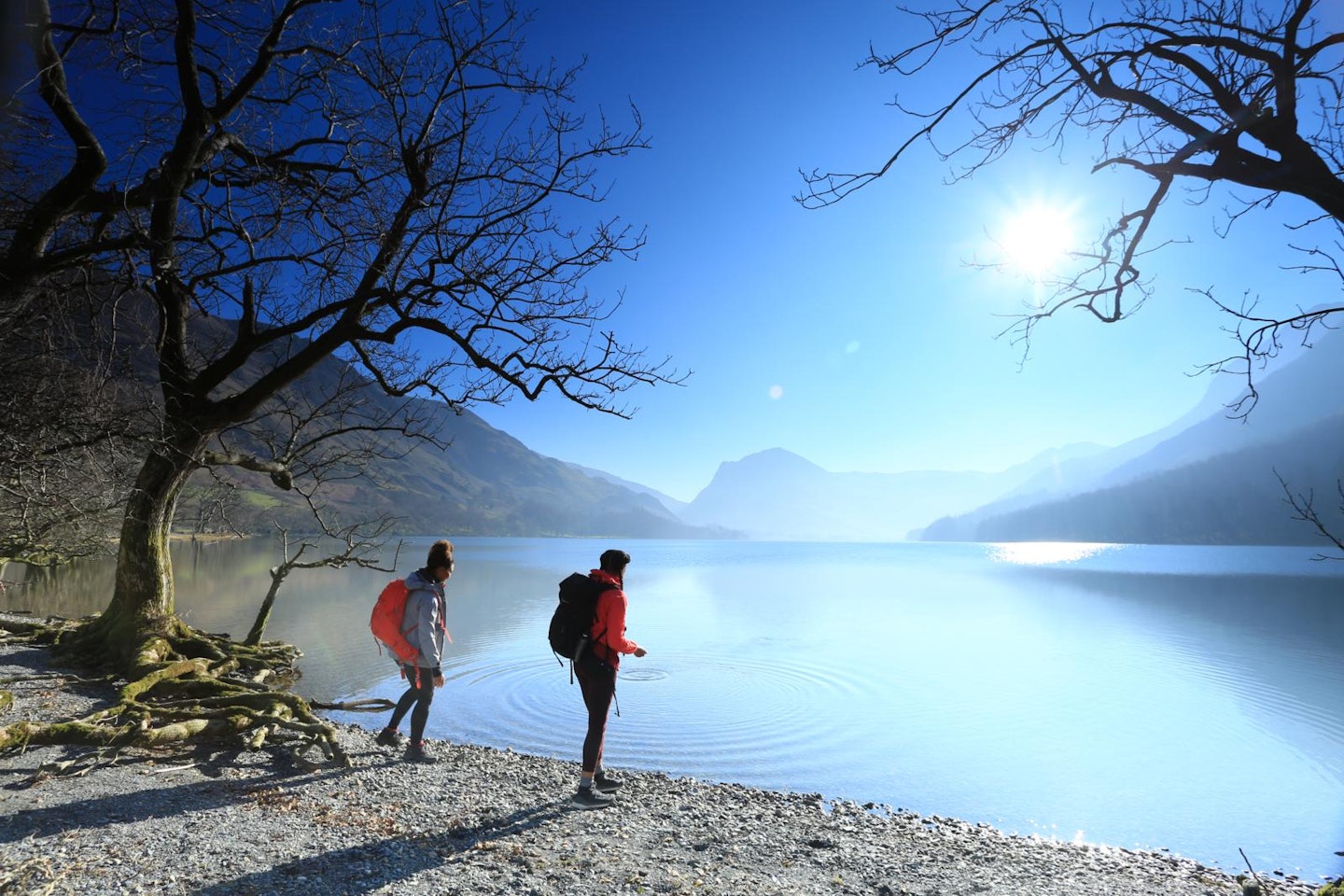 Terrain
Regions like the lake district offer a diverse range of landscapes, from grassy rolling hills to rugged rocky mountains. We'd recommend researching the hiking routes you want to undertake and making sure they match your experience and fitness level. You also want to make sure you've got the appropriate gear, such as a durable pair of hiking boots that can handle rougher ground.
Season
As you might've guessed, summer and winter are worlds apart when it comes to hiking. However, you may be surprised to learn that every season comes with its fair share of advantages and disadvantages. Sure, spring and summer will likely offer pleasant weather and beautiful vertiginous scenes, but things can take a turn when Mr. Hay fever comes a-knocking.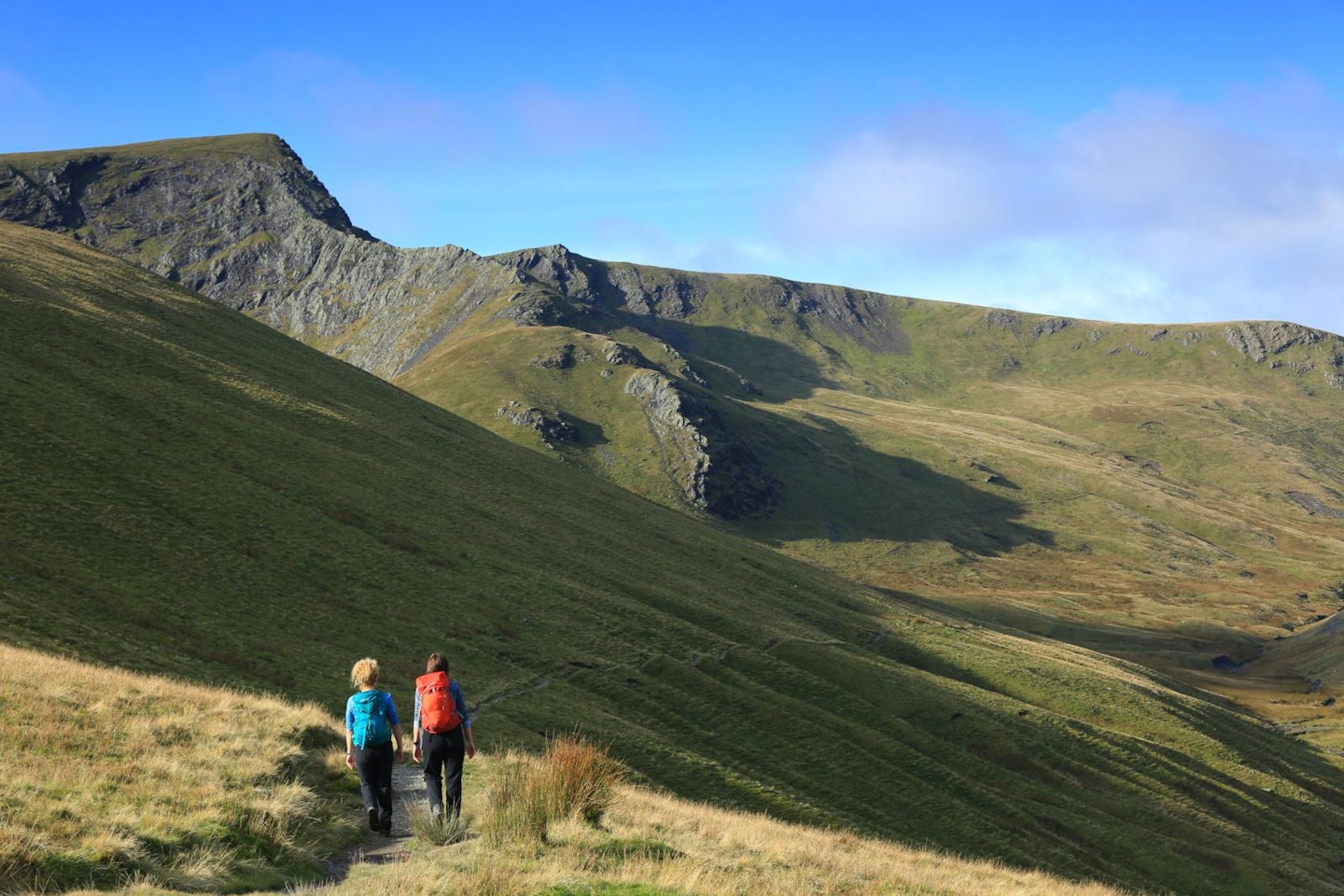 Summer is also when hiking – pardon the pun – peaks in popularity. So, prepare to deal with crowds, or seek out lesser-known routes for a better experience. Autumn, meanwhile, can showcase some absolutely stunning sights with less than half the crowds. The weather can start getting hairy around here, so be sure to pack a waterproof jacket.
Winter brings some peace and quiet, along with chances to see some breathtaking snow-covered landscapes. It also brings the most severe challenges, including low temperatures and icy paths. Insulated jackets are a must-have. Additionally, you'll want to consider researching the best winter hiking boots.
Accommodation
To camp or not to camp? The choice is yours; both approaches have their merits. Cumbria is furnished with dozens of warm and welcoming inns. They provide a great opportunity to mingle with the locals and meet some fellow hikers. Not to mention immediate access to hearty meals and a brew or two. Be sure to find the right location for your hikes, and book well in advance. The nice rooms sell like hotcakes, especially during peak seasons.
Of course, you can always save yourself the hassle (and cost) of hotels by simply pitching a tent.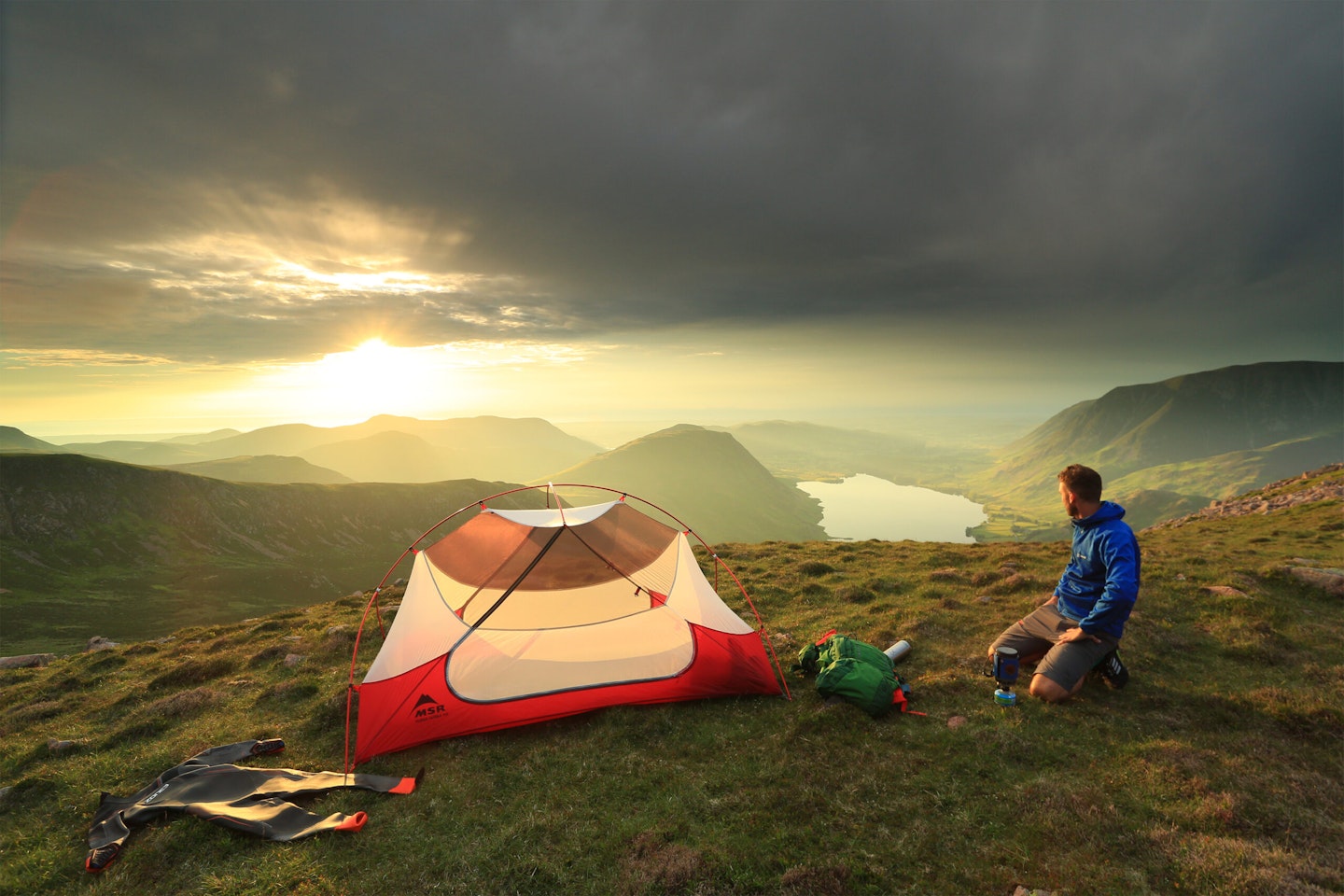 Camping in the Lake District is an excellent way to immerse yourself in this gorgeous area. There are several well-equipped campsites throughout the national park. Conversely, you could explore wild camping in accordance with the local guidelines.
Undoubtedly, this option has the highest effort-reward ratio. It can be hassle to pitch in the middle of the wilderness, but you may also wake up to your new all-time favourite view. Check out our wild camping guide to learn more.
Mountain Safety
Walking in the UK mountains can be dangerous, with rough terrain, exposure and changeable weather. Always check weather forecasts and make sure you have suitable clothing and navigation tools. Ice axes and crampons are essential for walking in snow and ice – as are the knowledge and skills to use them.
Useful Resources
Met Office Mountain Weather Forecast: metoffice.gov.uk
Mountain Weather Information Service: mwis.org.uk
Avalanche forecasts: sais.gov.uk
Mountain Rescue: Call 999, ask for police, then mountain rescue
Skills courses: mountain-training.org
Get half-price digital OS Maps. Trail and Country Walking magazine members get 50% off an annual subscription to OS Maps for 12 months. Find out more here.