Walking poles (often called trekking poles) assist with balance and stability on uneven terrain. They also help alleviate the strain suffered by your knees too. Thus, they're an extremely useful hiking accessory.
For some, walking poles can be almost on par with head torches and first aid kits in terms of importance. At Live For The Outdoors, we've been testing a number of walking poles to find out which are best.
Black Diamond Trail Ergo Cork – Best in Test
Lomo Aluminium Walking Poles – Best Value
Robens Grasmere T7 – Recommended
Highlander Isle of Skye Carbon Lite Ultra – Best ultralight walking poles
Leki Black Series FX Carbon – Best compact walking poles
Alpkit Alpine Trail Twins – Best walking poles for hard ground
Mountain King SuperTrekker Speedlock – Best walking poles for beginners
LEKI Cressida FX Carbon Lady – Best luxury hiking poles
Helinox Passport TL130 Adjustable – Best poles for experts
Komperdell Carbon C3 Cloud – Recommended
Below, you will find our recommendations, along with key features you should need to consider when buying new trekking poles.
The best walking poles in detail
Best in Test
Description
At first glance there's not much to differentiate these from other trekking poles here. They're a
Pros
Fantastic build quality
Spares for almost all parts easily available
Cons
Arguably pricey (but we think they're totally worth it)
Best Value
Description
These hiking poles are such an incredible bargain that we could almost leave the review there. But
Pros
Incredible value
Sturdy
Reliable flip-lock system
Recommended
Description
These trekking poles are relatively inexpensive, but don't skimp on design or materials. The
Pros
Good value
Durable materials used
Bag supplied
Cons
Tad heavy
Not very compact
Best ultralight walking poles
Description
Trekking poles work better in pairs, and when they weigh as little as these do – just 180g per
Pros
Very lightweight
Easy to use with gloves
Cons
Twist-lock isn't as reliable as flip-lock
Best compact walking poles
Description
As we've shown, you don't need to spend megabucks to get a good pair of trekking poles. But there
Pros
Very compact
Lightweight
Very durable
Bag supplied
Best walking poles for hard ground
Description
One of the issues with poles is that on hard ground they can be jarring on your wrists and arms.
Pros
Effective shock absorption
Good value
Can be bought as a single
Best walking poles for beginners
Description
What do these poles have in common with Stottie cakes, Gazza and Brown Ale? Simple – they all come
Pros
Great price
Uses sturdy materials
Variable lengths
Cons
Not as much give as other models
Best luxury walking poles
Description
To spend this much money on a pair of trekking poles, they have to be seriously good. Fortunately,
Pros
Super lightweight
Comfortable grip for all sizes
Durable carbon fibre construction
Cons
Somewhat over-engineered for the job
Best poles for experts
Description
Aluminium trekking poles tend to be heavier than carbon fibre poles, but the Passport series turns
Pros
Innovative design
Agile for technical terrain
Cons
May be a bit long for some
Recommended
Description
These are Austrian brand Komperdell's lightest carbon fibre trekking poles – each pole weighs less
Pros
Lightweight and durable
Good value for carbon fibre
What to look for in walking poles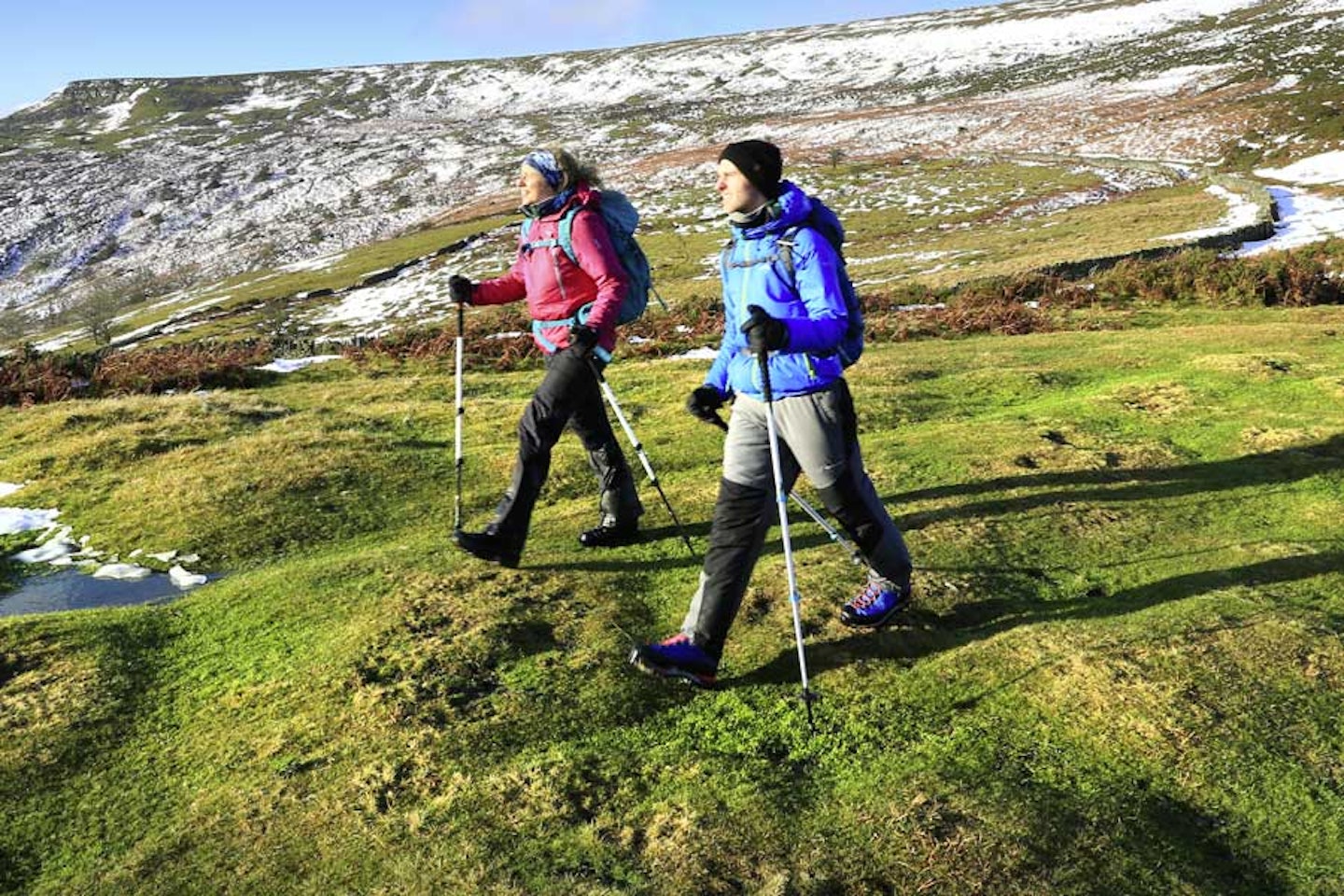 Portability
Z-shaped poles fold into thirds, while telescopic poles slide into themselves like a telescope. Either way, a collapsible design is needed for carrying in or on your backpack.
Length
With pole in hand your elbow should be at 90°. In this position, measure the distance from your hands to the ground and you have your optimum pole length. Opt for a pole that will lengthen 5-10cm up or down either side of this for when you're ascending or descending.
Locking mechanism
Some walking poles use a twist-lock mechanism, while others have a flip-style lock. The latter is considered more secure, longer lasting, easier to use and less prone to slippage. Twist-locks are lighter and easier to use with gloves.
Materials
Carbon poles are lighter and stiffer, but more expensive and brittle. Aluminium poles are generally cheaper and more durable, but heavier. Some poles combine both materials.
Durability
Heavier aluminium poles can take more abuse over rough and rocky mountainous terrain where walking poles undergo a real battering.
Handgrips
Select your preference from foam, cork or rubber designs. And for enhanced comfort choose an ergonomic grip with shaping and cushioning. A longer handle allows you to slide your hand up and down, depending on the steepness of terrain, to effectively adjust the pole length on the move.
Weight
For moving fast and light, an ultralight carbon trekking pole is most energy efficient. But for general hillwalking, a slightly heavier aluminium walking pole weighing will be stronger and more durable.
Pole tips
Pole tips are usually made of hardened metal such as tungsten or carbide, housed in a plastic body. If you're walking on roads or very rocky terrain, you can use rubber feet over the tips.
Features
Wrist straps or slings help prevent poles being dropped. Baskets – the little round discs near the tip – stop them from plugging in the ground. Wider baskets are a good strategy if hiking in snow. Some poles also have shock absorbers – spring-like mechanisms that cushion the impact of striking the ground.
One walking pole or two?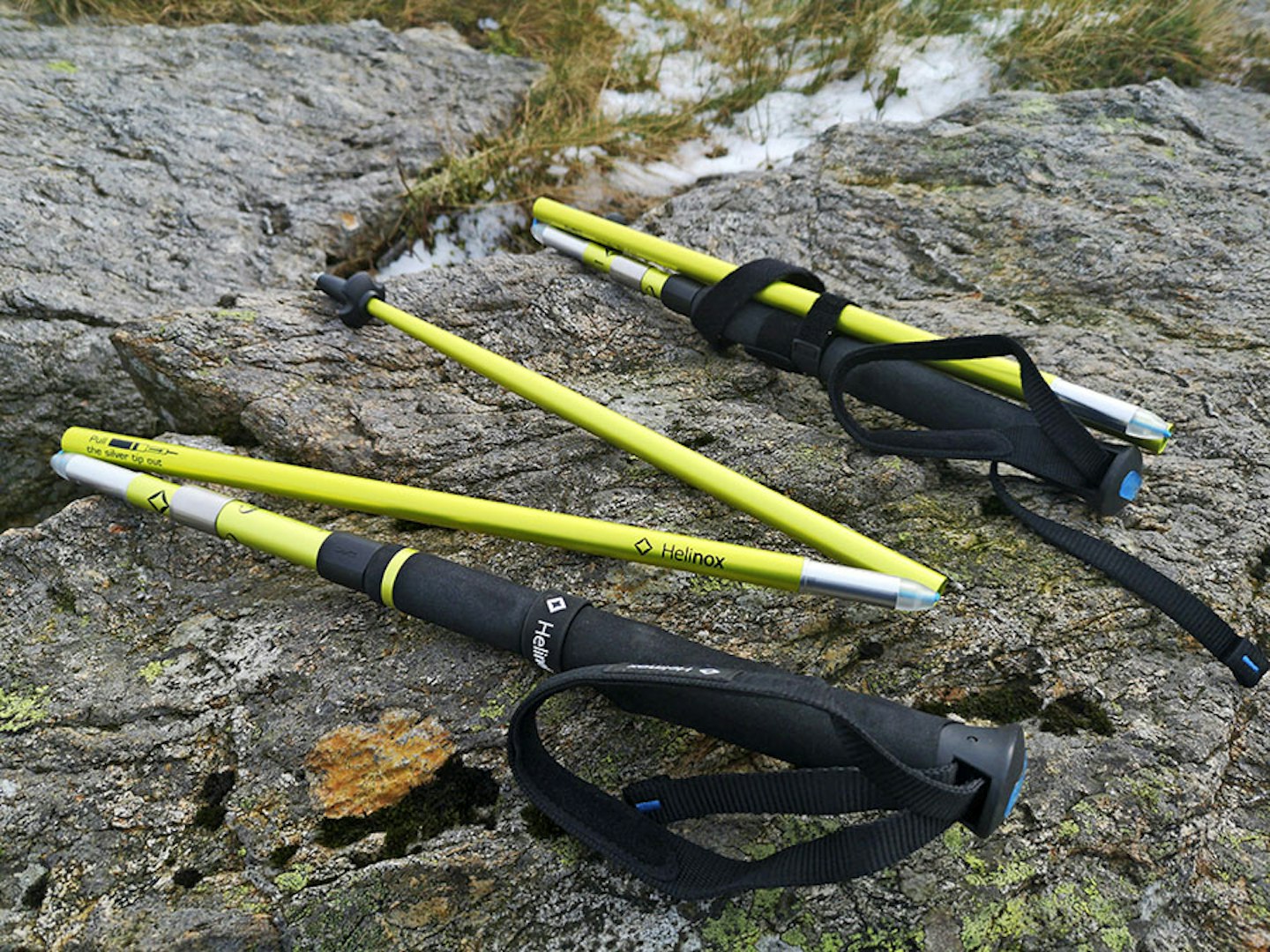 Two is best because it gives you better stability going downhill. Two hiking poles also give you more power when going uphill.
Using one trekking pole on the same side of your body can lead to unbalanced muscle development. This can result in extra strain on joints, tendons and muscles. Just make sure that if you do use only one walking pole, remember to switch sides as you walk.
Get half-price digital OS Maps! Trail and Country Walking magazine members get 50% off an annual subscription to OS Maps for 12 months! Find out more here.
Don't forget to subscribe to the Live For The Outdoors newsletter to get expert advice and outdoor inspiration delivered to your inbox!