Such is the popularity of Helvellyn, the mountain to which Striding Edge clings, that there will be people who have traversed the Lake District's most famous ridge walk without even knowing what a 'scramble' is.
Thanks to various TV and film appearances, national poll success and celebrity backing, Helvellyn, and specifically the Striding Edge route up it, is often somebody's first foray into hillwalking – perhaps it was yours. And as far as an introduction to scrambling goes, well, it's a fairly innocuous one. Indeed, it can barely be classed as a scramble, being for the most part horizontal. But that doesn't mean it can be taken for granted.
Striding Edge has wobbled the collies of many a would-be traverser. Yes, in part this is because it beckons the inexperienced and unproven to test their mettle, but its physical prowess has been known to test even the hardened hillwalker. Striding Edge's narrow rocky aréte plunges on either side – down to Nethermost Cove on the south side and towards Red Tarn to the north.
It's an exciting viewpoint, and one that can be rapidly transformed from airy and thrilling to exposed and threatening with the introduction of strong winds. It is also not without one or two awkward obstacles. But of all the ridge routes on any of the mountains in the whole of the UK, Striding Edge is the best loved, the most accommodating and, arguably, one of the most rewarding.
How hard is Striding Edge?
Distance: 11km, round-trip to the summit of Helvellyn if you start from Glenridding.

Ascent: You'll cover around 900m of ascent

Technicality: It's classed a Grade 1 one scramble, which means you'll need to use your hands in places, but the exposure is severe in certain sections of the ridge

When should I do it? In dry conditions when strong or gusty wind doesn't make traversing the arête more uncomfortable than it needs to be.
Scroll down for our step-by-step guide to the ridge, and CLICK HERE for more great hiking routes in Britain's mountains.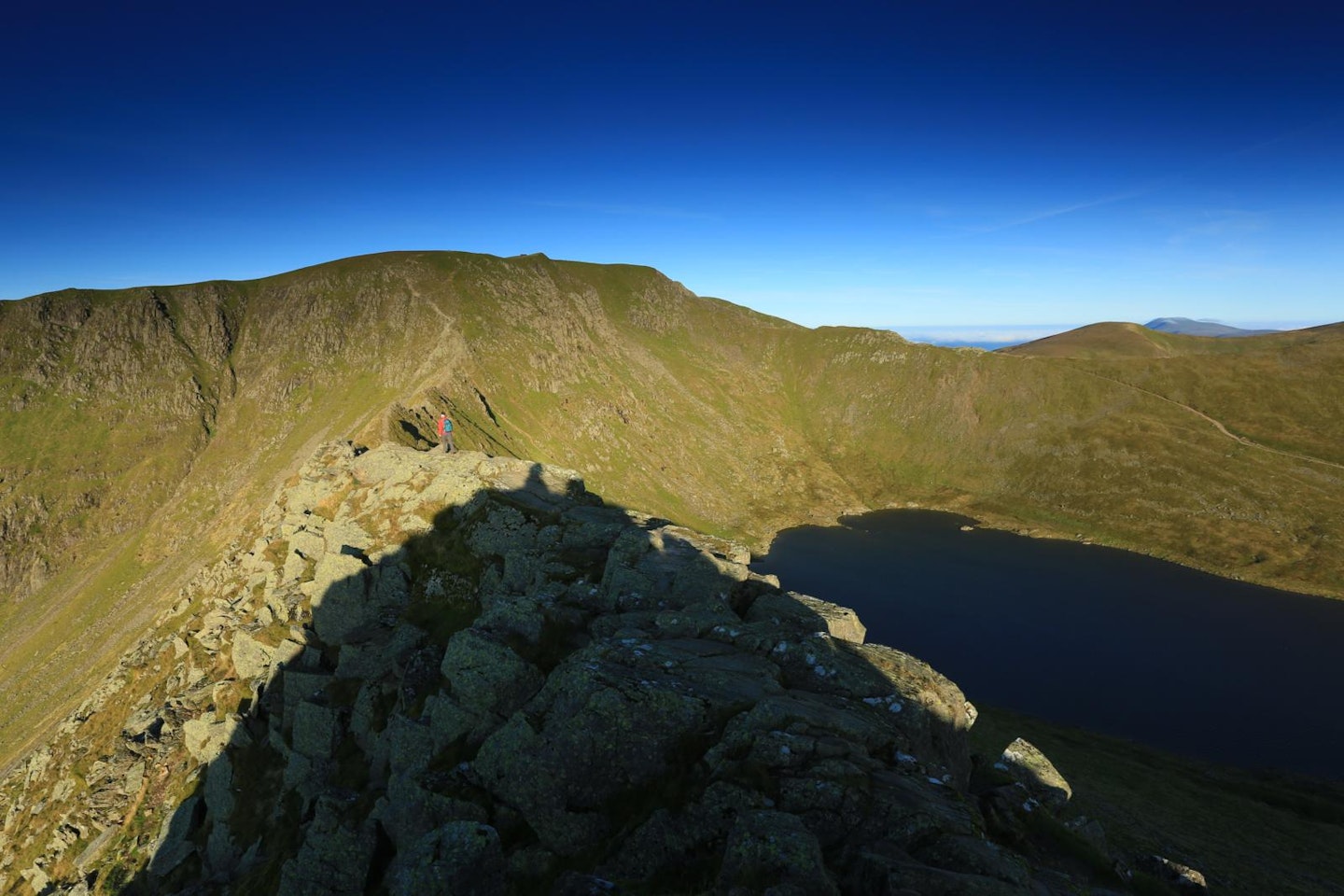 Scrambling guide: Striding Edge
Step 1
The ascent can start from either glenridding or Patterdale, although if this is your first toe-dipping into ridge scrambling, glenridding is best for reasons we'll come to later. The initial aim is to reach Hole-in-the-wall at 700m, via Birkhouse moor from glenridding or Patterdale Common above grisedale from Patterdale.
Step 2
From Hole-in-the-wall the route climbs 150m quickly up Bleaberry Crag and over Low Spying How to the rocky vantage point of High Spying How. Legs may well deserve a rest at this point, and the view of the ridge laid out ahead and the panorama of the surrounding fells makes a quick break well worth taking.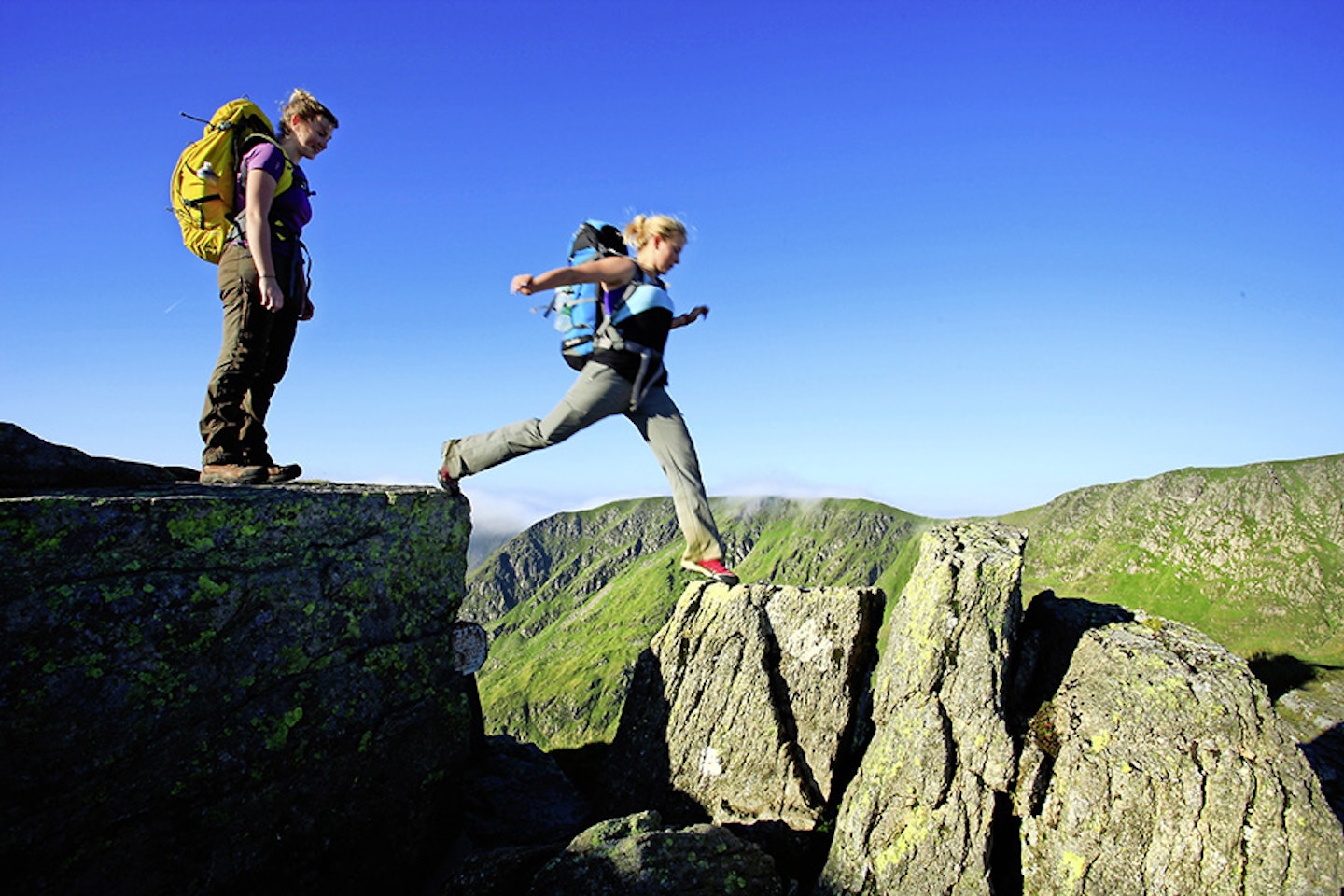 Step 3
By now you'll have an accurate idea of what the wind is doing, and so long as it's not too breezy it's time to tackle Striding Edge itself. The rock at the crest is polished from traffic and wide enough for the most part to feel comfortable. There are a few steps to be clambered over on the arête with big drops to either side. Should nerves get the better of you, a path on the Red Tarn side of the crest bypasses most of the difficulties. Up ahead is the ridge's main obstacle, but with some clever usage of tracks and trails criss- crossing the ridge this can be avoided. Otherwise...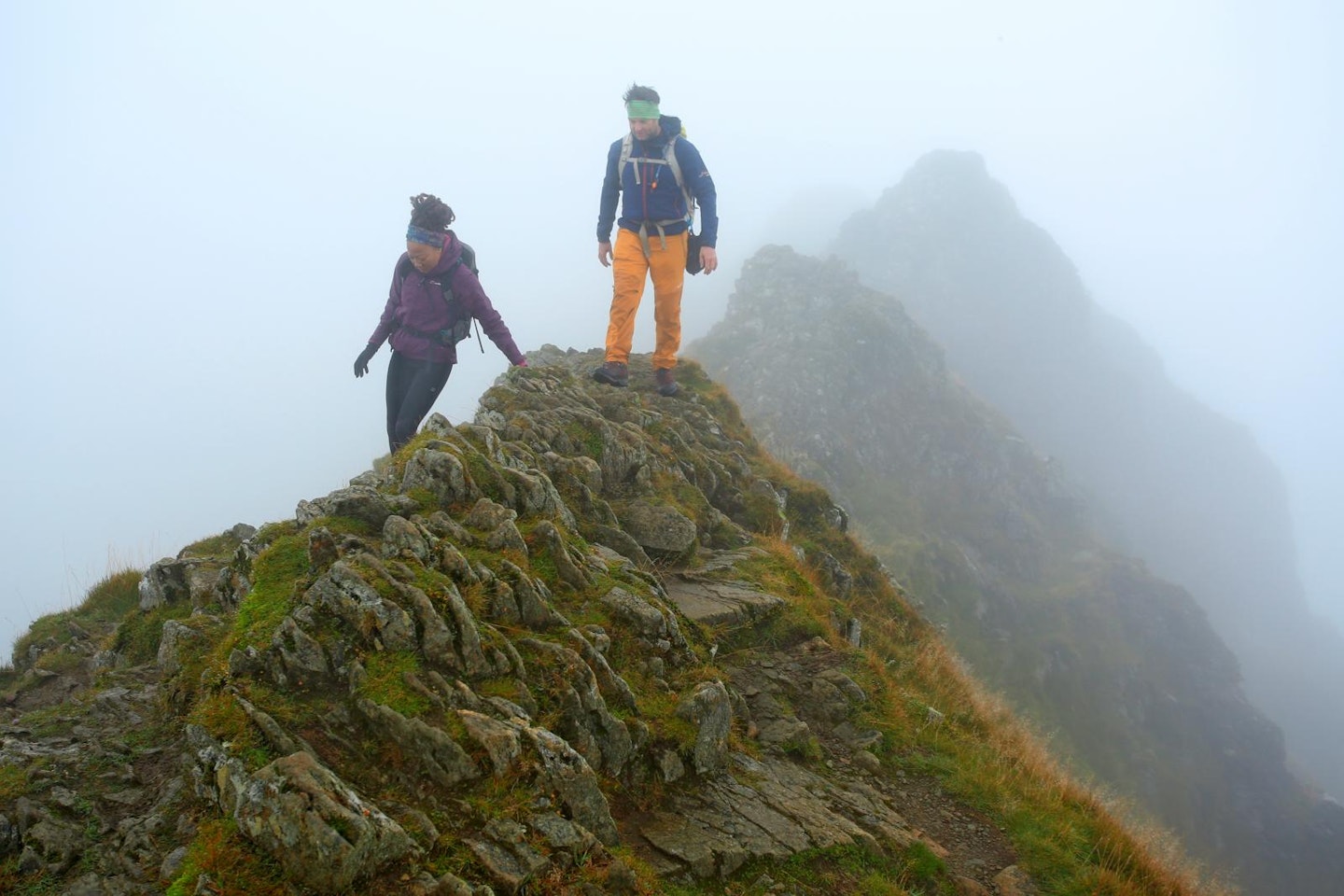 Step 4
If you've stuck to the top of the arête, you will eventually reach Striding Edge's only real difficulty. 'The Chimney' is a rocky downclimb of around 6-7 metres. Hand- and footholds are plentiful, but climbing down is harder than climbing up, and having an experienced scrambler go before you to point out foot placements as you descend can be helpful if you're a scrambling novice or just feel a little nervy at this point.
Step 5
The top of Helvellyn is now in sight (unless the cloud is down). A continuing scramble up the rockface ahead is preferable to the scree out to the left, and after a little more thigh-burning ascent the flat top of Helvellyn is reached.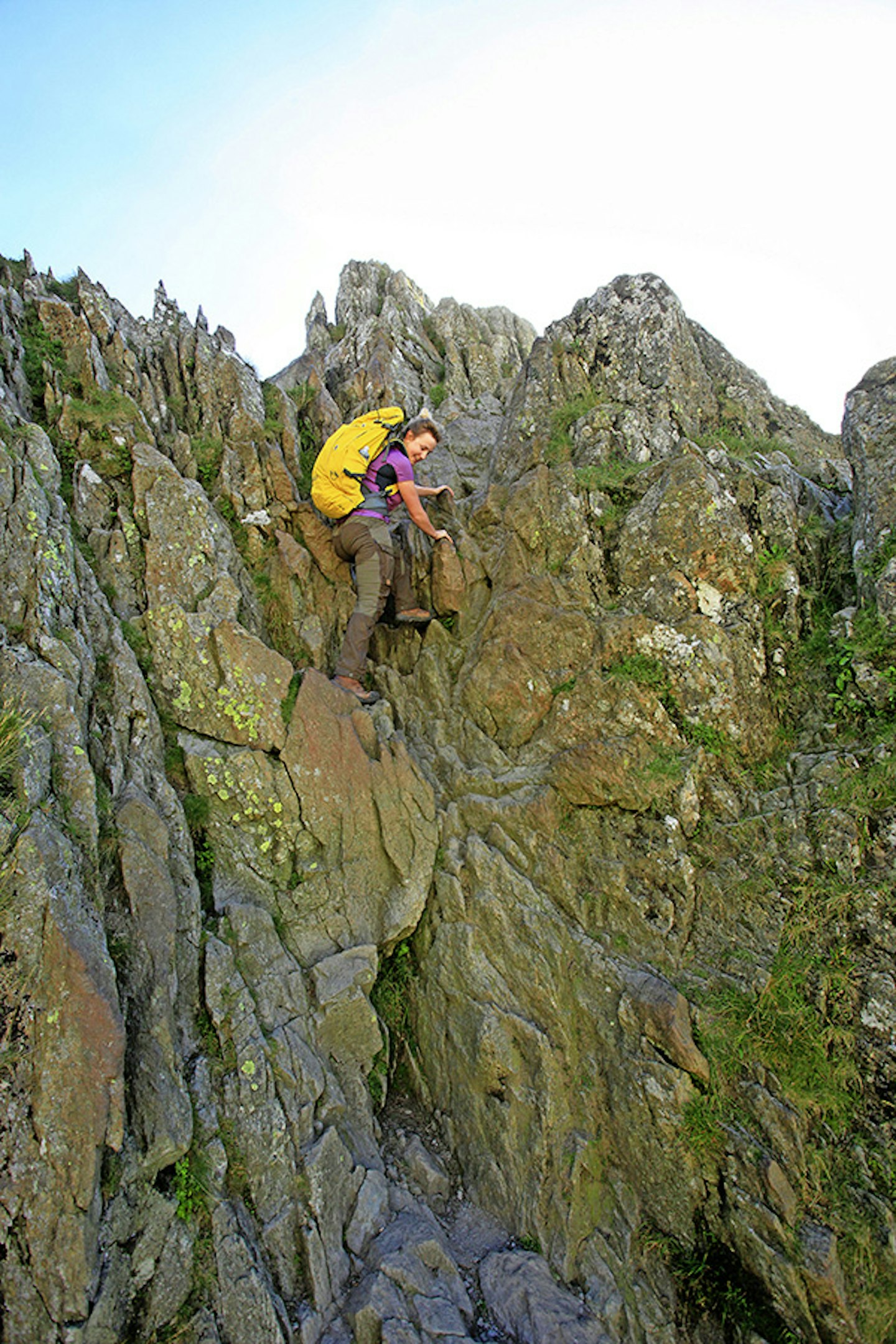 Step 6
Helvellyn's summit is broad and flat – they once landed a plane up here! It's worth a short poke around to look for the memorial to that event and enjoy the phenomenal views.
Step 7
If you've enjoyed the scrambling and are keen for more, you can descend via Swirral Edge for more hands-on-rock action before heading past the outflow of Red Tarn and back to Hole-in-the-wall to retrace your steps back to glenridding or Patterdale. If, however, you're all scrambled out, a long but easier-going track heads north over Lower man and whiteside Bank to descend to glenridding via Keppel Cove.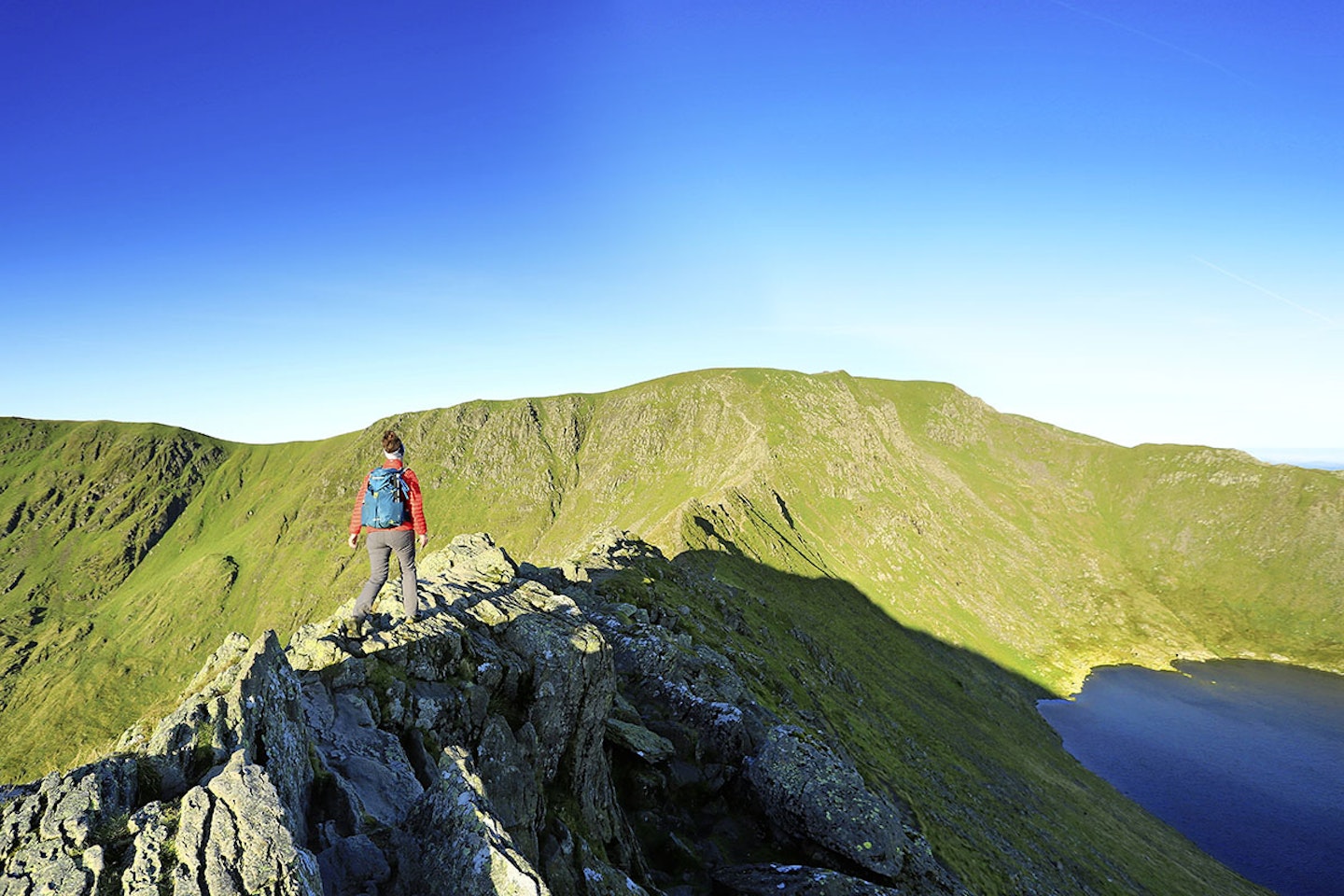 Follow this route with HALF-PRICE digital Ordnance Survey Maps for the whole of Great Britain by subscribing to Trail magazine.