Most hillwalkers will have heard of Striding Edge on Helvellyn and Sharp Edge on Blencathra, thrillingly narrow aretes that offer scrambling adventure on two of the National Park's most popular peaks.
But they aren't the only great scrambling routes in the Lakes, so we've picked out a few of our favourites below to make a Trail magazine Top 5, all with digital routes to download and follow.
Don't forget Trail magazine members get 50% off an annual subscription to OS Maps.
1. Helvellyn via Striding Edge
There's a good reason Striding Edge is the most famous of all Lake District scrambles. It rises, falls, twists and turns above the glacial scoop of Red Tarn to the summit of England's third highest mountain, and is narrow enough in places that you can literally sit with one leg either side of the ridge as you bum-shuffle along it.
The real beauty of Striding Edge, though, is that almost any experienced hiker can do it. Most of the Grade 1 scrambling can be avoided on a narrow traverse path to the right, the moves are simple (if a little exposed), and if you time your ascent with good summer weather you'll find the rock is solid and holds are good.
When you reach the summit of Helvellyn, you can choose to either descend via the equally challenging ridge of Swirral Edge, or head north over Lower Man and White Side for an easier path down Glenridding Common.
Get Trail magazine's Helvellyn via Striding Edge digital route

2. Blencathra via Sharp Edge
Situated in the beautiful Northern Fells, this knife-edged route up Blencathra will certainly get your blood pumping. The notorious Sharp Edge demands plenty of scrambling experience and a good head for heights. While only classed as a Grade 1 scramble, keep in mind that it isn't called the 'Crib Goch' of the Lake District for no reason.
The exposed crest of the ridge needs sound hand and foot placement and a solid head for heights. It's also vital you factor in weather and time of year as wind and wet rock only add to the challenge, while ice axe and crampons may be essential during winter.
Once you've traversed the ridge, scrambled the final section up Foule Crag and completed the short walk to Blencathra's summit at 868 metres, you're rewarded with views across Lakeland including nearby Derwent water. If you're looking for more adventure, there is opportunity to explore Blencathra's rolling summit plateau and its many southern ridges.
Get Trail magazine's Blencathra via Sharp Edge digital route

3. Cockly Pike Ridge, Ill Crag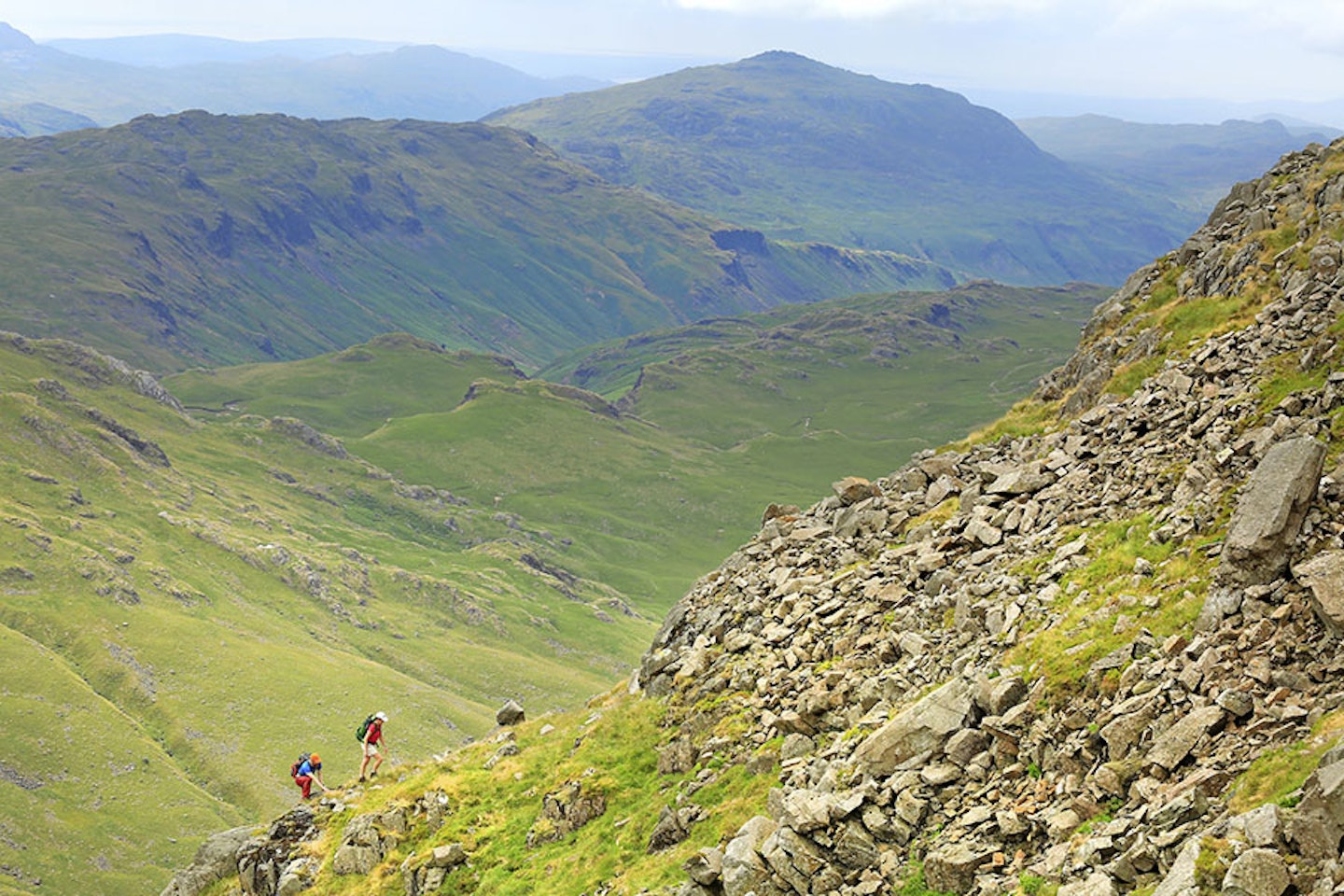 If you're looking to avoid the usual congested route up Scafell Pike or just want an active day in the hills, Cockly Pike Ridge is a perfect option. It starts near the base of Ill Crag, one of the tallest peaks in the Lakes, and is the perfect way to explore the rugged landscape of the Southern Fells.
Approach from Langdale or Seathwaite and take the path up to Esk Hause, before dropping down to tackle one of the longest scrambles in the Lake District. With excellent Grade 1 and 3 scrambling routes on offer (we recommend sticking to the Grade 1 stuff!), providing big, jug-handle grips, this exhilarating ascent is one you can make up yourself as you ascend.
Although, you must be cautious and expect various sections of loose, uneven rock, including loose scree when nearing the top of the ridge. After soaking in glorious views with a brew from the 935-metre summit of Ill Crag, you're just a short rocky walk from the highest point in England, Scafell Pike. Pathways on this route may not be clear and obvious in places, therefore some degree of navigation skills may be required.
Get Trail magazine's Scafell Pike via Cockley Pike Ridge digital route

4. Jack's Rake, Pavey Ark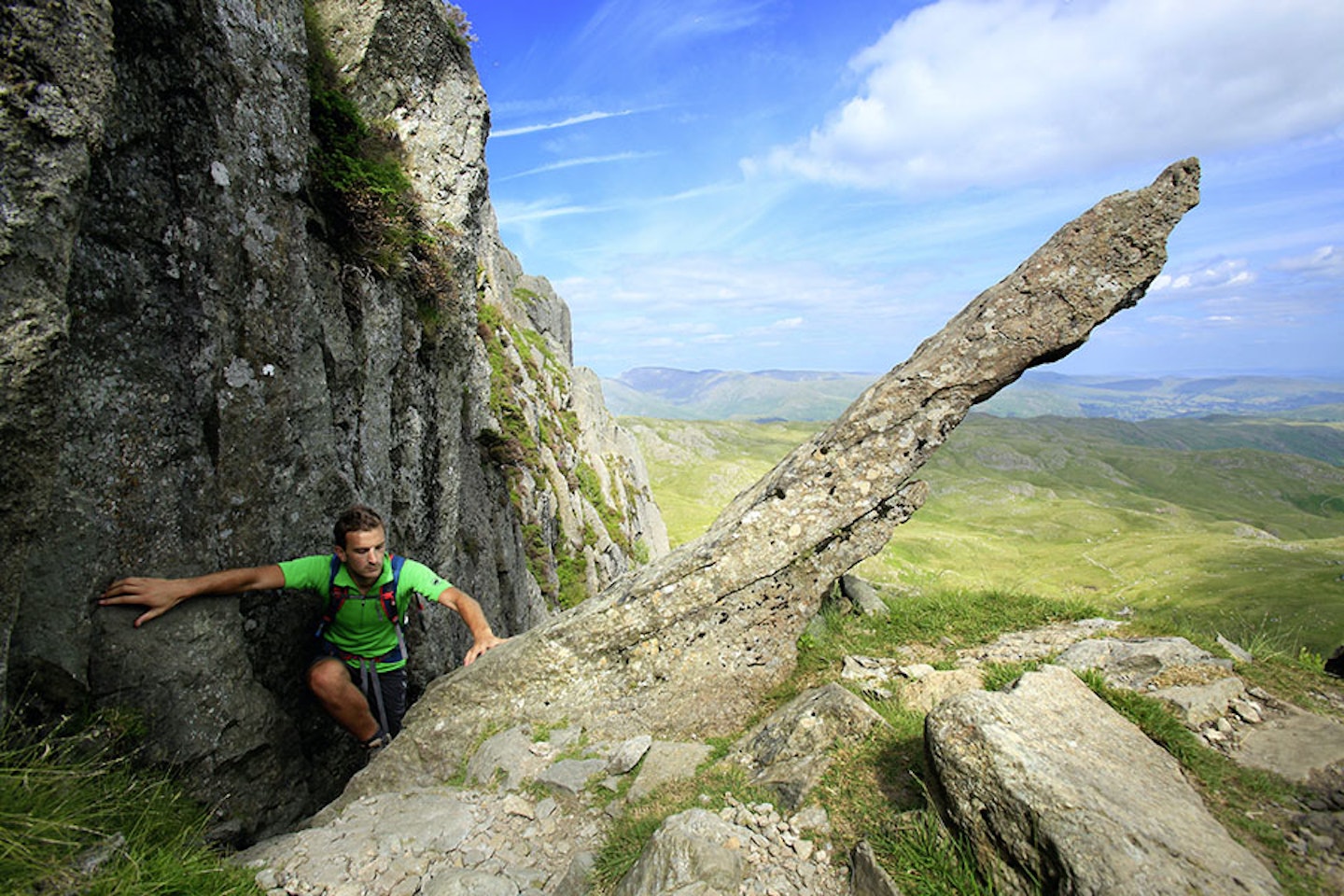 Jack's Rake is one of the most highly rated Grade 1 scrambles in the Lake District. A popular route amongst hillwalkers, it offers a classic adrenaline-filled ascent up the rocky face of Pavey Ark, a dramatic peak and one of the Langdale Pikes.
The scramble looks very daunting from below but the narrow trench of rock you'll be weaving up is enclosed enough in parts to provide some comfort at least – making this route ideal for experienced hikers when the rock is dry.
There is exposure in places on the left-hand side, so a head for heights is needed and while there are plenty of good holds which make this route a fun-filled scramble, expect steep rock ledges to negotiate which may prove tricky in wet conditions.
Approach from Langdale, up the path along Stickle Ghyll, before starting your ascent next to Stickle Tarn on the opposite side. After reaching the top of Jack's Rake and taking a short stroll to the 700m summit of Pavey Ark, you're rewarded with outstanding views of Great Langdale.
From there you can choose to explore the rest of the nearby Langdale Pikes or head back down to Stickle Tarn on the path that curves around to the east.
Get Trail magazine's Langdale Pikes via Jack's Rake digital route

5. Raven Crag, Coniston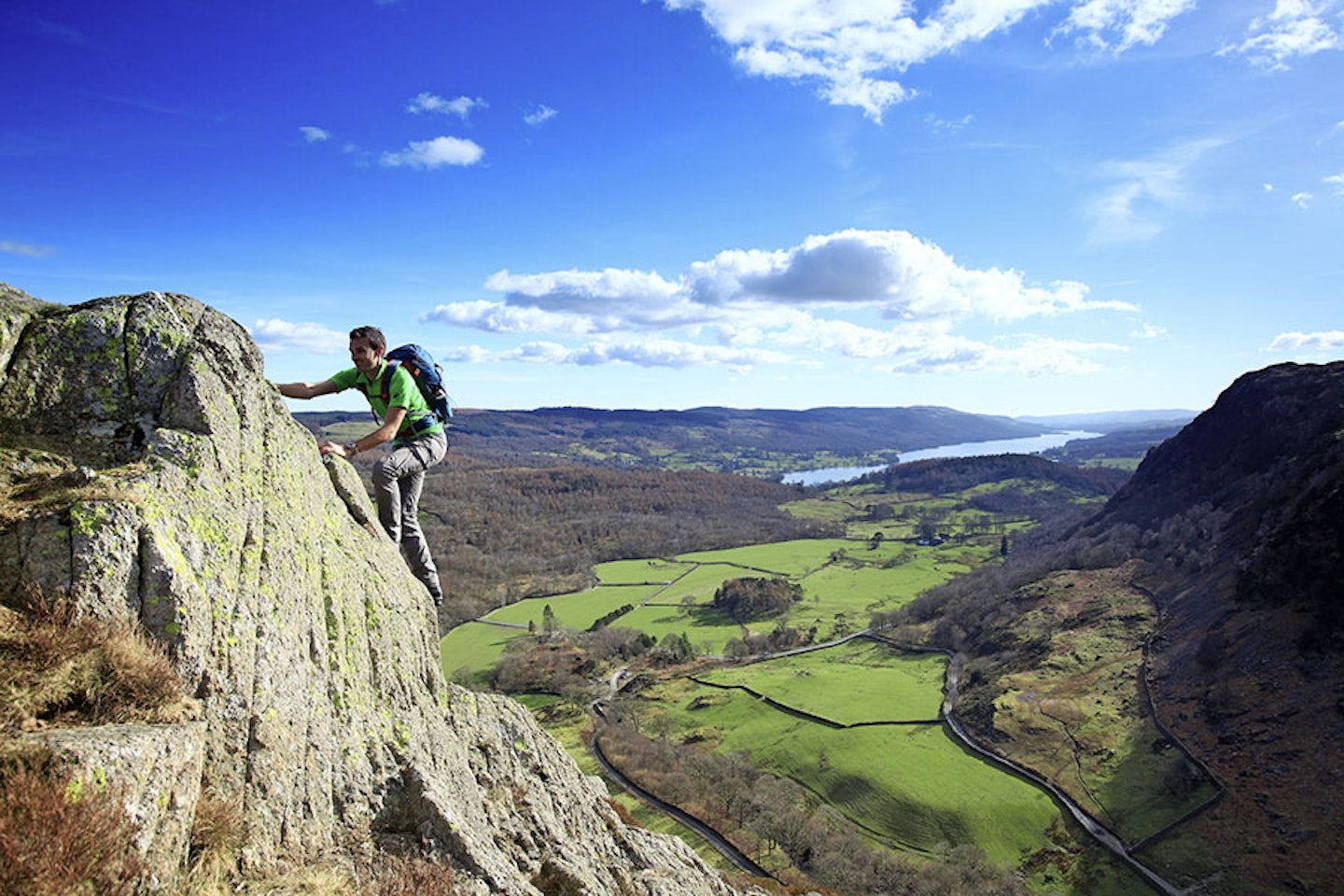 Nestled between Coniston and Little Langdale sits the little 317m peak of Holme Fell. At its south-western corner, Raven Crag hangs like a lolling tongue, 110m above sea-level and stretching for just 230m.
Approach via a stile where the wall meets a fence beside the single-track road which threads through Yewdale, where you can park below the crag. This route up Holme Fell might not be the longest or even the most popular scramble in the Lake District, but it is one of the finest scrambling routes to be found in all of Lakeland.
You'll experience 130m metres of exposed, airy, rock-clinging action providing competent scramblers with a short, sharp shot of fun on a sunny day. If you're new to scrambling, it's suggested that novices may benefit from the security of a rope because it edges into Grade 2 territory in places.
It's also worth noting that parts of this route may be restricted during 1 March and 30 June due to nesting birds, so please check the BMC website before heading over. After your ascent, you can cross the heathery knolls of Holme Fell before descending back towards Yewdale road to your car after passing Yew Tree Tarn, Glen Mary Bridge and Shepherds Bridge.

Get HALF-PRICE digital Ordnance Survey Maps for the whole of Great Britain by subscribing to Trail magazine.
Need help with OS Maps? Try the OS Maps online FAQ and OS Maps quick start guide for further assistance