The form of tents may differ today to those of 30,000 B.C. made from foliage or animal hides. But the function doesn't: protection from the elements.
Using the hides of mammoths to make tents isn't possible today. Even if it was, it would be an unpopular move. So we use synthetic materials for our lightweight tents instead. In this guide, we're looking at the best tents for hiking and camping. These, plus a couple of other popular options like roof tents.
Getting the right tent is all about picking one that conforms to your needs. There's such a vast array of tent designs that there will always be something for you. Of course, price is one factor, but you also need to consider shape, size, materials, sustainability, and weather resistance to name just a few.
Our shortlist:
Wild Country Helm Compact 1 – Best hiking tent 2023
Sea To Summit Alto TR1 Plus – Best summer backpacking tent
Robens Eagle Rock 5XP – Best family tent
Wild Country Zephyros Compact 2 – Best 3-season wild camping tent
Alpkit Kangri – Best winter hiking tent
Jack Wolfskin Eclipse III – Best 3-person tent
Rab Ridge Raider Bivi – Best bivvy bag
TentBox Classic – Best rooftop tent
What we've done here is go through a collection of popular categories of tents, from family tents to 3-person tents to bivvy bags, recommending the best of each. We've also included some buying advice too.
The best tents for 2023 in detail
Best hiking tent 2023
Description
Pros
Incredible price
Small pack-size
Reliably durable
Best summer backpacking tent
Description
Like microtechnology, the science of lightweight backpacking tents continues to evolve at an
Pros
Very lightweight and compact
Ample headroom
Breathable fabric
2-person version available
Cons
Waterproof ratings could be better
Description
Big, spacious family tents are a very far cry from their compact colleagues and the market is also
Pros
Very spacious
Handy separate bedroom
Great quality materials
Feels very durable
Cons
Takes up a lot of boot space
Best 3-season wild camping tent
Description
To give this tent a proper test, we took it to the Isle of Skye for some wild camping in June.
Pros
Lightweight
Good waterproof ratings
Easy to pitch
Cons
Very snug for 2 people
Small porch
Best winter hiking tent
Description
For winter camping, a geodesic tent is a no-brainer. But which one? This one. Tents of this sort
Pros
Good value
Sturdy geodesic shape
Cons
Inner first pitching isn't good for wet weather
Description
Jack Wolfskin's Eclipse III impressed us in terms of its versatility and sustainability. For
Pros
Versatile for hiking and camping
Sustainable
Very good weather protection
Cons
Not the lightest tent of this type
Best bivvy bag
Description
For those who think a one-person tent is just too spacious, there are bivvies. Our current
Pros
Spacious
Freestanding
Great weather protection
Cons
Not as lightweight as pole-less bivvies
Best rooftop tent
Description
The TentBox Classic stands out here like a hiker wearing blazing red hiking jacket on a snowy
Pros
Super fast to set up
Hardy and aerodynamic hardshell
Lots of clever design touches
How to choose the best tent for you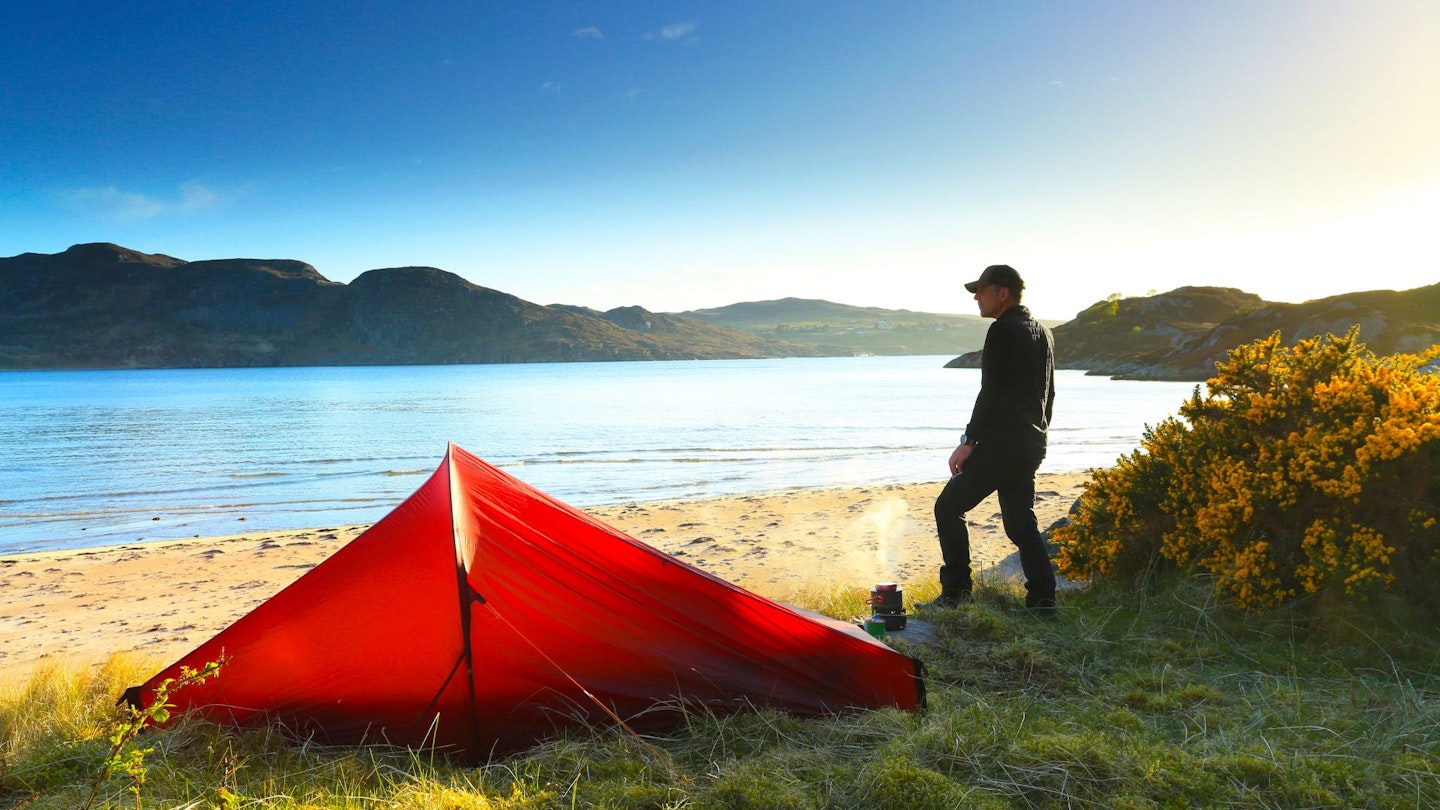 Shape
Dome and geodesic tents have good stability and strength – geodesic tents are the best for winter, but these types tend to be heavier and less spacious than other shapes.
Tripod or backpacking-style tents (like in the photo above) are often the lightest and most compact type of tent you can get for going to a bivvy or tarp. They are most commonly for one person or pairs.
Tunnel tents provide the best ratio of space and weight. They can be quite stable too, if using stronger poles, more guy lines, and aren't tall. There are tunnel tents for every season and use, from family camping to backpacking and mountain treks.
Materials
This is an area that contains a lot of acronyms and unfamiliar terms. As a rule, silicone-coated outer fabrics are stronger than polyurethane (PU)-coated ones. Check the denier rating of the fabrics too. A denier rating (e.g., 15D) indicates the thickness of the fibres of the tent fabric. It's a good indicator of fabric strength, but predictably adds weight.
Waterproof ratings
Waterproof ratings (hydrostatic head, or HH) are another important aspect. The figure refers to how much water pressure the fabric can withstand (e.g., 3000mm HH = 3-metre column of water pressure). The higher the figure, the more waterproof a fabric is, but weight often climbs with it because more coating is needed.
Seam sealing is important to waterproofing too. A common tactic is taped seams, but the taping can wear away over the years. Some brands are coming up with alternatives, so have a look into these.
Space and liveability
In the same way, you need to ensure there is enough sleeping space, you also need to check how much storage space a tent has for your gear. This includes vestibules and storage pockets.
If there will be at least two of you in the tent, having a door on each side is always handy. And two-door tents often have two vestibules, which increases storage space.
Weight and packed size
We want our hiking tents to be as light as possible, but there needs to be a balance. If we're 3-season or winter campers, durability and weather resistance are equally important. For all, the right internal space is crucial too.
Some tents have a separate stuff sack for the inner, fly, and groundsheet to help distribute the weight among hikers. But 1-1.5kg backpacking tents and bivvy bags are approaching the size of a Subway sandwich when packed down and therefore aren't such a burden.
How to clean a tent
This is a really simple but also very important step. Tents need to be cleaned properly after each decent use to maintain fabric breathability, waterproofing, and overall condition. UV rays and abrasive dirt wears away at tent fabrics and can cause them to be less effective.
Products such as Grangers Tent and Gear Care Kit and Nikwax Camping Care Kit (below) are ideal for tent fabric care.
Best tent cleaning kit
Description
Contains Grangers Tent and Gear Cleaner and Repel. The former cleans the fabric, the latter
Pros
PFC-free
Water-based
Very effective
Cons
Nikwax Camping Care Kit is better value
Best gear cleaning kit
Description
This kit comes with Nikwax's tent and gear wash and reproofing sprays, plus microfibre cloths and
Pros
PFC-free
Water-based
Dry bag included
Cons
We prefer tent wash as a concentrate (like Grangers)
Get half-price digital OS Maps. Trail and Country Walking magazine members get 50% off an annual subscription to OS Maps for 12 months. Find out more here.
Don't forget to subscribe to the Live For The Outdoors newsletter to get expert advice and outdoor inspiration delivered to you inbox!