For goodness sake, whatever happens don't let jargon put you off trail running shoes. You come across jargon everywhere, from photography to corporate meetings. At Live For The Outdoors, we like to make trail running (and hiking) as easy to understand as possible. It goes a long way to making the sport more enjoyable for everyone irrespective of ability.
This is a crystal clear explainer of trail running shoes, covering the anatomy of a trail running shoe, what heel drop is, features to look for in trail running shoes, and how to get the right fit. Armed with this new information, you'll be a trail running shoe expert.
Trail running shoe anatomy
Before we go into what to look for in a trail running shoe, let's first understand the parts that make up a trail running shoe.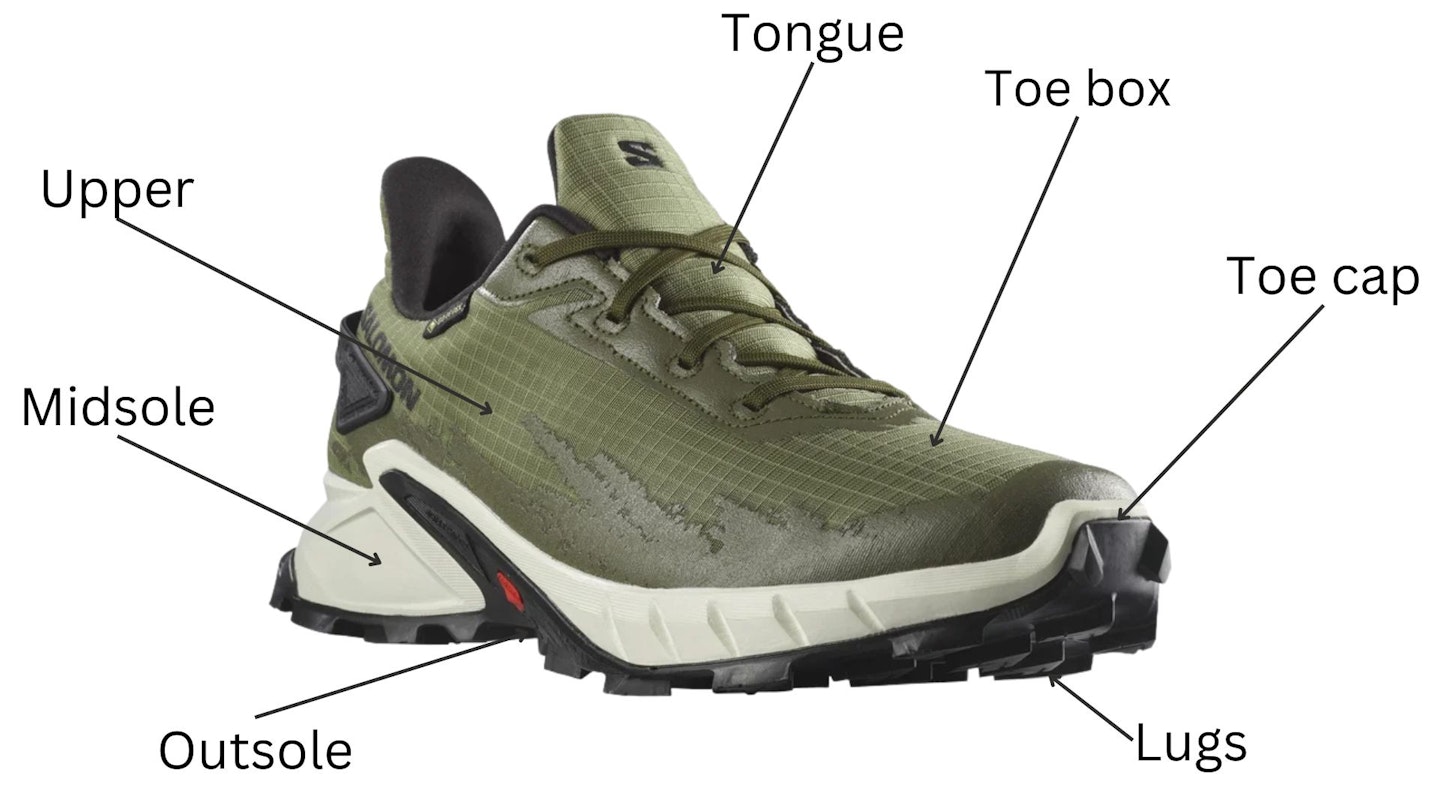 Lugs: Trail running shoes have chunkier tread than regular running shoes to give you grip. Lugs vary in size and shape, depending on terrain type. Deeper lugs are for soft ground and widely spaced lugs perform well in mud, for example.
Outsole: The outsole is the underside of the shoe, usually made from synthetic rubber. The largest producer of outsoles is Vibram, and you see the name on a lot of footwear. But many brands also have their own, such as Salomon's Contragrip.
Midsole: Sitting between the outsole and inner sole is the midsole. It exists to cushion the foot. Some trail running shoes incorporate a shank into the midsole for stiffness and further impact absorption. The shank is a thin wedge of material, often plastic.
Upper: This is the part of the shoe that covers the foot. Some trail running shoes incorporate a waterproof membrane (often Gore-Tex) into the upper. That's why you'll sometimes see the same model of shoe, but one has 'GTX' in the name and a higher price.
Toe cap: The toe cap is the rubber lip at the end of the shoe to protect the toes. Trail shoes might also have a small rand that extends slightly around the sides of the toe box too.
Toe box: Your toes go in the toe box. These vary in shape, generally a wider fit that allows your feet to splay more naturally are better for long distance.
Tongue: A gusseted tongue is one that's stitched to the upper. This helps keep debris out of the shoe.
Heel drop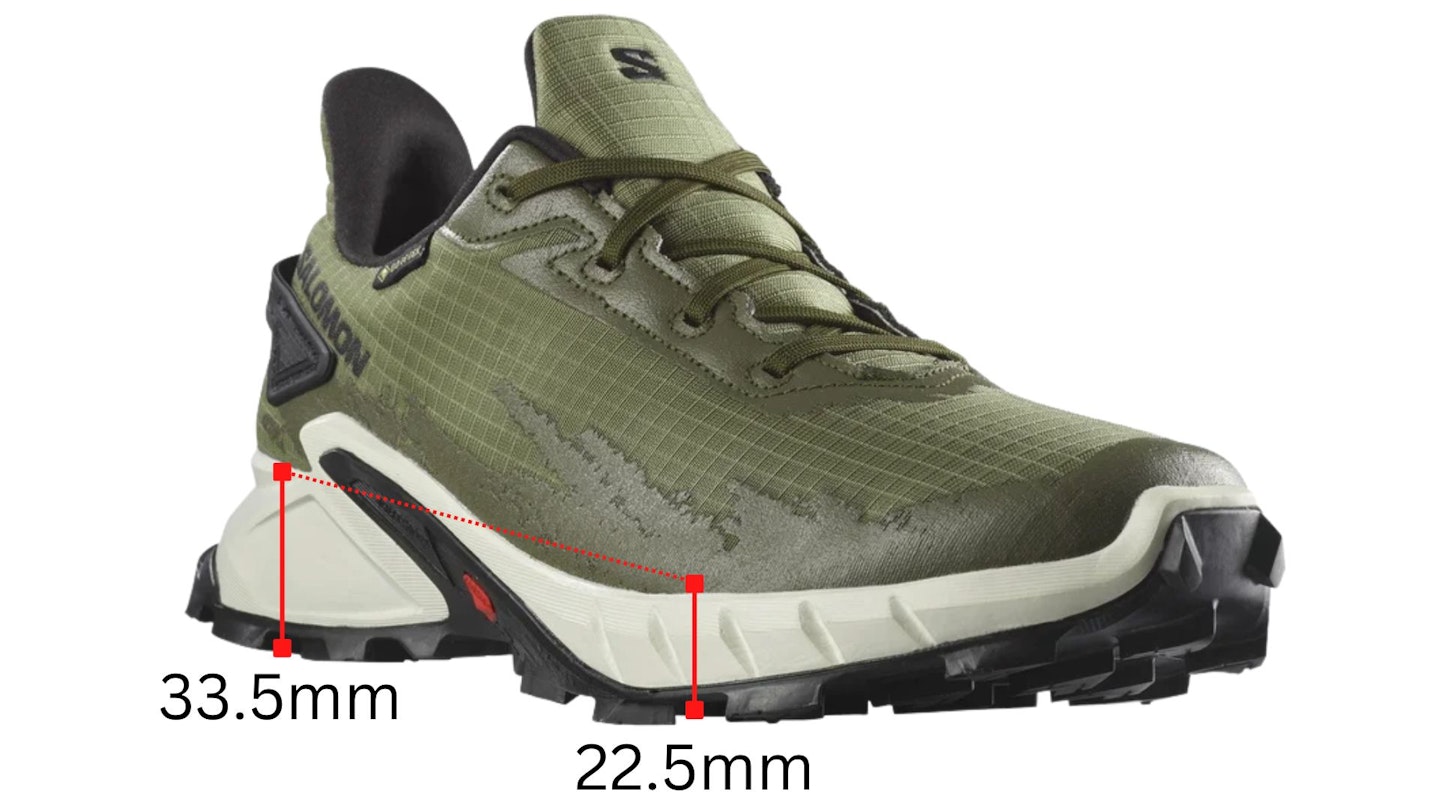 Shoe heel drop is the difference in height between the heel and forefoot of the shoe. In the example above, the heel drop is 11mm.
Why is heel drop important?
A smaller heel drop encourages a midfoot or forefoot landing as you run. This causes less strain and is more efficient than landing heel first. Knowing this, why do trail running shoes have any heel drop? Instinctively, we tend to land heel first when we run. And while this isn't the best technique, it takes time to transition to a midfoot/forefoot first style. Going straight into zero heel drop shoes can cause strain and injury because our muscles and tendons haven't adjusted to the change.
Trail running shoes with a bigger heel drop are good for beginners and runners who have had Achilles injuries. To make the switch to midfoot/forefoot first, give yourself time. Transition slowly both in terms of the shoe you use but also the length of the runs you go on.
Small heel drop: 0-4mm
Medium heel drop: 4-8mm
Big heel drop: 8+mm
Go with what you find comfortable.
Terrain types and trail running shoe features
While trail shoes all follow the same basic recipe, the potency of each ingredient changes depending on what each trail running shoe is intended for.
Upper: Lightweight and breathable with flex and minimal toe protection
Midsole: Less support
Lugs: Shallow, for grip on rock and compressed ground
Upper: Breathable with some flex and toe protection
Midsole: Increased midsole support for mixed terrain
Lugs: Medium-sized and multi-directional for grip on mixed terrain
Upper: Stiff and support with toe protection and waterproof liner (if you wish)
Midsole: Increased midsole support
Lugs: Deep and widely spaced for grip in and shedding of mud
Finding the right fit
Like walking boots, trail running shoes need to have a reasonably snug (but not too snug) fit. The heel and arch need to be held quite firmly in place and your toes should have about a finger's width of room at the end of the shoe. You also need to consider width and find a shoe that feels just right.
Although, there is the standard UK/USA/EU sizing figures, sizes still vary slightly from brand to brand. It's quite important you try trail running shoes on before buying. Even after you have, wear them around the house for a week to be certain the fit is right.
Retailers can also often help with assessing your gait cycle and consequently, the right shoe type. A gait cycle is from the heel strike of a foot through to the following heel strike of the same foot. Assessing your gait cycle reveals your pronation, which is whether your foot rolls inward, is neutral, or rolls outward when you run.
Getting started on the trails
When getting into trail running, take your time - enjoy it. Don't feel like you have to complete an ultrarun within the first month.
Give yourself time to get used to running on uneven ground and pace yourself. Going too hard too early can make you dislike trail running or cause an injury.
Use navigation apps like OS Maps, AllTrails, or Komoot to help you find a rich variety of trails to explore near you. Keeping the scenery fresh always helps maintain an interest.
Trail running shoe care and cleaning
To maintain the breathability, waterproofing (if applicable), and overall condition of your trail running shoe fabrics, some TLC is required. This is easy enough, it just requires a few minutes of your time and the correct cleaning products.
For footwear cleaning, we suggest either Grangers Footwear and Gear Cleaner or Nikwax Footwear Cleaning Gel (for waterproof footwear only). For reproofing, use Grangers Footwear Repel Plus or Nikwax Fabric and Leather Proof.
Don't forget to subscribe to the Live For The Outdoors newsletter to get expert advice and outdoor inspiration delivered to your inbox!
For the latest reviews - including extra photos and kit that won't appear online - pick up a copy of the current issue of Trail Magazine!