You'll likely have a few recipes you turn to time and again, which are your dinner staples. Salomon seems to want to achieve the same 'staple' status with the Sense Ride 5. It's a lightweight, go-most-places trail running shoe that wants to be your go-to shoe.
Salomon says the Sense Ride 5 is a 'versatile trail shoe that does it all... equally in its element on short, fast trail runs as on ultra distances'.
That's quite a statement, so we've been putting it to the test to see if the Sense Ride 5 lives up to its overachiever expectations.
Design and features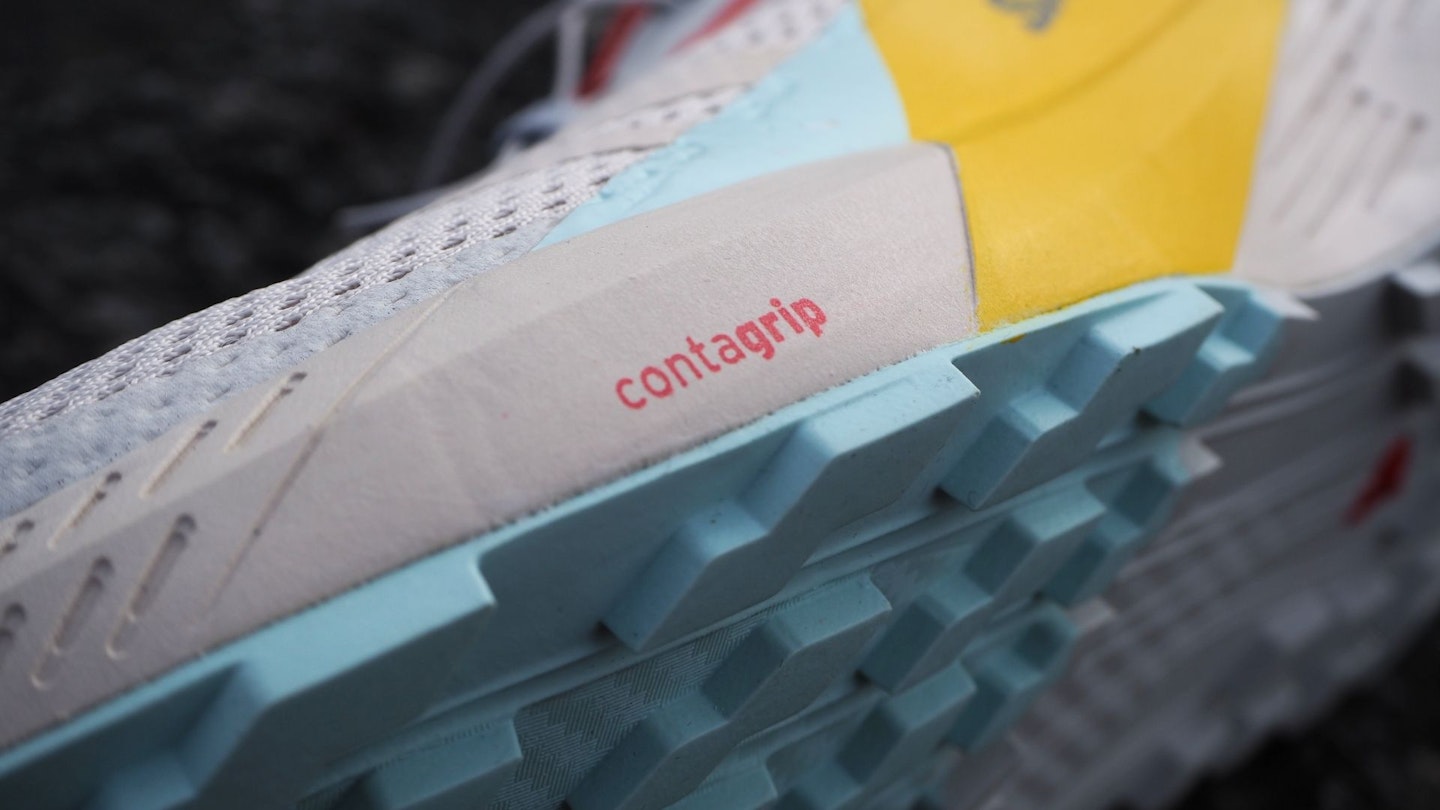 Let's analyse the Sense Ride 5 by working our way upwards. The lug pattern is quite clearly angled towards hard-packed trails. The lugs are quite closely spaced and are 3.5mm, so they're not particularly deep and look to maximise grip on firmer ground.
The drop is about 8mm, which will tend to suit heel-strikers best. And the stack height is 29.6mm/21.3mm, so the midsole should hopefully offer plush cushioning. Indeed, it's supposed to feel 'softer' than its predecessor without losing response.
Weighing 286g, it's a reasonably lightweight shoe. The upper is very flexible and appears highly breathable too. You'll also notice the Sense Ride 5 sports the Salomon Quicklace system too.
Instead of heel 'tail', Salomon has stuck with a more traditional hoop to help you slip into the shoes. There is a Gore-Tex version too, which, at the time of writing, is £20 more than standard.
Performance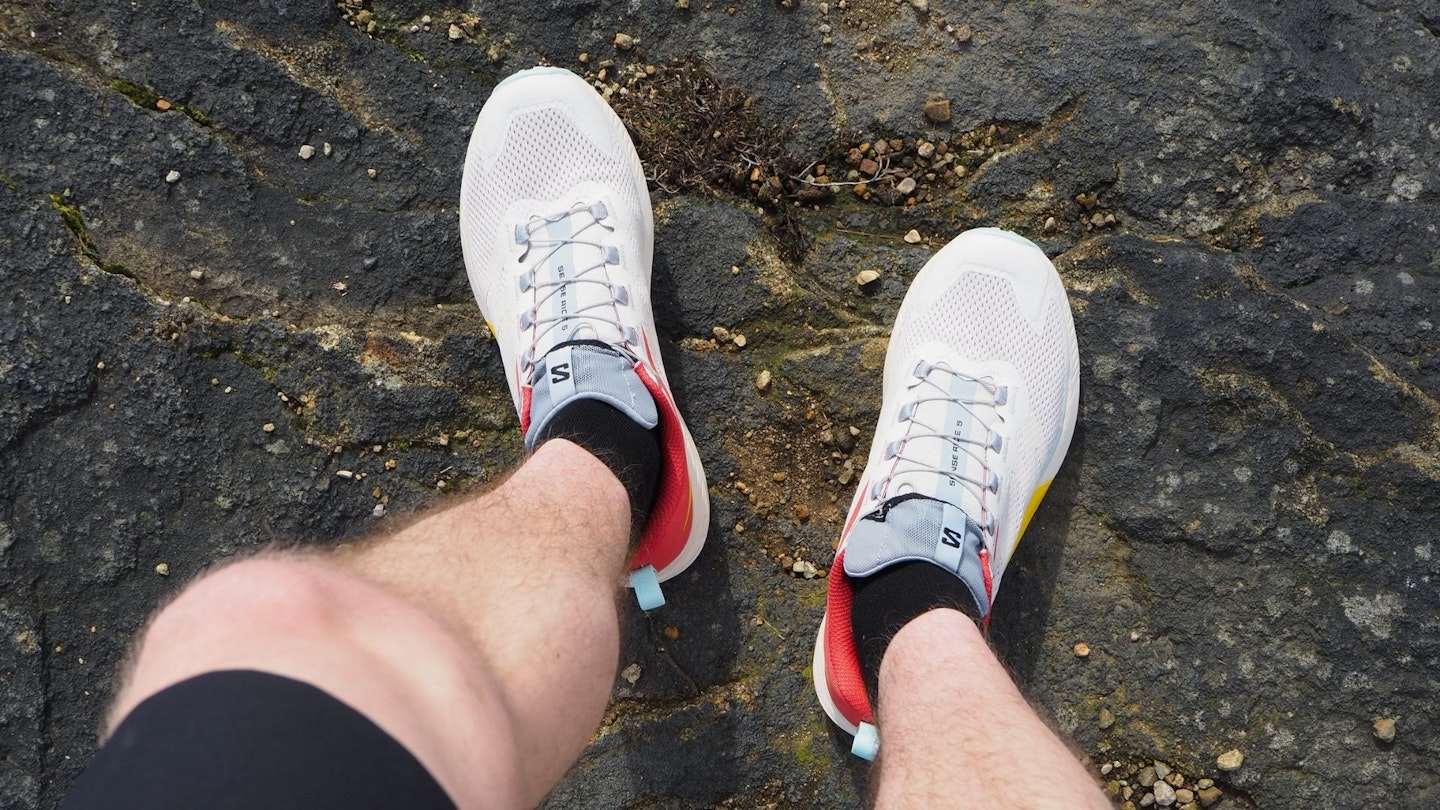 For those with narrower or medium-width feet, the Sense Ride 5 is exceptionally comfortable. It's got a more generous heel and arch than some other Salomon shoes. But those with wider feet probably won't suit this shoe, and unfortunately no wide fit is available.
We like how the padded heel cups nicely and overall, it feels like quite a minimalist shoe. Salomon talks about a balance between cushioning and responsiveness with the Sense Ride 5. That's certainly true and there is enough cushioning at the heel, but the forefoot feels a tad firm, clearly angled more at responsiveness.
On the appropriate terrain – i.e., firmer or mixed trails – it's easy to run at pace in these shoes. The low weight obviously aids that and so too does the Energy Foam midsole. Equally, it's adept at more leisurely runs, and you could potentially use them for long distances too.
If the fit is right for you, you feel incredibly agile. The Contragrip sole does a stellar job of offering grip on gravel, dirt, and rock. You could get the waterproof Gore-Tex version for extra moisture protection but we wouldn't bother. We like the breathability of the non-waterproof version and it saves you some money too.
Sustainability
Salomon is working its way through improving its sustainability, but it is one of the areas where it could do more.
The brand is doing quite well on phasing out PFCs from its products. As of 2022, all its footwear is now PFC-free. In addition, all the leather it uses is gold or silver rated by the Leather Working Group.
However, its net zero emissions target by 2050 lags behind some other outdoor brands, and there appears to be mixed reviews about its labour standards. Salomon itself points to social and environmental compliance auditing practices and how it's a member of the Fair Labor Association. But watchdog groups like Good On You and Ethical Consumer Group don't seem to rate the brand too highly, citing mostly a lack of transparency.
Price and competition
Another shoe we've tried that looks to offer running versatility is the Hoka Challenger 7. It costs the same as the Sense Ride 5 and is also a road-to-trail type design.
There are certainly differences between them, though. The Hoka Challenger 7 has quite a bit more cushioning underfoot and a more generous fit. And a wide fit version is available too. The Challenger 7 has a smaller drop (5mm) and therefore suits midfoot and forefoot strikers better.
In terms of grip, they both perform very well on firmer ground, and despite the Hoka having marginally larger lugs, the difference is negligible. However, because of the extra cushioning, the Challenger 7 is more comfortable on routes involving a larger share of road running.
Neither of these brands are one to shy away from loud styling. Both shoes have quite bold colour schemes so you can't go too far wrong there.
Verdict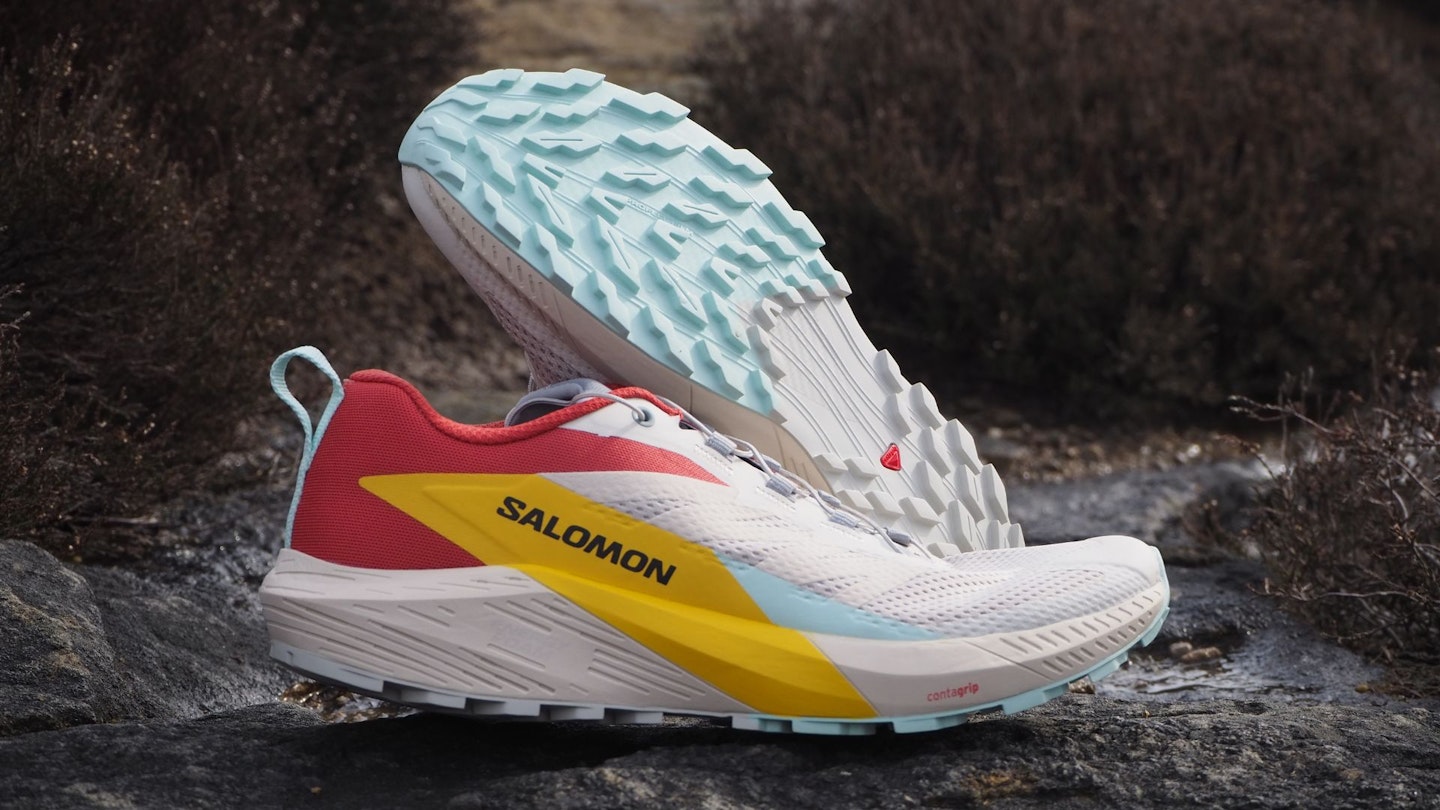 This is a great shoe for letterbox-to-hilltop routes that may involve parks and inevitable sections of sealed paths. The grip and agility you feel from the Sense Ride 5 is classic Salomon. If you're a seasoned runner, the larger drop may or may not suit you depending on your stride.
Ultimately, we're not sure the Sense Ride 5 is an 'overachiever', but it does serve as a good option for many people. The type of terrain it's designed for is what most of us lap regularly and the price is attractive. It could, however, appear to do better on the sustainability front.
Description
Pros
Good value
Great for a wide range of terrain
Balance of cushioning and responsiveness
Quicklace system
Cons
Mid to narrower fit won't suit all
Brand sustainability could be better
For all the latest news, tips and gear reviews, sign up to the Trail Running Newsletter.