It sounds simple, right? We all love running here, so why not add in some banging tunes, a weekend of run-tastic activities, and a stunning location. Enter, Love Trails. If you've only ever gone to music festivals, this is your sign to jump on the run-fest band wagon. Here's why it'll be one of the best weekends of your life...
This summer, the LFTO team leapt at the chance to attend the infamous Love Trails running festival set in rugged landscape of the Gower, Wales. By day, festival-goers indulged in guided and marked trail runs through the captivating coastal landscape. By night, we donned fancy dress and bio-degradable glitter and hit the rave tent.
From morning yoga and wellness workshops to inspiring talks from athletes and authors, Love Trails is fast becoming the crown jewel of UK outdoor retreats.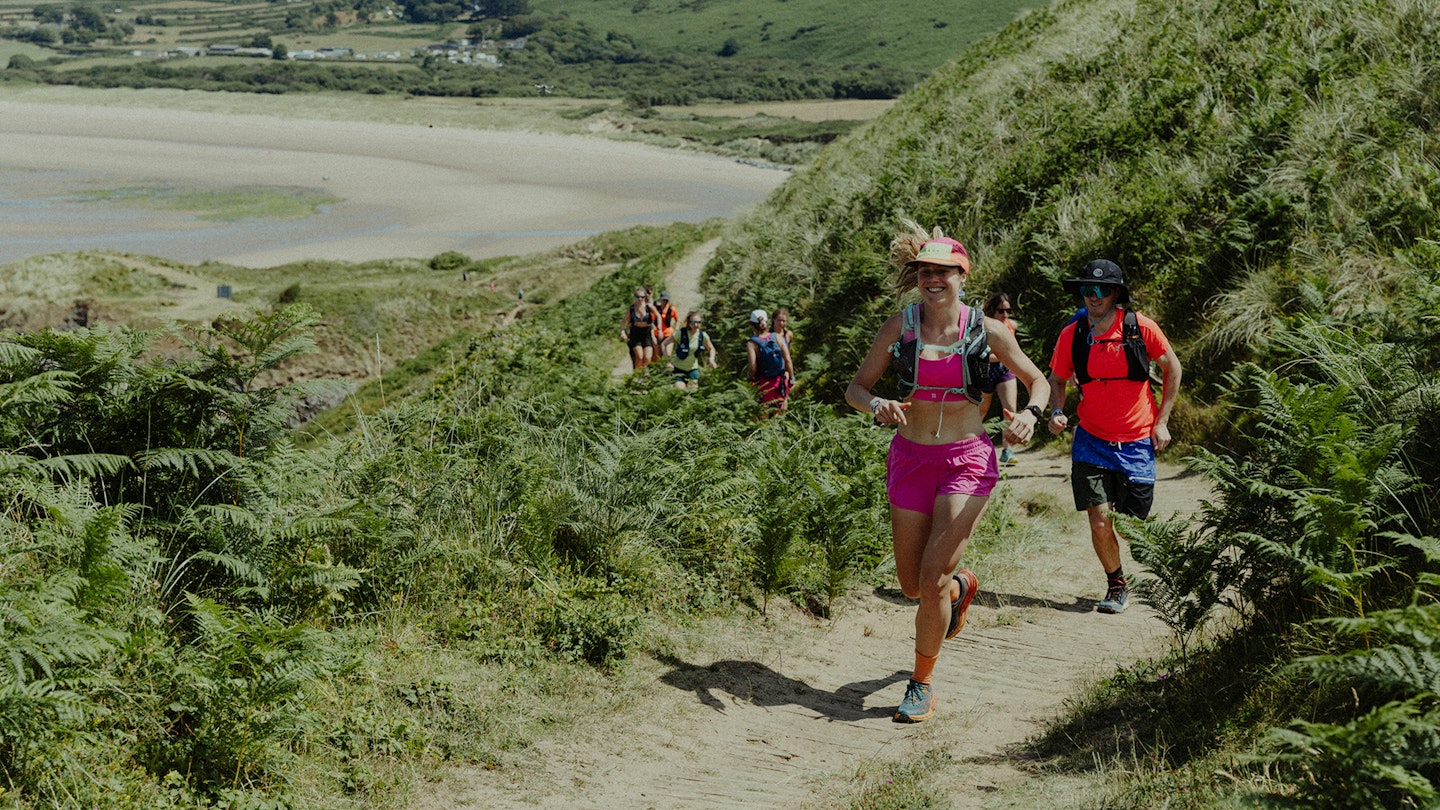 Having returned to our desks thoroughly exhausted, we've seen fit to fill you in on everything you'll need to smash a trail running festival like Love Trails. If you enjoy trail running, or you're looking to get into it, this 3.5-day event is open to any and every skill level, and can serve as an ideal introduction for beginners.
Running festival gear essentials
At most music festivals, you can get away with a basic tent and a few pairs of underwear. However, a dedicated trail running festival is a very different beast. The exposed Gower peninsular is subject to unpredictable and fast-changing weather. To have the best stay, it's key to come prepared for all conditions.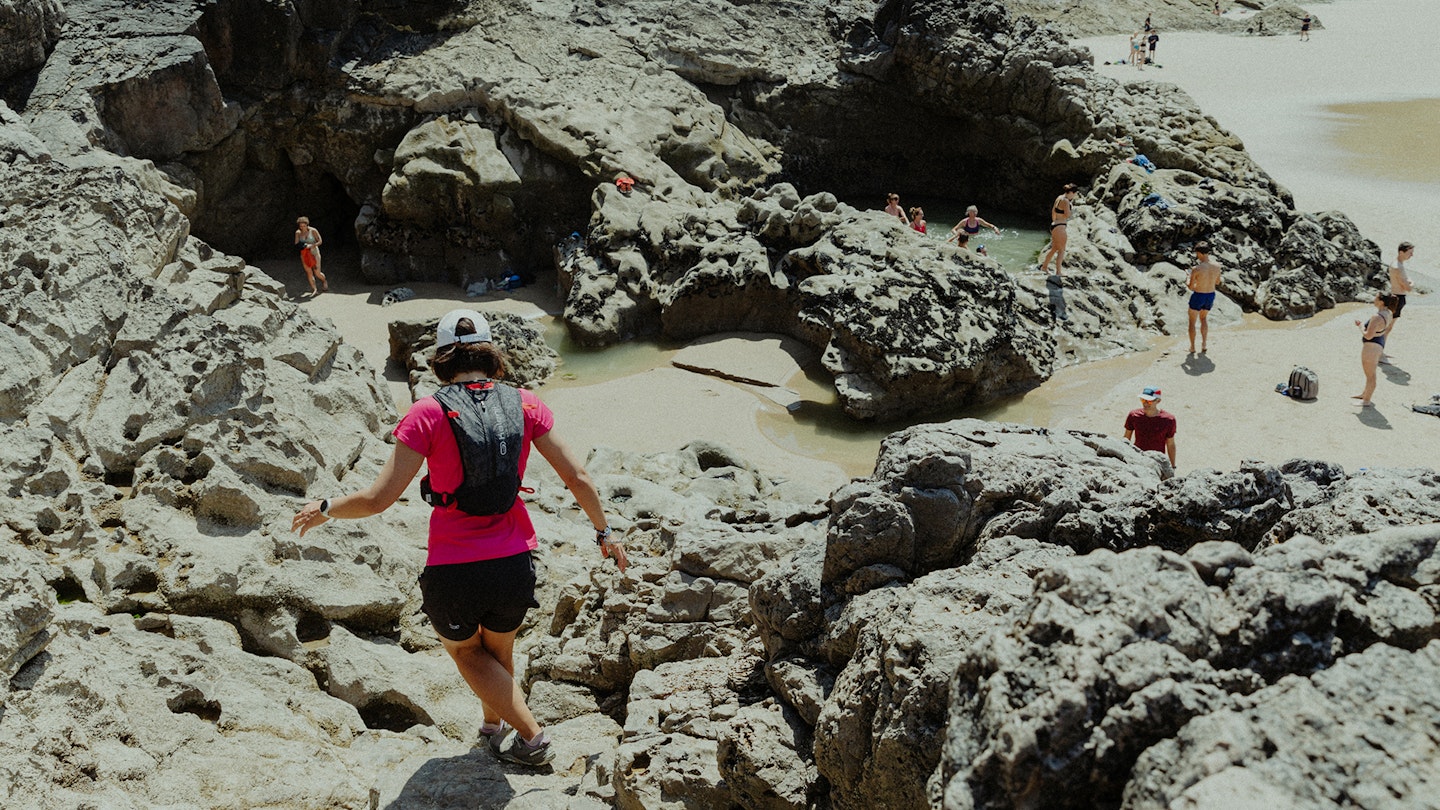 A waterproof tent that can stand up to blustering winds is a must-have. As is a decent sleeping mat; there's nothing worse than heading out for a 10km run after a rough night of sleep! Luckily, you don't have to break the bank to get some top quality sleep gear. Here are our team's top picks:
Quecha 3 Man Blackount Tent – Best festival tent
Coleman Comfort Airbed – Best camping airbed
Coleman Cosy Double – Best double sleeping bag
Lifejacket Sungel 30SPF – Sport-specific sun protection
SunGod Tempest – Run and rave ready sunnies
Coleman Deck Chair with Table – Fave camping seat with beer table
Anker 525 Powerbank – Best camping power bank
Hoka Speedgoat 5 – Best all-round trail running shoe
Best festival tent
Description
This '2 seconds' pop up tent from Decathlon's proprietary brand, Quecha, seriously impressed us at
Best camping airbed
Description
Best double sleeping bag
Description
If you're travelling as a pair and want to stay cosy when it's time for bed, this double
Sun Protection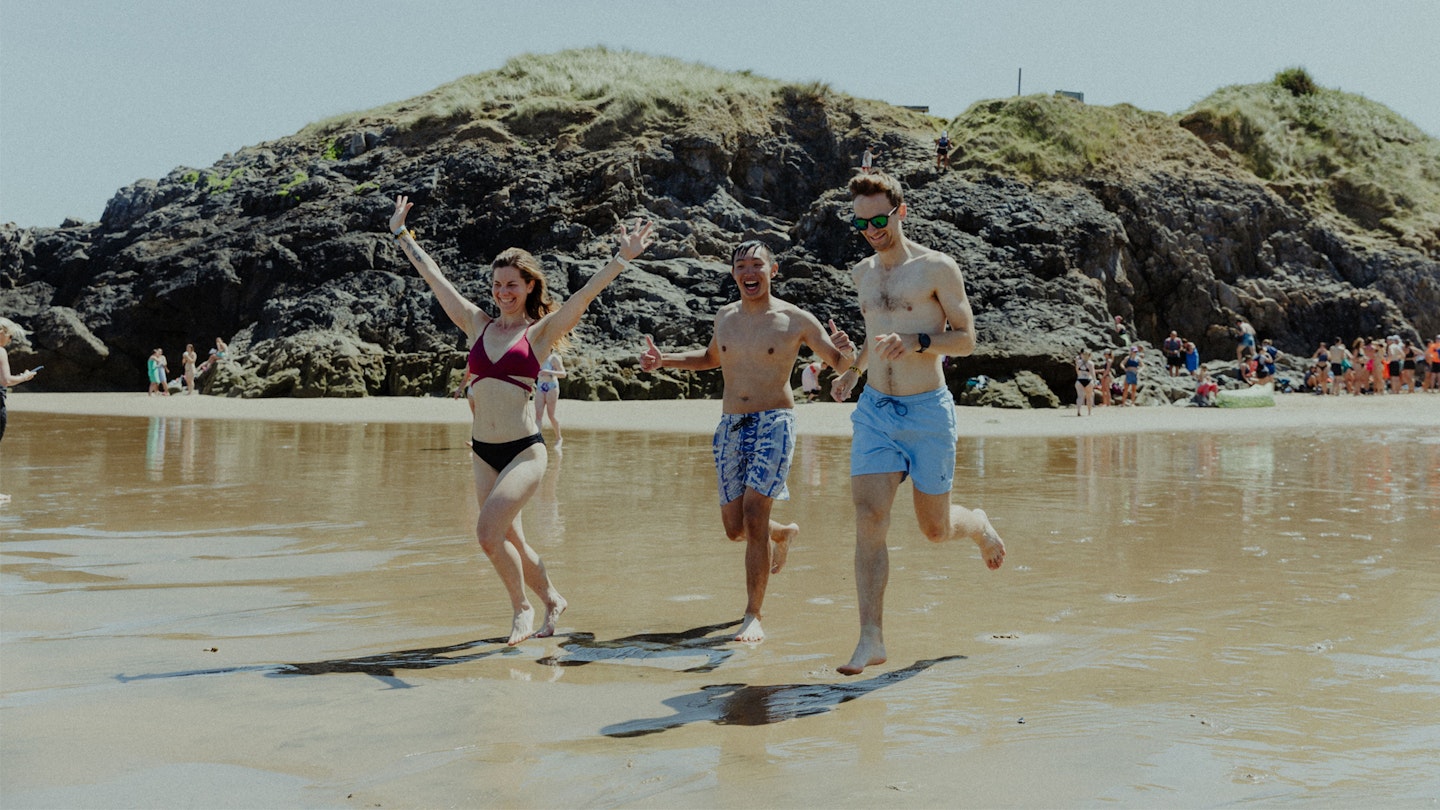 In addition to the vital importance of good sleep at a running festival, there's another matter that requires urgent and diligent attention: the sun. Nobody is tougher than the sun. We will never understand that tough-guy anti-cream attitude we see floating around.
Proper preparation is key to getting through any running event unscathed. We've picked our favourite suncream and sunglasses that helped us survive a weekend of near constant exposure. Just about.
Recommended sports sunscreen
Description
This suncream, or rather 'sungel', from Life Jacket feels very lightweight and non-greasy on the
Pros
Good coverage
Doesn't sweat off right away
Feels light and non-greasy
Cons
Not water-resistant, must reapply after swimming
Recommended sunnies
Description
We love this classic style of running sunglasses for festivals, so the first time we clapped eyes
Pros
Lightweight
Stylish and versatile look means can use for everyday
Personalisation possible
Stays in place while running
Affordable
Cons
The 80K version costs extra
With the sun at bay, you can rest easy. We ended up spending a good proportion of our time inside the festival grounds doing runs or activities, but it's always a decent idea to bring some kit for your down time. A pack of cards, a coolbox, and a slew of other camping gadgets are worth bringing. One oft overlooked item is the humble camp chair.
Recommended camping chair
Description
It's not a festival without a cold beverage, and where better to put it than your own deck chair,
A trusty power bank is a complete lifesaver for a festival. It'll lengthen the lifespan of your phone and running watch by a few days, which is especially handy when you're running. Trust us, you'll need to invest in one of these if you want to keep following online routes and updating your Strava. Here's our top choice for a weekend in the wild.
Best power bank
Description
We've been testing the 525 for a few months now and it's fast become a running
Pros
Holds four charges
Relatively compact
Affordable
Extremely useful for off-grid adventures
Cons
Only USB-C compliant, but other models are USB compliant
Not super rugged, so treat it nicely
Last but not least, the most vital piece of gear for Love Trails – trail running shoes!
Best all-round trail running shoes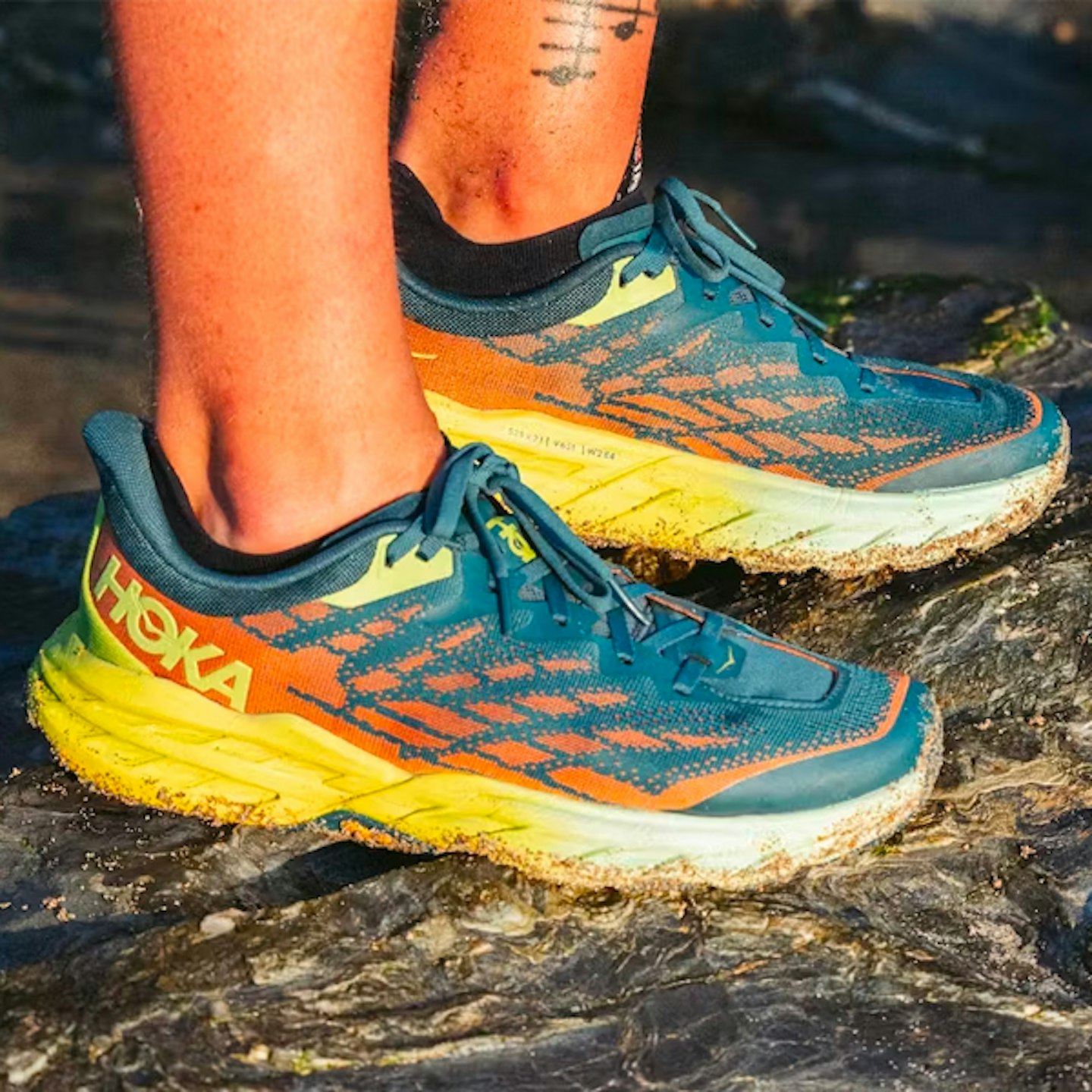 Sportsshoes
Description
You'll want to pack a do-it-all pair of running shoes for a festival. Enter, the Hoka Speedgoat 5,
Love Trails Running Festival Reviewed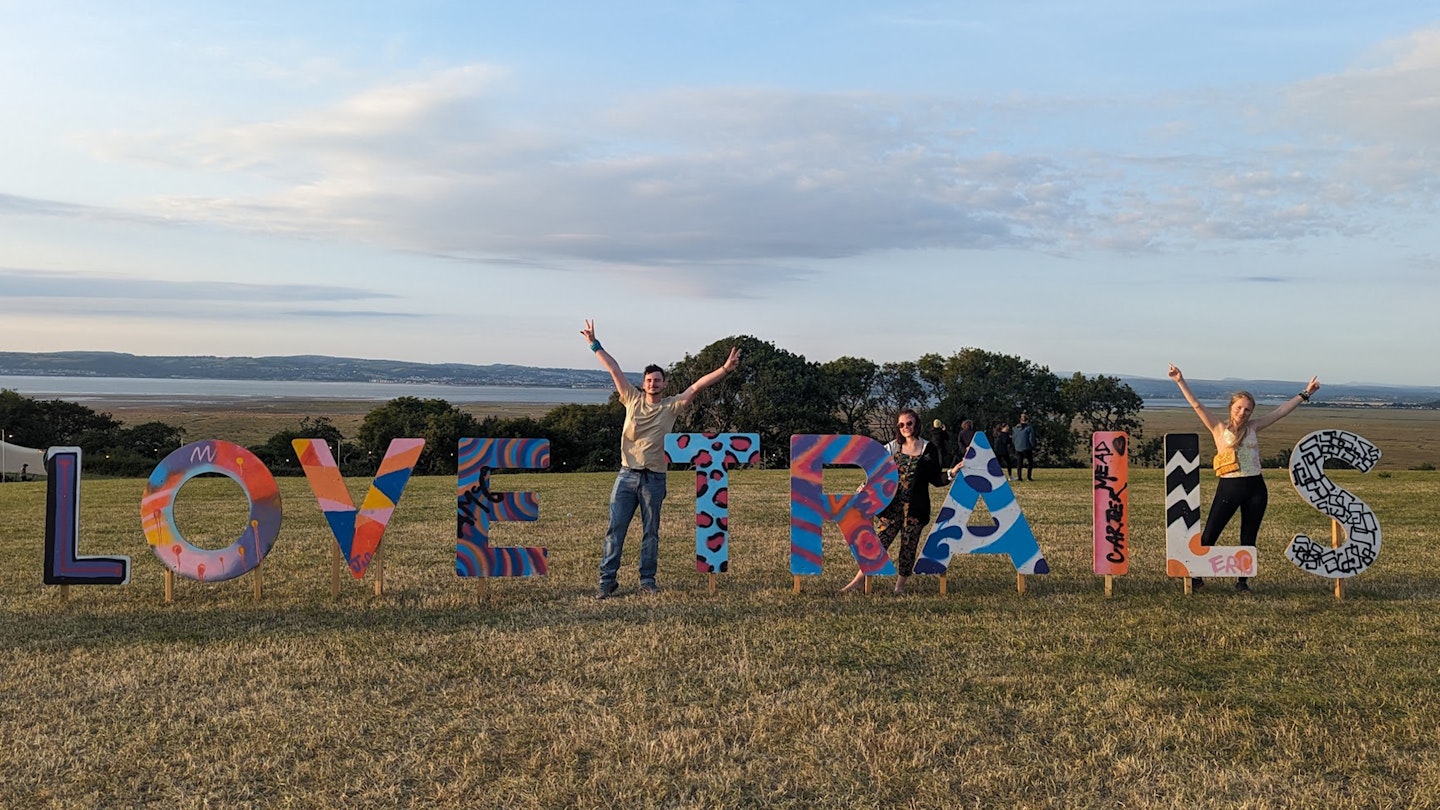 The setting
Gower was the UK's first designated area of outstanding beauty. This makes a lot of sense, given the combination of verdant rolling hills, rocky cliff faces, and of course, mystical coves and beaches. It was a particular favourite of two friends, Theo Larn-Jones and George Restall, who started Love Trails back in 2016.
That first year wasn't really a festival, but a group of friends getting together to explore this gorgeous area and take a break from built-up city life. "A complete escape from my full-time job in London" writes Larn-Jones in an early Love Trails blog. Being just a few hours outside the capital city, Gower feels like a completely different world.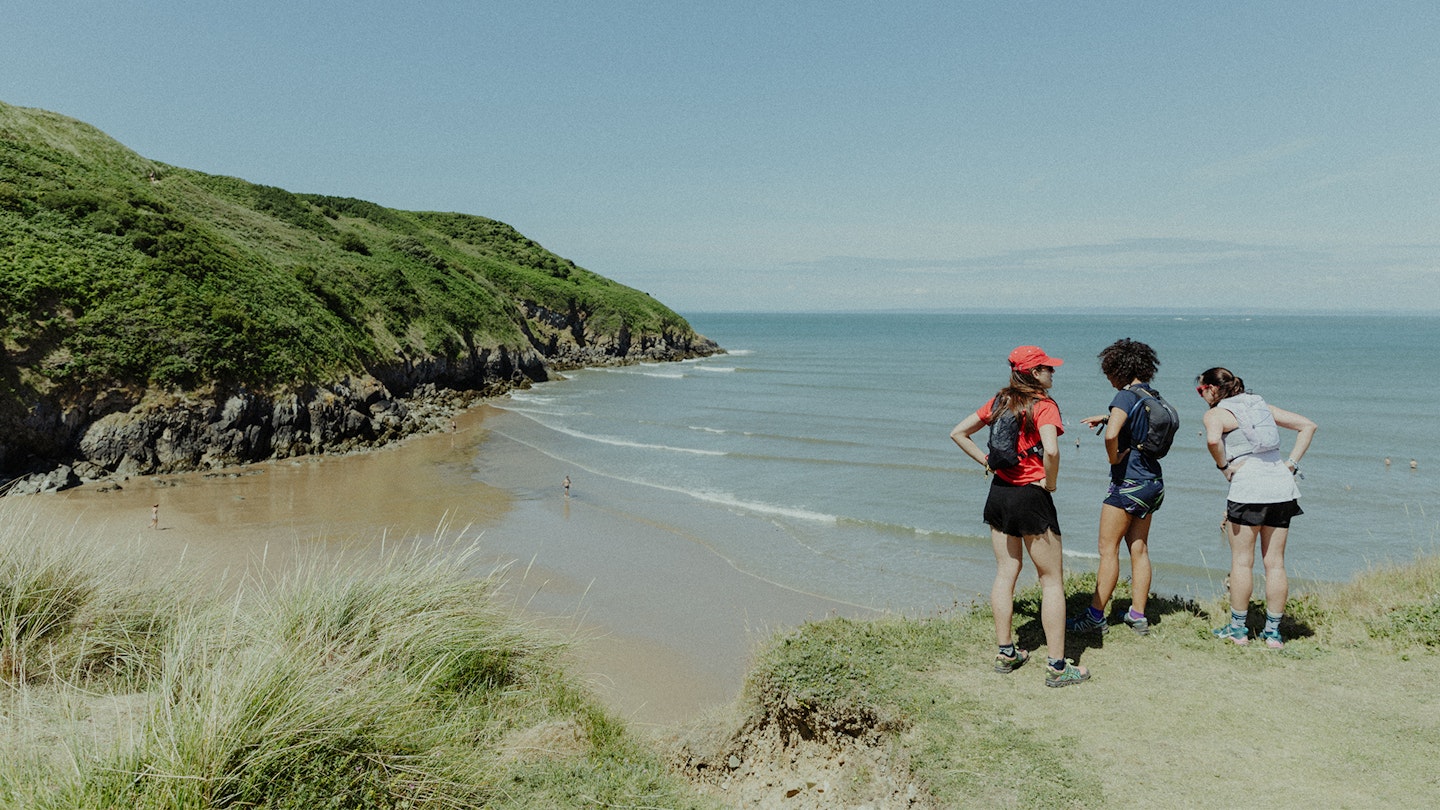 The sweeping setting is laced with clearly marked and well-trodden trails. The LT Team have mapped and designed dozens routes for you to get the most of this diverse region, but feel free to mix it up and explore solo.
The sight itself is nestled on the edge of Hambury wood, overlooking a frankly awesome network of coastal paths and rivers that run into to the sea. You can camp on site, as we did, or bring a camper, or even shell out for a pre-prepared glamping setup.
The running
There are three main types of trail runs that you can participate in. Marked trail runs, guided trail runs, and our favourite, 'just show up' runs. The first is pretty self explanatory, save that you can only officially participate in one marked run. Choose from four marked course runs including 5km, 10km, 21km and 42km, these being half and whole marathons.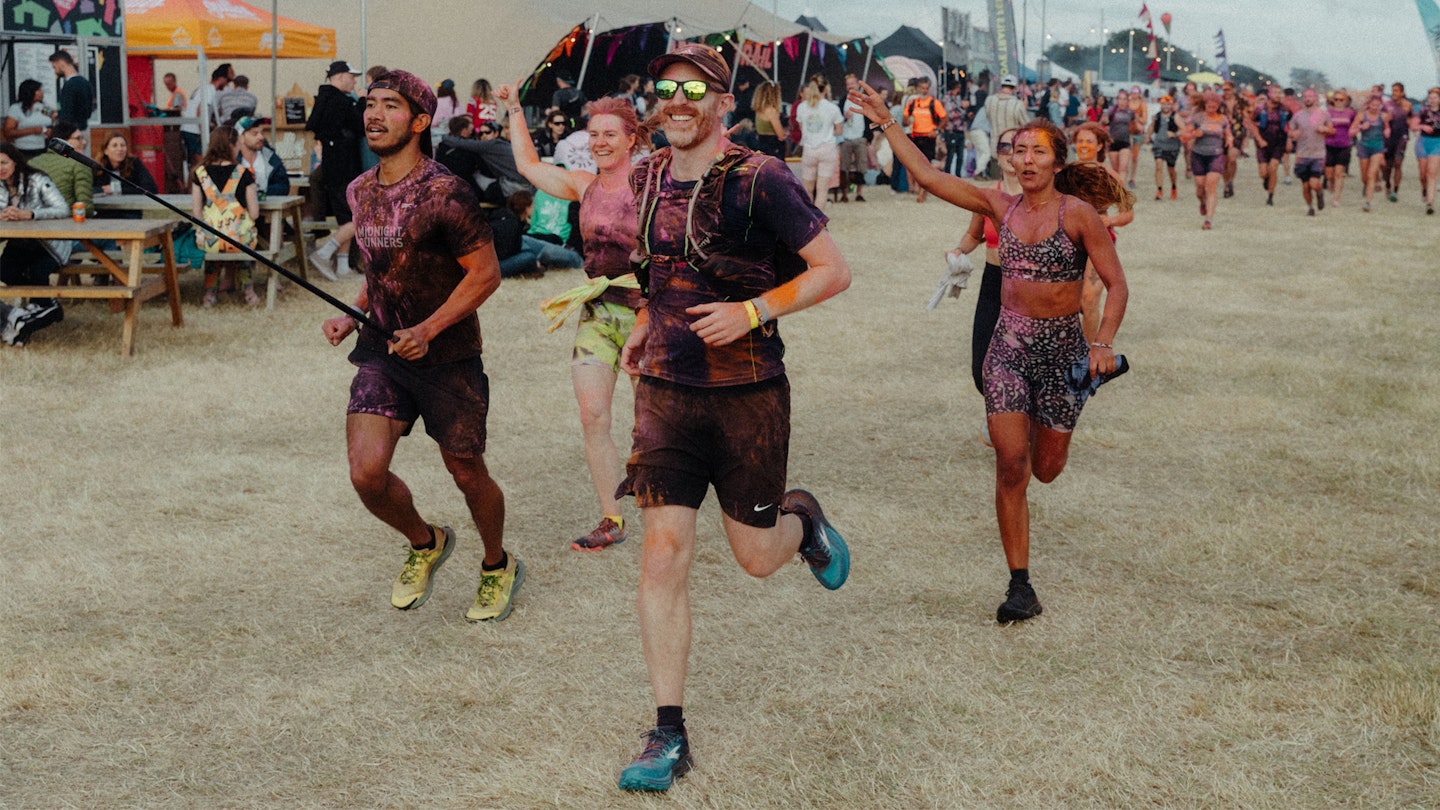 Guided runs are often hosted by noted athletes or speakers who you can get to know on the trails. They're usually at a comfortable, social pace, and can range anywhere from 5km to 50km. One word of advice, though - if you're going for the Saturday ultra, try not to get too wild at the fancy dress party on Friday night!
The last category, 'just show up', is where a lot of the more relaxed and accessible runs take place. There's a run with dogs, another to a wild swimming spot, and even a pub crawl! Well-known running groups (like the utterly mad Midnight Runners) also host a few runs which are great fun. All of these are available to anyone who shows-up.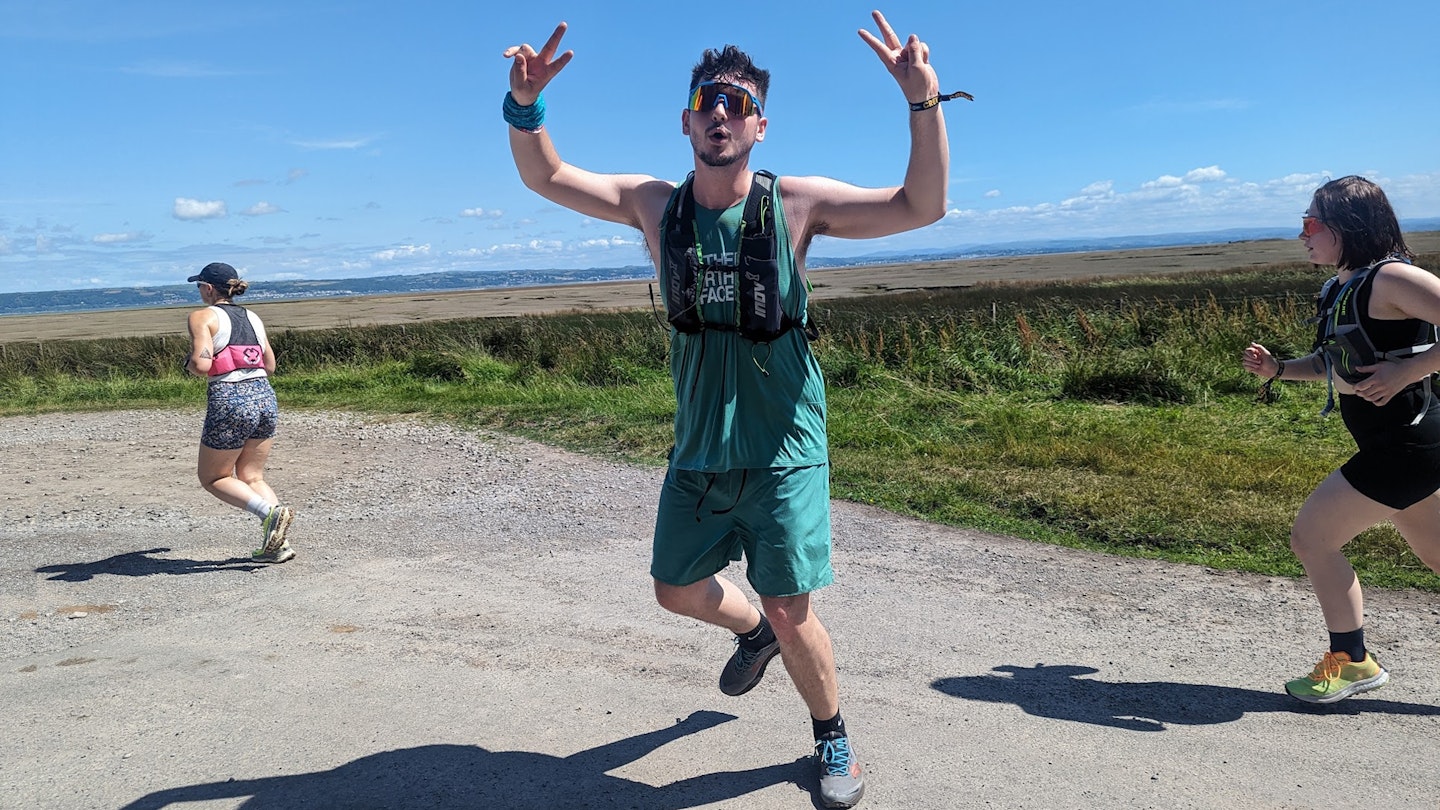 Of course, there's also the cream of the crop activity category, the 'Run To' activities. These are pre-paid runs that arrive at an organised event like rock climbing, coasteering, or SUP. Our morning rock climb was fantastic, albeit knackering! Let's just say we were very glad to see the coach waiting to ferry us the 15km back to the festival grounds.
The Beer Mile
Pretty much all of the running at Love Trails is non-competitive. Except, of course, the fabled beer mile world championship relay race. Everyone takes this deadly seriously. Teams of four are timed on how fast they can run a mile after each downing a can of beer (non-alc available, bubbles still a real problem). In relay style, the first runner must chug their beer and run 400 meters, tagging the next runner who can then start drinking. The beer must be finished before you start running.
The music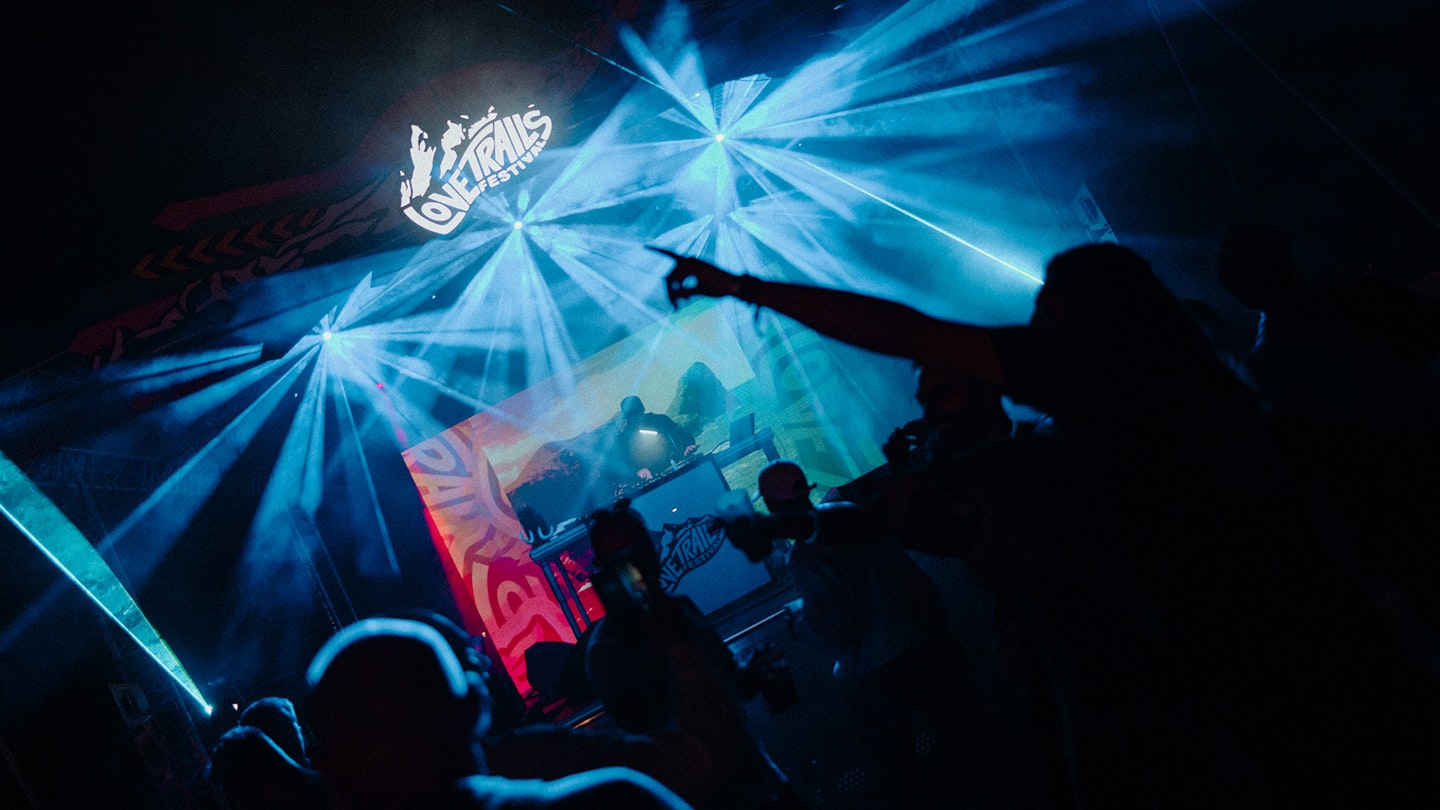 What sort of festival would Love Trails be if it didn't have music? While these two worlds may seem disparate at first glance, we found the fusion of running and raving to be unexpectedly natural. "We believe there is nothing better than riding that natural post-run buzz into a live music performance or DJ set" says the LT team.
Love Trails boasts an impressive four stages, including one inside the historic Weobley castle. We were blown away by Biig Piig this year, as well as the dulcet acoustics of Dutch-born Londoner, Kymira.
The extras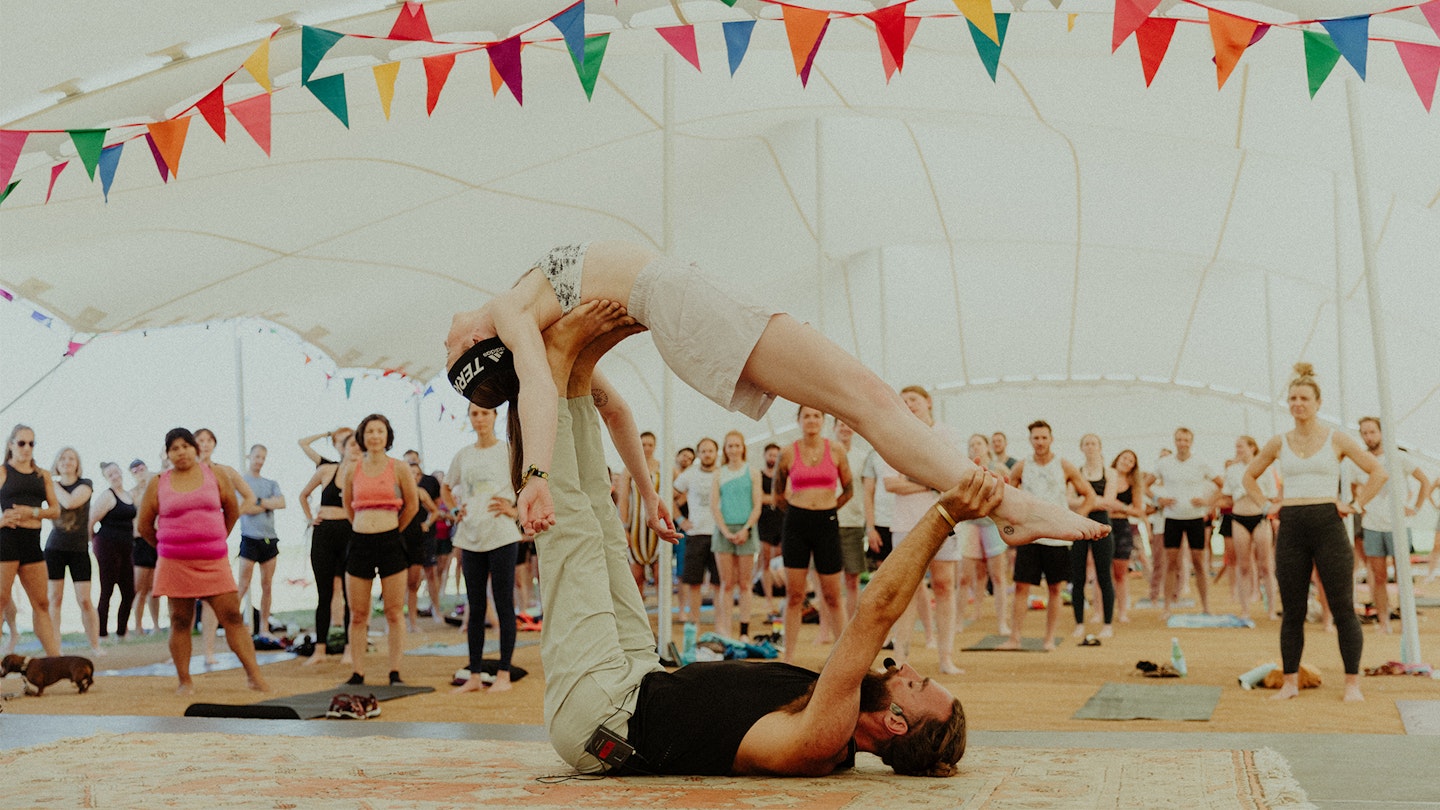 Grab your roll mat and head into the morning dew for some relaxing sunrise yoga. Rock up to a philosophical talk about why running makes us human. Pick the brains of ultra-athletes or chill out and screen print your own t-shirt. There are a ridiculous number of extra activities at Love Trails. Here are some of our personal favourites...
The masterclasses
Throughout the weekend, runners have the opportunity to sign up to additional run-focussed classes or workshops. This is an ideal opportunity for those with reoccurring niggles or weaknesses to gain some valuable expert advice and exercises. We jumped at the chance to take part in an ankle strengthening masterclass with the experts from Girls on Hills, a guided mountain running company for women.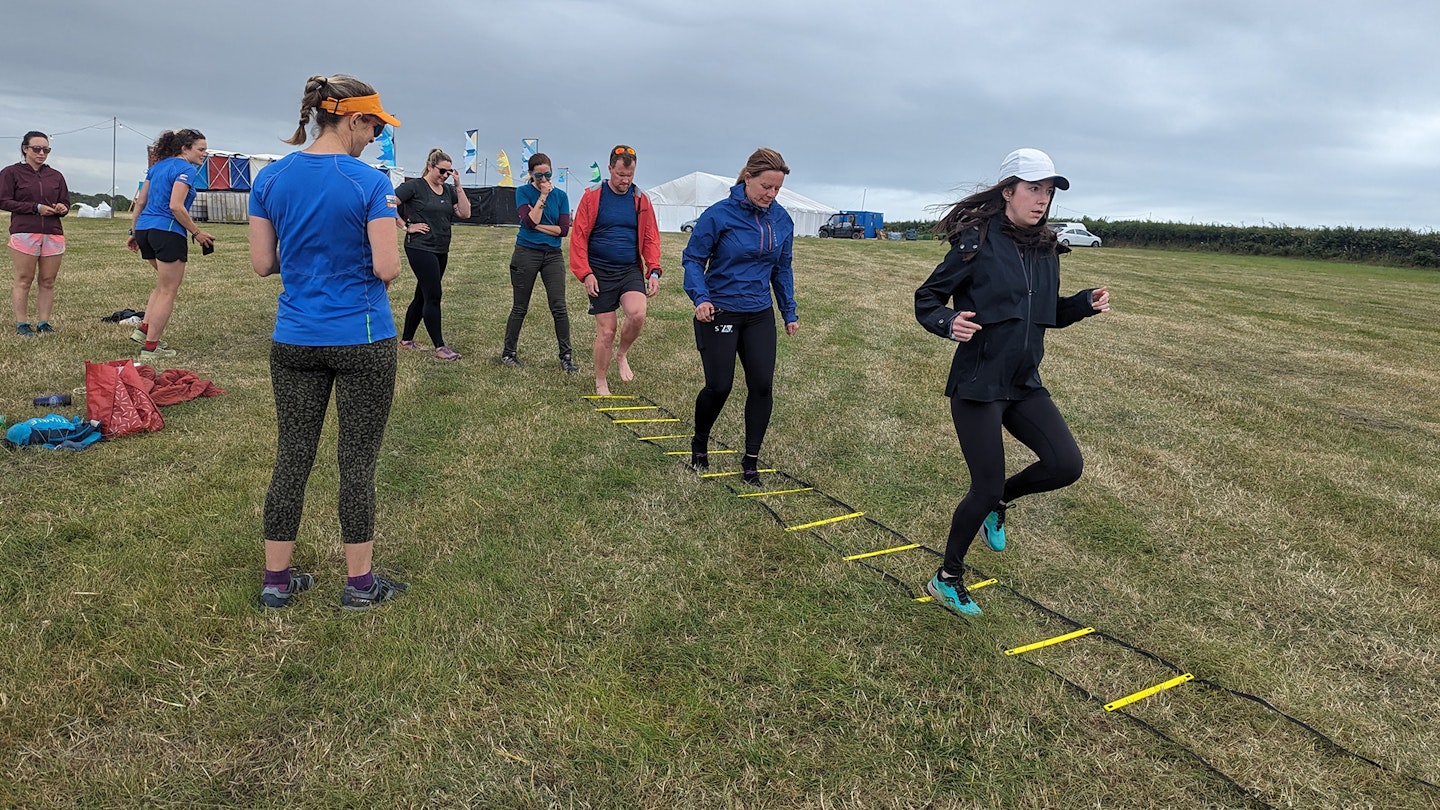 The expert coaches took us through key exercises to strengthen ankle proprioception. The aim was to improve balance, strength in motion, and mobility. Ankle niggles are a very common running injury, so it's essential that trail runners bullet-proof their ankles for running over uneven and unpredictable terrain.
Expert talks
The weekend is packed full of interesting chats with world-famous trail runners and adventurers. We had the pleasure of listening into a reading of Jenny Tough's new novel, Solo, from the woman herself. This was one of many inspiring talks we joined, during which Tough discussed the euphoric highs and chilling lows of independently running a mountain range on every continent.
Keen to learn more about the trials and tribulations of alpine trail running, we also sat through a detailed talk from running coach and ultra expert, Simon James. James, who founded run adventure company Run the Wild, shared the key skills, precautions, and gear needed to set off on a mountain running adventure.
Don't forget to subscribe to the Trail Running Newsletter to get expert advice and inspiration delivered to your inbox.