Now in its seventh iteration, the (take a deep breath) New Balance Fresh Foam X Hierro v7 is a more lightweight offering from its previous counterparts. Earlier models were criticised for their heavier weight, which was primarily due to the cushioning offered by the Fresh Foam range. The Hierro v7 therefore aims to provide a comfortable level of cushioning, while remaining agile and stable on the trails.
The shoe is pitched as the trail answer to New Balance's popular 1080 road shoe, which offers a similar level of support and comfort but at a heavier weight. Both are reinforced at the heel to increase stability, featuring an 8mm drop and a toe protector. The Fresh Foam X is New Balance's softest foam, so you can expect a good deal of comfort from this shoe.
Design and features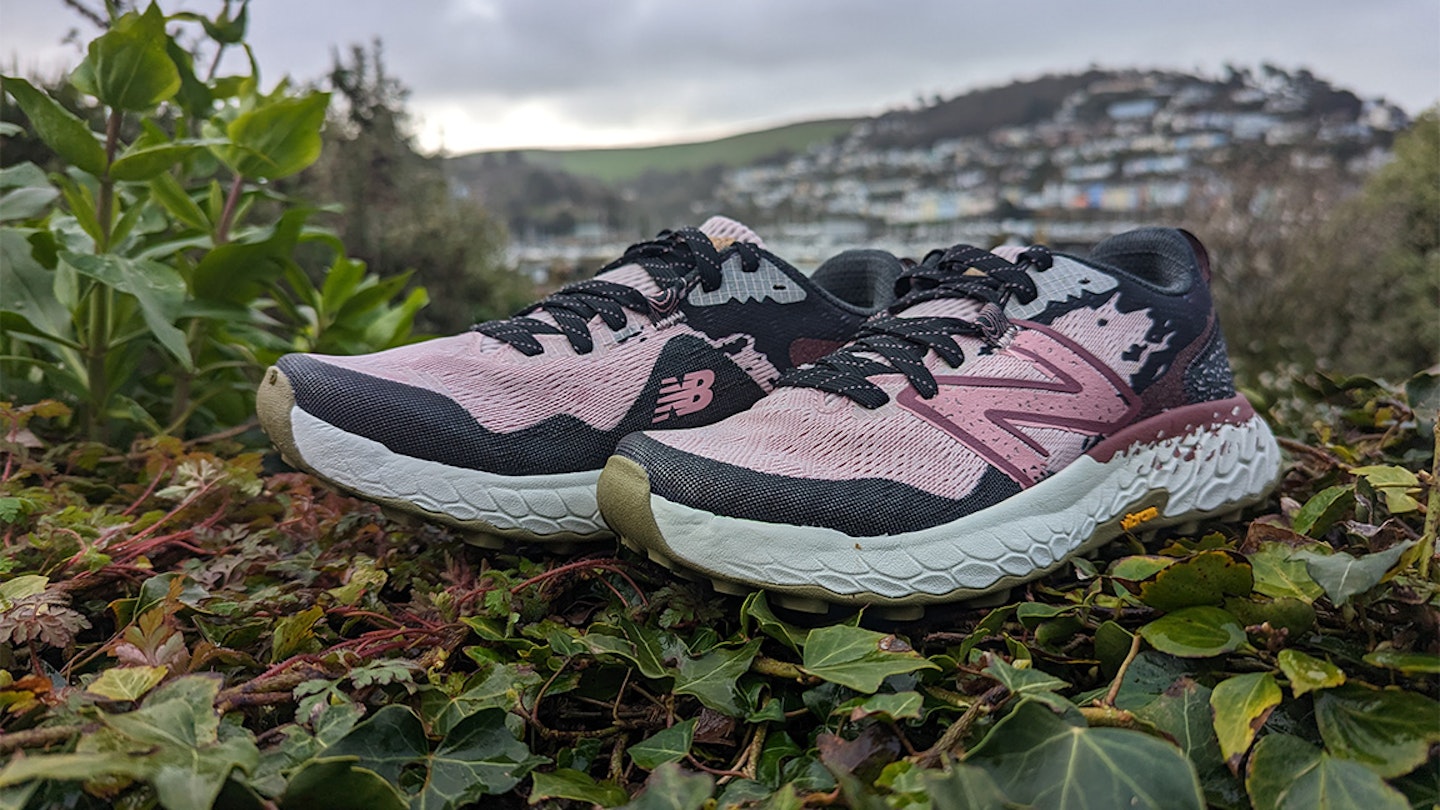 The Hierro v7 still offers a smooth, cushioned run, but now moves more freely on longer trails thanks to its lightweight feel. The thin mesh upper makes it a really breathable shoe, and the padded gusseted tongue adds a appreciated injection of comfort. While it sits at the upper end of cushioned trail shoes, at 29mm it's not wildly stacked like others offered by New Balance and other manufacturers (the Fresh Foam X More Trail v3...).
The stone pink colourway with black and washed burgundy statement features is unusual and really effective. It's refreshing to see a trail shoe that's not in a garish bright statement colour, and instead is in a muted palette. Whether these will look so good after a few months pounding muddy trails is another question, however. New Balance has also brought out two other colourways for women: one in 'fatigue green' with lilac and orange inflections, and another in a brighter 'mystic purple'.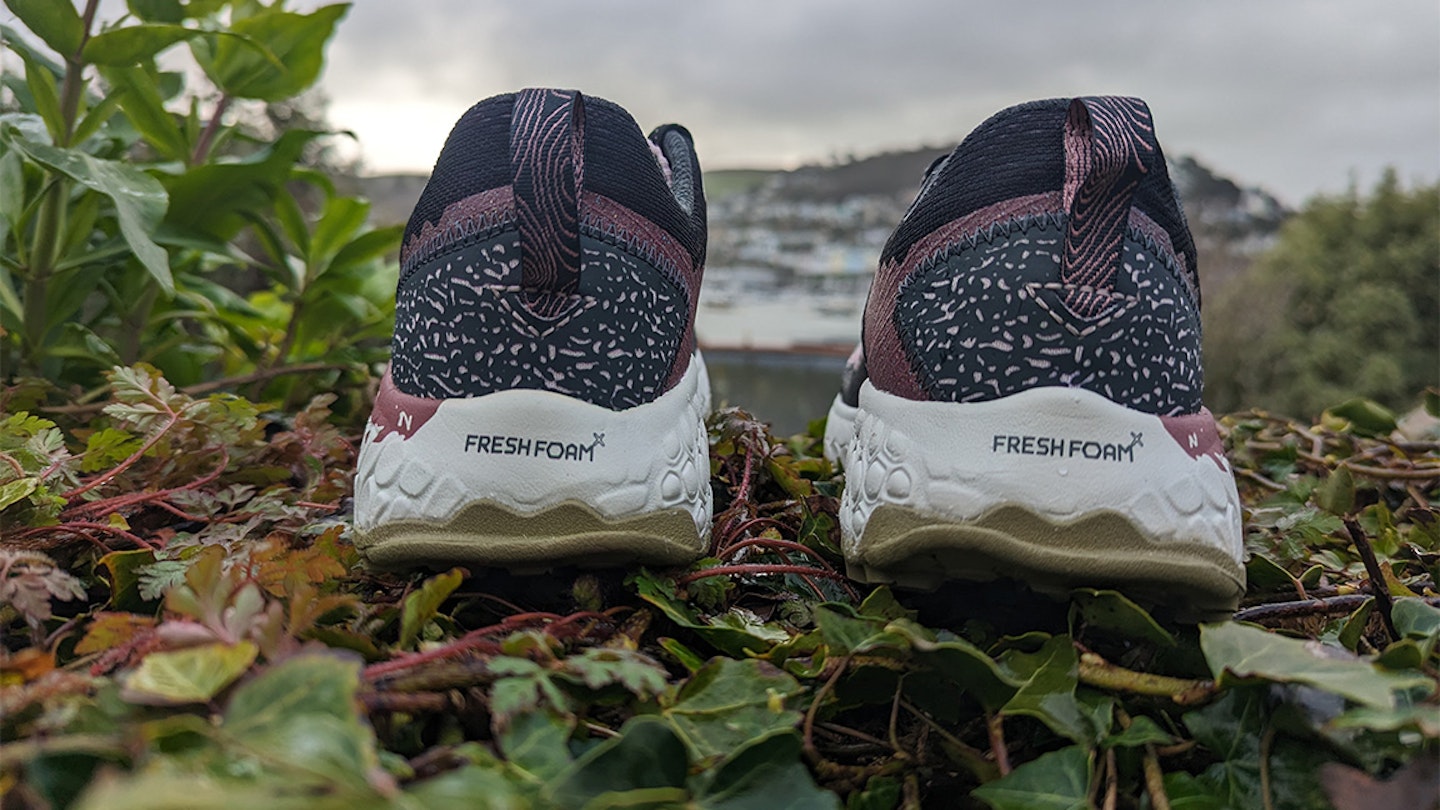 One of the main differences between the v7 and previous models is that New Balance have increased the spacing between the 4.5mm lugs to prevent the build-up of mud and dirt and to maximise traction for climbing and descending. While this might be the aim, these shoes don't provide huge levels of grip and we didn't have full confidence when descending quickly or making sharp turns.
While these are perfectly wearable in average soggy conditions, New Balance have since released the Fresh Foam X Hierro v7 GTX in additional Gore-Tex waterproof fabric.
The other major difference to previous models in this series is that the v7 now meets New Balance's green leaf standard, with 50% or more of its materials sourced as environmentally as possible, and at least one material in the midsole or outsole containing 3% bio based or 5% recycled content.
Performance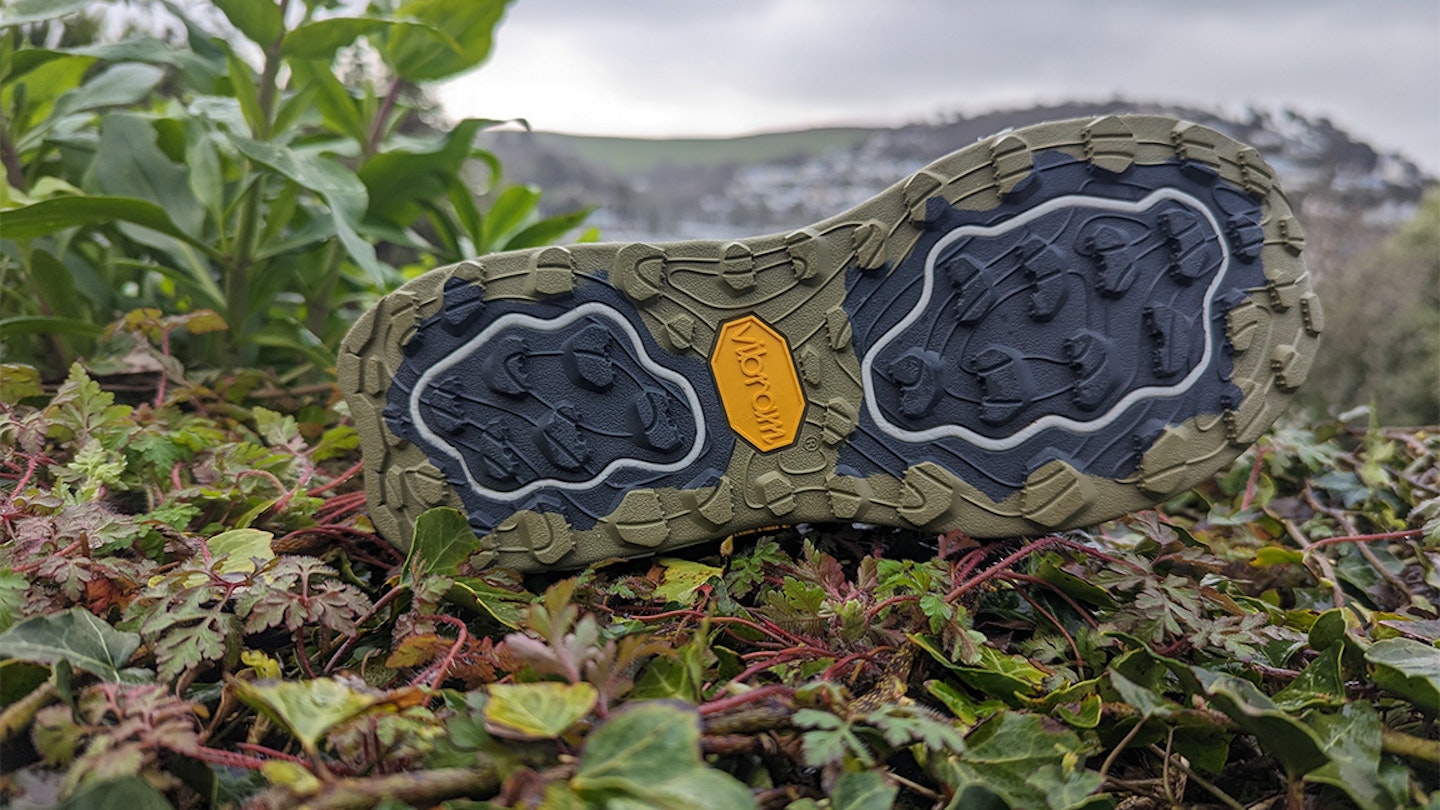 This is a durable shoe and has the benefit of not feeling like it needs to be 'worn in'. You can run straight from the house to the trail without much of a problem, which is why we'd class this as a road to trail running shoe.
While the Vibram MegaGrip outsole is made up of sticky rubber to grip to slippier sections of the trail, it isn't quite enough to support the runner in looser, less reliable terrain, particularly on sharp corners and descents. During testing, we ended up running quite cautiously as a result.
With wide sections between the shallow lugs, they're a really easy shoe to clean and don't get bunged up with mud, which is a plus. The flip side of that is that you miss out on some of the grip on slippy terrain. This isn't a hugely flexible shoe either, which holds you back when navigating trickier ascents and descents.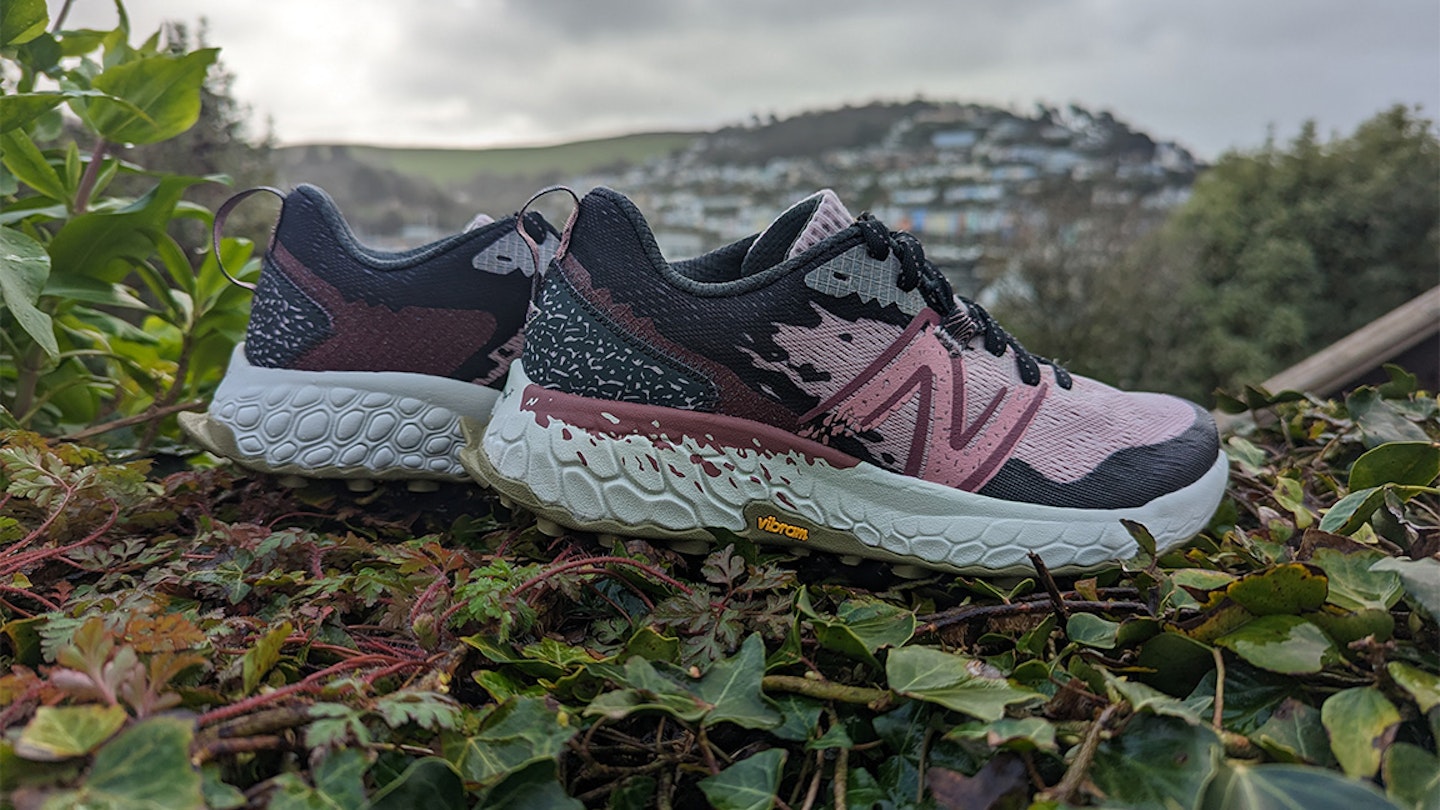 The shoe has a high standard of cushioning, but we'd recommend pairing the shoe with a slightly cushioned running sock. We wore them over some technical trails with lots of sharp rocks with a very thin sock, and could have benefited from a little more grip within the shoe itself which the right sock should provide.
Fit
As for fit, we'd recommend going up half a size as New Balance shoes tend to run a little small. The shoe is offered in two widths – standard and wide – for women, which is something of a rarity in the trail shoe world, despite having been something that road shoes adopted quite some time ago.
Some runners may enjoy the roomy toe box, but with a particularly narrow foot, we found that our toes were having to do quite a lot of work gripping the shoe on descents and hard cornering because of this. The shoe lacked that all-important heel lock for narrower feet.
Price
The RRP of the Fresh Foam X Hierro v7 is £145, which seems reasonable for a solid pair of trail shoes that would serve you well across both hiking and running.
Verdict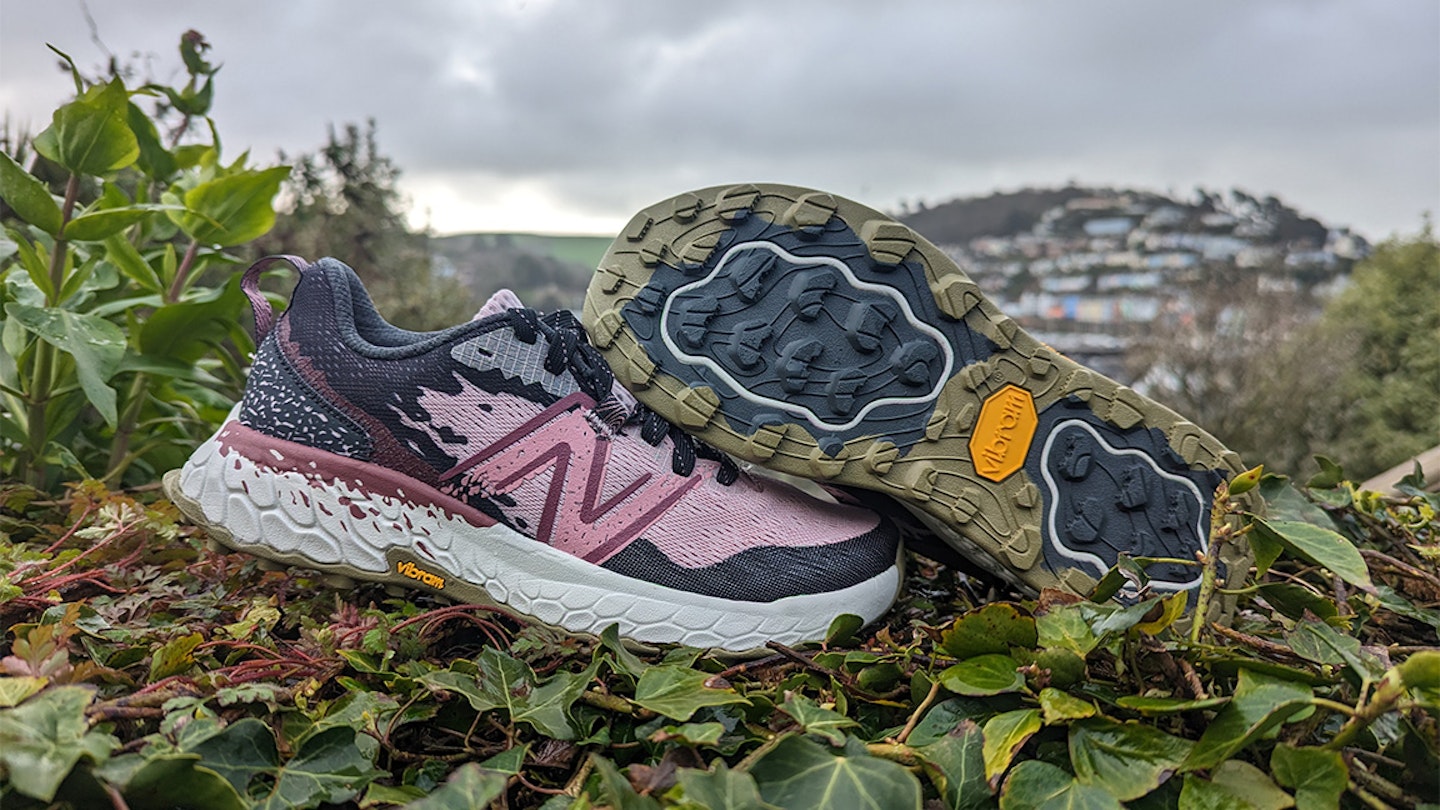 Thanks to the cushioning offered by Fresh Foam X, these are a great option for those undertaking long hikes. With lugs that aren't too highly defined, they make for a good door-to-trail shoe as well, but this does mean that you don't get the grip and confidence you might want while descending on more technical trails.
They're probably better suited to more straightforward trail runs with less intense elevation or sharp turns, offering serious comfort in the longer distances. In the testing runs we tried in these over varied terrain, we didn't get any blistering or sore spots. You could really get the miles in with these shoes.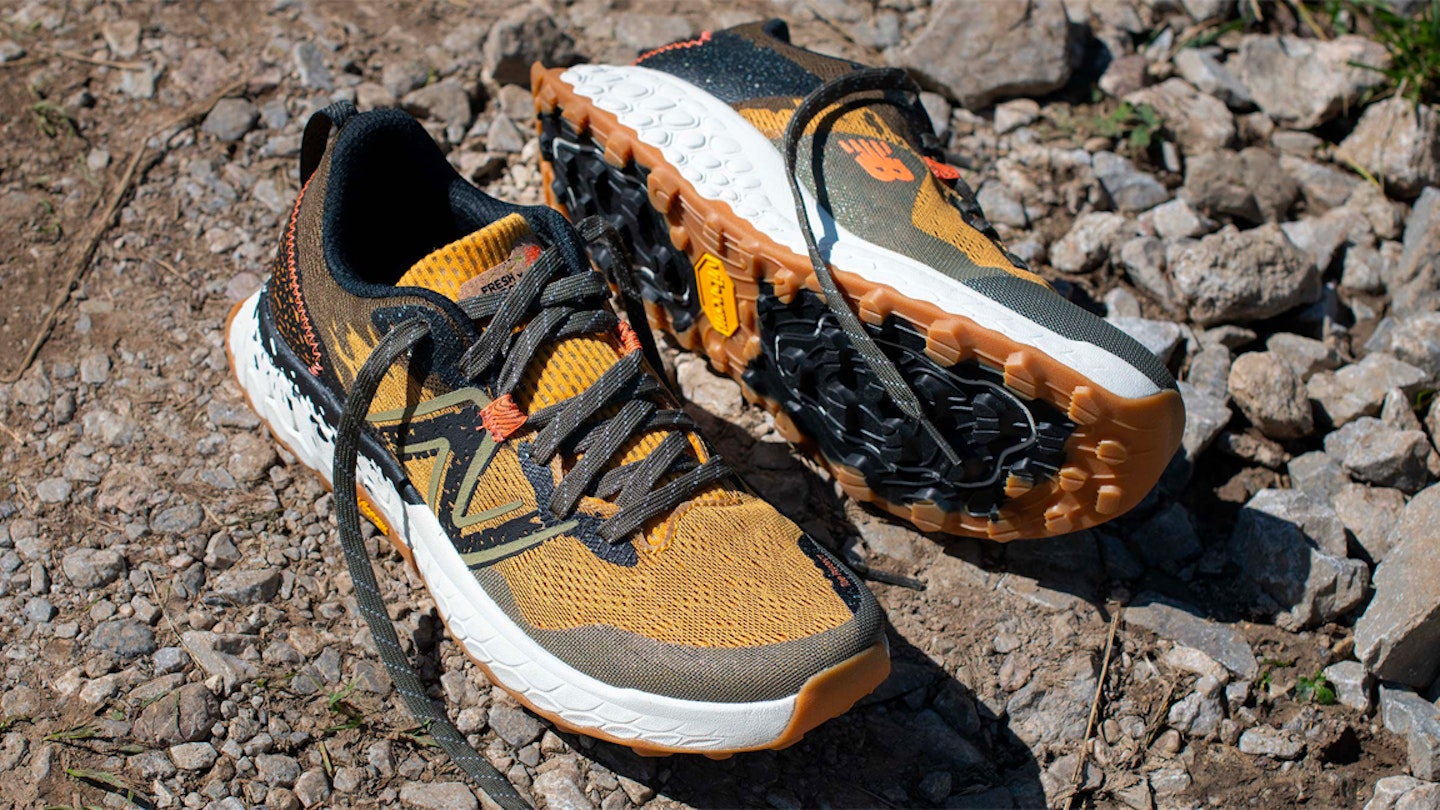 New Balance
How we test
The trail running footwear we test undergo thorough, real-world testing. As soon as they arrive with us, they get allocated to one of our experienced gear testers who take them through their paces over a range of off-road terrain and distances.
We consider myriad factors when testing and reviewing trail running footwear, from the obvious, such as comfort and performance, to the less obvious and intricate, such as sustainability.
Author Bio
Freya Parr is a trail runner and prolific journalist, writing across the outdoors sphere, theatre and music. She escapes up to Scotland as often as possible in her spare time to wile away the days running through the boggy peaks of the Outer Hebrides with her dog, Bill.
For all the latest news, tips and gear reviews, sign up to the Trail Running Newsletter.