The Nike React Pegasus Trail 4 is designed to be an everyday trail running shoe for conquering a variety of running terrains, and therefore your next favourite road to trail running shoe.
The road-to-trail running shoe is a delicate balancing act. If it edges too far into trail-readiness, it may feel too heavy and sluggish for road running. Too light and sleek and you'll worry about protection and grip when the paths get stony.
With this shoe, Nike have pledged to balance those scales perfectly: a shoe that will run roads with the best of them, then soar off the tarmac and onto the rougher stuff. All the while still giving you confidence with every step, no matter how rocky that step may be.
Those are the aims and the claims. But can the Pegasus Trail 4 deliver on them? Here's how we got on in testing...
Pros
Good value
Genuine road-to-trail versatility
Close fit and firm lacing
React foam gives a real spring to your step
Cons
Lacks protection over high-mountain terrain
Lacks grip over wet, sloppy mud
Sustainability could be better (or just better explained)
Design and features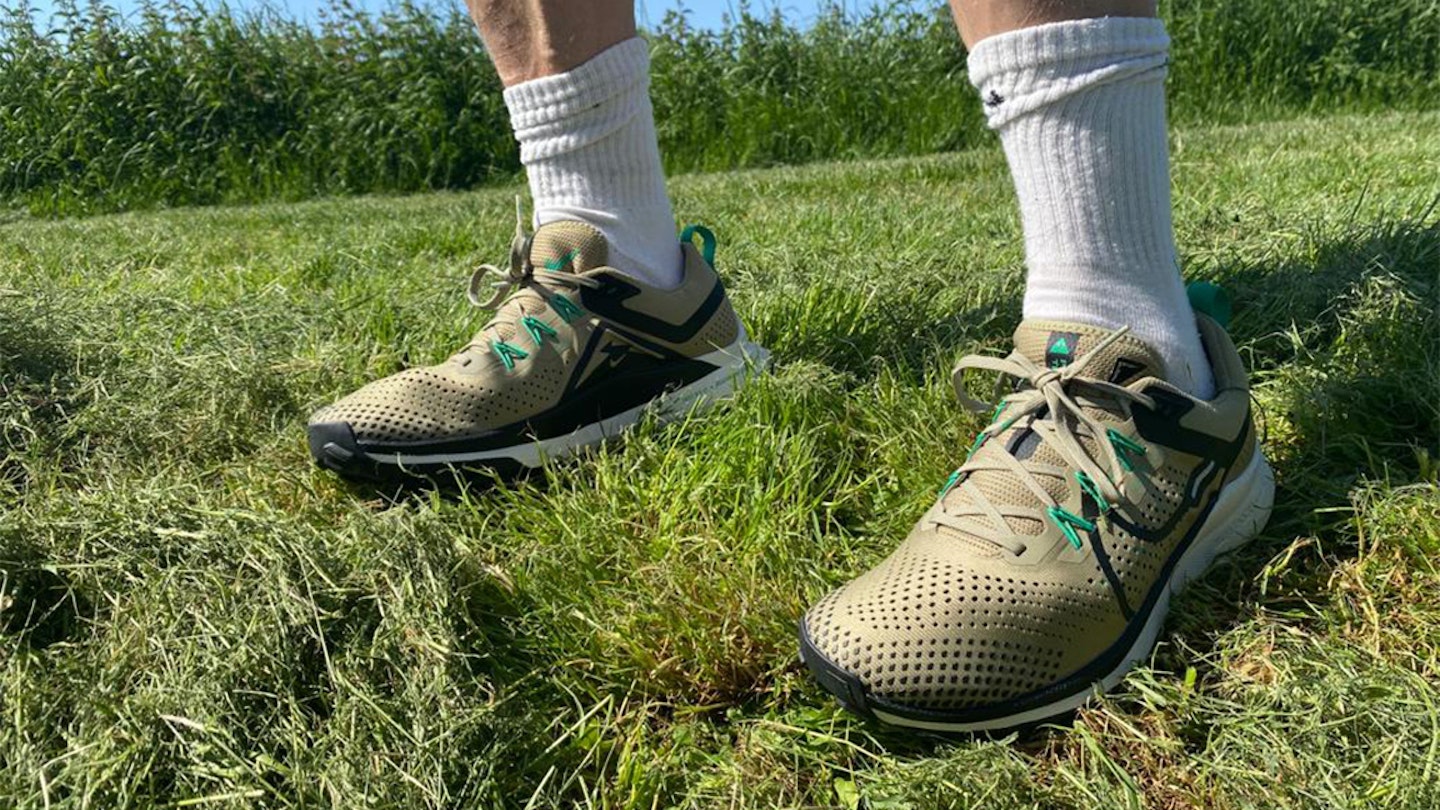 The Pegasus Trail series was originally created as a bulked-up trail running variant of the classic Pegasus road-runner. This particular Pegasus Trail follows on from a predecessor called the Trail 3, yet there are also many other models floating about, including the Pegasus 36 Trail, with which this also shares some DNA.
The 4 isn't a complete redesign of the 3, but there are some key evolutionary differences. The main upgrade is the outsole, where three separate new tread patterns are designed to improve grip. The lugs aren't especially deep, which suggests that its target surfaces are roads plus compacted mud, soil, grass and rock.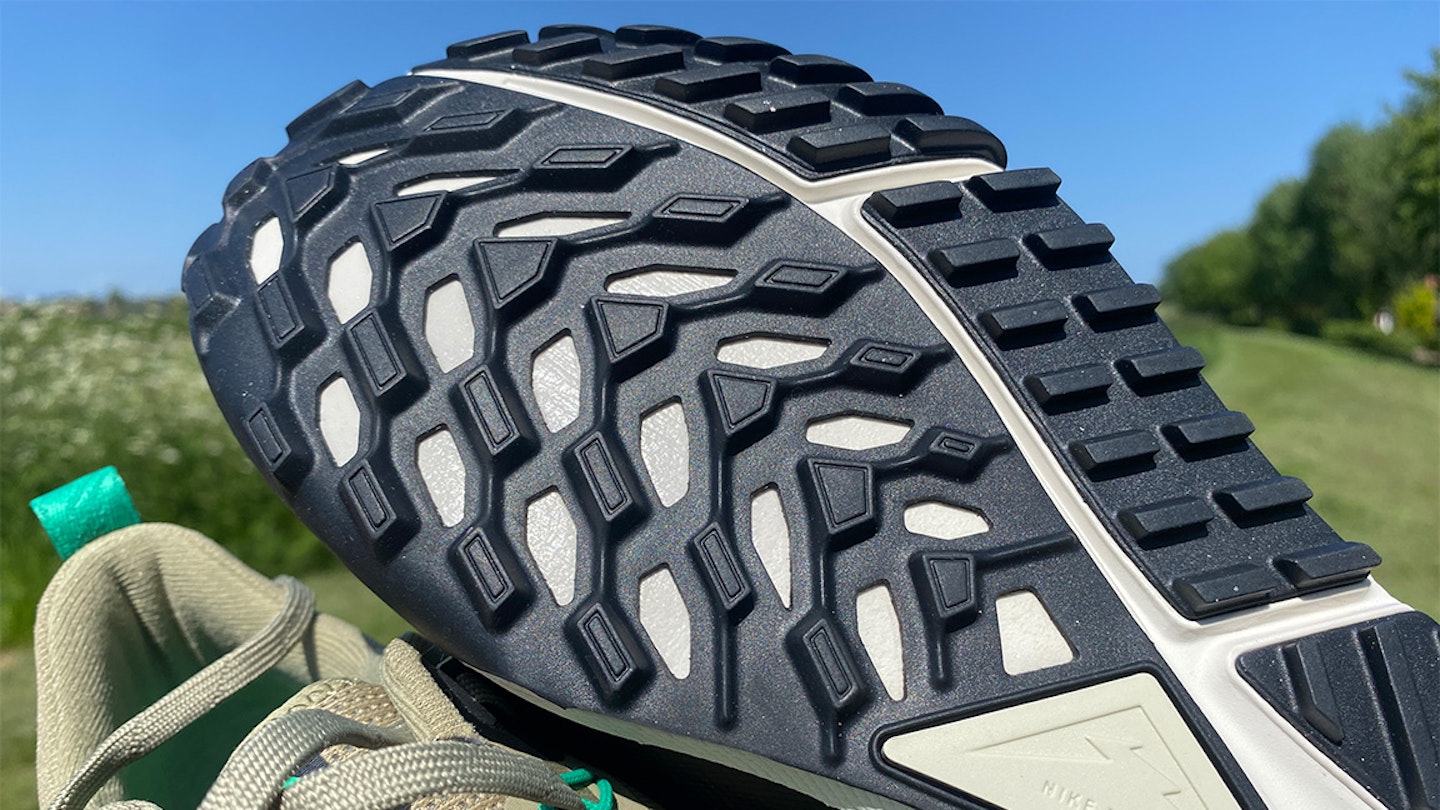 There's decent stickiness to the grip, too. There isn't enough to be bothersome on road surfaces where it might impede the feeling of speed, but effective enough to feel it working on rock when you really need it.
The drop is 9mm which is fairly large. Normally that might suit heel-strikers best, but I'm a midfoot-strike and I've had absolutely no problem with it, from rebound to toe-off.
One key ingredient that remains from the previous version is the React foam. That's the soft, durable and highly shock-absorbent cushioning system that delivers real bounce and is designed to reduce impact on your joints.
I'm also currently testing the Nike Kiger 9 which uses the same React foam, but the Pegasus is noticeably springier, especially at the heel. This is possibly helped by the fact it has no carbon rock-plate, while the Kiger 9 does.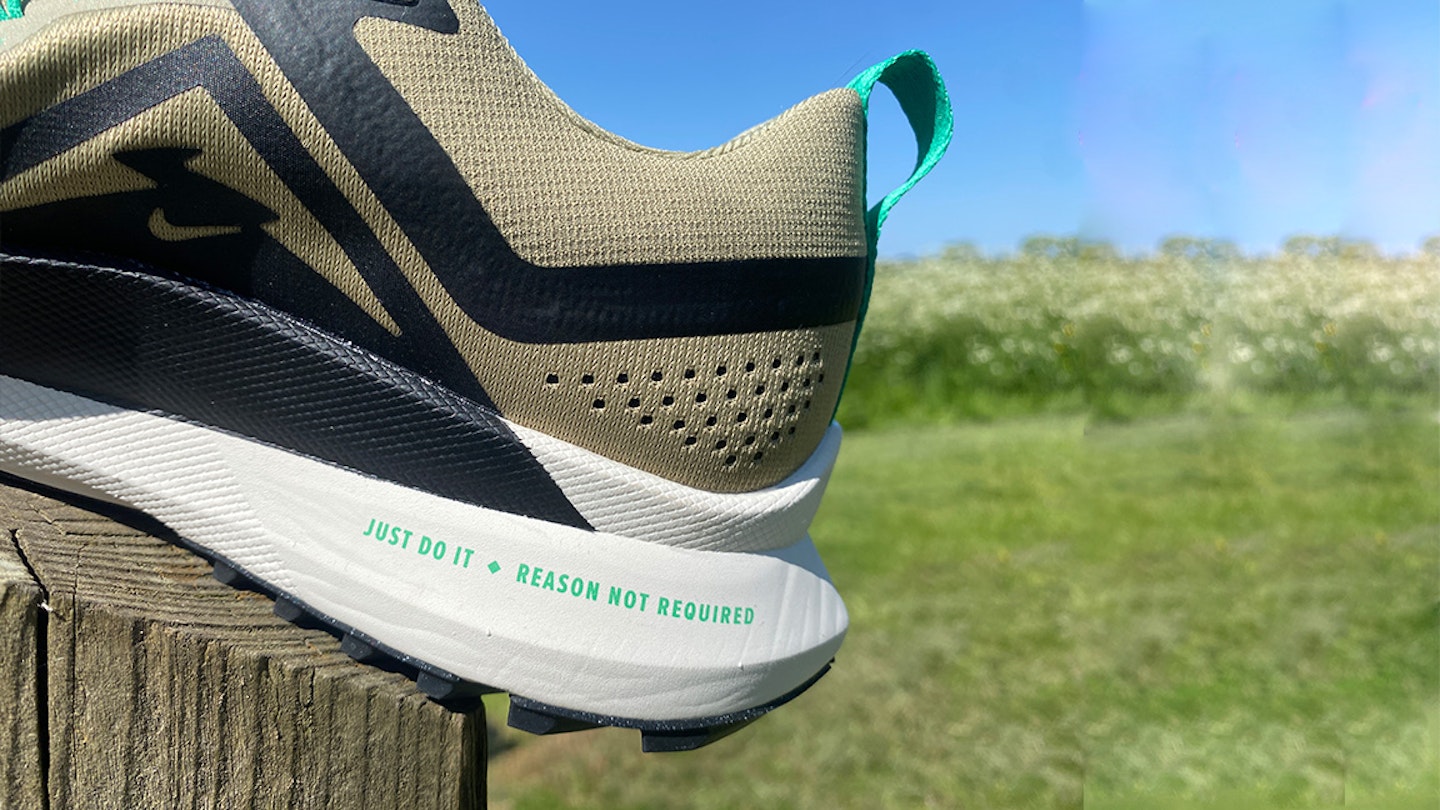 It's reasonably lightweight; the stated weight is 295g but my size 9s weigh in just a touch over that at 302g.
The upper is so flexible you can bend and twist it with relative ease. And it locks securely over the foot thanks to Nike's Flywire system, which includes cording anchors for the lacing. There's also a doubled eyelet at the top of the lacing to help you get a really secure fit.
There's a decent level of protection, including a medium-width toecap, toughened midsole stripe and a protruding heel-tail. This may not be enough to suit those who like a lot of toughness and ruggedness in their trail shoes (especially given the absence of a rock-plate), but it definitely gives confidence on less challenging upland terrain.
This version isn't waterproof; there's a Gore-Tex version with heel socklet for £144.95.
Performance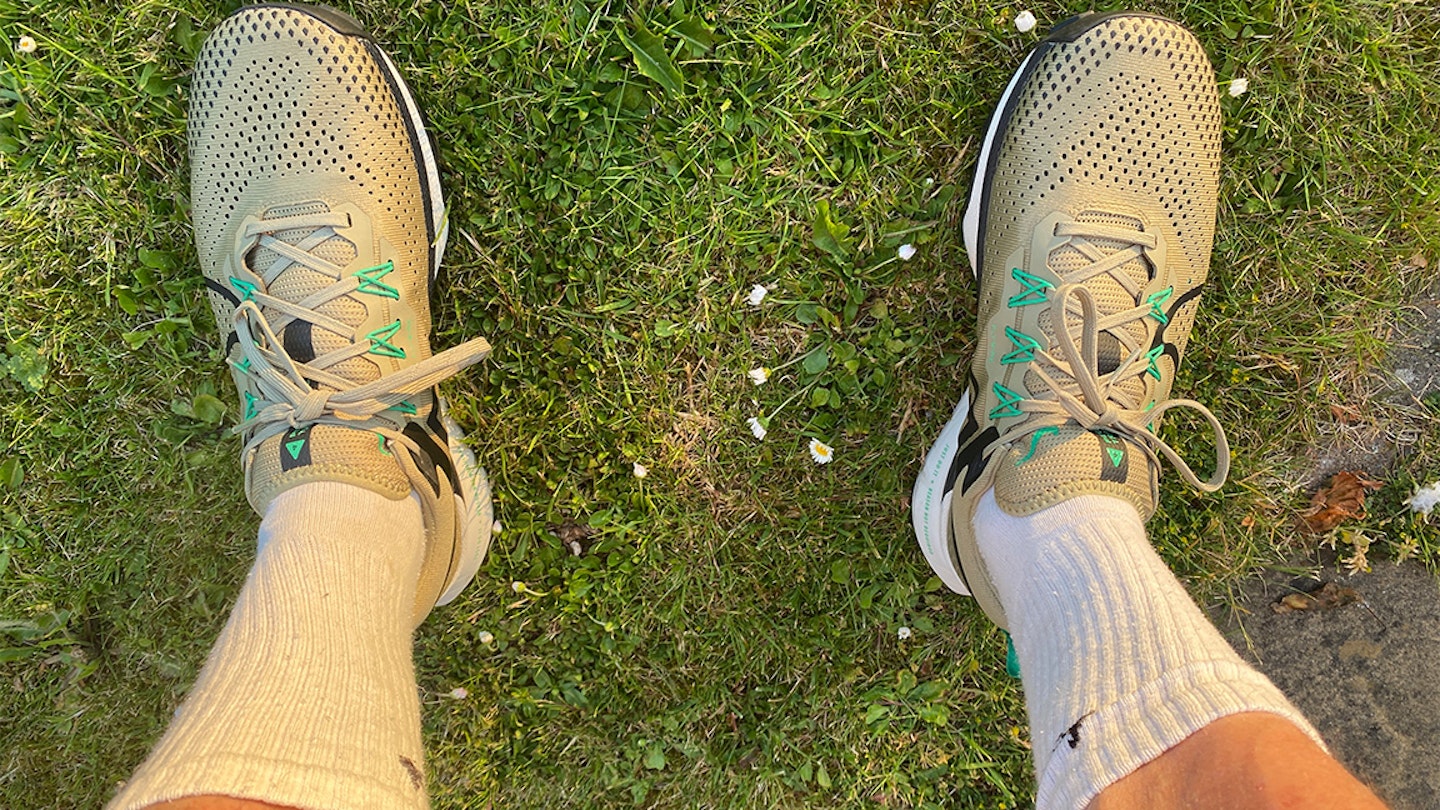 I've mostly been testing these in the South Downs, the Peak District, and the fens and marshes of Lincolnshire, as well as my local roads and Parkruns. The Nike React Pegasus Trail 4 has basically flown over all of these different terrains. It's nimble, agile and bouncy in the best way. It's also just enormously fun to wear, especially over short and medium distances.
In particular, I've loved wearing it over chalk, grass and woodland terrain, where that mixed tread really has a chance to grip. It's great on sharp turns too – plenty of grip and torque as the knees and body swivel.
Where grip is less effective is over softer, mushier surfaces – especially wet mud. I slipped around a fair bit on a muddy riverside path, and sloppy farm gates were a bit hellish. This is definitely a shoe that thrives on drier, harder-packed terrain. If you want runners for wet ground, a hardy winter trail running shoe.
And while it's great on lower hills, I do feel a little more vulnerable on steeper, rougher mountain trails, when that lack of ruggedness becomes more apparent. I felt noticeably more footsore after an hour on High Peak gritstone than I did on the limestone of the Derbyshire Dales.
That said, several elite runners have said they'll use it for the UTMB this summer, so clearly that's not a worry for everyone. It's also well ventilated, which has been a real blessing in the heat of May and June.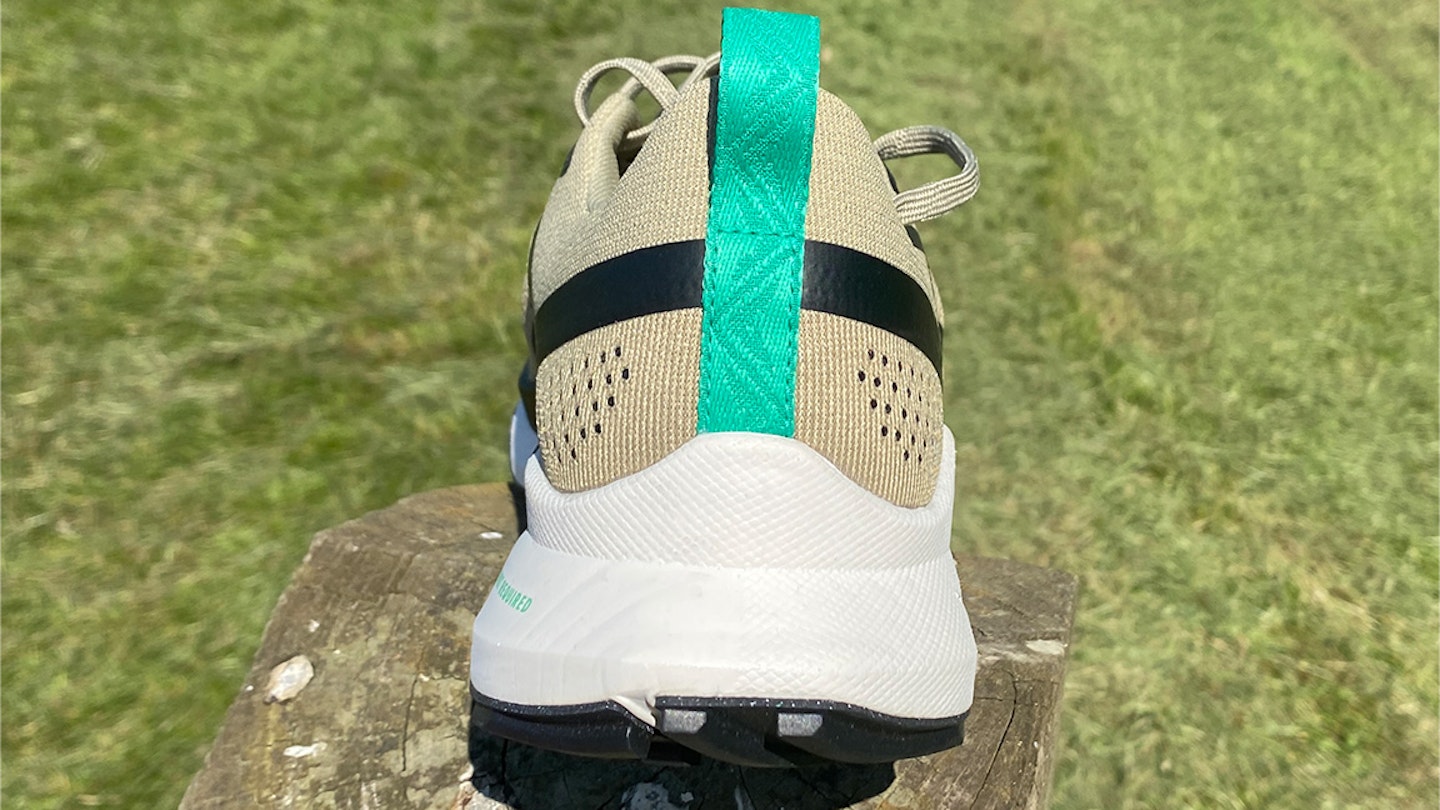 The React cushioning is concentrated at the heel so you get less ground-feel back there (and more springiness). But there's a reasonable ground-feel through the forefoot. You definitely won't feel like your feet have been removed from the turf altogether, and can respond to tree-roots and small boulders efficiently.
In terms of fit, I've found it true to size and a good close fit for my mid-width feet, especially in the forefoot. Narrower-footed runners may find it a little generous and might want to think about dropping a half-size.
I did feel a little rub over both Achilles from that high-backed heel to start with, so I wore Blis-Blox as a precaution. After a few runs, though, the shoe had moulded to my feet and I was able to run without the extra protection.
Sustainability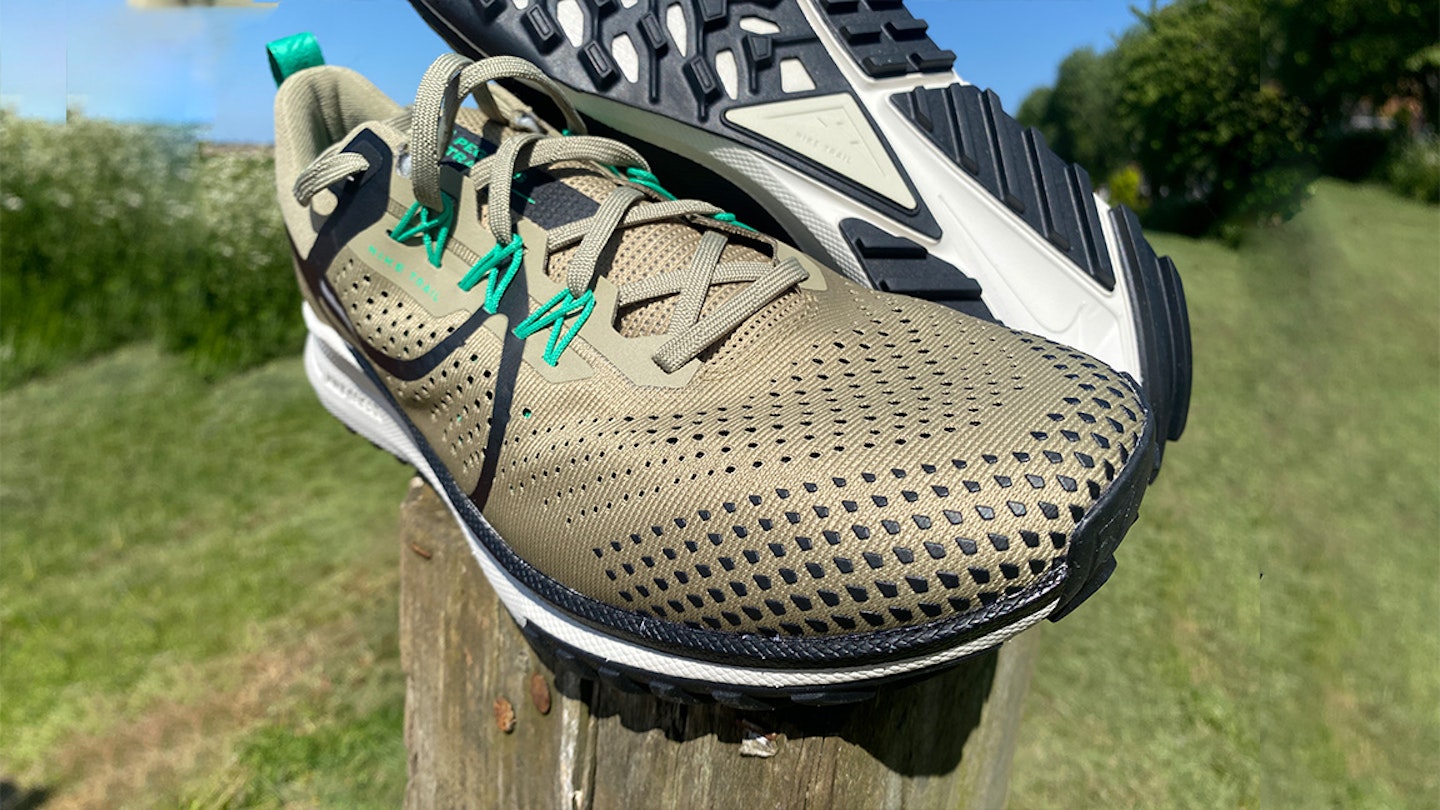 Alas Nike aren't terribly forthcoming about the eco credentials of the Nike React Pegasus Trail 4. (In fact, their online product info as a whole is surprisingly sketchy; you get far more detail from retailers including Sportsshoes.com)
As a brand, Nike make several key pledges around reusing plastics, yarns and textiles, and around the reduction of waste, fresh water and greenhouse gas emissions. But unfortunately, they aren't great at explaining how these programs feed into individual products or technologies at point of sale. Here, they could do better.
Price and competition
The RRP is £124.95 (at the time of writing) but you can expect to pay around £115 if you shop around.
Similar such competitors might include the Inov-8 Parkclaw 260, Salomon Sense Ride 5, Adidas Terrex Soulstride Flow and Columbia Montrail Trinity FKT.
Verdict
So does it bridge the gap from road to trail? Yes it does, and here's how. This is a fabulously comfortable, exciting shoe to wear, and it makes transitioning from tarmac to trail (and vice versa) a genuine joy.
Nike somewhat undersell it when they call it 'your workhorse with wings'. I get the workhorse thing – partly a reference to Pegasus the mythical winged horse but also the fact that you really can run in these every day of the week over most terrains. But 'workhorse' isn't a particularly sexy phrase and it doesn't quite sell the levels of comfort and sophistication that's on offer here.
Over muddy, slushy stuff, I will be reaching for something with a more aggressive grip, such as the Inov-8 Mudclaw (the clue is in the name there). And for sustained high mountain runs, I'd be hankering for my La Sportiva Tempestas. But for everything else, it will be hard to resist reaching for these.
Workhorse? More like Wonder Horse.
Don't forget to subscribe to the Trail Running Newsletter to get expert advice and inspiration delivered to your inbox.