Hoka. That footwear brand that bounced onto the road and trail running shoe scene in 2009 and proceeded to capture many peoples' attention (and money) with its bright and bold footwear.
Its range of footwear today is extensive to say the least. It covers running, hiking, and gym footwear plus some apparel as well. We find it hard to keep up with the speed at which it churns out new models. But we've recently cast our net and hauled in the Hoka Stinson 7.
The Stinson 7 is Hoka's soft, stable trail running shoe for pretty much any circumstance, according to Hoka. That sounds like a claim which needs testing, so we've been trialling the Stinson 7 to find out how they get on.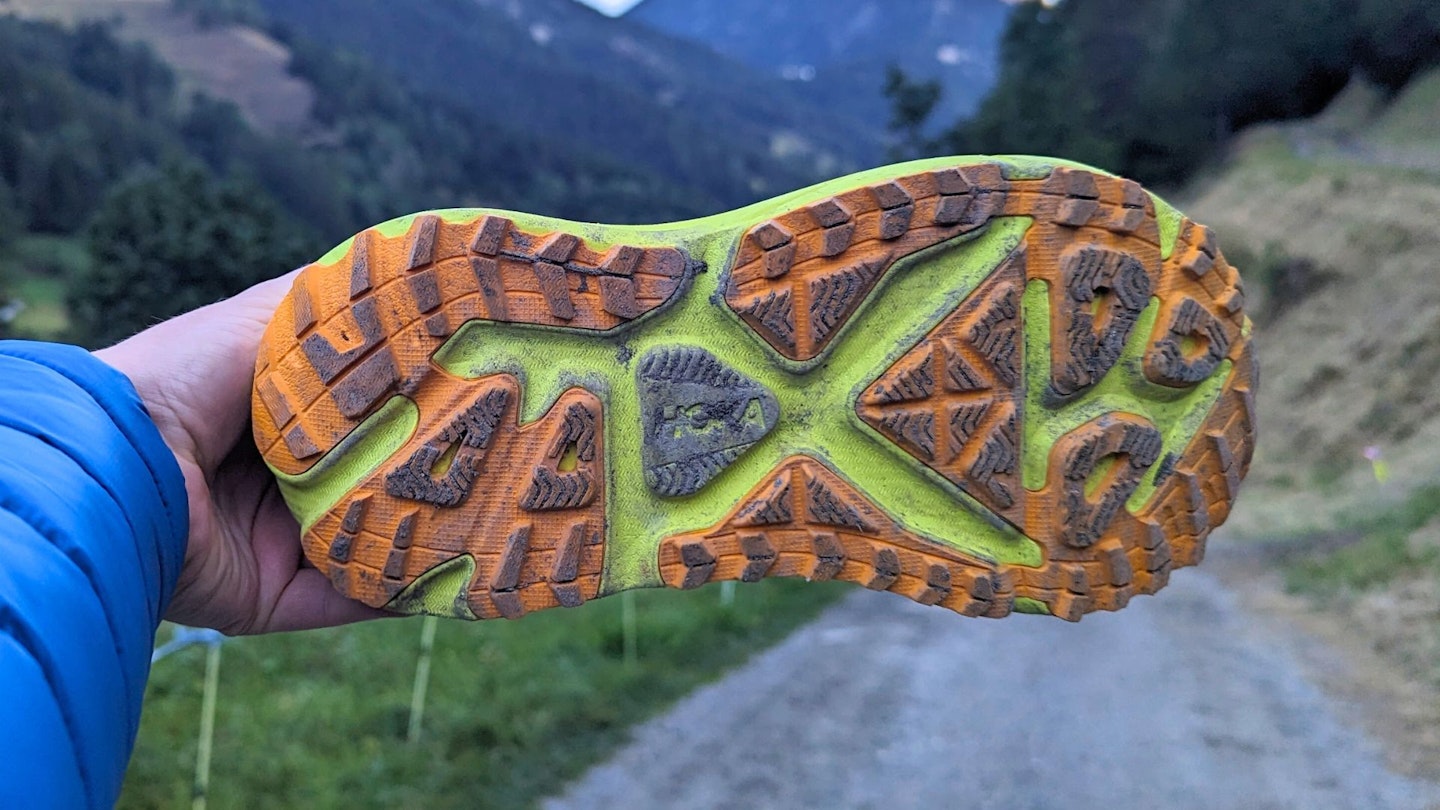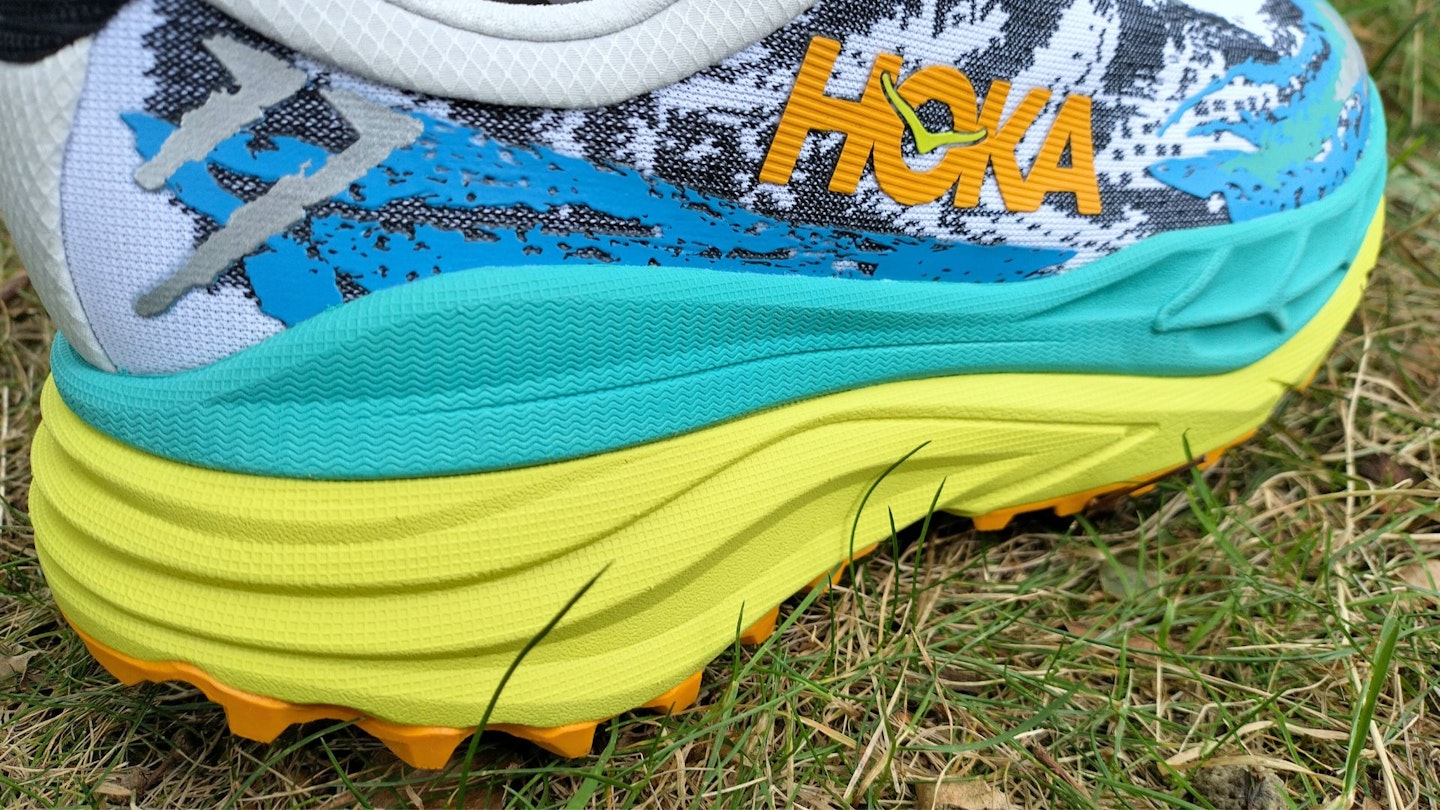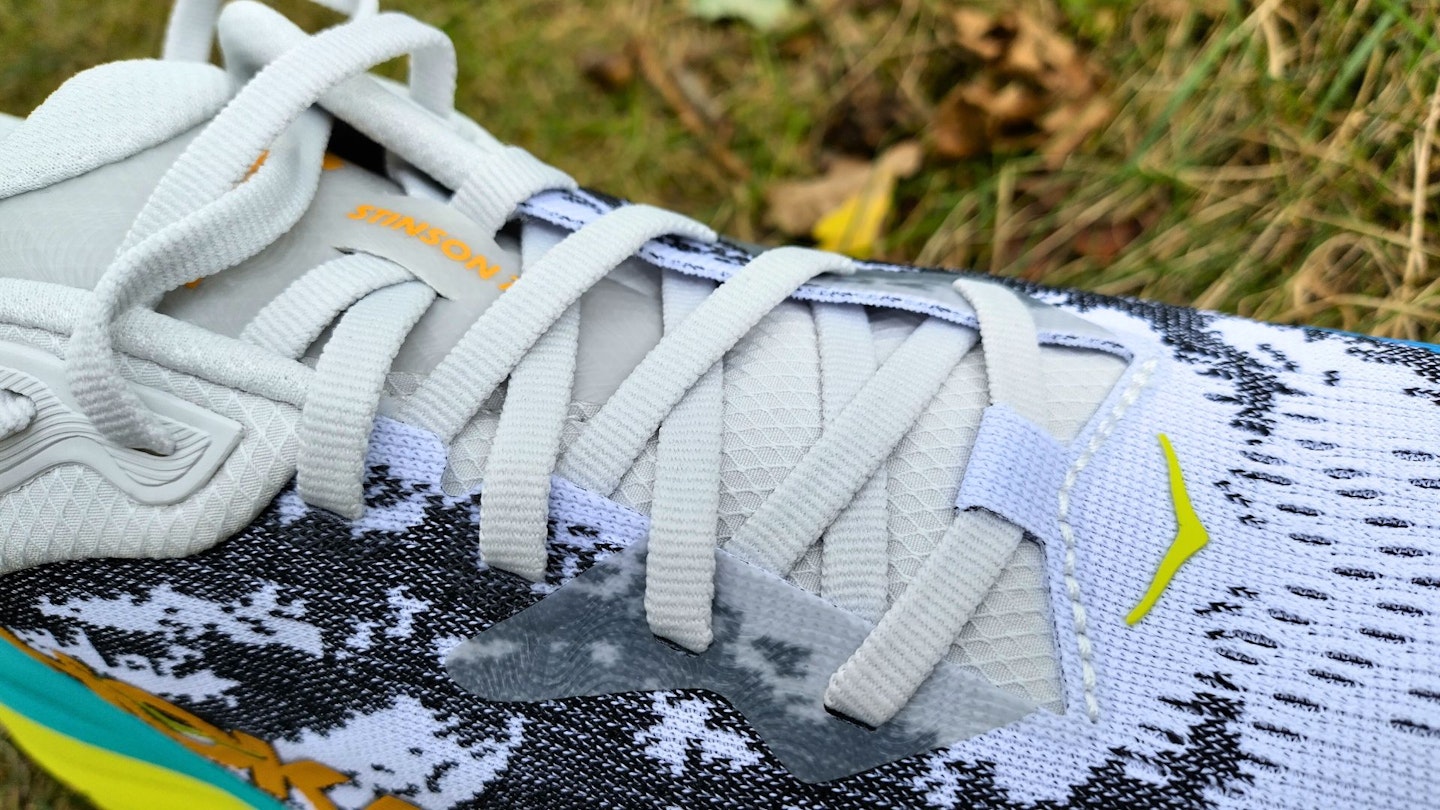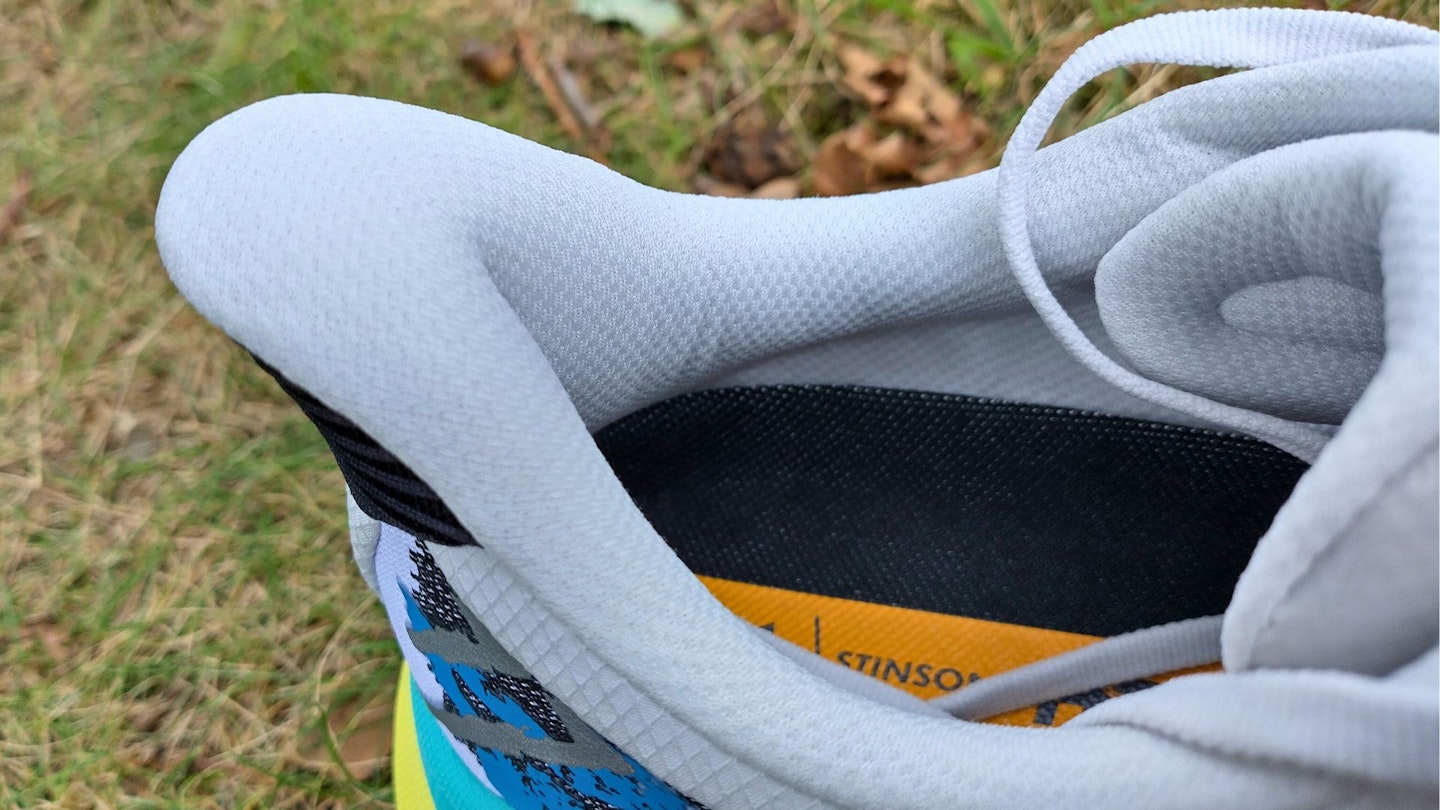 Description
Pros
Sumptuous cushioning
Stable
Vegan
Decent grip
Versatile
Cons
Big stack height not for everyone
Look a bit clumpy
Design and features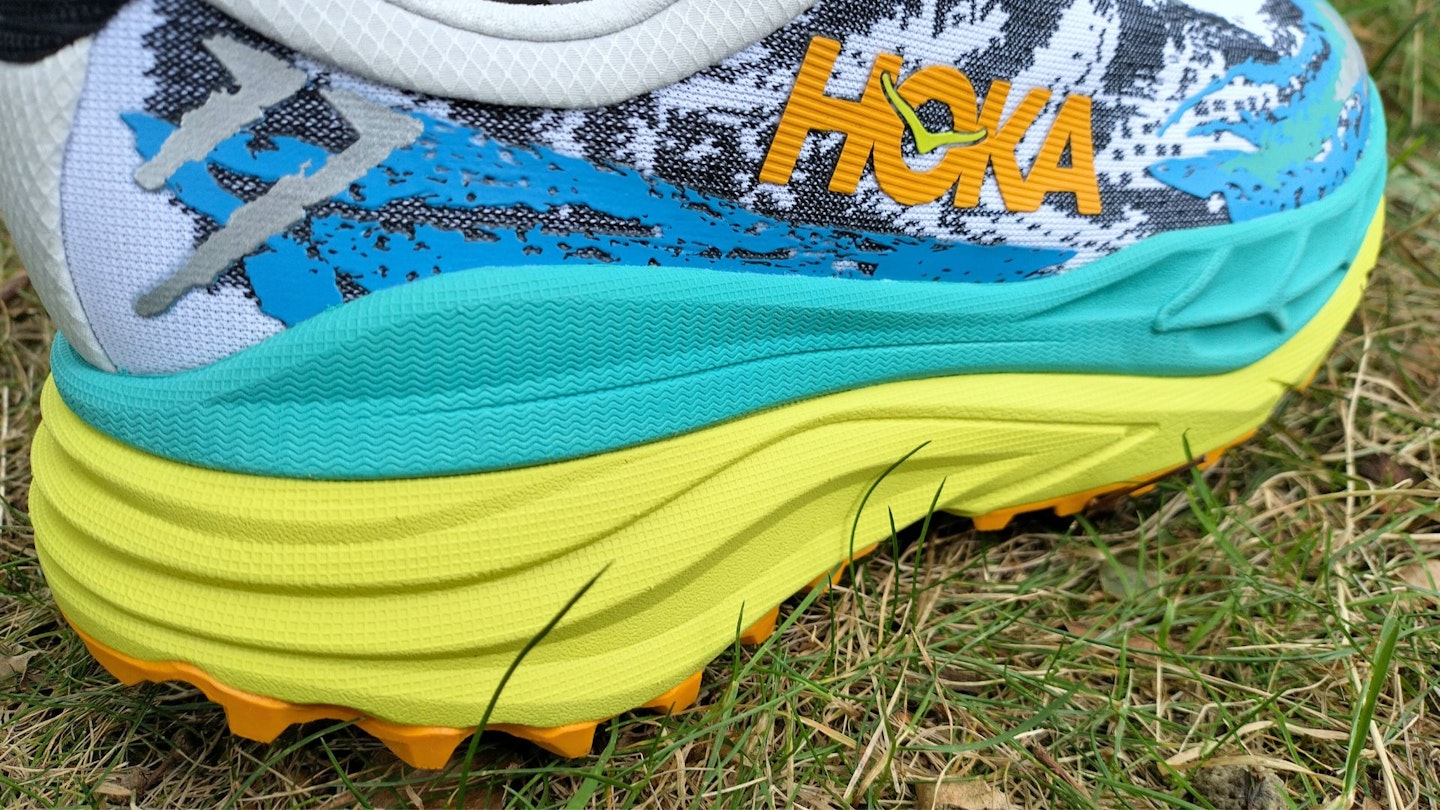 You know those minimalist barefoot running shoes that some people rave about? The Hoka Stinson 7 isn't that. It's pretty much the opposite. It features a thick EVA midsole with a towering 42mm/37mm stack height (40mm/35mm in the women's version).
Above the midsole you'll find a cheerful and partially recycled upper, with Hoka's H-Frame (the turquoise bit in the above image) stabilising feature sandwiched in between. The outsole is designed for mixed use (road-to-trail, hybrid – whatever you want to call it) and therefore features Hoka's Durabrasion rubber with 4mm lugs.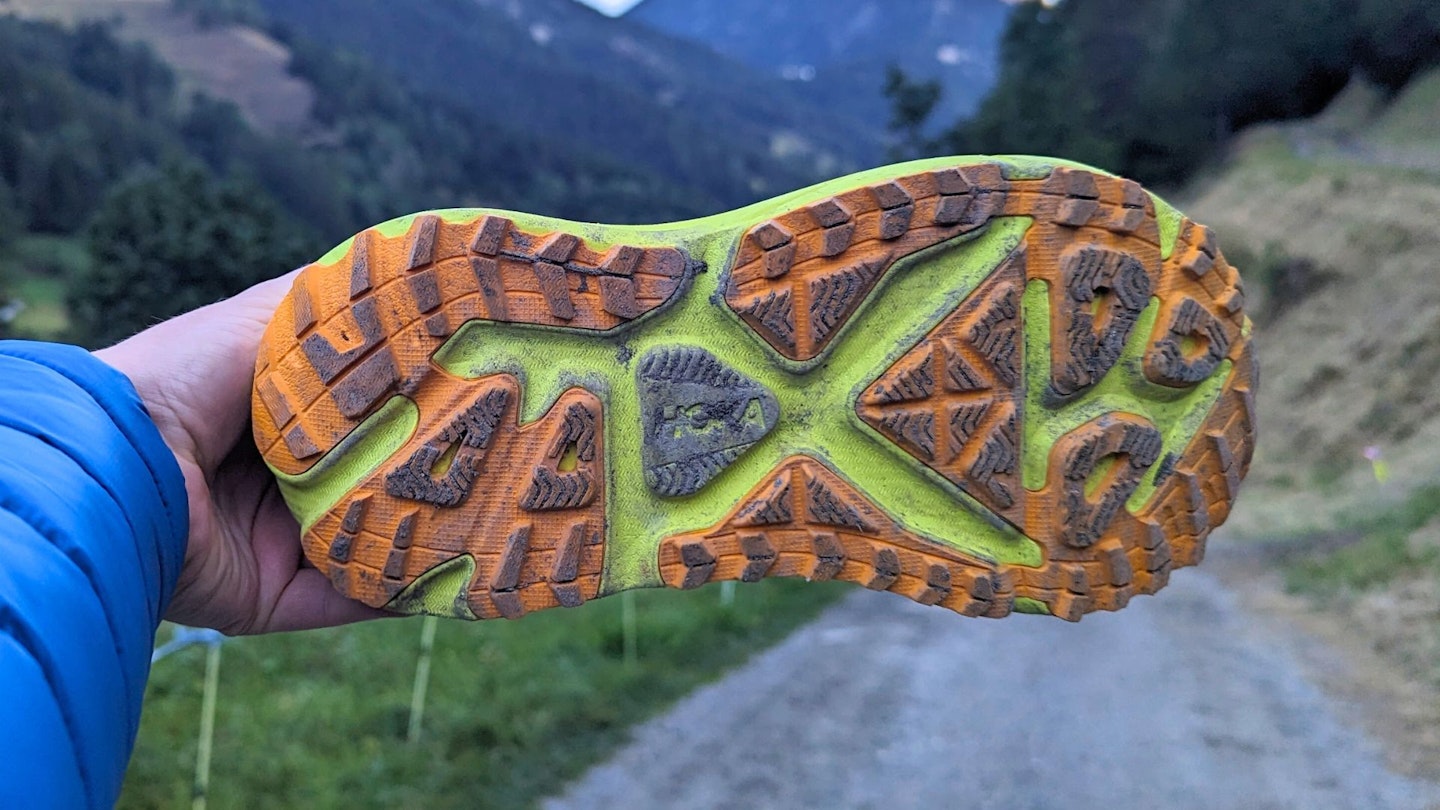 This being a Hoka shoe, colour schemes employ bold hues only. Men's and women's versions share the White / Evening Primrose colour scheme seen on our test pair. But then each have their own individual colourways too.
The Stinson 7 weighs in at 365g (men's 10). That's about 50g more than the Stinson 6 and is getting a bit portly – it actually crowns the Stinson 7 as Hoka's heaviest trail running shoe (at the time of writing).
Performance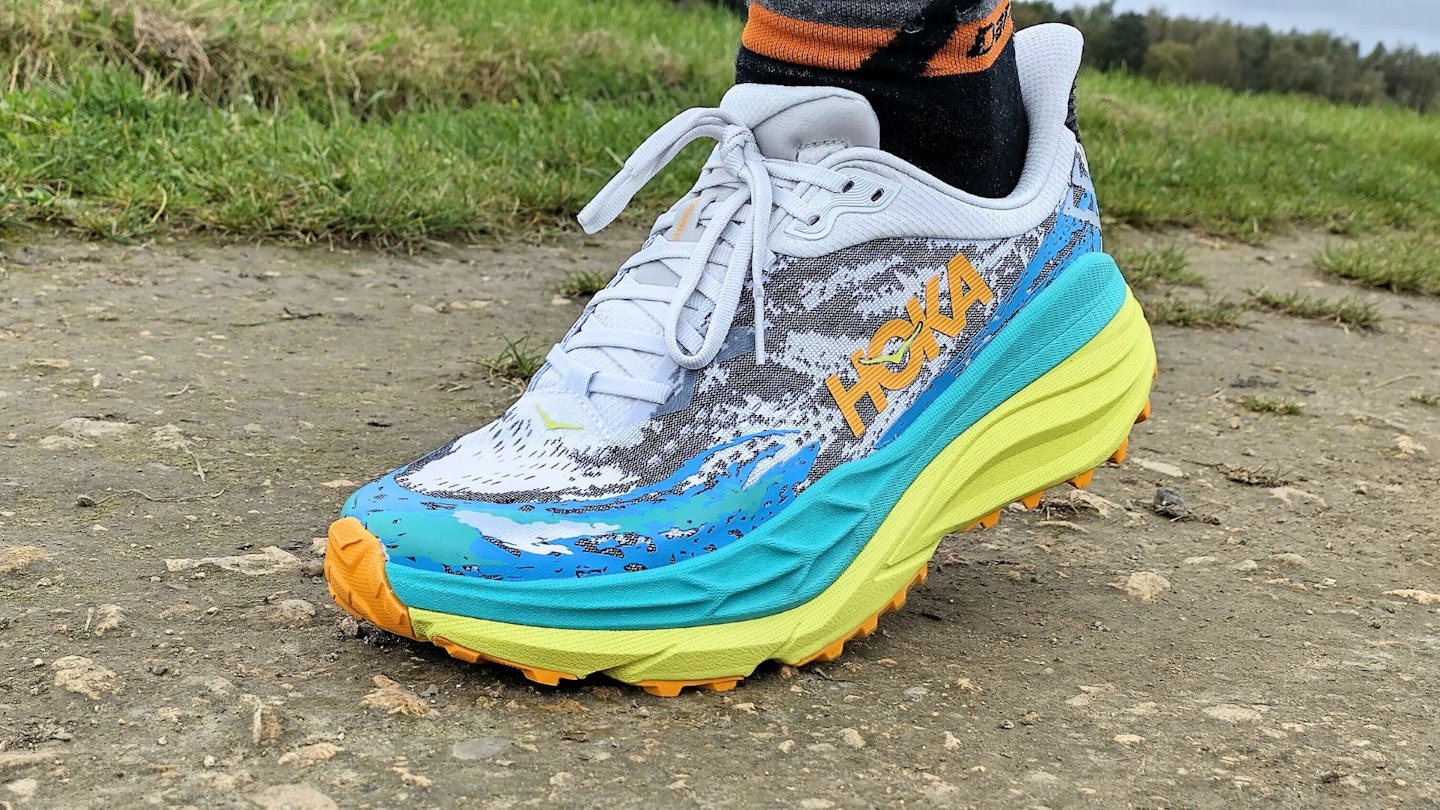 The first adjective that came to mind when running in these shoes was pillowy. That swollen midsole certainly provided us with a soft landing. It's great for long distance runs for this reason. And although this means the stack height is considerable in the Stinson 7, Hoka have managed to alleviate the problem of instability by making the platform quite wide.
You can see that if you look at the rear and underside of the shoe, which are a lot fatter than you'll find on many other trail running shoes. And we did feel that on the move – we could feel the stability helping to keep legs aligned correctly.
The flip side of this is weight and agility. The Stinson 7 shoes looked a bit clumpy on our feet and predictably weren't the most agile trail running shoes.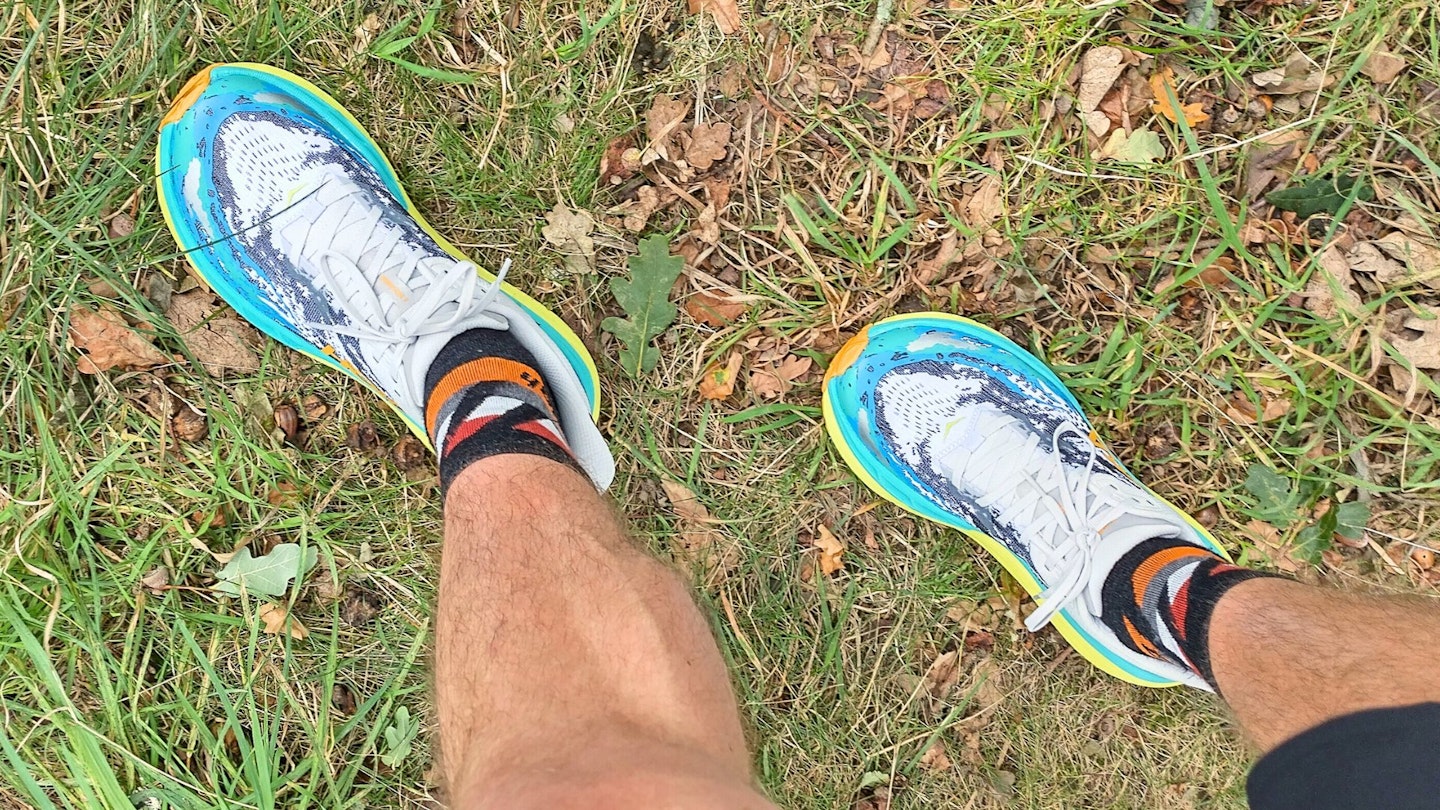 Pleasingly, however, the Durabrasion outsole performs very well over a range of terrain. We've experienced this type of sole before on the Hoka Challenger 7 and were impressed then too. It's a sole that shines brightest on firmer trails and gravel. But this being the UK, the ability to also cope with damp grass is also critical. And we were satisfied that the Stinson 7 could.
At 5mm, the Stinson 7 has a reasonably low drop. It therefore suits mid and forefoot strikers the best. But with all that cushioning on board and a design touch called Metarocker to aid heel-to-toe transitions, the Stinson 7 provides a comfortable platform for almost any style of runner.
Sustainability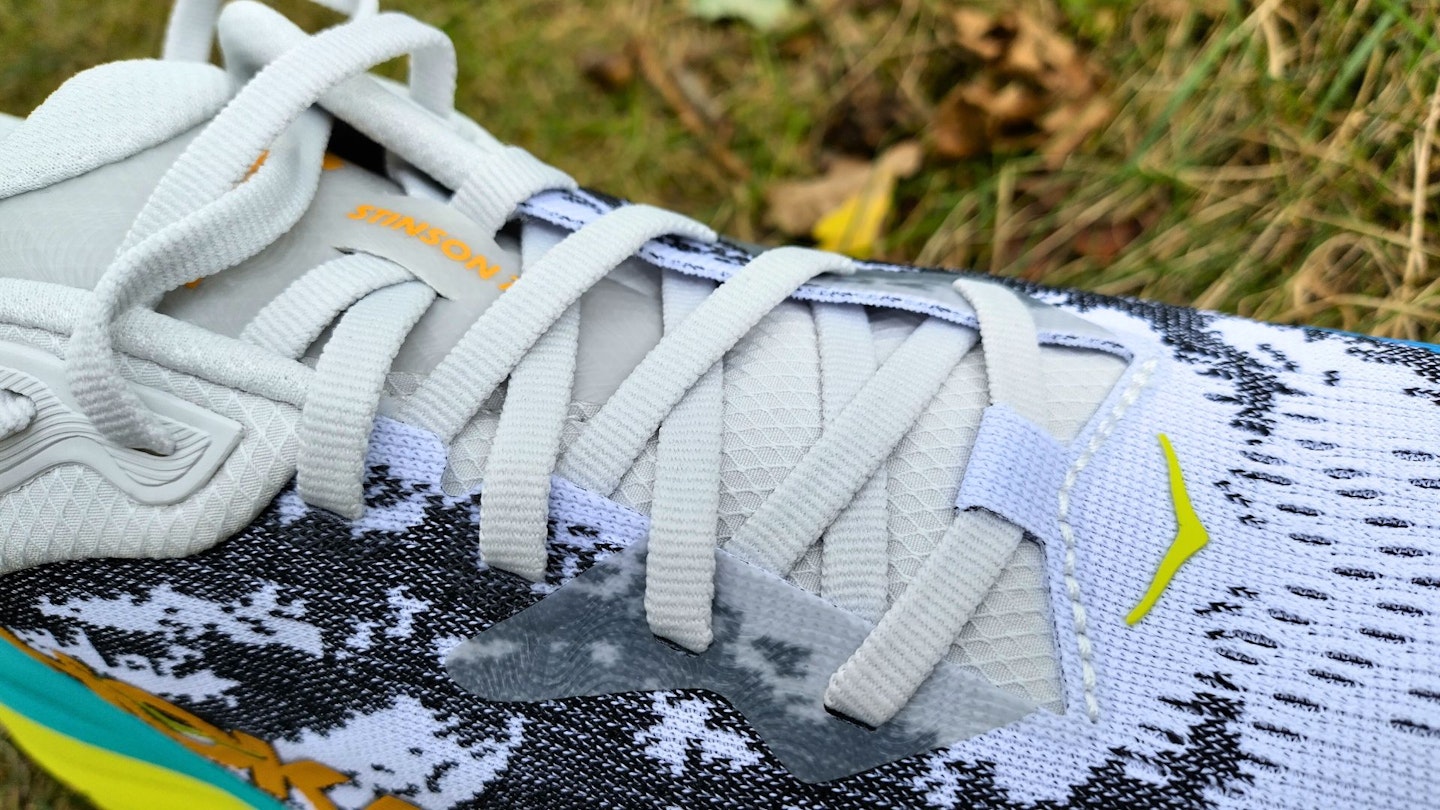 Sustainability is a tough area for makers of running shoes, as, unlike long-lasting walking boots, they are essentially disposable items.
Nevertheless, that's not an excuse for inaction. Hoka says sustainability encompasses everything it does. It says it's not 'just about sustaining the environment. It's how we work with each other'. Actually, let's focus on just sustaining the environment for a moment and see how Hoka does.
Hoka (owned by Deckers) has made a number of pledges with dated targets around materials. For example, it wants '50% of all natural rubber used in [its] footwear to originate from recycled sources or sources that legally harvest, source, transport, and export rubber'. The target was created in 2021 and is set for 2026. According to 2022 fiscal year results, no progress has been made towards this target.
More broadly, Hoka is intending that by 2027, '25% of all materials used in HOKA footwear will be made from preferred materials'. Preferred materials meaning recycled, renewable, regenerated, and natural materials. As of 2022 Hoka is on 7.9%.
Regarding emissions reductions, Deckers has said Hoka will 'reduce greenhouse gas emissions by 20% per pair and energy usage by 25% per pair by 2030' compared to a 2019 baseline. As of 2022, it has reduced emissions by 16.5% and energy usage by 14.6%.
We would conclude that Hoka could be more ambitious with some of its targets, and could do better in terms of labour standards according to Good On You. But we are pleased with the reasonable amount of detail and honesty it has in its reporting, which you can easily find on the Deckers website.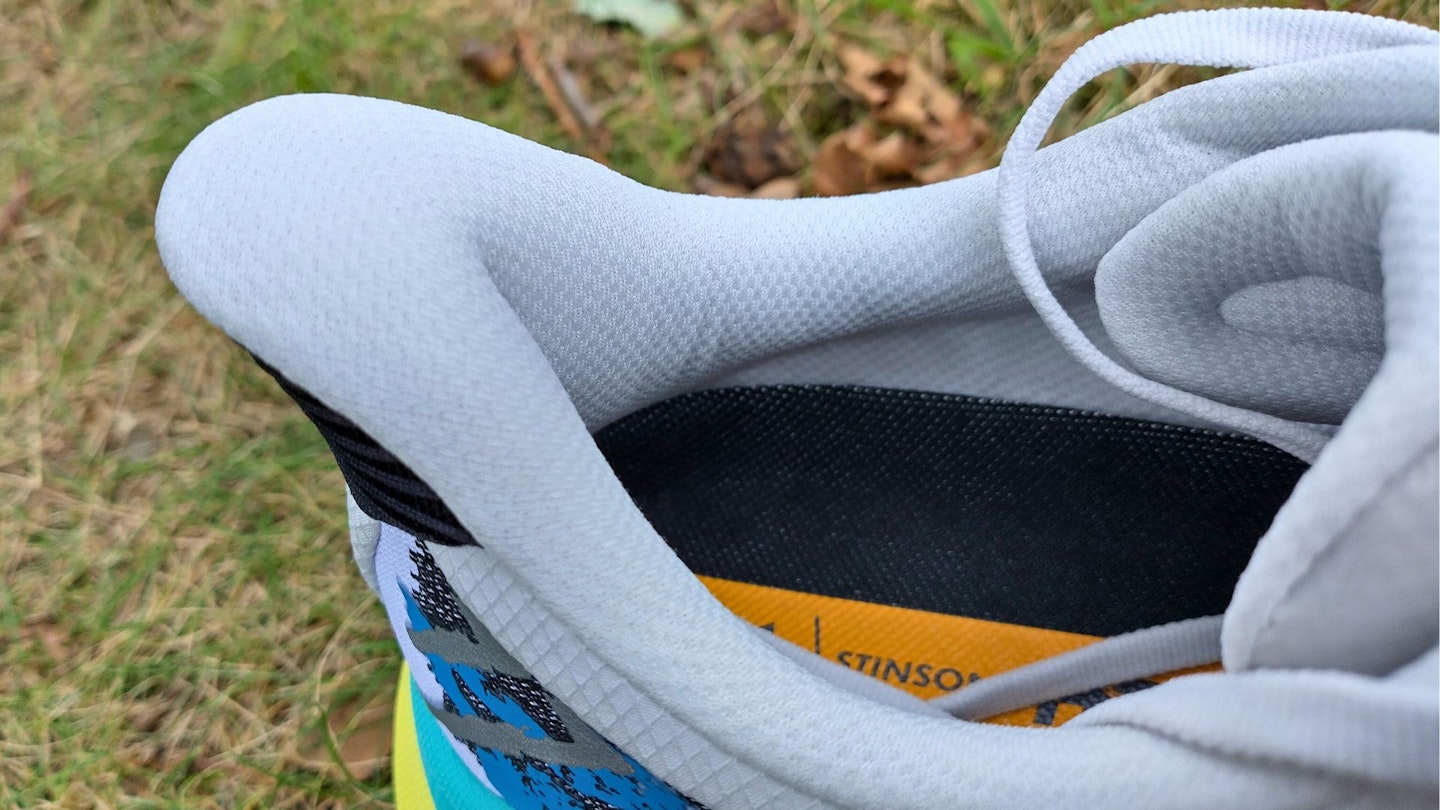 Price and competition
Hoka is pretty well known for its cushy running shoes but there are others that offer super cushioned models too. These include Asics with its Trabuco Max 2 and Salomon's Glide Max Tr. Both of these models feature super cushioned midsoles too, a similarly low drop, and similar RRPs. They are, however, both lighter than the Stinson 7.
The Stinson 7 also receives some friendly fire. Hoka's Challenger 7 is also intended as an everyday/mixed trail running shoe. The difference between the two is that the Challenger 7 has less cushioning, a lower stack height, and less weight. To us, the Challenger 7 feels quite a bit more agile, while maintaining plenty of cushioning. Oh yes, it's also £30 less expensive (at the time of writing). So, it's certainly another Hoka option to consider.
Verdict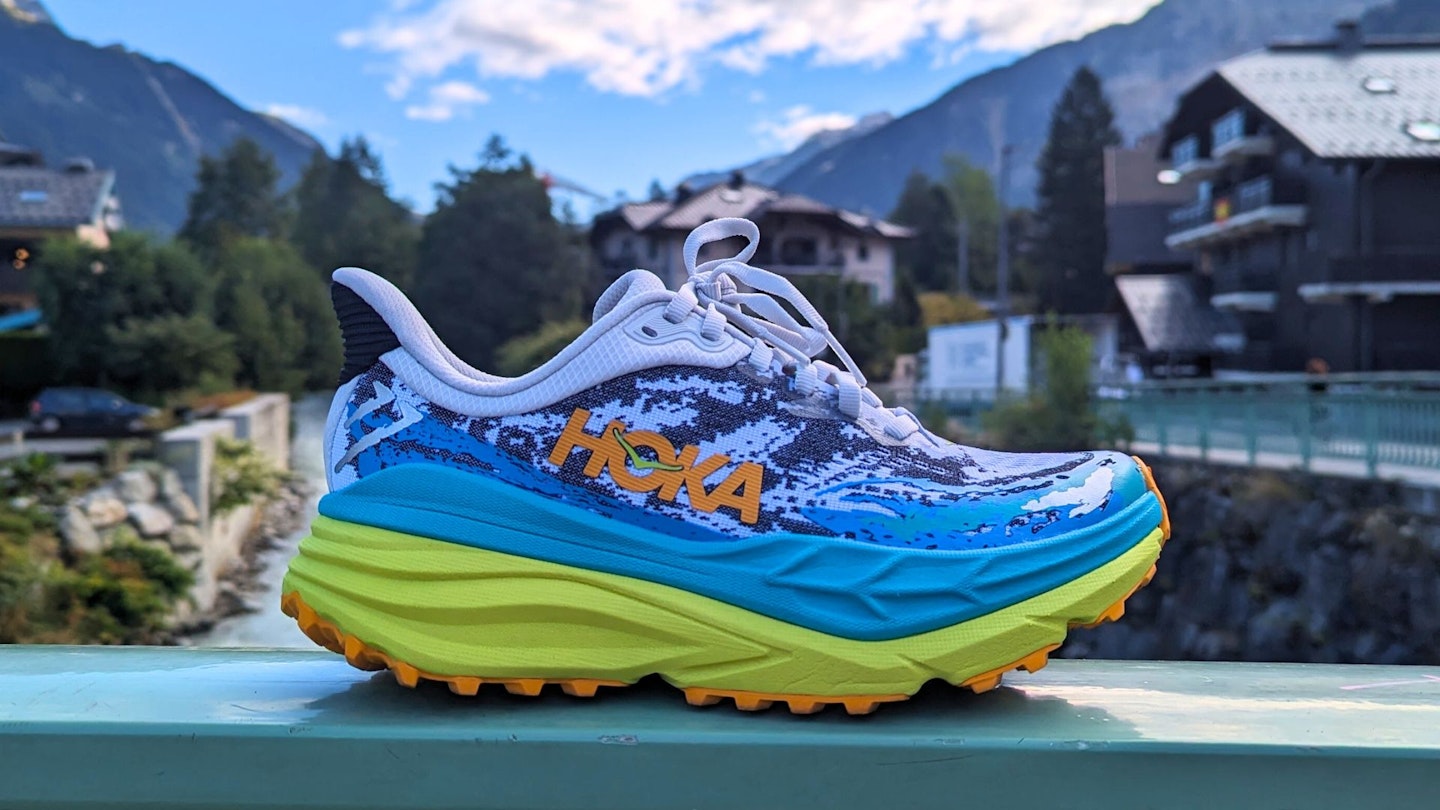 Our testing experience of the Hoka Stinson 7 was one of most velvety and comfortable we've ever had. It is indeed a very versatile street-to-summit trail running shoe, as Hoka describes.
If you're set on a shoe of this type, the Stinson 7 is unquestionably a great option. However, if you're looking exclusively at Hoka shoes, then we'd also suggest you consider the Challenger 7 as a lighter, less expensive, yet still nicely cushioned alternative.
How we test
The trail running footwear we test undergo thorough, real-world testing. As soon as they arrive with us, they get allocated to one of our experienced gear testers who take them through their paces over a range of off-road terrain and distances.
We consider myriad factors when testing and reviewing trail running footwear, from the obvious, such as comfort and performance, to the less obvious and intricate, such as sustainability.
For all the latest news, tips and gear reviews, sign up to the Trail Running Newsletter.
Chris Williams is a Digital Content Writer for Live For The Outdoors. He trained as a journalist in New Zealand and has been working on Live For The Outdoors since 2021.