The West Highland Way stands amongst the best walks in the UK. It was the first long-distance route to be officially designated in Scotland, and sees around 35,00 people attempting it each year. But can a beginner walk the West Highland Way? And how long will it take? Here's everything you need to know.
Our guide to the West Highland Way covers all of the essential details for walkers, including the terrain, the best time to walk it, and where you can find accommodation and supplies along the way.
The trail runs officially for 153.2km (96½ miles) from the outskirts of Glasgow to Fort William, traversing a wide array of landscapes. It's a walk steeped in history, crossing significant areas of Scotland's past.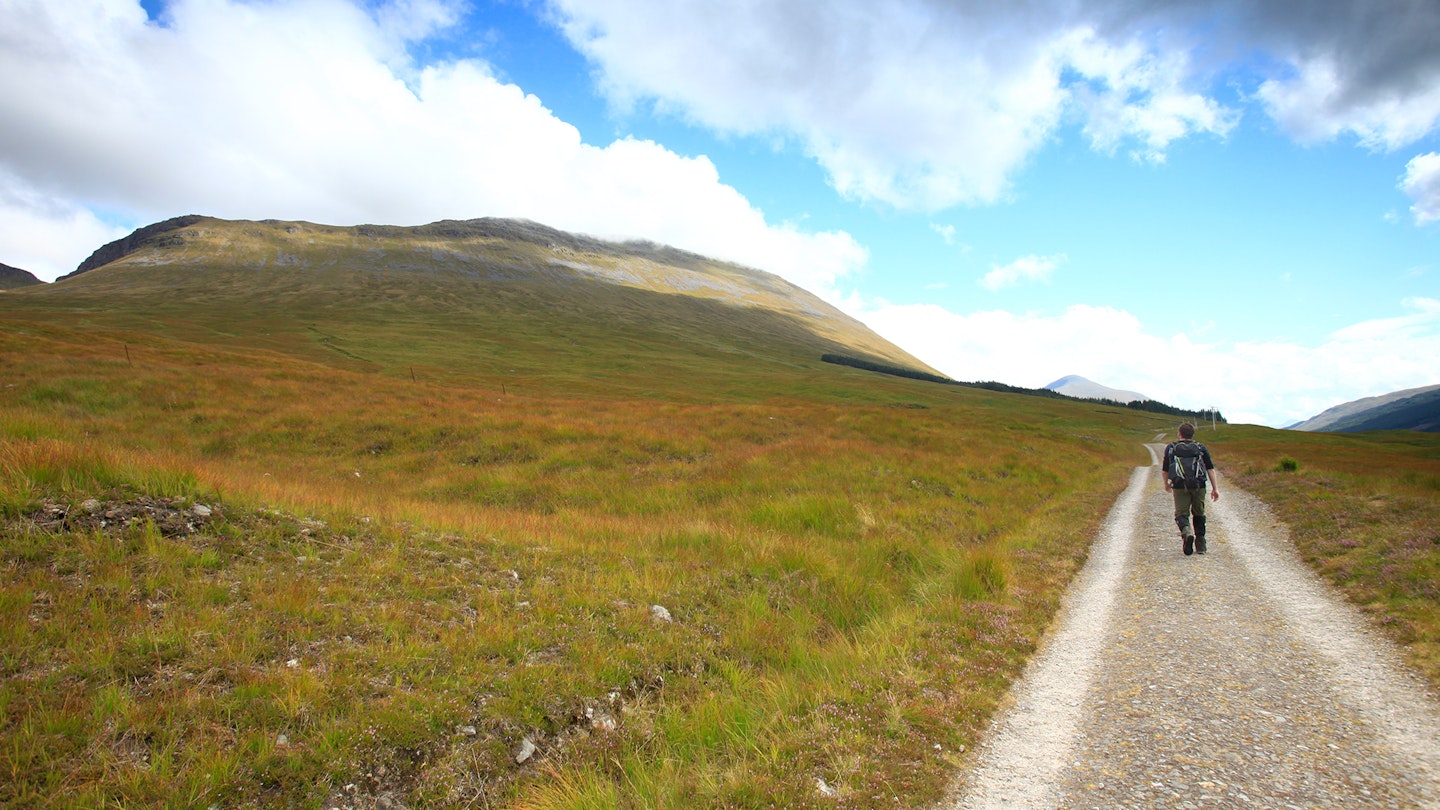 In addition to passing through fascinating historical areas like Lennox, Breadalbane, and Lochaber, much of the route itself follows ancient drover's and military roads. When you follow these footpaths, especially with no modern civilisation in sight, you get the rare opportunity to glimpse the lived experience of Scots from centuries back.
Most people walk from south to north, starting in Milngavie and ending in Fort William. So grab your walking boots (and, let's face it, a waterproof jacket) and let's explore this incredible path journey.
View and download a digital OS Maps route of West Highland Way HERE
The West Highland Way – plan your long-distance walk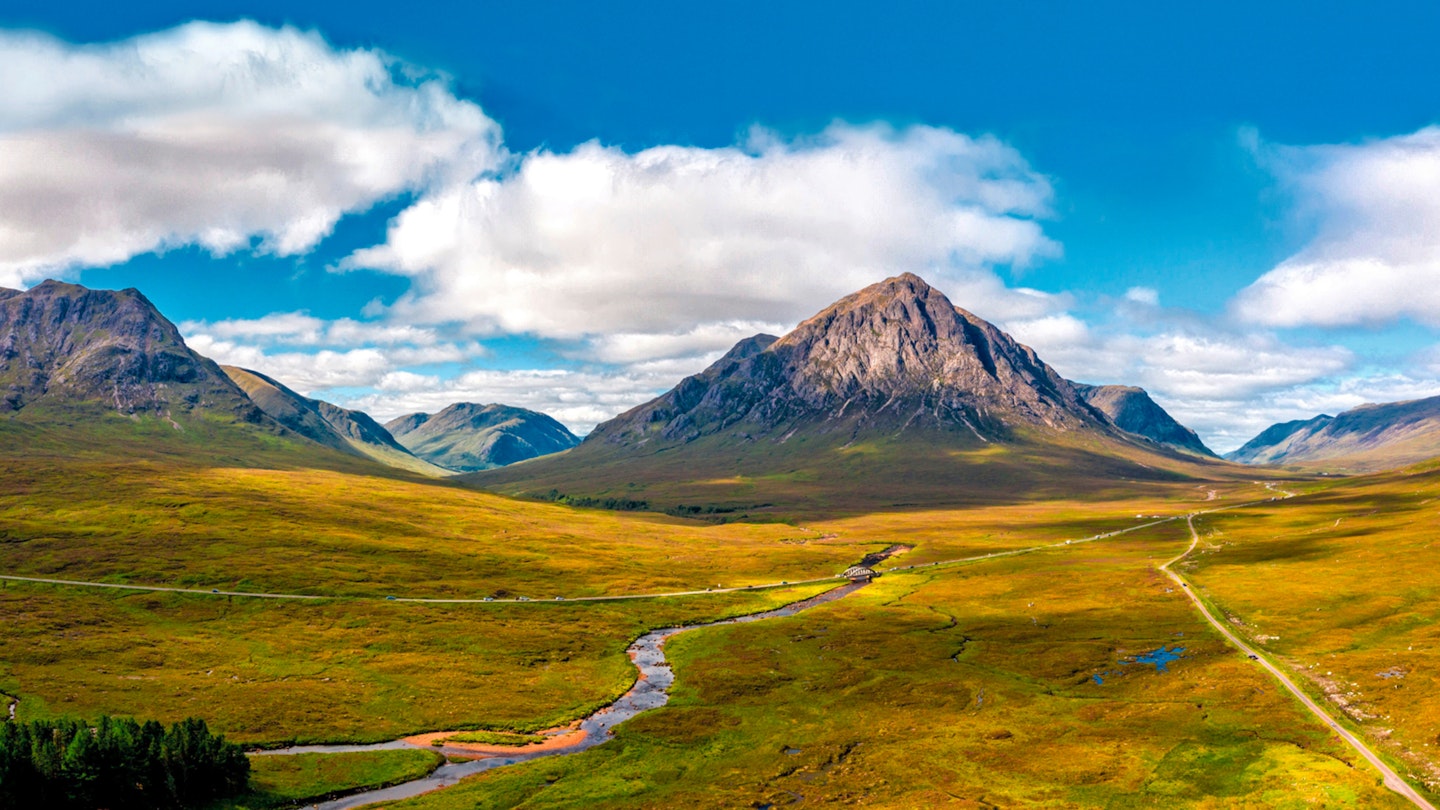 How long is the West Highland Way?
The route is around 153.2km (96½ miles) and is typically completed in a week or so. Depending on your pace, you might want to break it into more manageable sections. The trail takes you through different geological zones, from the low-lying landscapes of the Central Lowlands to the dramatic aura of mountains and valleys of the Highlands.
How difficult is the trail?
We'd say this is an intermediate walk, with the caveat that anyone could take it on with proper preparation. If you're thinking of tackling the West Highland Way as your first long-distance hike, then make sure you've got a decent amount of rough walking under your belt. The stunning views probably won't be as enjoyable if you're busy dealing with the terrain.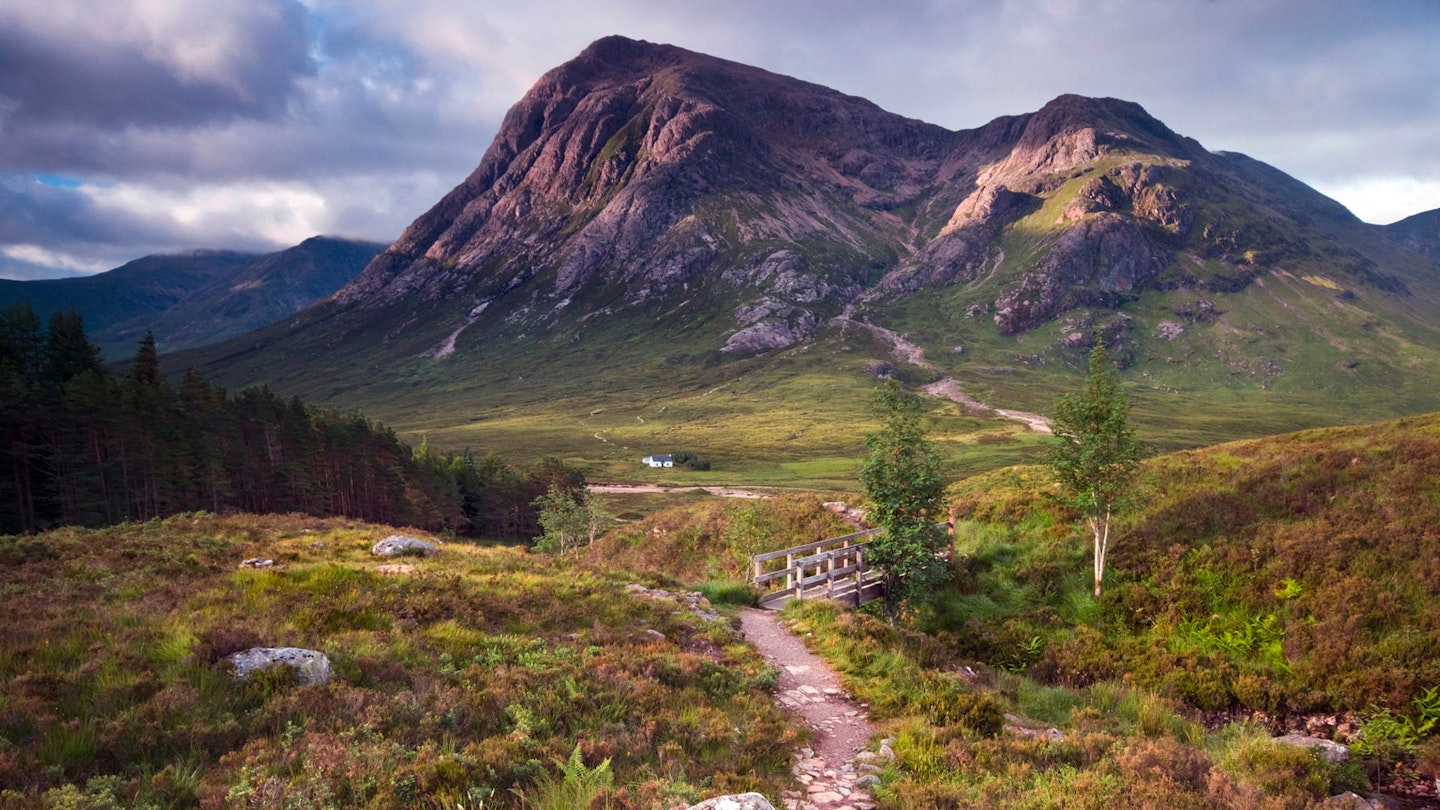 It's also important to get accustomed to the weight of your hiking pack, but as long as you're resilient you'll be able to face the miles and earn the rewards waiting in the wilds. For most of the trail, it feels utterly remote, but luckily you're almost always within a few hours' walk of a train link or some node of civilisation if help is needed.
Note that the crossing of Rannoch Moor and passing through Lairig Mor is the most isolated part of the trip, so make sure you've planned ahead and stocked up.
What is the best month to walk the West Highland Way?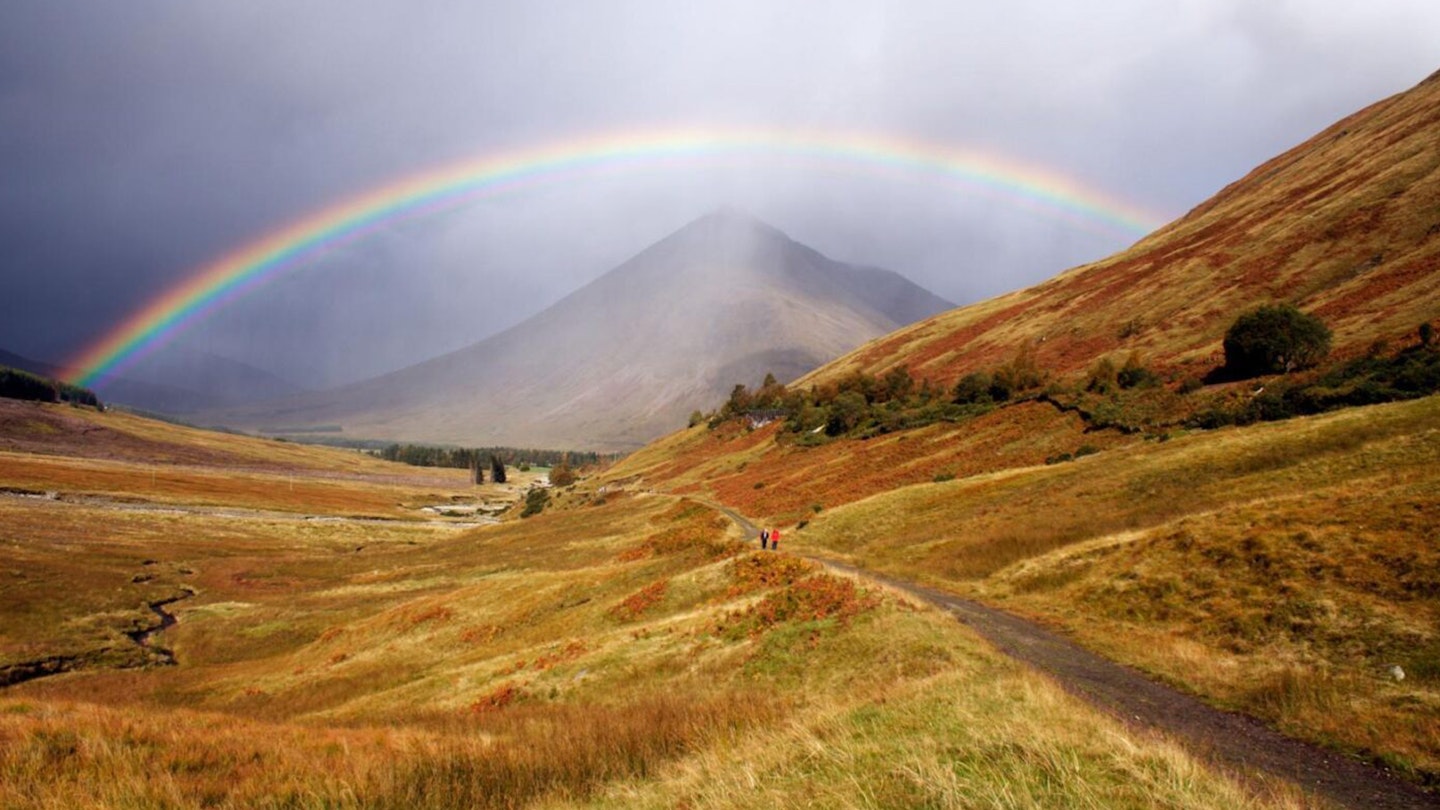 For our money, it's September. But of course, you've got a few choices for when to do this route. Late summer or spring (May to early June) give you the highest chance of decent weather, but we are talking about the Scottish Highlands here. The weather is changeable and multifaceted – expect to get wet, but also pack plenty of suncream!
We'd definitely recommend avoiding the height of summer for one simple reason – midges. They're evil. And they dominate the landscape in July and August. Not to mention that a heavy backpack, lots of miles, and August heat is just a bad combo in anyone's book.
Can a beginner walk on the terrain?
The West Highland Way offers varying difficulties, with the first section across the central lowlands being the easiest. As you progress, the woodlands and farmland give way to dramatic mountains and valleys, which can be intimidating for a newbie.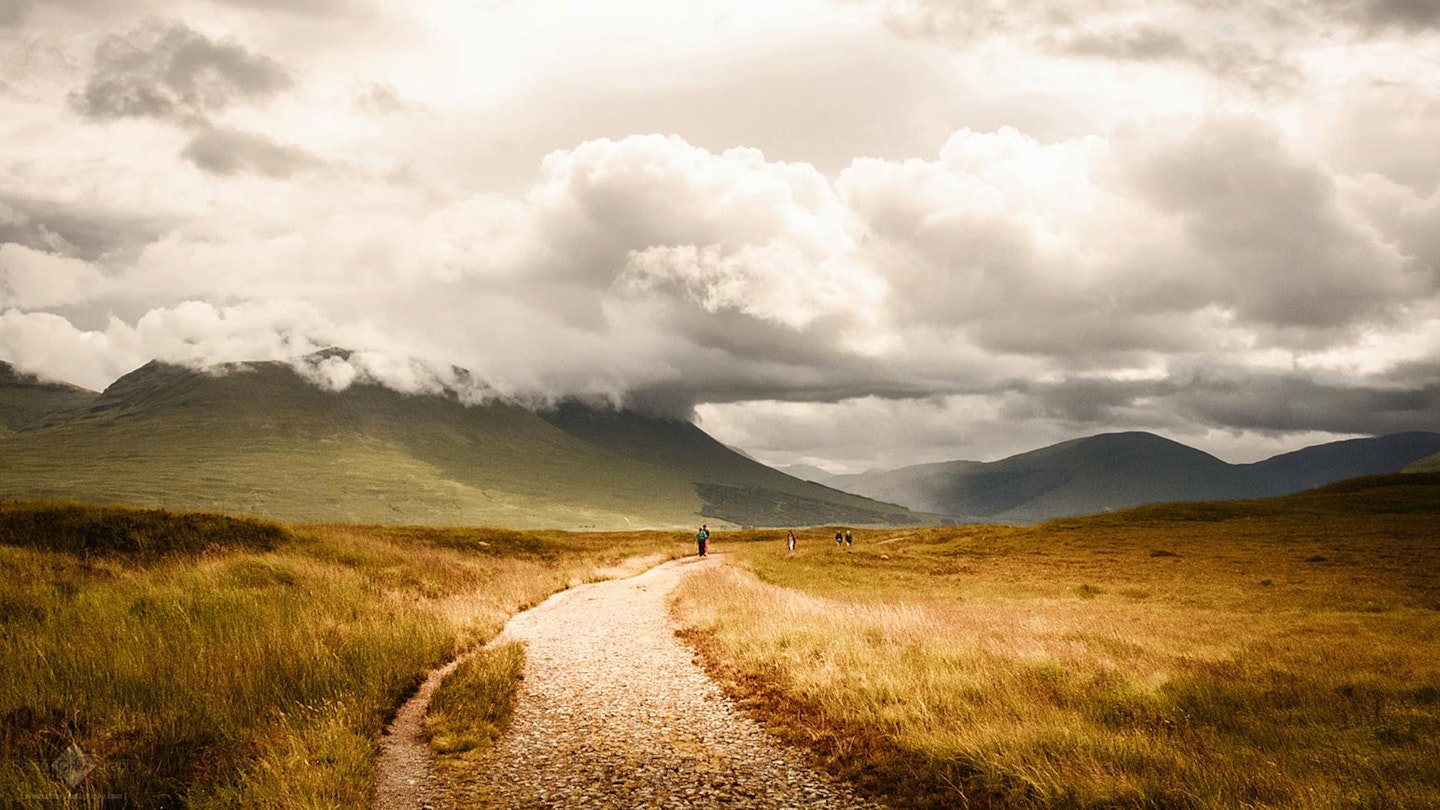 That said, the majority of the route is on paths and roads which anyone can take on. And tackling the steeper sections is manageable for the majority of fitness levels. Just be sure you've been up high before – this isn't the place to find out you have a fear of heights.
If you are a beginner, it will also help for you to be well kitted out.
What kind of hiking gear will I need?
For the most part you need standard hiking and hillwalking kit, but there are several key items you should focus on. A good pair walking boots or shoes is essential, as are a good waterproof jacket and waterproof trousers. For the long miles, a comfortable backpack is also a must, and we recommend testing this out thoroughly before you go for this route. Walking poles are also worth considering for a trek of this length, even if you don't usually use them. They do a great job of easing the workload on your legs. There are also plenty of useful accessories you should consider – everything from suncream and shades to first aid kits and portable chargers.
Is the West Highland Way easy to follow?
The route is sensibly waymarked with a white thistle emblem and is generally easy to follow. It's commendable how the waymarking is done, never overwhelming, but clear where needed.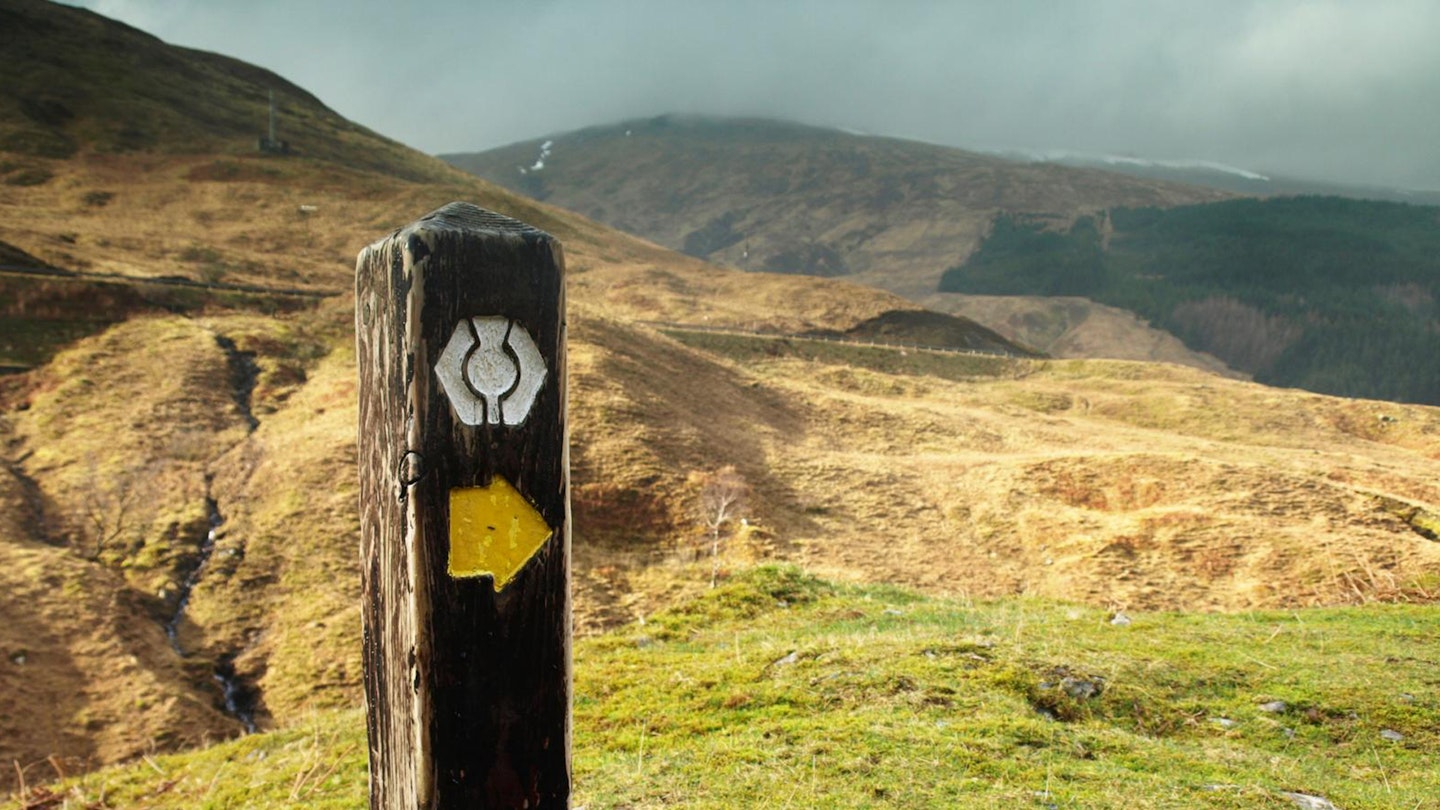 Where can I sleep on the West Highland Way?
Wild camping is a tempting money-saving option, but it does come with a few drawbacks. The unpredictable weather may hassle you, and pitching in the rain is a tough skill to master. There's also the weight of the tent, though these days you can invest in an ultralight hiking tent to ease the strain.
Luckily, the route is also well-appointed with accommodation, though decent rooms and hot showers turn to gold dust in peak seasons. If you're determined to sleep comfortably and wash well, we'd recommend either booking up to a year in advance or enlisting the help of an agency like Macs Adventure or Absolute Escapes to curate your accommodation for you.
Where can I pick up supplies?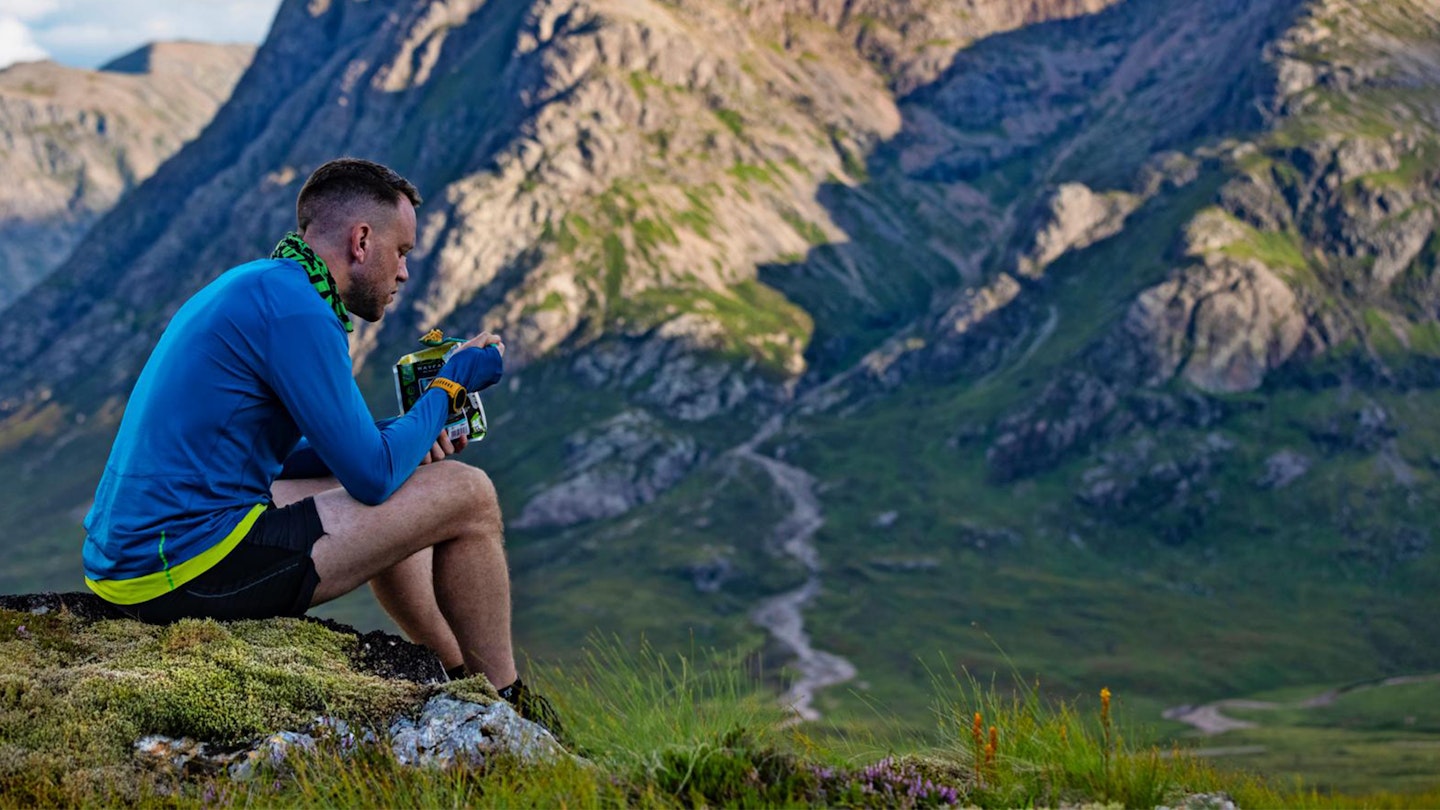 You'll be venturing into the wild, far away from the hustle and bustle. Don't count on finding modern conveniences out there – you'll find yourself in remote villages that might not even have a decent shop. So be sure to stock up well when you can, and savour the few opportunities for hearty pub dinners.
We'd recommend starting with enough oat packets for a good breakfast every day, to give you enough energy to always reach the next re-supply opportunity.
Can I get my bags transferred along the trail?
If there's one thing we'd recommend, it's paying a bag-carrying service to move your luggage door-to-door while you skip uphill and down dale with just a daypack. We recommend AMS Scotland and Travel Lite.
How many miles should I walk per day?
We think the following 8-day itinerary is ideal: Milngavie – Drymen – Rowardennan – Inverarnan – Crianlarich – Bridge of Orchy – Kingshouse – Kinlochleven – Fort William.
The shortest day is just under 7 miles, while the longest days are the second and last at 15 miles each. You'll have plenty of energy to take on the flat section from Drymen to Rowardennan, and the final push is mostly descending.
Walking the West Highland Way – Five Highlights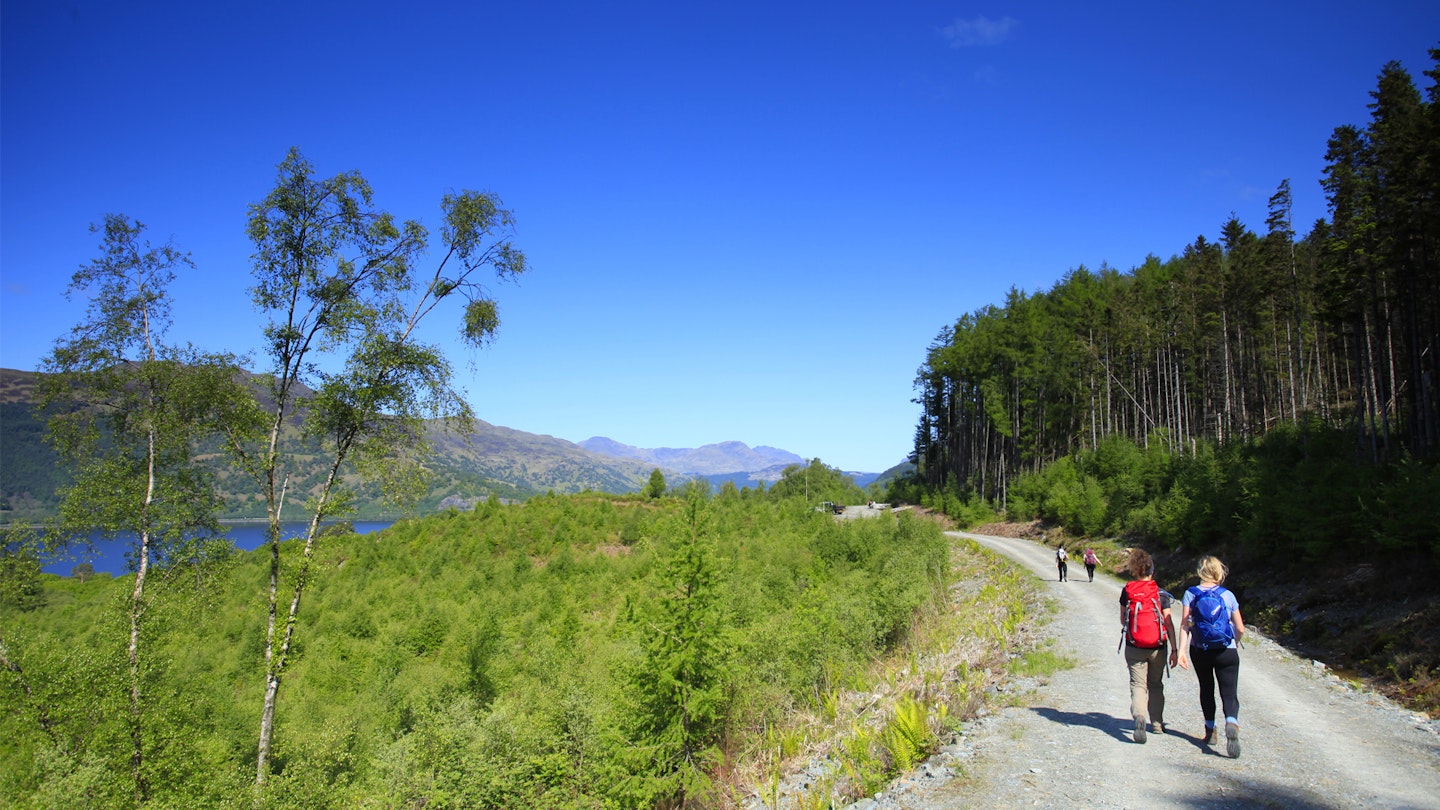 Conic Hill
At 1184 feet brackets 361 m conic hill. There's no giant, but it's the first hill encountered on the way as you head from North Milngavie, and one of the few hills actually climbed by the way itself. The summit is a short detour off the Trail. And more importantly, it's the big reveal for Loch Lomond. Suddenly the superloch is splayed out before you, having been hidden from view on the journey so far. On a clear day you'll also see as far as Glasgow, the Clyde estuary, and even Goat Fell on the Isle of Arran, some 50 miles distant.
Loch Lomond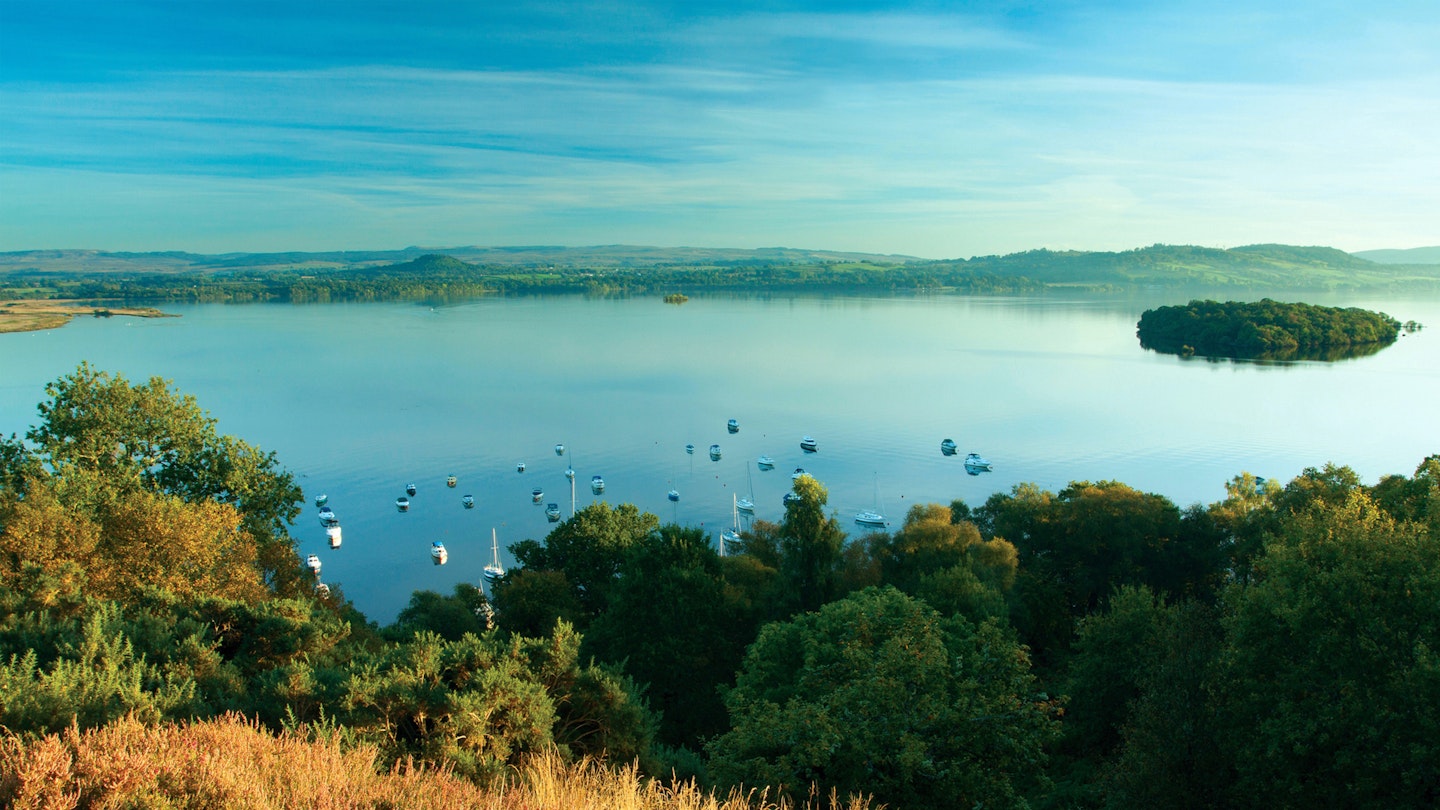 The shoreline of the loch occupies at least two full days of the trail. It has a marmite reputation because the lovely Lochside views and paddle spots give way north of Rowardennan to dense woodland, steep slopes, and uneven tracks peppered with garly tree roots and boulder fields. The trees obscure the view of the lock, meaning that many choose to just get their heads down and yomp on until the respite of the Inversnaid Hotel and later, the hamlet of Inverarnan.
Rannoch Moor
This is a big one. North of loch Tula, the way climbs to Am Mondah Dubh, or the Black Mount. Here you arrive at a 50 square mile expanse of upland bog called Rannoch Moor. All around its circumference, enormous mountains rise to the sky, but for the next 8 miles, you are on a flat track all the way to Kingshouse, simply gawping at the scale of it all. Every step brings you closer to the Way's biggest pin-up: the 3000-foot pyramid of Stob Dearg. This is the lead shoulder of Buachaille Etive Mòr, 'the great shepherd of Glen Etive'
The Devil's Staircase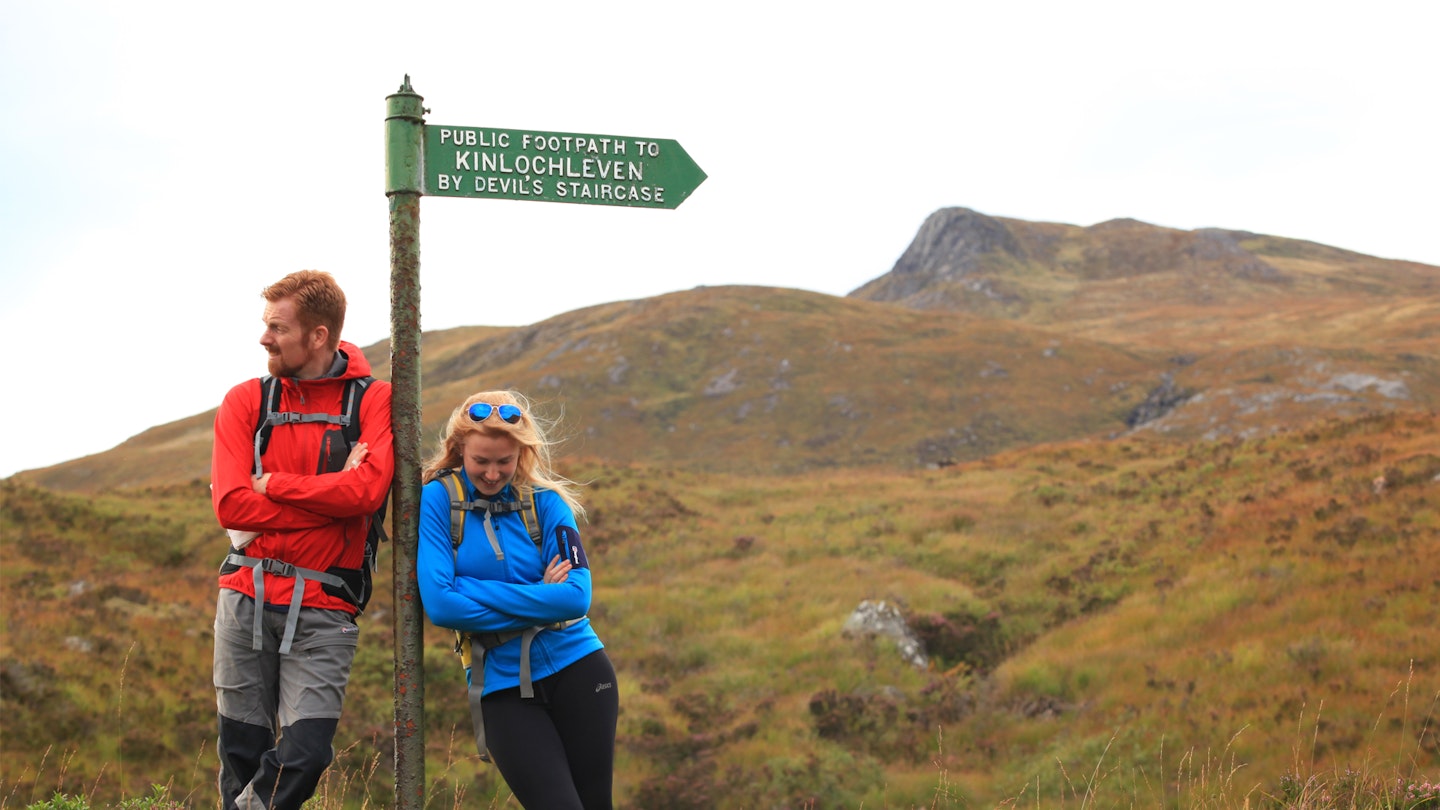 The exit from Rannoch Moor is via this ancient drove road, which climbed the south flank of Stob Mhic Mhartuin. There's a great excuse for taking plenty of pauses; with every step, Buachaille Etive Mòr becomes more impressive behind you, as does the view down Glen Coe, including the famous Three Sisters. The Way then winds through high country before dropping down Kinlochleven.
Glen Nevis
After passing through the empty mountain corridor of Lairig Mòr, the Way emerges into Scotland's most famous glen – right opposite the great hulk of Ben Nevis. A lot of walkers finish the Way by climbing the Ben itself, but it is by no means a requirement. Many simply bimble down the glen and make for a cup of tea (or something slightly stronger) at the end of the trail in Fort William.
Get half-price digital OS Maps. Trail and Country Walking magazine members get 50% off an annual subscription to OS Maps for 12 months. Find out more here.
Don't forget to subscribe to the Live For The Outdoors newsletter to get expert advice and outdoor inspiration delivered to your inbox!