There's nothing quite like walking in the Scottish Highlands. Many peak baggers are drawn north by Scotland's 282 Munros (peaks over 3000 feet) but soon discover there's so much more to the many wild and challenging landscapes that make up the Highlands.
Ben Nevis, Britain's highest mountain, is the star attraction but there is a lifetime of adventure to be found in the magical peaks of the Cairngorms, Glen Coe, Torridon, Assynt, the Scottish islands and much more. There are way too many great routes to mention, but here are five of our favourites.
Don't forget Trail magazine members get 50% off an annual subscription to OS Maps, where you can download digital routes for all of these walks.
1. Ben Nevis, via The CMD Arete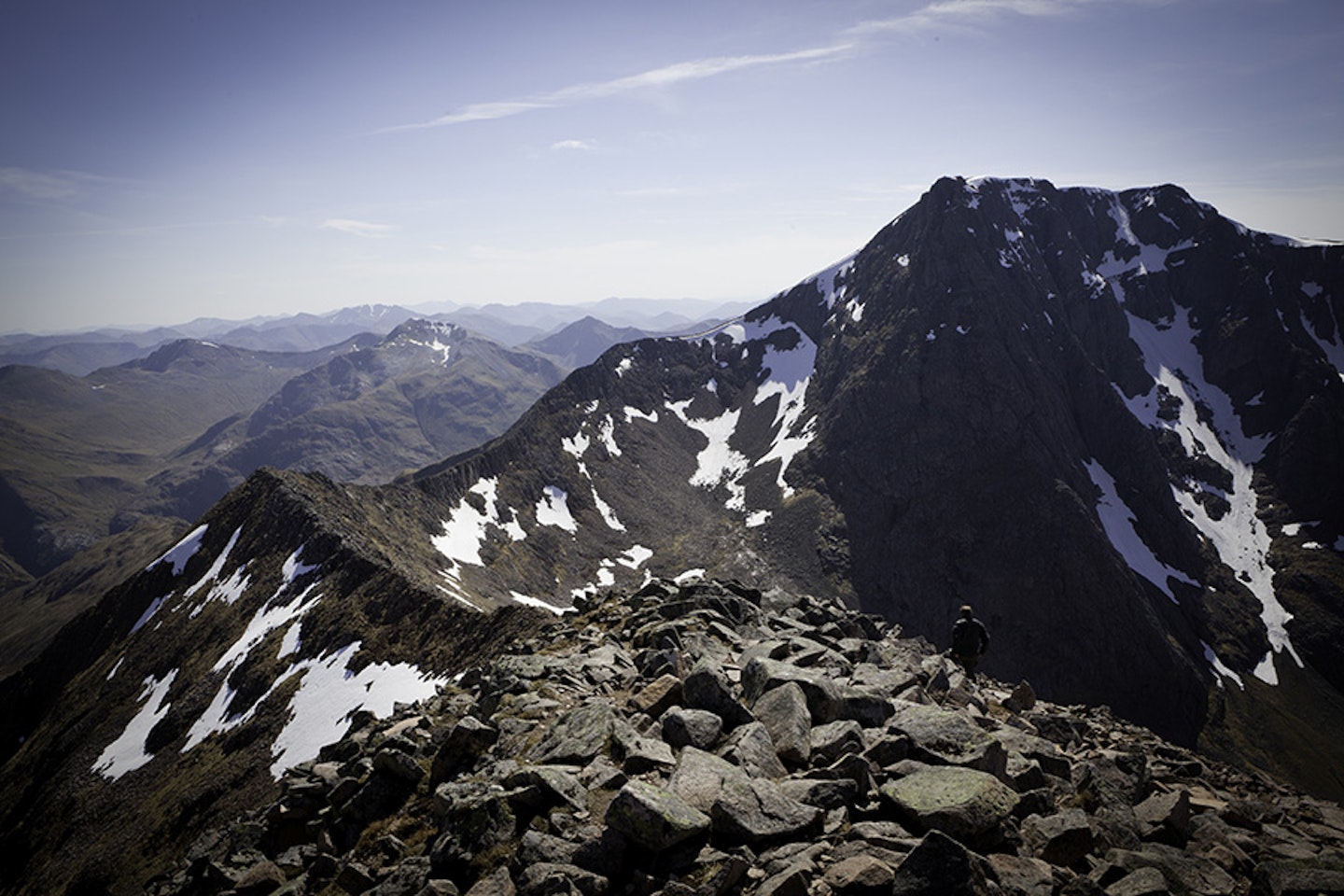 What better way to introduce yourself to the Highlands than by climbing Ben Nevis, an ancient giant of the Grampian mountains and the tallest peak in the UK at 1345m above sea-level. There are several great routes up 'The Ben' and those completing the popular National Three Peaks Challenge typically ascend via the Mountain Path, which starts in Glen Nevis and zigzags up the rounded and scree-covered western flank. For a more adrenaline-filled ascent with plenty of exposure, we recommend the Càrn Mòr Dearg (CMD) Arete. A fairly long but technically easy Grade 1 scramble requiring a good head for heights, this airy, narrow, rocky ridge eventually connects you to the summit of Ben Nevis after you've bagged the neighbouring peaks of Carn Beag Dearg (1010m), Carn Dearg Meadhonach (1179m) and Càrn Mòr Dearg (1220m). Should the weather be kind to you, spectacular views of the North Face of Ben Nevis are guaranteed, as you circle around the head of Coire Leis towards the roof of Britain. Parking is available from the North Face Car Park.
Get Trail magazine's Ben Nevis via the CMD Arete digital route
2. Beinn Alligin, Torridon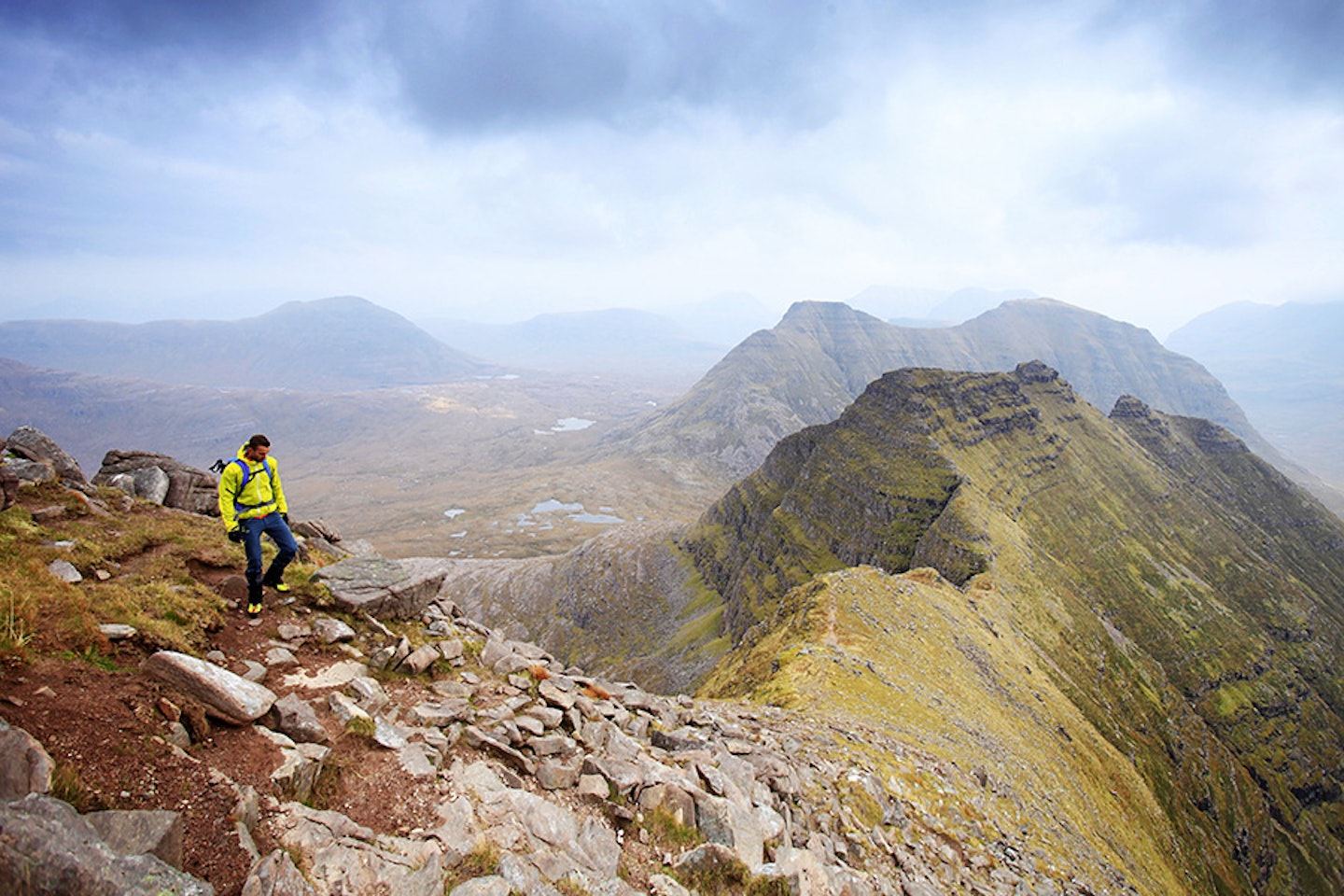 Gaelic for 'Jewelled Hill', a full traverse of Beinn Alligin is arguably the easiest of the three famous Torridon peaks (the others being Liathach and Beinn Eighe), yet more than equal in terms of quality, drama and outstanding views. This scrambly horseshoe takes you over two Munros, Tom na Grugaich (922m) and Sgurr Mor (986m). For the well-seasoned and confident scrambler, the route wouldn't be complete without exploring the iconic turrets of the Horns of Alligin. A strenuous but fairly straightforward scramble of the Na Rathanan ridge is rewarded with exceptional views of the many standalone peaks rising around you, although most of the tricky stuff can be avoided on a bypass path to the right. This classic circular route is one of the best mountain days in Scotland, starting and finishing beside Loch Torridon in one of the most impressive Highland regions.

3. Buachaille Etive Mòr, Glen Coe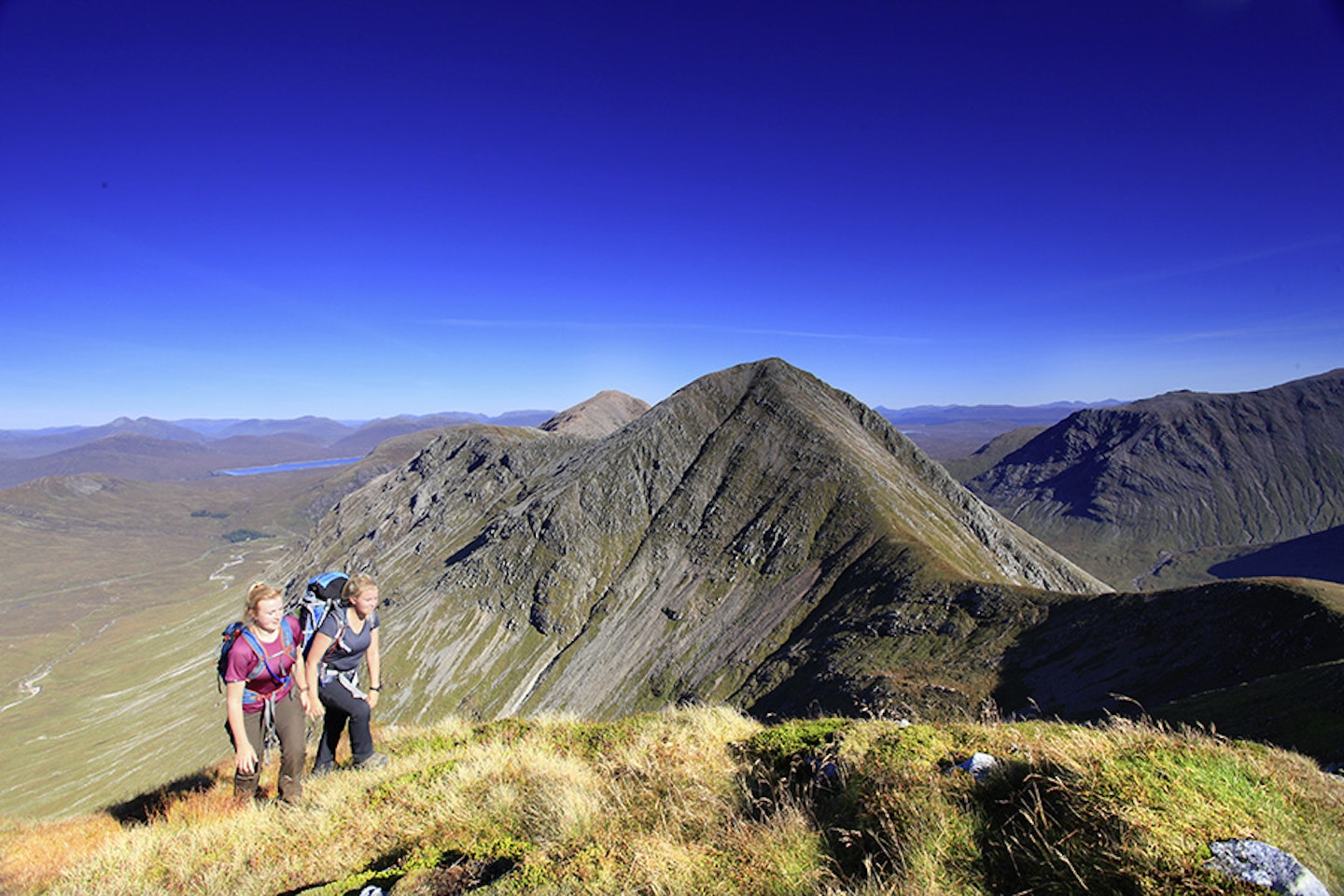 Situated at the head of beautiful Glen Etive and Glen Coe, the immense tower of rock known as 'The Buckle' is one of Scotland's most loved and photographed mountains. Buachaille Etive Mor's rocky, triangular features and shattered cliffs make it one of Britain's most iconic peaks when captured from the nearby A82 and it can be seen from miles away. The mountain features an 8km ridge walk from the south-west to north-east, with the Munros of Stob Dearg (1022m) and Stob na Broige (956m) at either end. You can ascend up to the summit ridge via Coire na Tulaich and traverse four peaks along the way before descending back towards the road via Stob Dearg. A long and strenuous day of walking will be rewarded with spectacular views stretching as far as Ben Nevis. For experienced scramblers and mountaineers, Curved Ridge is the stuff of legend, but not one for the fainthearted as it isn't far off a full rock-climb. Car parking is situated alongside the A82.

4. Suilven, Assynt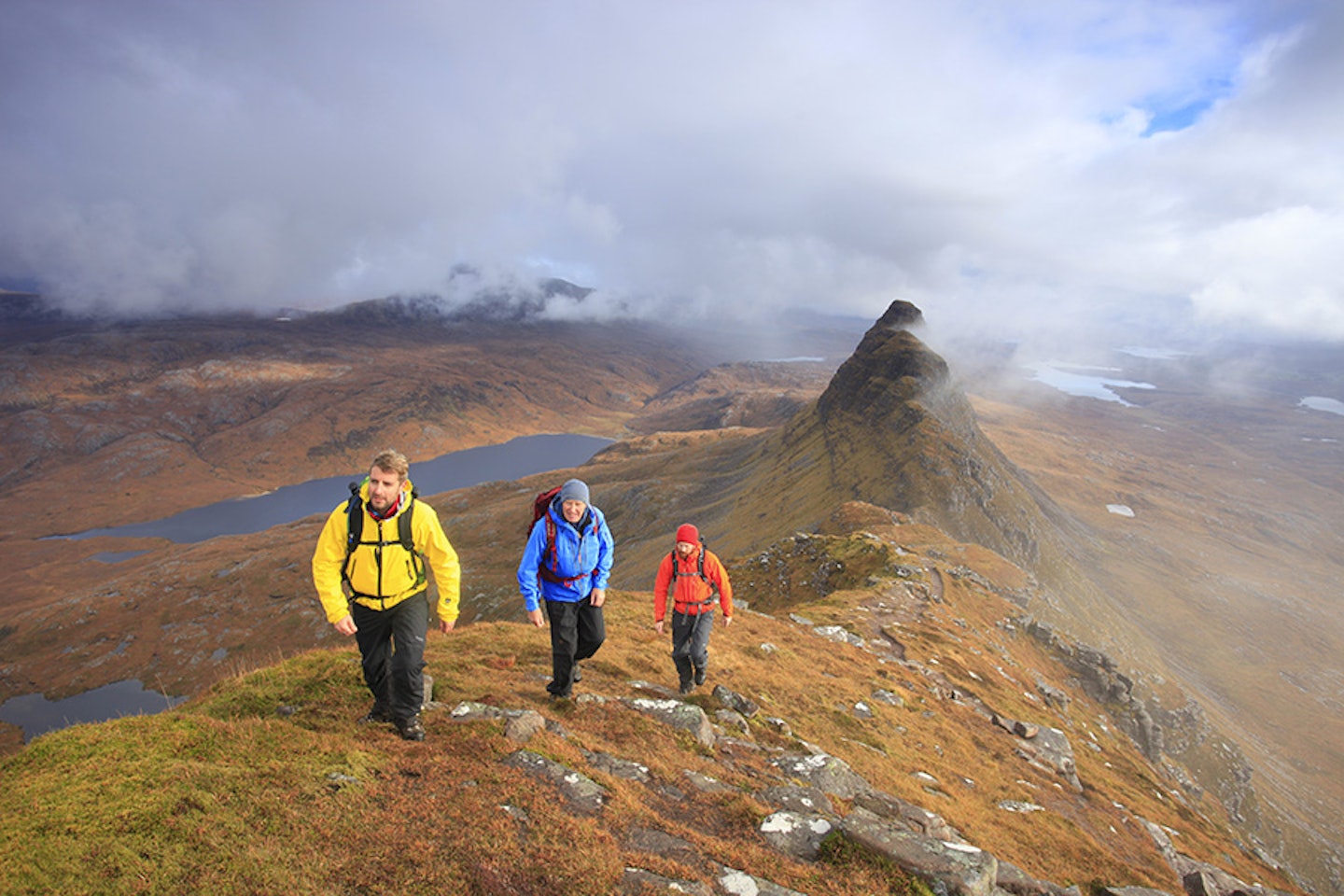 Located within the wild and spectacular Assynt region of north-west Scotland, this formidable pillar of rock appears as though it has been carefully placed by the mountain gods into an otherworldly landscape, yet surprisingly it's not impossible to climb. Just shy of Munro and Corbett status at a modest 731 metres and achievable via several routes, an ascent of Suilven is a tough challenge but one that can be met by experienced hillwalkers. This is a remote peak even by Scottish standards, isolated in a barren 'cnoc & lochan' landscape and requiring a long walk-in just to reach the peak on the regular route from Lochinver. Once you gain the saddle between Suilven's two main peaks – Caisteal Liath (731m) and Meall Meadhonach )723m) – the full enormity of the Assynt region will hit you as you gaze south towards Cul Mor (849m), Stac Pollaidh (612m) and the sprawling monster of Ben More Coigach (743m). The higher parts of the mountain are rocky and steep so you'll need scrambling skills to tag both summits, from which you'll be treated to panoramic views stretching across one of Britain's truly great wildernesses.

5. Bidean Nam Bian, via the Lost Valley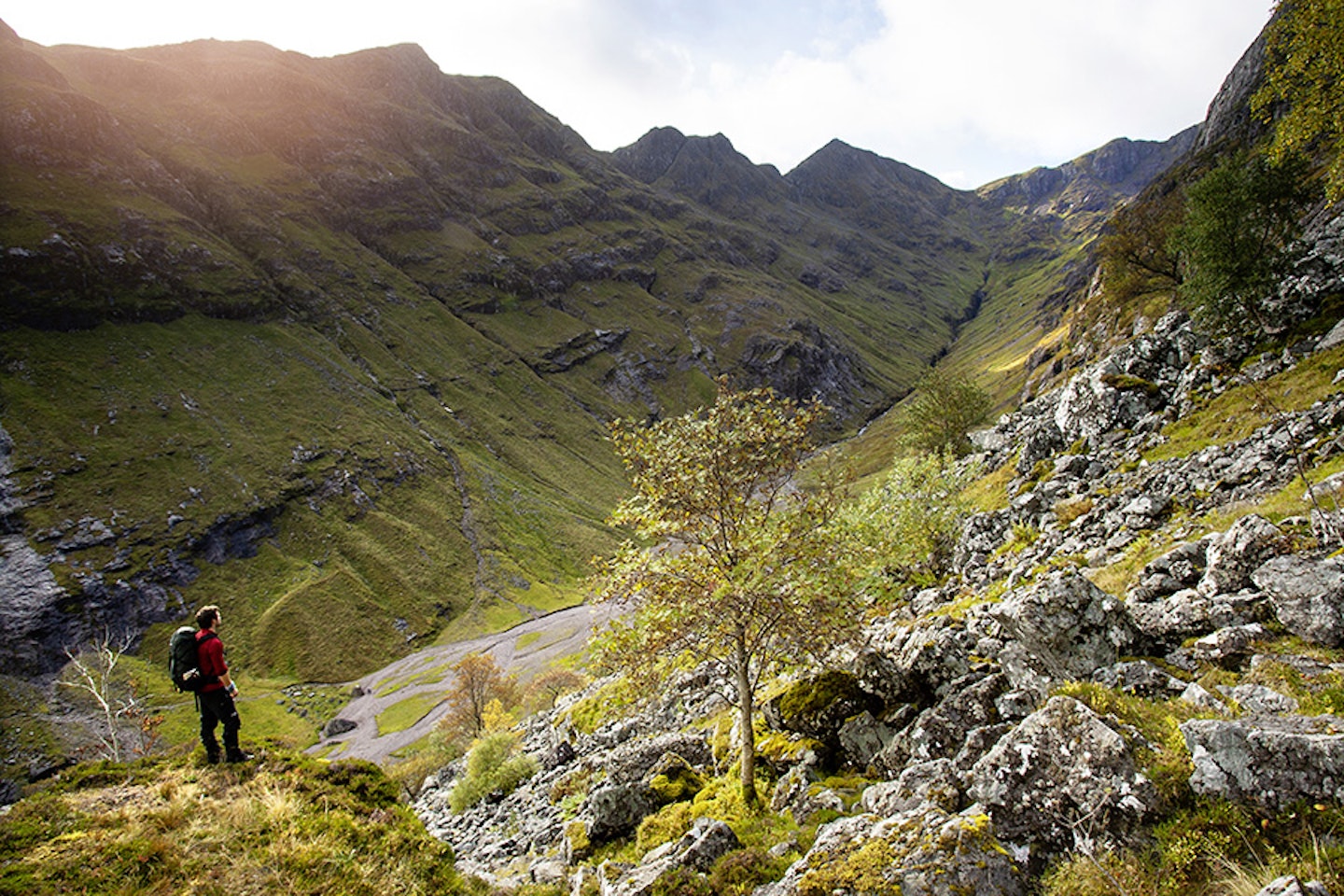 Explore the Lost Valley of Glen Coe to discover dramatic and enchanting scenery, hidden away in the deep green folds of a huge and complex mountain range. Comprised of multiple ridges and subsidiary peaks, Bidean nam Bian (1150m) is one of Scotland's most impressive mountain massifs and can be approached from many angles. We recommend starting from the roadside of the A82 in Glen Coe, then trekking high into the hidden and tree-filled gorge of Coire Gabhail (the Lost Valley) before climbing towards Bidean's true summit via Lost Valley Buttress. Spectacular views of the surrounding Glen Coe peaks, the Ben Nevis range and the Ardgour hills are in abundance and you'll feel like you have the whole of Scotland beneath your feet when you reach the 1150m top, which marks the highest point in Argyll.
Get Trail magazine's Bidean Nam Bian via the Lost Valley digital route

Get HALF-PRICE digital Ordnance Survey Maps for the whole of Great Britain by subscribing to Trail magazine.
Need help with OS Maps? Try the OS Maps online FAQ and OS Maps quick start guide for further assistance