Welcome to our big guide to the 3 Peaks Challenge. Here, you'll find all the information and inspiration you need to climb Ben Nevis, Scafell Pike and Snowdon – the highest mountains in Scotland, England and Wales – safely and responsibly, however you choose to do it.
Whether you've climbed hundreds of peaks or have never set foot on a hill, we've got the best advice on making the most of this infamous triple peak adventure. Here, we'll answer common questions; give you advice on the gear you'll need; tell you how to coax your car through three countries and more than 450 miles; help you get fit ahead of the challenge; and more besides.
We've also got in-depth guides on Ben Nevis, Scafell Pike, and Snowdon.
In this guide:
Get half-price digital OS Maps! Trail and Country Walking magazine members get 50% off an annual subscription to OS Maps for 12 months! Find out more here.
What is the 3 Peaks Challenge?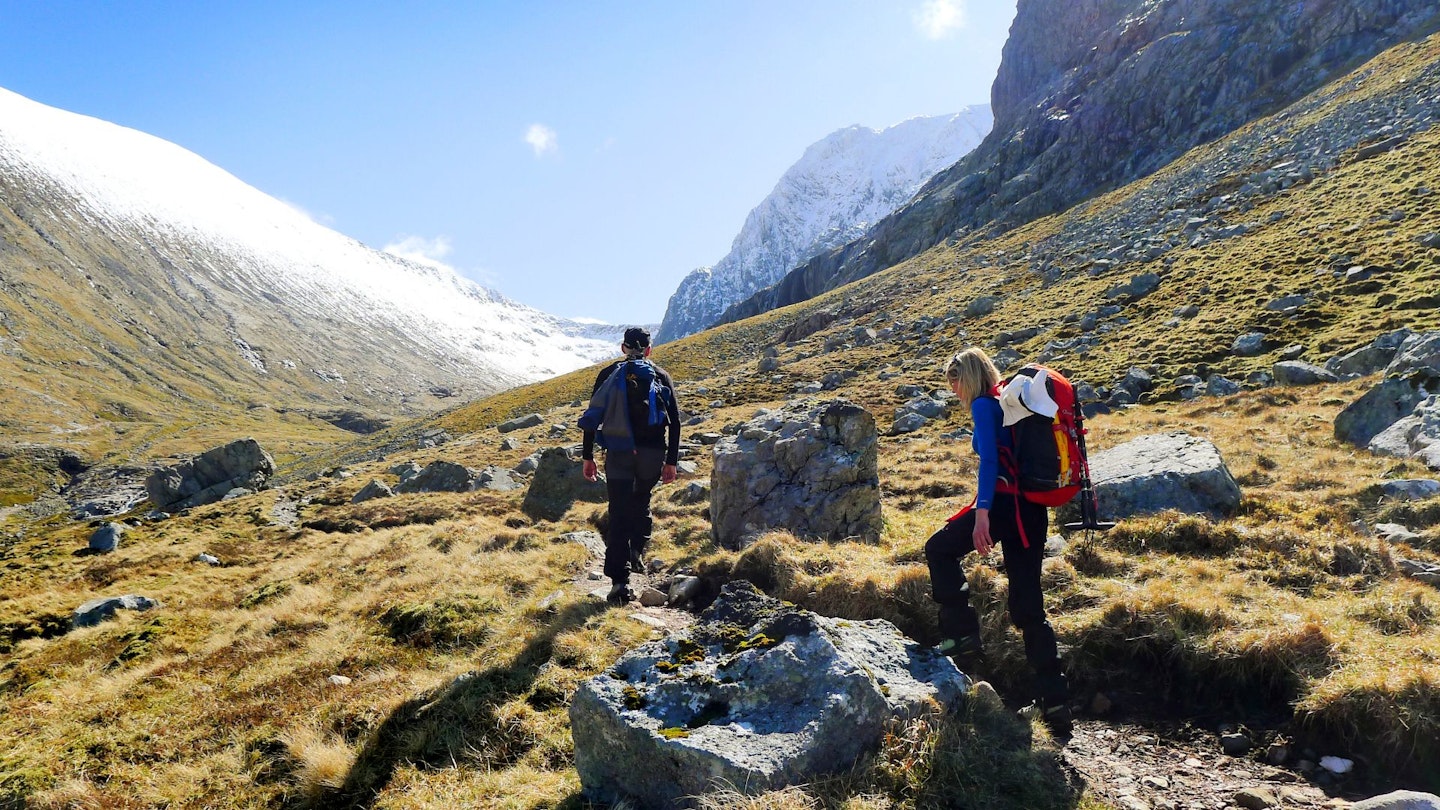 The national Three Peaks Challenge consists of climbing the highest mountains in Scotland, England and Wales in a single, continuous push. We are of course talking about Ben Nevis – the highest mountain in the British Isles (1345m/4,411ft) – in the West Highlands of Scotland; Scafell Pike (978m/3,209ft) in the English Lake District; and the mighty Snowdon (1085m/3,560ft), the celebrated centrepiece of Snowdonia National Park in north Wales.
It is estimated up to 30,000 people undertake the Three Peaks Challenge every year between June and October. Many do it for charity, and many for their own personal satisfaction. This popularity has also led to the need to tackle the peaks in a way that is responsible. It's vital we walkers be considerate of the fragile ecosystems on the mountains and the communities that live around them.
How hard is the 3 Peaks Challenge?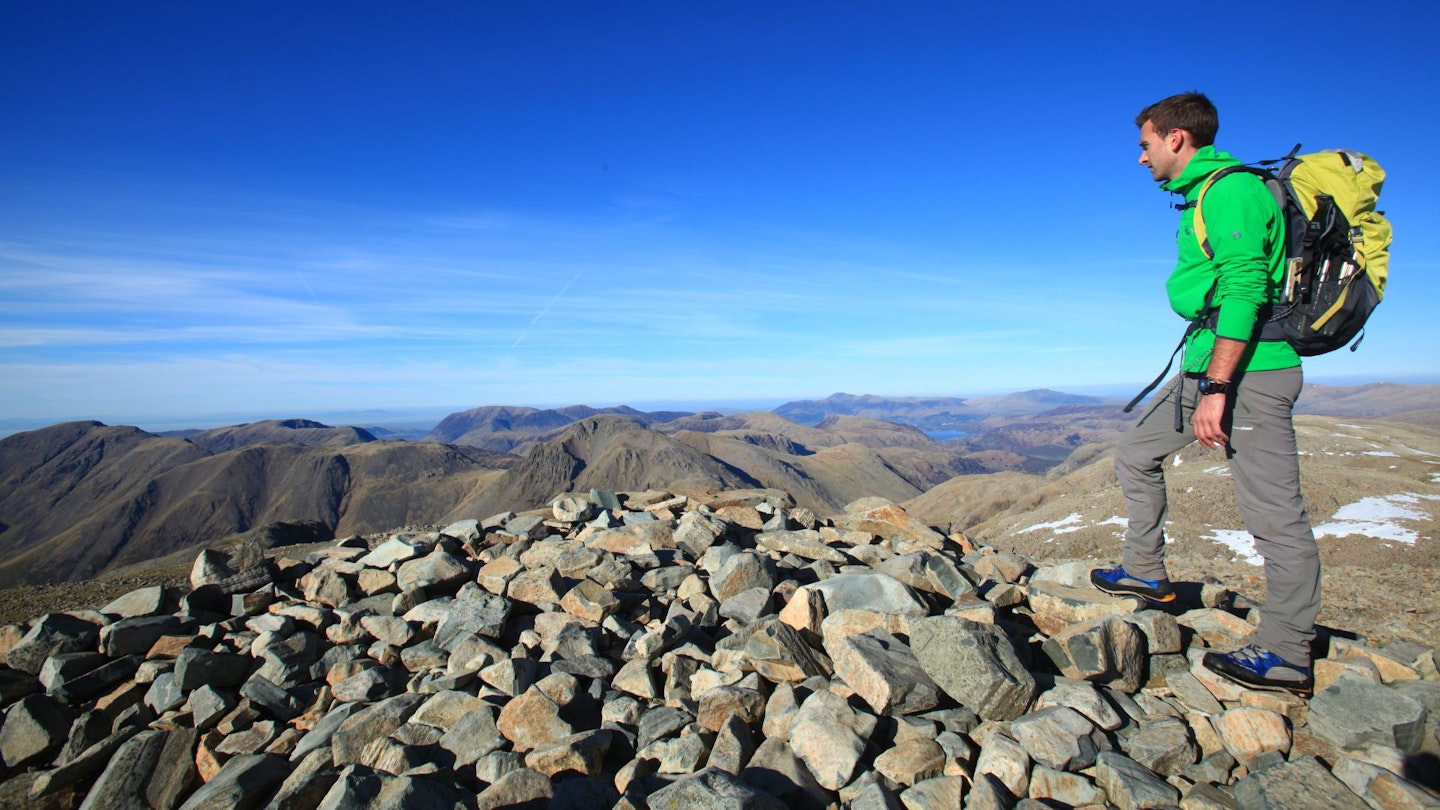 To climb all three in sequence requires good basic fitness, stamina and fortitude in the face of sometimes testing mountain weather.
You can reach all three summits without being a 'mountaineer'. However, preparation is key. The terrain on these peaks is varied and technical. Mountain weather can be extreme, and its severity can take even experienced walkers by surprise.
It's wise to choose a route to the top of each peak that best suits your skill. There are a variety of available routes on each peak for first-timers to experienced hillwalkers looking for a challenge.
How far is the 3 Peaks Challenge?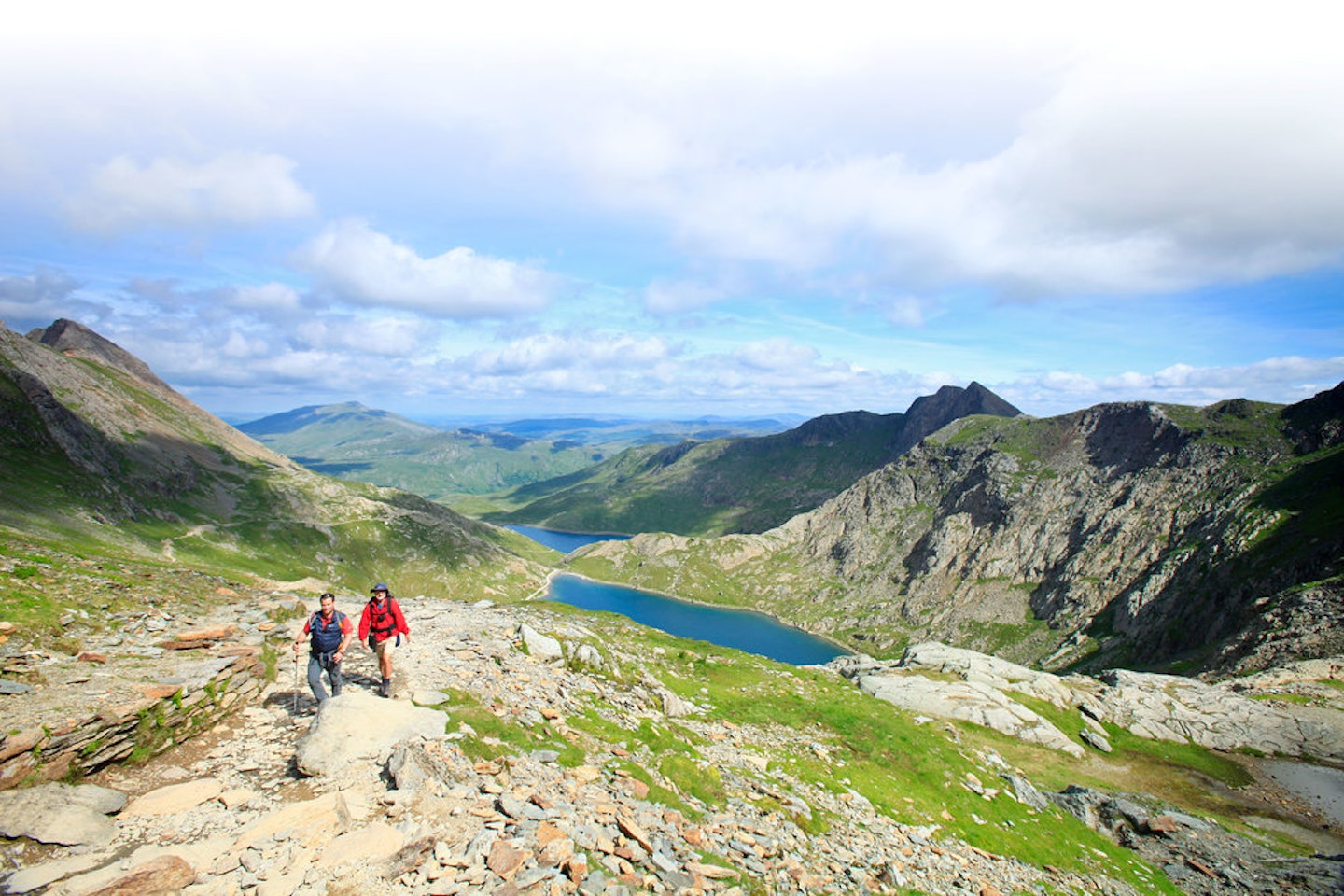 The total walking distance is more than 20 miles but varies depending on the routes you take. Complete the challenge and you will have climbed over 3,000 vertical metres in three countries. That's equivalent to 30 Big Bens, 10 Eiffel Towers or 1,150 domestic staircases.
Popular routes on each peak
Ben Nevis: via the Mountain Track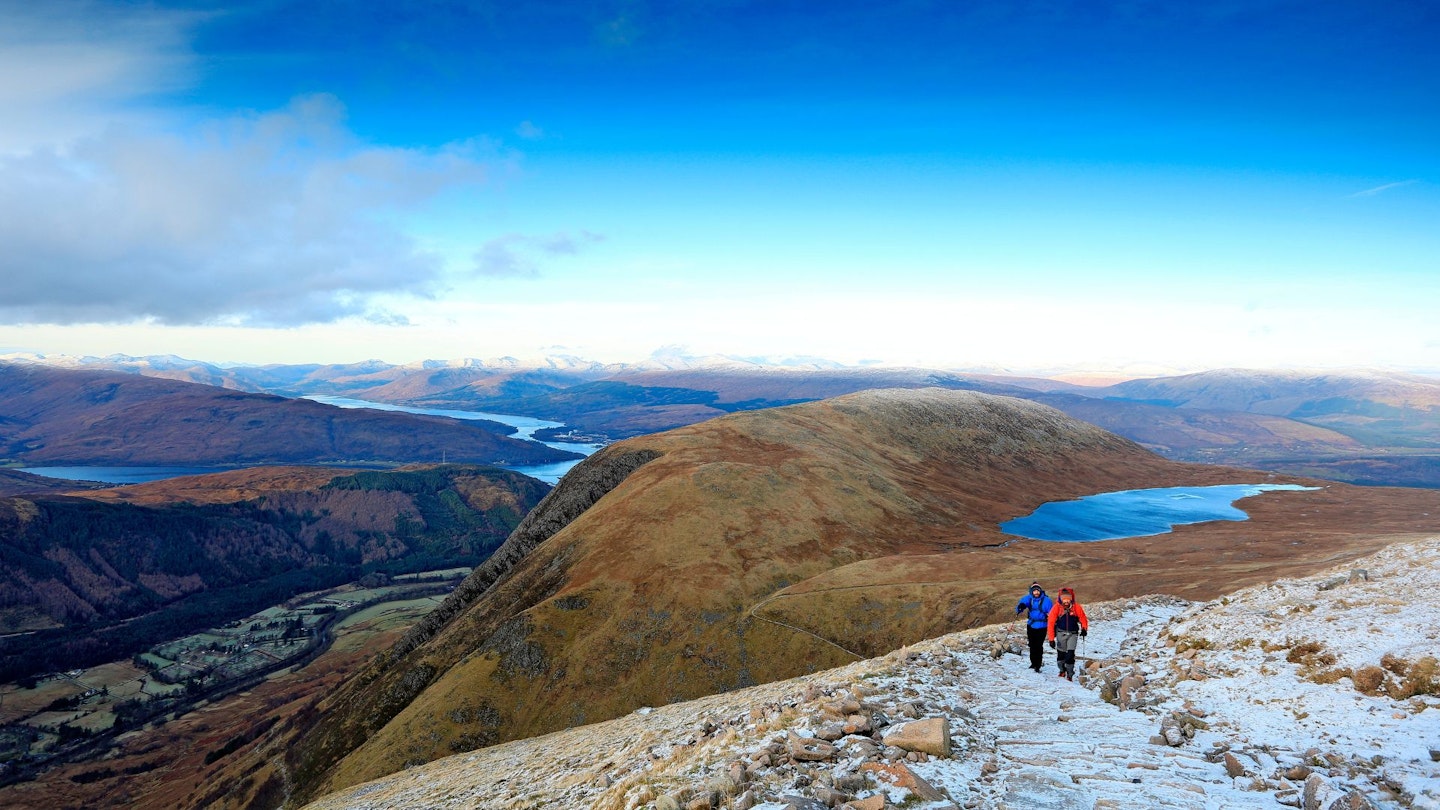 At 1344m, the highest mountain in the UK provides a straightforward but relentless challenge. The main mountain path traverses steeply upwards before zig-zagging up through loose rock to the summit plateau. Though broad, careful navigation is needed in winter or low visibility with sheer cliffs dropping straight down the north face but in good weather the views are glorious. Head back down the same way.
Start/finish: Glen Nevis Visitor Centre
Distance: 14.8km (9.2 miles)
Ascent: 1332m (4370ft)
Time: 6 hours 30 minutes
Scafell Pike: via Hollow Stones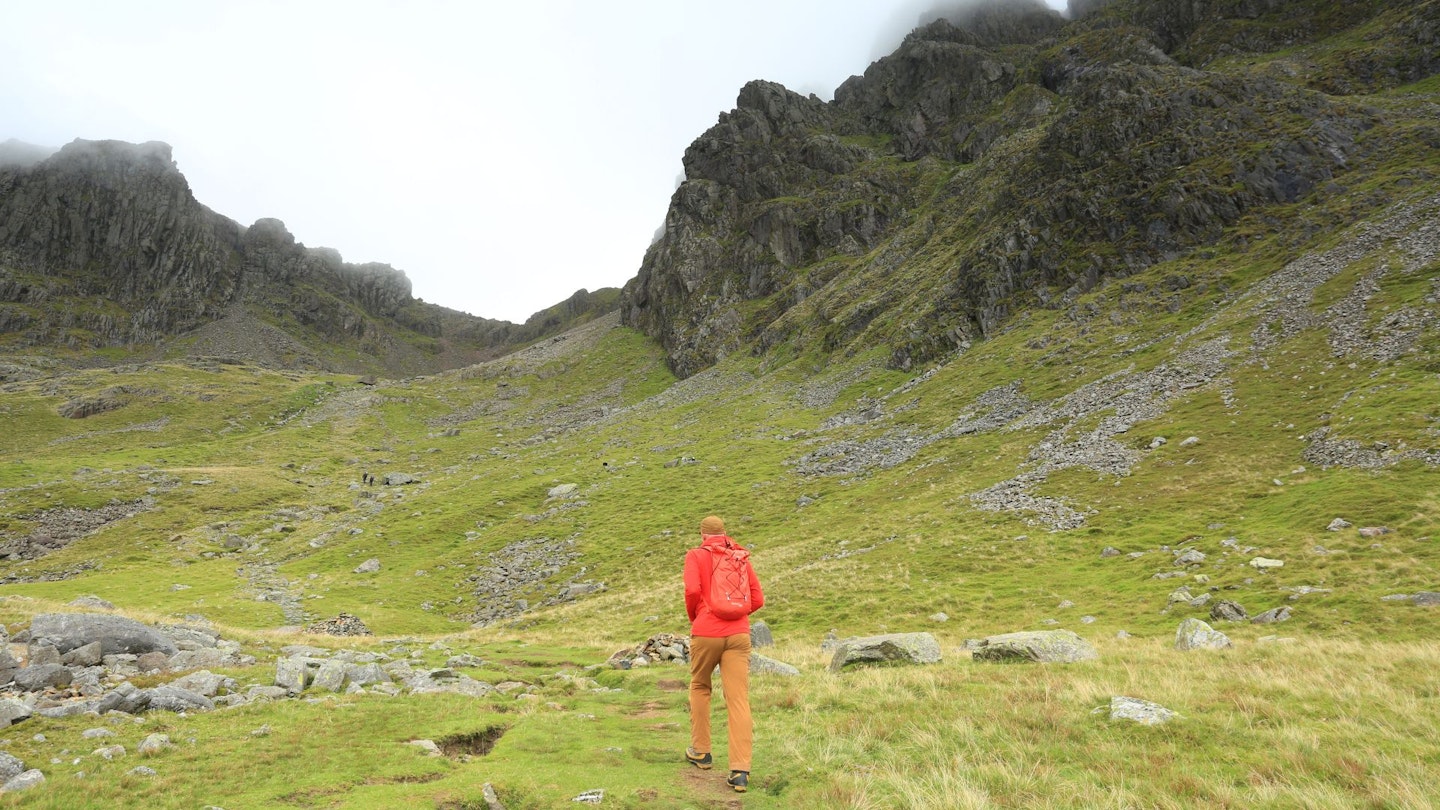 The most straightforward route starts at Wasdale Head campsite and follows Lingmell Gill up to Lingmell Col where you turn upwards for a short, steep climb through scree slopes. Your biggest danger is in taking a wrong turn on your way back down, whether that's off the summit or at Lingmell Col, which can send you off miles in the wrong direction. Always double-check, especially in poor weather. Otherwise, you'll follow well-made paths all the way to the top of England.
Start/finish: Wasdale Head
Distance: 8.92km (5.54 miles)
Ascent: 901m (2956ft)
Time: 4 hours
Snowdon: Pyg Track and Miners' Track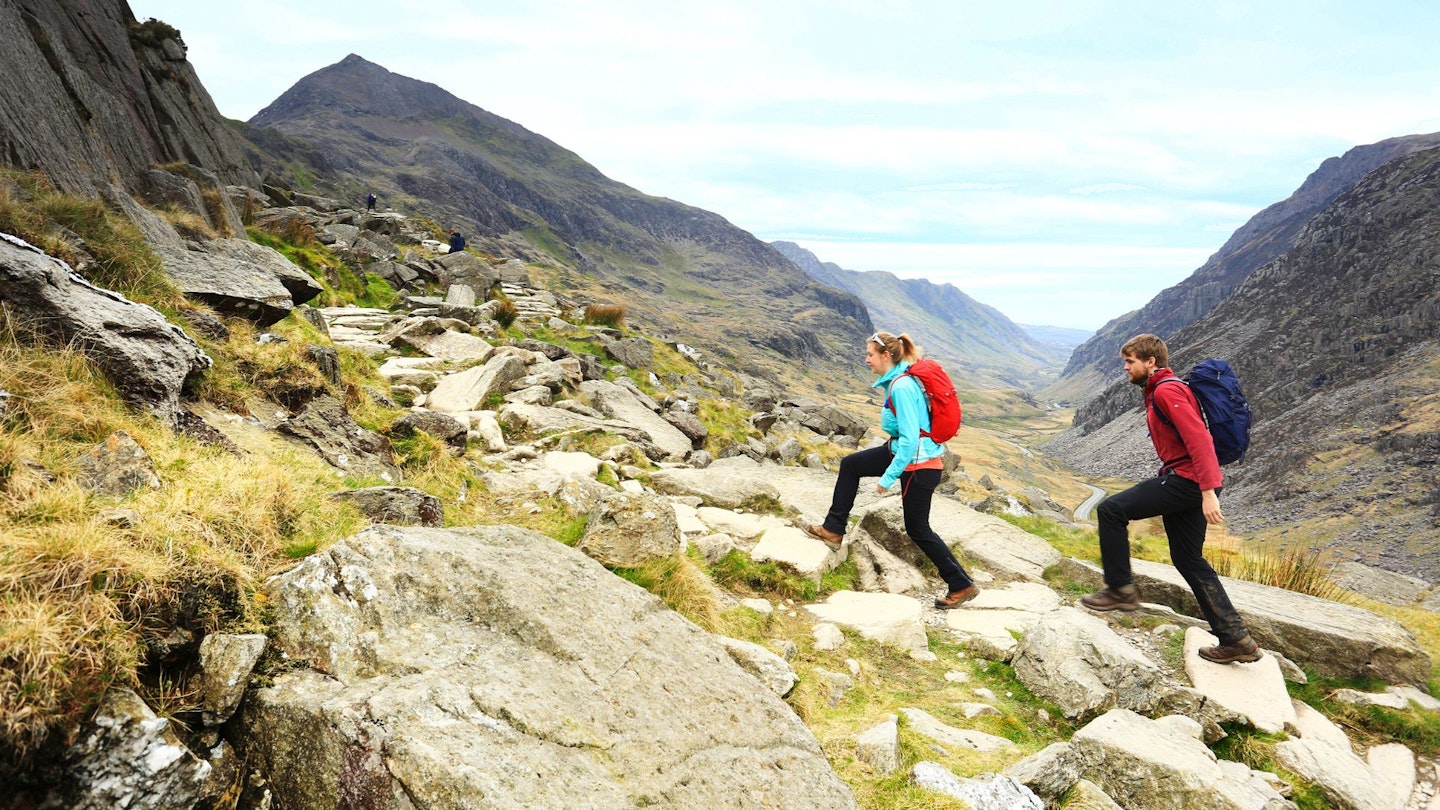 The last hill in the challenge is usually tackled via the classic Pyg Track and the Miner's Path back down. Both are generally clear and easy to follow but by this point your legs and mind will be weary and, depending on when you arrive, parking may be a challenge. The scenery though is spectacular all the way to the top.
Start/finish: Pen y Pass
Distance: 11.8km (7.3 miles)
Ascent: 814m (2671ft)
Time: 4 hours 40 minutes
How long does it take?
The most popular way to tackle the 3 Peaks Challenge is in 24 hours. But evermore people are splitting it over three days. This plan of action remains challenging but is less frantic. Some go further and spread their 3 Peaks adventure over a leisurely week to allow them to enjoy these special places to the full.
What kit do I need?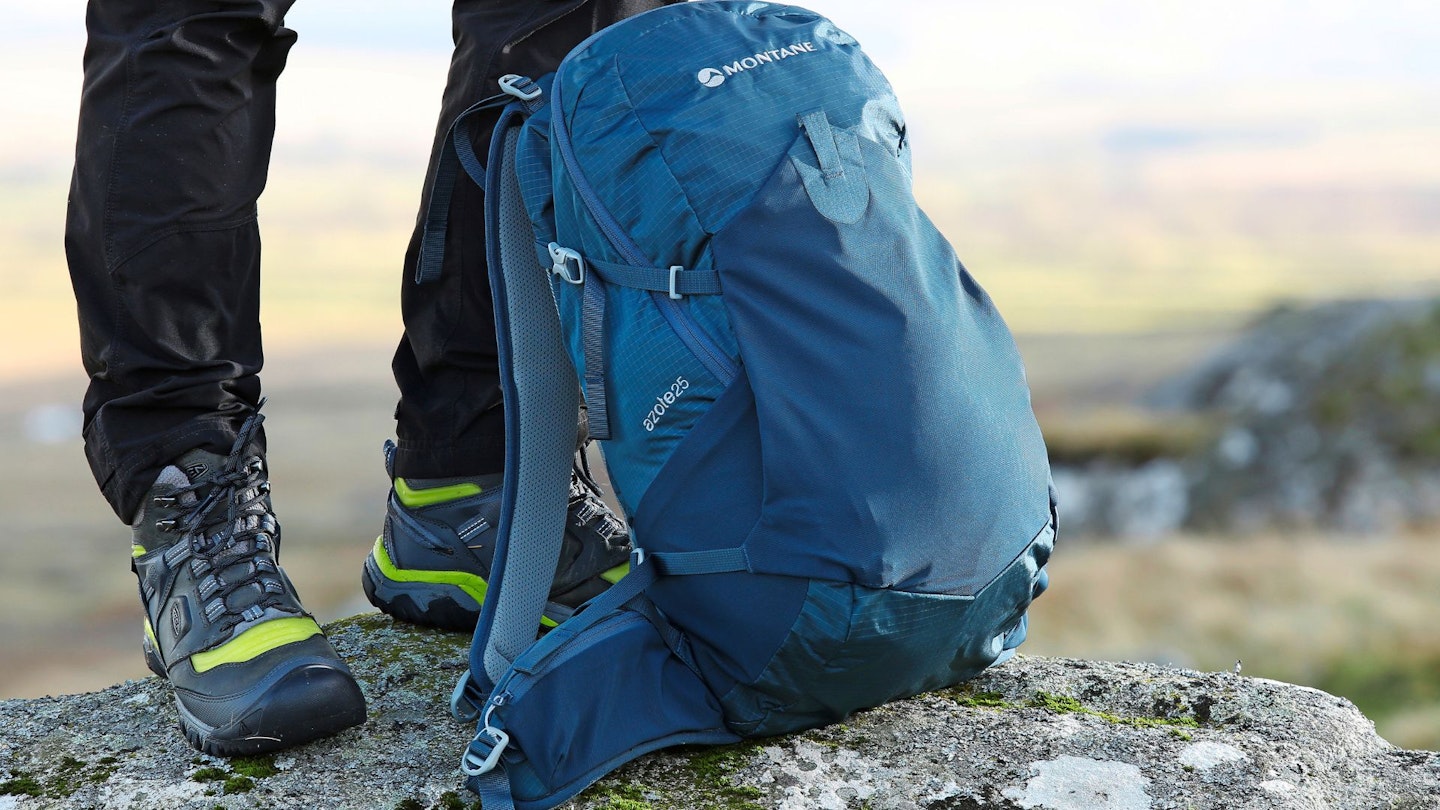 There are some essentials you need to wear, pack, and keep in the car. Take the right kit, and it makes all the difference.
On your person:
- Warm hat
- Waterproof jacket (a fully waterproof and breathable jacket with a hood)
- Walking trousers (dedicated walking trousers, not jeans)
- Backpack (up to 30 litres should be big enough, and with a raincover)
- Gloves (go for wind- and water-resistant)
- Gaiters (for extra weatherproofing and keeping out mud)
- Socks (Merino or quality synthetic walking socks are best – not cotton)
- Three-season boots (with the right fit)
In your pack:
- Warm layer (e.g., fleece)
- Insulated jacket (down or synthetic)
- Spare gloves and hat
- Rolltop dry bags (to keep your gear dry and organised)
- Headtorch (with spare batteries)
- Phone (fully charged)
- Sunscreen
- Water (at least 2L per mountain)
- High energy snacks (energy bars, trail mix, jerky, etc.)
- Sugary snacks (dried fruit, chocolate bars, etc.)
- High carb snacks (crisps, sandwich)
- Sunglasses
- Map and compass (and the ability to understand them)
- Basic first aid kit (thermal blanket, plasters, bandage, blister treatment, etc.)
- Walking poles (not essential but help take the strain on descents and aid ascents)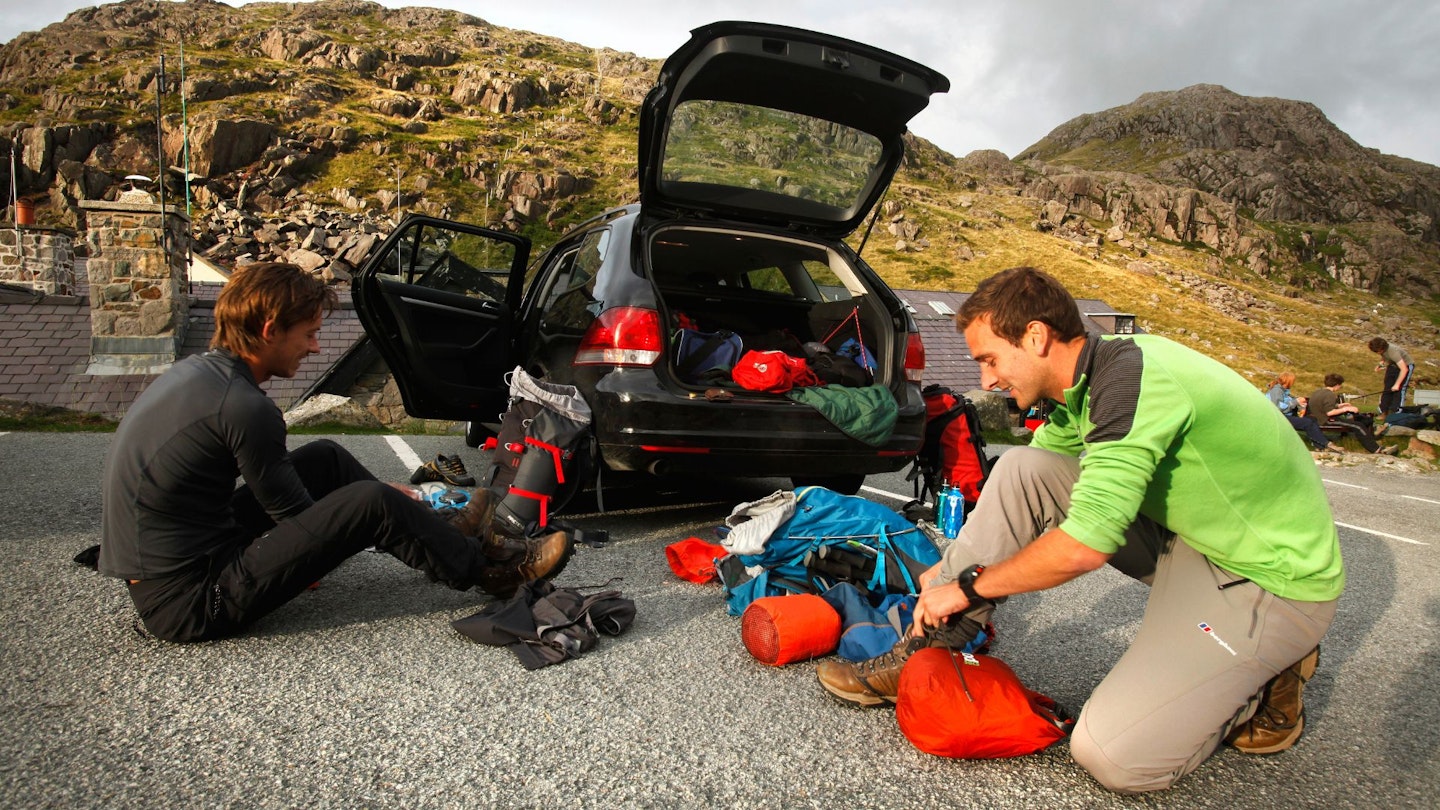 In the car
- Dry clothes and comfy shoes (great for travelling between peaks and afterwards)
- Phone charger (or power bank)
- Bottle with isotonic drink (DIY recipe: 800ml water, 200ml fruit juice, pinch of salt)
- Spare socks (a fantastic post-hike luxury)
- Food (for refuelling between peaks)
- Music and headphones
- Travel towel
- Inflatable pillow
How do I sleep during the challenge?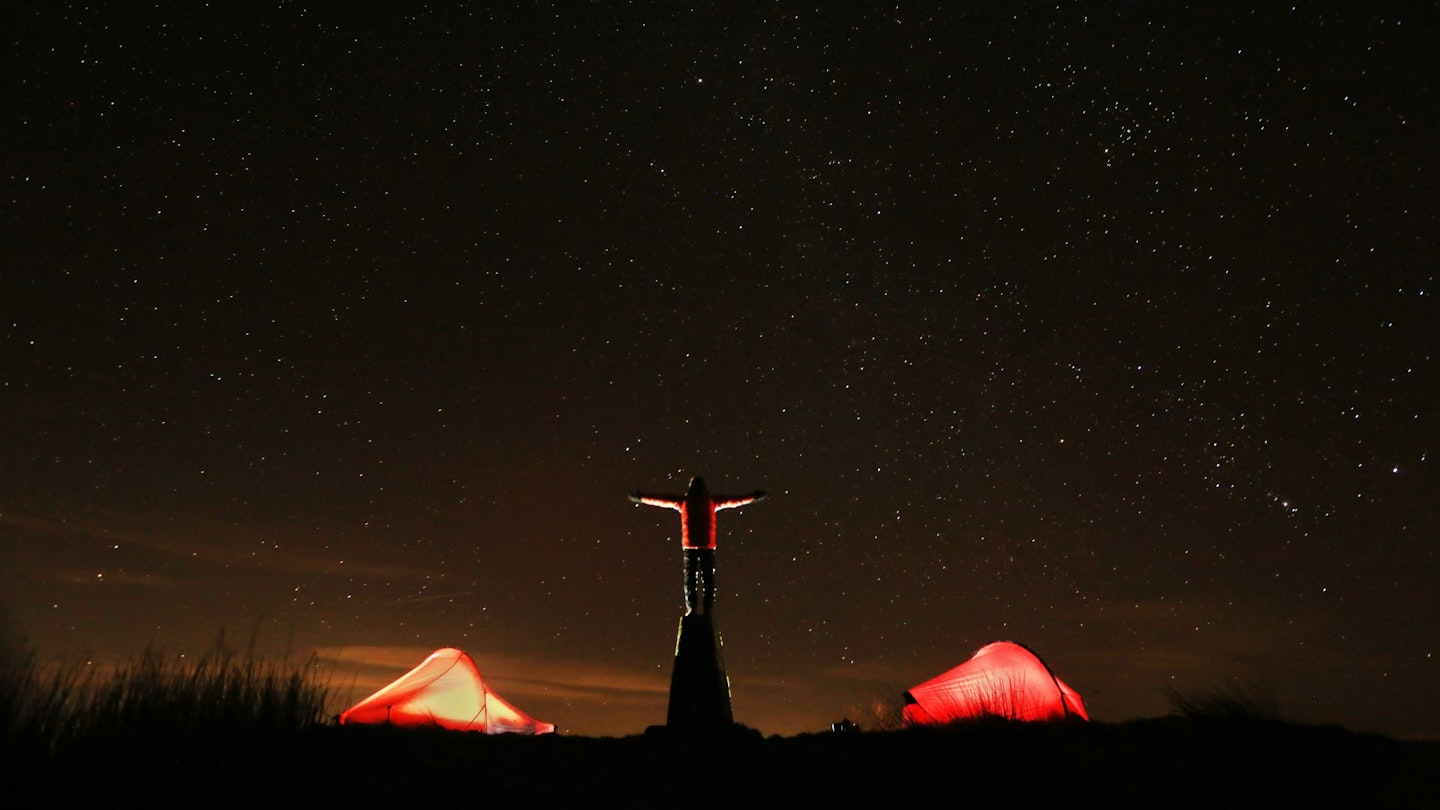 If you're doing the 3 Peaks Challenge in 24 hours, you can catch some sleep in the car between peaks. If you're taking more than 24 hours, you can camp or book other local accommodation if you wish. Just be aware summer is peak season and very busy.
Driving between the peaks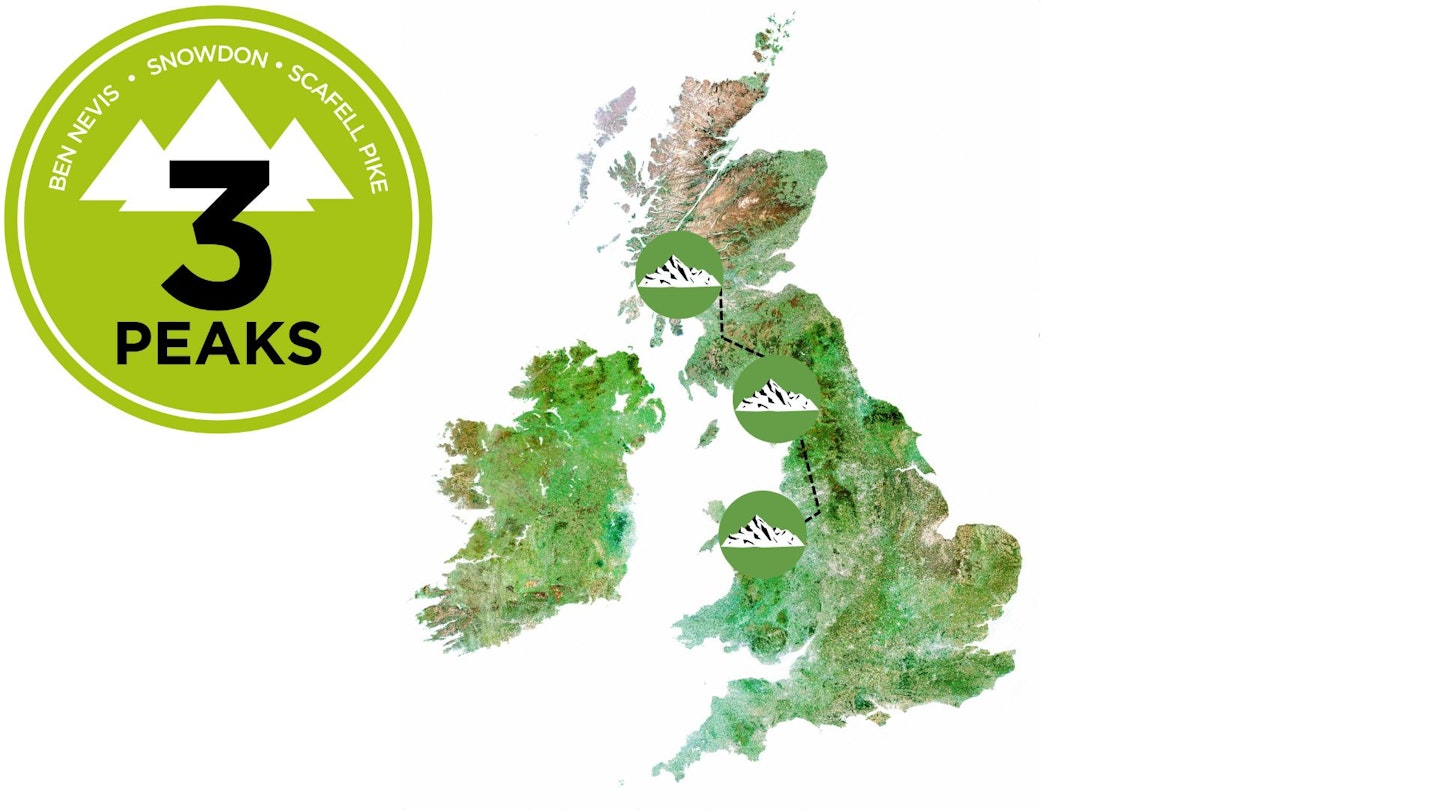 From Glen Nevis to Wasdale Head to Pen-y-Pass is 470 miles/756km, which is about 10 hours of driving. Ten hours of driving automatically to most hill times to negate case for speeding.
If you're undertaking a 24-hour 3 Peaks Challenge, you'll need a driver. Even if you're doing it over three days, it's still a good option.
The whole point of having a designated driver is to ensure the person behind the wheel is fresh. If that's you, take it easy the day before you set off. You'll also be the one on the phone and raising any alarms, so you'll have to be ready to spring alive even when you're not on the road.
Your passengers will appreciate blankets, pillows, eye masks and plenty of revitalising refreshments. Avoid anything too salty or full of caffeine. Music can wear thin on long journeys, so consider audiobooks or podcasts too.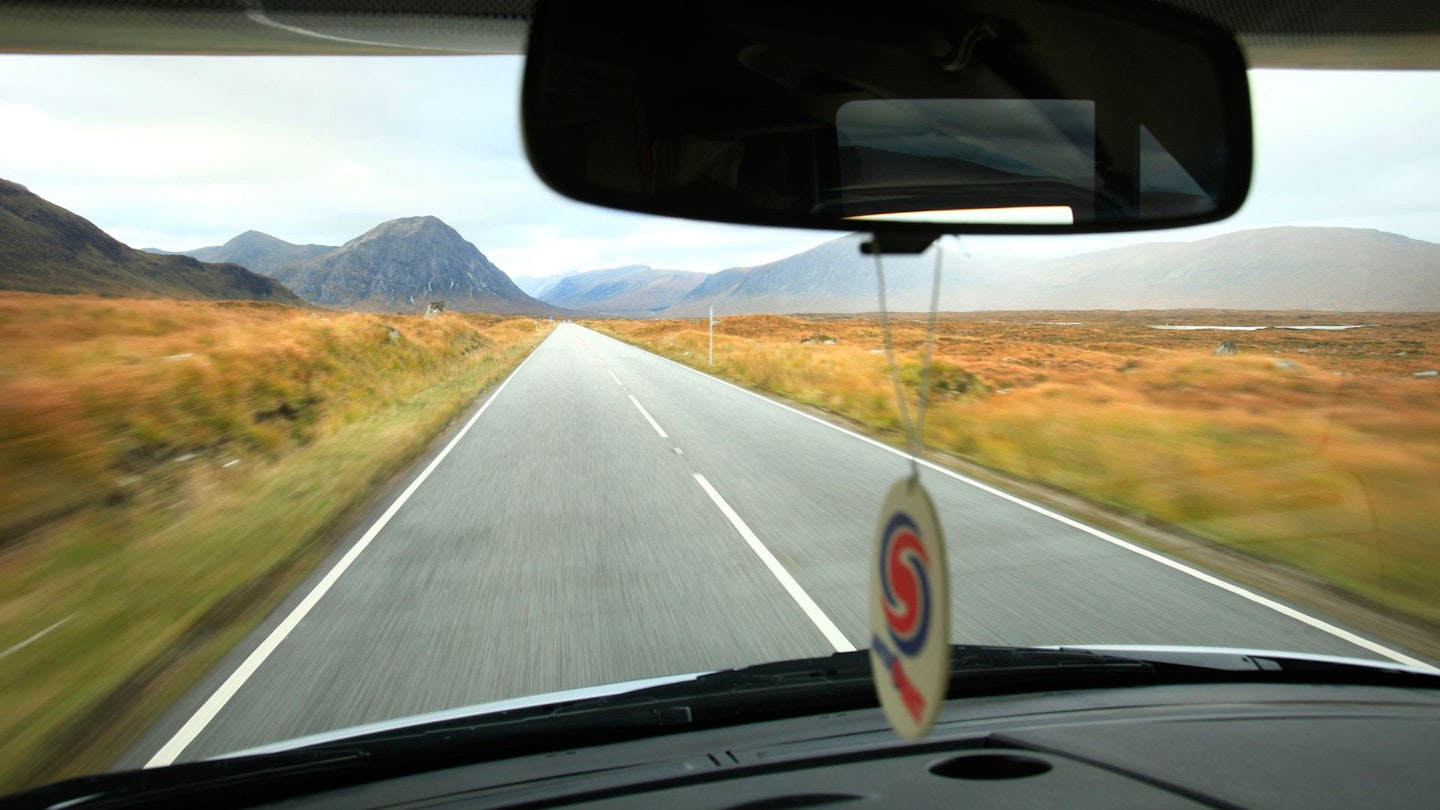 Take advantage of the downtime offered by your mountain-walking companions being out on the hill to grab some shut-eye, or at least some rest. Don't (as some people still occasionally insist on doing en masse) turn on the stereo and headlights, fire up the barbecue and have a roadside party in the small hours of the morning beneath the windows of slumbering residents.
With the pressure of a challenge that might have charity money at stake, you don't want your vehicle being the undoing of it. Ensure your tyres are in good order and have at least 3mm of tread, decent wipers, topped-up fluid reservoirs and air conditioning that works, if you've got it. Our colleagues at Parkers have excellent advice on how to do a DIY car check. Ensuring you have breakdown recovery cover is also wise.
Top tips for all 3 Peaks walkers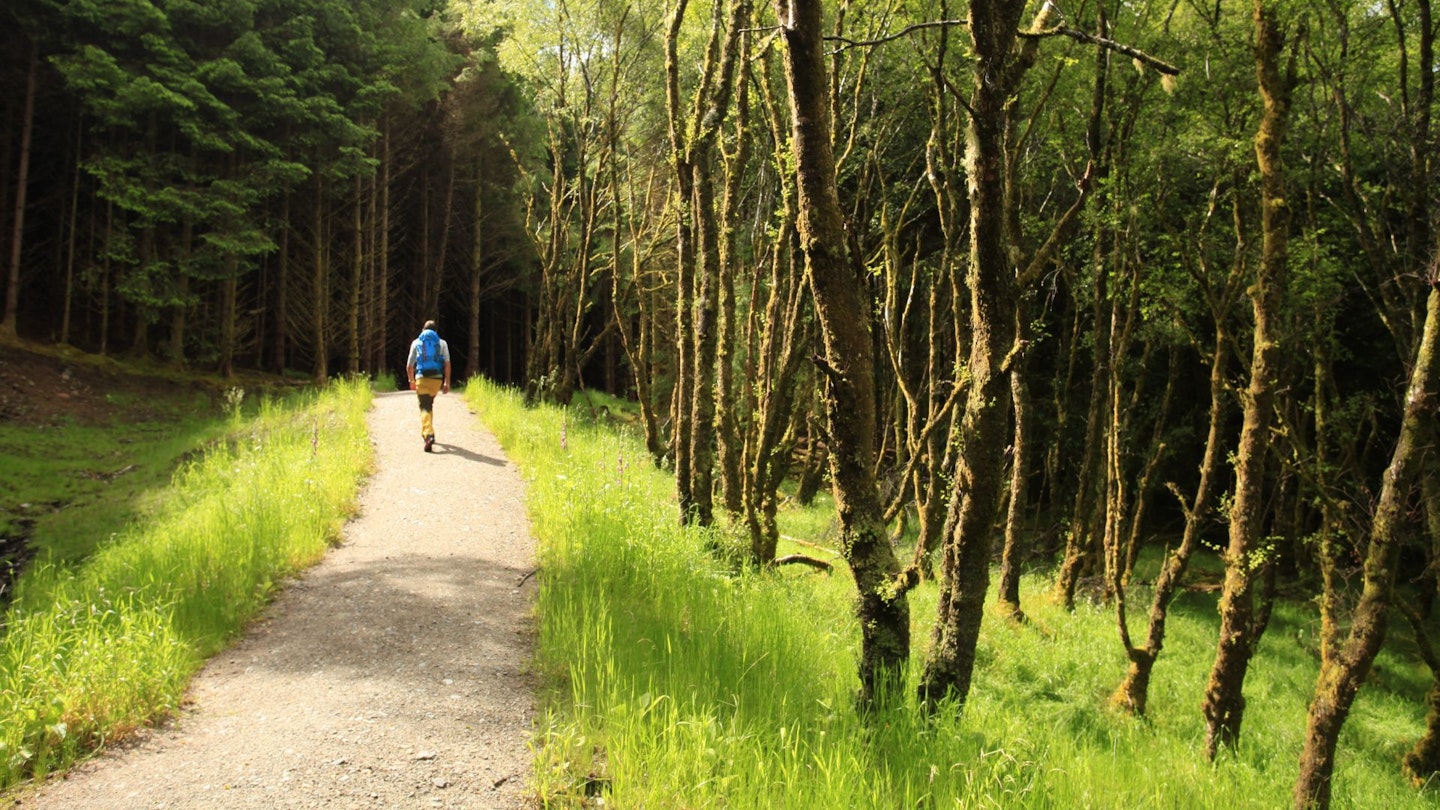 Leave no trace
Take whatever you bring to the mountain home with you, whether organic or not. That means litter, banners, water bottles, clothing and anything that has left your body and not landed in a purpose-built toilet. Don't flinch, a nappy bag, some Kleenex and a rustic outlook are all you need to pack (and all weigh very little). If you need to wee, do it away from water sources.
When walking, keep strictly to paths, not path edges.
Drive responsibly
If you're doing the challenge over 24 hours, you need a designated driver who isn't in your walking group, and who can sleep while you're on the hill.
The typical challenge involves around 10 hours of driving and 14 hours of walking. Park courteously at your destination, especially if arriving at night in small rural communities. If there's no room to park, get your driver to drop you off and pick you up later.
Schedule sensibly
It's best to avoid bank holidays, school breaks and the summer solstice if you can. Arrive at, and leave, a settlement outside the hours of 11pm and 5am if possible. And seriously consider breaking the challenge over three days. It's easier, more sensible and more fun.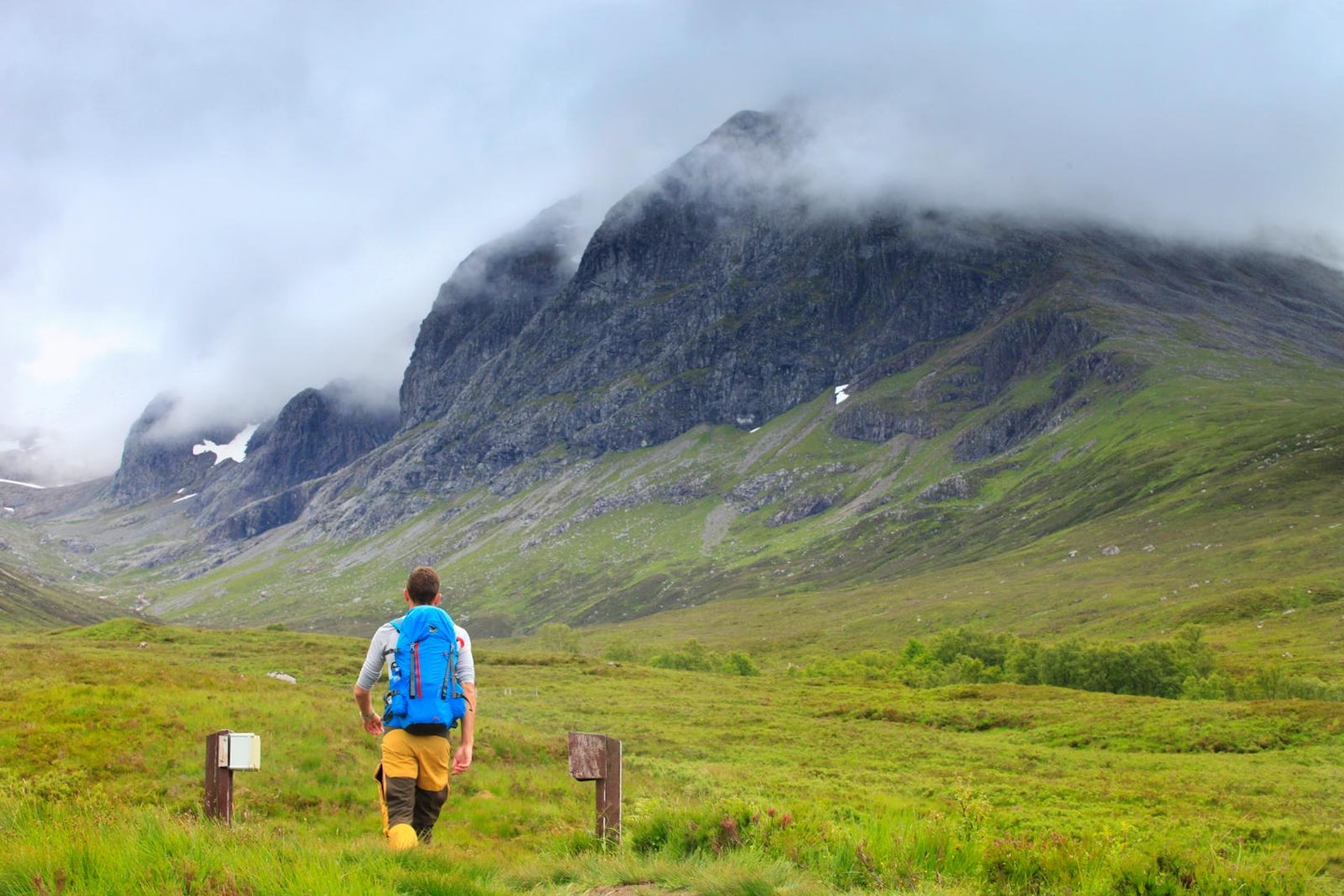 Group size
A limit of 200 people per event is considered the maximum by landowners and authorities. But as you'll need to register your challenge (and pay passage fees) a year in advance if your group comprises more than 10 people, why not keep under that figure and stay small and nimble?
If you have a big group and need to register, you can find details of how to do so here.
If you want to score top Brownie points, consider donating £1 per person per peak to help look after these special places. You can donate here.
Stay safe
No challenge is worth rushing on the mountain. Most responsible organisers adopt the practice of using a minimum driving time of 10 hours, which is added to your mountain walking time regardless of how long the drive actually took. This removes the time pressure of the driving element and therefore makes speeding between the peaks pointless.
On the hill, you should also take your time. Choose routes sensibly, ensure you have at least one very experienced member. Make sure you know how and when to contact mountain rescue (below) and be equipped for all weathers. Don't be afraid to turn round, either – the mountain will be there for next time. Climbing some mountains in non-challenge conditions first to build experience should be considered essential. And if you want extra help, there are many companies that will organise your entire challenge for you.
Mountain Rescue: First, are you sure you need to alert a rescue team? If it's a genuine emergency, note your location, details of emergency, then dial 999 or 112 and ask for the Police, then Mountain Rescue.
Extra tips for first timers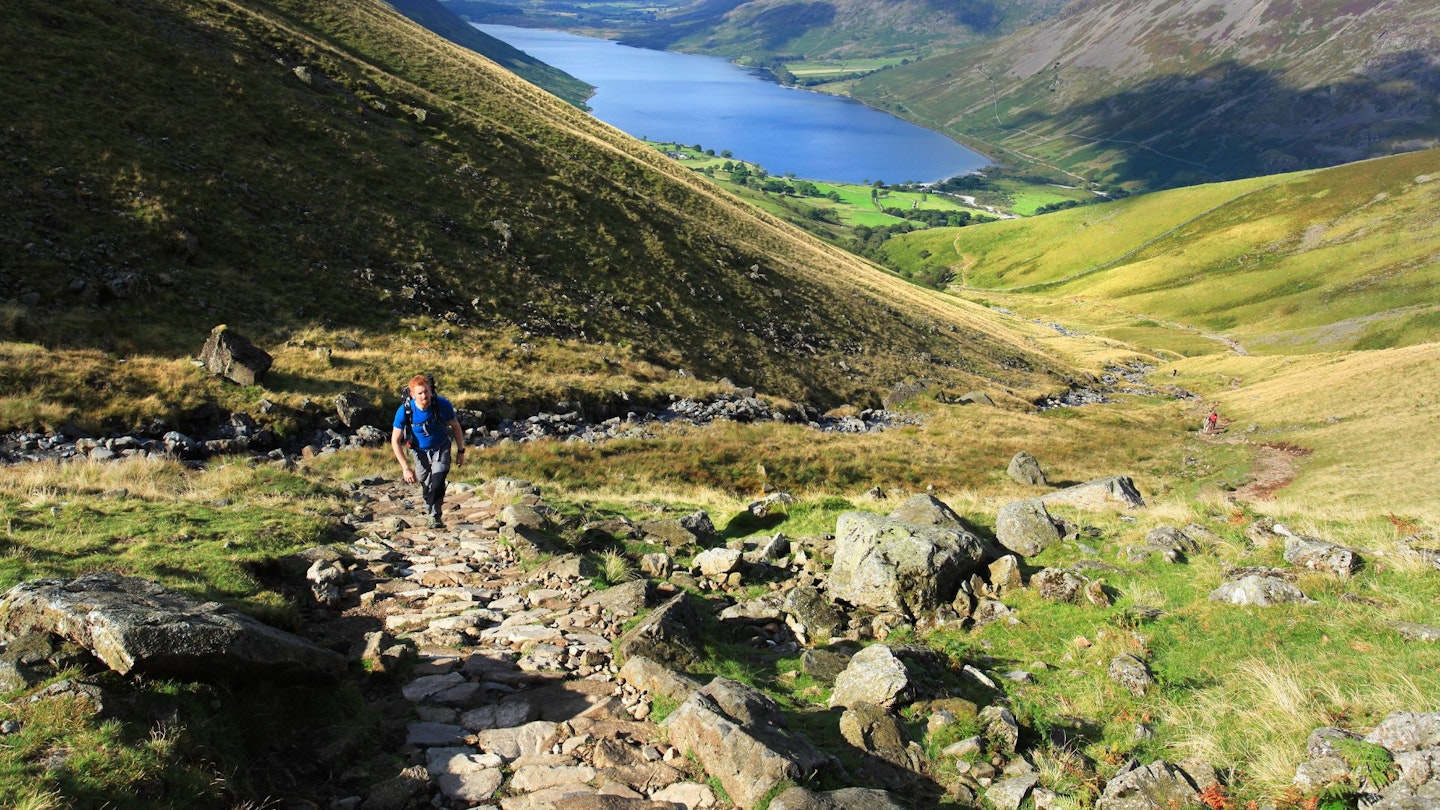 1. Start slightly cold
A little shiver when you set off is fine – you'll soon be warming up when the ascent starts. Ensure you have lots of warm kit in your pack so you can easily throw on a layer or two later, but starting your walk just a little bit cold will avoid any early sweating.
2. Check the best forecasts
The normal TV weather forecast isn't good enough for the hills. The best place to find weather reports is online, with the Mountain Weather Information Service or the Met Office mountain weather reports offering specialised regional forecasts for the uplands.
3. Remember lapse rate
The lapse rate is the cooling of air with ascent, which it does on average about 10 deg C per 1000m. When it's 20 deg C in the valley and 10 deg C on the summit, no big deal; but when it's 10 deg C in the valley and zero on top, that's when your sweaty body starts getting seriously cold. Always pack warm gear, no matter what the weather at the bottom of the mountain.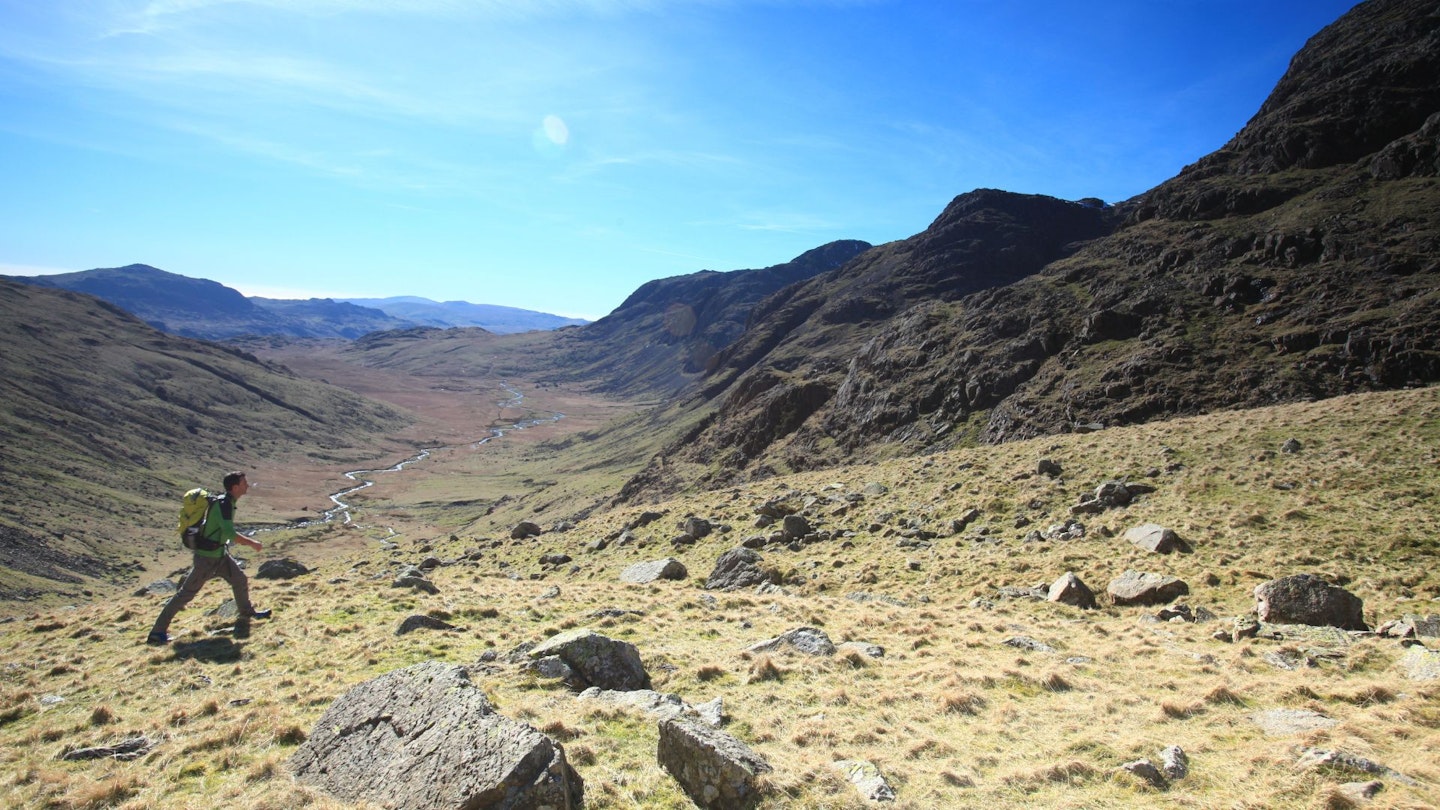 4. Your phone
Phone reception in the mountains can be patchy, so don't be surprised if you have no signal, or are unable to download anything or access apps. Ensure it's fully charged and you know the process for calling Mountain Rescue – 999 or 112, then asking for the police, then Mountain Rescue, clearly stating your location.
5. Take your time
Being on the clock doesn't mean you should rush – sometimes it's a false economy. A slow and steady pace, at a speed you can talk at just a little breathlessly, will be plenty fast enough. You will build a rhythm more easily and fatigue slower.
6. Warm up, warm down
It's easy to just jump out of the car and climb, but you may regret it later in your challenge. Work in an extra few hundred metres on the flat before you start climbing, and again at the end before you stop to ease the strain on your muscles.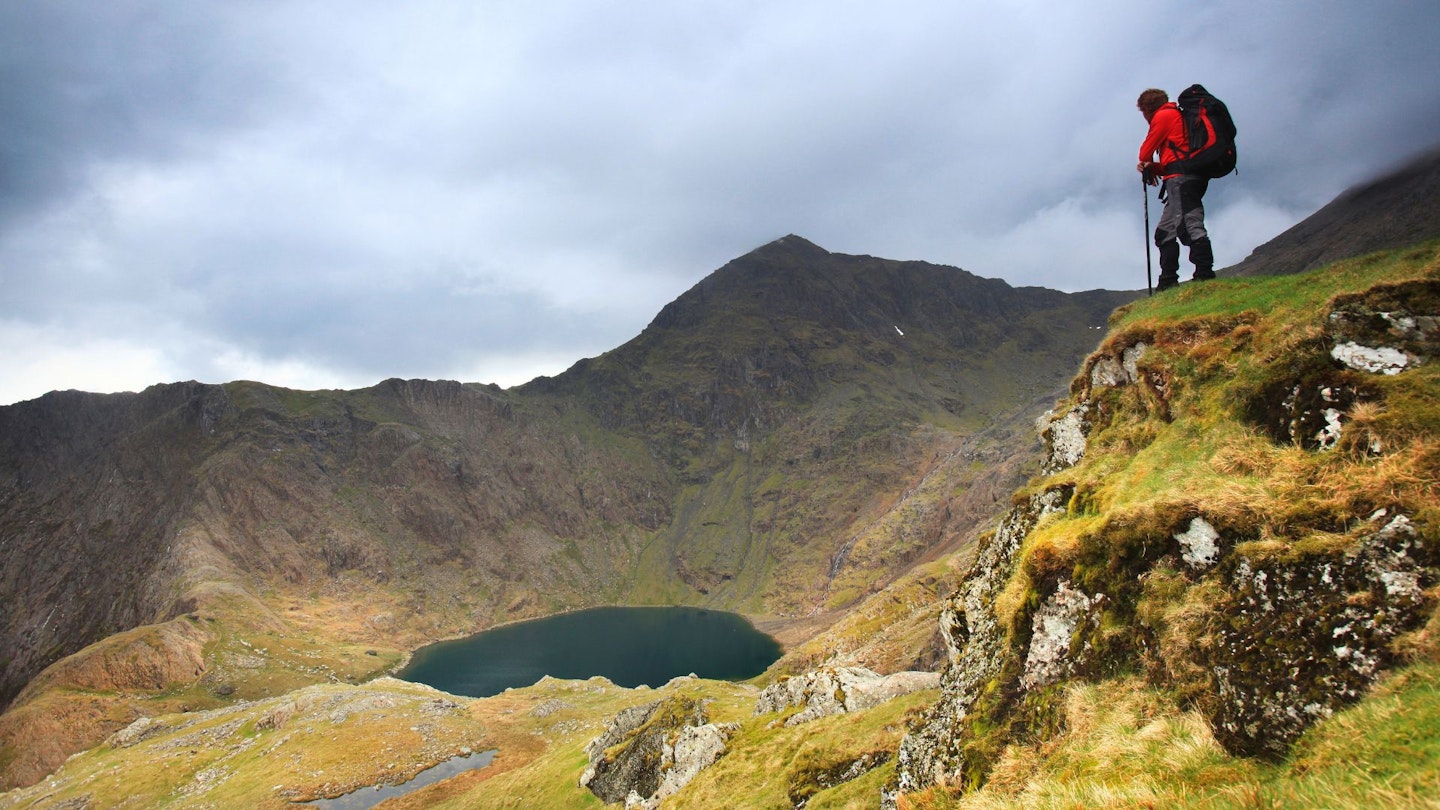 7. Practice beforehand
Climbing the three biggest peaks in their respective countries in one push – or even over three days – is quite an undertaking. You can gain confidence by learning basic hillwalking skills, such as navigation and testing your gear, in the weeks leading up to your challenge. Consider climbing some Lakeland fells, some smaller mountains in Snowdonia or a Munro such as Ben Lomond first.
8. It's up and down
The top of a mountain is only the halfway point. Conserve energy for the way down, and go carefully.
9. Enjoy the view
When climbing a mountain it's sometimes easy to focus just on the few feet in front of you. But don't forget to stop and turn around – sometimes that's where the best views are!
10. Enjoy yourself
Whether you're raising money for charity or not, the hills are free to be used by everybody all the time – so keep coming back. There are hundreds, even thousands, more peaks to choose from. Hillwalking adds priceless memories to your life experience CV, helps the communities around each mountain thrive, and keeps you healthy. What are you waiting for?
How do I train for the 3 Peaks Challenge?
The Three Peaks Challenge can be an arduous undertaking for anyone unused to the exertion of climbing hills. If you have a reasonable level of fitness, you should be capable of completing it. But hillwalking presents a unique set of challenges. Here are two different exercise routines to get your body ready for tackling the biggest mountains in Scotland, England and Wales
3-month training plan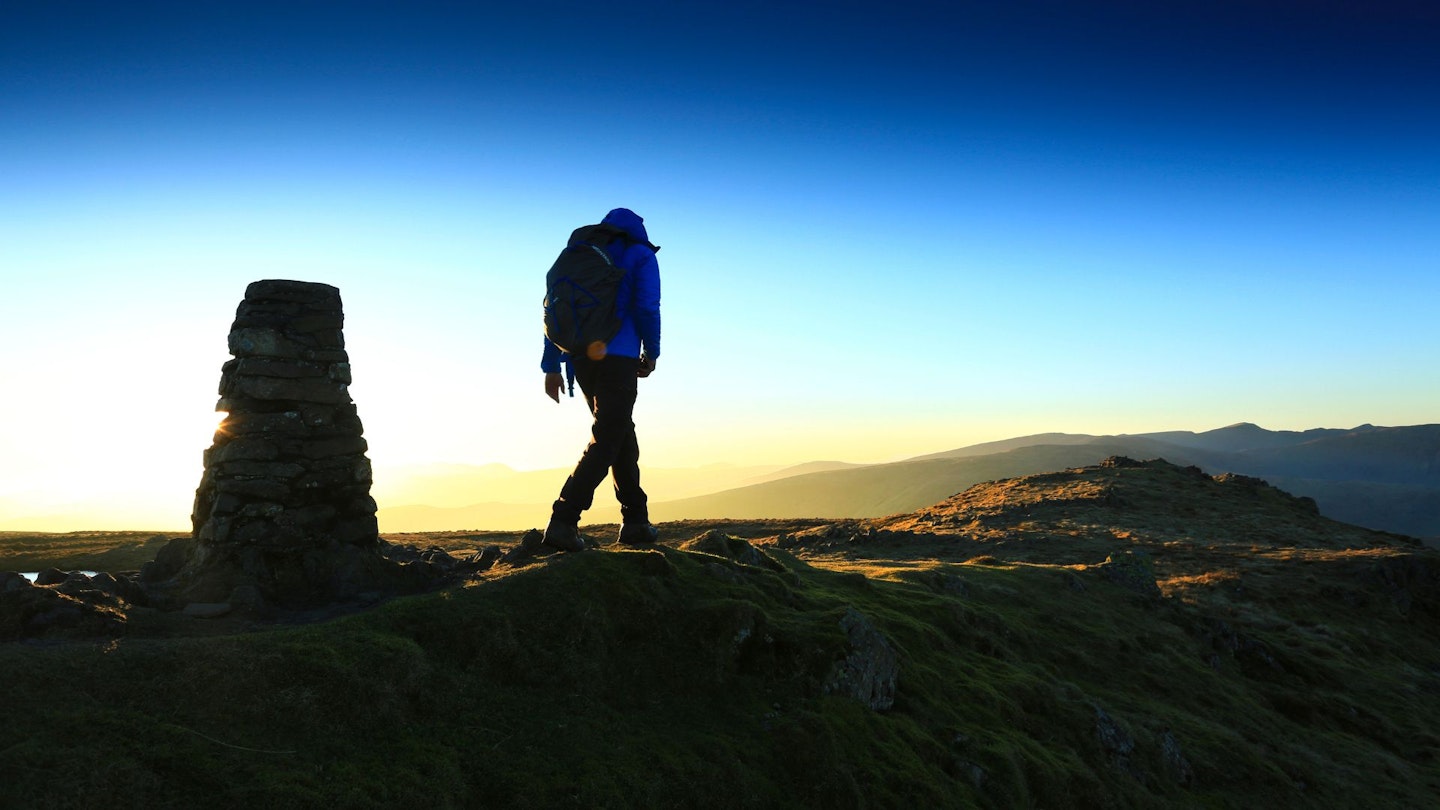 3 months to go: Easing off on the calories and keeping trim in the months leading up to your challenge will keep you light on your feet and can make a big difference. Even a modest loss of 2kg equals two bags of sugar you'd otherwise be lugging up the equivalent of around 1,150 staircases.
2 months to go: Start with 15-minute walks, extending to 30 minutes, 45 minutes, then 30 minutes with a 5kg rucksack, then 45 minutes with a 5kg rucksack, and so on. Walk fast enough so that you're just out of breath and keep extending the distance. Always take the stairs, not the lift and keep track of your steps using a pedometer. The daily challenge of a 'step target' strangely compulsive and highly beneficial.
1 month to go: Get yourself up at least one hill before you tackle the 3 Peaks. It will help you familiarise your mind and body with the sort of terrain you're likely to be walking up on your challenge. Also, while most modern boots don't need 'breaking in', but you'll benefit from familiarising yourself with them before your challenge.
1 day to go: Drink 2-3 litres of water the day before your challenge. And don't go mad in the pub – alcohol can have a ruinous effect on your system the day before a strenuous undertaking. Low glycaemic foods are ideal for fuelling up the night before your challenge. They give you lots of slow-release reserves. Such food includes legumes, pasta, and soy. For breakfast, a fry-up or porridge are great.
4-week training plan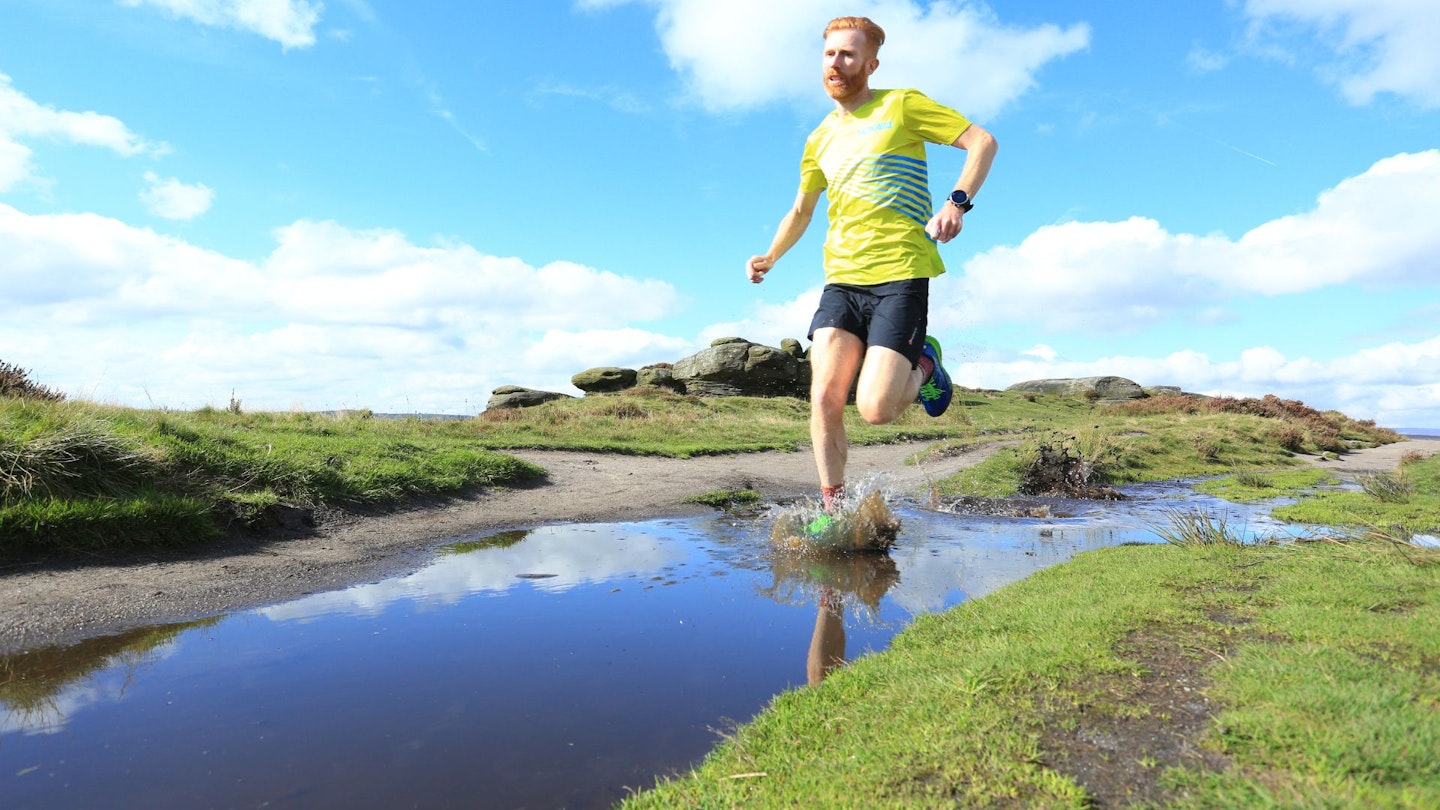 Week 1:
Monday – Rest
Tuesday – Run 2 miles
Wednesday – Rest
Thursday – Run 3 miles
Friday – Rest
Saturday – Walk 12 miles
Sunday – Warm down run 1 mile
Week 2:
Monday – Rest
Tuesday – Run 3 miles
Wednesday – Rest
Thursday – Run 4 miles
Friday – Rest
Saturday – Walk 18 miles, incl. night navigation
Sunday – Warm down run 2 miles
Week 3:
Monday – Rest
Tuesday – Run 5 miles
Wednesday – Rest
Thursday – Run 6 miles
Friday – Rest
Saturday – Simulated challenge event (e.g., Yorkshire 3 Peaks) 25 miles
Sunday – Warm down run 1 mile
Week 4:
Monday to Saturday – Rest and prepare your body by hydrating and eating low glycaemic index (GI) carbohydrate foods
Sunday – Three Peaks Challenge
Don't forget to subscribe to the Live For The Outdoors newsletter to get expert advice and outdoor inspiration delivered to your inbox!
For the latest reviews - including extra photos and kit that won't appear online - become a Trail magazine member.