Beneath a 978m trig point – 3,209ft in old money – this summit mixes every strain of quintessentially English, mossy charisma to high concentration. It's a strange mountain. Unlike Snowdon or Ben Nevis, it doesn't have a silhouette that lends itself to instant recognition, nor a single, defining angle.
In the middle of the night – when firefly chains of 'Three-Peakers' often taste the mountain for the first time – it becomes thrilling and confusing. Ghosts of old climbing hang thick hereabouts – Samuel Taylor Coleridge inadvertently 'invented' mountaineering on a descent of Broad Stand just feet away. Great Gable and its historic crags lie in bare relief below. The entire Lake District sprawls below your boots.
Stand at the highest point of a country so storied, so rich and look down upon whatever lies beneath – be it a low-lit evening landscape of mountains and shadows, an endless view of land, lake and sea stretching to the Isle of Man and beyond, murk, or a mix of the three – and you will feel epic.
Jump to:
Get half-price digital OS Maps! Trail and Country Walking magazine members get 50% off an annual subscription to OS Maps for 12 months! Find out more here.
Three Peaks patches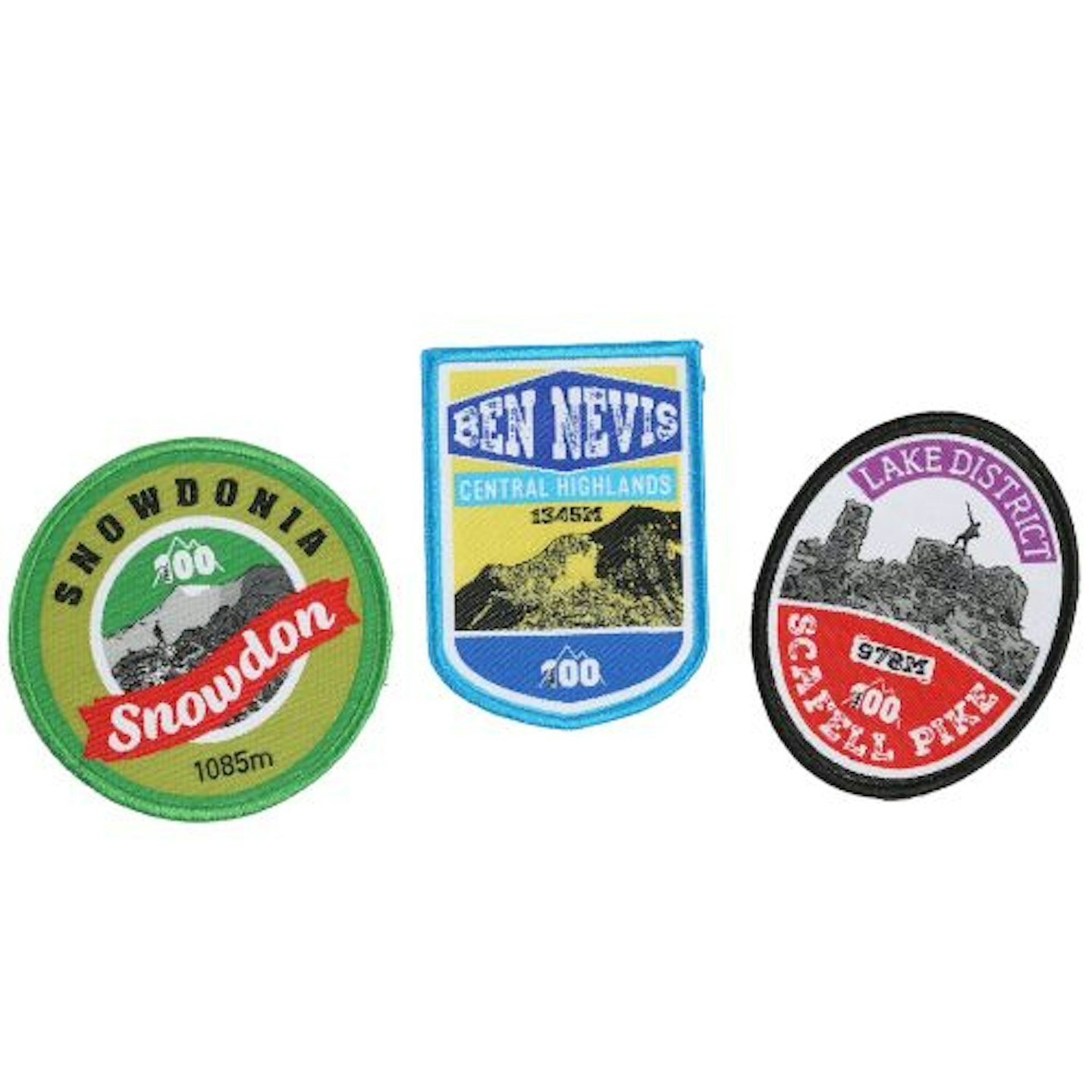 1 of 2
Trail 100 Patch Bundle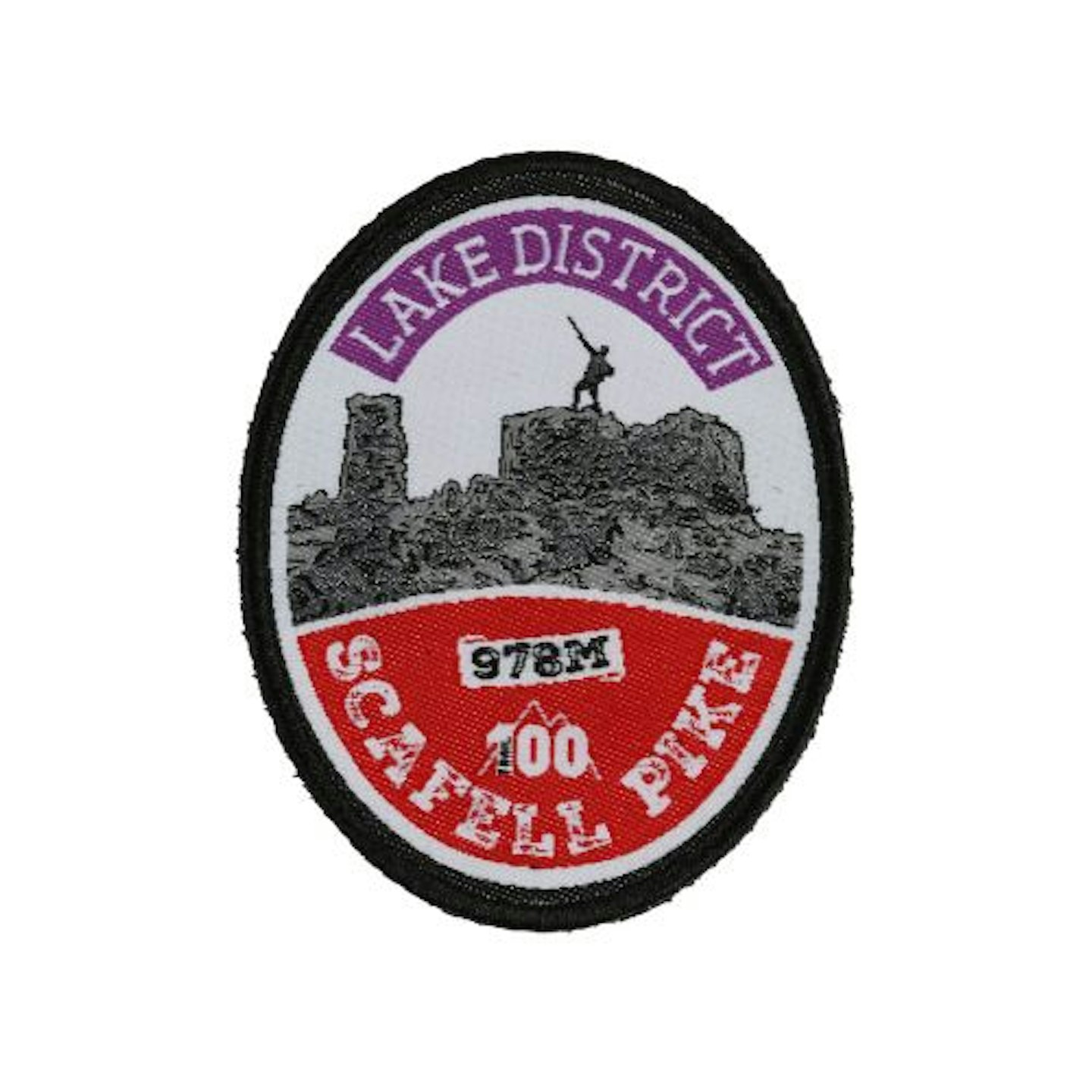 2 of 2
Trail 100 Scafell Pike Patch
Scafell FAQs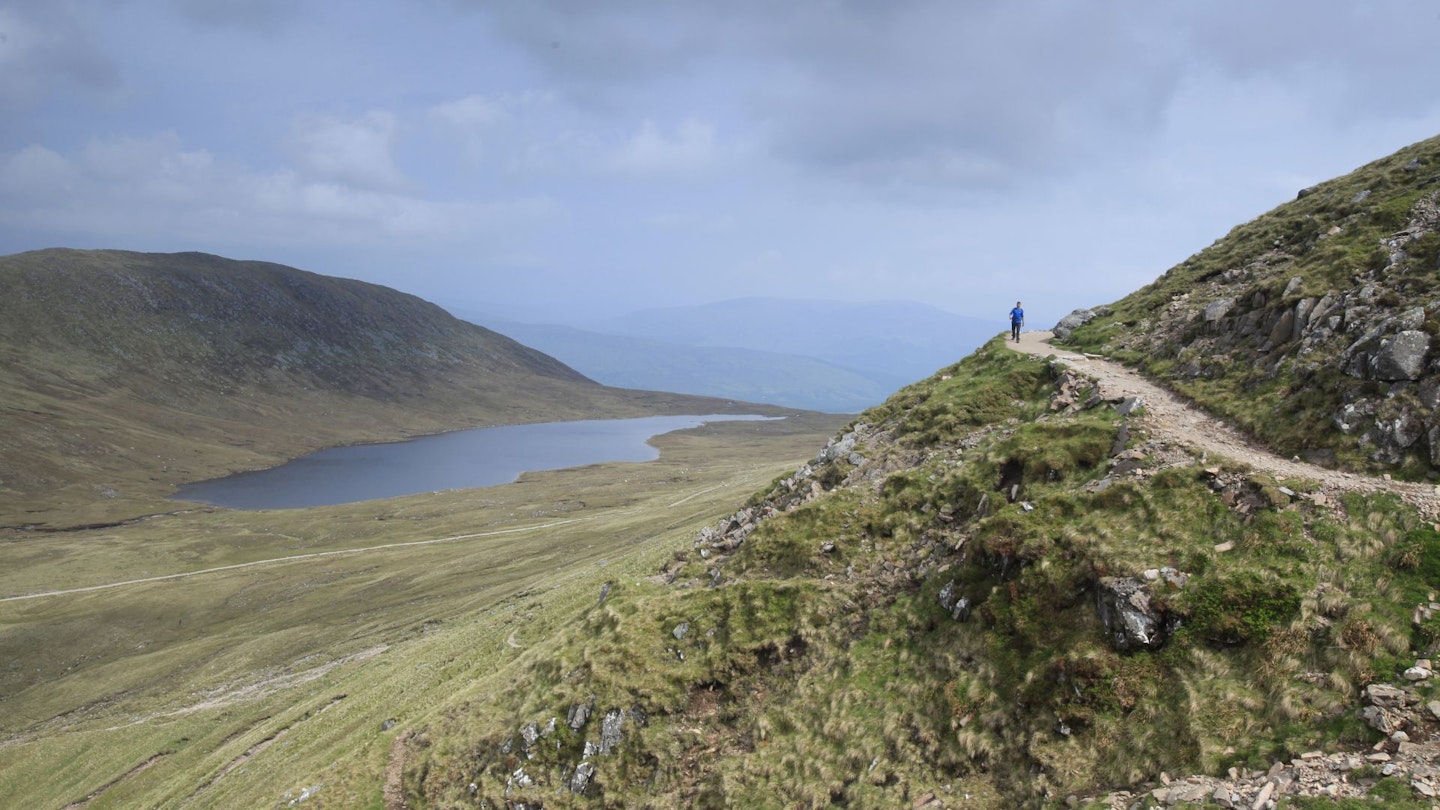 How hard is it?
Unlike Snowdon and Ben Nevis it sits below the 1000m contour and in terms of physicality is well within the reach of most walkers.
But it's a complex mountain with a featureless rocky summit ringed by crags and gullies. Care must be taken around the summit whatever route you approach from, and you must be handy with a map and compass to navigate safely in poor visibility.
It doesn't have the exposure of Ben Nevis or Snowdon, but can be dangerous if not given the respect it deserves.
How long does it take?
That very much depends on your route and level of fitness. The Hollow Stones track is probably the busiest path on Scafell Pike and the average time to the summit and back is around 6-7 hours. Three Peaks Challenge walkers often aim to complete it in 5 hours or less.
Longer approaches such as the Corridor Route are likely to take longer but in some cases are easier to reach by car, especially if starting from the Borrowdale side of the mountain.
How do I get there?
Scafell Pike is located on the western side of the Lake District, so it isn't the easiest peak to get to, and the route you choose to climb the mountain by will determine your car journey.
From Borrowdale, leave the M6 at junction 40 then follow the A66 to Keswick before taking the B5289 into Borrowdale.
If walking from Wasdale or Eskdale and travelling south from Scotland, leave the M6 at junction 44 and take the A595 around the north and western Lakes towards Gosforth, then take local roads through Nether Wasdale and into Wasdale.
If approaching from the south, leave the M6 at junction 36, then follow the A590, A5092 and A595 towards Wasdale and Eskdale.
Make sure you have a road map, because satnav is unreliable on these roads.
Lake District 'Rambler' buses are aimed at walkers and provide good access. The 'Borrowdale Rambler' (78 or 892) runs from Keswick to Seatoller and is ideally suited to walkers ascending Scafell Pike from Borrowdale. Eskdale and Wasdale, however, are much more difficult to reach by bus.
If walking from Borrowdale the nearest train station to Keswick is Penrith, 17 miles away. If walking from Wasdale or Eskdale, it's possible to travel on the Ravenglass & Eskdale Steam Railway, and the nearest main railway station is Seascale near Gosforth.
Where do I park?
The Lakehead pay and display car park is ideal for anyone using the Hollow Stones path or other routes from Wasdale. This is open 24 hours and your fees go to conservation projects and maintaining routes up Scafell Pike.
Avoid parking in passing places, Mountain Rescue access points, private tracks, gateways, verges or Wasdale village green. If attempting the Corridor Route or other paths from Borrowdale, there is roadside parking available near Seathwaite Farm (grid ref NY235121, postcode CA12 5XJ). Spaces are limited, but parking is free.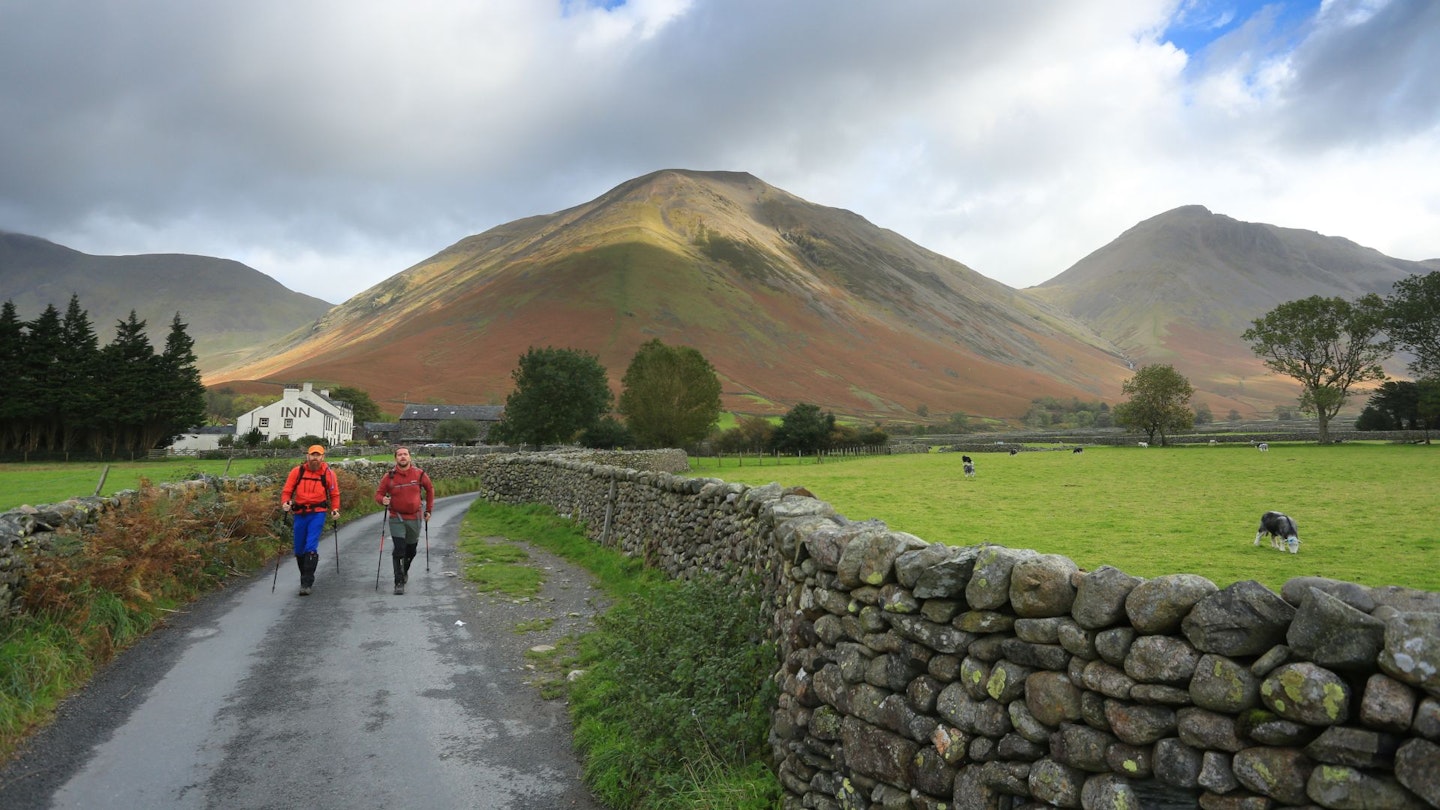 Where can I buy food and drink?
Make sure you take lots of food and water supplies as there are no facilities to provide them on the mountain. It's best to carry too much and not need it.
Keswick has plenty of shops, as do Cockermouth and Kendal.
Are there bins on the mountain?
Scafell Pike and the surrounding area is a fragile environment with no litter facilities, so make sure you take all of your rubbish and food waste away with you.
Are there toilets?
The nearest loos are in Wasdale and Seathwaite.
Will I have phone signal?
Phone reception can be extremely patchy in the Lake District's valleys and certainly doesn't work on all parts of the mountain. Often the higher you get, the better the signal but it's never guaranteed.
If you're using a GPS app that requires mobile data, it can't be relied on for navigation.
Can I take my dog?
You can, but preferably on a lead and always under close control. Don't let your dog impede other walkers and be aware this is an important sheep grazing area surrounded by farmland.
The terrain is a mix of constructed paths, scree, bare rock and boulders, which can be harsh on a dog's pads. So test them on similar routes first.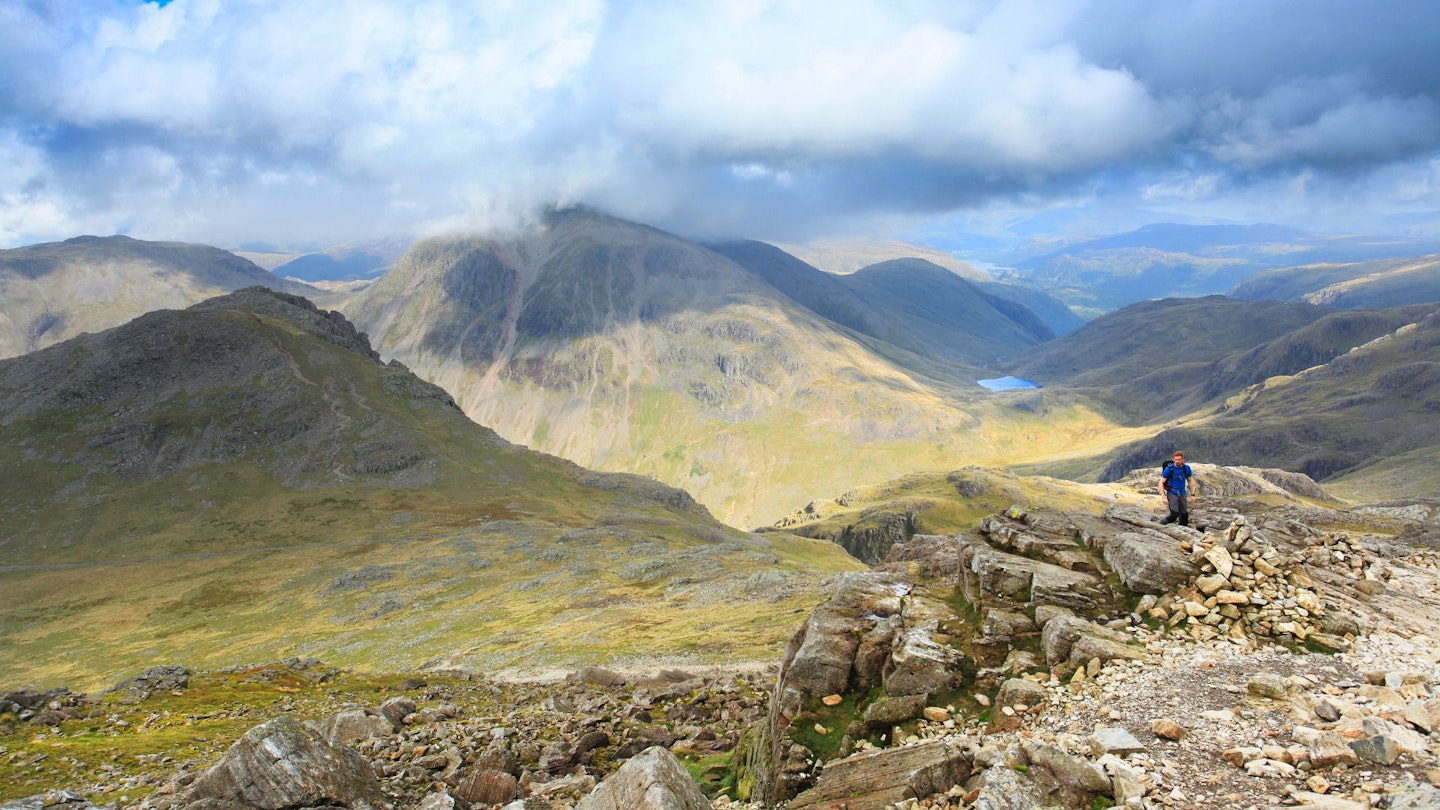 What's the weather like?
The western Lakes sees its fair share of rain, sleet, snow, and wind. Low cloud and poor visibility are common on Scafell Pike, making its upper slopes disorientating and tough to navigate. So be sure to brush up on your map and compass skills before visiting.
The Mountain Weather Information Service is updated twice daily and the Met Office Mountain Forecast provides an hourly overview of the conditions you could face on the summit.
How do I contact Mountain Rescue?
First up, are you sure you need rescuing? Being tired or running out of Snickers bars aren't good enough reasons to mobilise a busy team of volunteers.
But if it's a genuine emergency, and you believe you or one of your party are in danger, dial 999 or 112 and ask for Police, then Mountain Rescue. Know your location and emergency details before calling.
Where should I stay?
Keswick, Wasdale, Borrowdale and the surrounding areas have a huge variety of accommodation options, ranging from campsites, inns, B&Bs and hostels to luxury hotels. The official tourist board website is a great place to start looking.
What's the best pub?
The Wasdale Head Inn is legendary. Allegedly the birthplace of British climbing and surrounded by England's highest mountains at the head of unspoiled Wasdale, this is a fine base for walking. The food is good, the beer is even better and there are lots accommodation options.
Scafell Pike via Hollow Stones
Often dismissed as the 'boring' way to the summit of Scafell Pike, this famous route from Wasdale shows off many of the mountain's most majestic features.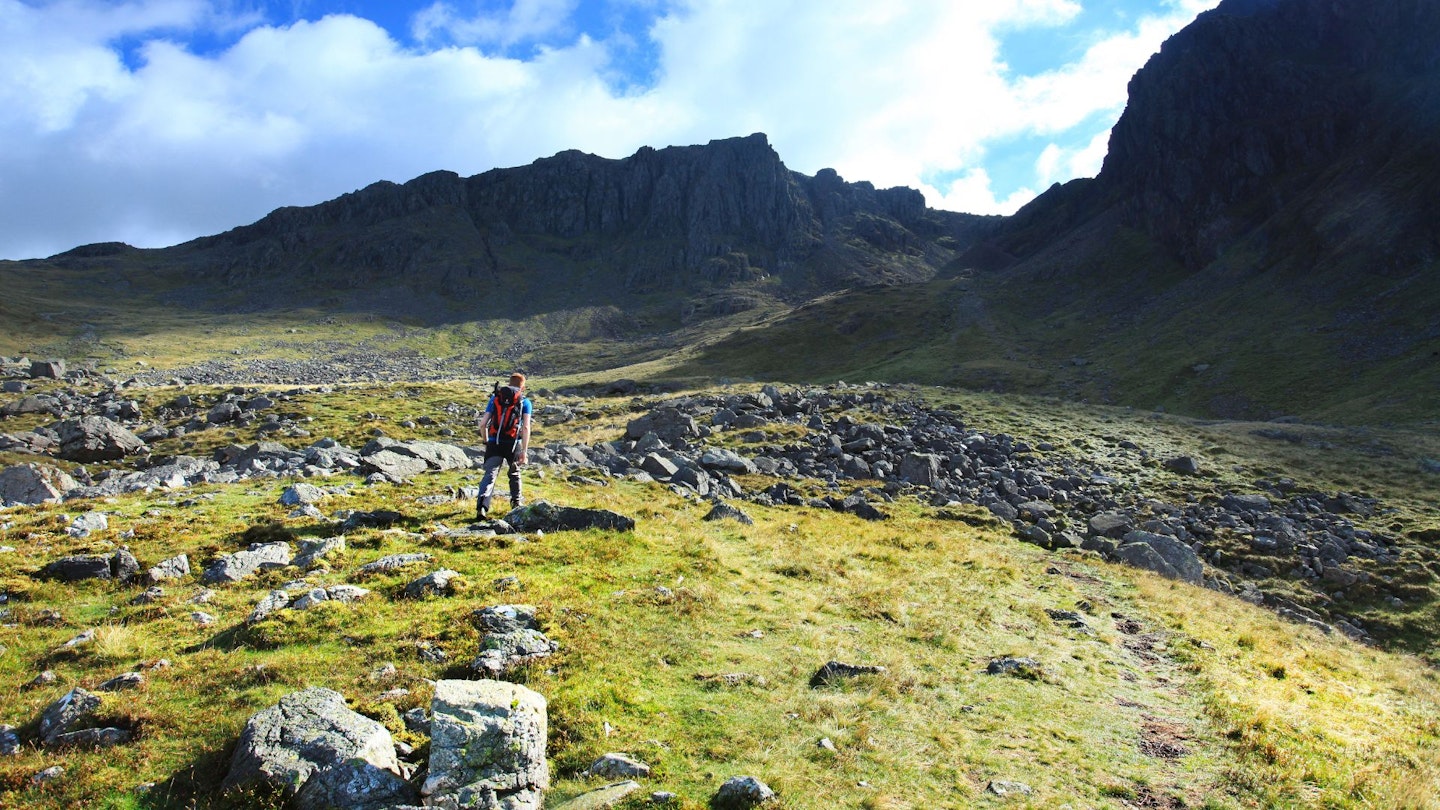 Distance: 7.5km (4½ miles)
Total ascent: 925m
Time: 5 hours
Start/finish: National Trust campsite (NY181074)
Terrain: clear paths follow a steep ascent onto a rocky summit. You start alongside a ghyll and will encounter scree and boulders high up. Rough and rocky but with little exposure
Maps: OS Landranger (1:50,000) 89; OS Explorer (1:25,000) OL6; Harvey Superwalker (1:25,000) Western Lakeland; British Mountain Maps (1:40,000) Lake District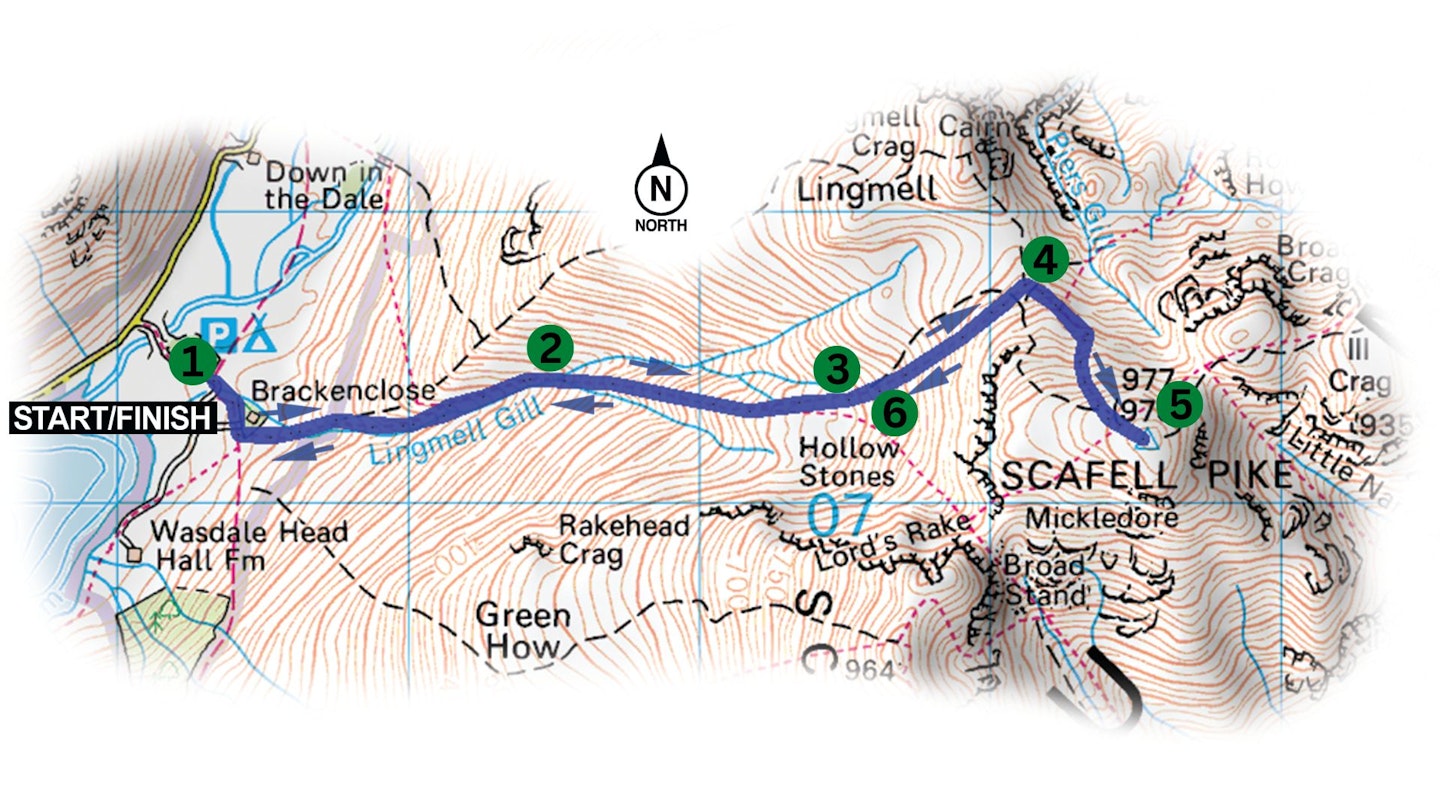 1. Grid reference: NY181074
The ascent of Scafell Pike from Wasdale begins on the valley floor, from the National Trust campsite. Clear paths lead you away from the campsite, past Brackenclose and over a footbridge beside Lingmell Gill.
There are plenty of route options, and the best views are to be found from Lingmell's summit, but the most common choice is via Lingmell Col.
2. Grid reference: NY195074
After following the path east along the north bank of Lingmell Gill, cross the ford at the foot of Brown Tongue, then climb the steep path up Brown Tongue to the boulders at Hollow Stones.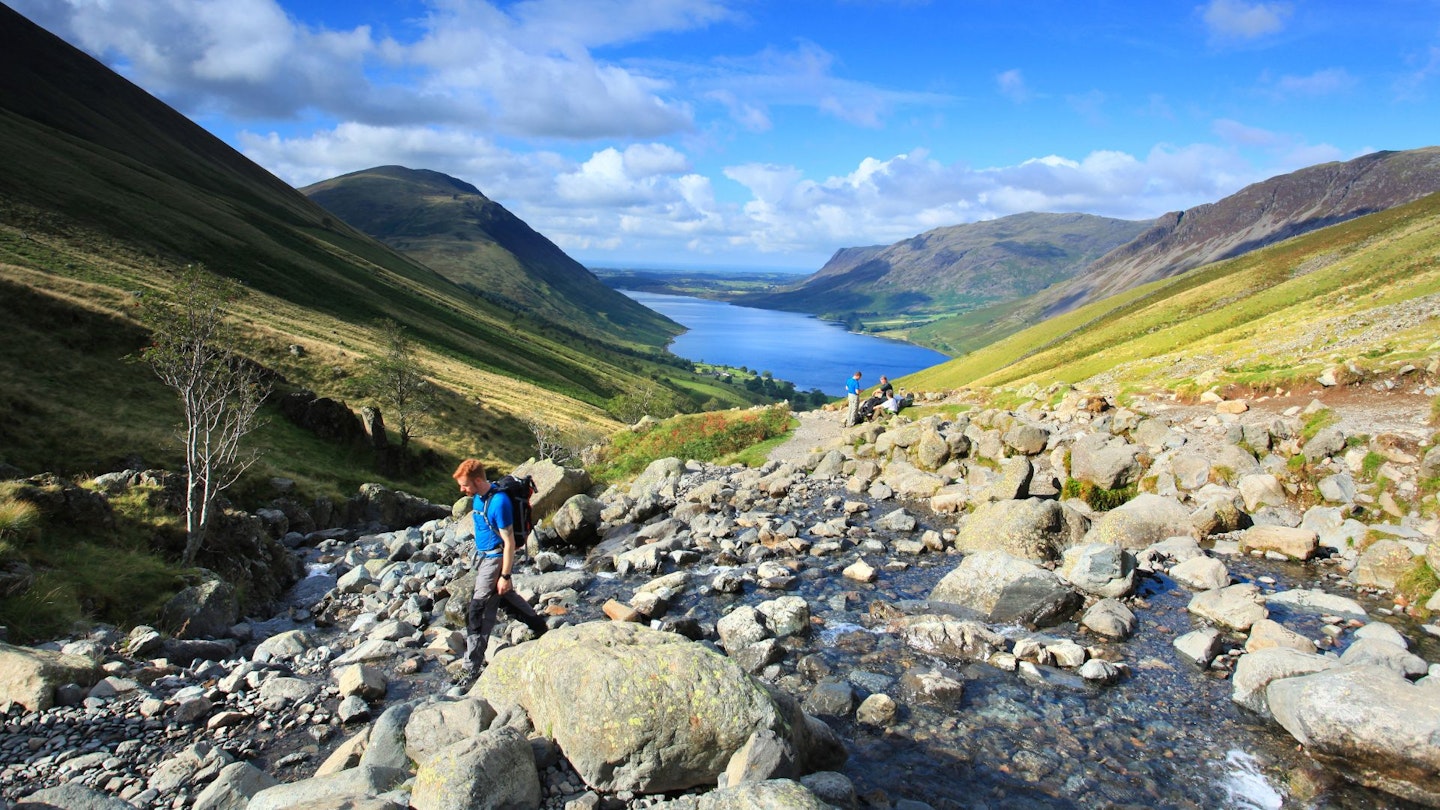 3. Grid reference: NY205074
From Hollow Stones, with Lingmell to your left and the Scafell massif to your right, follow the constructed path north-east to the obvious gap of Lingmell Col at around 750m in height.
4. Grid reference: NY211077
You're now in the heart of the highest land in England, and a right turn south-east leads you over rocky ground towards the 978m summit of Scafell Pike.
It's a fairly clear path to follow, with cairns to help you navigate in poor visibility. Layer upon layer of mountains disappear into the horizon to the north and east, while the mighty cliffs of neighbouring Scafell dominate the scene to the south-west.
For even better views, take a moment to walk around the summit so you can peer over the edge. In particular, go south-east from the summit to look across the green valley of Great Moss and Eskdale, one of the remotest corners of the Lake District.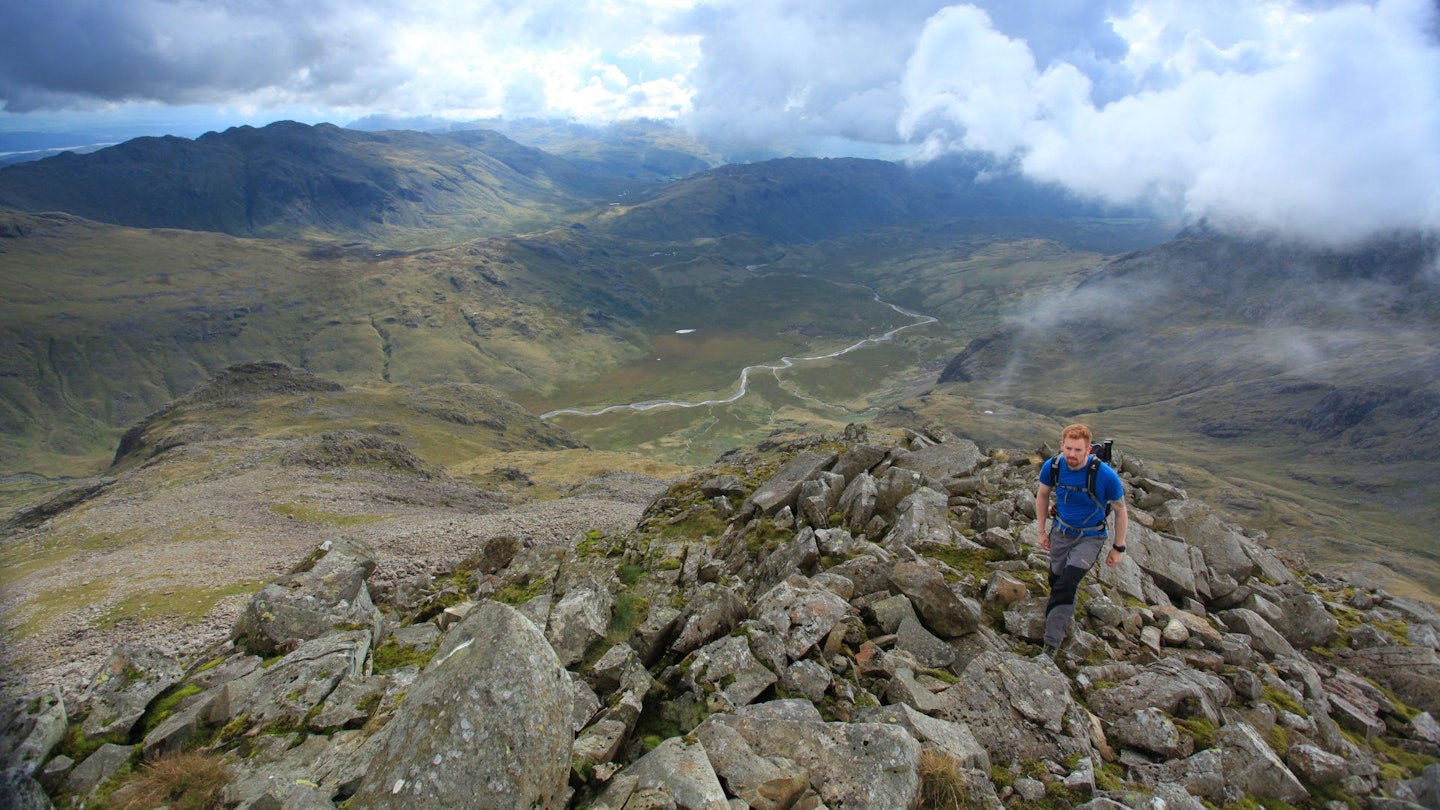 5. Grid reference: NY215072
There are numerous routes you could take in descent, some harder than others, but to return the way you came take the same rocky path you just ascended roughly north-west down to Lingmell Col, then turn south-west and descend the constructed path to Hollow Stones.
6. Grid reference: NY205074
Make the steep descent from Brown Tongue to the ford, cross this and head west along the north side of Lingmell Gill to the footbridge. Cross this and take the path back to your starting point.
Scafell Pike Corridor Route
While the popular plod from Wasdale scratches at the surface of Scafell Pike, this masterclass of a route delves deep into the belly of the beast.
Distance: 13km (8 miles)
Total ascent: 1150m
Time: 6-7 hours
Start/finish: Seathwaite in Borrowdale, NY235123
Terrain: long walk-in with steep ghylls and a rocky summit to contend with. This is a rough mountain walk with steep sections and the upper reaches of the Corridor Route, plus the descent from the summit, require careful route-finding
Maps: OS Landranger (1:50,000) 89 or 90; OS Explorer (1:25,000) OL4 & OL6; Harvey Superwalker (1:25,000) Western Lakeland; British Mountain Maps (1:40,000) Lake District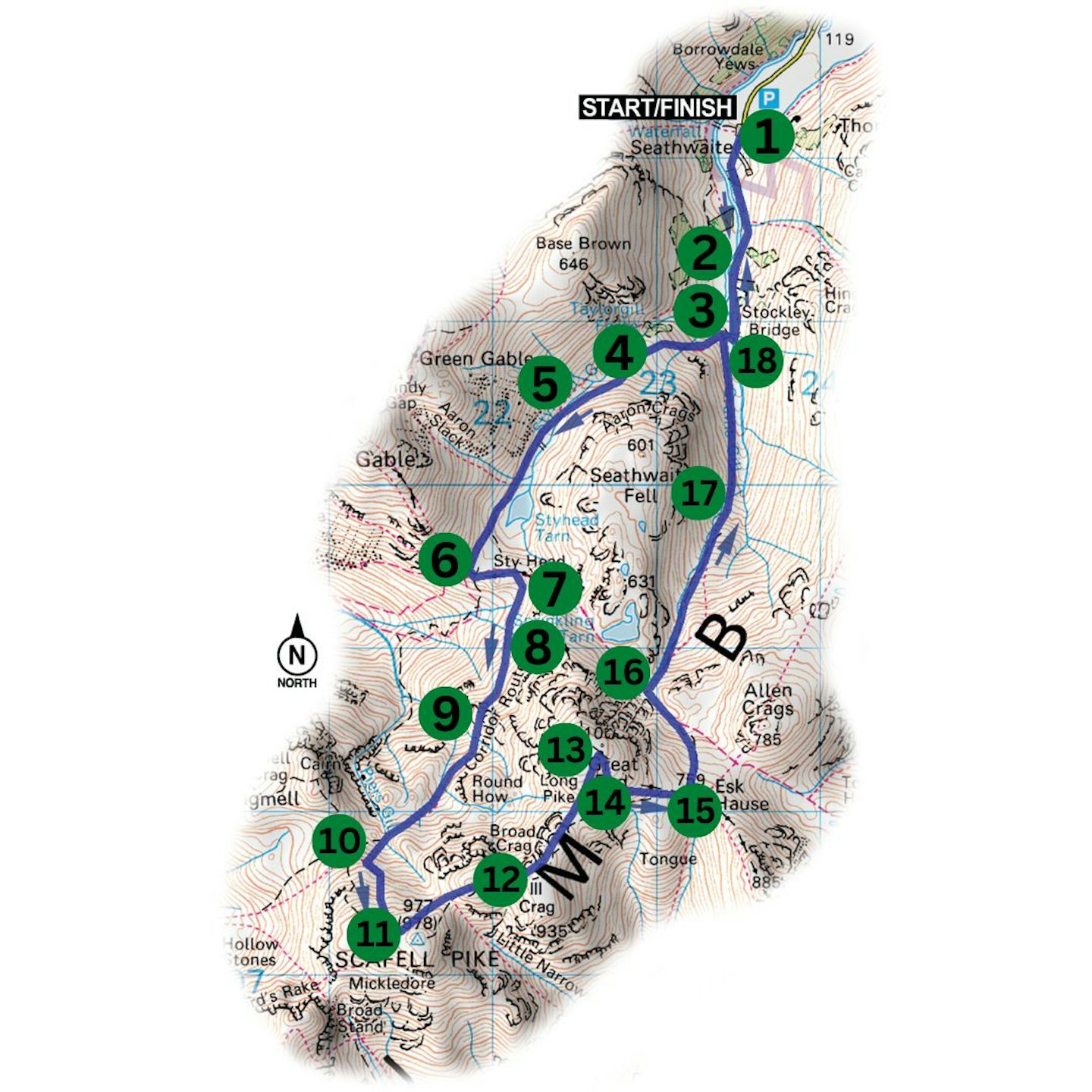 1. Grid reference: NY235123
Free parking is available on the road to Seathwaite but it gets busy so arrive early to grab a spot.
2. Grid reference: NY235115
From Seathwaite a gentle section of bridleway leads towards the ancient Stockley Bridge.
3. Grid reference: NY234109
Once past Stockley Bridge the gradient increases and climbs a pitched path on rock steps.
4. Grid reference: NY229109
The 40m cascades of Taylorgill Force give you the perfect excuse to catch your breath.
5. Grid reference: NY226106
In spate, this bridge is the only safe way to cross Styhead Gill.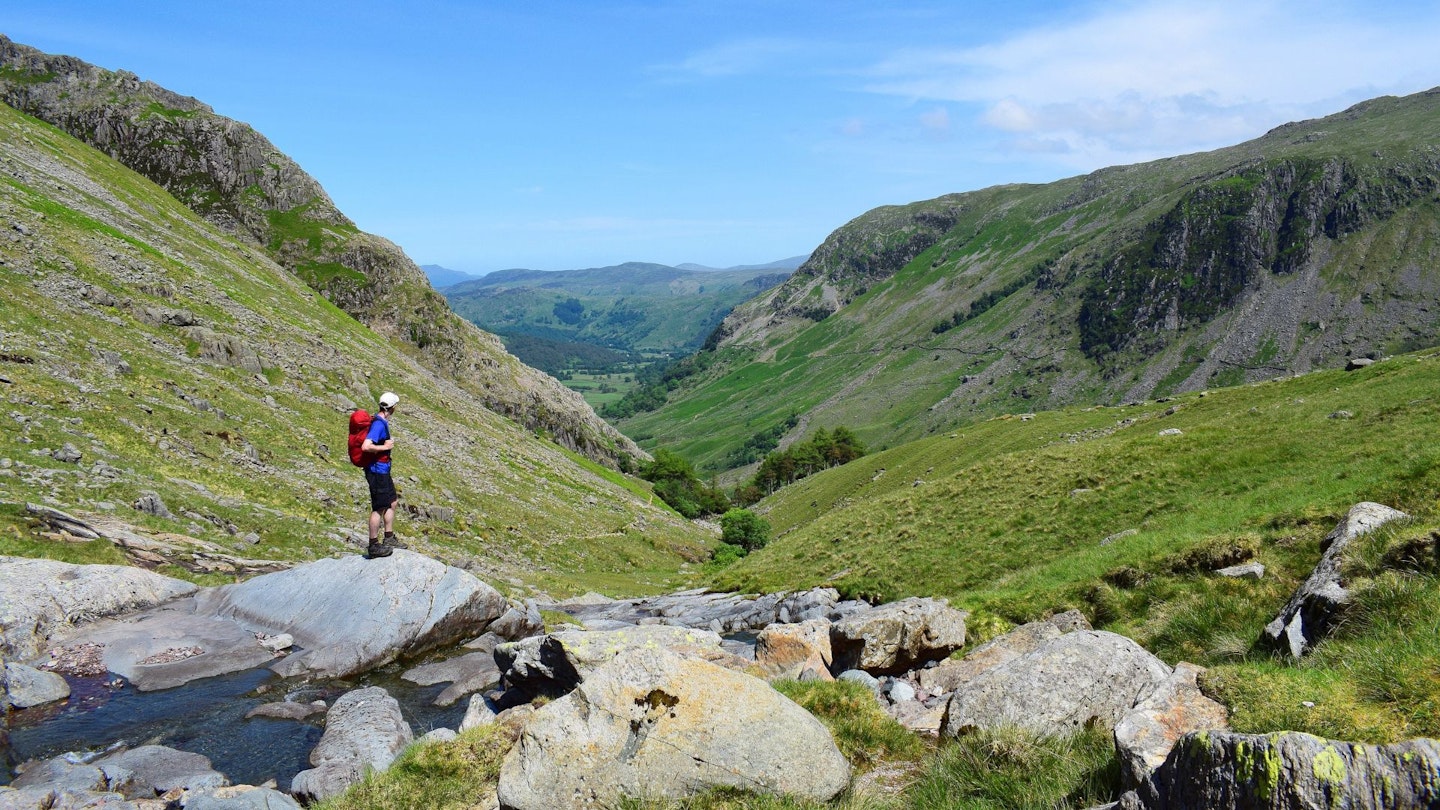 6. Grid reference: NY218094
Sty Head is an important pass, with old packhorse routes from all the major valleys converging.
7. Grid reference: NY222094
The start of the Corridor Route is 300m to the east of Sty Head's stretcher box. The narrow path is easily missed.
8. Grid reference: NY221091
Carefully cross Skew Gill and then make the easy scramble up the wall on the opposite side.
9. Grid reference: NY220088
The route now makes a slowly rising traverse to the broad saddle of Lingmell Col. Avoid dropping into the ghylls to your right at all costs.
10. Grid reference: NY212077
From Lingmell Col turn south (left), then south-east and climb the zigzag path to the stony summit of Scafell Pike.
11. Grid reference: NY215072
Paths aren't obvious from the summit, so take a bearing to locate the right one.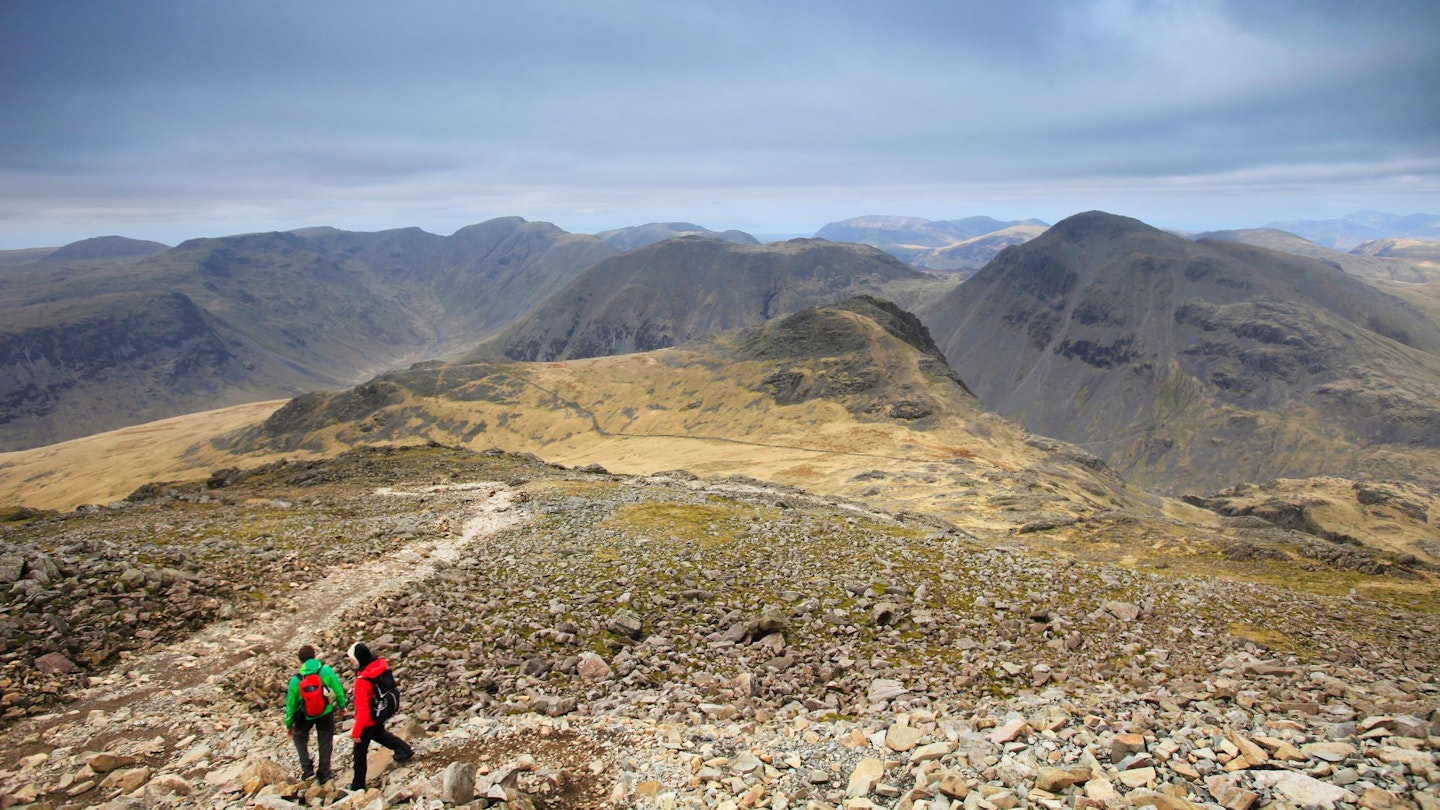 12. Grid reference: NY220075
The route bypasses Ill Crag and Broad Crag, but both are worth short deviations.
13. Grid reference: NY225084
Great End's summit is part of the main ridge, but it is a bit out on a limb. If you have time, it's well worth taking a peek off the top into its gullies.
14. Grid reference: NY225080
In poor visibility return to the col and take the Calf Cove path, but in clear visibility the south-easterly curve to Esk Hause is simple enough
15. Grid reference: NY232081
A few hundred metres north-east from the top of Esk Hause, a cross shelter offers sanctuary from rough conditions. Your descent is down Grains Gill; it's reached by heading north-west on the bridleway from the shelter for 600m to the head of Ruddy Gill.
16. Grid reference: NY229086
Take the path to the head of Ruddy Gill, then follow its narrow course down the east bank.
17. Grid reference: NY234099
The path gradient eases as it crosses a footbridge then heads down the west bank of Grains Gill.
18. Grid reference: NY234109
From Stockley Bridge, retrace your steps along the outward bridleway to Seathwaite, where there are some public toilets and a tearoom.
Scafell Pike via Cockly Pike Ridge
Fancy spicing up your journey to the summit of Scafell Pike? Then head for Cockly Pike Ridge – the greatest scramble you've never heard of.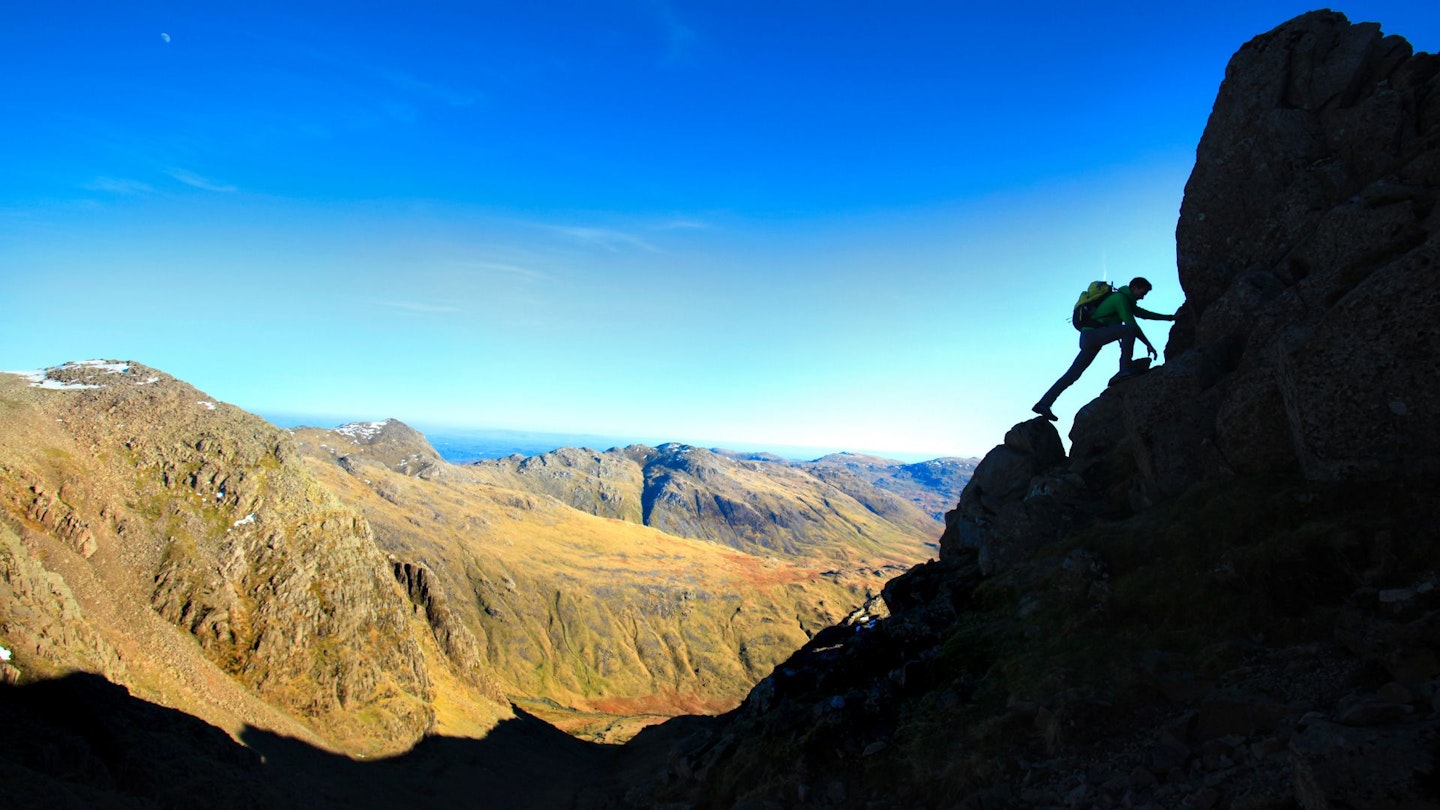 Distance: 17km (10.5 miles)
Total ascent: 1150m
Time: 6 hours
Start/finish: Brotherilkeld, Eskdale, NY211011
Terrain: long walk-in to Great Moss, which can be very wet and boggy. The scramble on Cockly Pike ridge is exciting without being exposed, but the upper sections of the walk are rough and rocky, with descent from the summit needing careful navigation
Maps: OS Landranger (1:50,000) 89; OS Explorer (1:25,000) OL6; Harvey Superwalker (1:25,000) Western Lakeland; British Mountain Maps (1:40,000) Lake District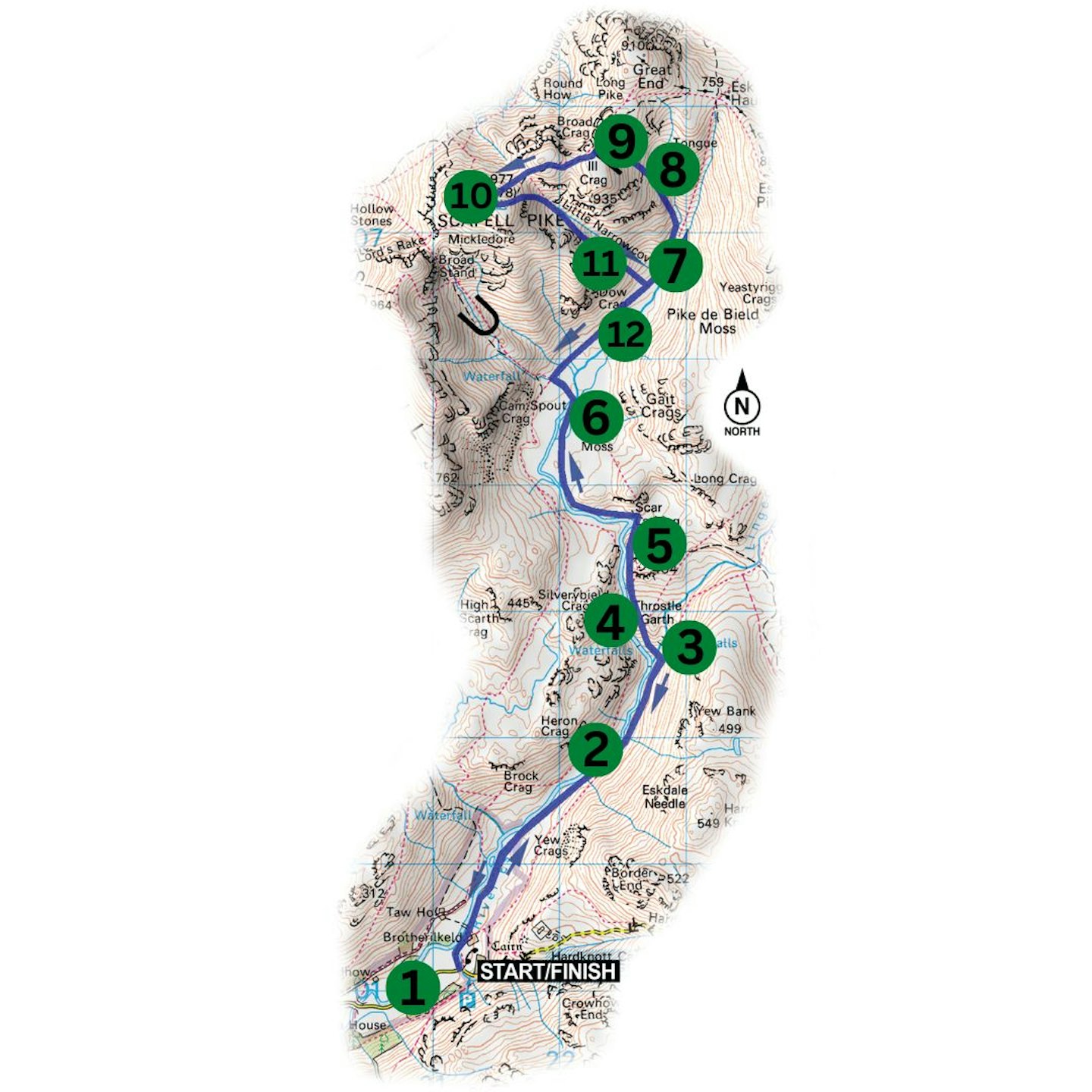 1. Grid reference: NY211011
The approach from Brotherilkeld to Lingcove Bridge is fairly sedate and acts as a perfect warm-up.
2. Grid reference: NY222027
Heron Crag is an important nesting site for peregrine falcons; early in the year you will hear their raucous calls.
3. Grid reference: NY227036
Lingcove Bridge is an ancient bridge historically used by trains of up to 30 horses at a time en route to Borrowdale or Langdale.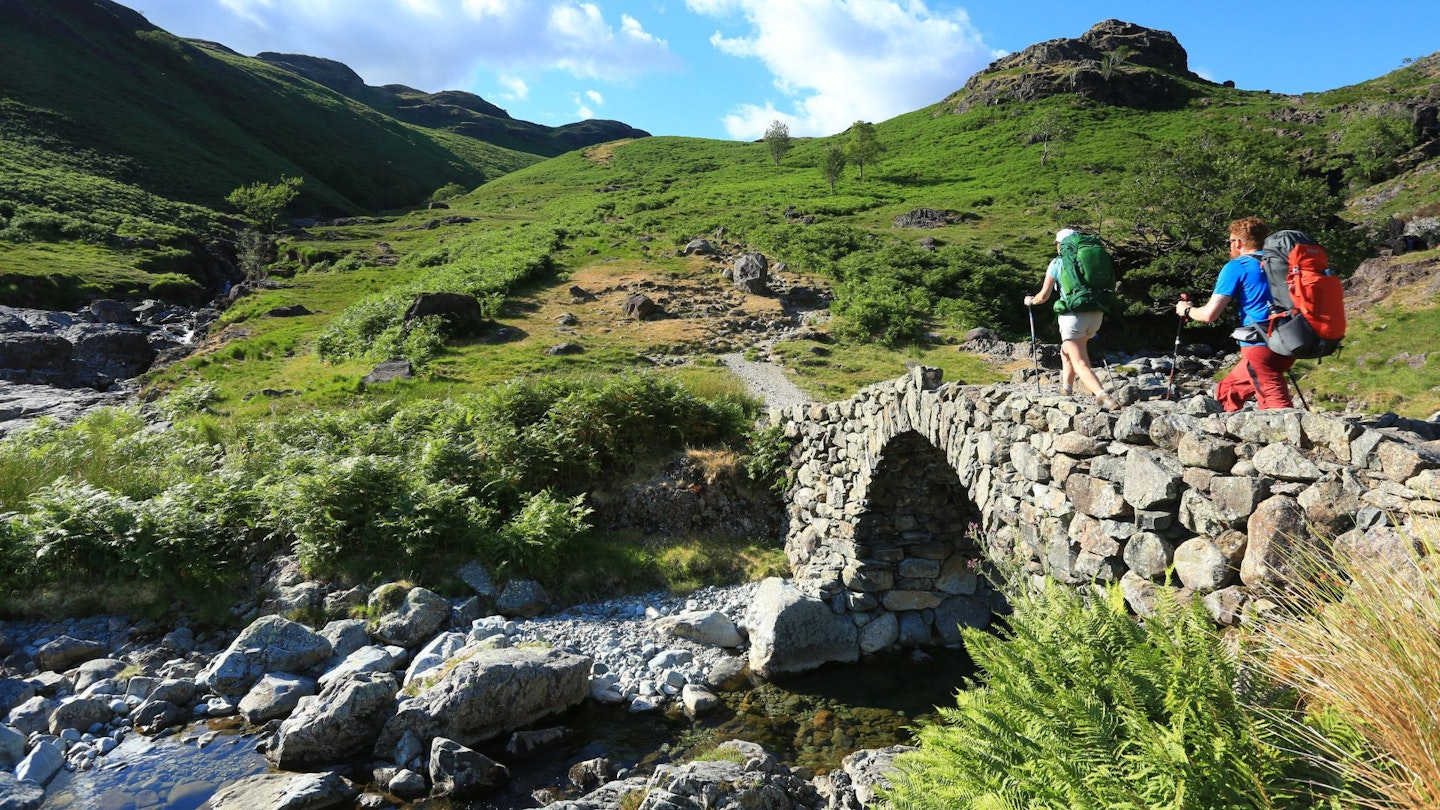 4. Grid reference: NY226037
The first real work of the day starts after crossing Lingcove Bridge, with the steep climb up past Throstle Garth.
5. Grid reference: NY225047
The path sweeps around beside the river and below the crags of Scar Lathing to emerge onto Great Moss. Look for the paths, particularly if it's misty, as they are vague in places.
6. Grid reference: NY220056
Cross the River Esk above the confluence with How Beck. If it's been raining and the water is high you may need to head upstream to find a safe crossing point. From here pass the opening that leads up Cam Spout on your left, then the side valley of Little Narrowcove, until you're below Cockly Pike.
7. Grid reference: NY229069
There's no obvious start to this scramble, which takes the right-hand skyline of Ill Crag as seen from Great Moss, so you can pick your own line. After crossing a boulder slope on your left a series of rock pyramids mark the start of the scrambling, and after a few short moves you'll be on top of Cockly Pike.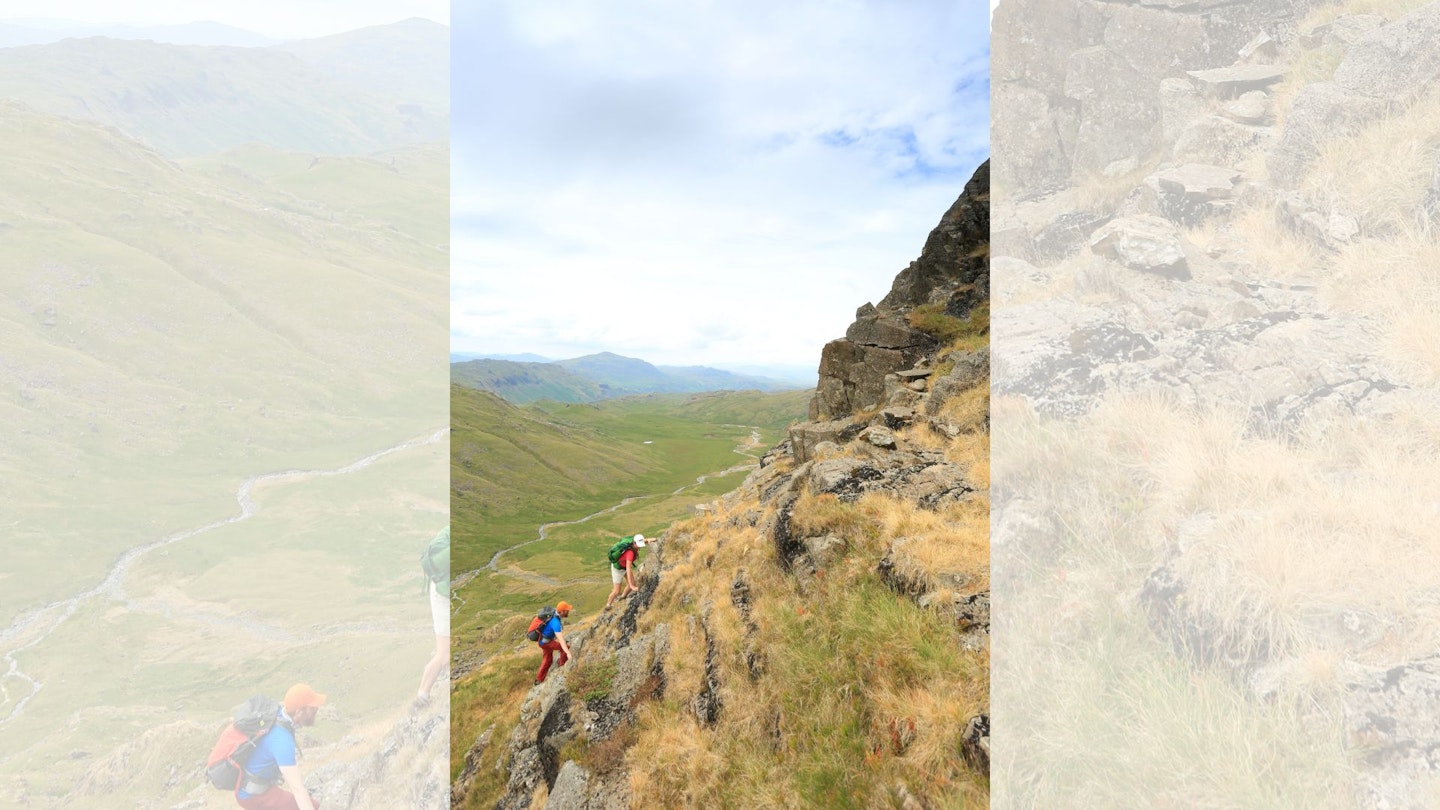 8. Grid reference: NY228071
Above you now is the longest scramble in England, littered with boulders, grass rakes, slabs and scree chutes. There is minimal exposure and although you must be careful not to over-commit at any point, you can make up your own route to the top.
Be careful not to climb up anything you can't climb down, and keep going until you reach the obvious tower that marks the end of the scramble. Ill Crag's true summit is close by.
9. Grid reference: NY223074
From Ill Crag summit head north-west to join the main path that leads past Broad Crag then down into the rocky col that eventually leads up and over a boulder field to Scafell Pike's summit. In poor visibility, pay firm attention to detail and don't stray too close to the edges.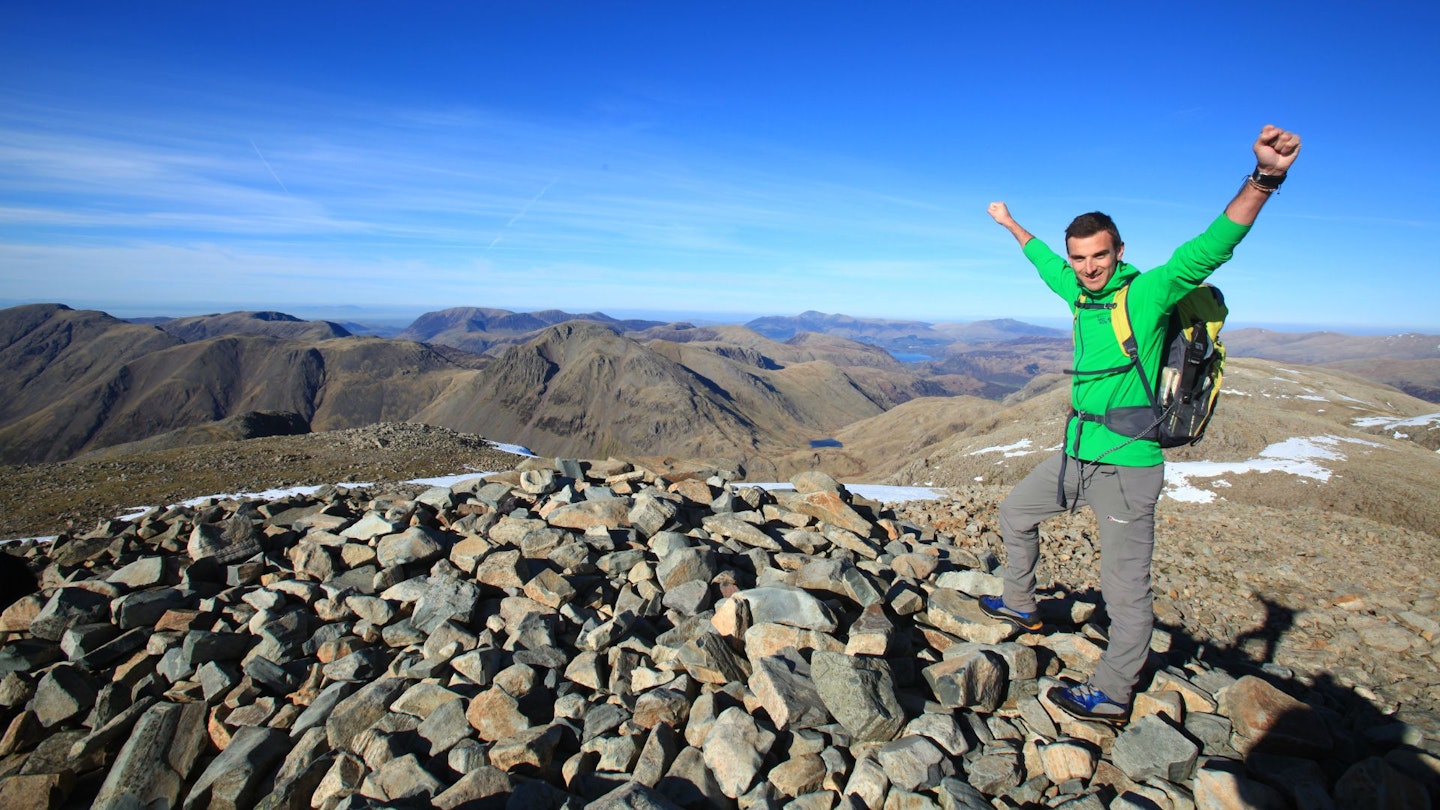 10. Grid reference: NY215072
The descent from the summit back down the main ridge path, leading east then north-east to the col at the head of Little Narrowcove, is short and steep.
11. Grid reference: NY225068
The path at the bottom of Little Narrowcove becomes vague; don't be tempted to drift south out of the ghyll as this leads onto crags.
12. Grid reference: NY225064
In normal conditions the route skirts Great Moss below the base of Esk Buttress to the confluence of How Beck, but if the becks are full try to cross the River Esk at a higher point. From Great Moss retrace your steps back to Brotherilkeld.
Other routes on Scafell Pike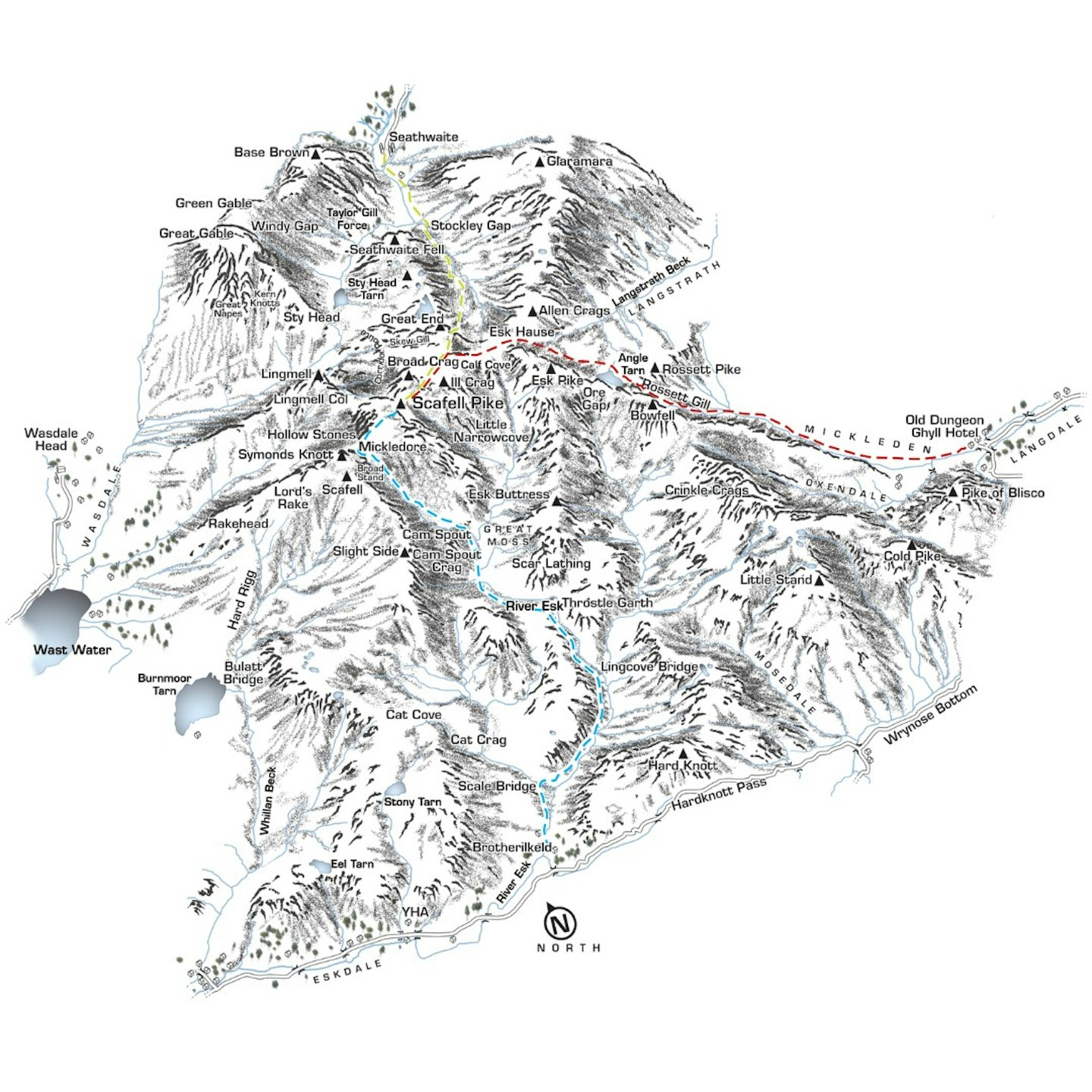 Cam Spout (blue)
Distance: 8km/5 miles
Best in ascent, for the hand-on-rock thrills of a riverside scramble.
Approaching from the relative wilderness of Upper Eskdale, this remote route takes in the lesser-trod soils of Great Moss before tackling an easy scramble at the side of the spectacular Cam Spout Force. Reaching the equally impressive col of Mickledore, it continues on to Scafell Pike's summit. If climbing beside a waterfall proves intimidating you can always divert to the Little Narrowcove route.
Rossett Gill (red)
Distance: 9km/5.5 miles
Best in either direction, as the views of Langdale are equally rewarding on both the ascent and the descent.
As lengthy as any way up the mountain, but with the added benefit of some exceptionally beautiful scenery. Starting at the Old Dungeon Ghyll Hotel, this route involves more ascent (1050m) than any other route too. It takes in a long valley walk until it reaches the side of Esk Hause, from where it winds up via Calf Cove to the summit.
Grains Gill (green)
Distance: 6.4km/4 miles
Best in descent, as it's direct and less challenging than most alternatives.
Starting in Seathwaite, this direct route from Borrowdale provides a less busy way to the top. Passing Stockley Bridge it climbs to Great End, curves around Esk Hause and makes for the summit. It's a popular descent route because of its relative simplicity.
An alternative is to follow this route as far as Stockley Gap, then take the bridge over the river to Sty Head where you join the Corridor Route to the summit.
Scafell Pike danger spots
Scafell Pike and its sister peak Scafell are the two highest points in England, and their dangers shouldn't be underestimated. Their multi-faceted massif is littered with scrambles, drops and pathless scree. Knowledge of the safest routes is essential – whatever the weather.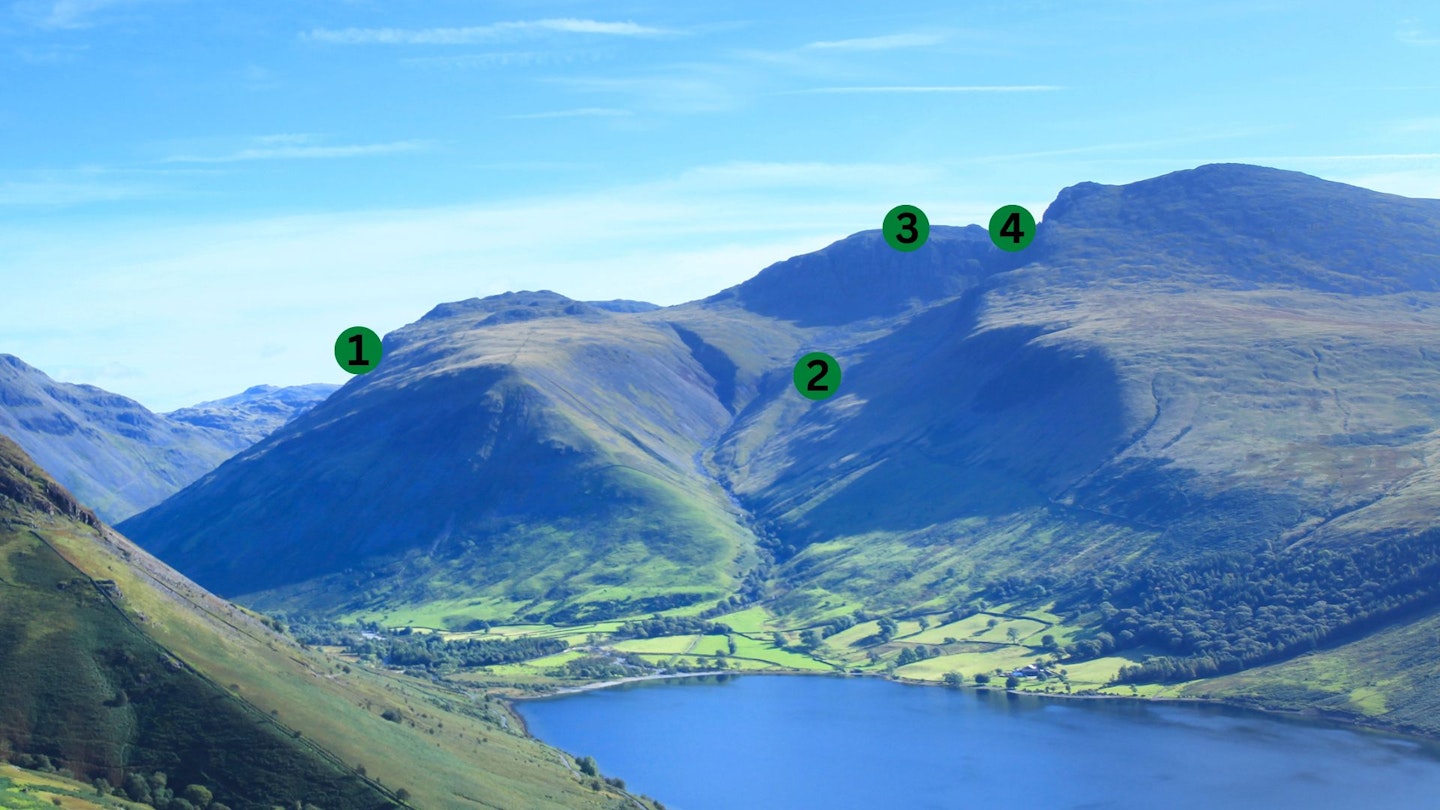 1. The bad step (NY218085)
Lying on the popular Corridor Route, Scafell Pike's 'bad step' can represent a navigational hazard on descent, particularly in misty conditions.
Many walkers are hesitant to follow the sudden seven-metre scramble that presents itself, assuming that it couldn't be part of the main route. But stay with it, it's less intimidating than it appears. It will keep you on the correct north-north-east bearing, eventually leading to Spout Head.
2. Brown Tongue (NY206071)
Though Brown Tongue – en route to Hollow Stones – may appear as an innocuous zigzag path. But a surprising number of injuries are sustained here through fatigue and complacency.
Knees and ankles are always vulnerable on a descent, and the typically wet grass underfoot presents a significant risk of slipping and jarring or twisting a leg. There are few significant landmarks, and it's an open area that presents few navigational problems.
3. Scafell Pike summit (NY215072)
A large number of accidents occur on the Pike's summit. Covered in shattered rock, it's an uneven place that becomes particularly dangerous when masked by ice and snow, or even when wet.
Slipping and sustaining head injuries on rocks, or twisting ankles in small crevices are the main risks and represent a serious hindrance to a safe descent. As always, confident navigation is essential as the lack of clear landmarks makes descending the wrong face of the mountain an ever-present threat.
4. Mickledore (NY210069)
The narrow Mickledore gap links Scafell Pike to neighbouring Scafell at an altitude of 840m. Many accidents occur here as walkers attempt to cross from one peak to the other, wrongfully assuming that they will find a safe, easy route.
There are three main routes to reach the gap from Scafell: Lord's Rake, Broad Stand and Foxes Tarn. The first two present considerable dangers: Lord's Rake is blighted by loose rock fields, while Broad Stand is notoriously sheer.
Foxes Tarn is technically the safest of the three, but be aware of the 150m+ descent and reascent it requires, and plan accordingly. Mountain Rescue advises that experience on steep ground and good navigation skills are essential when attempting these routes.
5. Piers Gill (NY213080)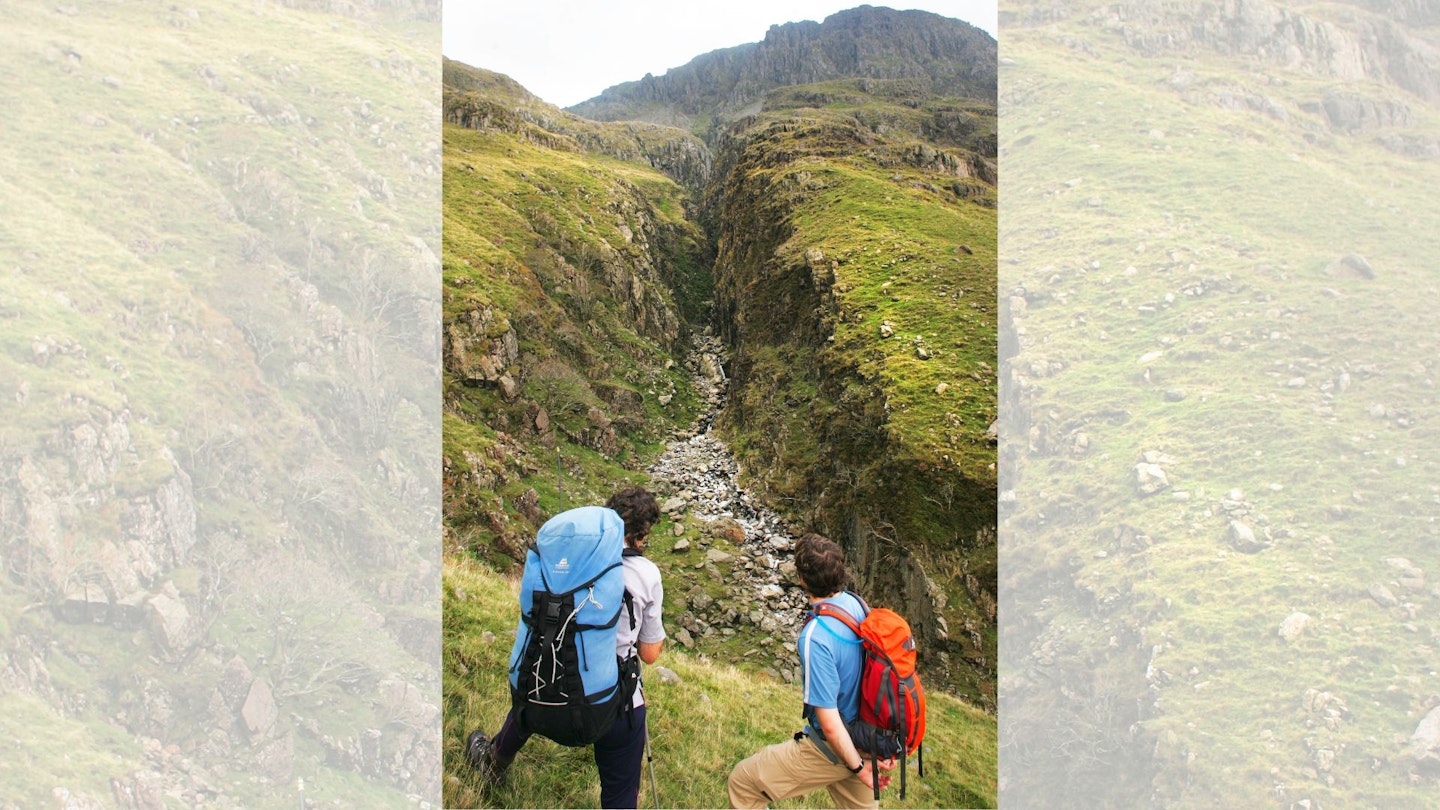 A tightly knit ravine that should only be attempted by experienced scramblers. Piers Gill is responsible for a vast number of Mountain Rescue callouts on the slopes of Scafell Pike, particularly when time-rushed walkers are attempting the Three Peaks Challenge.
Don't forget to subscribe to the Live For The Outdoors newsletter to get expert advice and outdoor inspiration delivered to your inbox!
For the latest reviews - including extra photos and kit that won't appear online - become a Trail magazine member.