The Coast to Coast Path is an iconic long-distance walk that was officially granted National Trail status in 2022. But how hard is it, and what's the best way to walk it?
Our guide to the Coast to Coast Path covers all of the key details for walkers, including where to stay, which maps to carry, and where you can pick up food and supplies along the route.
We've also included (if you scroll down) a first-hand account from someone who's been there and walked this famous old route, which was first described by legendary guidebook writer Alfred Wainwright way back in 1973. Wainwright devised an ingenious route from Coast to Coast through three of England's most dramatic national parks – the Lake District, the Yorkshire Dales and the North York Moors.
Most people walk from west to east, starting in St Bees and finishing at Robin Hood's Bay, to keep the prevailing wind at their backs. So load up your hiking pack and let's get into it.
View and download a digital OS Maps route of Wainwright's Coast to Coast Path HERE
The Coast to Coast Path – plan your long-distance walk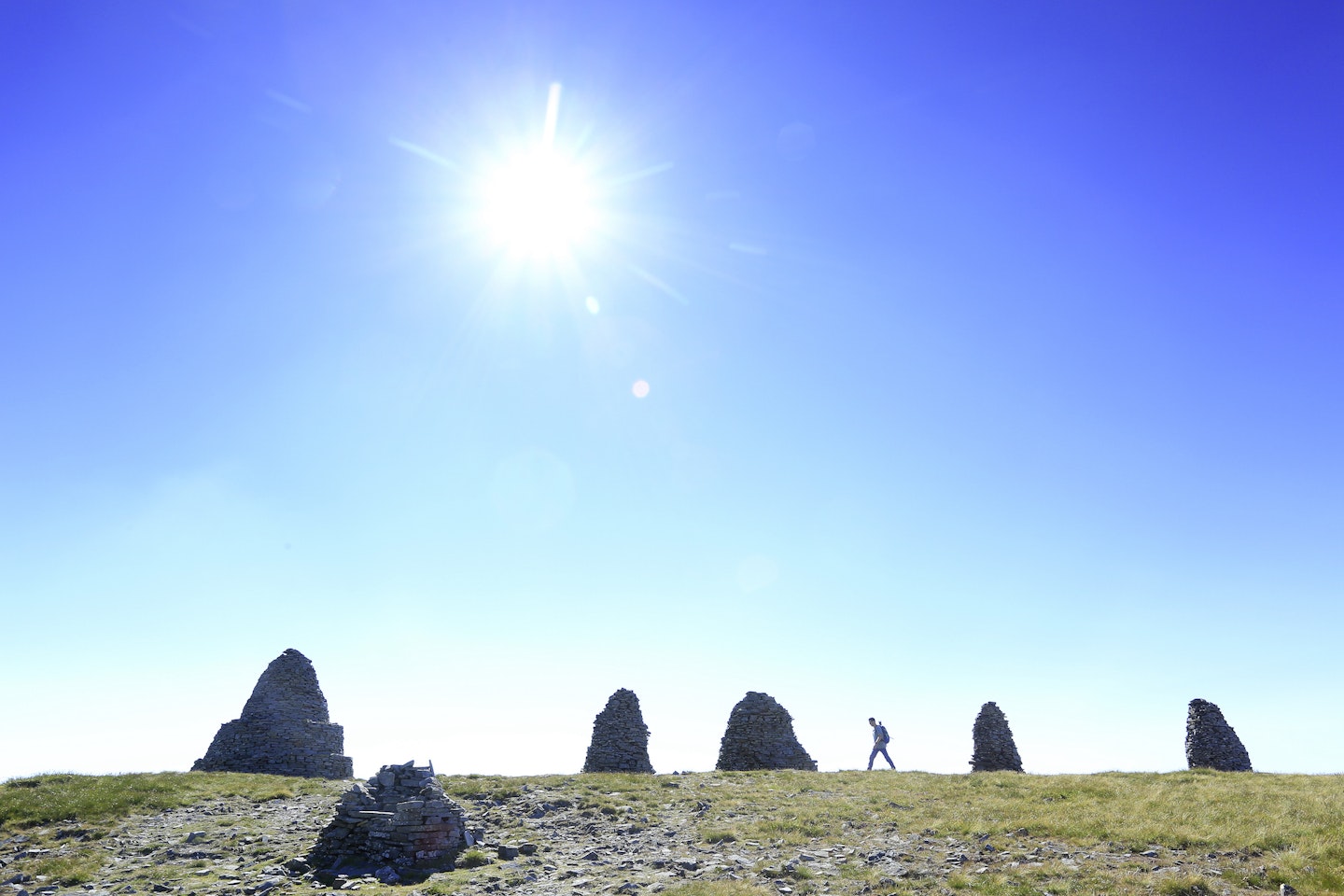 How long is the Coast to Coast Path?
The Coast to Coast route is around 190 miles (300km) from west coast to east – nearly everyone walks in this direction – and most people walk it in a fortnight. It also covers a total ascent of 8900m (29,000ft), so get ready for some serious ups and downs along the trail. The trail tries to stay relatively low as it travels through the Lake District mountains, but many people opt to climb some of the peaks to spice things up. This obviously increases the length of the trail and the amount of ascent. The official high point of the trail if you stick to the classic route is Kidsty Pike in the Lakes, at 780m.
How hard is the trail?
The Coast to Coast tots up a lot of miles, but it's entirely achievable for regular walkers. The terrain is never scary (unless you choose to cross Lakeland ridges like Striding Edge as part of it) and by the end, you'll happily be skipping 23 miles a day. The fitter you are the more you'll enjoy it though, so do some weekend hiking beforehand to get used to long days on the trot and be prepared to keep walking in bad weather… and still keep smiling!
What hiking gear do I need for the Coast to Coast?
For the most part you need standard hiking and hillwalking kit, but there are several key items you should focus on. A good pair walking boots or shoes is essential, as are good a waterproof jacketand waterproof trousers, plus a backpack that will hold all your gear while also staying comfortable on your back. Walking poles are also worth considering for a trek of this length, even if you don't usually use them. They do a great job of easing the workload on your legs. There are also plenty of useful accessories you should consider – everything from suncream and shades to first aid kits and portable chargers.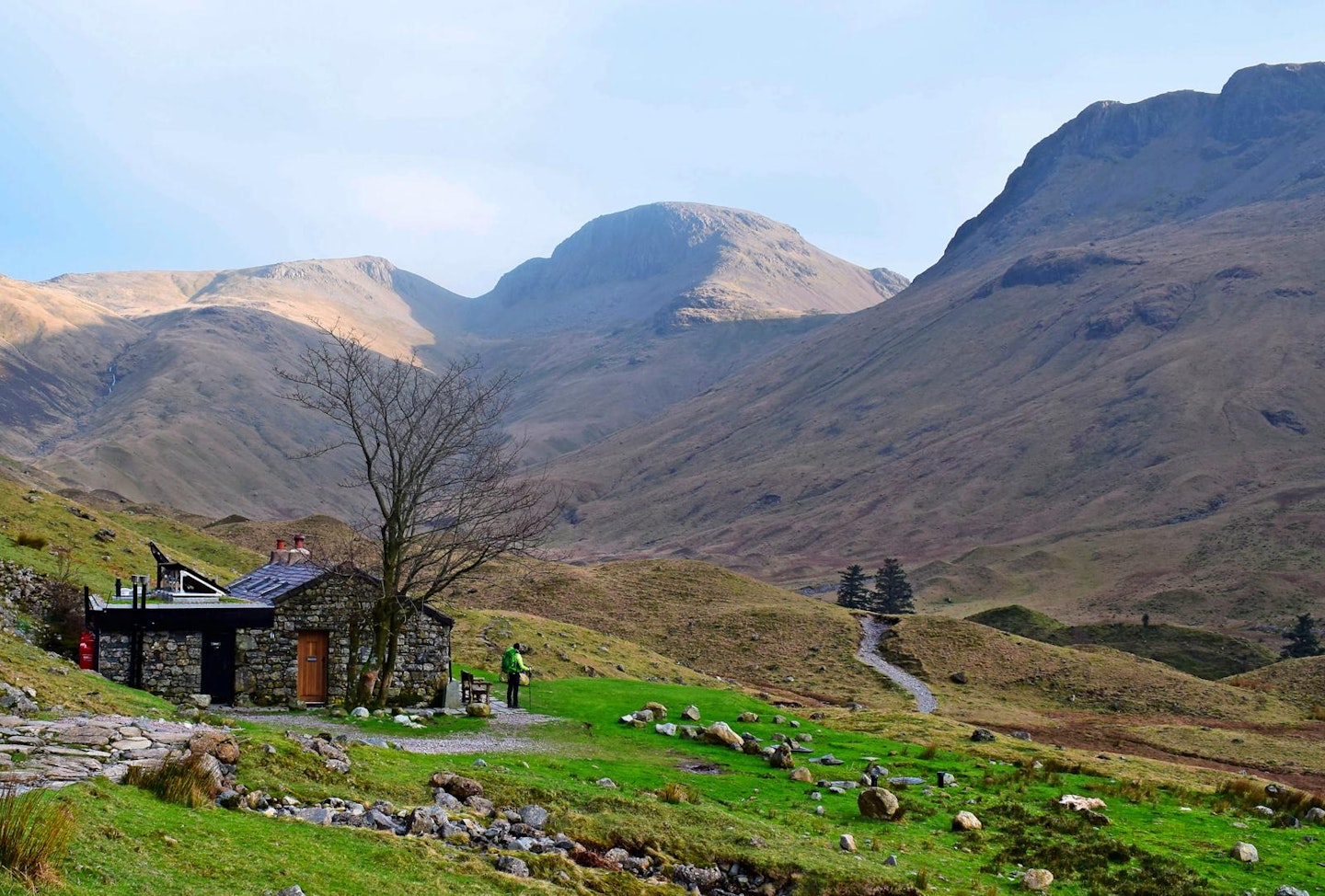 What is the best month to walk the Coast to Coast?
High summer promises the best weather although accommodation can be jam-packed, so we'd recommend late spring and early autumn when days are long and often warm, but the holiday crowds are thinner.
How many days many miles should I walk each day?
We think the following 14-day itinerary is ideal: St Bees - Ennerdale Bridge - Rosthwaite - Grasmere - Patterdale - Shap - Kirkby Stephen - Keld - Reeth - Richmond - Ingleby Arncliffe - Clay Bank Top - Glaisdale - Littlebeck - Robin Hood's Bay. The shortest day is eight miles, the longest is 23 but flat, and that leaves plenty of time to relish the best bits of the trail.
Is the Coast to Coast Path easy to follow?
There is no specific waymarking for the Coast to Coast walk, although signs and waymarks are increasingly evident and the recent National Trail designation may improve the waymarking. The route, however, is rarely less than evident, and follows good and long-established paths and tracks. Even though in some places, like Nine Standards Rigg, the path can deteriorate into something unhelpfully liquid at times. For the most part, there is firm footing everywhere.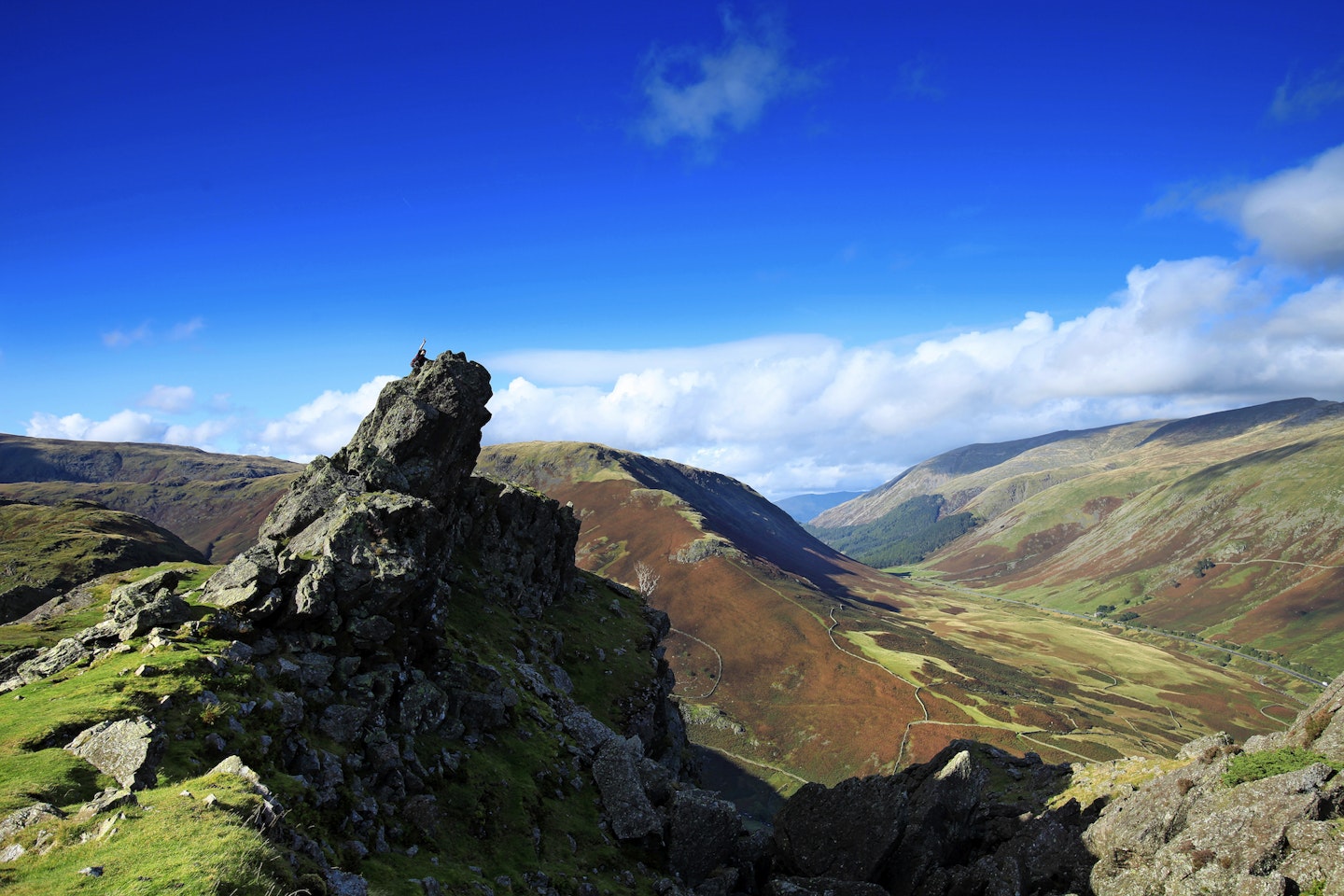 Where does the trail start and finish?
There's a rail link from London to the start at St Bees and the journey time is about five hours. The trail's end point at Robin Hood's Bay is served by buses that link to the nearest rail stations at Whitby and Scarborough. Alternatively, you can park with C2C Packhorse in Kirkby Stephen – or get there by train – and use their minibus service to start and finish. Sherpa Van offer a similar deal with parking in Richmond and shuttles to either end.
Where is there to sleep on the Coast to Coast?
The trail is well-served by campsites, hostels and B&Bs so most nights you can choose according to budget and need for luxury at the end of a long day. The pick is limited to just B&Bs in a couple of spots and there are one or two pinch-points like the hamlet of Keld where accommodation is gold dust. Try the Trailblazer guidebookfor the lowdown on where's good. Booking 15 nights can be quite a task – Sherpa Van offer a booking service for a small fee and companies like C2C Packhorse and Discovery Travel offer self-guided packages.
What are the best places to eat?
The norm on the Coast to Coast is good pub grub at the village inn rather than haute cuisine, but pie and chips is exactly what you crave after a day on the trail. Between a full English breakfast and dinner, many walkers find constant snacking is the best way to keep fuelled, but be aware that a couple of stops like Keld have no village shop to stock up so come prepared.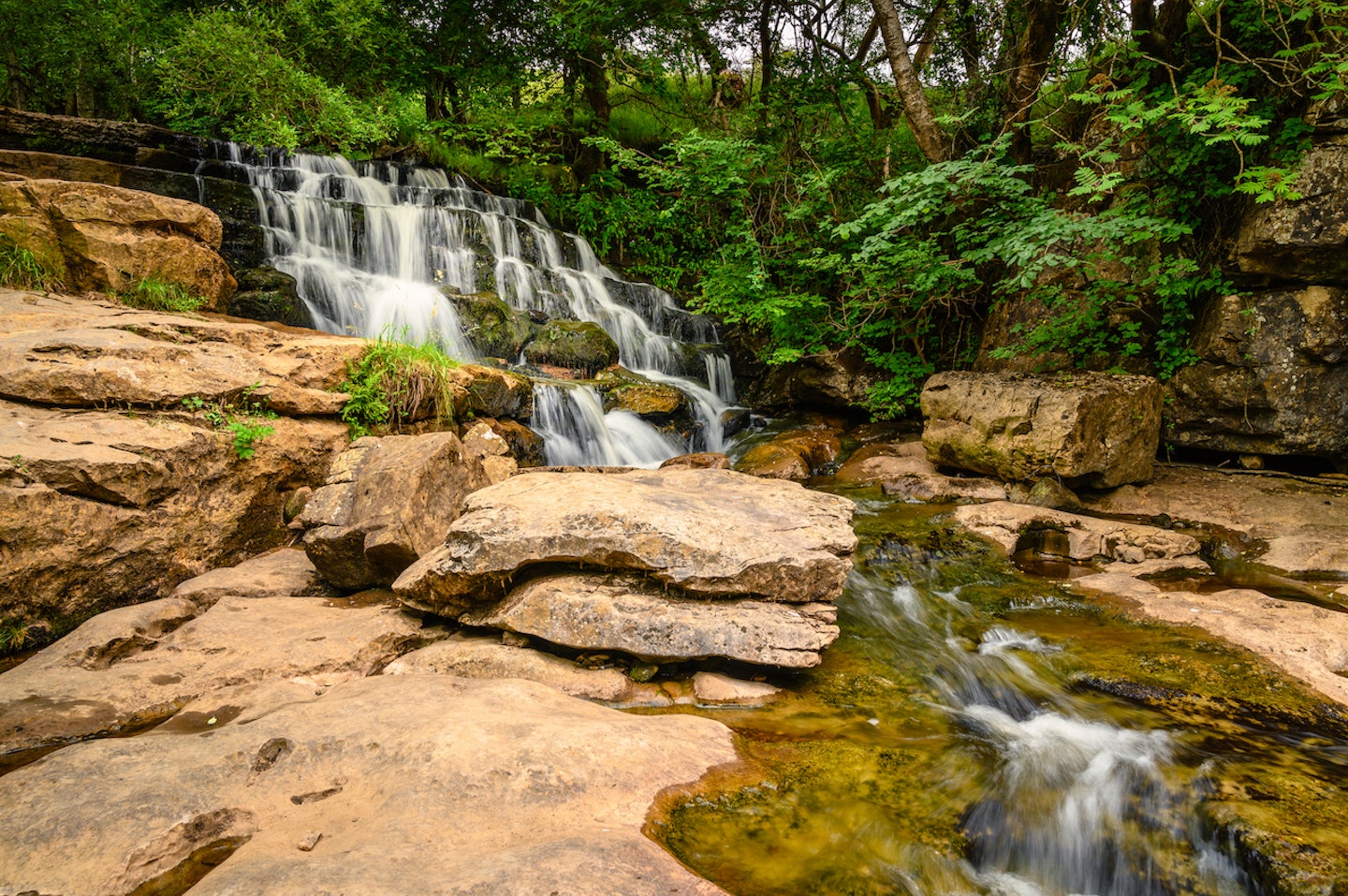 Can I get my bags transferred along the trail?
If there's one thing we'd recommend, it's paying a bag-carrying service to move your luggage door-to-door while you skip uphill and down dale with just a daypack. C2C Packhorse and Sherpa Van are both highly recommended.
What maps and guidebooks do I need?
Bookshelves creak with Coast to Coast guides, but for our money the best three are Wainwright's original A Coast to Coast Walk with distinctive sketches and humour; Martin Wainwright's The Coast to Coast Walk for detailed directions and OS 1:25,000 mapping; and Henry Stedman's Coast to Coast Path for its accommodation and food info.
It takes eight OS Explorer maps to cover the whole route so we love the A-Z Adventure Coast to Coast Walk which fits the whole route into a single handy booklet of 1:25,000 OS mapping. Harvey Maps also cover the trail in two, info-packed waterproof sheets. You can also view and download a digital map of the route from OS Maps HERE.
More important info
There's no single official Coast to Coast website but these are some that are excellent for further research. The Wainwright Society includes full details of current route diversions), and keep an eye on the National Trails website as they continue to add info to their new page.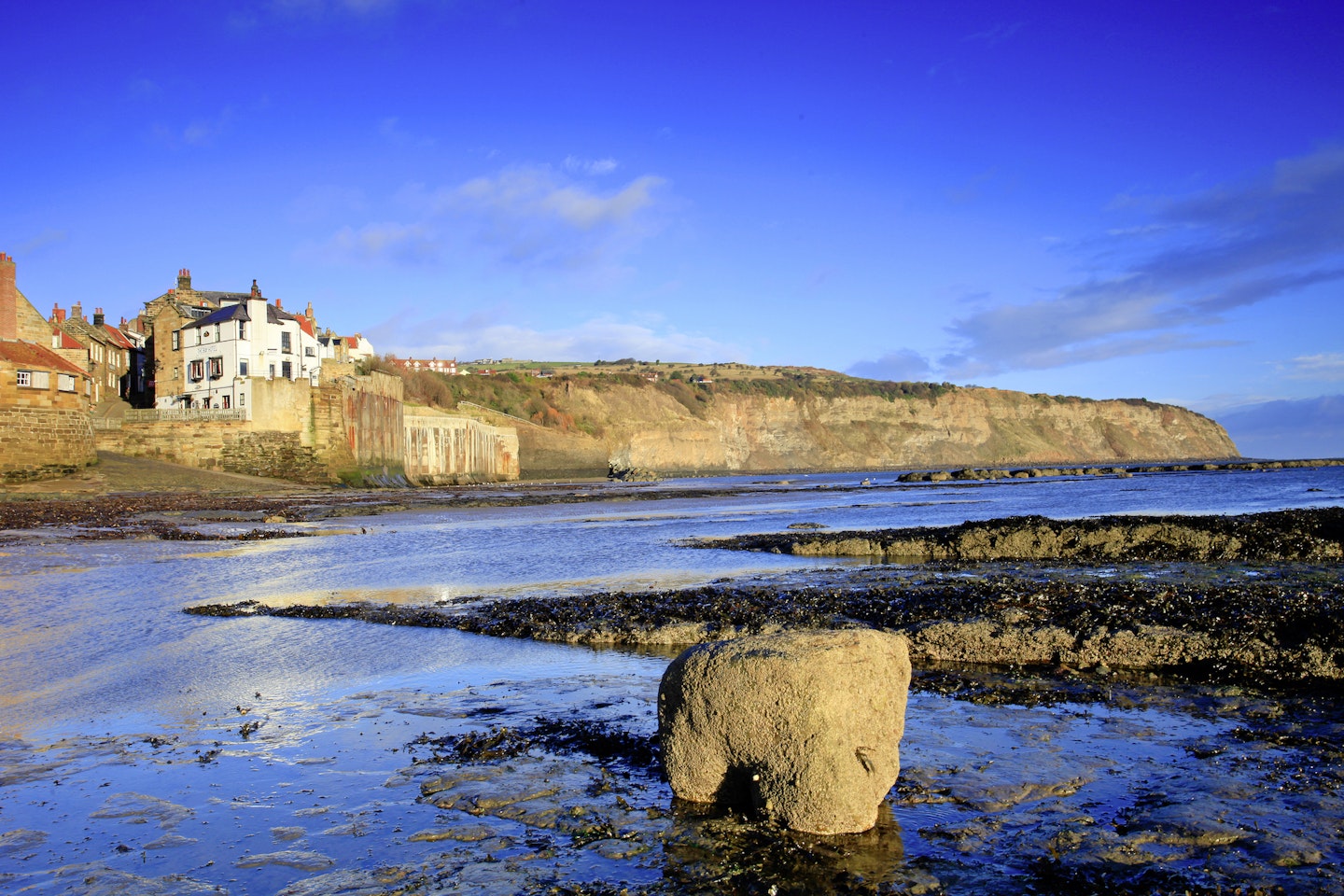 Walking the Coast to Coast Path – by Hannah Engelkamp
The real joy of doing big walks on a small island is the tangible sense of travel, and crossing the nation from one sea to another is as satisfying as it comes.
In 1972, walker and chronicler Alfred Wainwright devised a route from Coast to Coast through three of England's most dramatic national parks – the Lake District, the Yorkshire Dales and the North York Moors. Most people walk from west to east, and that means the Lakes come first.
It's a daunting prospect because the Lake District is a land of superlatives. As the largest national park in England, it's home to the path's longest and deepest lakes, plus nine of its ten highest mountains. It's also holder of the national rainfall record, as we're about to find out. The Coast to Coast walk begins with a bang.
Or rather it begins with a surprisingly tough day of pre-Lake District walking, covering coastal plain and moor with the mountains ahead of us. Leaving St Bees, the path initially takes us west around a headland – surely the wrong direction! – before leading us up a very small but alarmingly hard-going hillock called Dent Fell. In the rain.
Luckily my walking buddy Sarah and I have developed a cavalier attitude to walking which saves us at such times – a kind of cheerful deliberate amateurism, complemented by a zero-whining rule. Somehow if you refuse to acknowledge hardship, it fades. Thoughts are powerful, so make them good ones.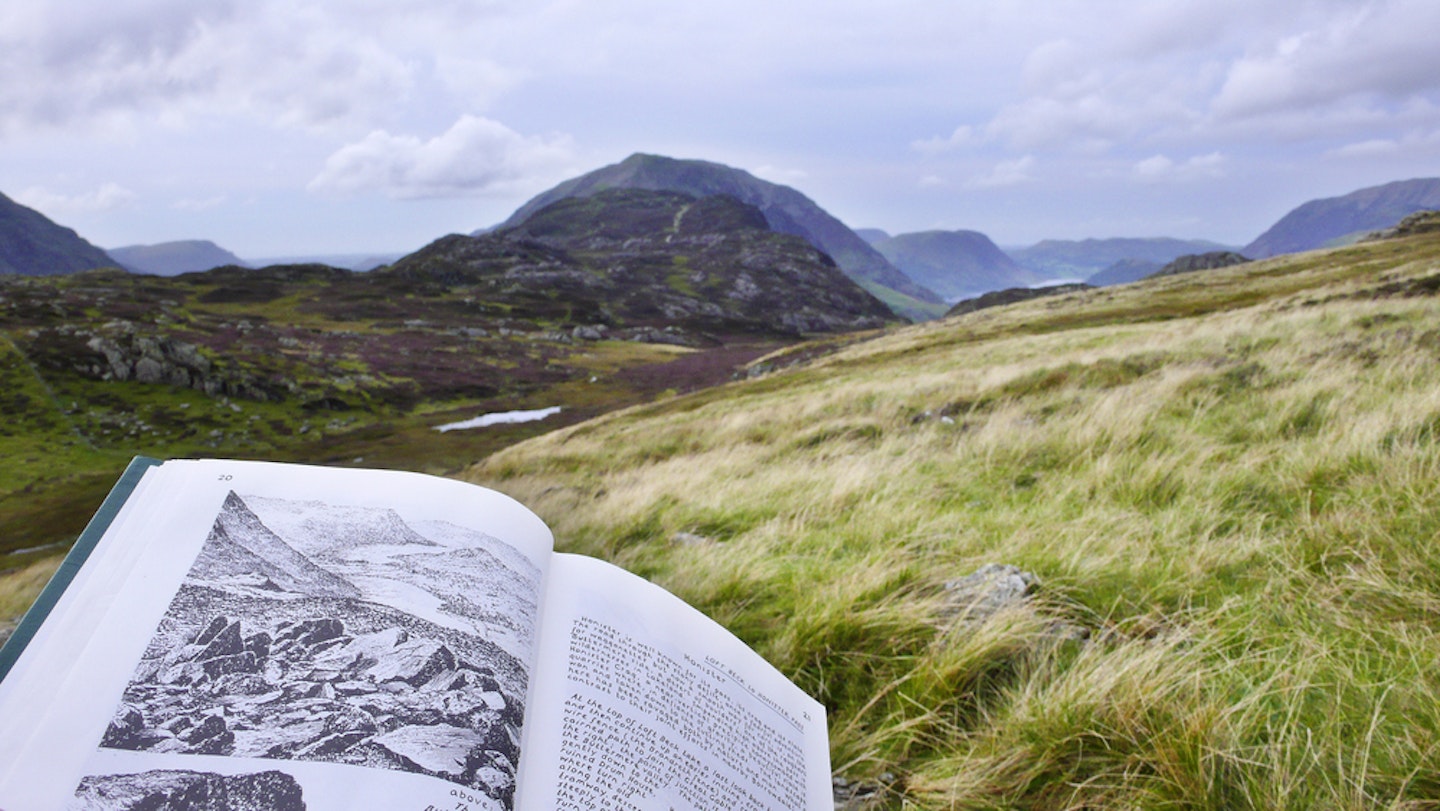 For the first few days there are lots of thoughts, and we babble. We're both fresh from our desks, minds whirring in the sudden silence and simplicity of a walking holiday. That evening in Ennerdale Bridge we drape the B&B radiator with sodden maps and clothing and sleep like the dead. In the morning, after the first of 13 full English breakfasts, the long lakeside path around Ennerdale Water and a stretch of forestry track eases us into the walk. Up ahead is Black Sail Hut, a remote shepherd's-bothy youth hostel that's set amongst drumlins, strange pointy mounds that look like giant anthills.
The path turns steeply up the slope, alongside the course of Loft Beck, and the route evades so many walkers that the Mountain Rescue Association advises you to pay close attention here. It's the first Lake District ascent and the view is spectacular: bald, nobbly mountaintops nudge the heavy clouds and dark meres and tarns shine in the valleys.
You can swap the valley's forestry walk for an earlier and even longer ascent up to Red Pike or to Hay Stacks, and a long ridge section to the top of Loft Beck. In Wainwright's guidebook, A Coast to Coast Walk, he explains the route isn't set in stone: "Some walkers may choose to vary it in places, either to make additional detours or to short-cut corners, or even follow their own course over lengthy distances. Such personal initiatives are to be encouraged."
Wainwright's book is a must – it's not just a guide, it's a companion. The pipe-smoking, flatcap-wearing Lancastrian becomes an informed and opinionated member of the group, with his draughtsman's drawings of the route and encouraging comments like "The first mile done and still going strong."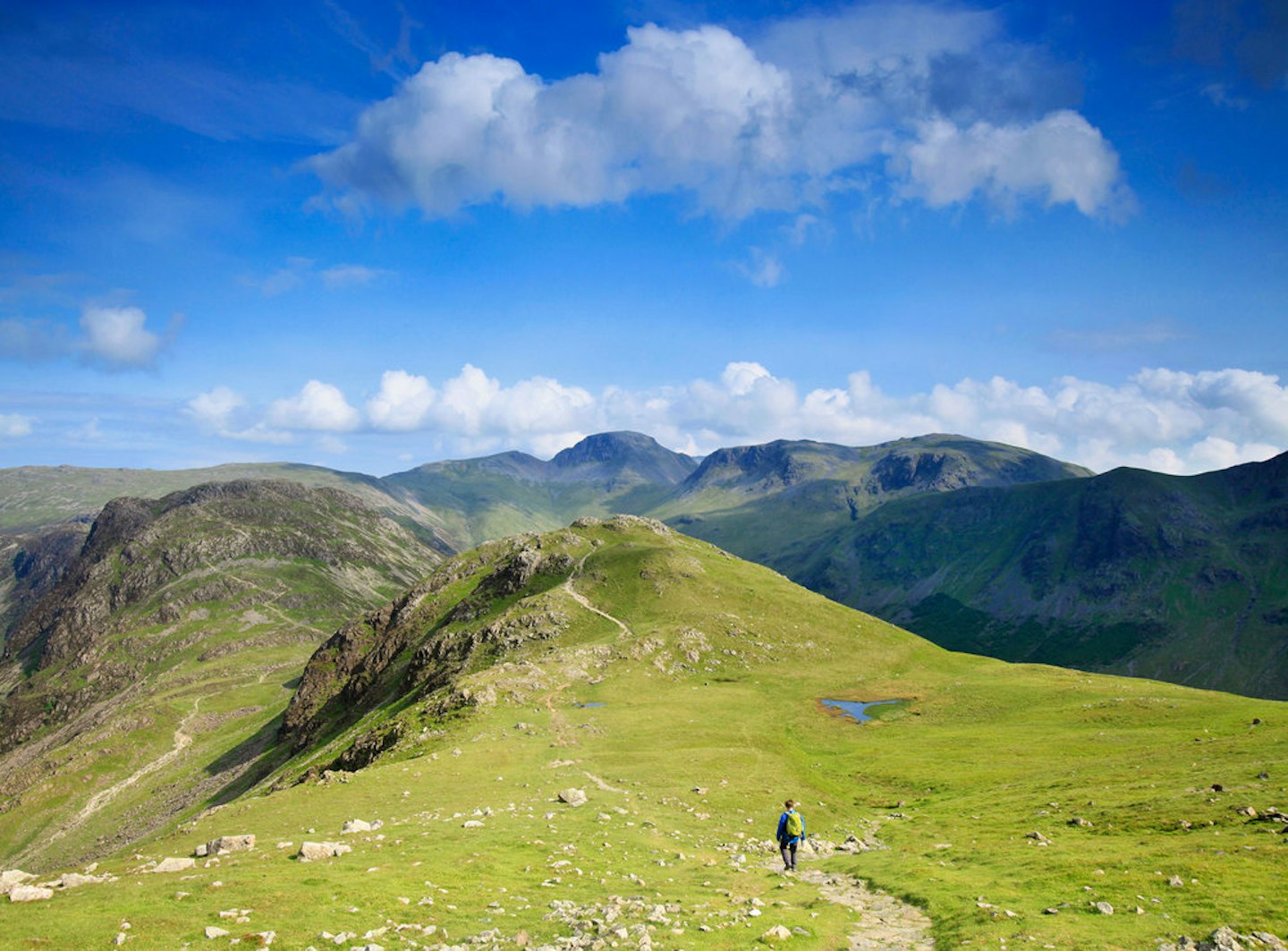 Thankfully, once high up beside Loft Beck, our route makes the most of it by skirting the high contour line for a good while before joining an old slate tramway, dropping down to the Tolkienesque Honister Slate Mine and on into Rosthwaite.
The joy of the Coast to Coast is in the rhythm of the landscape as you move from villages to remote, stark mountaintops, and back down to villages again. With each descent the villages have slightly different cultures, and are often many, many miles apart by road, as we discover on day three.
We know the moment we step out for Greenup Edge that the rain and wind are set in for the long haul. With our accommodation booked for the whole route – recommended if you are B&Bing in the peak months of May to September – we have no choice but to walk. Before we even begin the day's first ascent we are wet to the skin and digging deep for our resources of jollity, chocolate and rum.
The wind races over the mountain and hits us head-on; scrambling over the outcrops further up is a bit scary. When we reach the top the low cloud robs us of any sense of direction, and we blunder around, sinking into the saturated bog until we are scooped up by a cheery man, his Tilley hat firmly lashed under his chin. He's gathered several other lost wanderers too and leads us all down through Easedale to Grasmere.
The village, with its neat gardens, sensible human life and hot food, is like an oasis to us, but we are only halfway to our B&B in Patterdale. Many people break this day into two stretches, and we'd recommend it. The ground is rough, Greenup often inhospitable, and the second half runs alongside Helvellyn, England's second highest mountain. In another week, on the other side of the country, we'll walk 25 miles across the flat Vale of Mowbray in a single day that feels much less hard going than the nine we've just done. It's worth remembering that miles are not all created equal.
So we get a taxi to our B&B, still nine miles away by path, and much further by road. Then the following morning we take two buses all the way back again, and spend much time and money in the waterproof hat shop. Of course, it doesn't rain again.
Helvellyn is well worth the backtracking, sunny and dramatic, and Striding Edge is a real thrill. Luckily we had planned today in as a rest day, so we are walking back to the same accommodation – and we urge you to factor in one or two days off, to rest weary legs or to allow changes of plan.
The next day, number five for us, is the last of the Lakes. Bright and beautiful, it begins with a long slow climb up to the tip of High Street, a straight Roman road at 800m. We perch on the dramatic peak of Kidsty Pike, borrowing the spot from the local golden eagles for the duration of our sandwiches, before plunging down to the Haweswater Reservoir, where the Dun Bull Inn lies amongst the buildings of the drowned village below. Then we pass out of the Lake District, into the lowlands that stretch ahead of us. Kidsty Pike remains visible for the next two days, like an old friend waving a hanky whenever you look back.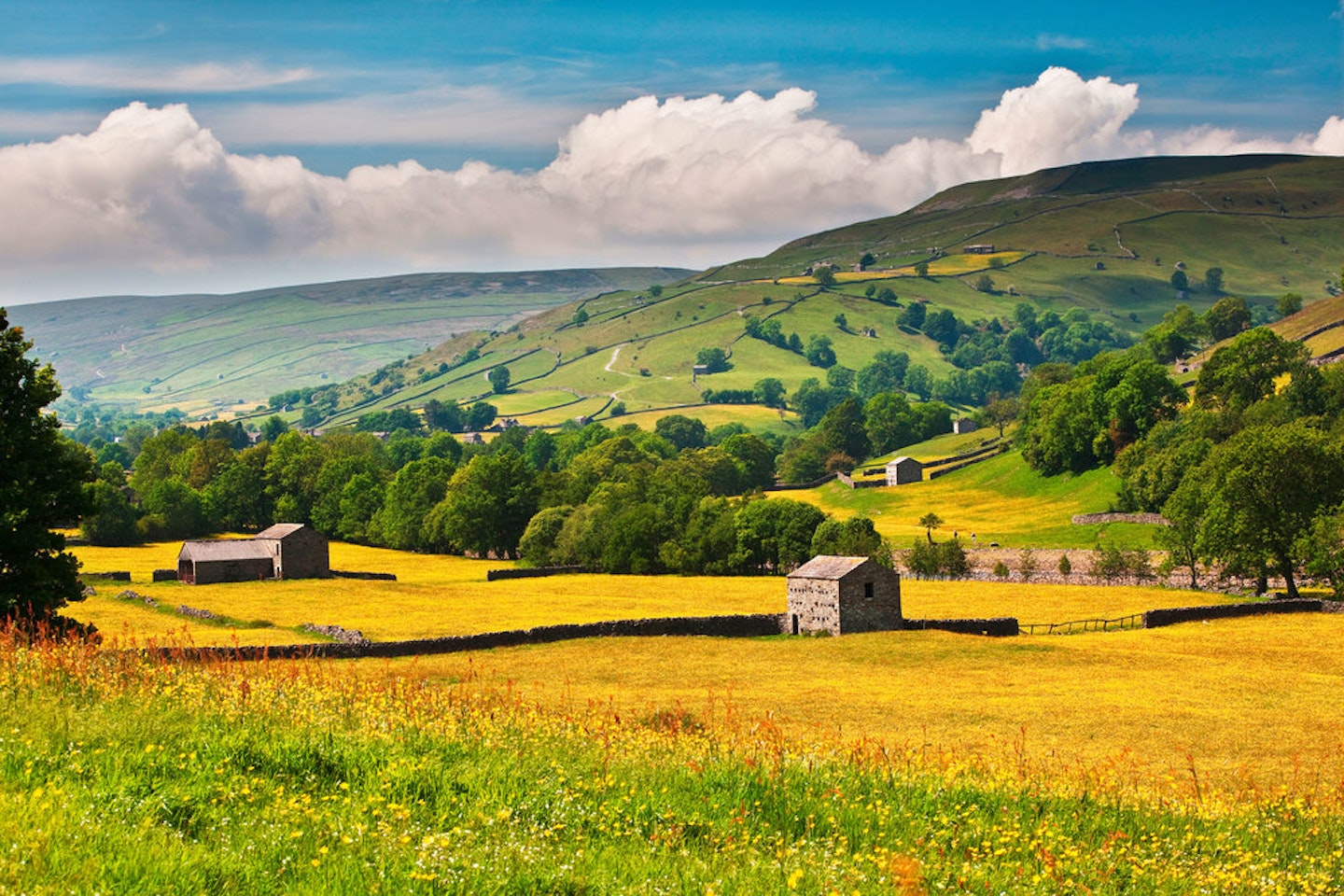 One of the worries of the Coast to Coast is that after the Lakes, how can the rest match up? Wainwright, a committed Lakeland fan, understands: "Stay if you want to and I'll carry on alone, and no hard feelings. You'll think of something to tell the folks at home."
But that would be a terrible shame. There's triumph in walking right across the Lake District, but there's so much to come, and our bodies are getting into the swing of it.
Shap to Kirkby Stephen is a 20-mile day that, unusually for the Coast to Coast, isn't in a national park. But it's still beautiful, and there are visual treats like Shap Abbey and the Smardale Gill viaduct. The sheep pasture is green and rolling, with drystone walls and long views, and the miles fly by.
We'd wanted to do Wainwright's trail ever since Sarah cut out a newspaper article in 2004 that declared it the second best walk in the world, behind the Milford Track in New Zealand – research that originated with this very magazine. Apart from a stirring of national pride, it was the promise of variety that tempted us, and sure enough, every day is distinct and breathtaking.
Next up in this spectacle of variety is the Yorkshire Dales National Park, straddling the Pennines in the centre of the country. High, exposed moorland, pink with heather, is sliced up by sheltered dales with woodland, waterfalls and little villages.
The walk passes first through a beautiful ring of giant cairns called Nine Standards Rigg. The next day crosses the Pennine Way near the eccentric Tan Hill Inn, a sprawling pub all alone in the middle of the high plateau, with a fire, hearty food, and walkers and cyclists milling around on their own missions; an adventurer's crossroads.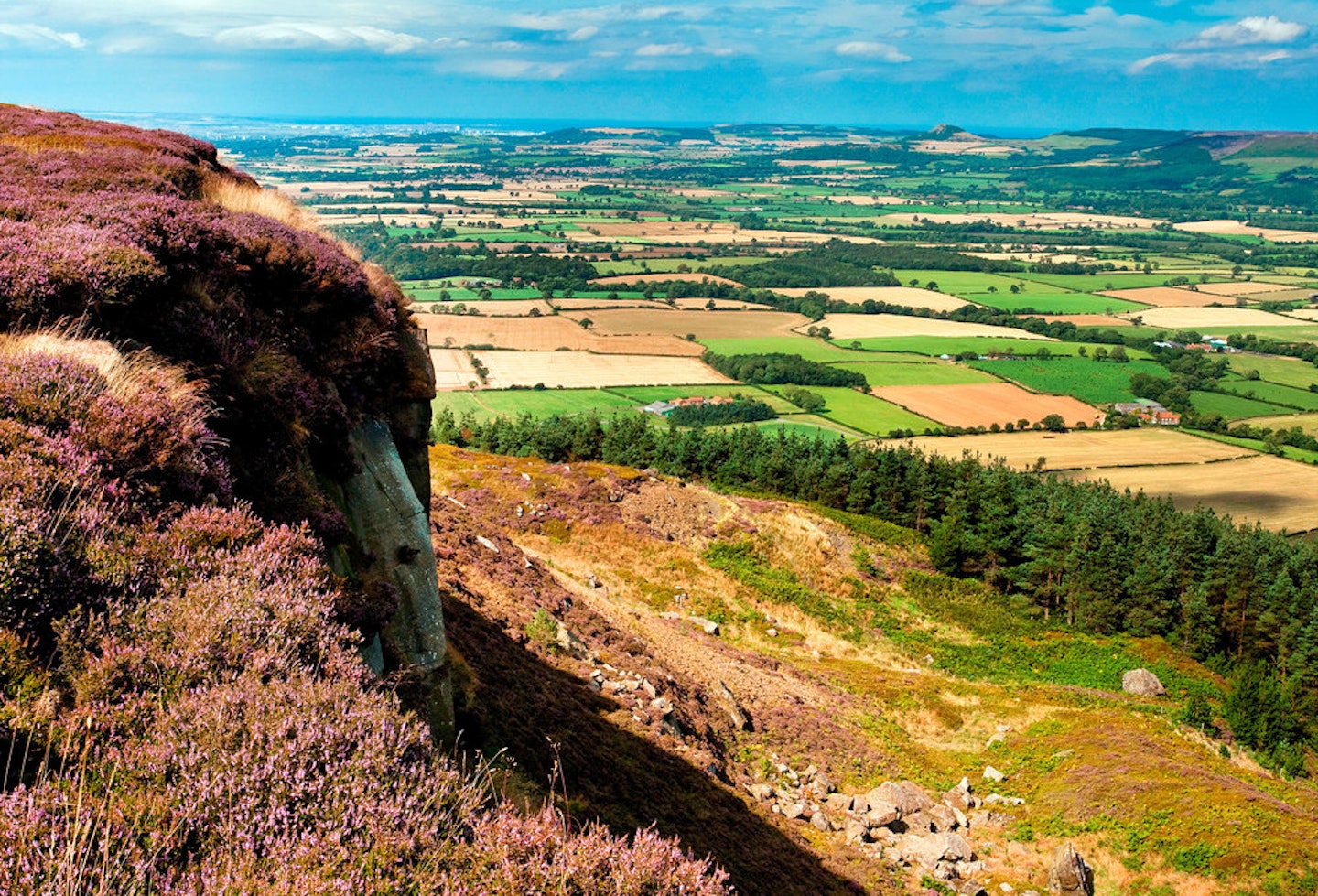 Thankfully there are two short days up next – Keld to Reeth and Reeth to Richmond. Mere ten-milers, they still take us all day, but the dawdling gives our legs a chance to recover. The landscape changes to a darker, more menacing peat bog, and the carcasses of the 17th and 18th-century Swaledale lead mines are deserted and dramatic. There's a valley option at this stage; the high route is spooky and lonely enough on a bright day – stay low if it's raining.
And then – the great yawn of the Vale of Mowbray. Yet, as a walk of amazing variety it seems only right that there's a dull day too, to make a full set. We walk with people, chatting and eating the crisps and apples that people leave alongside honesty boxes at the gates of their houses, presumably to fuel us through the day's 25 miles. Many of our new trekking companions have been intimidated by the distance and booked accommodation along the way, but they peel off reluctantly when they discover they still have energy.
Moreover, the upside of the boring Vale becomes apparent when the following day – number 12 for us – the path rises up onto the edge of the North York Moors and skirts it, with soaring views back over the flatlands and north towards Middlesbrough. Yesterday's toil is today's recompense – there's a lesson in there somewhere. And of all of Britain's national parks, this is the one with the least rainfall – a notable difference from where we began.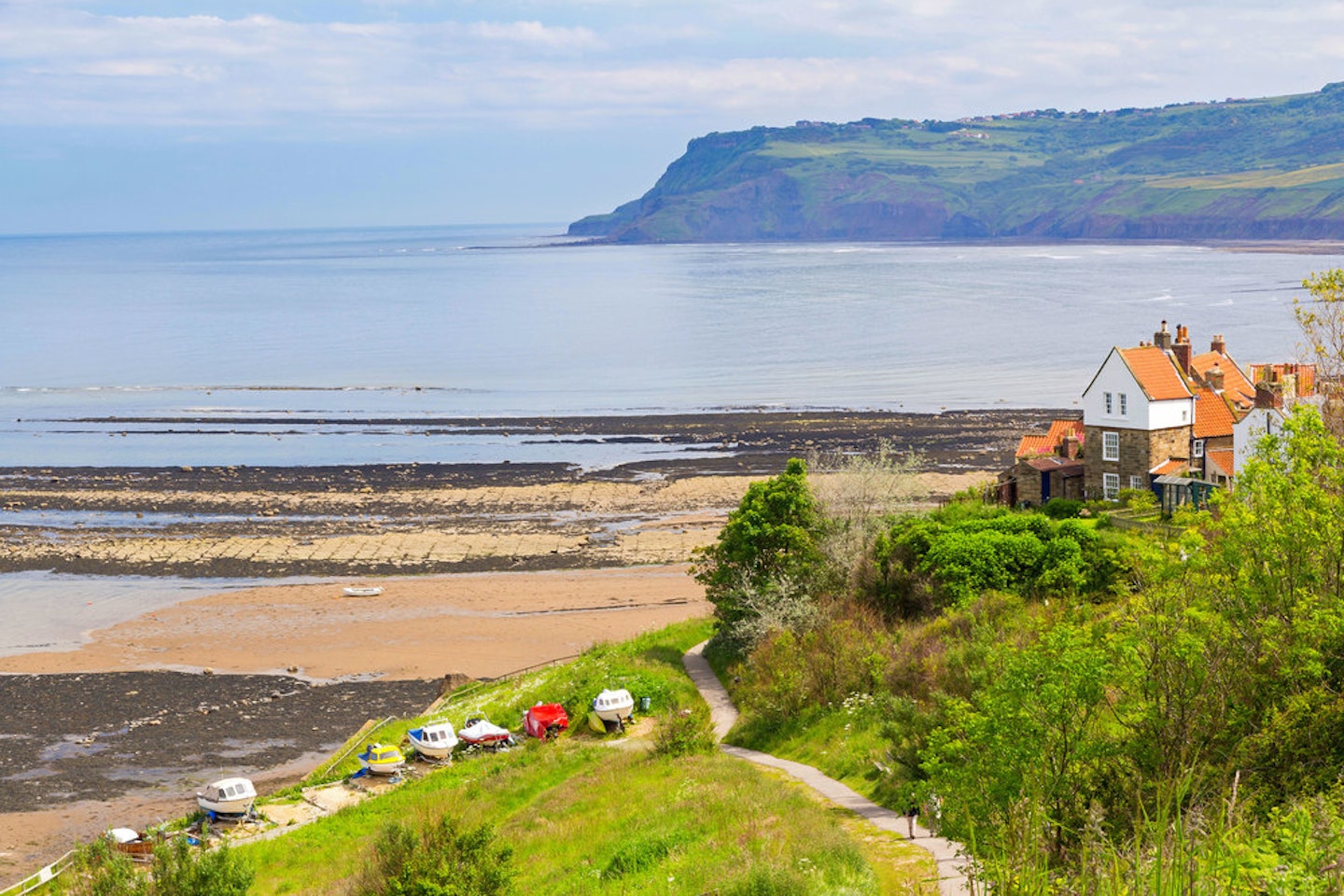 As we cross the moors our minds become slow and meditative. We are creatures who walk. The landscape continues to be beautiful, but I can't remember the detail. This journey would be very different the other way around – the drama, the literal and metaphorical highs and lows of the Lake District, suited another me, a busy-minded woman. Here there's grouse-beating and paragliders, a monster hill out of Grosmont, and an enchanted woodland teashop at Falling Foss. And there's companionable silence.
And finally, a distant North Sea view, enhanced by the vast ribcage of Whitby Abbey. As he began, Wainwright finishes off with another stretch along the coast. With 'coast' in the title twice, the walk wouldn't be complete without some seaside miles. We're overjoyed to see the finish when Robin Hood's Bay finally emerges from around a cliff, its red roofs glowing in the evening – a whole new beautiful vista in this comprehensive catalogue.
The Coast to Coast is a serious walk, but achievable. Wainwright dedicated his book to "The second person (unidentifiable as yet) to walk from St Bees Head to Robin Hood's Bay," and so he certainly intended his route to be followed. And yet he was an explorer and an improviser and always thought of this beautiful walk as just one cross-country route in an infinite number. So take your time this summer and wander away from the main trail, to follow the spirit as well as the word of Alfred Wainwright and create your very own Coast to Coast adventure.
Get HALF-PRICE digital Ordnance Survey Maps for the whole of Great Britain by subscribing to Trail magazine.