Sleeping under a tarp is a magical and minimalist experience. Unlike a tent, which cocoons you from the environment behind twin layers of the inner and flysheet, a tarp leaves you gloriously open to the landscape. The golden dusk light is unfiltered, stars dazzle overhead and your views are unhindered – a more intimate way to sleep wild.
It's a must-do for those looking to get closer to nature and the mountains, but it's not the easiest activity to wing your first time. If you're just getting into the idea, check out our beginner's guide to tarping before you hit the hills this weekend.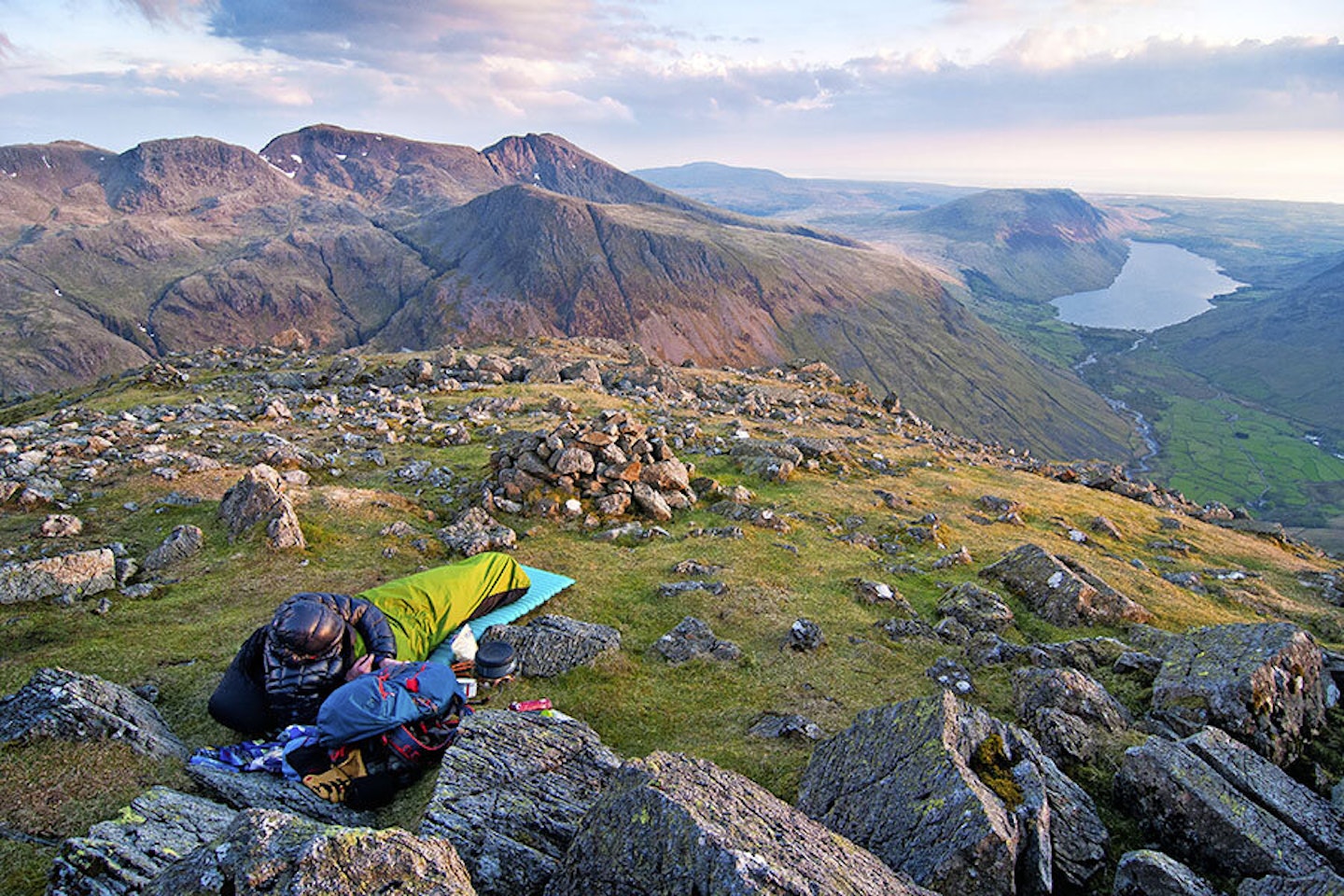 What is a tarp? It's a single-skin sheet of waterproof material used to create an outdoor shelter. It can be pitched in numerous layouts and shapes using pegs, walking poles, guy lines and optional groundsheets or bug nets. This versatility allows a bespoke set-up tailored to the prevailing weather: pitch high for space and ventilation in fine conditions; pitch low for stability and protection on rainy, windy days. From the simple A-Frame and Lean-To to the more complex Tipi or C Fly Wedge, the options for tarp orientations are plentiful.
Our Shortlist
Nordisk Voss 5 LW – Best in test
Alpkit Rig 3.5 – Best value
MSR Thru-Hiker 70 – Best for versatility
Terra Nova Competition – Best tarp for solo trips
Mountain Laurel Designs TrailStar – Best tarp for weather resistance
Six Moon Designs Deschutes Plus – Best ultralight tarp
Robens Wing – Best tarp for group trips
Eagles Nest Outfitters ProFly Rain – Highly recommended
There are three main types of tarp: flat, shaped and tarp-tents. We've covered the full range in this article. Flat tarps are square or rectangular, and generally-speaking are the simplest and cheapest option on the market. Shaped tarps are multi-sided or have curved edges, with different shapes (e.g. hexagonal) optimised to a specific orientation. Tarp-tents – which blur the line between tarp and tent – can be pitched in different ways but include advanced features such as integrated bug nets, zippers and doors.
Whether you're a long-term tarp aficionado or simply considering sleeping in a tarp for the first time, take a look at our picks and find the one that's just right for you.
The best tarps for wild camping in detail
Best in test
Description
Labelled confidently as 'one of the world's lightest portable shelters', the Nordisk Voss 5 LW is
Pros
Super lightweight
Great functionality
Innovative pole connection system
Cons
Almost worryingly thin
Doesn't come with pegs
Best value
Description
Perfect for beginners and budget-conscious campers, the Alpkit Rig 3.5 is an excellent,
Pros
Highly protective
Packs very small
Unbeatable price
Best for versatility
Description
This simple rectangular tarp (290 x 240cm) weighs 460g, including six ultralight pegs and six guy
Pros
Adjustable tension
Sturdy construction
Can be attached to pegs or trees
Cons
Not as many attachment points as others
Best tarp for solo trips
Description
Using the same high-performing flysheet fabric found in its Laser Compact tents, this Terra Nova
Pros
Has several configurations
Extra security at attachment points
Lightweight
Cons
Need to size up to comfortably fit two people
Best tarp for weather resistance
Description
The award-winning TrailStar has a cult UK following, with fans praising its weatherproofing and
Pros
Fantastic weather resistance
Very spacious
Durable construction
Best ultralight tarp
Description
This tarp-tent hybrid from Six Moon Designs has a clever modular design. For pure minimalism, you
Pros
Good ventilation
Inner mesh protects from bugs
Easy entry and exit
Cons
Extra purchases can add up
Best tarp for group trips
Description
This seven-sided wing tarp is made from a 30-denier ripstop polyester with a 3,000mm hydrostatic
Pros
Versatile pitching
Waterproof coating
Comfortable for two
Highly recommended
Description
This well-priced, two-person, shaped tarp weighs 640g and is sized 320 x 190cm. Made from a strong
Pros
Highly durable
All extras included
In-built cords
Cons
Not as many configurations as other choices
Best tarp-like tent
Description
Ok, we admit it – it's not really a tarp in the true sense. But this superb ultralight tent is an
Pros
Superb liveability
Great tent-like comfort
Ultralight
High quality Dyneema materials
Cons
No UK distributor, so you have to pay US customs fees
What to look for when buying a tarp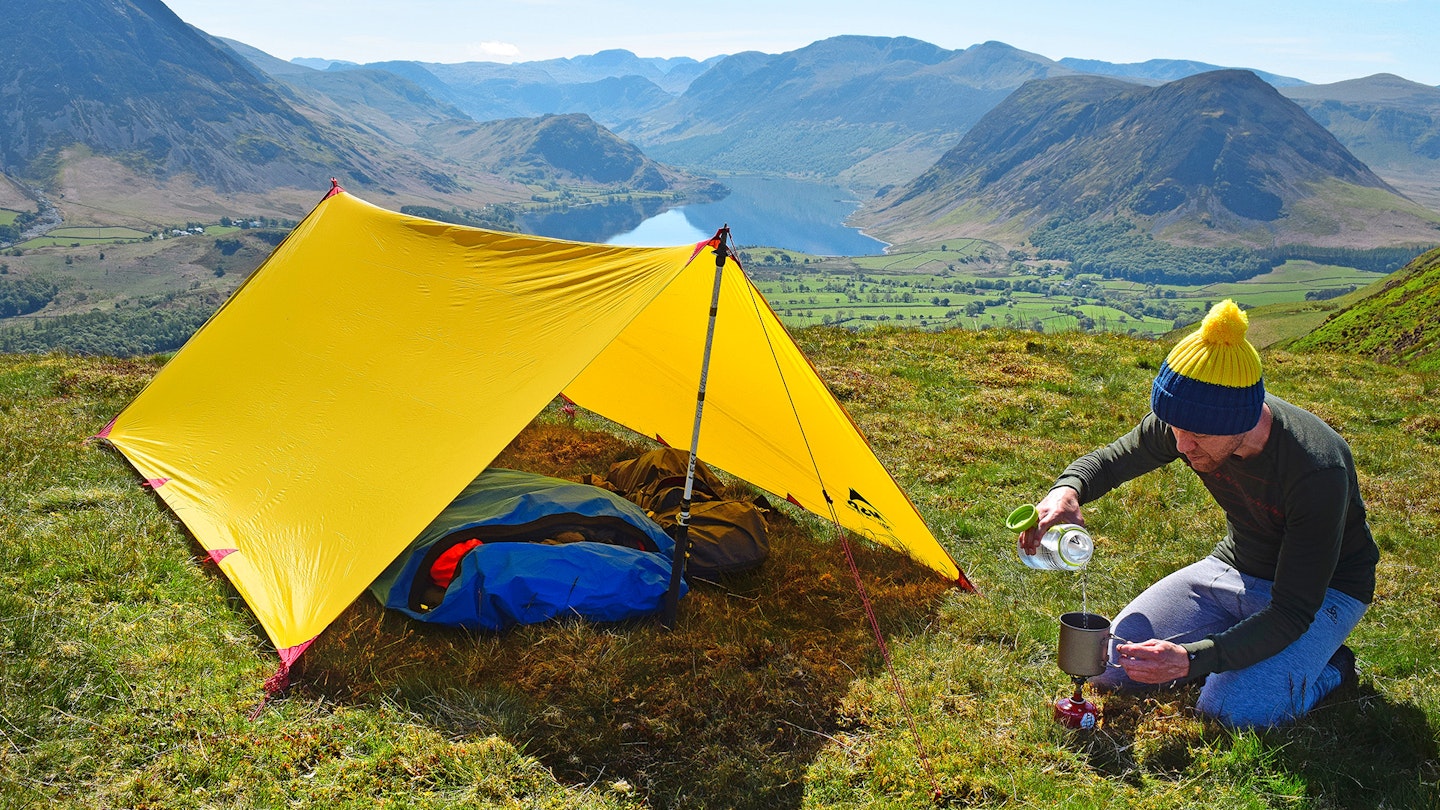 Weight
Ultralight gurus will opt for the lightest possible tarp, thus helping to reduce the overall weight of their backpack. Under 250g is feasible for a high quality tarp for one person. However, a heavier, thicker tarp may provide better waterproofing, extra coverage and improved versatility.
Size
A larger tarp will be more versatile and capable of being pitched in a broader range of shapes and designs. A particular benefit of larger tarps is the ability to use part of the tarp as a groundsheet, thus protecting your sleeping bag from the wet ground (and potentially negating the need to carry an extra bivvy bag). You should also have space to store your backpack and kit under the tarp. But remember that larger tarps will be heavier and bulkier.
Attachment & Prop Points
A good tarp will have 8 or more attachment points for guy lines and pegs, ensuring greater versatility and stability when it comes to pitching. A good tarp should also have 'prop points' - integrated grommets which house a trekking pole's tip, thus helping to improve the stability of your tarp's skeletal structure.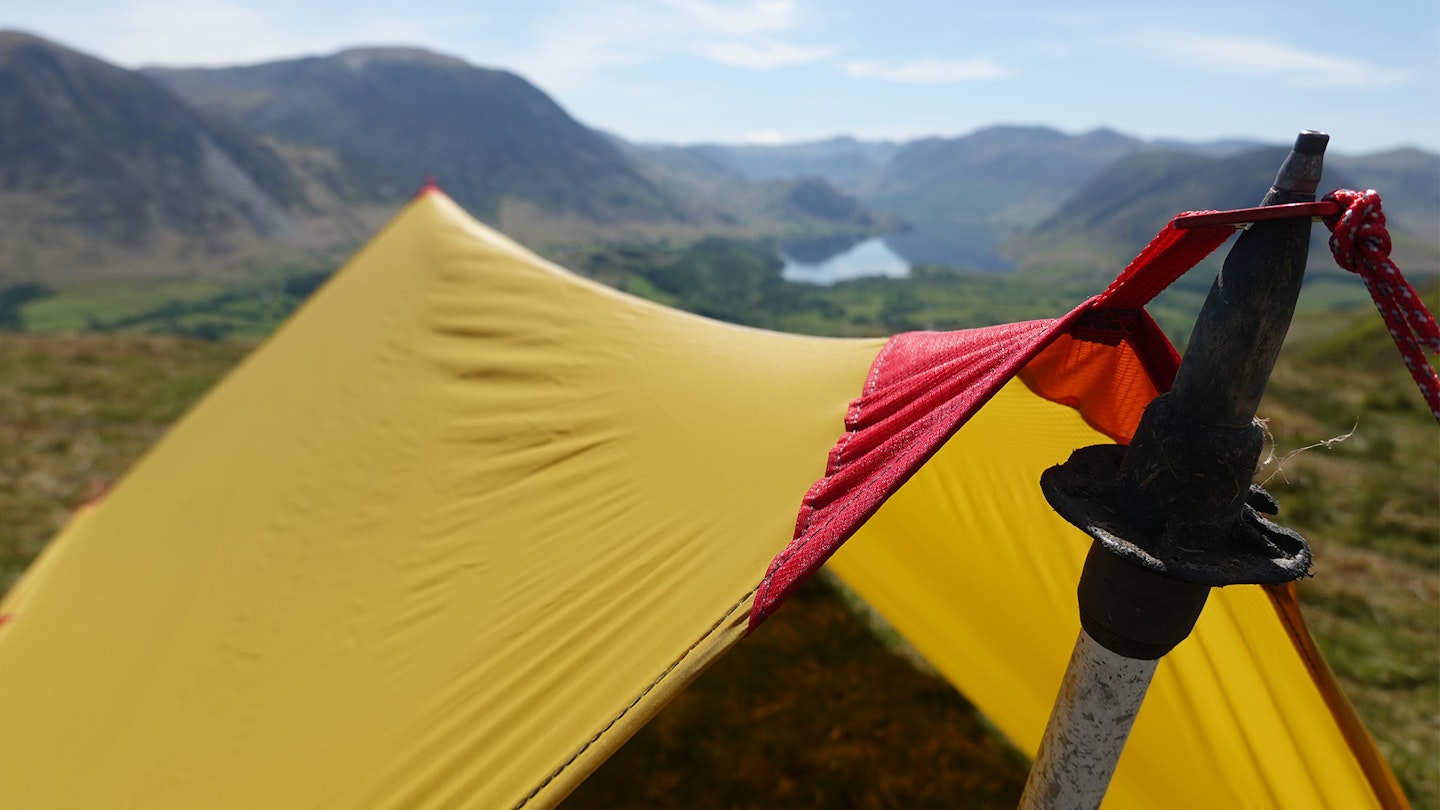 Materials & Waterproofing
Tarps are often made from advanced and highly-technical waterproof materials, such as Dyneema DCF, siliconised nylon (sil-nylon) or siliconised polyester (sil-poly). Waterproof coatings and treatments such as Polyurethane (PU) or silicone are commonly used too. Some tarp materials are thin and ultralight, which generally comes at a price premium. Others are thicker and cheaper, but heavier.
A tarp's hydrostatic head rating will give a good indication of how waterproof it truly is – aim for 3,000mm or higher for adventures in wet climates. Another key consideration is the status of a tarp's seams – some products come with pre-sealed seams to ensure the shelter is water-tight, while on some you will have to apply a sealant yourself to prevent water ingress.
Type
Each different tarp type has different pros and cons. Flat tarps are cheap, simple and great for beginners, with good versatility. They work particularly well in milder conditions or in forests where a ridgeline can be hung between trees. Shaped tarps are best for a low-profile pitch, when you need to block out the horizontal rain in the mountains. Tarp-tents are best if you require a touch more luxury and better features, such as integrated zips, doors, groundsheets or bug mesh inners.
Camping accessories to go with your tarp
Best insect repellent
Description
This spray was developed and tested in Scotland – home of the heinous midge horde. Smidge is our
Best head net
Description
Whack this over your face and feel smug as you storm through cloud after cloud of midges and
Description
Sometimes supplied tarp pegs get pulled from the ground when the weather conditions get really
Get half-price digital OS Maps. Trail and Country Walking magazine members get 50% off an annual subscription to OS Maps for 12 months. Find out more here.
Don't forget to subscribe to the Live For The Outdoors newsletter to get expert advice and outdoor inspiration delivered to you inbox!