While there are some impressively light and compact hiking tents around today (some one-person tents weigh in at around one kilogram), you can do even better with a bivvy bag.
Spacious they are not, but a well-designed bivvy bag provides an excellent little sleeping pod to use during your overnight outdoor excursions. They should be just big enough to fit you and your sleeping mat. Maybe also a reasonably sized hiking backpack.
The bivvy bag market isn't as extensive as tents, largely due to them being reasonably niche. There are, however, still a solid range of dependable options.
The best bivvy bags at a glance:
Best in test: Rab Ridge Raider Bivi - View offer on Ellis Brigham
Best Value: Alpkit Hunka - View offer on Alpkit
Best for durability: Snugpak Stratosphere - View offer on Amazon UK
Some bivvy bags are very uncomplicated. They consist of a weatherproof outer material and that's about it. These are the lightest and usually least expensive options. But then there are others that seek to occupy a space between tent and bivvy bag. These offer more internal space thanks to the use of poles. But they are a bit heavier and more expensive. In this guide, we are covering the best bivvy bags of all types and budgets.
The best bivvy bags 2023
Best in Test
Description
This is a regular feature in any of our bivvy roundups, and with good cause. Freestanding and less
Pros
Spacious
Freestanding
Great weather protection
Cons
Not as lightweight as pole-less bivvies
Best Value
Description
The Hunka (and its big brother the Hunka XL) is about as simple as a bivvy gets. There's no zip,
Pros
Very simple
Lightweight and compact
Fantastic value
Best for versatility
Description
For those wanting the comfort of a poled bivvy but without the extra weight, the Helium Bivy is
Pros
Great weather protection
Can use with or without pole
Cons
Rab Ridge Raider Bivi offers more space
Best pole-less bivvy
Description
The problem with bivvying is that the best nights for it are often the most popular with the
Pros
Good value
Good weather and insect protection
Compact
Cons
Very snug – may not suit everyone
Best for durability
Description
The thing that puts many people off bivvying is the claustrophobic nature of sleeping in what is
Pros
Tough fabrics
Relatively generous space
Cons
Similar style Outdoor Research Helium Bivy is lighter
Best budget bivvy
Description
More of a protective shell for your sleeping bag than a bivvy, Decathlon's offering is nonetheless
Pros
Tough fabrics
Relatively generous space
Cons
Similar style Outdoor Research Helium Bivy is lighter
What to look for in a bivvy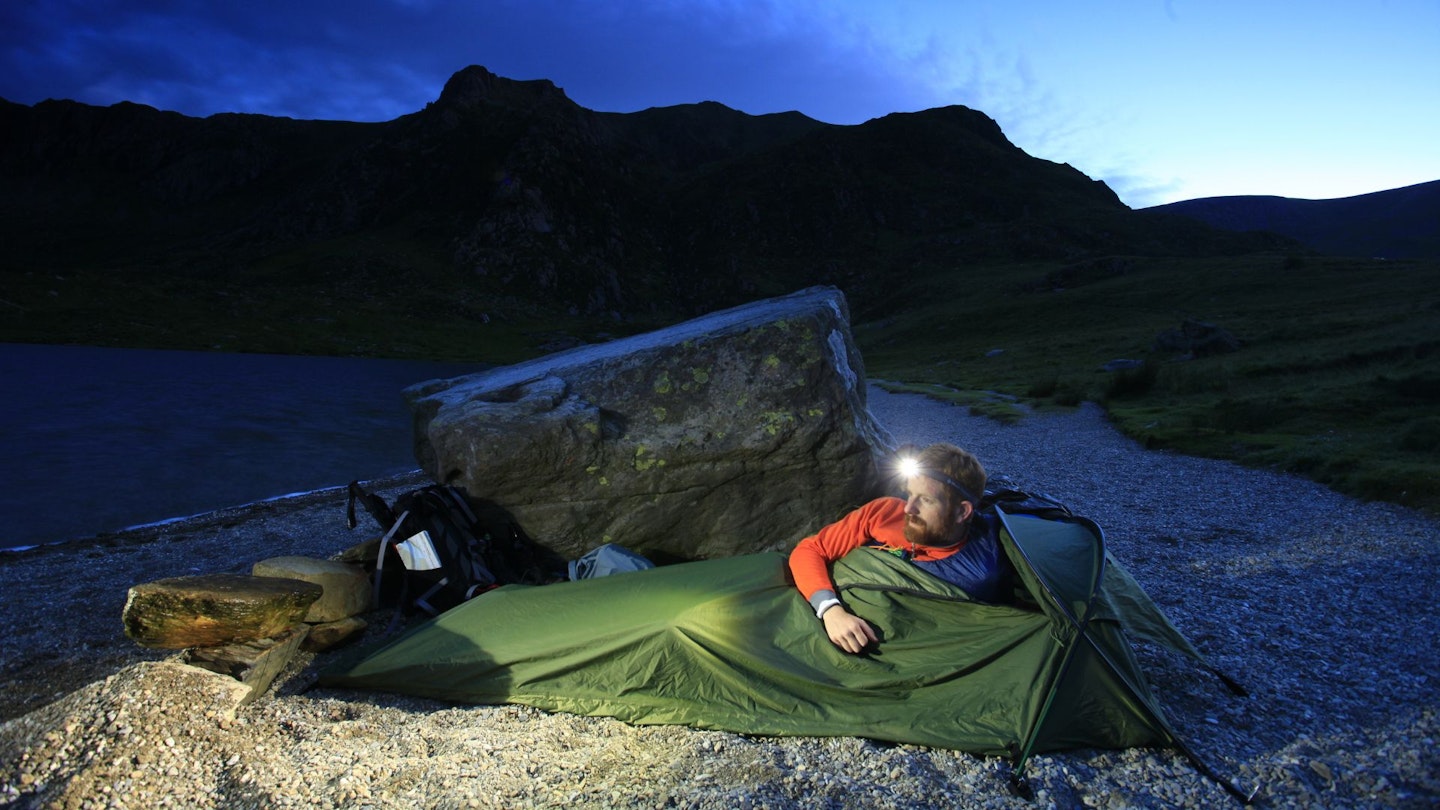 Type: The most basic bivvy is a waterproof sack that goes over your sleeping bag and sometimes your sleeping mat. Some people find this set-up cramped, claustrophobic, and a little like a body bag, so prefer poled bivvies. These use short poles to lift the canopy – usually over your head – and make the interior feel a bit more spacious.
Weight: The bivvy is the spork of the tent world. It's compact and lightweight. Yet, the weight of a bivvy can vary dramatically depending on the material it's made from and whether it requires poles. You'll need to consider which is most important: light weight and packability, or comfort and protection.
Waterproofing and breathability: A bivvy should prevent you and your kit being soaked by rain or the ingress of moisture from the ground, so the fabric must be waterproof. However, their single skin construction makes it difficult to prevent condensation on the inside, so the fabric should be breathable too. If provided, check out both the Hydrostatic Head (waterproof) and Moisture Vapor Transmission Rate or RET (breathability) figures of the fabrics – the higher the HH and MVTR numbers the more waterproof and breathable the fabric.
Face opening: While most bivvies can be sealed completely with a zipper, and some have a mesh panel that allows ventilation without letting in bugs, some cheaper bivvy sacks cannot be completely closed, leaving an opening around the face.
Get half-price digital OS Maps. Trail and Country Walking magazine members get 50% off an annual subscription to OS Maps for 12 months. Find out more here.
Don't forget to subscribe to the Live For The Outdoors newsletter to get expert advice and outdoor inspiration delivered to you inbox!
Ben Weeks is Trail Magazine's Gear Editor and has been with Trail and LFTO for over 10 years. Ben is a qualified Mountain Leader and Climbing Instructor.