Beyond essential pieces of equipment, there are the few luxuries and gadgets we allow ourselves, such as camping chairs. What is a simple amenity of home life becomes an expendable luxury on a trek or hike, and the task of the humble chair is usually relegated to a log or patch of ground.
In line with outdoor gear brands' ability to make camping equipment ever lighter and compact, some camping chairs have now reached the point where they can quite happily fit inside your big rucksack without ejecting your stove and cutlery return.
Our Shortlist:
Helinox Chair Zero High Back - Best in Test
Quechua Folding Camping Chair MH500 - Best Value
ENO Lounger SL Chair - Best for comfort
Robens Geographic High - Best lightweight camping stool
Outwell Tryfan - Best padded collapsible camping chair
Helinox Ground Chair - Best for wild camping/backpacking
Outwell Lomond - Best folding camping chair
Therm-a-Rest Trekker Chair - Best innovation
In this article, you will find a top range of expertly selected lightweight camping chairs. Competition is reasonably fierce these days, and the lightweight-durability balance is something many brands are taking a swing at. Many quite successfully.
The best camping chairs
Best in Test
Description
The Chair Zero from Helinox is the lightest chair made by the masters in lightweight camping
Pros
Good support and comfort
Low weight
Small packed size
Best Value
Description
If you're not in a position to spend the amount the Helinox Chair Zero asks (and fair enough),
Pros
Great value
Good seat height
Aluminium frame
Best for comfort
Description
In terms of comfort in a collapsible chair, we haven't tested anything that comes close to the Eno
Pros
Hammock-level comfort
Reasonably lightweight
Easy setup and packing down
Stable and durable
Best lightweight camping stool
Description
Bearing a super light but strong aluminium frame, this stool from Robens is your go-to when you
Pros
Excellent value
Very sturdy
Very light
Best padded collapsible camping chair
Description
The Outwell Tryfan is a collapsible high-back chair that isn't quite lightweight and compact
Pros
Good padding for a collapsible chair
Relatively small packed size
Removable pillow
Cons
Sitting position is a bit upright
Best for wild camping and backpacking
Description
OK, you've guessed it, we like Helinox chairs. The Chair Zero High Back above is a superb choice
Pros
Very lightweight
Small packed size
Great on soft ground
Cons
We've fallen out of it more than once!
Best folding camping chair
Description
Certainly not one for gram shavers and lightweight fanatics, the Outwell Lomond is a fully padded
Pros
Folds out very easily
Padded and comfortable
Feels indestructible
Excellent cup holder
Best innovation
Description
Pros
Works with most self-inflating mats
Padded comfort
Very lightweight
Cons
Takes longer to set up than a normal folding chair
What to look for in a camping chair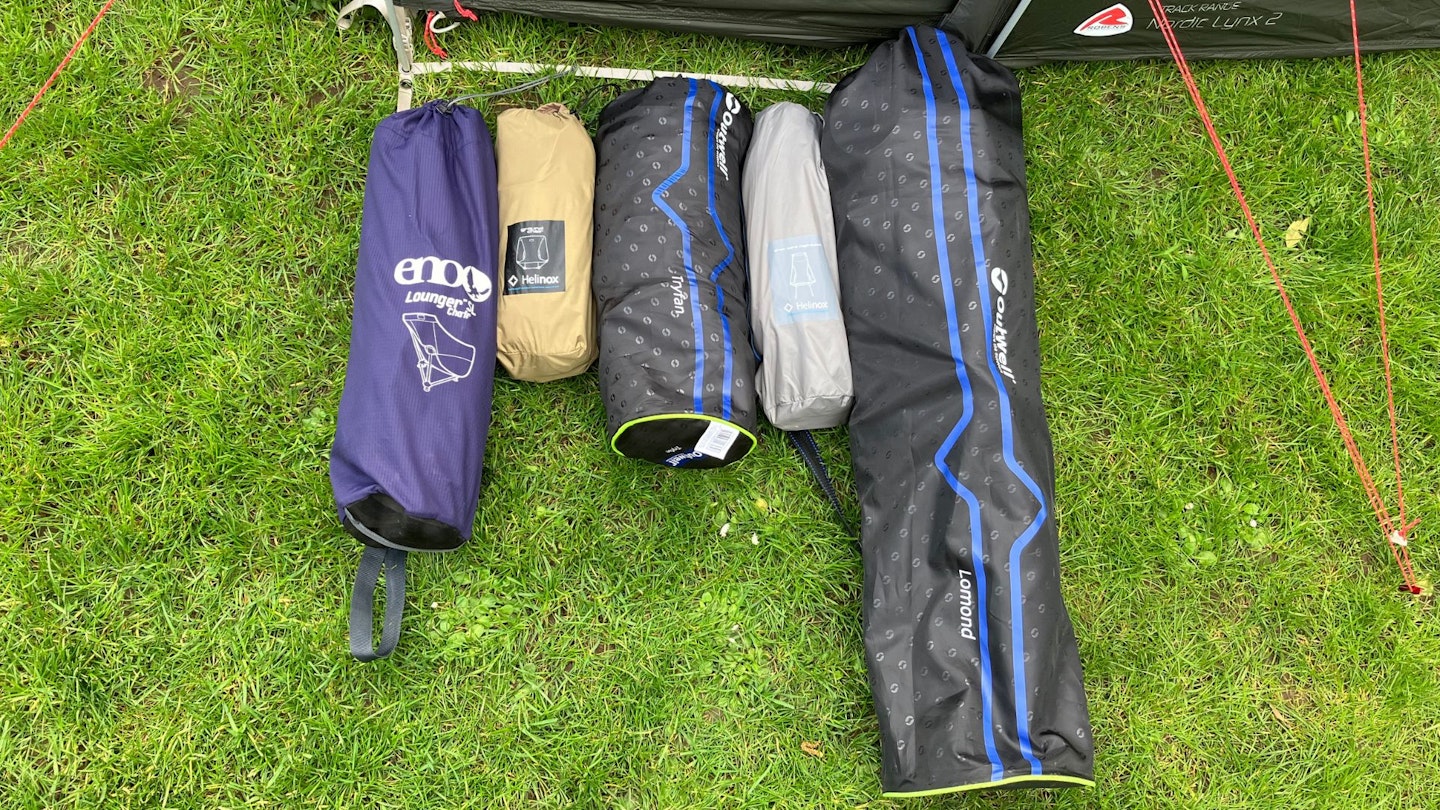 Packed size: Rucksacks still have a finite amount of space, and what sounds like compact may turn out to be not compact enough for you. Rather than simply checking whether a certain chair will fit in your pack, check to see if it'll fit after your rucksack is packed with all your gear. Though, you may be happy attaching the folded chair to the daisy chains on your pack.
Weight: All the chairs we recommend are around one kilogram or less, so none are going to add too much to the overall weight of your load. However, pack smart and remember about where items should sit in the pack.
Materials: Some lightweight camping chairs still have reasonably durable fabrics and frames. It's important to stick to these because there are plenty of models out there that are lightweight but very flimsy.
Weight limit: Adhering to the advice above about selecting a lightweight camping chair made from high-grade materials, its weight capacity will be within the weight of many. This is usually about 120 kilograms.
Get half-price digital OS Maps. Trail and Country Walking magazine members get 50% off an annual subscription to OS Maps for 12 months. Find out more here.
Don't forget to subscribe to the Live For The Outdoors newsletter to get expert advice and outdoor inspiration delivered to your inbox!