Camping cutlery is a little camping accessory that is all too easy to overlook when you're planning a big camping trip or hike.
You'll remember the stove, mess tins, pots and pans. You might even have a lightweight chair sorted. But the actual instruments of eating are so often forgotten.
Anything can be used as cutlery in a pinch, but there's something so undignified about eating a plate of beans with a house key or tent peg. So, in order to save you from this shameful fate, we've found the camping cutlery that you'll pack first out of sheer excitement to use it.
There's an array of items available out there, from the humble spork to proper five-piece travel sets. All have their pros and cons and are best suited to different scenarios. That's why it's important to match the right camping cutlery to the right outdoor excursion. Yes, it does matter, as a matter of fact.
Our camping cutlery shortlist
Gerber ComplEAT - Best in test
Primus Campfire Cutlery Set - Best value
Full Windsor Magware Magnetic Flatware - Best lightweight cutlery set
Sea To Summit Titanium Spork - Best spork
Optimus Sliding Spoon - Best spoon
Stanley Adventure Stainless Steel Food Jar - Best food container
Light My Fire LunchKit BIO - Best food kit
With a sea of options out there, we've made things simple for you and assembled our favourite cutlery options available for your next camping trip. Tuck in!
The best camping cutlery
Best in test
Description
Making something as mundane as cutlery into something interesting is more impressive than
Pros
Very clever design
Versatile
Lightweight
Cons
The peeler isn't that good
Best value
Description
Of all the million and one basic camping cutlery sets, we like this one best because it is
Pros
Excellent value
Durable
Comfortable to use
Cons
Not the most compact or lightweight option
Best lightweight cutlery set
Description
We've used this set for quite some time, and it's a great set. It weighs just 56g and manages to
Pros
Magnetic
Recycled polyester pouch
Very strong
Cons
Stitching around the Velcro tabs isn't very strong
Best spork
Description
If you're a sporker, you're a gram counter. And as a gram counter, you'll be besotted with this
Pros
Incredibly light
Strong
Carabiner included
Cons
There are cheaper sporks out there
Best spoon
Description
Those who eat camping meals directly from the pack can save themselves carrying extra kitchenware.
Pros
Space-saving
BPA-free
Lightweight
Cons
You may prefer metal cutlery
Best food container
Description
This looks like a food jar with a spork attached, and you might wonder why it's in a cutlery
Pros
Suitable for hot or cold food
Extra compartment inside lid
Leakproof
Best food kit
Description
The LunchKit gives you bountiful and versatile food storage. Despite being called a
Pros
Quite compact
Made from biobased plastic
Rounded edges make it easy to clean
What to look for in camping cutlery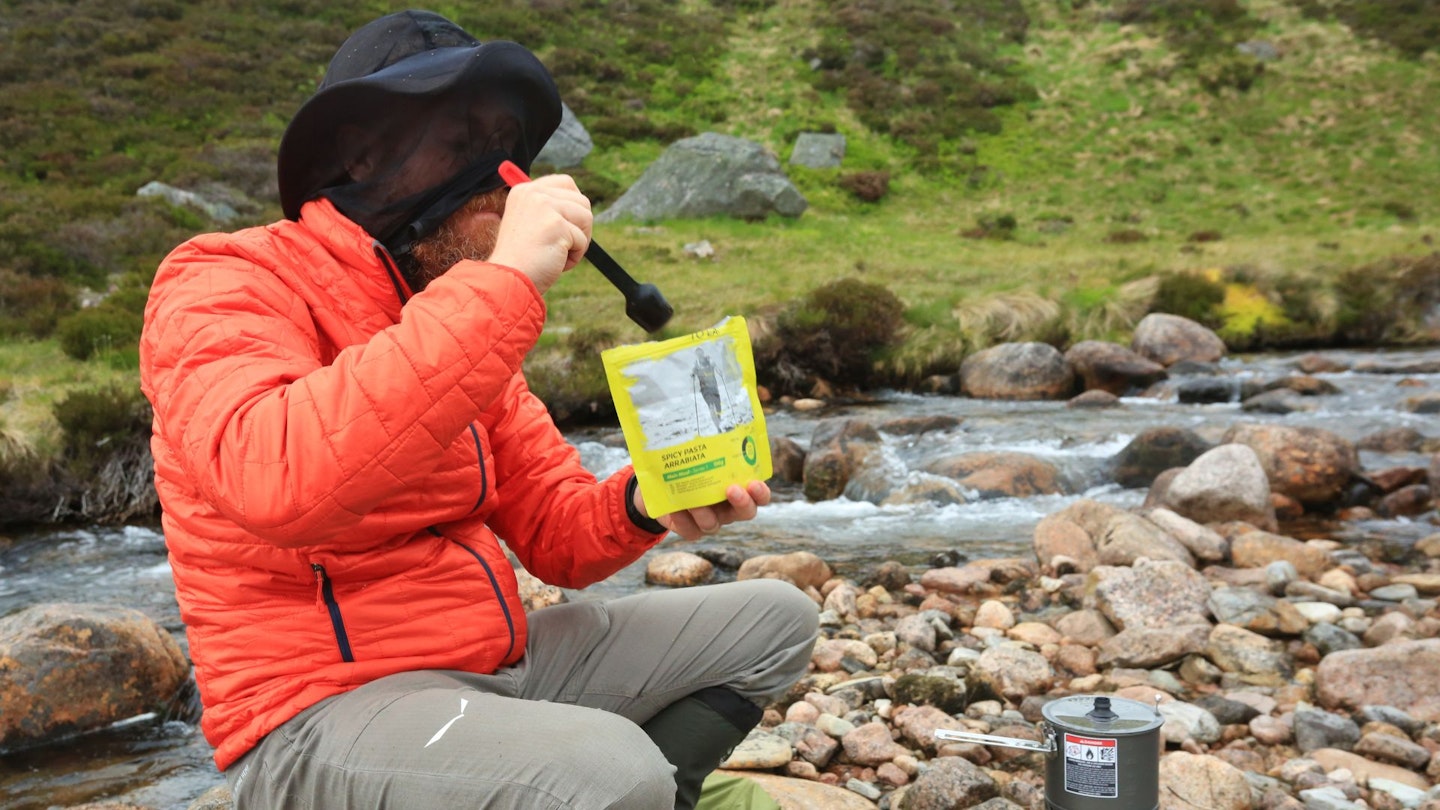 Size and weight: Apart from no cutlery at all, the spork is the best lightweight option. It's the bivvy bag of cutlery. At the other end of the spectrum, a multi-piece set is comprehensive but bulky. Choose what's best for you.
Material: Plastic cutlery tends to be the cheapest, but knives, in particular, aren't usually great to use. However, metal options made from stainless steel are very durable, while titanium ones are more expensive but very lightweight and strong.
What are you eating? For those eating straight from the food pouch, a spork or spoon will see you right. But for those whipping up something a little more sophisticated, get a set. You'll already be bringing a stove and some cookware. It'd be silly not to have the right utensils too.
Dishwasher safe: If this matters to you, make sure whatever option you go for is dishwasher safe. Easy.
Get half-price digital OS Maps. Trail and Country Walking magazine members get 50% off an annual subscription to OS Maps for 12 months. Find out more here.
Don't forget to subscribe to the Live For The Outdoors newsletter to get expert advice and outdoor inspiration delivered to you inbox!