If you know of Alpkit, you'll likely consider it to be an outdoor brand that offers excellent value for money – not downright cheap but bang for buck. The Alpkit Jaran 3 hiking tent seems to capture that essence.
From the spec sheet alone, the Jaran 3 is an impressive tent. Lightweight, weatherproof, and in some cases half the price of other lightweight three-person tents.
But lines on a page don't tell the whole story. What's the Jaran like to use out in the real world? Is it easy to pitch? Is it well made? How liveable is it? These are all questions that can only be answered with field testing.
To illustrate a full, detailed picture of the Jaran 3, we took it to the Lake District to find out exactly how it performs.
Pros
Lightweight
Fantastic value for money
Guy lines are pre-attached
Cons
Doesn't use recycled material
Design and features
Given the Alpkit Jaran 3 is a lightweight three-season, three-person hiking tent, the overarching principle here is versatility.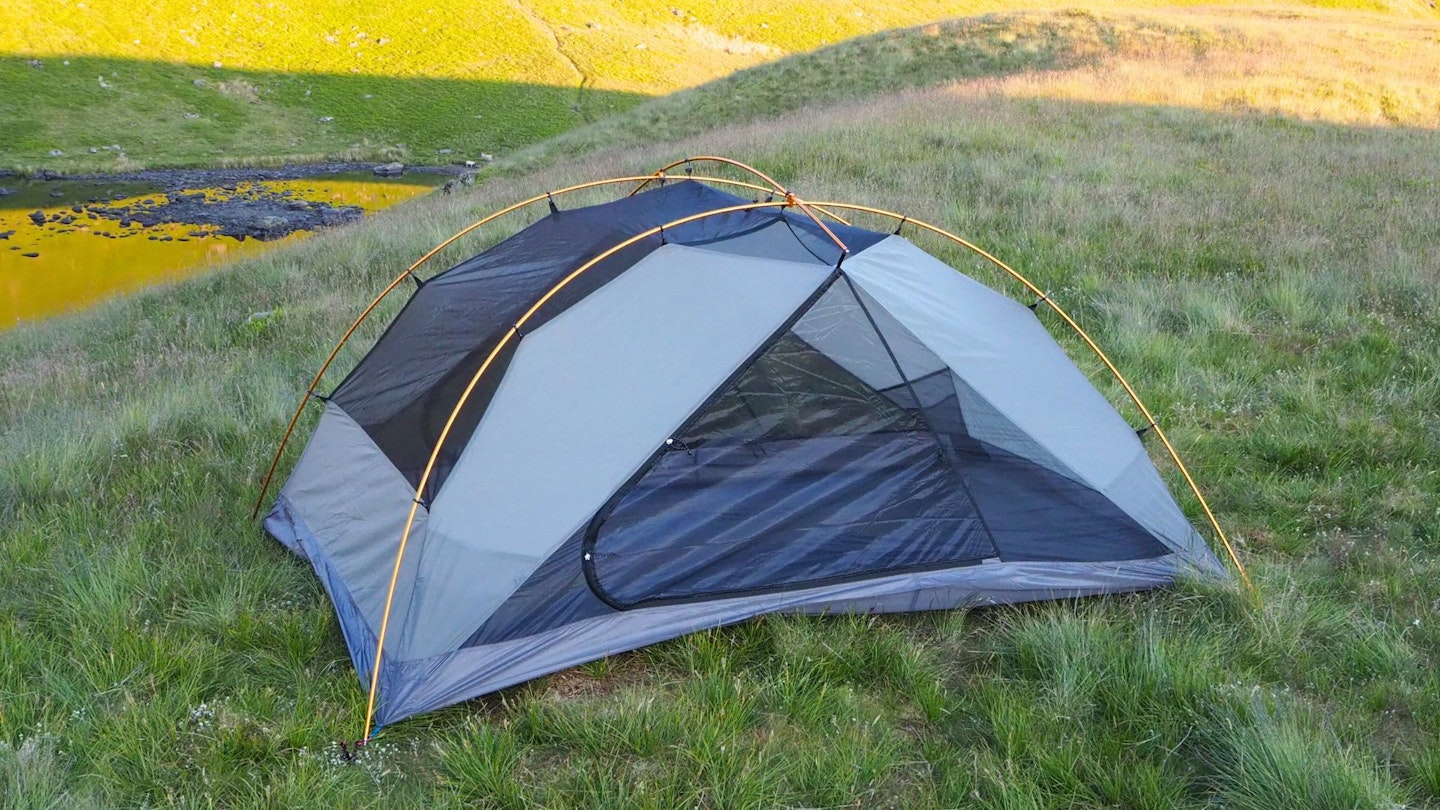 The Jaran 3 is a freestanding dome-shaped tent with an additional horizontal crossbar. This crossbar is to improve tent's stability but also internal space. But that said, the Jaran 3 tapers a bit, measuring 174cm deep on one side and 146cm on the other. There are two doors and a vestibule on each side, each measuring 70cm deep.
Alpkit makes the Jaran 3 out of nylon – 40D nylon for the groundsheet and fly (3,000mm HH and 2,000mm HH respectively), and 15D and 20D nylon for the inner. There is a footprint available too.
Performance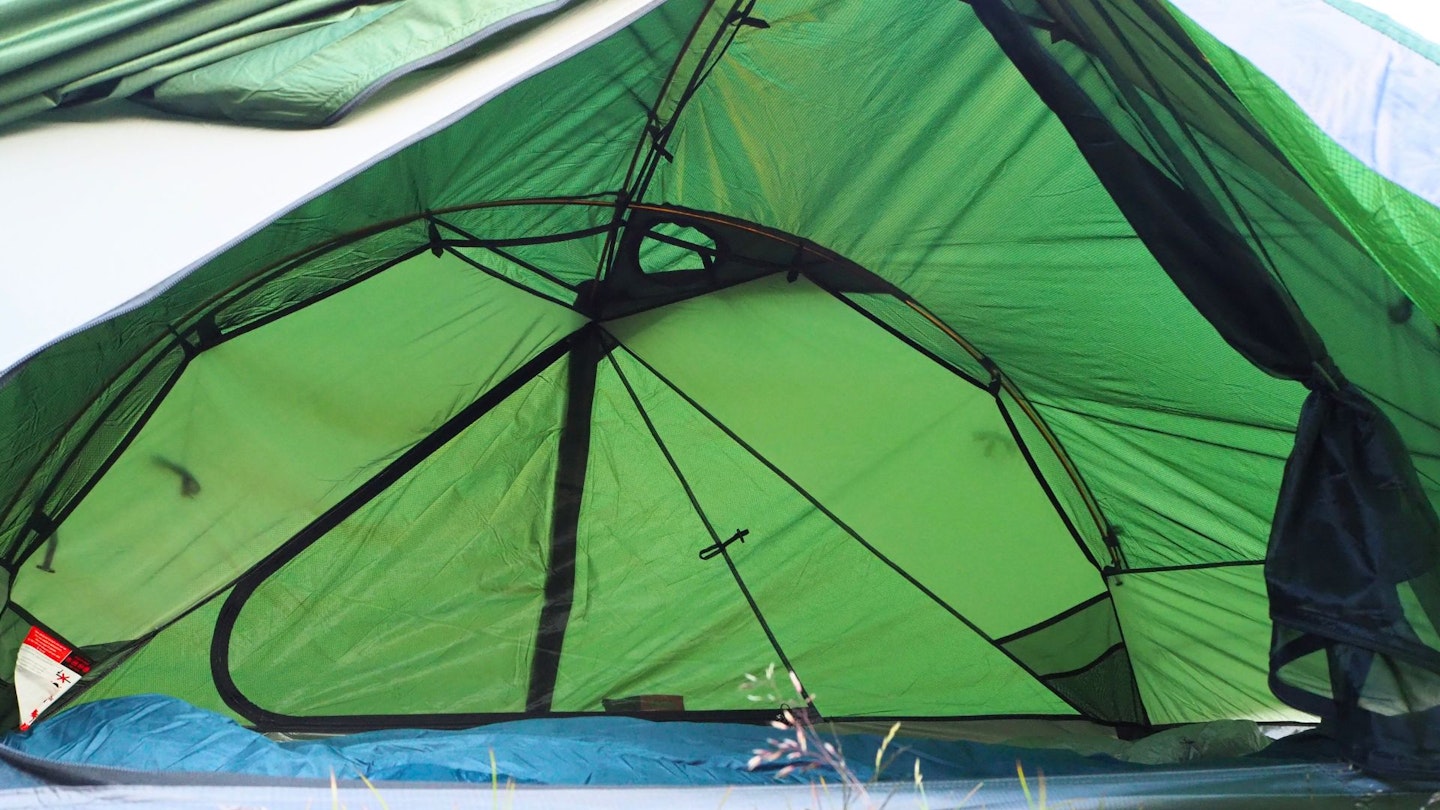 With the Jaran 3's reasonable price constantly in our mind, it's hard not to be impressed by this tent. Although vastly more expensive competitors like the NEMO Dagger OSMO 3P can claim an even lighter weight and more internal space, we don't feel like the Jaran 3 is lagging.
The semi-geodesic dome shape is a tried and tested design, and the Jaran 3 is very stable. Granted, you can find more spacious hiking tents, usually in the form of tunnel shaped tents, but the Jaran 3 still has ample room for two people. Combined with a small 45 x 15cm packed size, it's therefore very good for both short and long trips for pairs.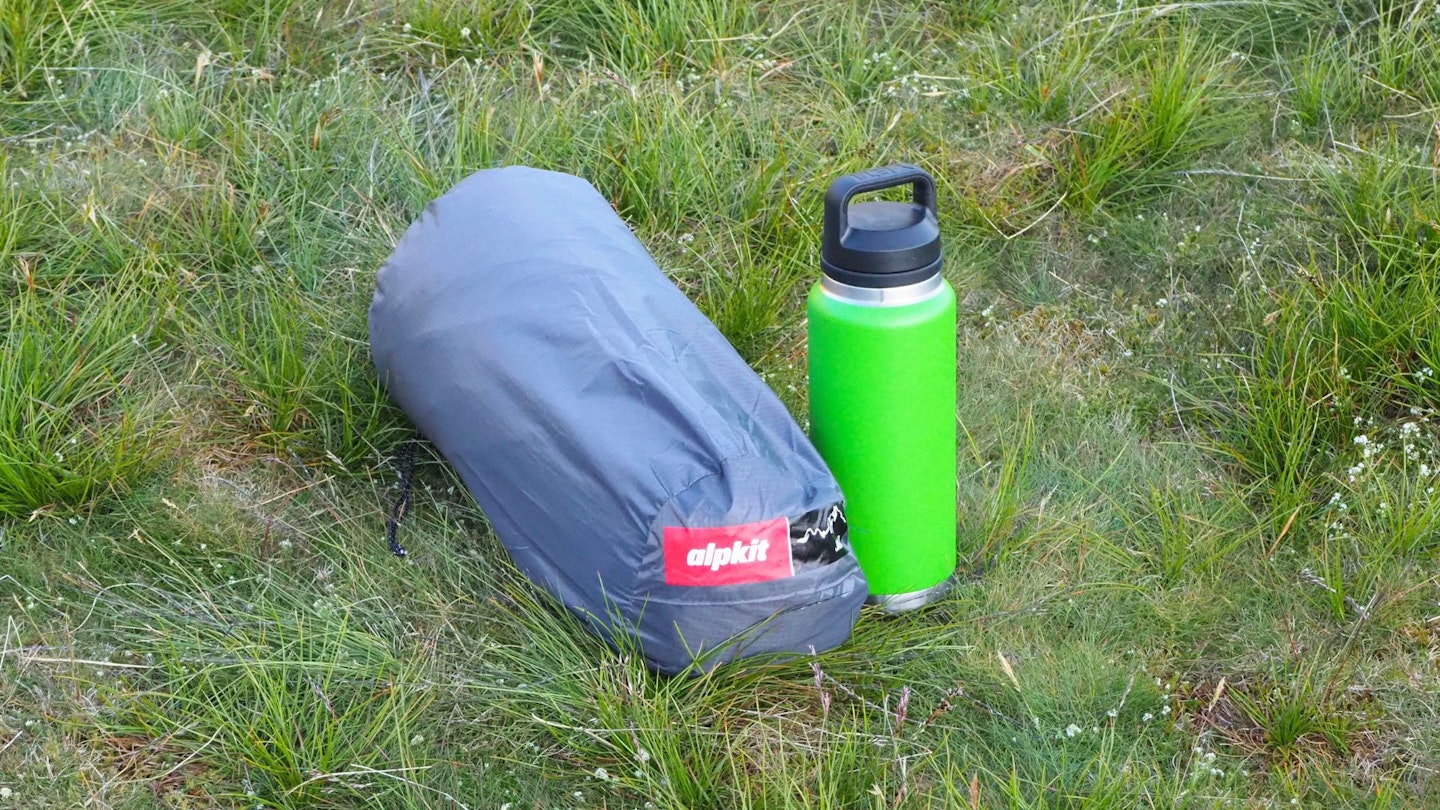 Pitching is very easy, made easier by the single hub pole design. We like the pre-attached guy lines for the same reason. This is an inner-first pitch, which comes with the obvious caveat – as any inner-first tent does – that it's not ideal for pitching in wet weather.
Flysheet coverage extends quite far but leaves a slight gap at the base. However, the waterproof ratings are relatively good and there is a bathtub-style groundsheet to combat water ingress. The flysheet is also easy to make taught, meaning it doesn't flap and water can run off more easily.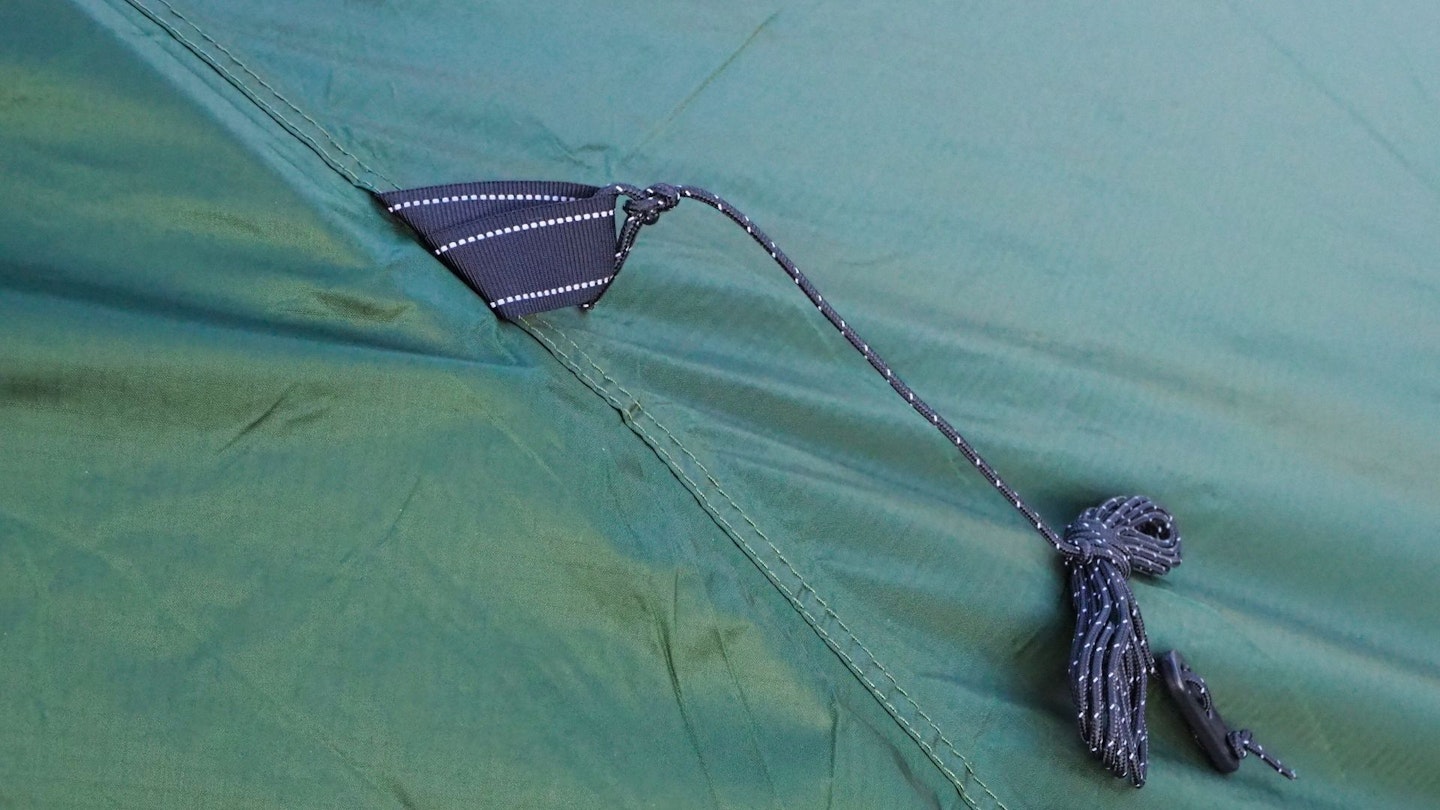 On the aesthetic front, we also like the dark green flysheet. It blends into the British hillsides better than the lighter or khaki coloured tents (which are often from American brands).
We also highly approve of the dozen pegs supplied with the Jaran 3. Some tents like the Vaude Taurus 3P only come with enough for the base of the tent, and if you want pegs for the guy lines, you need to buy more.
Sustainability
On the whole, Alpkit is one of the more sustainable outdoor brands. Alpkit is a certified B Corp with a focus on integrating sustainable business practices rather than adopting them here and there.
For example, Alpkit has its repair service that accepts any brand. It also has its Continuum Project that takes in unwanted gear (again, from any brand) and passes it on through its charity partners. Alpkit also recycles down as of 2022. It will take in down jackets, sleeping bags, and duvets.
As for recycled fabrics and being PFC-free, Alpkit's waterproof jackets are now PFC-free and 80% of its clothing contains recycled material according to its 2023 sustainability report. The Jaran 3 uses a silicone waterproof coating, which is PFC-free, but none of the fabrics are recycled unfortunately.
Price and competition
At the time of writing, the Jaran 3 costs £279.99. Similar lightweight dome tents from competing brands such as NEMO, Marmot, and Sea To Summit cost around twice as much. Frankly, it's very difficult to justify the vast difference.
Other brands like Jack Wolfskin and Terra Nova's Wild Country are more competitive with Alpkit on price. Jack Wolfskin's Eclipse III is a bit more expensive (£320 at time of writing) but does use recycled materials and is PFC-free. It is, however, quite a bit heavier.
Meanwhile, the Wild Country Helm Compact 3 (its one-person sibling won our 2023 Tent of the Year award) is more on par in terms of weight and packed size. It also has better waterproof ratings. But its RRP of £360 (at time of writing) is notably higher, plus the Jaran 3 has deeper vestibules.
Verdict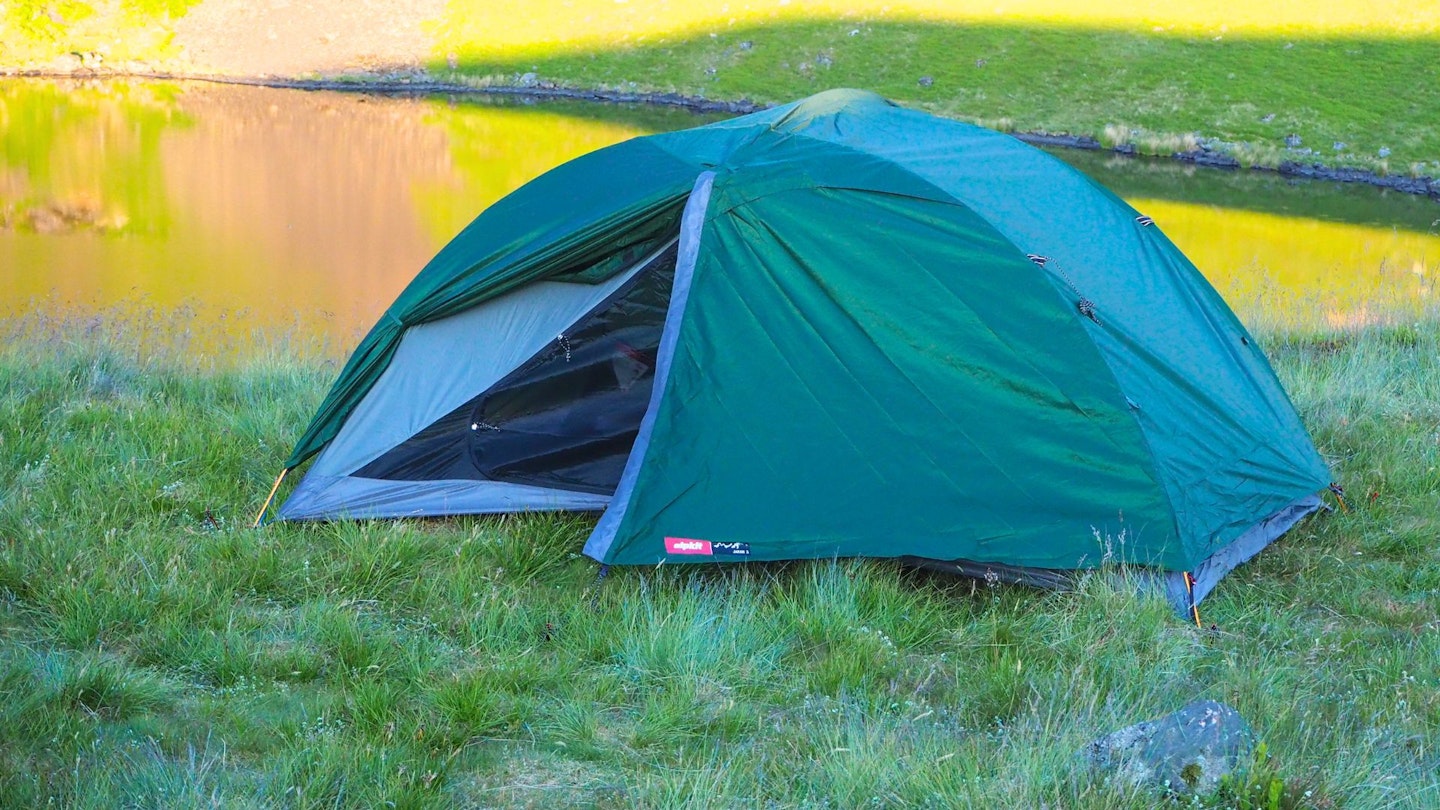 The Alpkit Jaran 3 isn't groundbreaking, but in terms of bang for buck, we think it takes the prize. It's light and compact enough that the lightest models on the market can't justify their much higher prices. And since it's of such superior quality to tents at the bargain end, the Jaran 3 is cheaper in the medium and long term anyway.
For almost any three-season adventure, the Jaran 3 is suitable and spacious for two people. You could use it for three if you really wanted to, but like any three-person hiking tent, they're really best for pairs.
Given Alpkit's dedication to sustainable business practices, it would have been nice to see the Jaran using recycled material. However, its quality construction and Alpkit's repair service do give you peace of mind over the long term.
How we tested
We used a test Alpkit Jaran 3 over the course of several weeks, which included hikes in the Lake District.
The reviewer was Chris Williams, one of Live For The Outdoors' staff writers and gear testers. Chris has been a journalist for four years and has been hiking for most of his life.
Get half-price digital OS Maps. Trail and Country Walking magazine members get 50% off an annual subscription to OS Maps for 12 months. Find out more here.
Don't forget to subscribe to the Live For The Outdoors newsletter to get expert advice and outdoor inspiration delivered to you inbox!