When most people think of the Alps, they think of white snowy peaks, skiing holidays, and chalets covered in deep powdery snow. It's true they offer some of the best venues for winter sports. But as the snow melts, the lines of stark rock and snow reveal hidden meadows and stunning alpine trails. Ideal for alpine trail running.
The European Alps stretch over 1,200kms and span over eight countries, wrapping round the north of Italy. Mont Blanc, the highest mountain in the range stands at 4,810m. It's permanently covered in a thick blanket of snow. In fact, many high peaks remain snow-bound during the summer months. It's this contrast of lush summer valleys and permanent glacial peaks high above that creates such an amazing setting.
The UK for all its beautiful wild areas just cannot compete on scale with the extreme verticality of the Alps. Maybe that's why arguably the world's most renowned trail race, the Ultra Trail de Mont Blanc (UTMB), takes place here. In this article, Run the Wild founder and expert coach Simon James shares how to make the most out of alpine trail running, covering weather, essential kit, and key technique.
Alpine trail running explained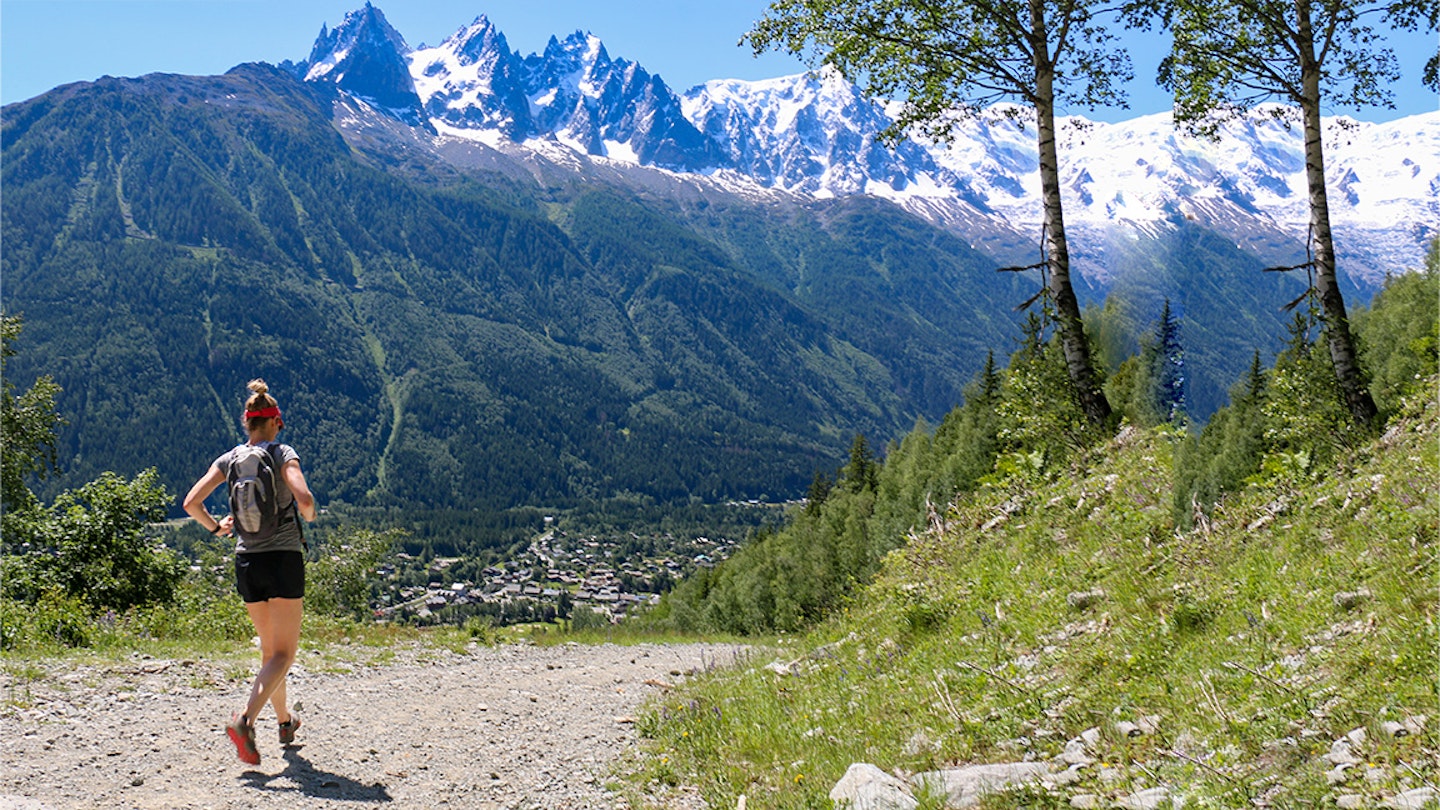 Running alpine trails balances the risk of adventure with the joy of running. It's this true sense of freedom and adventure that draws runners from all over the world to the Alps. Steep ups and downs are interwoven with balcony paths which sweep beneath glaciers and above lush alpine meadows far below.
Here, you can use gravity to your advantage on the downhills. Running in the Alps is like no other running that you've ever experienced before. The mountains are big, the paths exhilarating, and the views spectacular. The sense of freedom and adventure is unparalleled.
However, running in the mountains carries more risk with that reward, so planning is essential. I've spent many years running in the Alps, here's what I've found to be most crucial what it comes to planning your alpine run...
How to plan your alpine trail run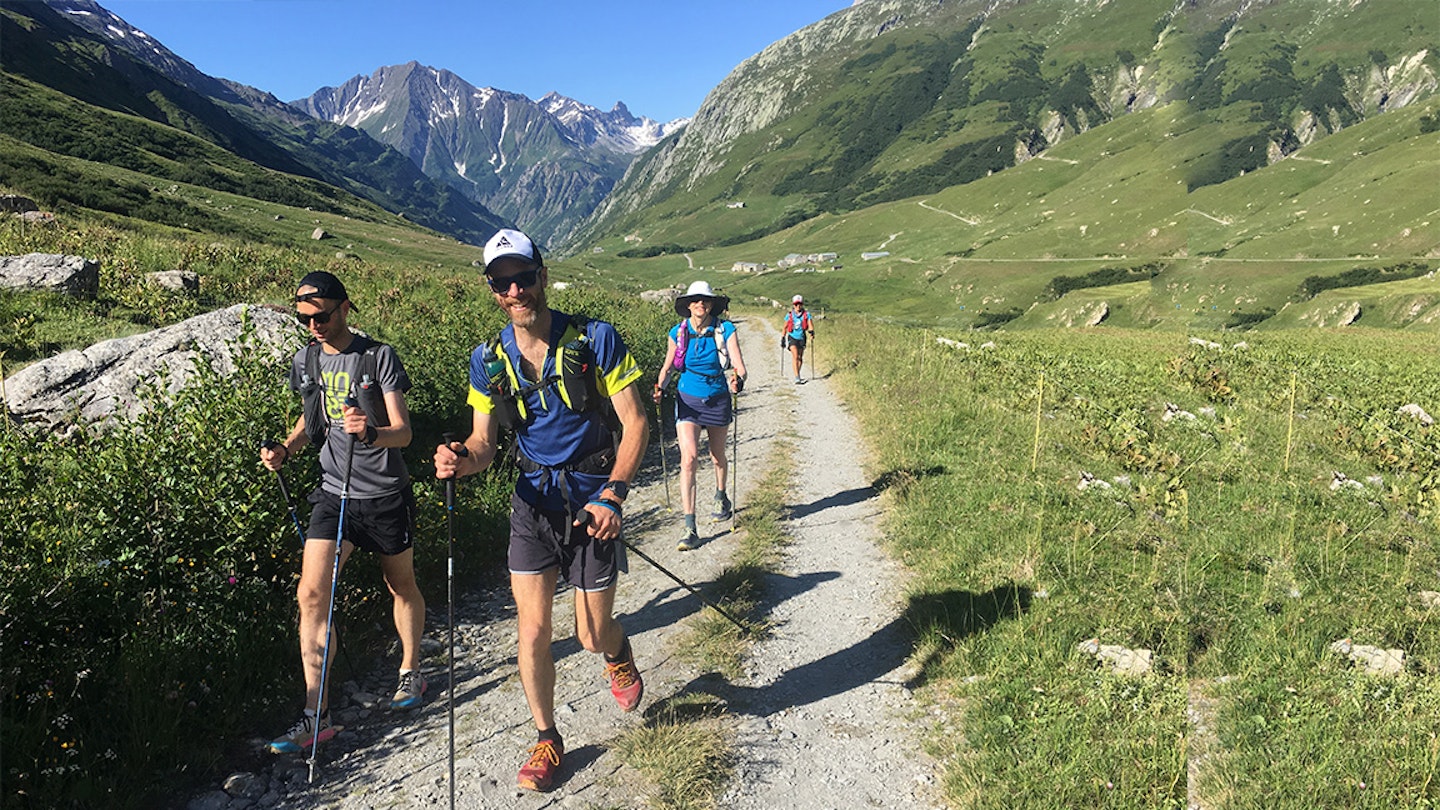 Alpine trails
Unlike lowland trails, alpine trails only reveal themselves when the snow melts. Even then, it can be a few weeks before they are passable. This is why running routes before May or after September can be dangerous. Checking out the snow line and choosing routes that don't require scrambling are key. You should also avoid paths that have had recent slides or rock fall. All this should be part of the planning process.
Always choose a conservative route and consider emergency options so you can cut the run short. Another key difference to trail running is that distance is not the main factor. Rather, it's the cumulative ascent and descent. A 5km could take almost two hours, so forget your PBs.
Weather
Weather changes dramatically in the Alps due to the height of the peaks. Up there, the mountains create their own weather system. Violent afternoon storms are common. Expect high UV with the altitude. It's important to look at the weather forecast constantly and pack for every eventuality. Venturing out without first aid kit, water, sunscreen and sunglasses and a waterproof is not an option.
Strength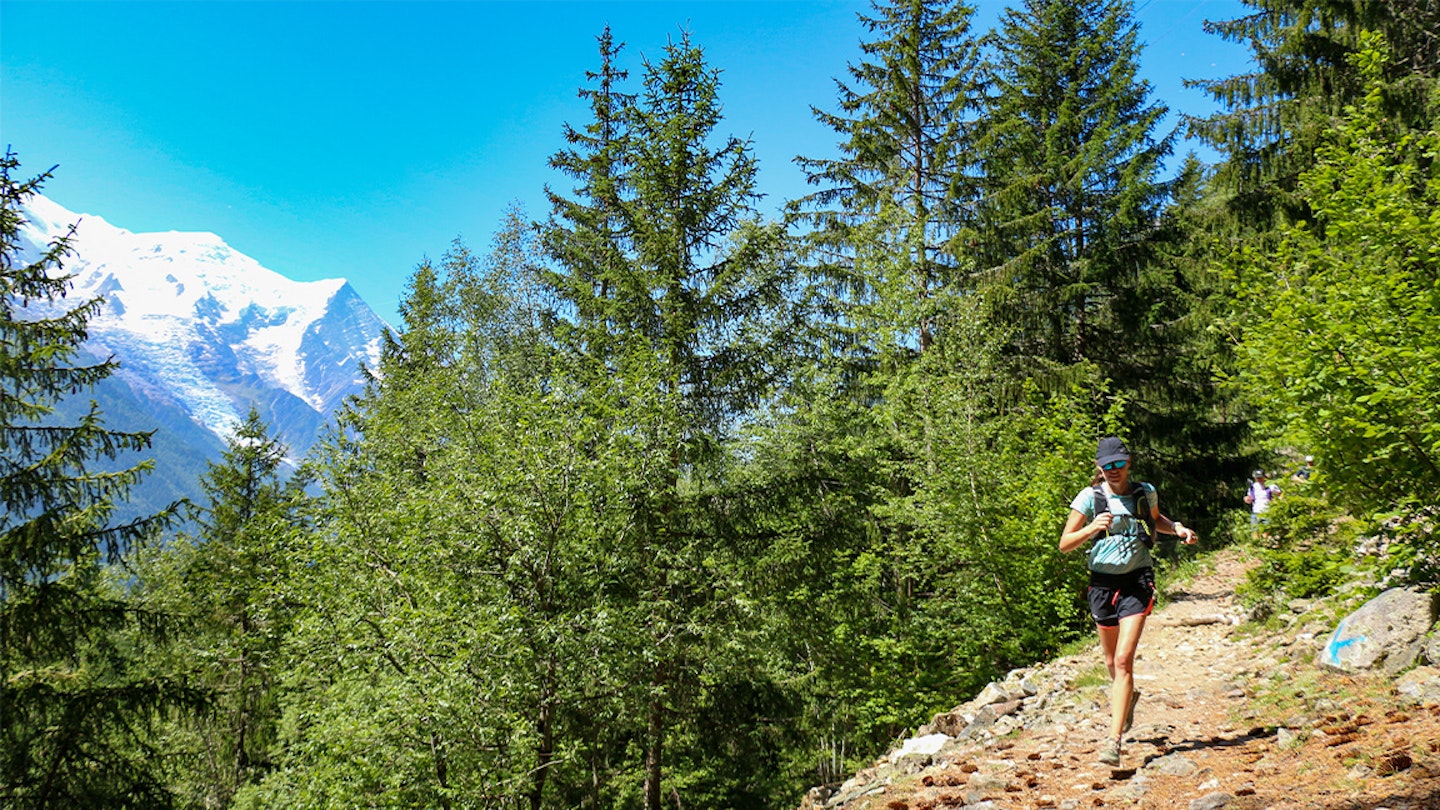 Prepare your body for alpine trails with a regular strength and conditioning workout. Uphill and downhill require a strong core, strong leg muscles, and good proprioception. A program incorporating jumping squats, planks and balance exercises will help.
Consider strengthening your anklesto help reduce the chance of an injury from a sprain, which is the most common running injury in steep descents on trails. If you are going to use running poles, ensure that you use them when you are training on your local trails. Incorporate hilly runs and hiking into your training plan will pay dividends, as a lot of alpine running involves walking! The coaches at Run the Wild can help you with this – get in touch if you would like a plan.
Technique
Alpine running techniques require practice and experience. Once mastered, you will be able to really enjoy that sense of freedom which comes from bombing down steep trails. Start out slowly and maintain full control.
For ascending, use trail running poles or push off from your thighs to incorporate upper body strength and save your legs. For the descents, maintain control and balance. Use short strides, quick feet, an engaged core and arms out for balance. Follow a similar technique for flat technical sections.
Kit
There isn't usually much mud on alpine trails, so leave behind aggressive treads and instead go for a pair of trail running shoes that cope with wet rock and gravel. You will need a running hydration vest to ensure that you can carry the kit to cope with changes in the weather, emergency kit, food and water. A waterproof running jacket, even if it's not expected to rain can be a real life saver. Hoka do a full range of trail running gear for a range of terrain, among others.
How to get started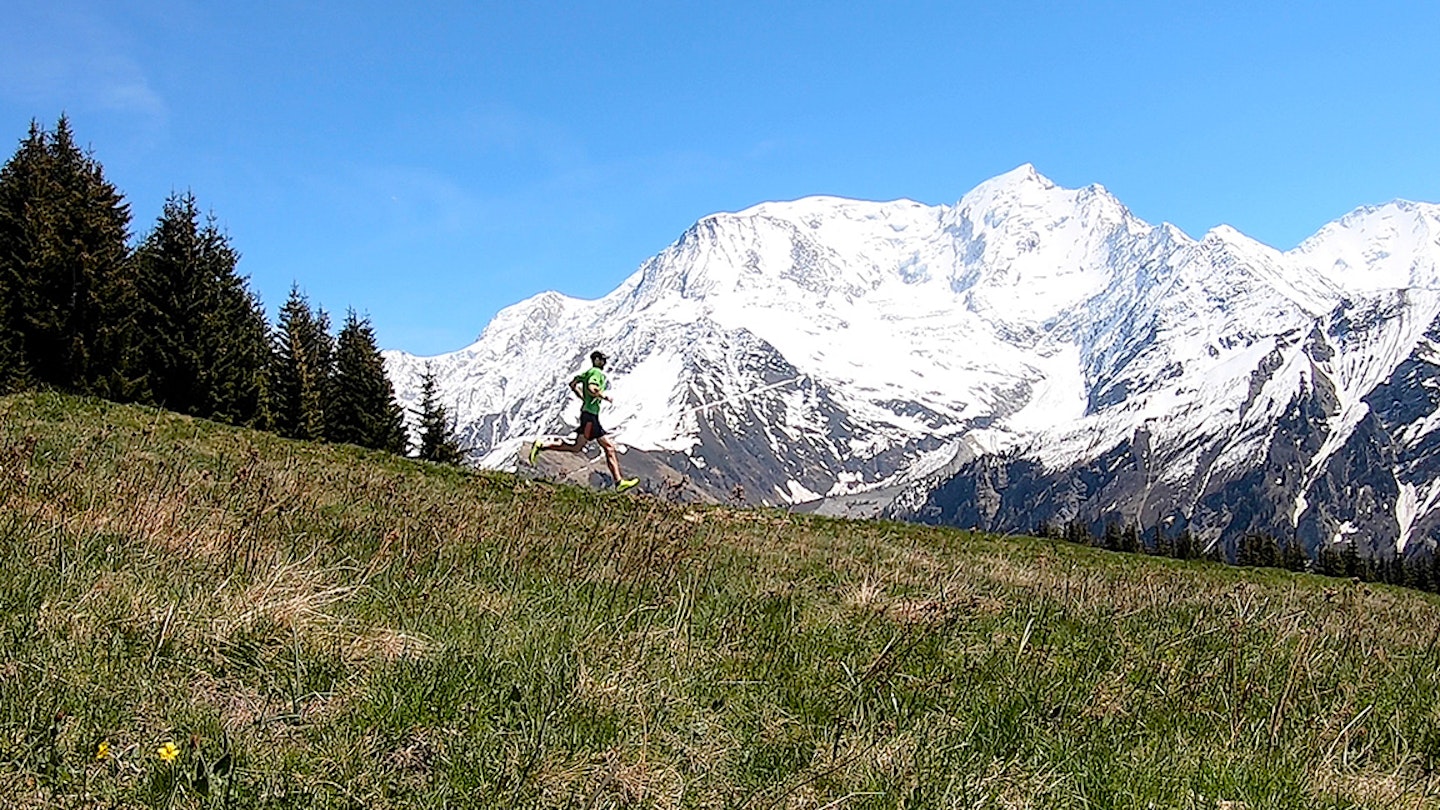 A flight from a UK airport will land in Geneva, Switzerland in just over an hour. From there, following a drive of a similar length and you can be standing in Chamonix looking up towards Mont Blanc in the world's mecca of alpine trail running.
Sign up to an alpine race like those in the UTMB race series or maybe take on one of the Run the Wild adventures in the Alps. Open to all abilities, they offer a variety of trail running breaks to suit all levels and distances.
From weekend adventures, such as Introduction to the Alps and Running and Yoga featuring cheese and wine tasting checkpoints and a four-star spa hotel, to trips which involve running the six-day Tour du Mont Blanc, circumnavigating the highest mountain in the Alps and passing by its 71 glaciers and 400 summits. Run the Wild will teach you everything you need to know about alpine trail running so you too can experience this incredible sport.
Simon James founded Run the Wild in 2013, which has now been delivering incredible trail running adventures for over a decade. Our running events include everything from 10km runs in the Chilterns to multi-day running holidays in the Alps. From guided runs to navigation workshops and running coaching – there is something for you wherever you are on your trail running journey!
Don't forget to subscribe to the Trail Running Newsletter to get expert advice and inspiration delivered to your inbox.