Running with poles is steadily increasing with popularity as more runners want to take part in trail and mountain running races. Why the hype? Here, expert ultra running coach Simon James looks at why running with poles really does work, how best to use them effectively, and what to look for when buying your next pair of poles.
Running poles found their way onto the trail scene from the popular origins of Nordic skiing, which in the late 1970s formally led to its cousin, Nordic Walking. This type of extreme hiking has a passionate following and invoked a popular fitness craze back in the 80s by those wishing to burn more calories than merely walking.
In the last 10-15 years, telescopic aluminium walking poles have been replaced by super lightweight, foldable, carbon fibre trail running poles, which tuck away neatly into running vests. Trail running poles are hence now a tool to be wielded readily on any mountainous trail.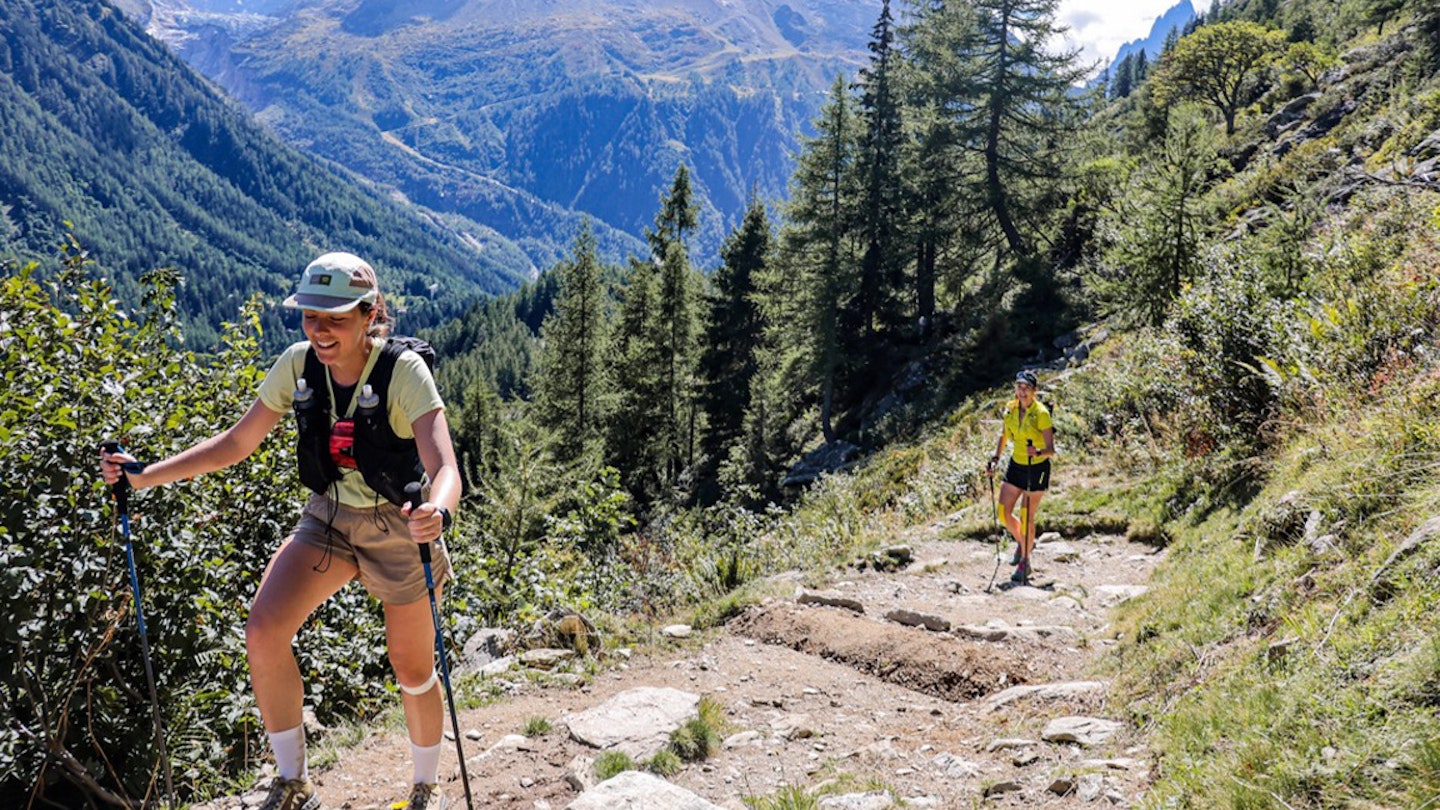 Benefits of running with poles
Like any tool, running poles need to be used effectively to produce a worthwhile benefit! Essentially, poles encourage you to use your upper body strength and core to assist your lower body. Allowing you to either run more quickly, or to reduce the load on your leg muscles.
Most trail runners will be looking to use running poles to assist them on the uphill and that is where poles come into their own. However, run poles are also effective on the flat, especially on long distances, and can assist with stability on downhills (saving your joints too).
Training with your poles is essential to not only hone your technique, but also condition your body. Don't neglect your other hill sessions, nor practicing power hiking. A lot of UK-based runners may question the need for poles, and it's true their use does have a context.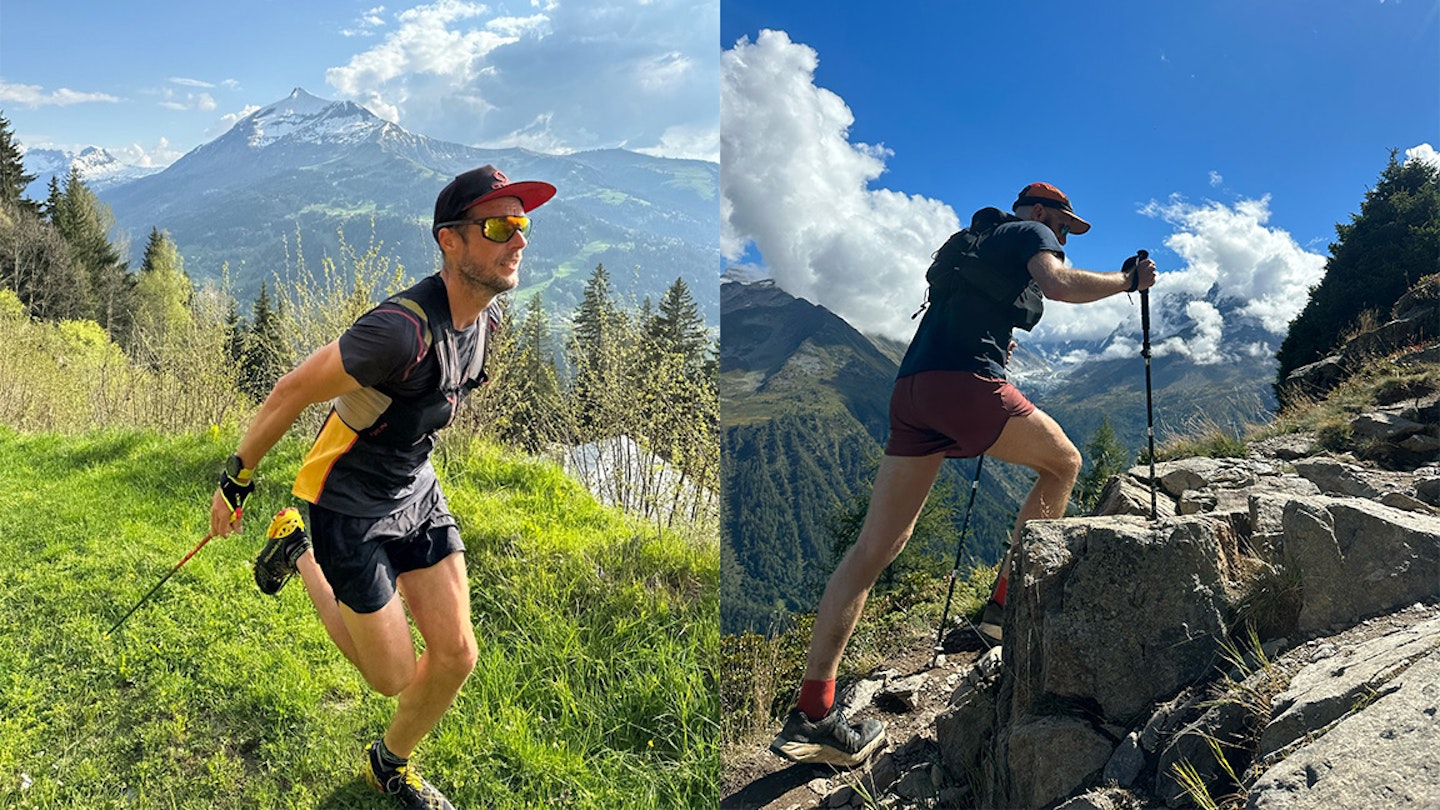 Running in the Alps over a 50km race, you will see most of the course participants use running poles. But over a similar distance of rolling hills in the UK, you may not see a single pair. That's because essentially if a course is runnable, then it's debatable that poles are needed. By a general rule of thumb, if you must walk multiple sections of a racecourse as they are too steep to run, then you will benefit from a pair of poles.
How to run with poles properly
This is best taught practically and in-person, and if you're interested in this then you can check out the trail running pole workshops by Run the Wild. However, I will attempt to explain the key aspects here: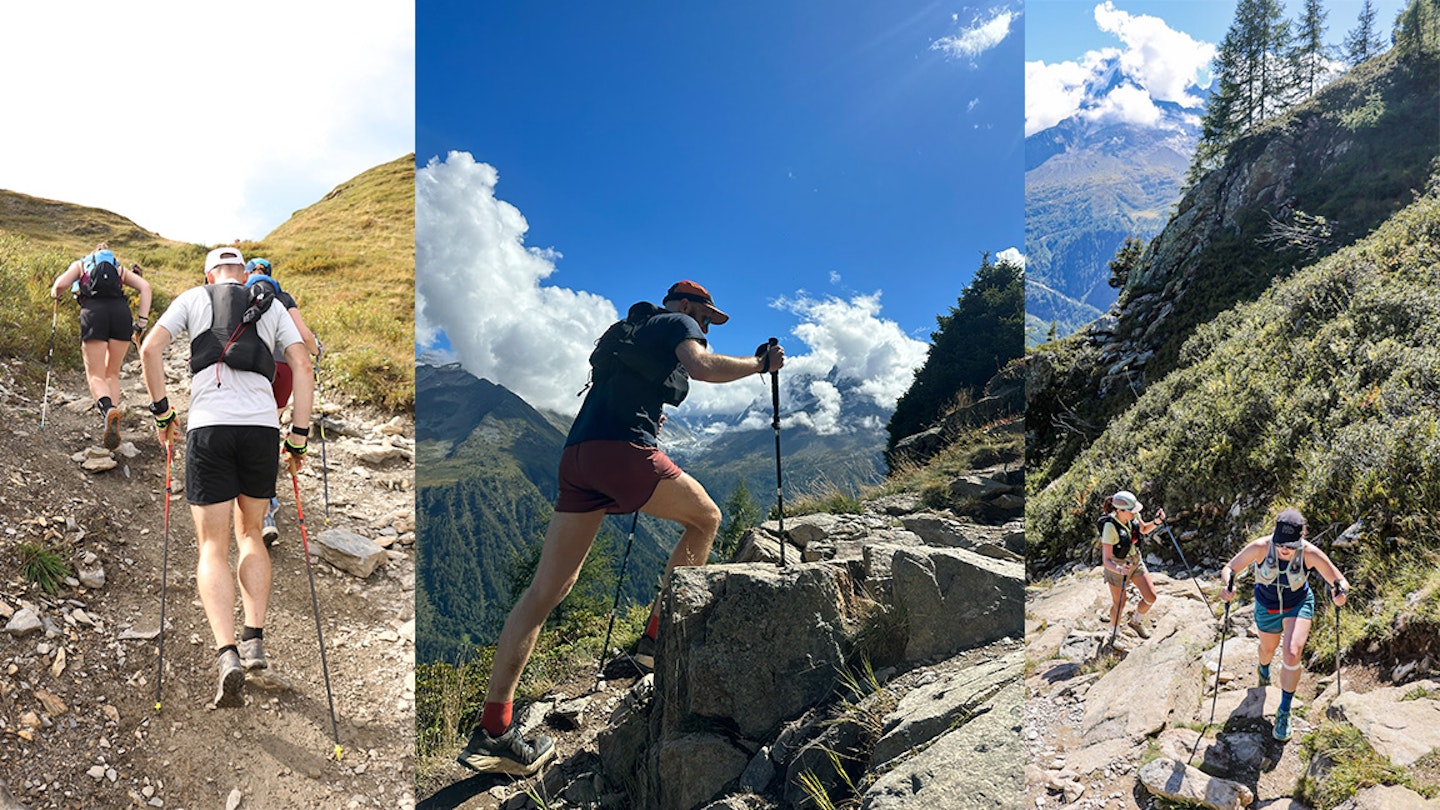 Poles are essentially used for both forward and upward (on uphills) momentum. On flats and mild inclines, the poles should be driving you forward, and on steep uphill sections they should lift you up and then drive you forward. Therefore, your running poles should only be placed in front of you when you are going up a steep uphill, otherwise they should be landing next to or behind your feet to keep that forward drive.
Add to that, you can either use the poles in an alternating manner, or double poling, which is when the poles move in sync. It's personal preference and you will likely want to vary it to reduce overuse. A rule of thumb is that alternating is best used when the ground is less steep, but also possible for running uphill.
When it's steep and it requires poles to be planted in front, then double poling works best as its stable and assists with the upward drive. When planting poles in front, you need to keep walking past your poles until they assist with your forward drive, to get the most from them. This can almost be a full body movement which engages both arms and core when done properly.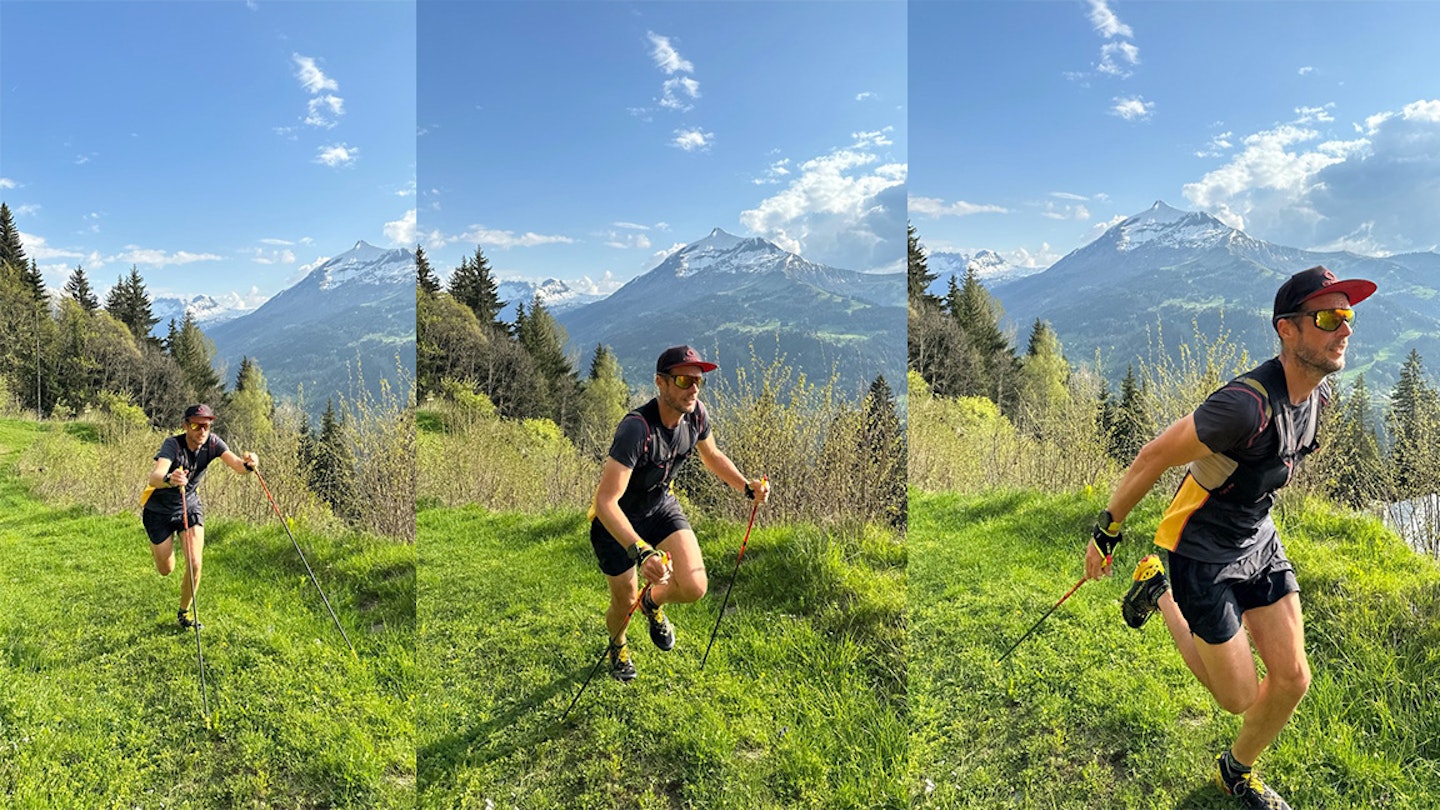 Last couple of tips. When you use alternate poling, keep your arms straight when possible, to reduce muscle strain. When the ground is steep and that's not practical, you will need to use your triceps. For uphill sections, make sure you have your hands in the loops, or you're attached to the pole somehow (depending on the fixing). This will save your forearm muscles. For anything downhill, make sure you are not attached to the poles, as this is dangerous during a fall.
One final note, as a pole-user, make sure you keep an eye out for other trail users, when in a race it is the responsibility of those behind you to keep enough distance from your poles to prevent injury. But you must keep your poles under control, i.e. keeping them pointed towards the ground and below knee level is your responsibility!
How to choose the right running poles
There are a few different companies that make trail running poles. If your budget allows to go for lightweight carbon fibre pole that can be folded into three parts, it's worth the investment. That way, you will get the most benefit from using them and will enjoy the experience too.
The combination of pole type options is summarised below:
Material – carbon fibre, aluminium, or a mix
Hand fixing – no strap, glove strap e.g., shark system, strap
Collapsing – telescopic or fold away (three or two parts)
Length – fixed or variable
The way to figure out the right running pole length for you is by standing with your arms by your side and your elbow at 90 degrees, so your forearm is parallel to the floor. Then, measure the distance from your hand to the floor. That will give you the height of the pole required in centimetres. A fixed pole is lighter than a variable and I'd recommend a fixed pole. The only reason I have a variable pole is so that clients can borrow it, but if you like to use them for stability on the downhill, then they are useful, and in that case I'd recommend a system with only a strap.
Are trail running poles worth the investment?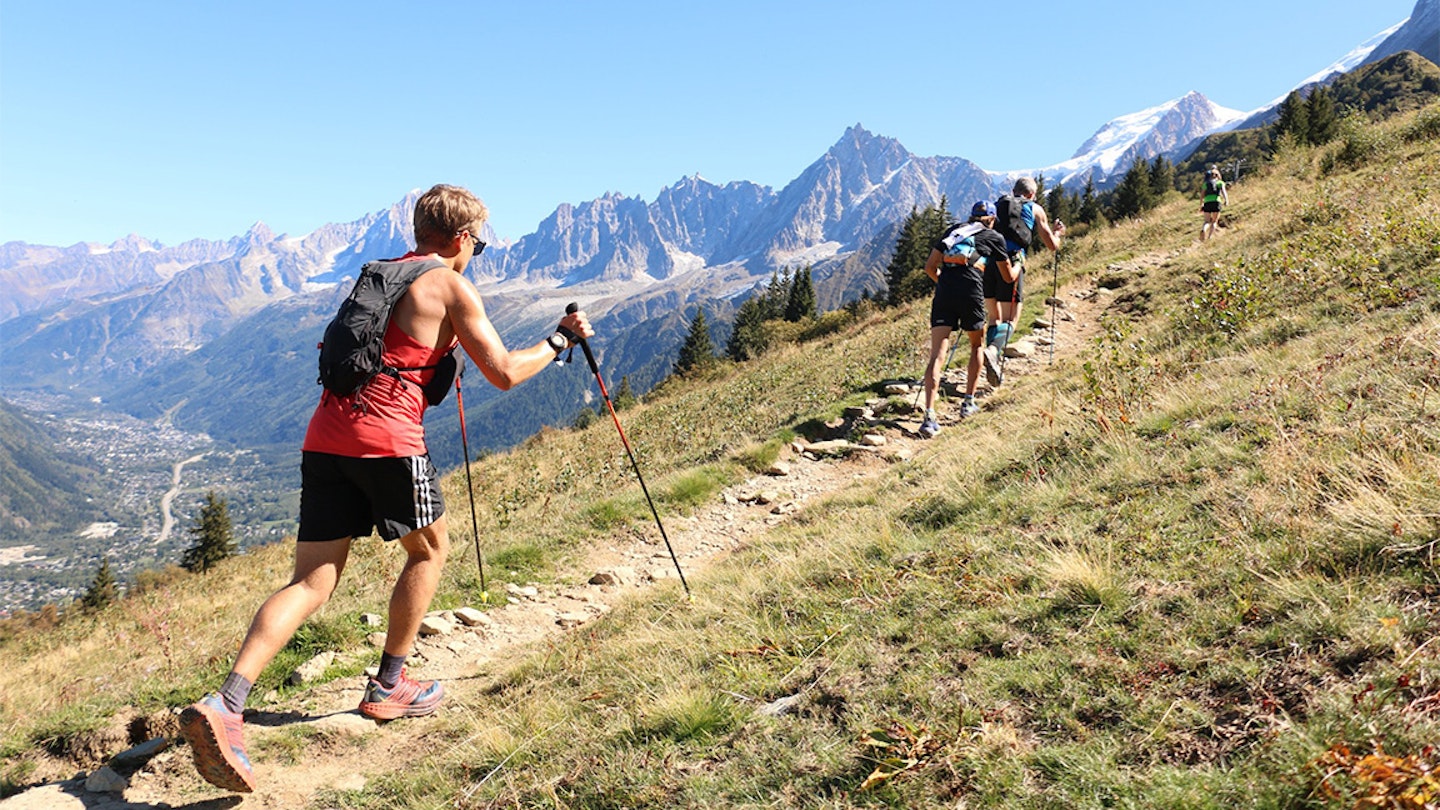 Trail running poles can aid you on uphills, there is a science behind it too and I can certainly vouch for them from my personal experience as a coach and ultra runner. Whether you can or want to use running poles is up to you. If you do, then it's worth training with them and learning the techniques to properly employ them so they do offer you an advantage.
Whether that advantage is to go quicker, add to your endurance, save your joints, increase your stability, or just having them to hand in case you encounter stampeding cows (used by me for this purpose on many occasions). Whatever you decide to do, make sure you get out on the trails and have some fun and encourage each other, pole user or non-pole user!
Simon James founded Run the Wild in 2013, which has now been delivering incredible trail running adventures for over a decade. Our running events include everything from 10km runs in the Chilterns to multi-day running holidays in the Alps. From guided runs to navigation workshops and running coaching – there is something for you wherever you are on your trail running journey!
References
Effect of using poles on footground kinetics during stance phase in trail running YANNICK DAVIAUX1, FRE´ DE´ RIQUE HINTZY1, PIERRE SAMOZINO1 & NICOLAS HORVAIS2, 2012
Effects of walking poles on lower extremity gait mechanics, JOHN WILLSON, MICHAEL R. TORRY, MICHAEL J. DECKER, THOMAS KERNOZEK, and J. R. STEADMAN
Exploring Muscle Activation during Nordic Walking: A Comparison between Conventional and Uphill Walking
Barbara Pellegrini,1,2,* Leonardo Alexandre Peyré-Tartaruga,3 Chiara Zoppirolli,1,2 Lorenzo Bortolan,1,2 Elisabetta Bacchi,4 Hélène Figard-Fabre,1,5 and Federico Schena1,2 – 2015
For all the latest news, tips and gear reviews, sign up to the Trail Running Newsletter.