The press release came in spilling the news of Scarpa's new trail running shoes offering 'maximum precision and stability'. A new model of trail running shoe always boasts about being the best or first of something.
Scarpa hasn't been in the trail running game for that long. It's spent most of its existence focused on hiking boots. But as trail running experienced a volcanic eruption in popularity over the last several years, Scarpa, like so many brands that haven't traditionally focused on trail running, eagerly extended a tentacle into this segment of the outdoor industry.
It's adapted well, applying a lot of its outdoor footwear nous to offroad running shoes and has come up with some impressive results. The Scarpa Ribelle Run Kalibra HT (hard terrain) and ST (soft terrain) are a continuation of Scarpa's clever engineering, and are aimed squarely at runners tackling tricky terrain at speed. We've been spending time with both versions to see how they fare in a highly competitive market and whether they are worth your attention.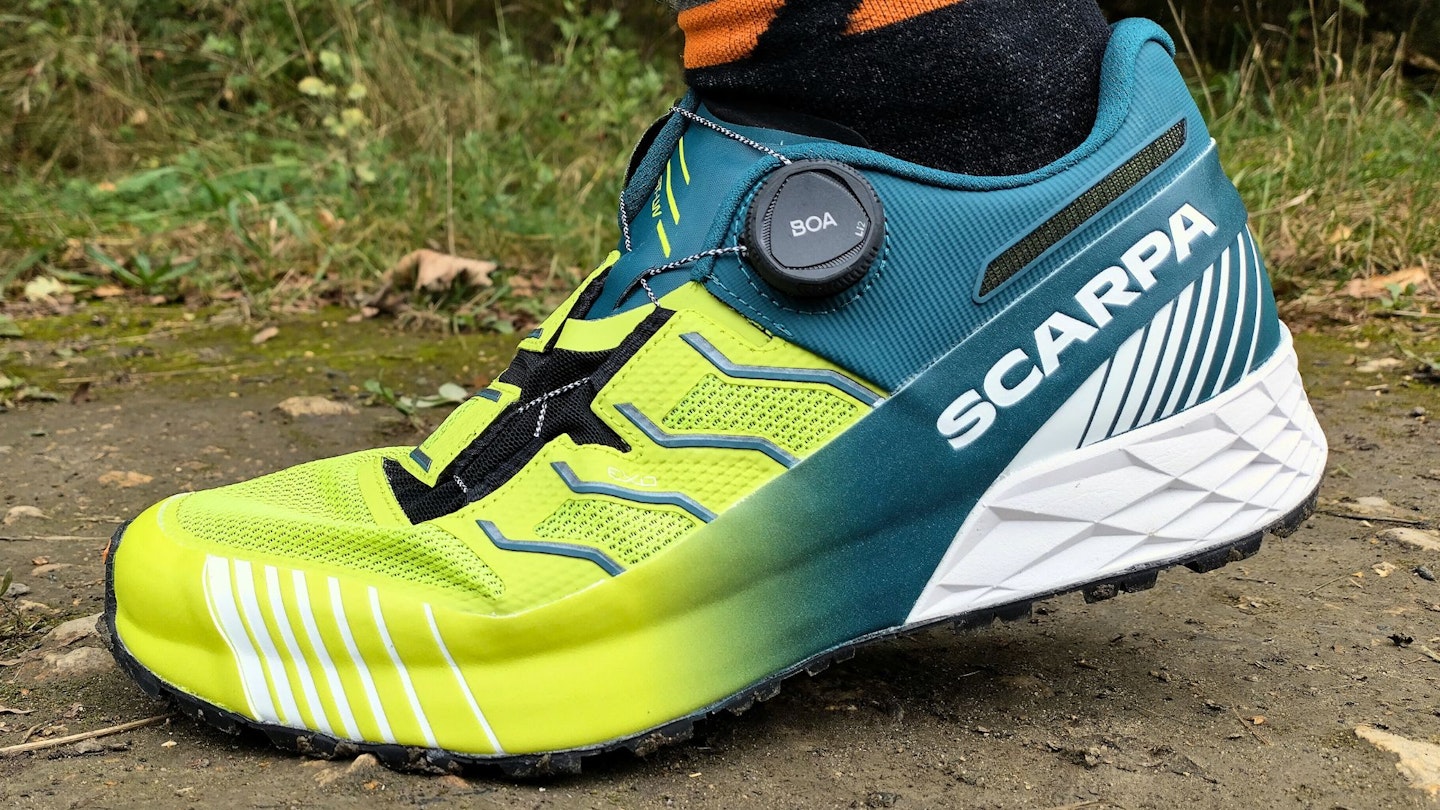 LFTO
Pros
Superb grip over most terrain
BOA system works well
Highly breathable upper
Wraparound rand improves durability and protection
Excel on shorter, technical routes
Vegan
Cons
Would benefit from greater cuff and tongue padding
Not suitable for long trail runs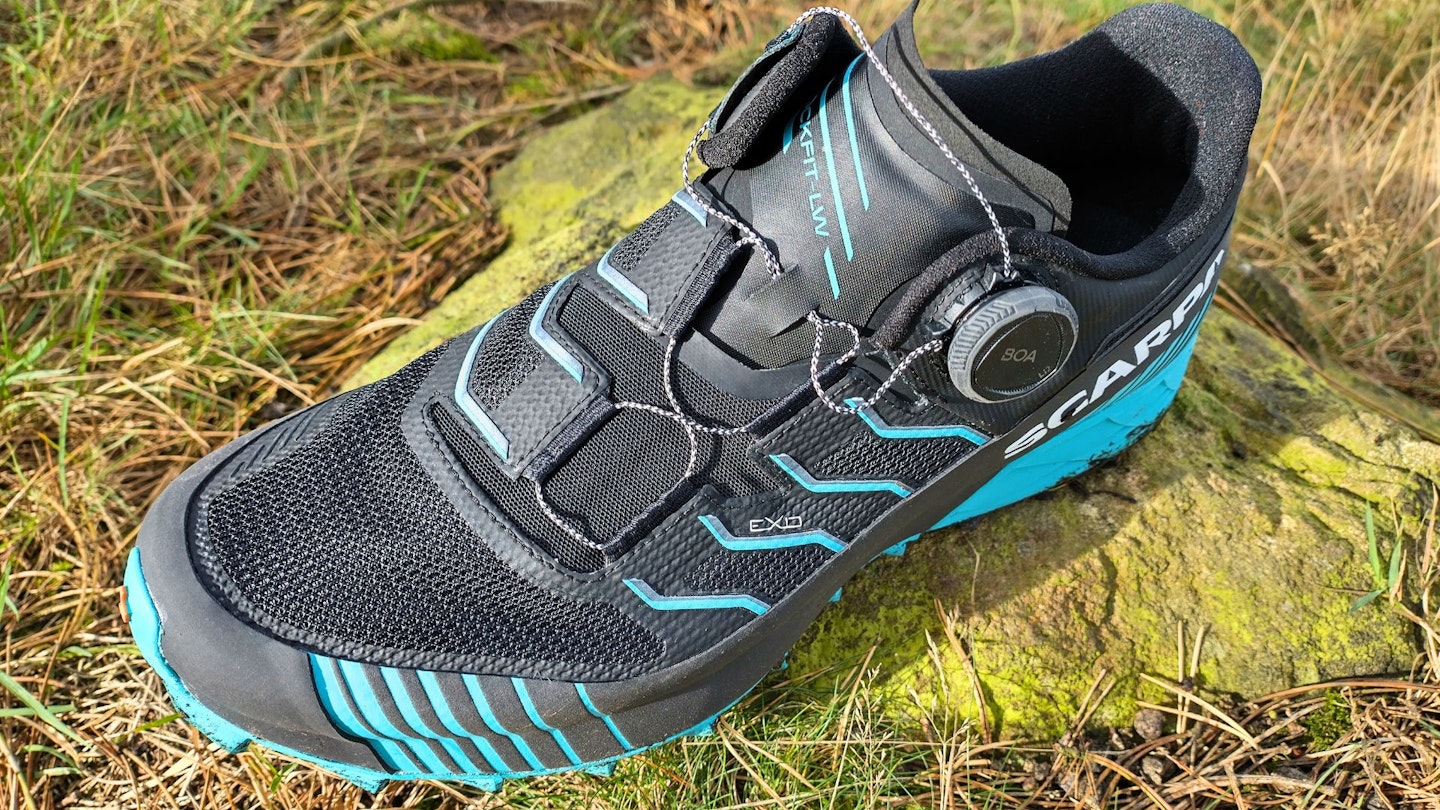 LFTO
Pros
Superb grip on soft and muddy ground
BOA system works well
Highly breathable upper
Wraparound rand improves durability and protection
Excel on shorter, technical routes
Vegan
Cons
Would benefit from greater cuff and tongue padding
Not suitable for long trail runs
Design and features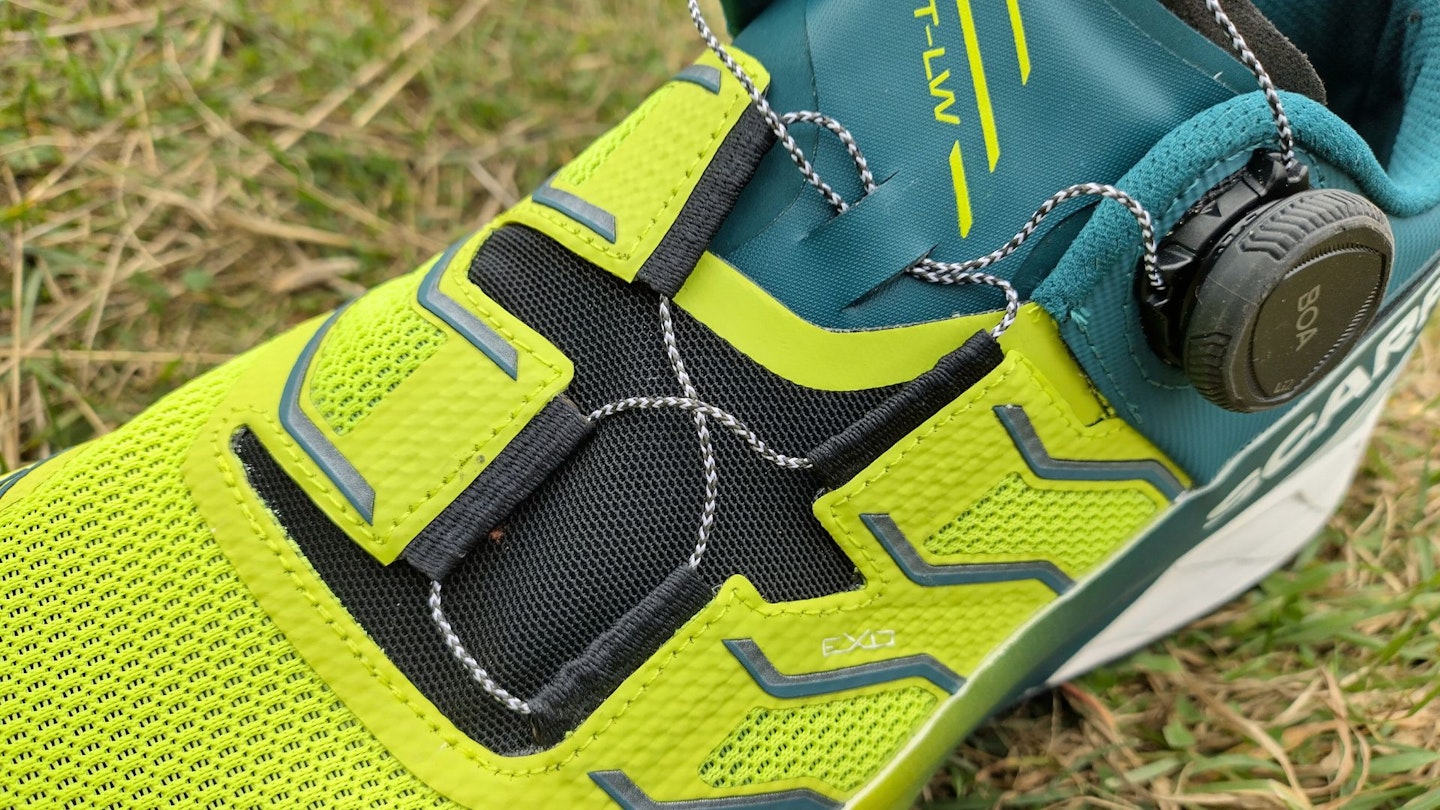 The most obvious feature of the Kalibra HT and ST shoes is the BOA lacing. The idea behind the dial-adjusted lacing is to provide a highly adjustable, secure fit that doesn't suffer from any pressure points. BOA lacing is found on a lot of sports footwear, from running and tennis shoes to snowboard boots.
There are different versions of BOA Fit Systems, and the one used on the Kalibra HT and ST shoes is called Wrap360, which is a joint development between Scarpa and BOA. Why are we telling you this? Gear geeks will be excited to learn that that BOA Li2 dial used on these shoes has a lower profile than previous BOA systems, and also offers a finer level of adjustment.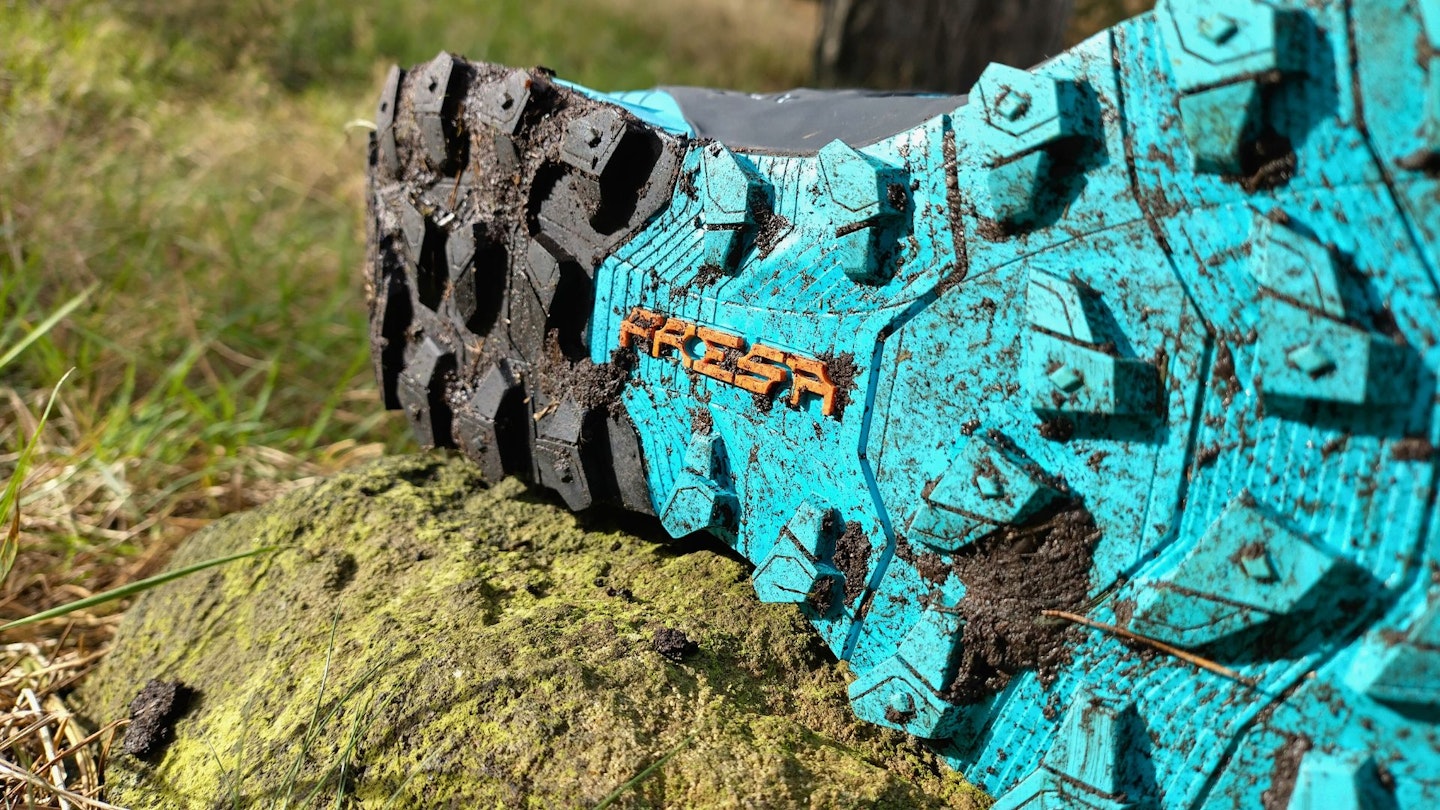 Lacing aside, the remainder of the Kalibra HT and ST shoes is all Scarpa, including the sole. HT and ST use different lug patterns, but both employ Scarpa's PRESA outsole connected to a medium density EVA midsole with a low density EVA insert in the heel to aid shock absorption.
Both shoes feature a 4mm drop from a 24.5mm/20.5mm stack height. From this it's clear the Kalibra HT and ST shoes don't carry a huge amount of spongy cushioning, and are angled for more response and speed over short to medium distances.
The upper is all mesh and is intended to be super breathable (no waterproof version is currently on offer) but sports a wraparound TPU rand to fend off scrapes and bumps.
Performance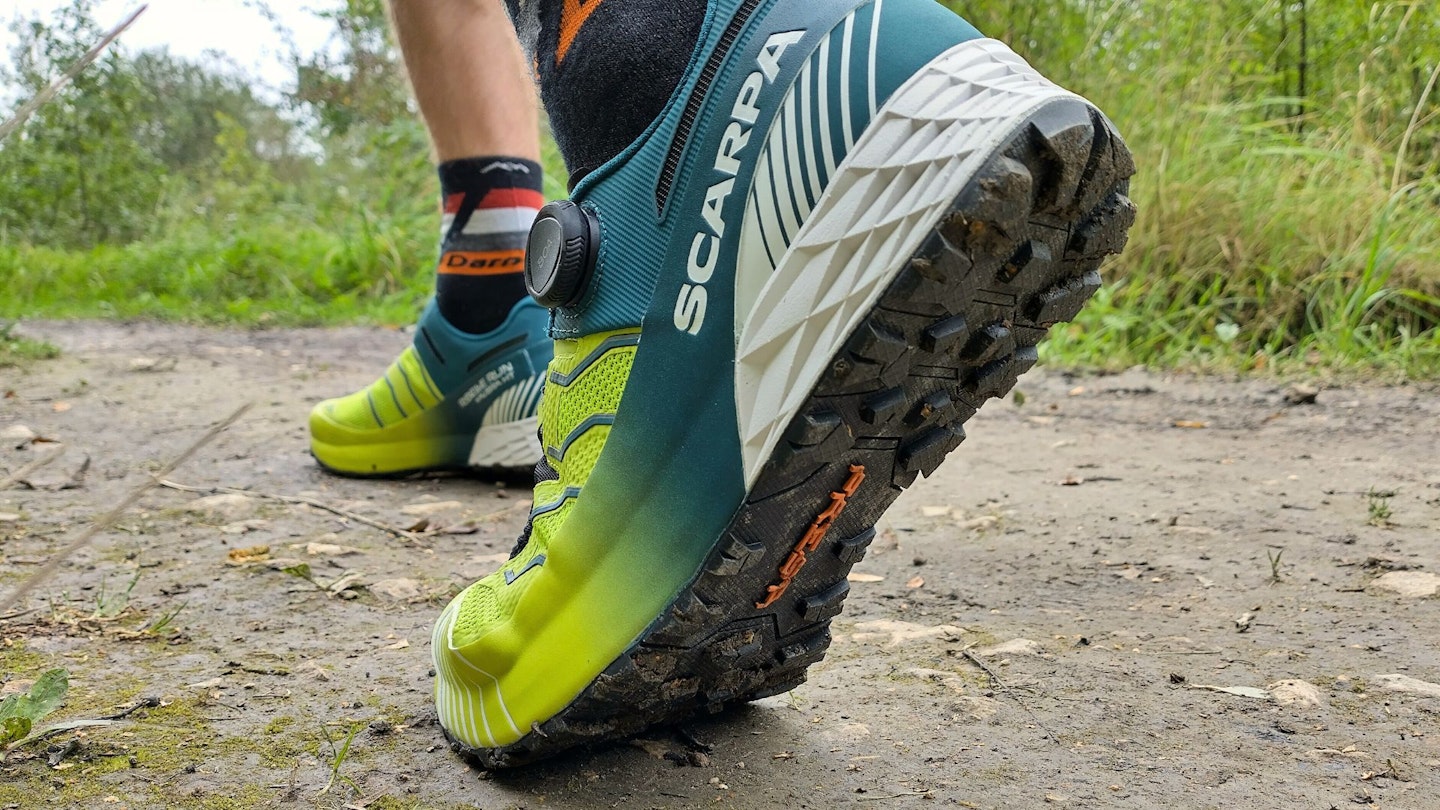 The most memorable feature of the Kalibra HT and ST shoes from our testing were the PRESA outsoles. They are outstanding – the Kalibra HT's PRESA TRN-01 design was especially so because we found it gripped so well over pretty much anything including moist, soft ground. Unless you're someone who runs exclusively in mud and snow, we were left wondering who would need the deeper 5mm, mud-shedding arrow lugs used on the Kalibra ST shoe.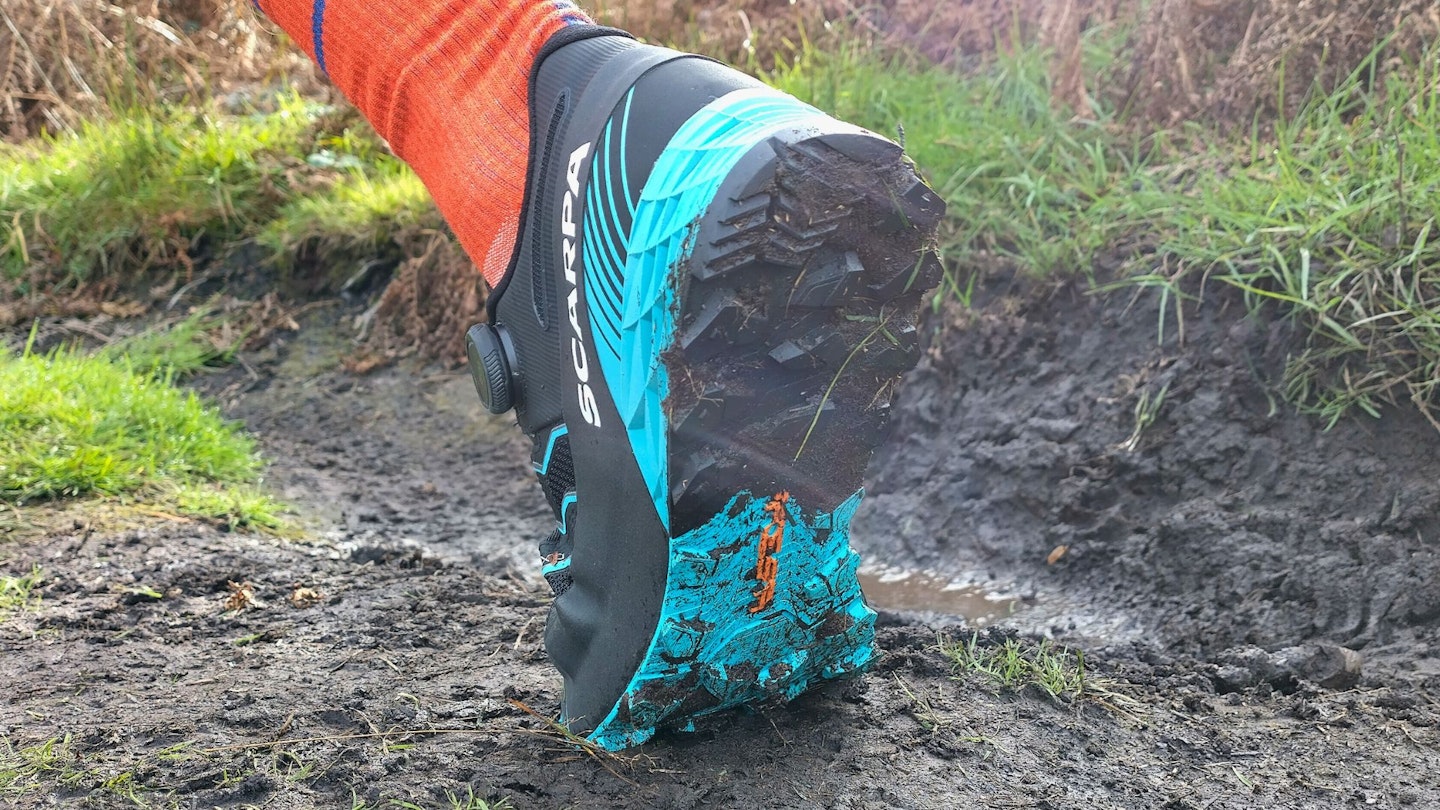 Both Kalibra HT and ST shoes feel very agile to wear. Compared to something like the super cushioned Hoka Stinson 7, they feel very sharp and responsive. Over longer distances you'll likely want a shoe with greater cushioning, but if you're heading out to push your pace on a shorter run over technical terrain, the Kalibra HT and ST shoes are stellar performers.
The BOA system doesn't just look funky. We found it gave us a highly adjustable, fine-tuned clamp over the foot. It's tough too, always continuing to function without issue even if the shoes got smeared in mud.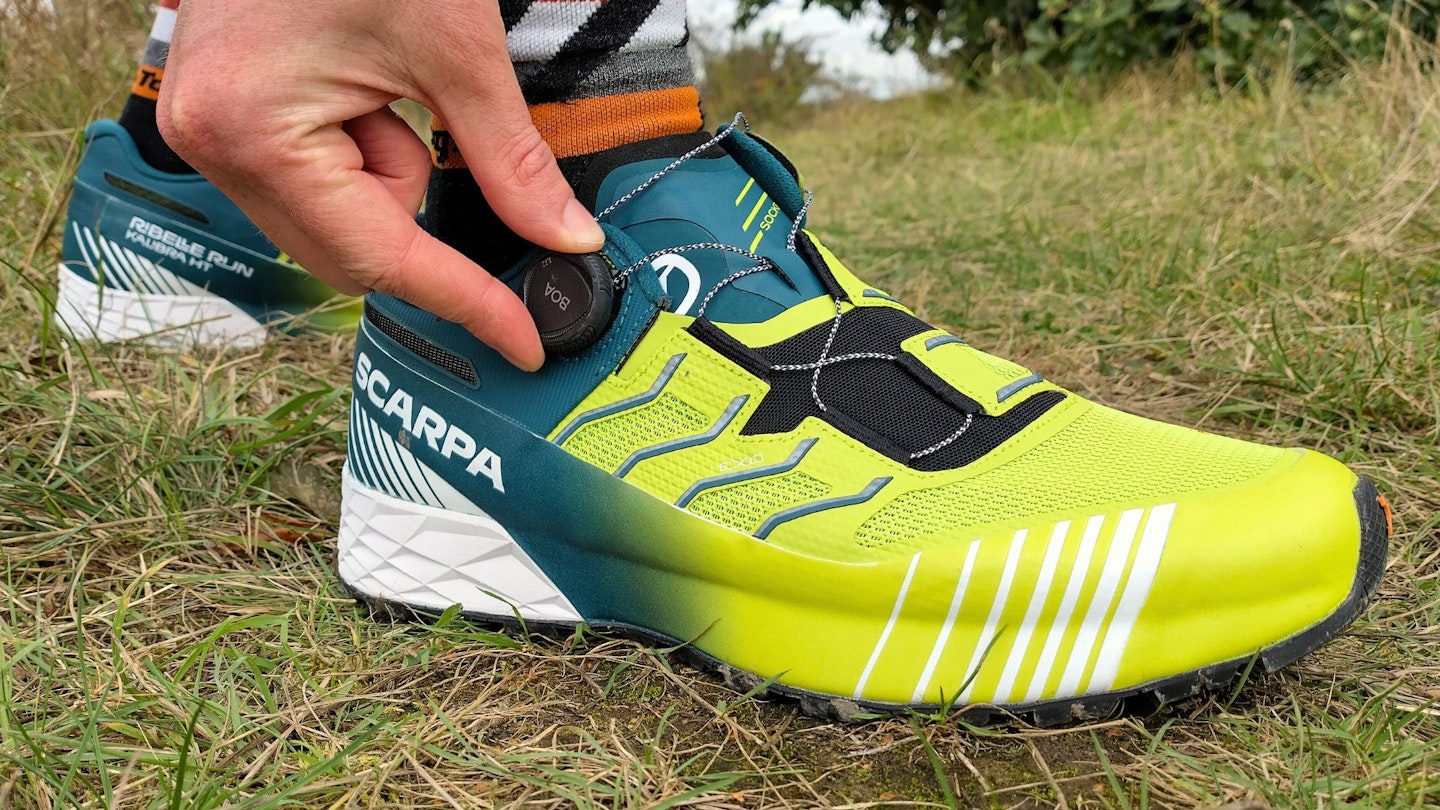 In terms of fit and comfort, we were left wanting a bit. We liked the sock fit (literally, the construction design is called Sock-Fit LW) tongue and upper. However, some more padding at the top of the tongue and around the ankle wouldn't go amiss. While the BOA lacing does indeed remove pressure points over the foot, the measly ankle cushioning did cause a little discomfort.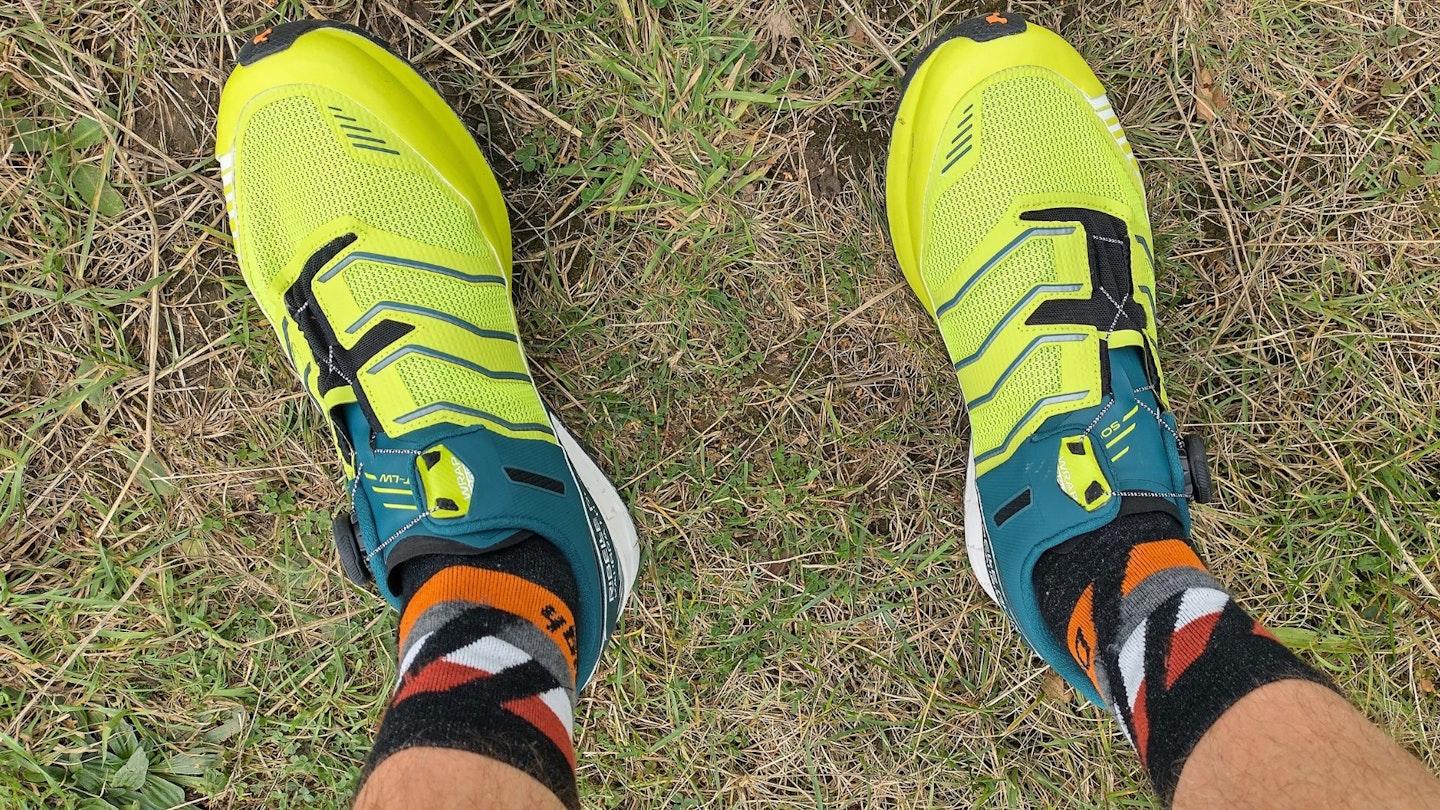 Very few trail running shoes receive a full or even half decent rand. We think Scarpa's decision to apply one to the Kalibra HT and ST shoes was a very good idea. Not only does it help with structural stability, it also substantially aids durability. Running shoes get a hard life, and none last particularly long on the feet of an avid runner. But details like the TPU rand seen on the Kalibra HT and ST shoes go a long way to prevent tears and punctures that can bring a premature end to trail running shoes.
Sustainability
We understand the challenges of making a trail running shoe sustainable. Unlike a hiking boot, which has the potential to be long lasting through the use of more heavy duty, durable materials and resoling, trail running shoes are basically consumable items.
But that's no excuse for inaction. Scarpa's take on sustainability focuses a lot on quality, durability, innovation, and local production. Sustainability through longevity; improvement through innovation; and a largely (90%) European-based production and supply chain ensures control over a highly regulated production line.
However, this mainly applies to Scarpa's hiking range. The little tongue tags on the Ribelle Run Kalibra HT and ST reveal they're made in Vietnam. And the shoes don't boast the use of any especially sustainable materials (but are vegan).
Scarpa is starting to employ more sustainable materials in its product line – including trail running. Its Spin Planet running shoe uses plenty of recycled material including in the midsole and outsole. So hopefully we will see this become widespread across Scarpa products in the near future.
Price and competition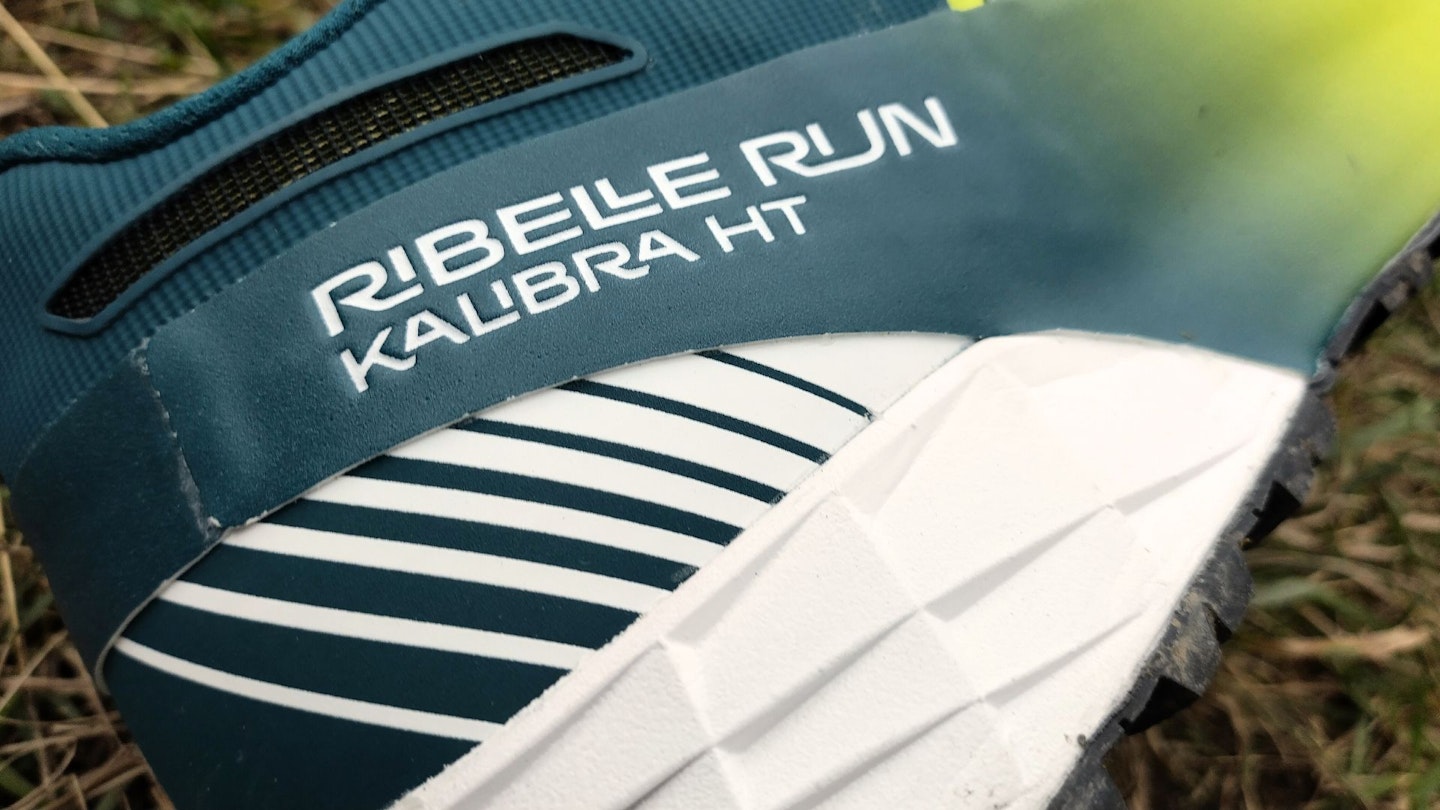 There's no arguing the Kalibra HT and ST shoes carry a top-end price tag (£170 and £175 respectively, at the time of writing). In terms of fast, responsive trail shoes for use on hard or soft ground, there is no shortage of competitors for either shoe.
The Saucony Peregrine 13 would be a prime example. Like the Ribelle Run Kalibra HT and ST, the Peregrine 13 family consists of hard ground and soft/muddy ground models, which we found are also fantastic for shorter, faster, more challenging trail running routes.
Although the Saucony Peregrine 13 features conventional lacing, it costs about £40 less than the Kalibra HT and ST shoes. So, while we champion these Scarpa siblings for their outright performance credentials, in terms of value, there are definitely better options.
Verdict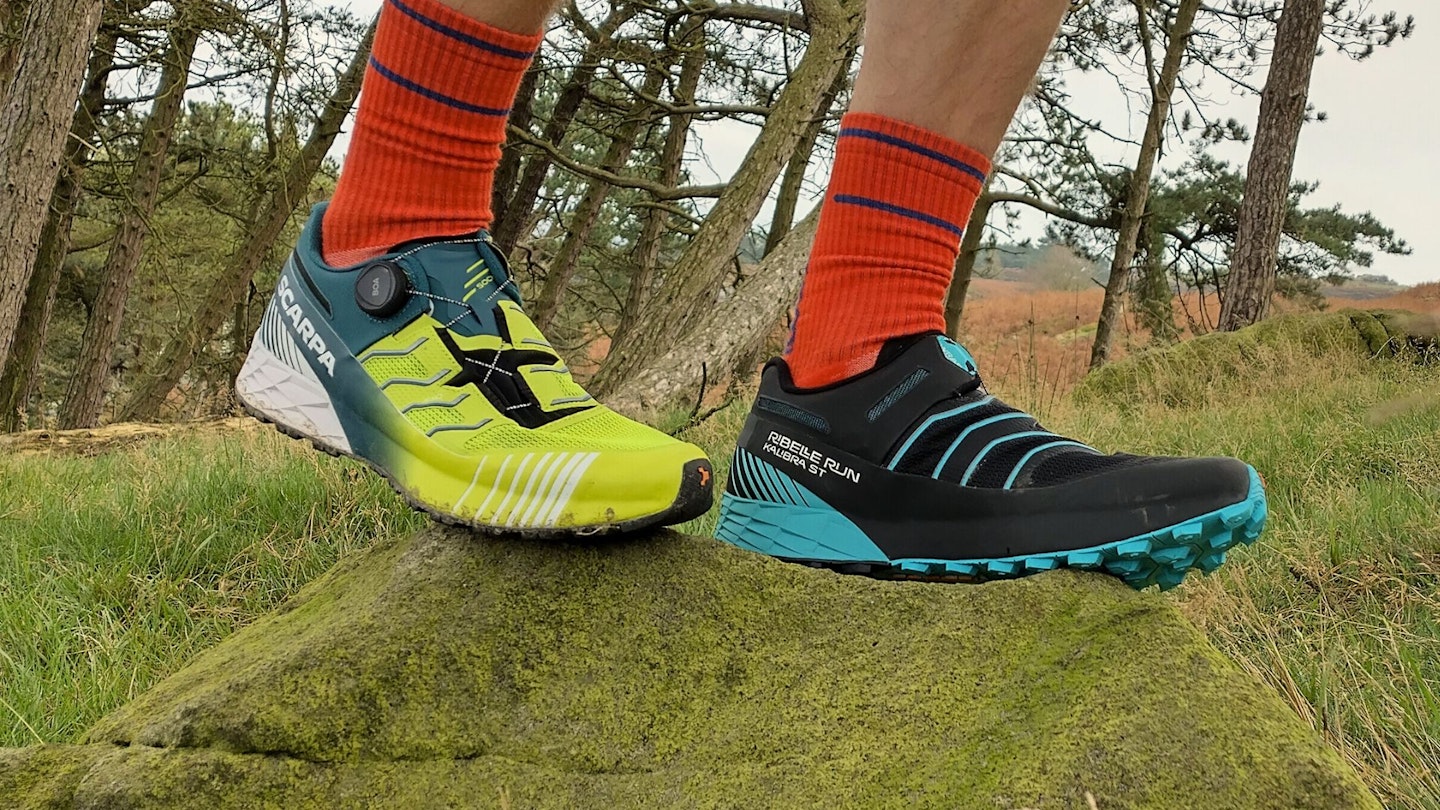 There are three key features on the Kalibra HT and ST shoes that make them star performers for us: Scarpa's proprietary PRESA outsoles, the BOA lacing system, and highly breathable mesh upper with a full TPU rand.
However, downsides for us are the meagre padding around the tongue and ankle, and the fact that there are some other excellent shoe models, which are adept at tackling the sort of terrain the Kalibra HT and ST shoes excel on but cost considerably less.
From our testing, it boils down to this: we think the Kalibra HT and ST shoes are best suited for experienced runners after peak shoe performance and are willing to pay a premium for it.
How we test
The trail running footwear we test undergo thorough, real-world testing. As soon as they arrive with us, they get allocated to one of our experienced gear testers who take them through their paces over a range of off-road terrain and distances.
We consider myriad factors when testing and reviewing trail running footwear, from the obvious, such as comfort and performance, to the less obvious and intricate, such as sustainability.
Our tester of the Scarpa Ribelle Run Kalibra HT and ST is Chris Williams, who is one of LFTO's staff writers and has been testing gear for us since 2021. Chris is from New Zealand and has journalistic, outdoor industry, and basically his lifetime's worth of running and hiking experience to bring to his gear reviews.
For all the latest news, tips and gear reviews, sign up to the Trail Running Newsletter.