The Nike Kiger 9 is a trail running shoe made to conquer technical trails with agility and comfort. This updated version has been cut down in weight and positions the foot closer to the ground for a light and immersive run feel. Our expert run tester Nick Hallissey puts the Kiger 9 through its paces...
If, like me, you're partial to watching YouTube videos about trail running, you've probably come across the ones that rank Britain's toughest Parkruns. The events which minimise smooth, flat Tarmac and are run almost entirely on trails of mud, chalk, flint, grit or even sand, with serious ups and downs – like Whinlatter in the Lakes, Bevendean in the South Downs, Watergrove in Rochdale and the famously hellish Woolacombe Dunes in Devon (home of the legendary Dune of Doom).
And if any of those have ever appealed to you, the Kiger 9 might be the shoe to run them in. Designed to be a fast-moving, responsive, agile trail running shoe for shorter distances and faster rhythms, it's hard to think of a better proving ground for them than a hilly, gnarly five or 10km. It'll go further, sure. But I'm not sure it would be as much fun.
I've worn the Kiger 9 over weeks of trail running adventures, and here's my honest opinion on their performance and value...
Pros
Good value
Lightweight and well cushioned
Brilliant ventilation and breathability
Close fit and firm lacing
Cons
Lacks protection and grip
Sustainability could be better (or just better explained)
Design and features
As denoted by the 9 in the title, the Kiger 9 is the latest edition of a longtime Nike off-road bestseller. (It previously included the word 'Terra' in the name, and it still appears on the shoe's tongue).
This one is lower to the ground than its predecessor, largely because Nike have removed the Air Cushioning unit from the forefoot to get you closer to the ground, at least at the forefoot end of the shoe.
Like its stablemate the Pegasus Trail, it has an eye on road-to-trail, and indeed it's a cracking shoe on my local roads. But it's far more at home off-road, where it grips and sticks nicely and provides plenty of ground-feel for dealing with tree-roots and stony mountain paths.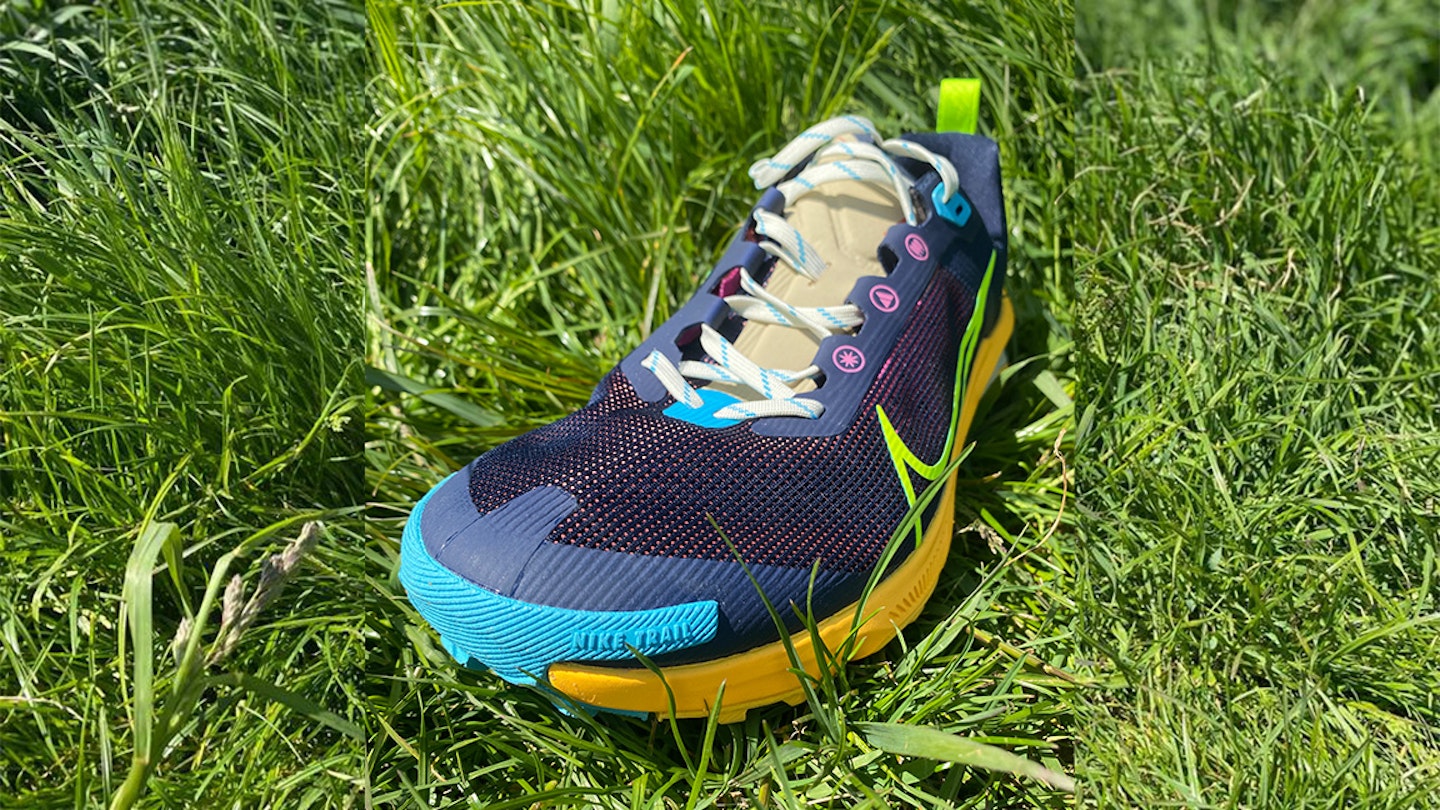 The Kiger has three vital components. Firstly, the Nike React foam midsole. In theory, it's a step down from Nike's top-end ZoomX, but the midsole still boasts a really light, responsive and cushioning foam to have underfoot.
There's also a carbon rock plate. To be honest, I don't know it's there, because I can still squish and fold the shoe up pretty flexibly, and the shoe is still incredibly light at 295g (men's size 9). But you can sense it on the trail, doing just enough to offset the impact of those tricky bits and protect the vulnerable undersole of the foot from sharp jabs on a rocky trail.
Lastly, the Kiger has an almost see-through upper, made from three clever layers: the outer mesh, perforated inner 'skin', and then super-thin inner lining. Each layer is visible through the other and together they make this one of the best-ventilated shoes I've ever worn.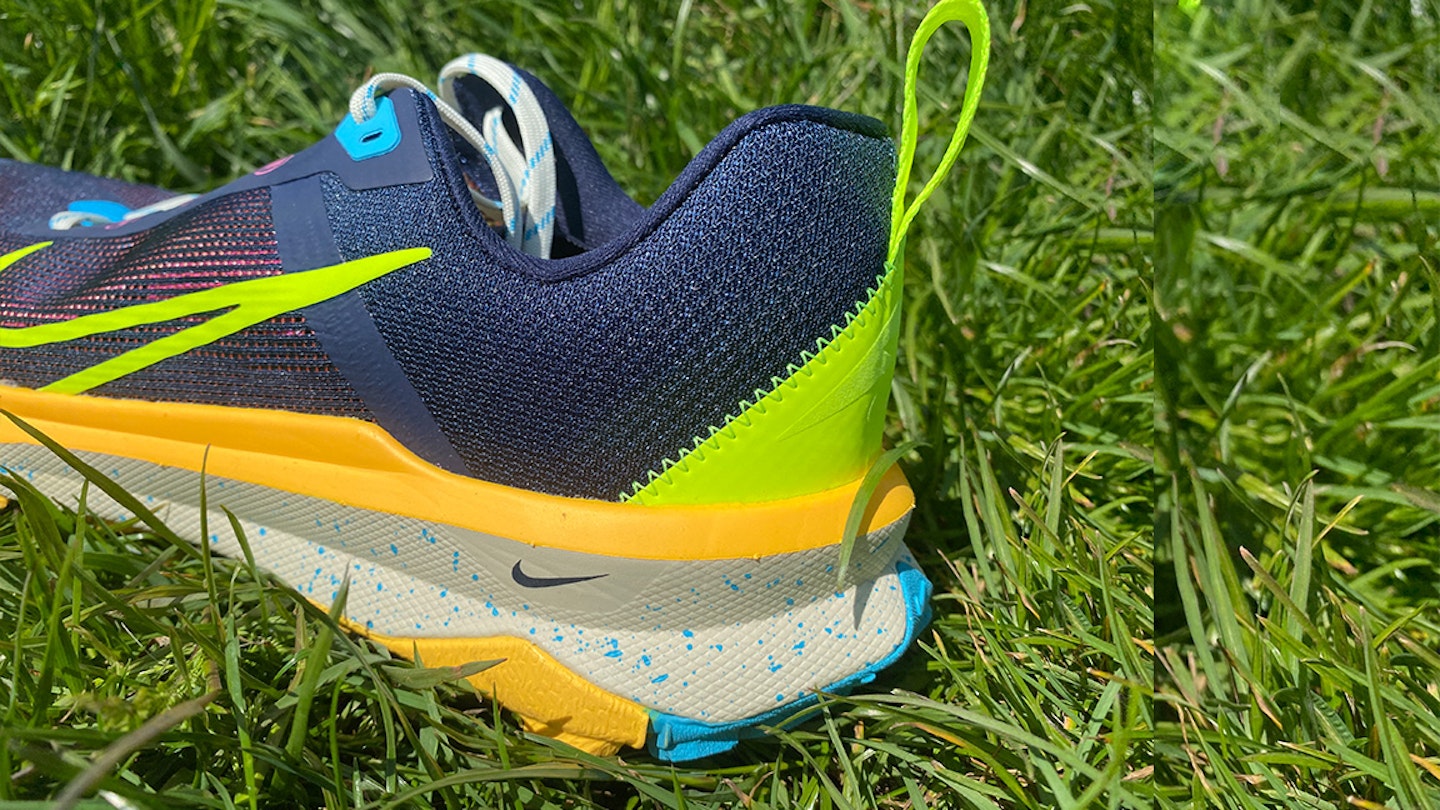 The Kiger's drop is 6mm, with a stack height of 31mm, giving a smooth, fluid motion from strike to toe-off; not as much of a roll as a Hoka-type outsole of course – but still very slick. Though this is lower to the ground than previous versions, it's still by no means a minimalist or zero-drop set-up, for that you'd want to look at shoes like the Vibram Fivefingers.
The toe-box is generously wide, as is the asymmetrical tongue, which sits securely over the forepart of the ankle and has enough padding to offset any pressure from the lacing.
And remarkably for such a light shoe with flimsy-feeling construction, it has a decent level of toughness too, including a slim but robust toe-bumper and a kind of flared reinforcement of the foam at the widest part of the forefoot.
There's no waterproofing at all of course, given that focus on low weight and breathability, and there is no Gore-Tex version as there is with the Pegasus. The Kiger basically accepts it's going to get wet and so are you.
Performance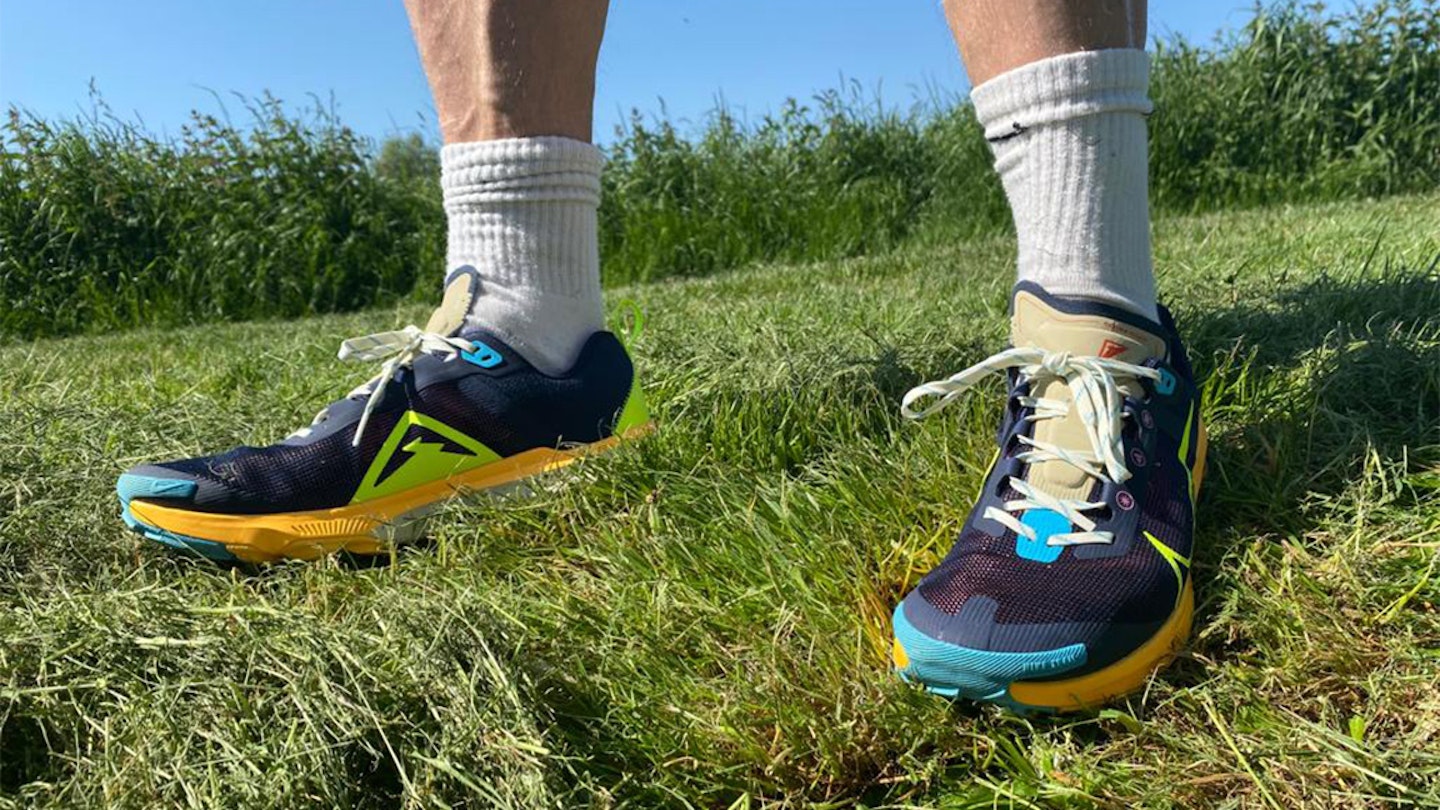 Over dry ground, woodland trails, gravel tracks, forest roads and stony paths, the Kiger just flies. Traction is good, and the shoe feels incredibly light and airy. The foam cushioning isn't quite as luxurious as that found on the Pegasus, but it still does a great job of soaking up the impact while giving you springboard at the same time. It's agile and manoeuvrable as well; the twisty-turny paths on my local forest trails are great fun wearing the Kiger.
It's less good on really muddy terrain though, where the tread pattern lacks the bite to dig and stabilise as well as a more aggressive outsole. For a trainer that really excels on soft mud, you'd want to reach for a winter trail running shoe with those longer lugs. It's still not bad though; on a field path after heavy rain it still kept me relatively stable, with just a few short slips.
While the Kiger's good on rocky terrain over shorter distances, I find it a bit wearing on continuous mountain paths over 13-15km, when that lack of really robust protection starts to become noticeable. And on wet rock, its deficiencies become fairly clear quickly; it does struggle to contend and stay stable.
But I really have to give it a shout out for how it performs on road and pavement. It may not be primarily designed for tarmac, but it still flies very swiftly over it. Assisted by the Kiger, I beat my PB for one of my local country lane loops by almost a minute the other day.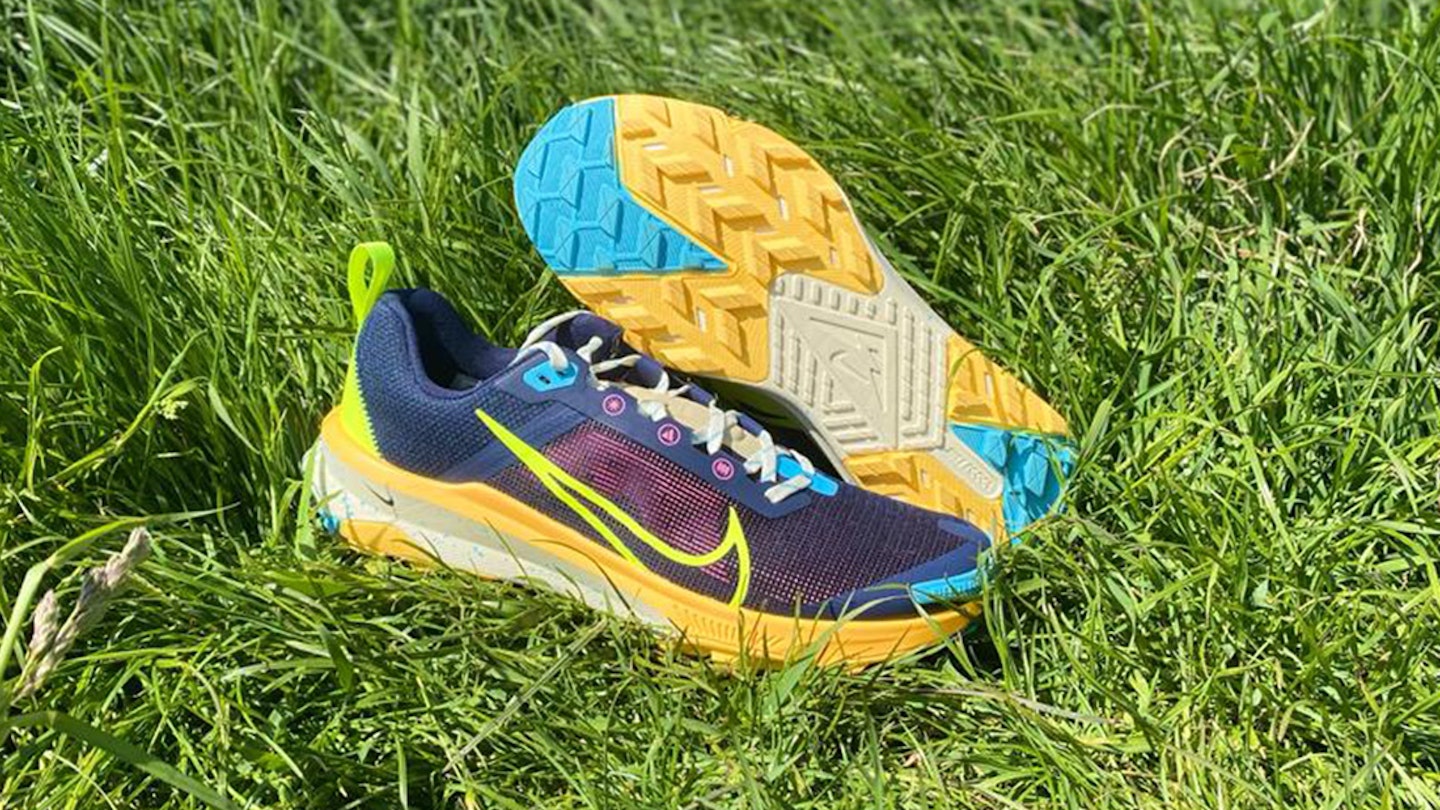 What I adore most about the Kiger though, is the airiness. Those slimline layers combine to make running in hot weather much more of a pleasure – especially in those scorching weeks of late May and early July. And 10 hours after a hot, sweaty run, they're dry, low on pong, and good to go again.
In terms of fit, I've found it true to size, providing a good close fit for my mid-width feet, especially in the forefoot; narrower-footed runners may find it a little generous and might want to think about dropping a half-size.
Lastly, I've read criticism in some quarters over the fact that Nike don't use Vibram outsoles in their trail shoes, suggesting that this would make shoes like the Kiger better over wet terrain. It's a fair point. Then again, there are plenty of trail running shoes out there dedicated to the harshest terrains and conditions; look at Salomon, Inov-8, Scarpa, and La Sportiva for starters.
What's wrong with engineering a shoe that specialises in warmer, drier, friendlier conditions? To my mind, there's room for all. And as a side-point: if Nike added a Vibram sole unit to this, it would be a) heavier and b) a lot more expensive. Just a thought.
Sustainability
Alas, Nike aren't terribly forthcoming about the eco credentials of the Kiger 9. (In fact, their online product info as a whole is surprisingly sketchy and vague; you get far more detail from several of the more dedicated retailers.)
As a brand, Nike make several key pledges around reusing plastics, yarns and textiles, and around the reduction of waste, fresh water and greenhouse gas emissions. But unfortunately, they aren't great at explaining how these programs feed into individual products or technologies at point of sale. Could do better.
Price and competition
The RRP is £139.95; not a lot of discounting at the moment, but in the current climate it's a pretty fair price for what's on offer.
Competitors might include the Inov-8 Trailfly collection, Salomon Sense Ride 5 (£130), Scarpa Ribelle Run (£155) and La Sportiva Jackal (£149).
Verdict
For five to 10km runs over tough but dry terrain, the Kiger 9 is just fabulous fun. Yes you could easily do a trail half or even marathon in them (if conditions were favourable), but I think their real comfort zone is on those shorter distances where you're balancing rhythm and pace with sustained ascents and fast downhills.
Confession: I haven't done Woolacombe Dunes Parkrun or its Dune of Doom, yet. But if I do get there one day, I'll very likely be wearing these.
How we tested
We've used the Nike Kiger 9 for a few months, using them for running over a wide range of off-road terrain and distances. Spending a longer period of time using the trainers has allowed us to get a true understanding of how well they perform, their durability, and what kind of runner they would best suit.
For all the latest news, tips and gear reviews, sign up to the Trail Running Newsletter.