There is a lot of chatter in the running community about minimalist trail running shoes. Some say they improve your running form and give you a better feel for the ground under foot. Others will argue there is no benefit at all, only quirkiness and unnecessary risk of injury. We believe the truth might lie somewhere between those two camps. However, one thing is certain – running in Vibram Fivefingers is a lot of fun!
You'll certainly have seen these whacky shoes around. Designed with individual toes and a total lack of midsole or drop, the Vibram Fivefingers are perhaps the only running shoe to provide a truly barefoot feel.
Pros
Barefoot feel while still protective
Good grip in various conditions and surface
Cons
Use with socks or you will be washing them frequently
Your toes may get a bit scuffed
Features and design
V-Trail 2.0 is the trail model of Fivefingers line of footwear with some "trail" features to support this. There are lots of lugs on the undersole – they are tiny, but their sheer number means the grip is solid. the outsole makes you feel glued to the surface, be it sand, gravel, wood paths, or tarmac. It's odd at first, but quite fun! Between the rubbery undersole and the stretchy upper part of the shoe, there is a weave membrane called 3D Cocoon Mesh designed to dissipate the impact of objects like rocks against the sole. You can even see this construction element through a transparent window in the undersole itself, right where your arches are.
The insole is integrated with the shoe and cannot be taken out. All these elements put together do not compromise feet flexibility and do feel like a glove around your feet (with five fingers, although technically speaking it should be Vibram Fivetoes). The quick lacing system using non-stretchy string and a plastic clasp keeps the foot in place and didn't need too many adjustments during our tester's runs.
Performance
Warning – these shoes have zero cushioning. They only protect your feet from the ground to give you worry free run, but the feeling is very much of a bare foot motion. On a pebble beach you will still feel pebbles, but the Fivefingers will dampen or even mute the sensation. And that is exactly the idea – to give you a better feel for the surface you're running on.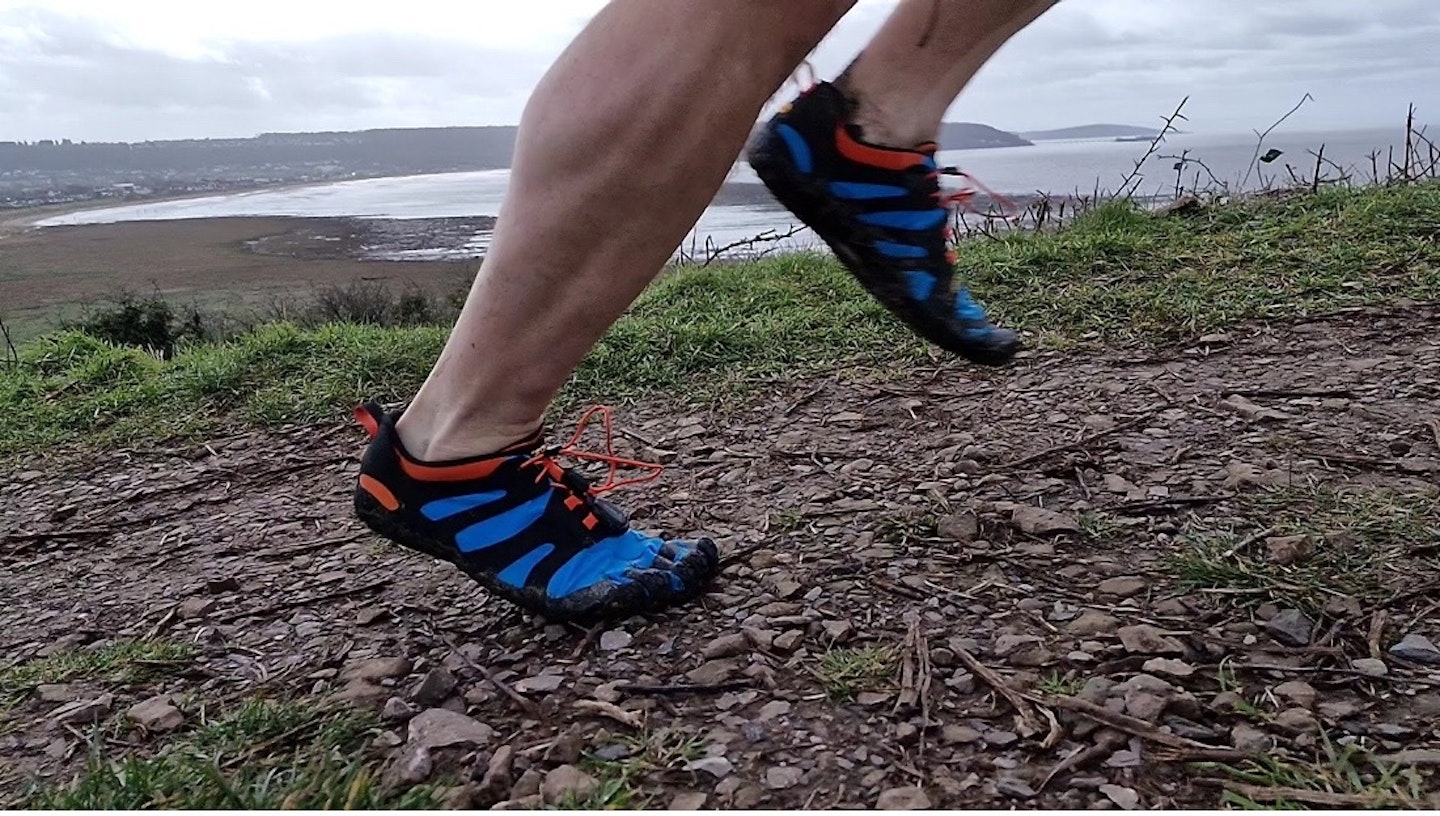 The fact that all impact dampening happens in your legs also promotes mid-foot and front-foot strike – your body will naturally try to land toes first. Our testers worried that little rocks and debris would get stuck between the separated fingers, but this is never happened. As the rubber undersole wraps around your toes, it also prevents the toes from spreading apart.
The Vibram five-fingers have had no problem with gripping onto different surfaces. The only time our tester slid a little bit was in deep mud – keep in mind this is what you would expect in normal trail shoes too anyway. As there is less material between your foot and the ground, we actually found it a lot easier to control the sliding.
Barefoot running
Vibram suggests gradual change to these shoes. You should not just pick them up and run your long run – that's not how it works. First, you need to learn how to put them on(!) – each toe needs to land in their own pocket, and it takes some skill to make it so, but we're happy to report that this gets easier with a little bit of time. Once you get used to them on, start to gradually build milage. If you're looking to pick up your first pair of zero-drop shoes, check out our review of the Vivobarefoot Primus Trail Knit FG, which is a slightly more accessible choice for new devotees to the barefoot revolution.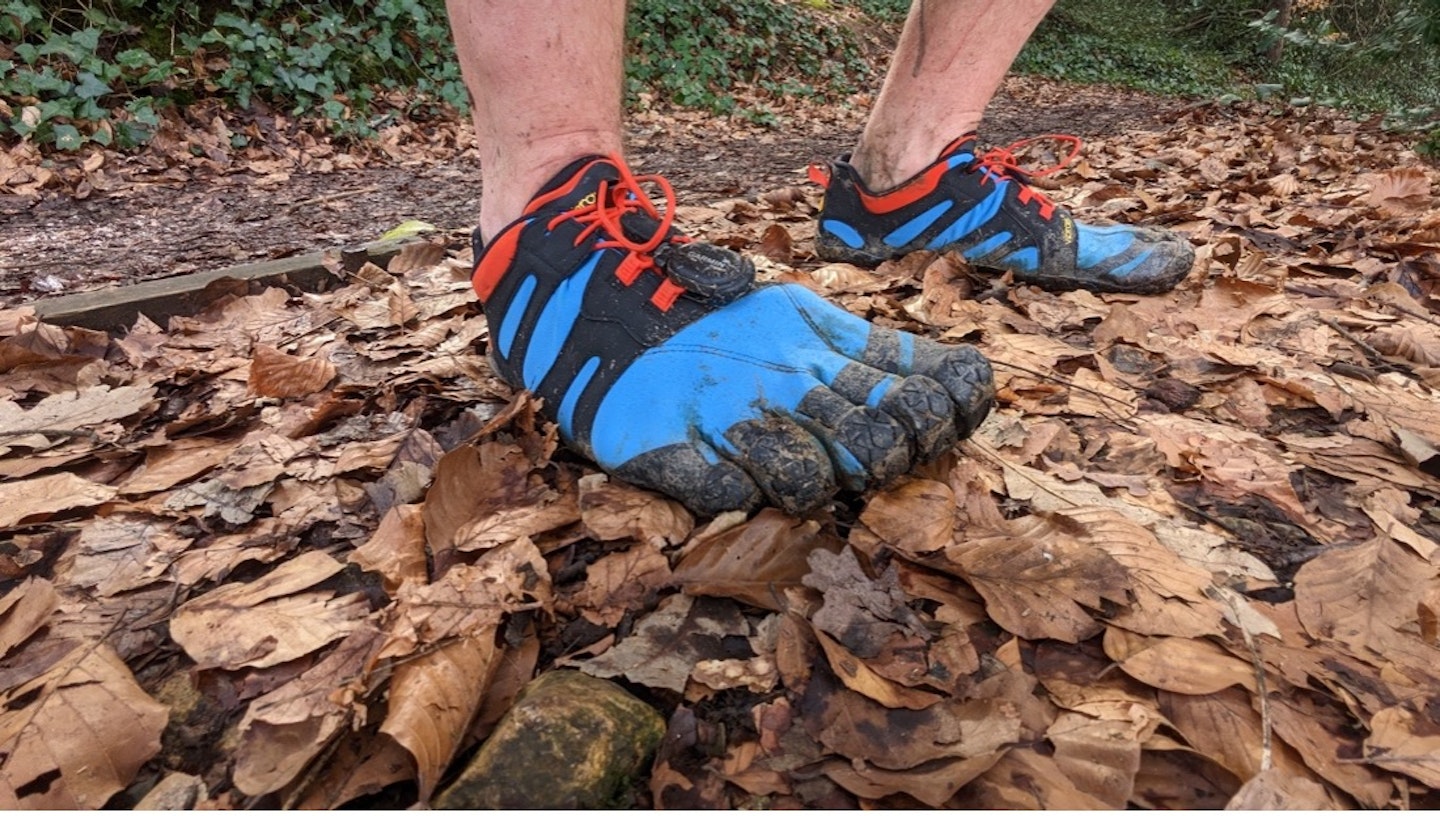 Should you wear socks? Well... There's no need – Fivefingers are designed in such a way that you can wear them on your bare feet. You can also wash them in the washing machine – this will have to become part of your routine though as running without socks can make any shoes stinky very quickly.
Vibram offers a range of socks with separate toes, there is also a vast selection available online to suit all sizes, colour, and style requirements. A good pair of running socks are a great idea if you want to avoid random scuffs on and between your toes. We did find running without socks to be pretty abrasion-heavy, but simply adding them solved the problem!
Who tested it?
Pawel Baranowski is an IT engineer and expert running gear tester. Pawel started his running adventure in 2013, dipping straight into half marathon with no training (don't try this at home). Things escalated pretty quickly, and now Pawel enjoys all day escapades with 50 miles being his favourite running distance. In his other spare time, he's also a casual cyclist, hiker, and camper.
When buying new gear, Pawel considers its practicality and value for money. Currently, he's discovering the world of zero drop running shoes.
Tester's Verdict
Pawel: When I put them on the first time it did feel weird being so close to the ground, made me feel a little bit insecure and wary. However, after just a few steps I had a massive grin on my face, and they felt amazing. I do not remember the last time new shoes were so much fun! Would I run an ultra in them? Lord no! But I already look forward to the next trail run in my Fivefingers. I'm not going to say they make me run faster or better, but they made me happier runner for sure. If you're bored with your regular running shoes, why not try these?
Don't forget to subscribe to the Trail Running Newsletter to get expert advice and inspiration delivered to your inbox.
Get half-price digital OS Maps. Trail and Country Walking magazine members get 50% off an annual subscription to OS Maps for 12 months. Find out more here.