With 282 Munros to bag and a whole host of them being based in the Highlands of Scotland, it seems an inevitable challenge for the avid trail runner to want to climb them all. As part of the Run 1000 Miles Challenge, we've teamed up with Highlands expert Emma Harrison for her mountain-running suggestions.
From multi-day trail runs, to simple ups and downs, every mountain promises its own adventure and surprise. While there are Munro societies out there, sometimes a solitary day out in the hills is all we need to feel alive.
What we didn't bargain for here, is just how 'alive' we feel. Understanding the fine line between feeling rejuvenated and being frankly terrified to the point of packing an extra pair of pants is something I've yet to work out. Setting out early to avoid the crowds in the Highlands isn't a new idea. It is one that should absolutely be adopted if you want to avoid standing in a queue for a picture at the top of a mountain.
That's not a joke; Ben Nevis attracts far too many people in flip flops carrying large cameras... Escape them as much as you can! Instead, do something that will test your nerves. Do something that'll keep you quite literally on your toes, climbing higher with your heart pumping when the sun is just beginning to rise. Welcome to the incredibly addictive world of ridge running.
Liathach Ridge: Giant footsteps
Verdict: This exposed little number isn't for the faint hearted.
Spicy rating: 3/5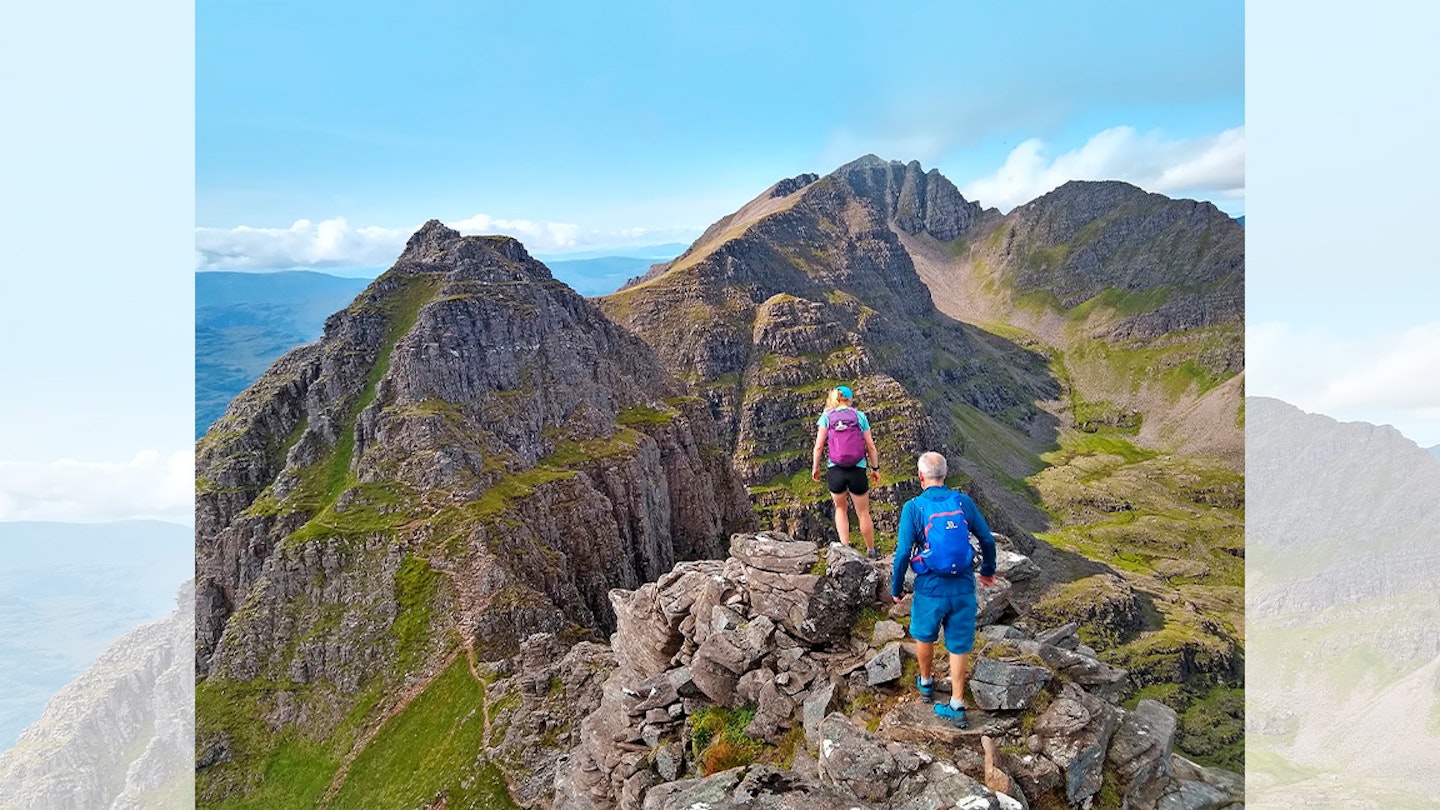 Within a bonnie village in Torridon on the northwest coast of Scotland lives a real life giant – its name is Liathach. One of three ridgelines in Torridon, Liathach rises to a height of 3461ft. It's a mountain some will never dare to climb. A write-up like that screams 'challenge', right?
After a steep climb up from the road, your average sized car very quickly becomes a tiny dot. Before you know it, you've popped out on a ridgeline either side of you with some healthy drops. Be sure to venture on to a small summit just to the right. Here you'll view the ridge's spine in its full splendour, with the best yet to come.
After reaching the first Munro and trig point, your face may well drop. Ahead you'll see the scrambly-looking lumps ready to tackle!
Laces tied, a gulp of water for concentration and you're on your way to a scrambling haven. You're rewarded with views across to Skye and the Outer Hebrides and the beautiful sea that lies between. All in a day's work for the ridge runner!
Aonach Eagach Ridge: Feel the burn
Verdict: A great traverse, but leave it for a clear blue day.
Spicy rating: 4/5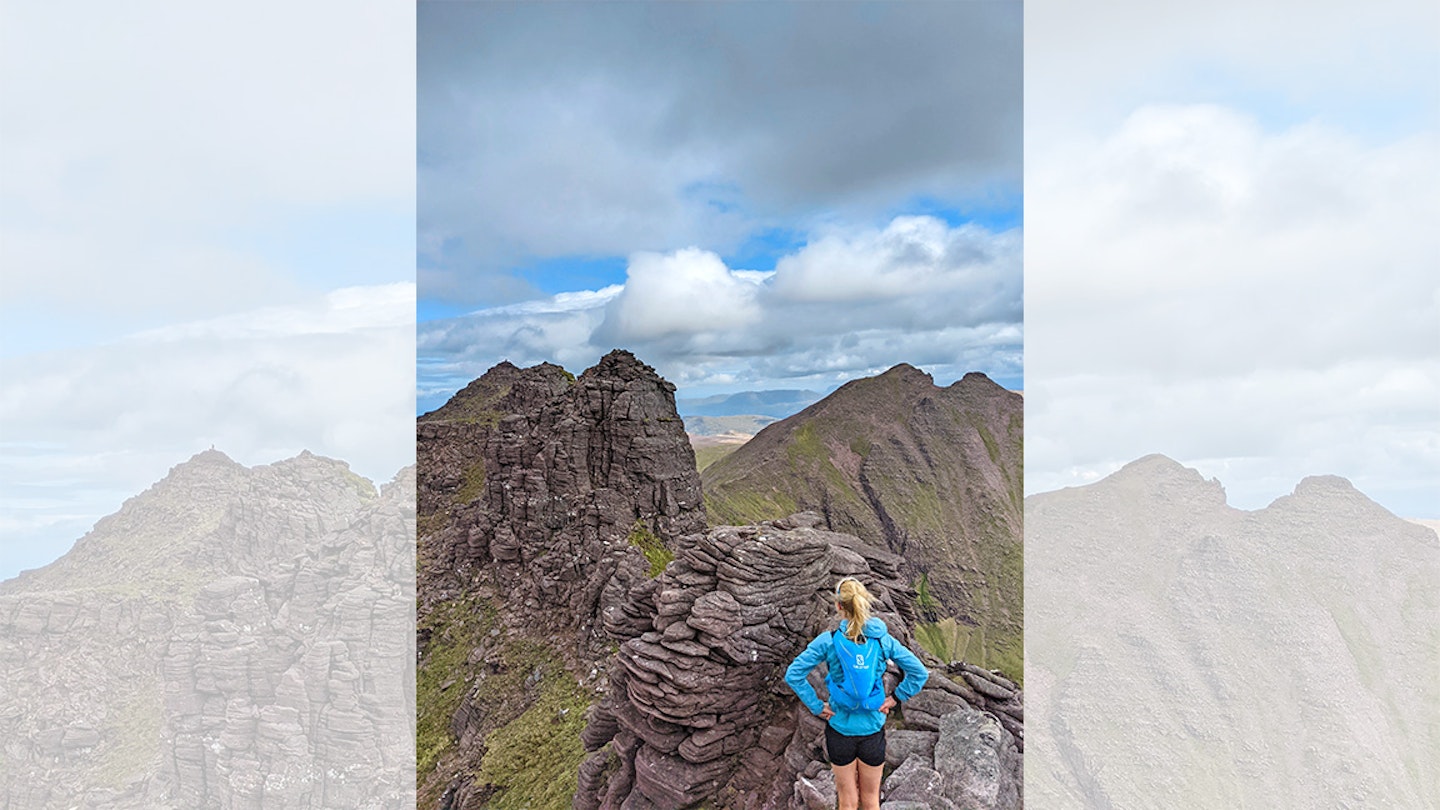 In the west, nestled between lochs, hills and a fair few beaches, lies the Aonach Eagach Ridge – a surprisingly runnable assault course, but with some long exposed scrambling. The ridge is climbable in either direction, to join the masses, start where the guide books tell you.
Otherwise, start from the climb of the Pap of Glencoe and enjoy a bit of peace, tranquillity and no queues. Your legs are going to be tired and your heart will get a fair workout on this one – this is a steep climb, but it's worth all the calf burn to reach the top.
Working your way over rocky terrain, with occasional grass lumps, this ridge requires determination and a head for heights. Besides, there are no bailouts on this beauty, so enjoy the rollercoaster and pack some sugar for halfway along – and for after, too, as a post-ridge party celebration!
An Teallach Ridge: Go big, go early
Verdict: This is a spicy one but, with views out to sea and over an exceptionally beautiful loch below, you won't regret lacing up that morning.
Spicy rating: 4/5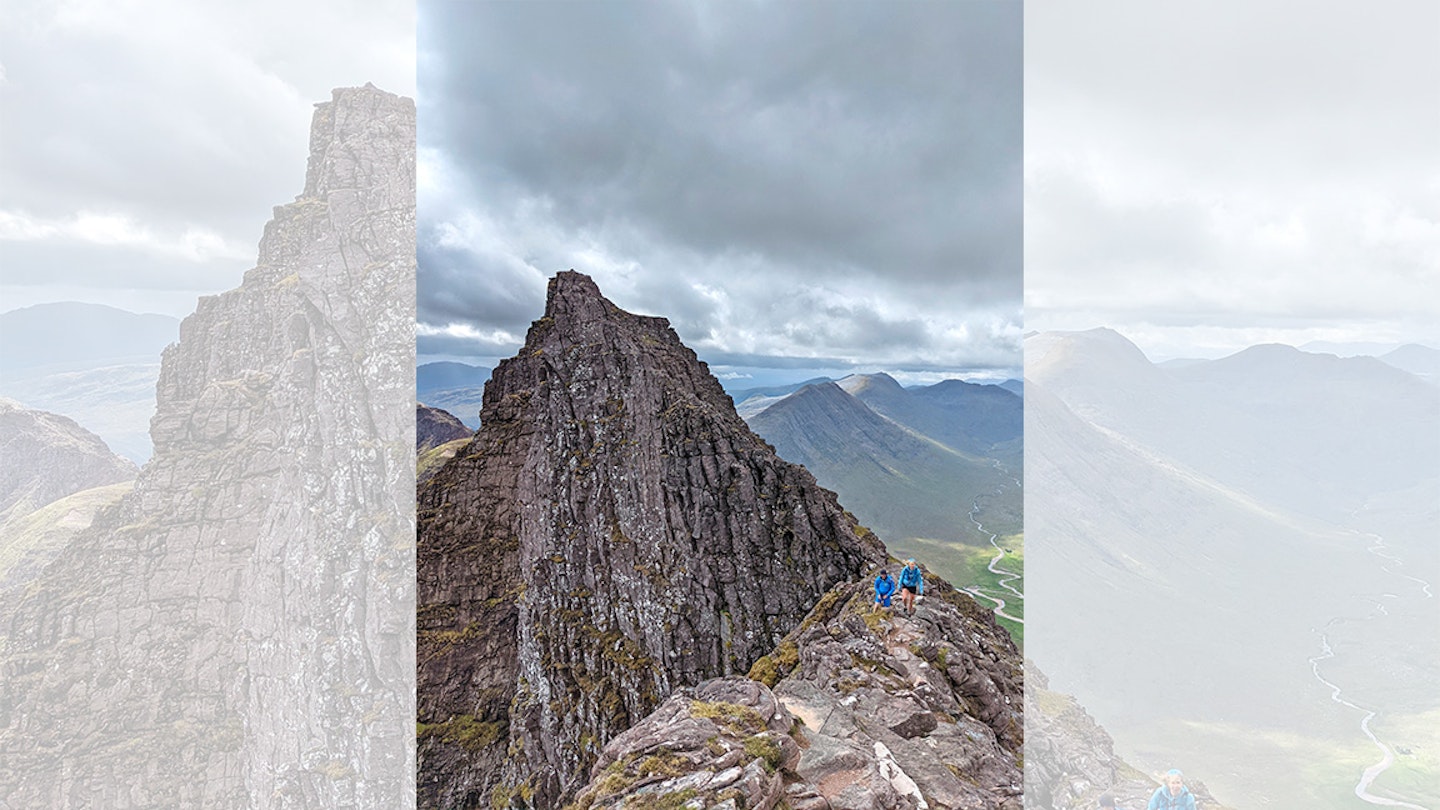 As you drive up the northwest coast towards Ullapool, the scary silhouette of An Teallach gets closer and closer: a mighty mountain ridgeline with spikes like a dinosaur's back. It's a real classic, and an early start for this one is the key.
Guidebooks suggest one way, we suggest the reverse – after a steep run up, you'll quickly find yourself overwhelmed and swearing under your breath at the sheer surprise at the top.
Tackling this can be a little slow if you're sticking to the ridgeline – the only way to truly summit these tops. There's some graded scrambling here, so be sure to take a rope if you're a regular climber, otherwise, run the tops as much as possible, but be careful with footing.
The Cuillin Ridge: Save the best for last
Spicy rating: 5/5
Verdict: Sensational landscape and awesome climbs, this ridge is technical but worth the effort!
Think of this as the hottest pizza on the menu – The Cuillin Ridge on Skye. It's not to be underestimated. Unless your name is Finlay Wild, running these beastly Munros (all 11 of them) is a huge undertaking. The good news is that you can summit these independently.
The example here is Sgùrr na Banachdaich – nice simple running until you hit the scree, but a simple pull up to the summit. Once you've reached the top, you'll need to steady yourself as your jaw hits the floor and you throw your hat off in amazement.
The gnarly, nasty, evil rock hat fills the landscape here is sensational. Peer over to the Inn Pinn if you dare! Dropping down below to Banachdaich will create chaos in your mind as the steep climbs and severe drops are in view.
With narrowing ridges, we runners excel at climbing up light and fast, but great care and expertise are a must here. If you're experienced enough to carry on to reach the peak of Sgùrr a' Ghreadaidh, passing by Sgùrr a Mhadaidh, ensure there's enough grip on those shoes.
Kit List: Equip yourself
Since these are not easy runs, make sure you dress – and pack – accordingly. Being safe is your first priority, and always letting somebody know which hill you are climbing and what time you are setting off is vital.  Also, these days, you can use watches such as the Garmin Fenix 6 to set a tracking link live for those waiting at home for you.
Recommended for the hills:
Lightweight running top (either long or short-sleeved)

Lightweight running shorts

Warm running socks

A warm layer. (Recommend a light, packable down jacket)

Running hydration pack. One which carries soft bottles is ideal, and you may also like to put in a dry bag for your kit

Waterproof trousers (I'm a big fan of Salomon's running trousers). Go for something lightweight to tuck away in your bag until the rain arrives

Thermal hat (essential for hilltops)

Mountain running mitts or gloves

Emergency foil blanket. An absolute must-have for running in the hills

Maps of the area and a compass. OS Maps is a good place to start

You may also want to take a waterproof case for your phone (which should be fully charged)

Sunglasses. Though that might seem like a mad idea for Scotland, the sun does shine sometimes!
With ever-changing seasons, it is vital to take enough warm clothing for the tops of the ridges. Where possible, use the In Case of Emergency app on your mobile phone. Or, have a back-up system where your close ones can track your progress. Always pack some warm clothing for after your run if taking your own transport, plus some water to hydrate post-adventure.
Who is Emma?
Emma Harrison is the activities manager of the Highlands and Island Students' Association. A lover of the Highlands' dramatic landscape and its people, she can often be found either running the region's trails, bobbing about in a kayak or cycling for cake.
Don't forget to subscribe to the Trail Running Newsletter to get expert advice and inspiration delivered to your inbox.
This article is brought to you by the official Trail Running Run 1000 Miles Challenge.