For such an innocuous piece of kit, socks are key to pair properly with your trail running shoes. Long gone are the days when you'd go for a run in a pair that didn't feature some serious breathable, temperature management technology let alone an anti-chafe build.
It pays to be very particular about what you wear with your running shoes. After all, many long-distance runs have been destroyed by an unwise selection from your sock drawer. That pair that you wear with your Sunday best simply will not do the job.
Instead, look for a performance sock that goes about its job without letting you know it's there. Sporting brands in the running for top honours in the sock department have, like all sports gear, got it down to a science. We've been testing and finding the best trail running socks out there.
What to look for in trail running socks
Seamless construction: This feature makes a world of difference for a more comfortable fit.
Breathability: Temperature management is hugely important in aiding comfort and performance.
Compression: For some runners, socks that offer compression will help with recovery.
Antibacterial qualities: Wear them longer with less pong! Which, of course, also means you'll need to wash them less – good for the environment.
Material: It's tit for tat in regard to materials. Lightweight merino offers excellent temperature regulation and antibacterial qualities. Synthetic alternatives can (but not always) be cheaper, more durable, and can also benefit from antibacterial treatments.
Padding: Socks that offer carefully placed padding around the heel, underfoot and toe are often winners on longer runs.
The best running socks
Lorpen T3 Trail Running Padded Eco
Best in Test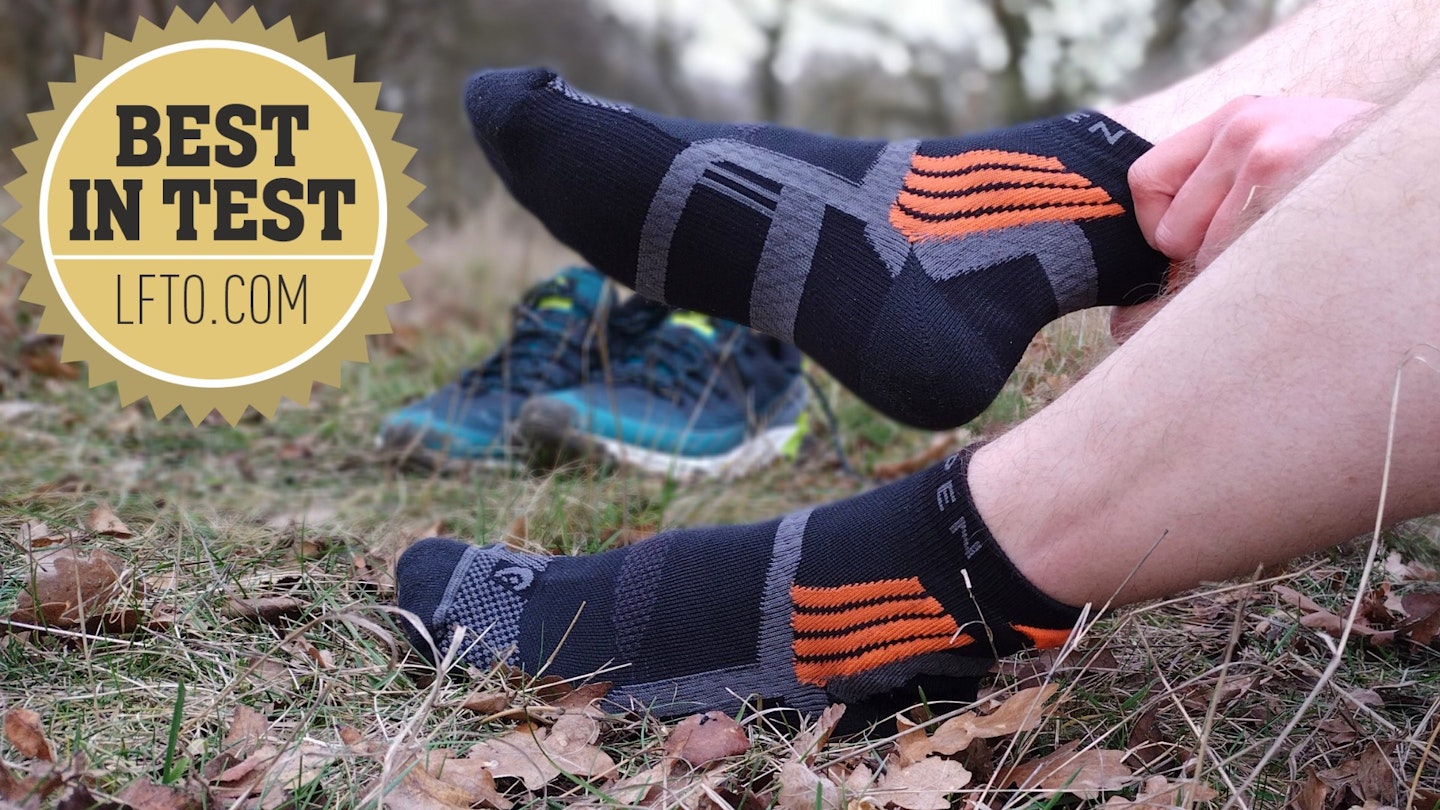 Best in Test
Description
A concise summary of the Lorpen Trail Running sock is that you don't notice you're wearing them.
Pros
Suitable for year-round use
Fantastic breathability
Effective multi-material design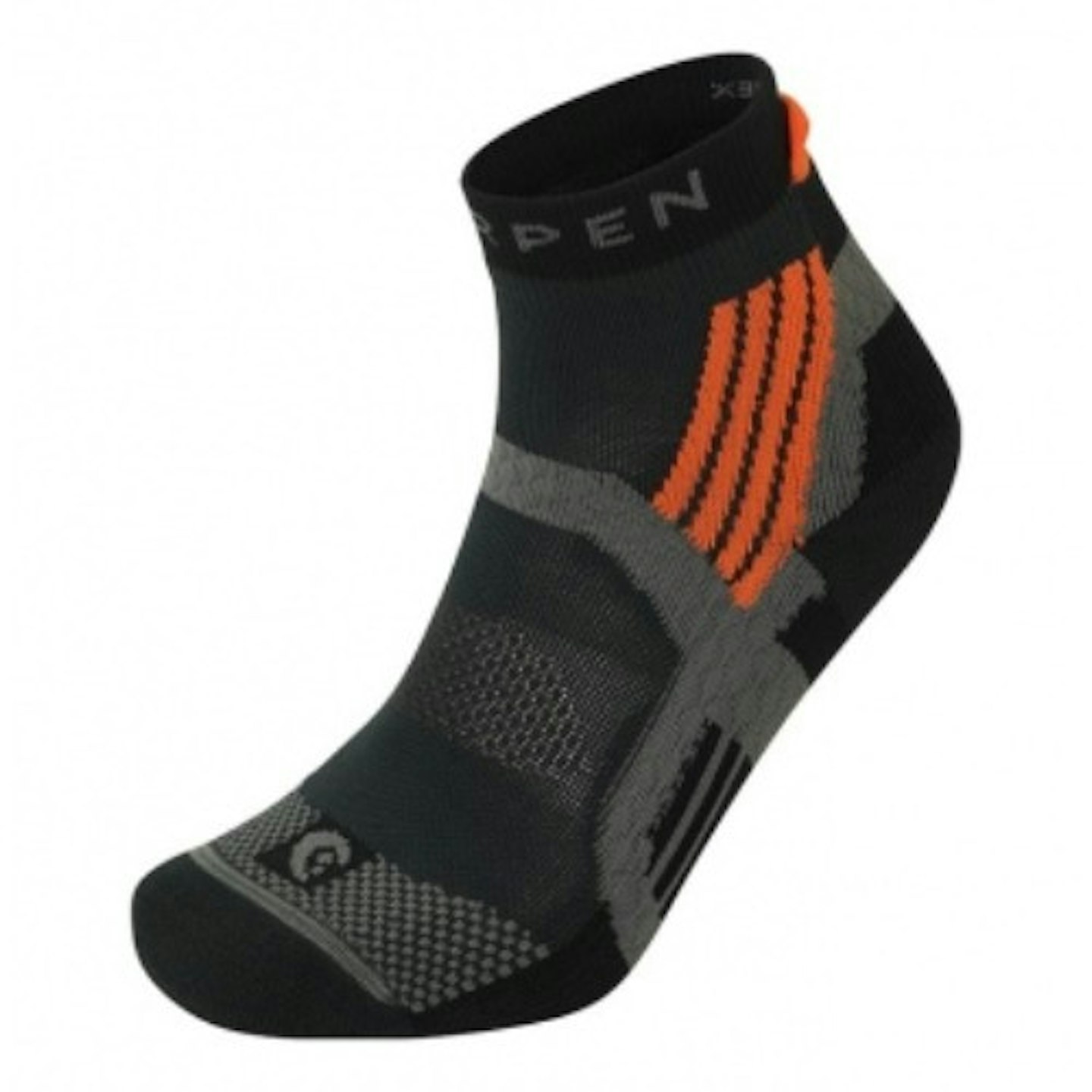 1000 Mile Trail Sock Twin Pack
Best Value
Best Value
Description
For the price, these are quite impressive running socks. They're a relatively simple single layer
Pros
Very affordable
Great comfort
Twin pack
Cons
Not great for high intensity or warm weather
No recycled material used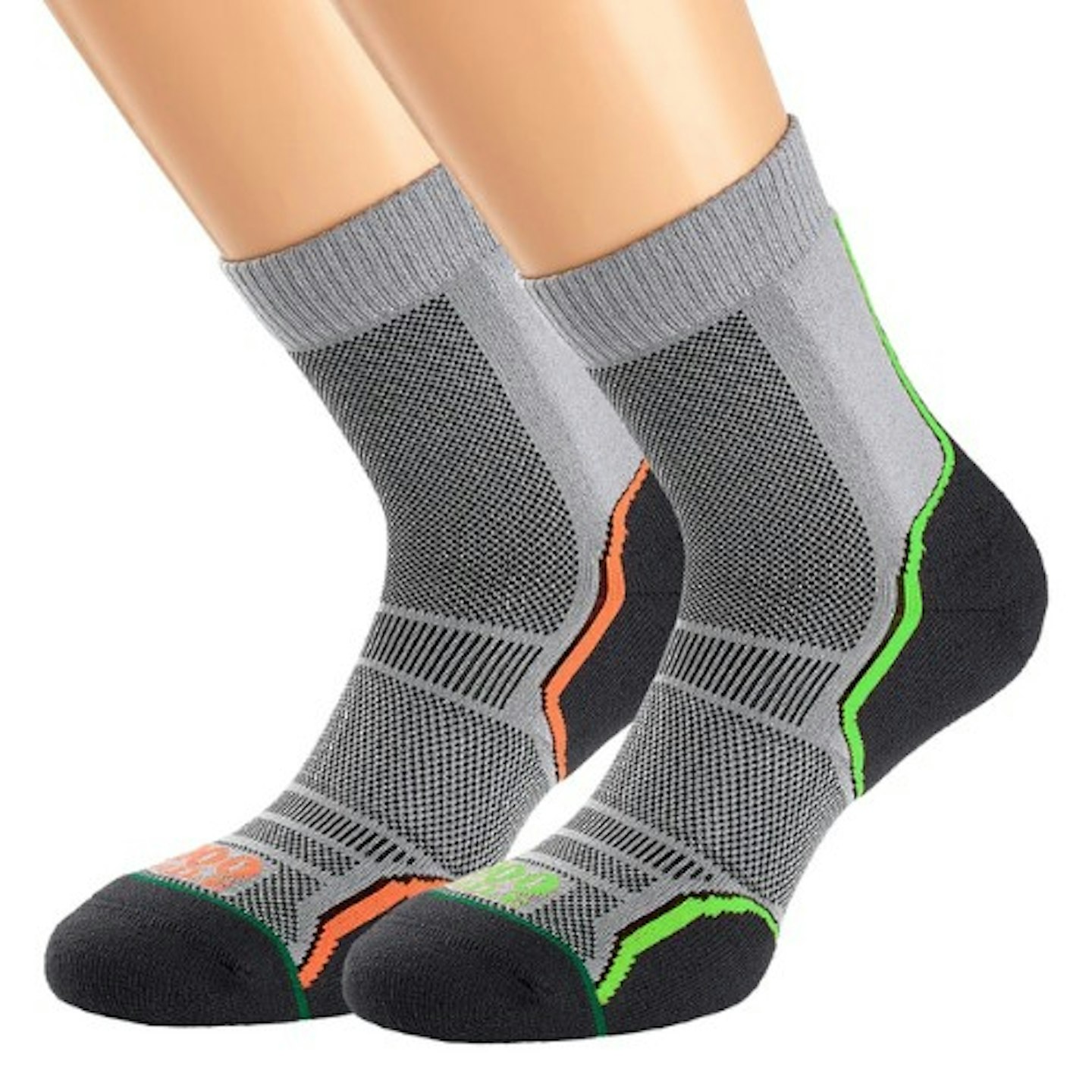 Bridgedale Trail Run Lightweight T2 Merino Sport 3/4 Crew
Recommended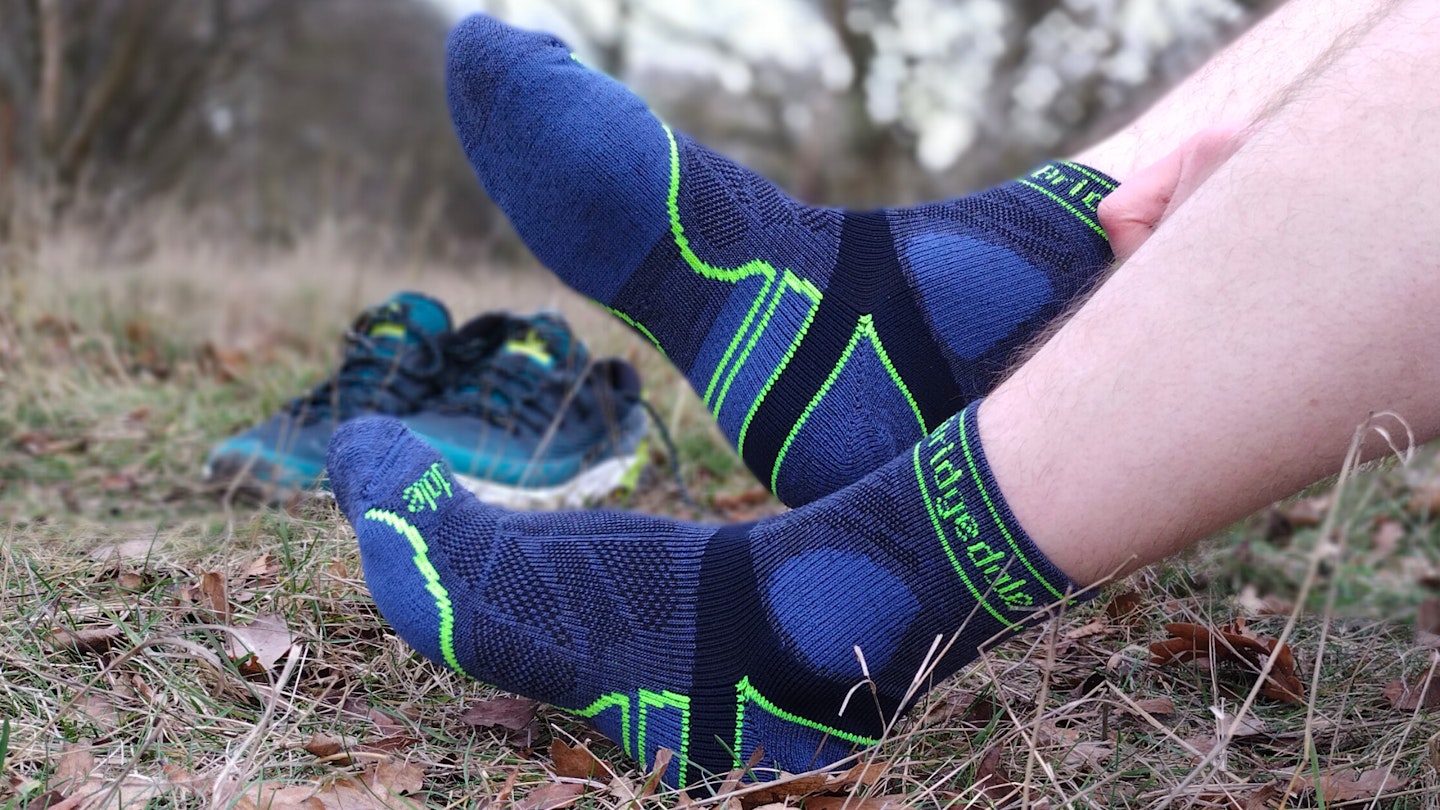 Recommended
Description
It was a close contest for best overall between these and the Lorpen socks. We just found that the
Pros
Excellent cushioning
Intelligent, effective design
Great for long runs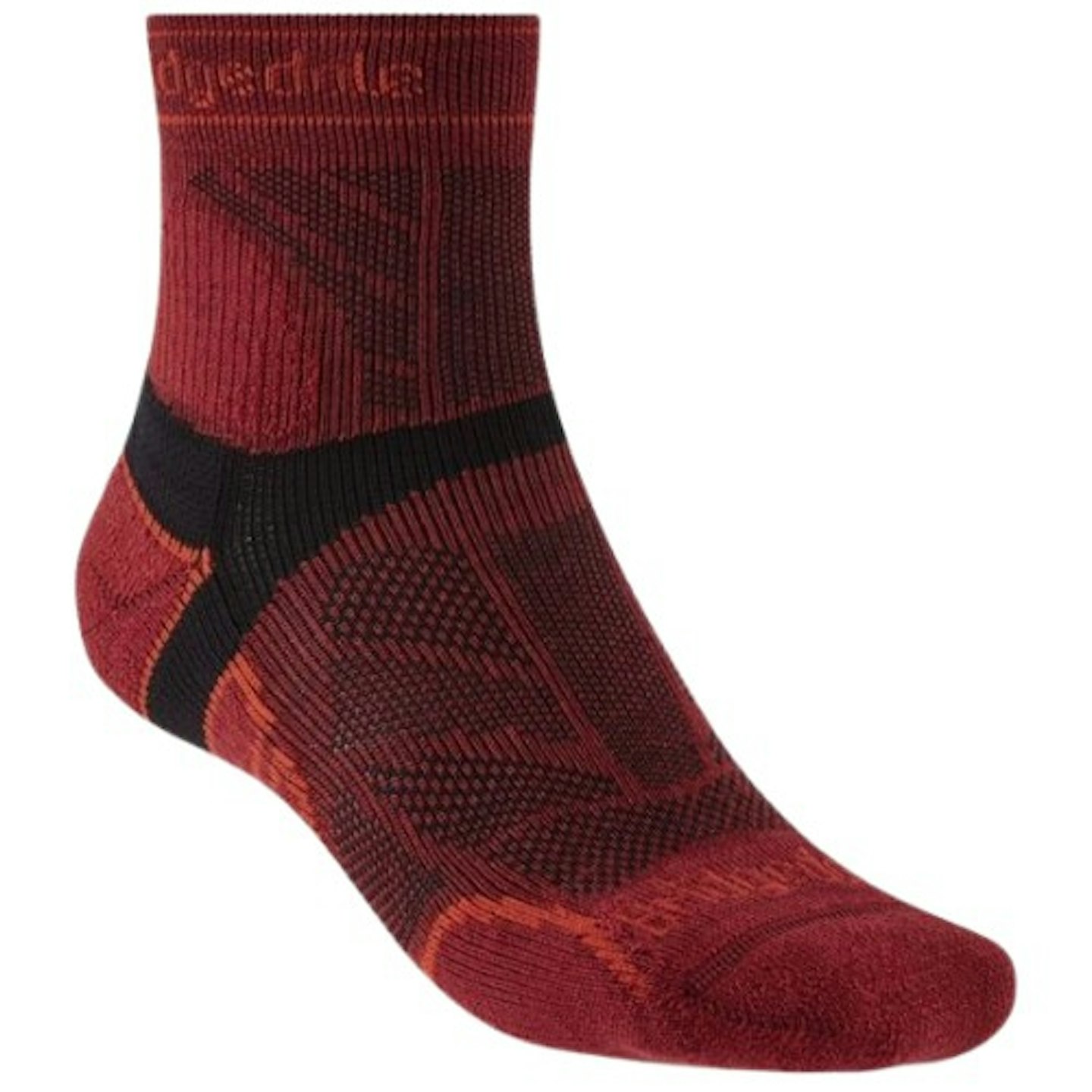 Smartwool Run Cold Weather Targeted Cushion Crew Socks
Best for winter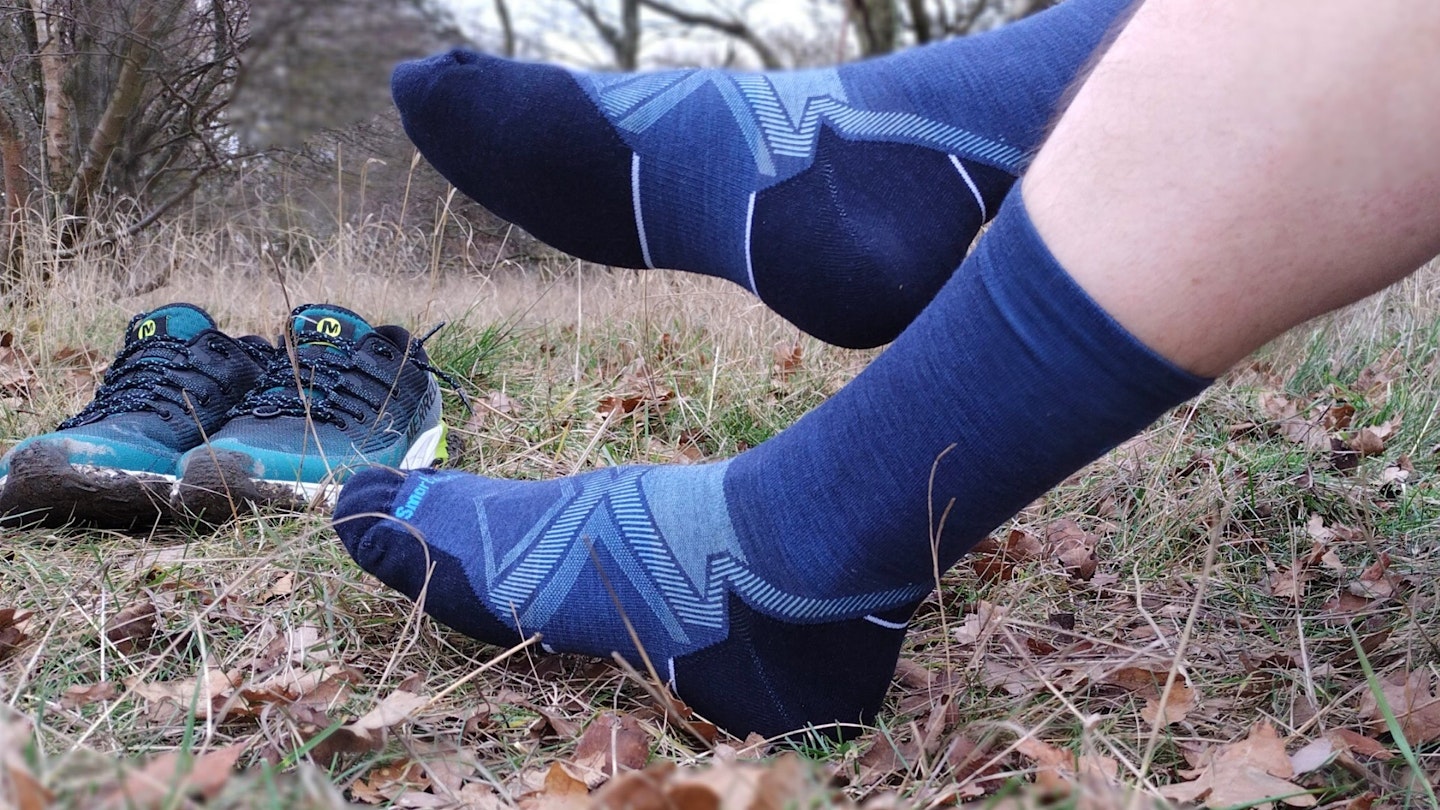 Best for winter
Description
When you think of winter socks for the outdoors, you often think Sealskinz. We did test a pair –
Pros
Warm yet breathable
Merino naturally anti-odour
Full crew length protects lower calves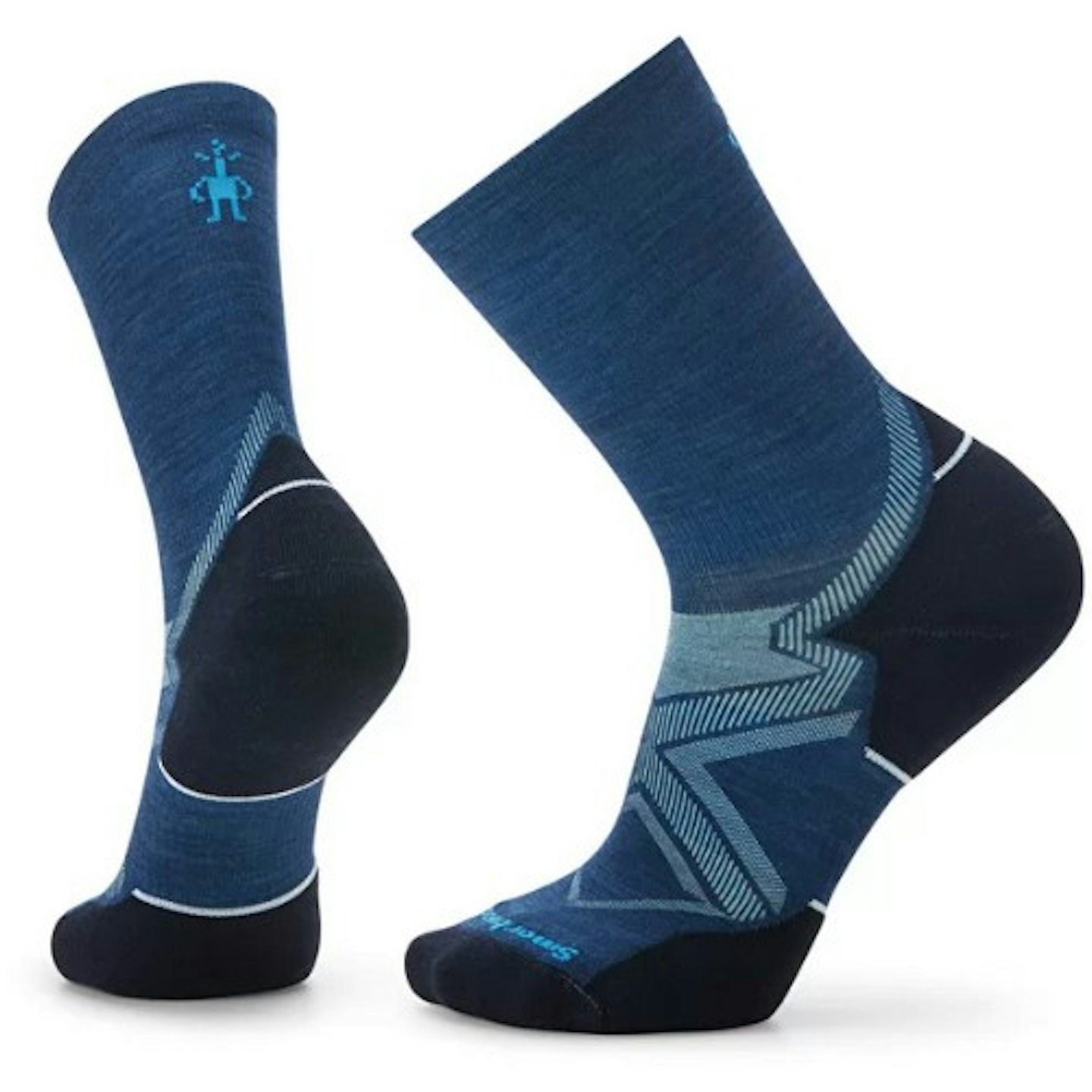 Darn Tough Run No Show Tab Ultra-Lightweight Cushioned Sock
Best for summer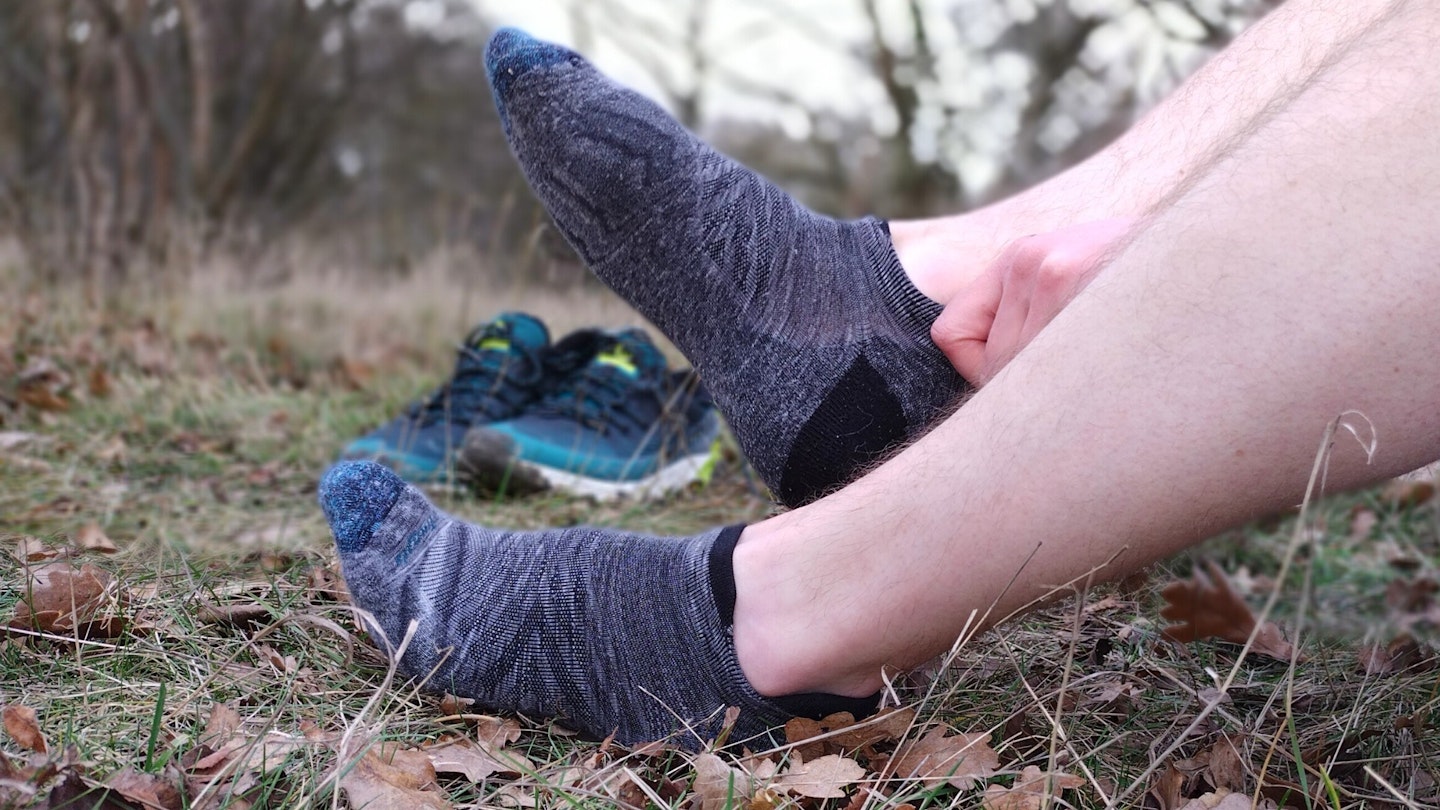 Best for summer
Description
When the weather is warm, low cut socks are great for running. It's almost like going from
Pros
Excellent heel tabs
Highly breathable
Guaranteed for life
Cons
Nylon used isn't recycled
Dynafit No Pain No Gain Socks
Best pattern design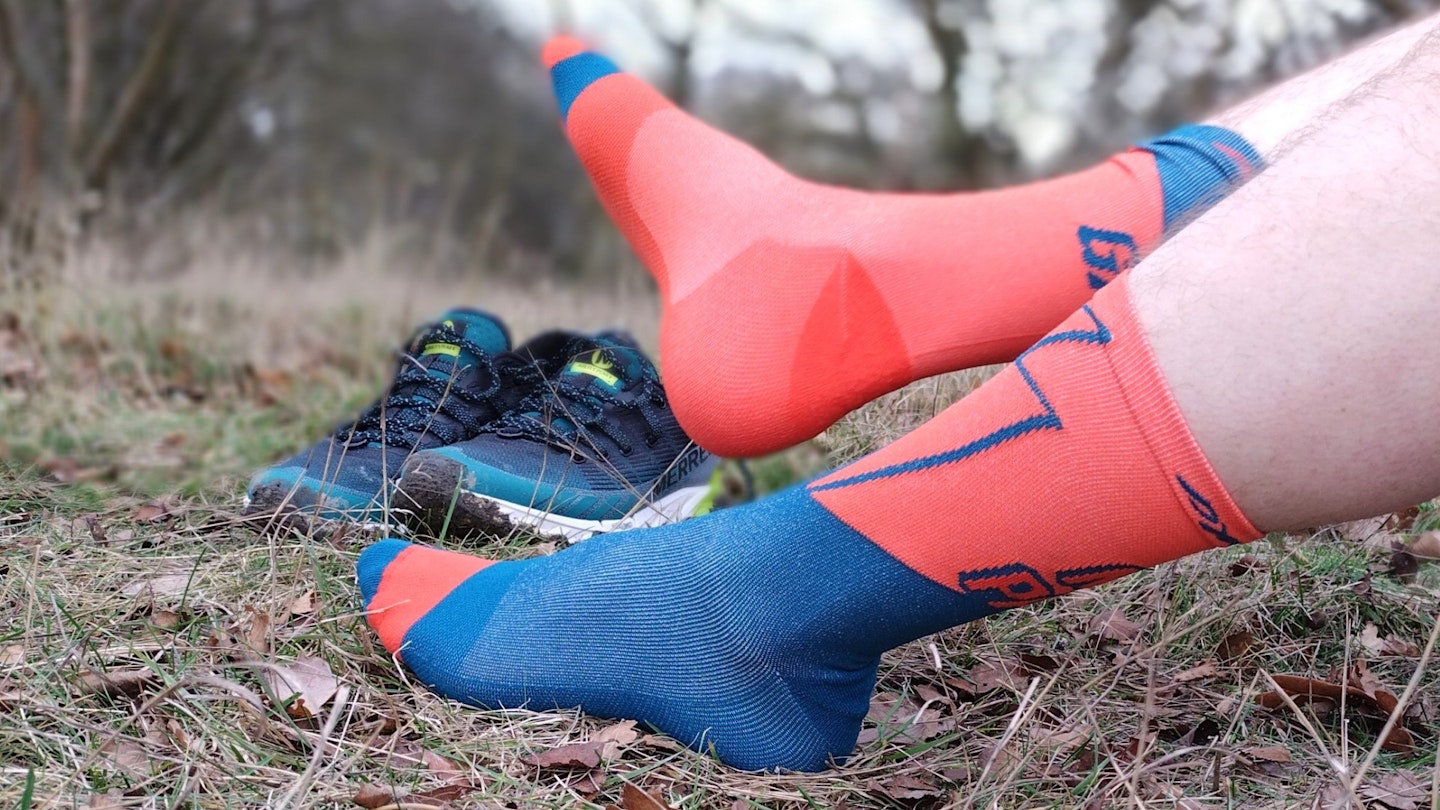 Best pattern design
Description
If you like to have running gear that is as loud as it is effective, you'll love these socks from
Pros
Loud and proud
Crew height for calf protection
Four colour patterns available
Cons
Too loud and too proud for some
Doesn't use recycled material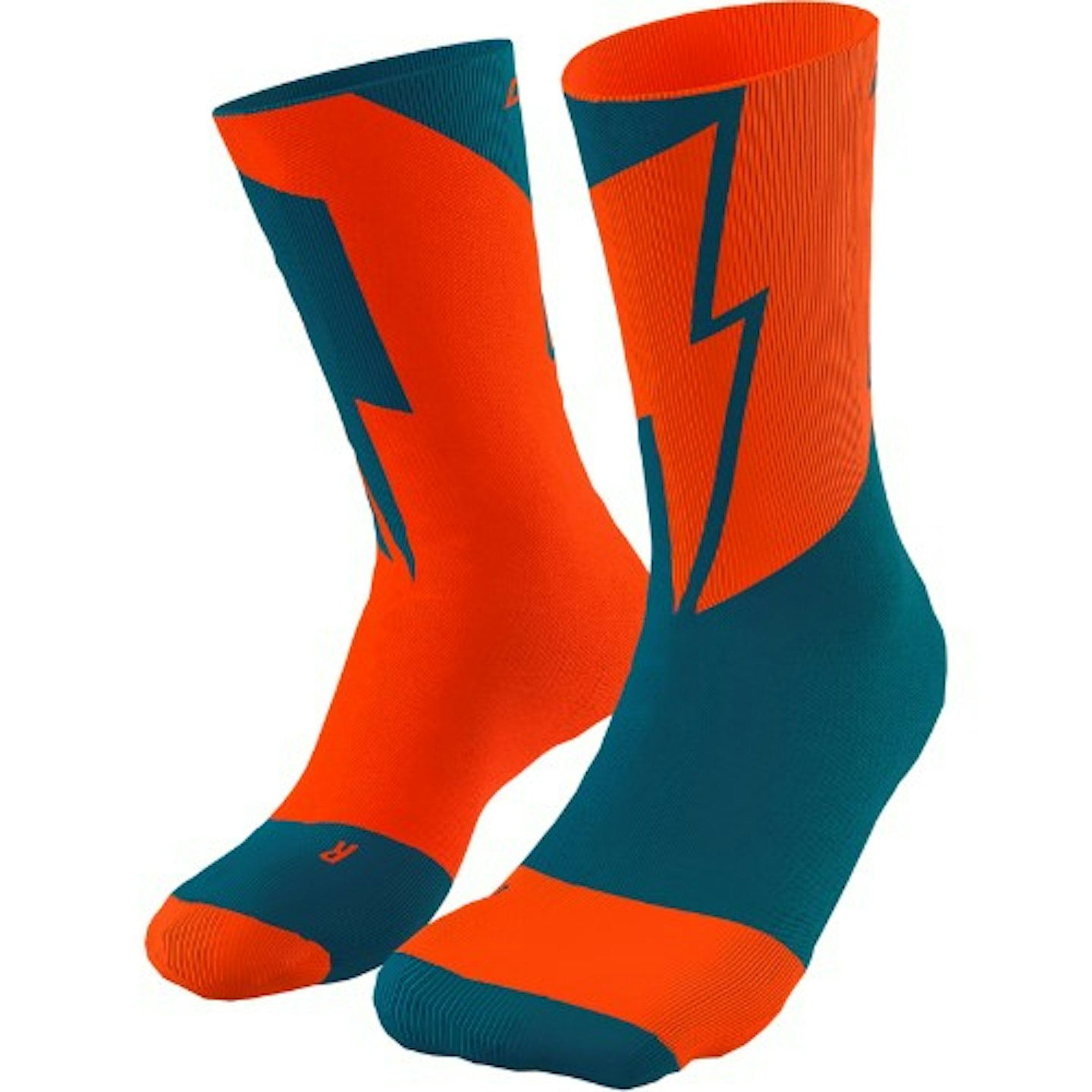 Don't forget to subscribe to the Live For The Outdoors newsletter to get expert advice and outdoor inspiration delivered to you inbox.
For the latest reviews - including extra photos and kit that won't appear online - pick up a copy of the current issue of Trail magazine.