Running tops prioritise being lightweight and moisture-wicking, and are much more suited to sport activities than your everyday cotton t-shirt. The best running tops for women will also provide female-specific features to make your run more seamless and enjoyable.
These days, most running tops are made from technical fabrics which aim to regulate body temperature and keep you comfortable as you put in the effort over the trails. They should also feel good against the skin and provide a good fit and shape.
Our shortlist
Ronhill Tech Golden Hour Tee – Best in Test
Montane Dart T-Shirt– Best Value
Inov-8 Elite Base 3.0 – Best for Sustainability
Decathlon Kiprun Light – Best for hot weather running
The North Face Summit High Trail Run T-Shirt– Best for visibility
Black Diamond Lightwire Tech Tee – Best for size range
On Running Performance T – Recommended
Fohn Trail Lightweight Tech Tee – Recommended
Icebreaker ZoneKnit Merino Short Sleeve T-Shirt – Recommended
Badass Mother Runners Technical Tee – Recommended
Higher State Seamfree Long Sleeve – Best long sleeve running top
OMM Nitro Tank – Best running tank top
Some running tops on test here could also double up as running base layers, while others are made primarily for providing a cooling layer for efforts in hot conditions. All those tested are women-specific running t-shirts (don't worry, they're not all pink), while some are more tailored to the female form than a typical men's running t-shirt.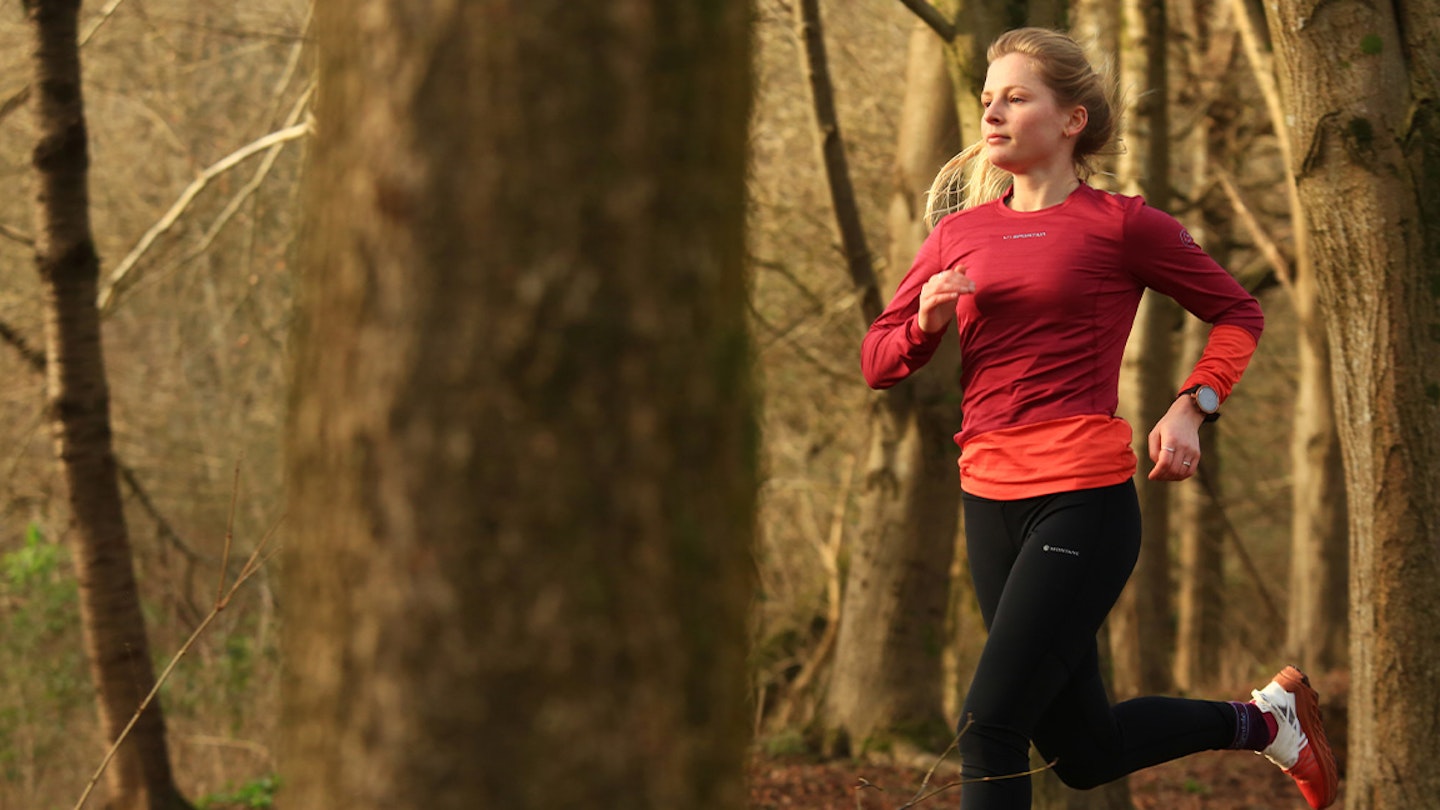 In this article, we've recommended some of our favourite running tops for women over a range of different styles and types. Whether you pair your running top with a running jacket or a mid-layer is up to you, and largely influenced by the season. There are many factors to consider when picking a running top, but here we've gathered a collection of the best.
Best running tops for women
Description
The Ronhill Golden Hour Tee may look like an unassuming colourful collage of a top, but take a
Pros
Super soft and comfortable
Good sustainability credentials
Breathable and sweat wicking
Cons
Colourways may not appeal to all
Description
The Montane Dart T-Shirt is a technical running top for all seasons. As such, it's a touch heavier
Pros
Affordable price-point
Soft and comfy
Made from 100% recycled material
Cons
A touch heavier than some
Description
The Inov-8 Base Elite 3.0 is designed to be a running top and base layer. Made from almost 100%
Pros
Made from almost 100% recycled yarn
Well ventilated design
Feels durable and sturdy
Cons
Size up if you don't want a racing fit
Description
One of the most lightweight running tops we've come across, the Decathlon Kiprun Light feels silky
Pros
Extremely lightweight
Breathable and good airflow
Cons
No mention of sustainable materials
Sizes only go up to UK14
Description
The North Face's Summit High Trail Run T-Shirt is part of their technical trail running range
Pros
Highly visible
Breathable, lightweight and comfy
Cons
Less affordable than others here
Description
This Lightweight Tech Tee from Black Diamond is made from nicely aerated, recycled material that's
Pros
Sizes up to XXL
Primarily recycled fabric
Breathable
Cons
Material not as soft as others
Description
Another whisper-thin option for running in hot conditions is the On Running Performance-T.
Pros
Lightweight and breathable
Cons
Less affordable than others here
No sustainable credentials
Description
Getting our hands on the Fohn Trail Lightweight Tech Tee for the first time, we were surprised at
Pros
Feels durable
Higher coverage than others
Affordable sale price
Cons
A touch long in body
Less breathable than others
Description
The Icebreaker ZoneKnit Merino T-Shirt stands out from the crowd due to its unique blend of
Pros
Comfortable and soft material
Made from sustainable materials
Versatile
Cons
Less affordable than others here
Description
This technical running top from Badass Mother Runners is made specifically for mums who love to
Pros
Fun motif
Affordable price-point
Cons
Not as much tech as others here
Best long sleeve running top
Description
A long-sleeved option for when runs are a touch colder, or you need that extra coverage from the
Pros
Comfortable and breathable
Good coverage
Affordable
Cons
No sustainable credentials
There's lighter and techier tops out there
Description
The OMM Nitro Tank is one of the softest and lightest vest-tops we've come across for running.
Pros
Incredibly lightweight and breathable
Soft and comfortable
UPF 15 protection
Woman-specific fit
Cons
Not made from sustainable materials
What to look for in a running top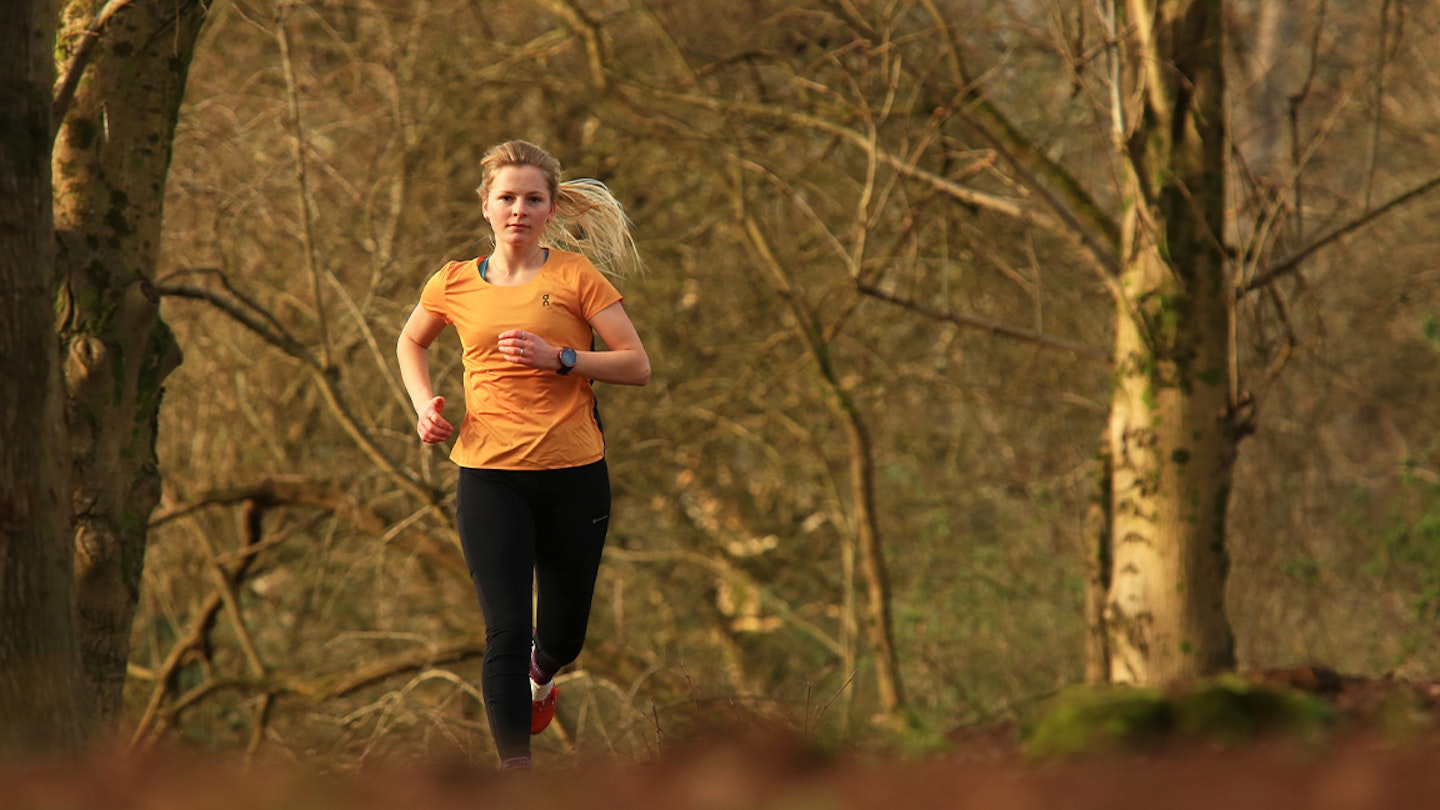 Material: Different materials have different merits. Polyester is highly breathable, while technical nylon is stronger and can have more stretch, but isn't quite as breathable. Merino is clever because it aids temperature regulation; it can therefore be suitable year-round.
Fit: Consider whether you prefer a skin tight fit, tailored, regular, or lose. Some women-specific tops will have a more of a tailored shape, while others you can play with the sizing to create the fit to suit your preferences.
Sustainability: Merino is always a favourite for many runners because of its properties and because it's a natural fibre. Synthetic materials are very popular too, but want you want to keep an eye out for is the quantity of recycled materials used. Many in this round-up are made from recycled polyester, while others have injections of Lyocell, which is a fibre made from wood pulp.
Take a look at the garment's certification, such as those from the Fair Wear Foundation and B Corp, as this demonstrates that the brand is operating responsibly and transparently.
Features: Mesh panels, sleeve length, anti-odour treatments, zipped, flat seams. There are lots of features crammed into performance running tops. Some are for comfort, some for breathability, some for warmth, and so on. Think about which are applicable to you and the conditions you're likely to be running in.
For all the latest news, tips and gear reviews, sign up to the Trail Running Newsletter.