AKU's Slope V-Light GTX hiking boot is yet another example of a new model keen to show that its status of being free from leather isn't something that defines it. Rather, just another feature it can proudly display. Mission accomplished?
Soaring into the azure Italian skies with a barbed and brutal verticality, the Dolomites are a mountain range of chaotic beauty. They're a labyrinth of serrated arêtes, spiky gendarmes and sheer cliff-faces forming a masterpiece of pale, pink-hued limestone. What better place could there be to put a pair of hiking boots through their paces?
I headed to Val Canali, a magical spot billed as "one of the most beautiful valleys in the Alps". This was to hike in the most southerly massif of the Dolomites: the Pale di San Martino mountains. Known for their deep-sided valleys, excruciatingly steep slopes and ruggedly technical terrain, these towering 3,000m+ mountains are awe-inspiring and devastating in equal measure. How would the AKU boots cope in such a formidable landscape?
Trekking, hiking and mountaineering boot specialist AKU says the Slope V-Light GTX has over 30 years of success in the Italian market, achieving immense popularity due to its "extraordinarily comfortable fit" and fine balance between weight, breathability and performance that's "perfect for day treks". Is this overconfident marketing spin or an accurate description of a first-rate boot? I headed to the Dolomites to find out for myself.
Design and features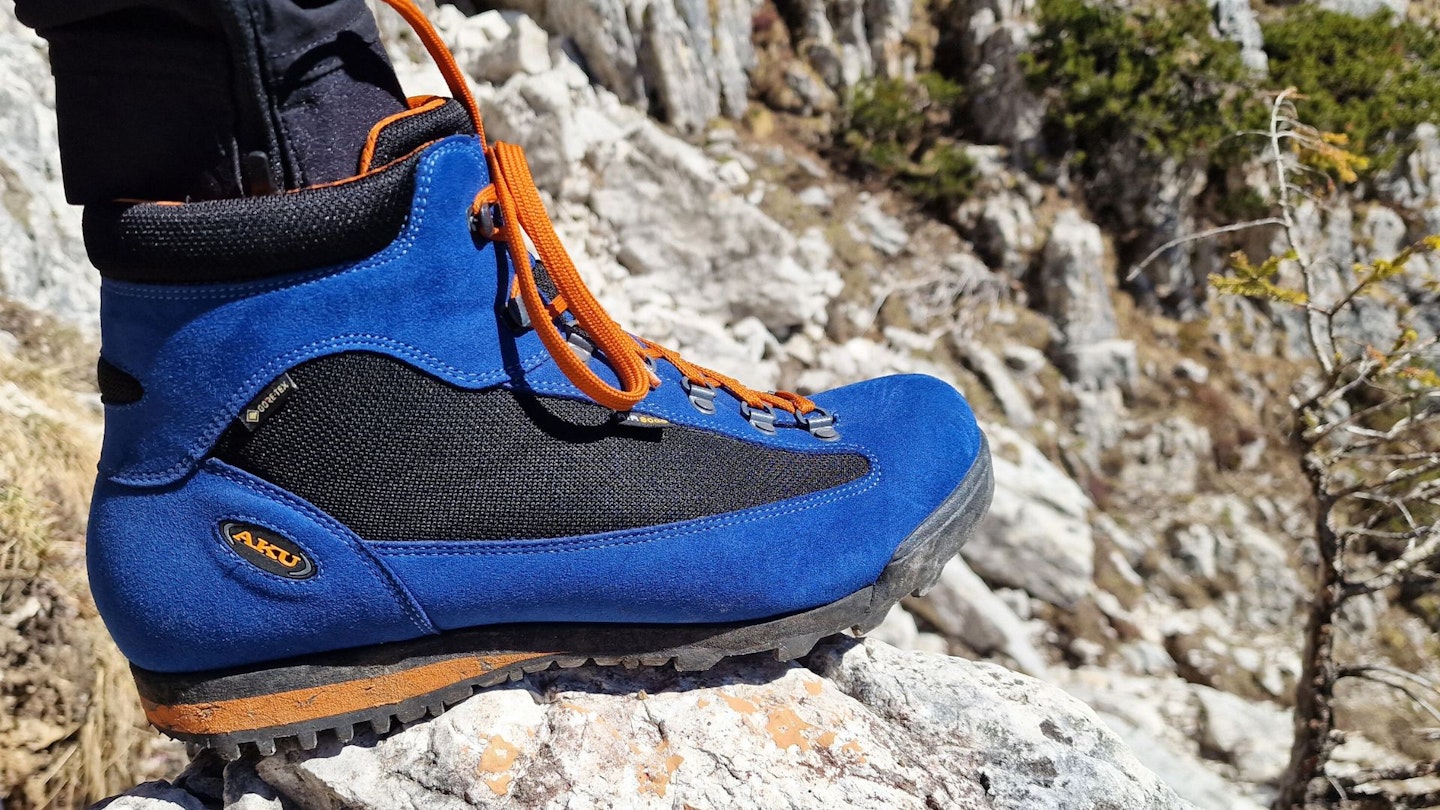 Let's analyse the AKU Slope V-Light GTX from top to bottom. The recycled microfibre upper is a type of synthetic fabric blended from polyester and polyamide. This material is 1.8mm thick, lightweight (30% lighter than the suede leather used in many of AKU's other models) and delivers a soft, padded feel with loads of flex and bend.
For enhanced breathability, the Slope V-Light GTX's upper also features large panels of AKU's special Air 8000 material. This proprietary material, which is owned and patented by AKU, has been proven in lab tests conducted by Gore-Tex to deliver 11.5 times more breathability than a conventional upper fabric. The goal is to prevent your feet from over-heating and sweating, and thus reduce moisture build-up.
Underneath the upper is a full Gore-Tex 'bootie', a sock-like lining of waterproof material. It encloses every part of your foot from the toes to the top of your ankle. The type of Gore-Tex fabric used here is called Gore-Tex Performance Comfort and it is laminated with 99% recycled yarns.
The boot's midsole is made from a double density die cut EVA. It's a kind of rubbery plastic that's tough yet soft and flexible, with 20% recycled content.
Finally, at the base of the Slope V-Light GTX is a Vibram Erica Everest outsole. This has a striking-looking lug pattern – rows of stud-like 5-6mm deep cleats with an aggressive and dense profile. They're designed to deliver maximum ground contact and traction.
Each boot weighs 548g (UK 8.5), which is neither ultralight nor excessively heavy. And for some will strike a nice middle ground. The tongue is gusseted to prevent water and debris getting into the boot, and the laces feature D-ring eyelets at the toes and base of the foot and two hooked eyelets for a bespoke, fine-tuned fit around the ankle. The toebox is not particularly stiff or strong, but the heel counter is reinforced and holds the heel in place reasonably firmly. The fit is true-to-size with an average internal volume and width that should suit most foot shapes.
Performance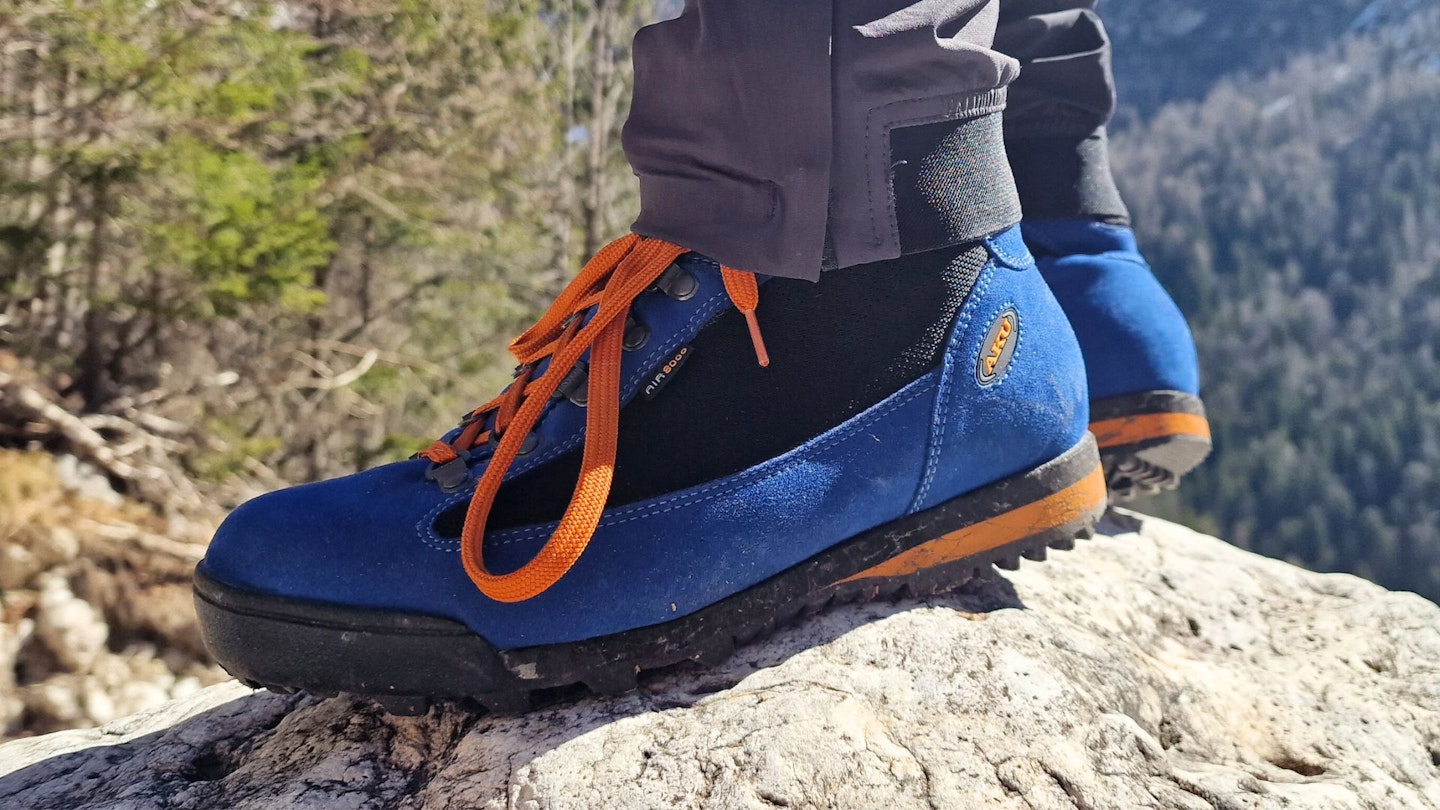 During my adventure in the Dolomites, wearing the AKU Slope V-Light GTX was a positive experience. Here's how I felt about the various elements and features of the boot.
I found that the lightweight, flexible upper delivered high levels of comfort from when I first put on the boots. The downside with so much flex was that ankle support and protection was minimal. For hikers that require more stability, protection and hold around the ankle, AKU has several other models better suited to such needs, including the AKU Tengu Lite GTX.
On very sunny and warm spring days in the Dolomites with the factor 50 sun cream in full flow, I was also impressed with the upper's Air 8000 material. While it was almost impossible to accurately compare it to other fabrics in a fair like-for-like way, I certainly felt that my feet weren't as hot or clammy as they usually are in waterproof boots.
The Dolomites were bone dry during my test hikes, so I can't really comment on how these boots would cope with a prolonged thrashing in the muddy and waterlogged paths of the UK's mountains. But they certainly kept my feet dry when I paddled through a stream to fill up my water bottle. And the construction technique and use of high-end Gore-Tex fabrics in these boots is reassuring.
The boot's midsole was perhaps the most middling for performance. I found it comfy enough underfoot, with a low-to-moderate level of cushioning. But it just couldn't compete with the more modern, cutting-edge style of mountain footwear that comes with aggressively sized midsoles, thick cushioning, loads of spring and amazing energy return. If that's what you're after, I'd suggest looking at the Hoka Kaha 2 or the inov-8 RocFly G390.
I found the underfoot grip, however, very solid. On the dry bedrock, rocky boulders and scree of the Dolomites the Vibram Erica Everest outsole worked a treat. It gave me lots of confidence on gnarly terrain, but there's a chance the densely packed lug layout might clog up a little in the muddier conditions of Britain.
Sustainability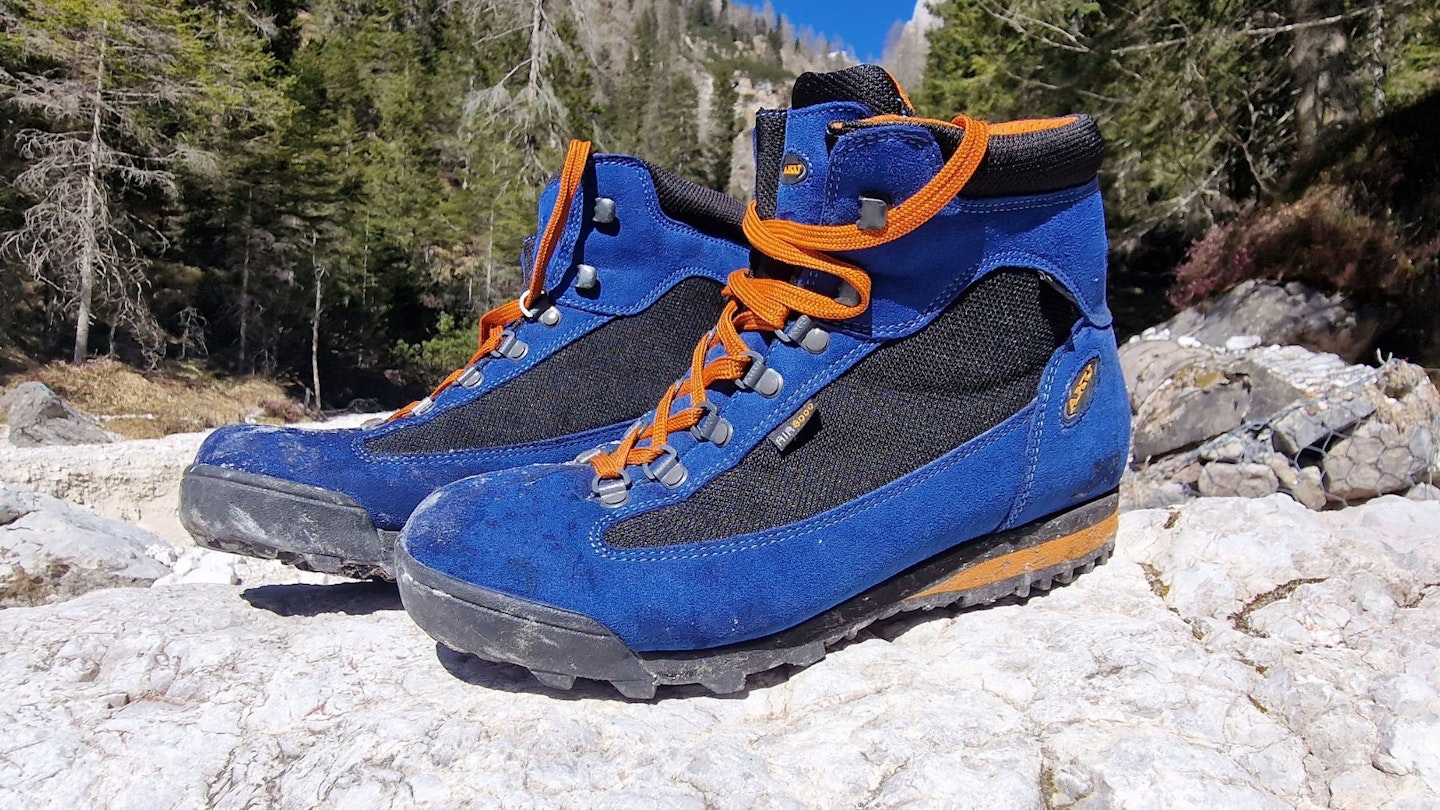 This boot has top-notch eco credentials, and the production techniques and materials used in its manufacturing form a big part of AKU's admirable efforts to work in a responsibly sustainable way. Aware that 82% of its entire carbon footprint is attributable to its use of leather, AKU has ensured no leather is used in the Slope V-Light GTX. It's a move that can reduce the carbon footprint of a single pair of boots by over 50%.
Consequently the Slope V-Light GTX is an animal leather-free boot. It hasn't achieved 100% vegan certification because some of the materials sourced from AKU's suppliers may contain the tiniest traces of animal-derived products, such as glues. But it is 100% leather-free and also has good environmental qualifications. The upper is 100% recycled; the Gore-Tex lining is laminated with 99% recycled yarns; the midsole is 20% recycled; and the laces are made from 100% recycled polyester.
Price and competition
At the time of writing, the AKU Slope V-Light GTX has an RRP of £225 at one of AKU's official UK retailers, Lockwoods. It's entering premium price territory but it is a beautifully made boot.
If you're after something cheaper, check out our round-up of the best budget walking boots for options around £150. At 548g per boot, the Slope V-Light GTX isn't the lightest boot out there either. So, if you want to be light, agile and fleet-footed in the hills, our summary of the best lightweight walking boots will be worth a read too.
Or if you need something stronger and sturdier, AKU has some excellent offerings suitable for big Munro days, technical scrambles and even winter mountaineering, such as the Tengu GTX, Alterra GTX and Trekker Pro GTX.
Verdict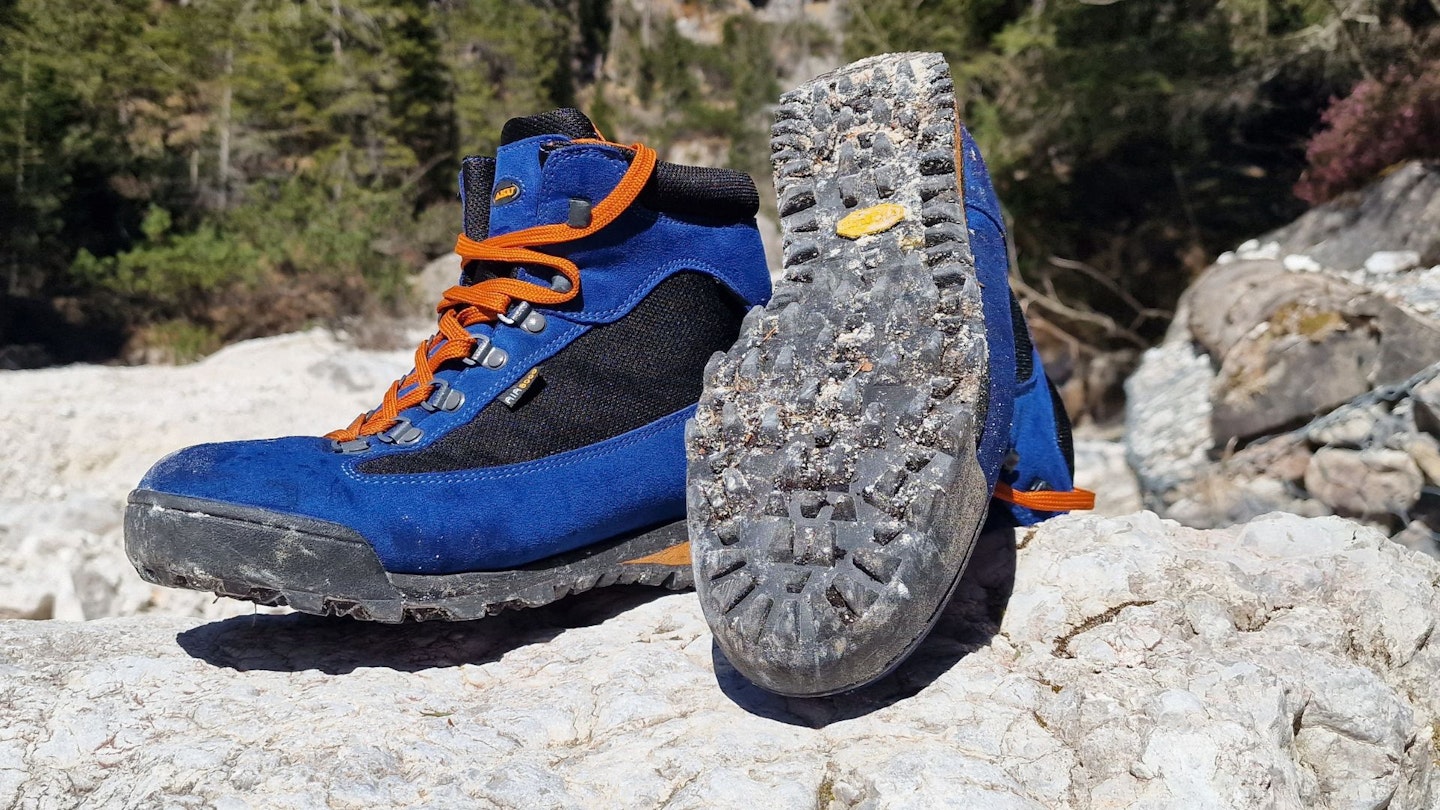 AKU is an excellent brand with almost 50 years of specialism in mountain footwear. It's based in Montebelluna in Italy – a region known as the global hub of expertise in hiking boots and footwear. Montebelluna is home to a remarkable array of other respected brands including Scarpa, Lowa and Asolo. AKU is at the forefront of Italian craftsmanship in this sector. It owns its own factories, does not outsource production to the Far East, and therefore has better control over the quality of its footwear. And all of this means the consumer gets a high-quality, well-made, reputable product.
The AKU Slope V-Light GTX is ultimately a mid-range boot. It's neither too technical, stiff or rigid, nor too flimsy, lightweight and modern. It will appeal to those looking to strike a nice balance between weight, comfort and performance, in an old-school, heritage-style design with a classic look.
The vegan-friendly and eco-friendly approach will tick boxes for some customers. And the overall performance levels will suit hillwalkers venturing into everything other than the most technical of terrain.
Pros
Eco credentials
Excellent craftmanship
High levels of comfort
Breathable
Grippy traction
Cons
Not the most cushioned
Not especially lightweight
Not suitable for more technical ground
Minimal ankle support
Get half-price digital OS Maps! Trail and Country Walking magazine members get 50% off an annual subscription to OS Maps for 12 months! Find out more here.
Don't forget to subscribe to the Live For The Outdoors newsletter to get expert advice and outdoor inspiration delivered to your inbox!