PRICE £195
Foot fatigue is generally something walkers have learned to accept and tolerate. But with modern technology improving the design and performance of walking boots, the stresses and strains placed on our feet can be reduced through more careful selection of gear. Reducing the weight of kit, ensuring your rucksack is properly loaded and well balanced, and using trekking poles are all good practises to adopt. But the thing that can probably do more to reduce foot fatigue than anything else is wearing the right footwear.
Upper Suede, Air8000 synthetic mesh, welded
PU film, Gore-Tex waterproof lining
Sole Vibram Curcuma
Men's 6-13
Women's 3-9
Weight 1676g (size 11 pair)
Too little or too much cushioning or support can increase foot fatigue when walking on mountains. The three-season AKU Trekker Pro GTX promises to both improve distribution of foot pressure when walking and permit a more natural gait with its Elica Natural Stride System technology.
THE TECHNICAL STUFF
A last is a mould that replicates the anatomy of the forefoot, arch and heel, and it is used to create the shape of the boot during manufacture. The last for this boot has been created to give the heel the opposite inclination to the forefoot, and in so doing allows for a more natural walking action.
The midsole consists of two layers with a softer cushioned rubber under the toe to aid propulsion and at the heel to reduce impact, while the rest has a harder material for support and stability.
For grip, the sole is curved using oversized lugs at the landing zones of the heel and inside of the forefoot to increase contact with the ground, as well as enhancing grip, control and stability as required.
Aku asked an external laboratory to compare the Elica Natural Stride System technology with standard boot construction. Their results showed that the new design provided a more even distribution of pressure during the walking gait, with better arch support and lower pressure on the foot when pushing off with the toe. This means that when walking, there should be more comfort and less fatigue.
ON THE TRAIL
The degree of cushioning underfoot is very noticeable and I found walking on tarmac roads from the car park to the foot of the Lakeland fells more comfortable than with some boots. But more importantly, there's also enough underfoot support to mean this doesn't feel like walking on a wobbly bouncy castle. In contrast it feels like walking on a firm supportive sole, but with cushioning that reduces pressure points.
This combination of features proved ideal for the road and, more importantly, the rocky paths that climb onto the fells. I also found scrambling over rock a joy, as the boot allowed such precise footwork. There was enough flex in the forefoot to flat-foot up slabs, with the sole lugs clinging to the rock nodules very easily.
Edging was good too, although the broader toe box means this isn't as precise as a more dedicated scrambling or climbing-orientated boot. In contrast, this boot feels great for more general walking over rockier ground, when a narrow, precise toe isn't required. The outsole has deep well-spaced lugs that were ideal for mud and soft grass but also great on looser grit and scree terrain, where the stiff sole allowed a firm foothold to be obtained. The upper is well stiffened, and a full rubber rand adds extra protection so that overall the upper performance matches that of the sole unit.
These boots tip the scale at a reasonable 1676g (size 11 pair) and are well priced for the features and performance. The clear benefit is the Elica Natural Stride System technology, so this should definitely be on your list if you're looking for a great boot for hill and mountain walking where you need great performance on a wide range of terrain from hard paths to easier rocky scrambles.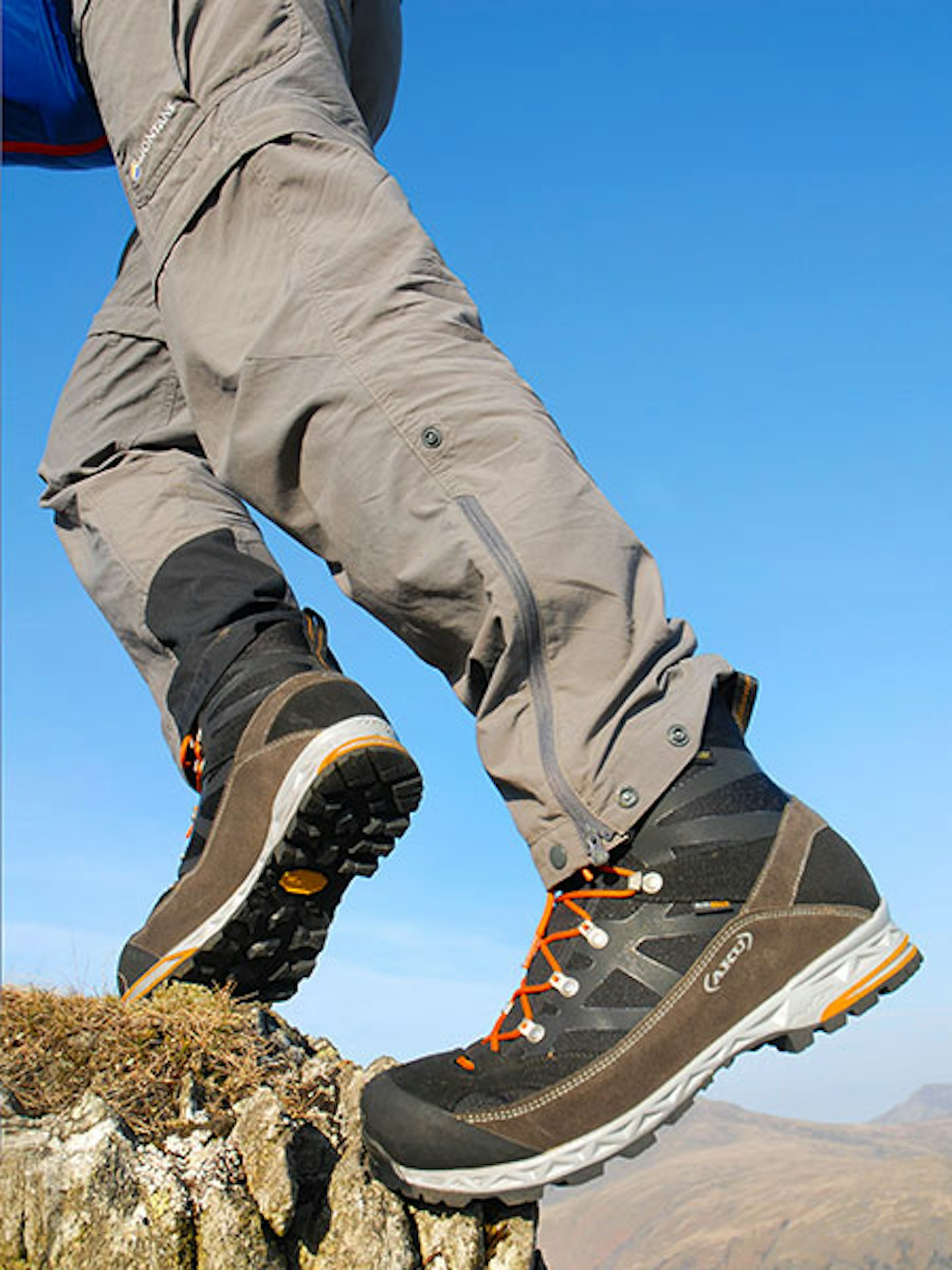 VERDICT
Elica Natural Stride System technology improves comfort and support, making the AKU Trekker Pro GTX a must-try for hill and mountain walkers who want high performance on rocky terrain.
Features 4/5
Fit 5/5
Comfort 5/5
In use 5/5
Value for money 4/5
OVERALL SCORE 92%