The rise in popularity of lightweight, cushioned hiking footwear over the last few years has opened up a whole new world of choices for walkers when it comes to boots and shoes. And some, like the Adidas Terrex Skychaser Tech GTX, even take their inspiration from the world of trail running shoes.
Adidas describe the Skychaser Tech as a hiking shoe but, in our opinion, with its high ankle, this feels more like a lightweight walking boot. We've been testing the Skychaser for a few months and used it on plenty of local trails, but as a boot with an RRP of £220 we knew it was capable of a whole lot more. So we took it up to the English Lake District for three days of bashing across rocky mountain terrain, and are pleased to report it delivered everything we hoped it would.
The Adidas Terrex range of clothing and footwear is all focused on speed hiking, and as a result you have to make a few concessions when you choose a boot like this. For a start, the protection is fairly minimal on the upper, and the thin mesh material may well not end up delivering the long-term durability of thick leather. But open up the box and the benefits of the Skychaser are immediately obvious – it's a great-looking boot with a Gore-Tex lining and a heavily cushioned sole.
But how did it perform when we smashed it about on rocks, waded through streams, and plodded through bogs? Read on for our full review...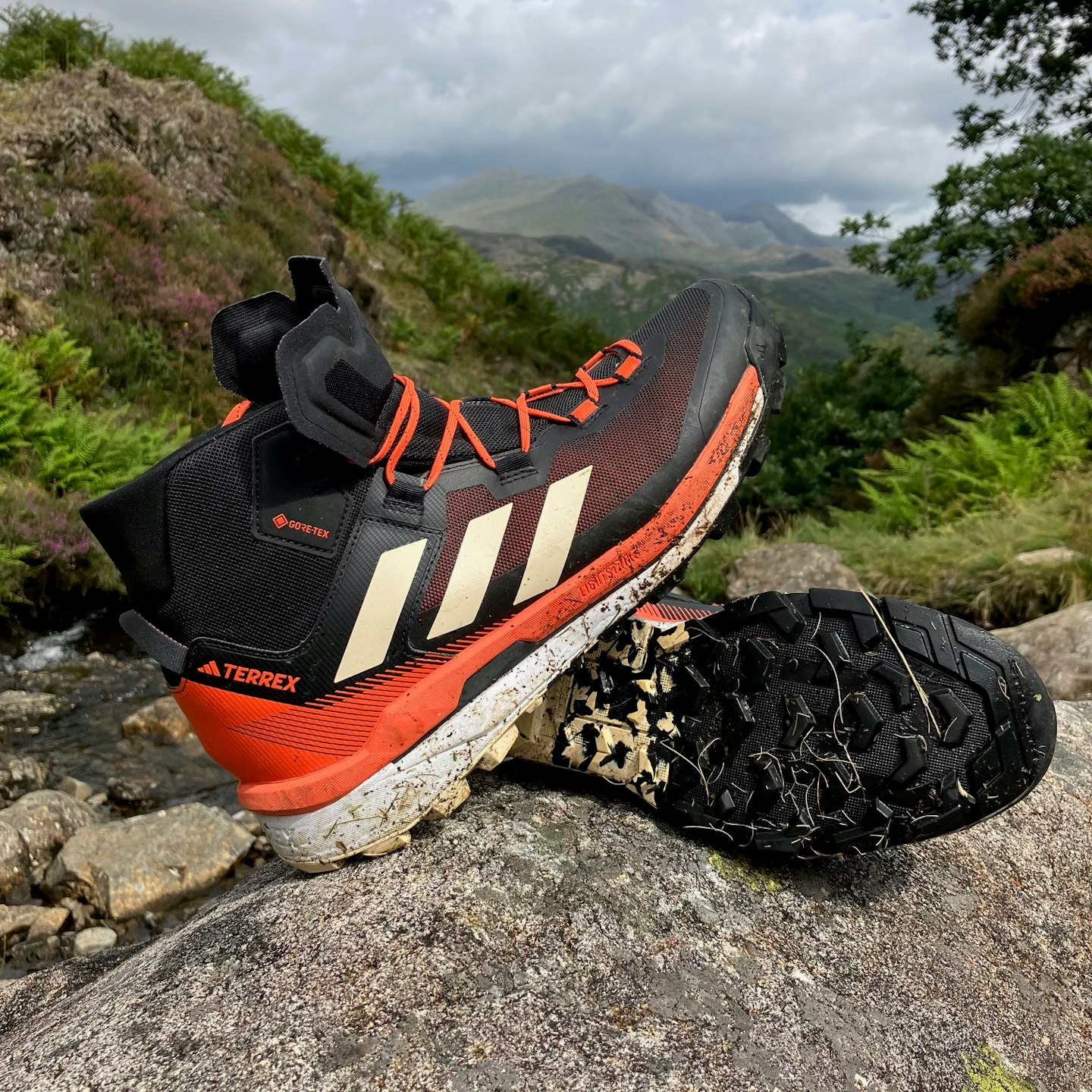 Live For The Outdoors
Pros
Excellent cushioning
Superb comfort
Good grip on a variety of terrain
Lightweight and flexible
Recycled materials in the upper
Cons
Higher price than much of the competition
Design and features
First things first, the Adidas Terrex Skychaser Tech GTX is a cool-looking boot. As well as the orange and black version we've been reviewing, it's also available in two other colours, both of which are varying shades of blue and black. If you're a fan of Adidas as a sports brand, you get all the classic look and feel of the iconic three-stripe design with this boot. Yet the Skychaser still manages to look and feel like a proper piece of modern hiking footwear.
The list of features is long, with an asymmetric arch-support lacing system that works very smoothly, mesh uppers that stand up well to mountain terrain, a moulded sockliner that hugs your feet, and a Gore-Tex waterproof membrane. The bottom of the boot is comprised of a layer of 'Lightstrike' cushioning, a Pebax midsole plate, and a Stealth Hf rubber outsole, which work together nicely to deliver the boot's signature comfort and cushioning.
And while the Skychaser Tech doesn't make too many bold claims about sustainability, the upper of the boot does contain 50% of recycled content.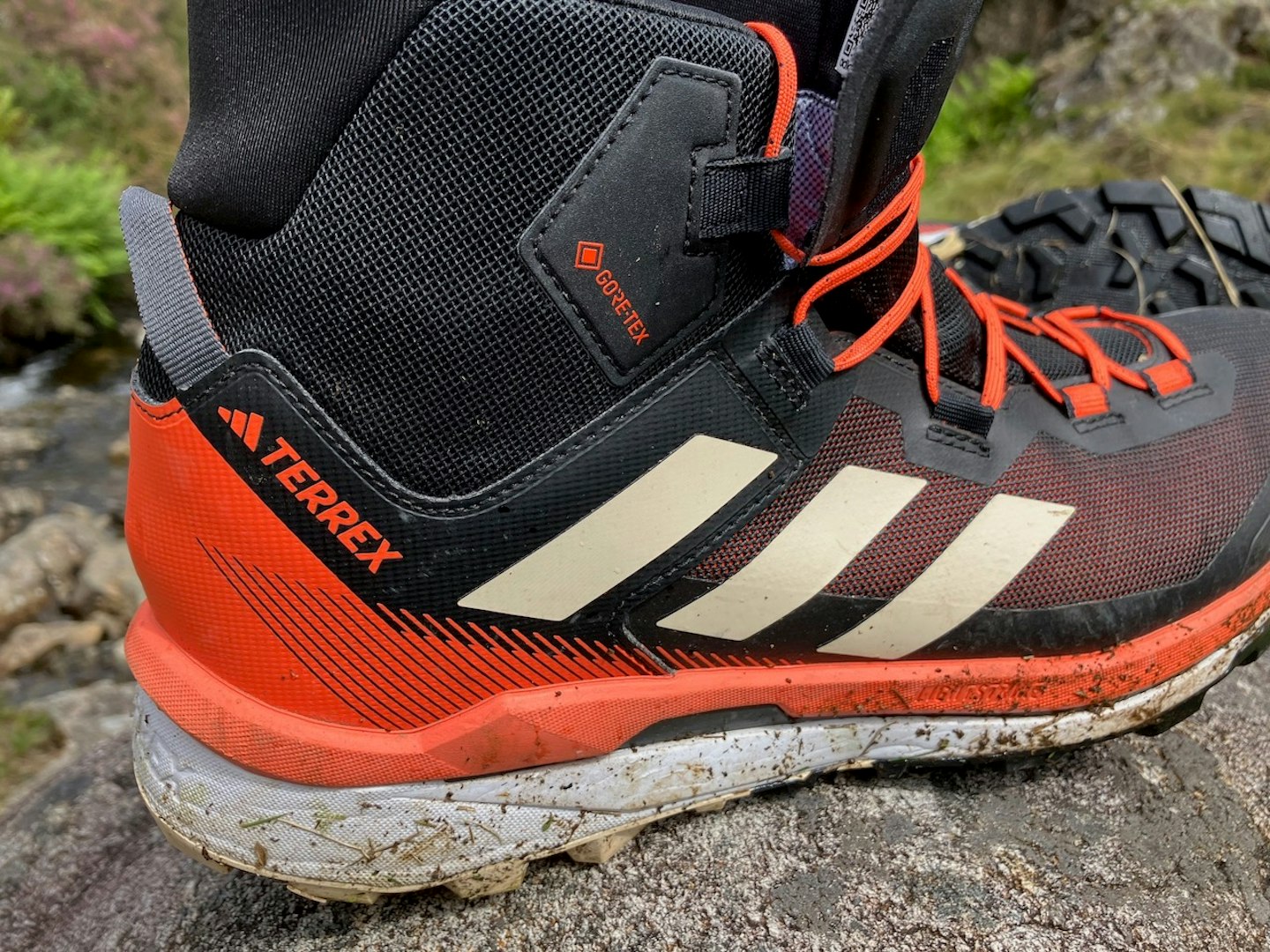 Performance
We didn't mess about with testing the Adidas Terrex Skychaser Tech GTX in terms of its mountain performance, because we took it straight up England's highest peak Scafell Pike. The walk from Wasdale, via the Brown Tongue and Hollow Stones route, is a mixture of rocky trails, loose scree, stone steps, and even a stream crossing where one lazy footstep can result in seriously soggy socks.
The first thing that struck us about these boots was how at home they felt on whatever was underfoot. They easily gripped the rock whether it was wet or dry, and the flexible rubber sole provided plenty of traction on the move, with the trail running-inspired lug pattern making them feel very manoeuvrable on every surface. Even when we were rock-hopping across mountain streams.
The thin mesh upper won't be everyone's idea of good protection, and if you're used to stomping up mountains without worrying too much about what your foot comes into contact with, these might not be the boots for you. But the rubber toe cap did a good enough job of protecting our toes, even when we reached the scattered boulders near Scafell Pike's summit.
The lacing system is good too, allowing you to easily adjust how tight the boot grips the top of your foot. We tinkered with it a little bit throughout the course of the day until we found the right balance around foot and ankle, and overall were very happy with the performance of the boot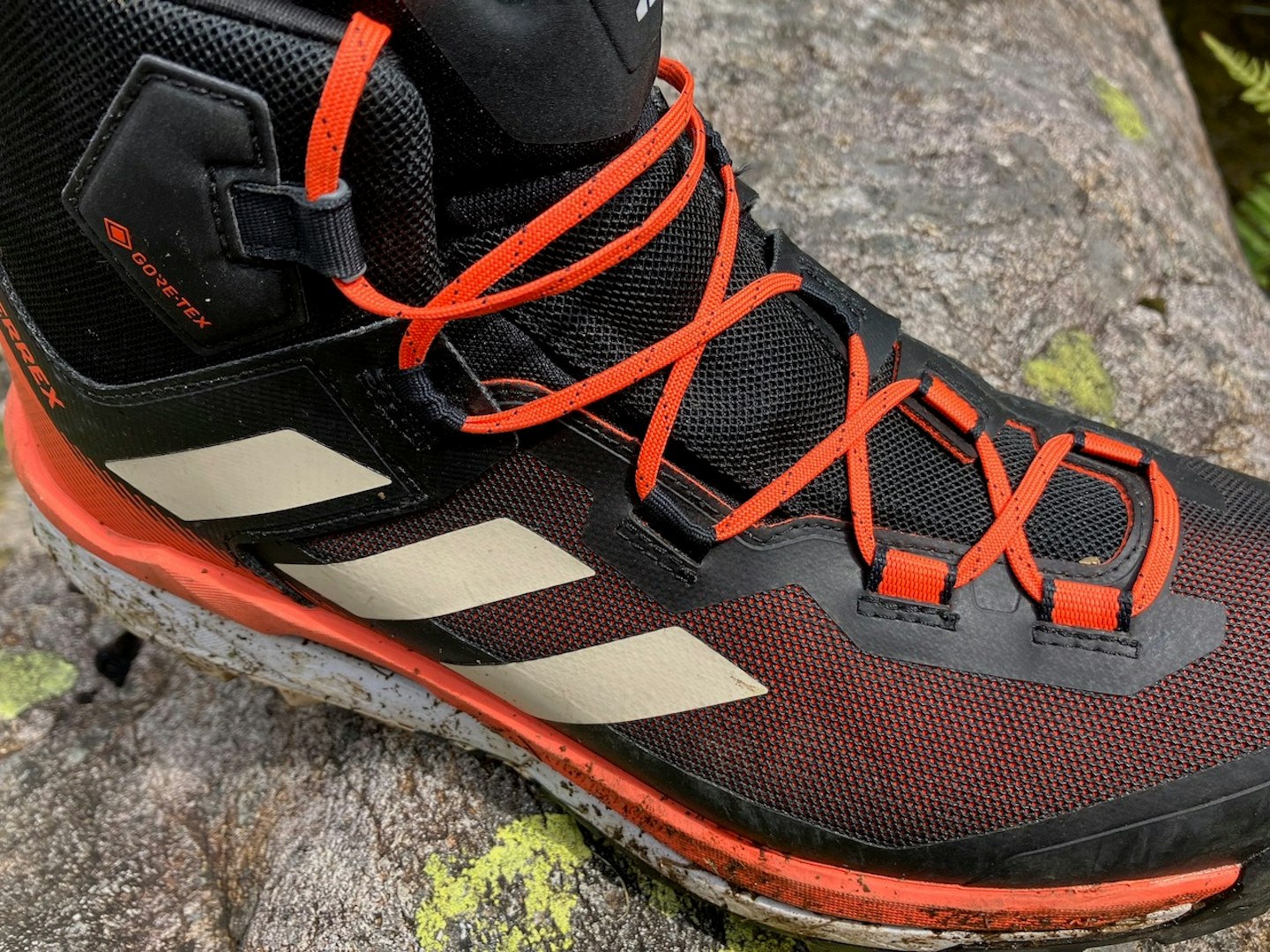 Comfort
Comfort feels like the real USP of the Adidas Terrex Skychaser Tech GTX. Straight out of the box these boots felt great and continued to feel great throughout three long days of walking and scrambling.
The combo of the thick Lightstrike cushioning and midsole plate makes it feel like you're walking on a layer of spongy padding, and did such a good job of creating a buffer between foot and ground that we could hardly feel the rocks beneath our feet. There's also an 8mm drop between heel and toe, which creates a nice rocking motion as you move.
The padding around the ankle is good too. As mentioned at the start of the review, the Skychaser Tech could easily fit into the hiking shoes category, but it's that high and padded ankle cuff that sets it apart as a boot for us. Not only does it add an extra layer of protection against ankle bashes and debris entering the boot, but when it's all laced up that extra layer of padding around the ankle also adds an extra layer of comfort.
Our only slight niggle in terms of comfort was that the right boot did feel a little bit like it was digging down into the forefoot after we'd been moving for an hour or two, but once we fiddled with the lacing that issue seemed to sort itself out.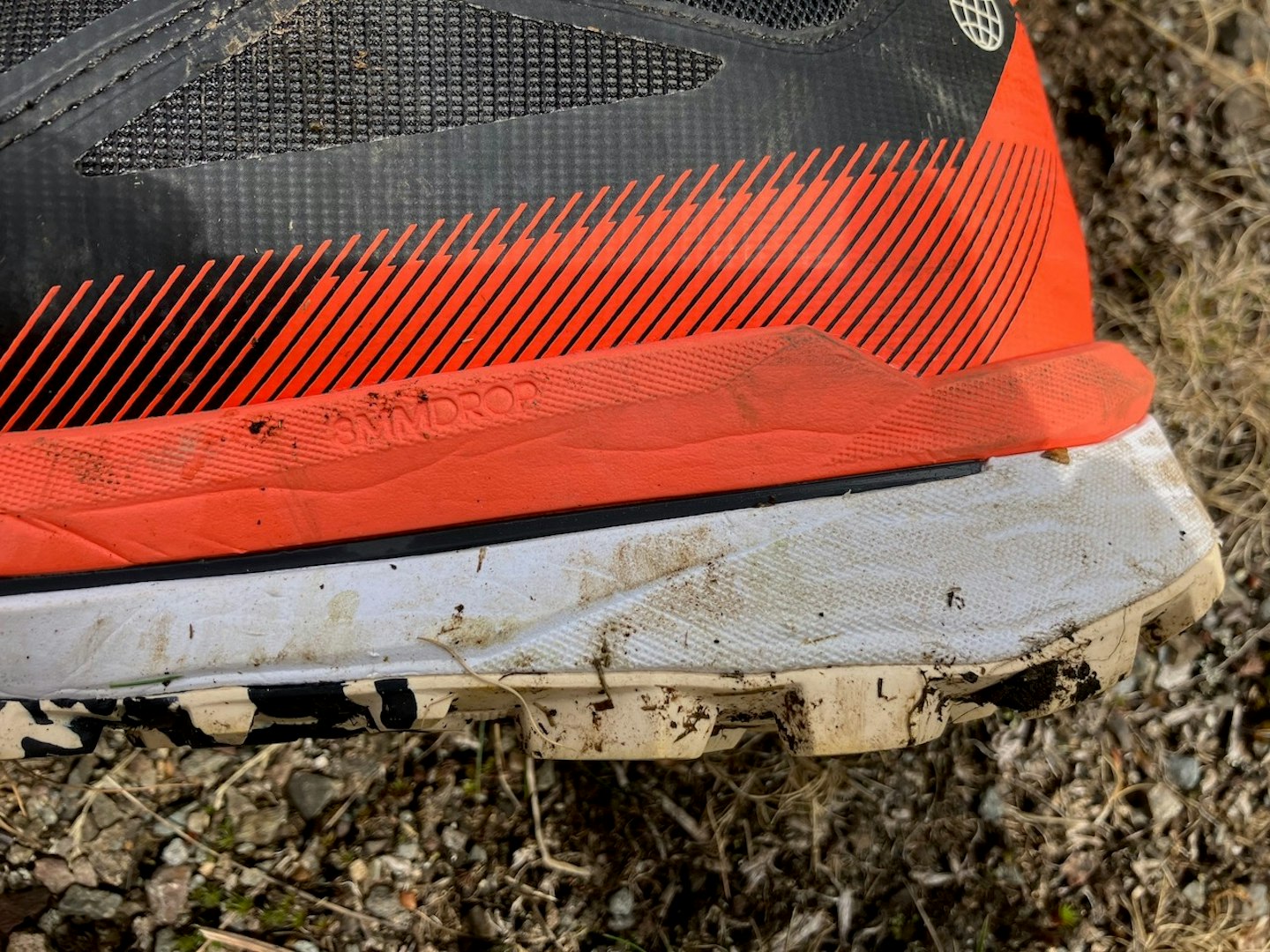 Waterproofing
As you'd expect from a shoe featuring a Gore-Tex membrane, the waterproofing credentials of the Adidas Terrex Skychaser Tech GTX are very good. Our foot got fully submerged a couple of times on stream crossings and still came out dry, and even the usually fatal concoction of rain and wet grass didn't make its way through.
It's sometimes hard to fully trust that a boot with such a thin mesh upper could withstand the same sort of deluge as a more traditional thick leather alternative, but our experience of the Adidas Terrex footwear range over the last few years has always been very good in terms of waterproofing.
And as we were walking in warm summer conditions, breathability was also a key performance factor. The first couple of days in particular were very warm and the boots certainly didn't feel sweaty, so no complaints there from us either.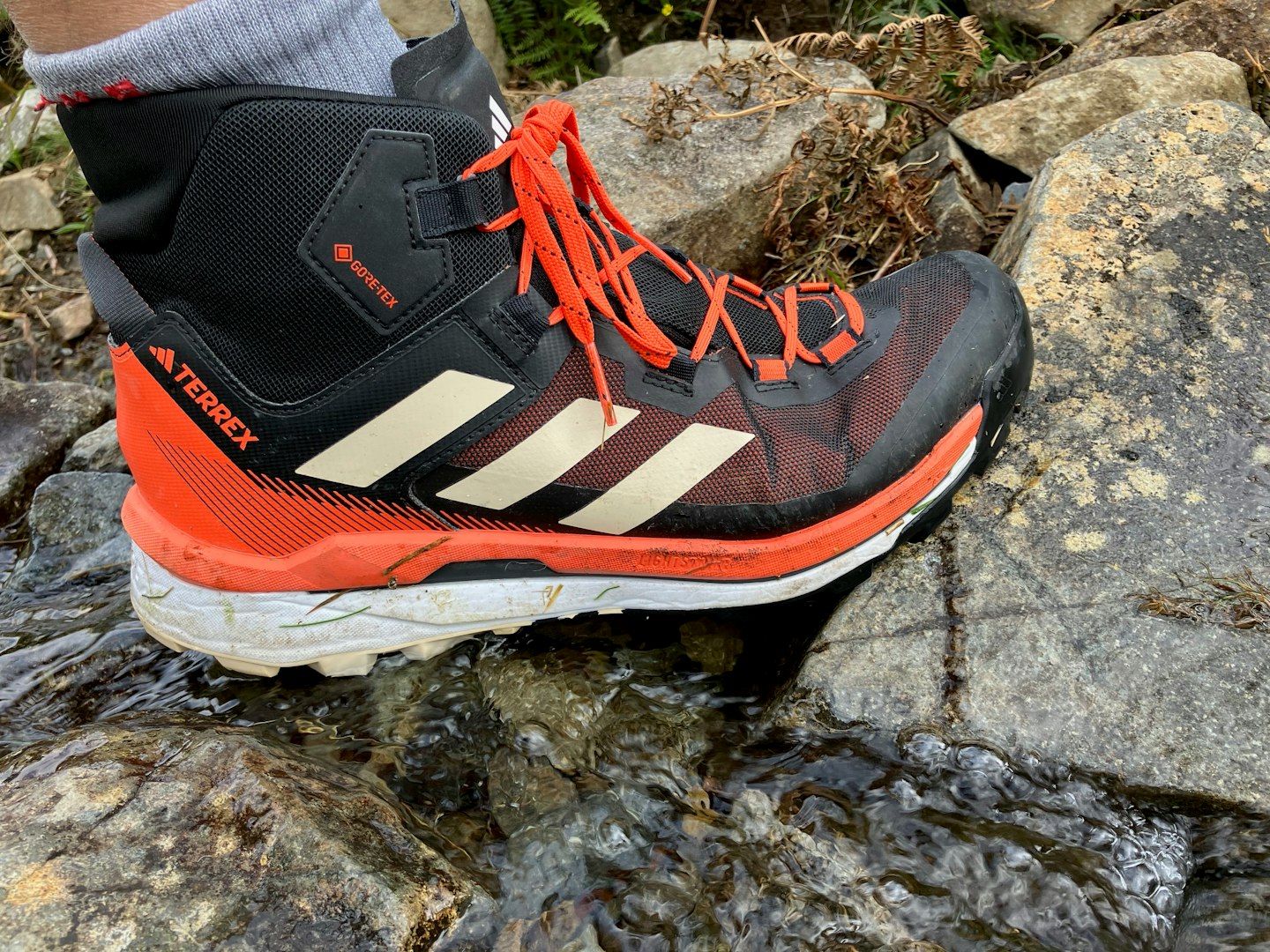 Sustainability
It may come as a slight surprise to find out that the Adidas Terrex Skychaser Tech GTX, a lightweight shoe from one of the world's largest apparel brands, scores higher than expected on the sustainability front.
Fashion Transparency Index 2023 rates 250 of the world's largest fashion brands 'on their public disclosure of human rights and environmental policies, practices, and impacts, across their operations and supply chains.' Of these hundreds of brands, 84% of them score less than 50%, with the average score being 26%. Adidas sits in the 51-60% bracket.
Regarding the shoe itself, the upper is made from about 50% recycled material, the midsole plate is bio-based, and the water repellent finish is PFC-free.
Price and competition
You're getting a lot of features and performance with the Adidas Terrex Skychaser Tech GTX, but the drawback is it doesn't come cheap. Any piece of footwear costing north of £200 certainly falls into the highest bracket we'd expect to see for lightweight walking boots, so the decision on whether to go for a pair of these will probably come down to how much you love the Adidas brand and how much you trust it as a serious player in the hiking and walking market.
Two of our current lightweight walking boot favourites are the Inov-8 Roclite G345 GTX V2, and Columbia Facet 75 Mid. Both of these boots sell for around £65 and £85 cheaper respectively, so it's worth having a good look across the options out there to make sure you find the walking boot that works best for you both in terms of performance and budget.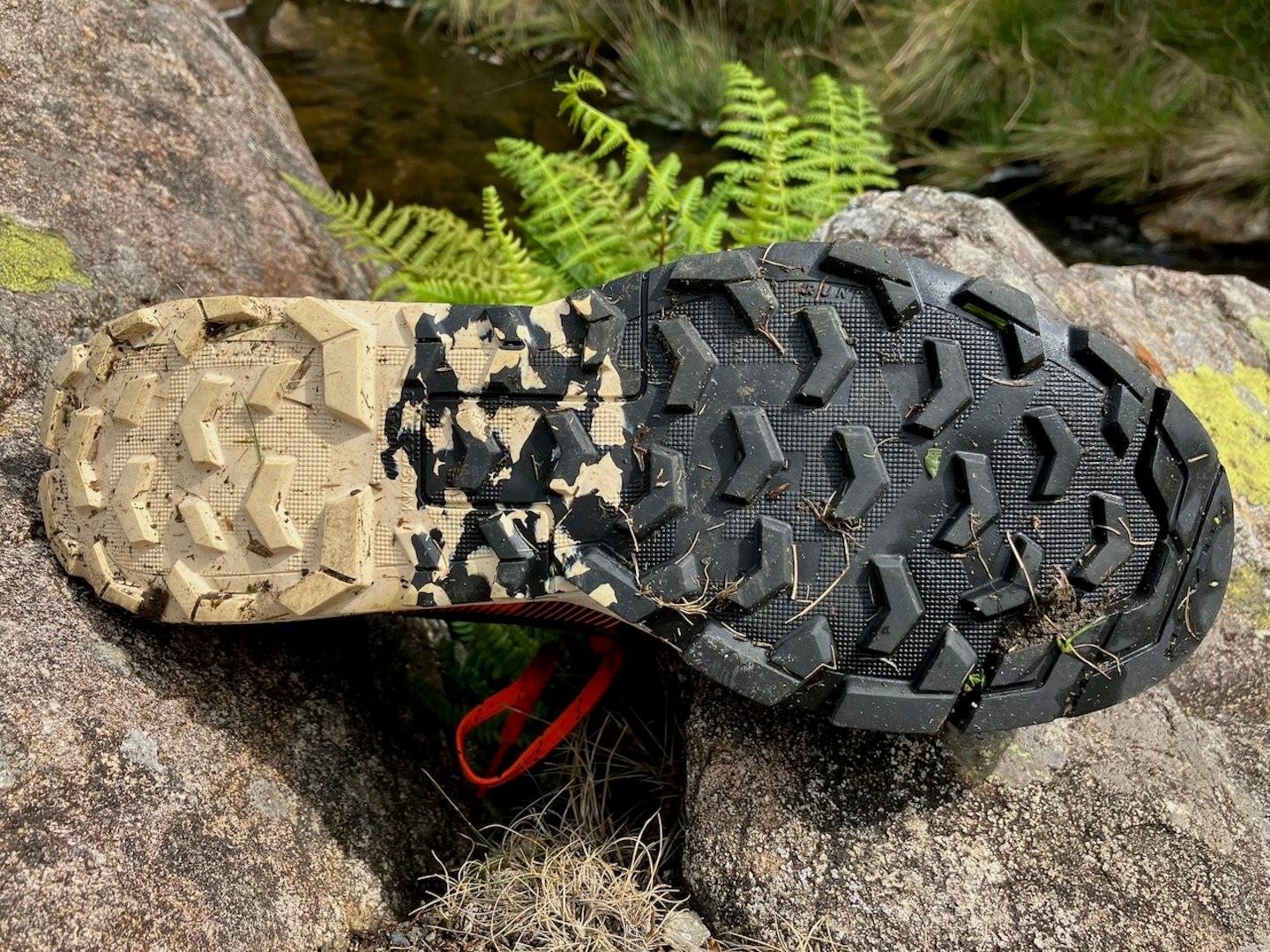 Verdict
You've probably guessed it already – we're hugely impressed by the Adidas Terrex Skychaser Tech GTX walking boots. In years gone by we probably would have recommended them for low-level walks and unchallenging terrain, but the huge improvements in the quality of lightweight walking boots, plus the increasing popularity of this style of mountain footwear has changed that a lot.
They certainly couldn't be classed as rugged boots for technical mountain activities like scrambling, and one thing we can't vouch for at this point is long-term durability, but if you're looking for walking footwear that can handle everything from exciting day hikes to fast-packing expeditions, then Adidas have created a great option here. We can see ourselves using them for many years and many adventures to come.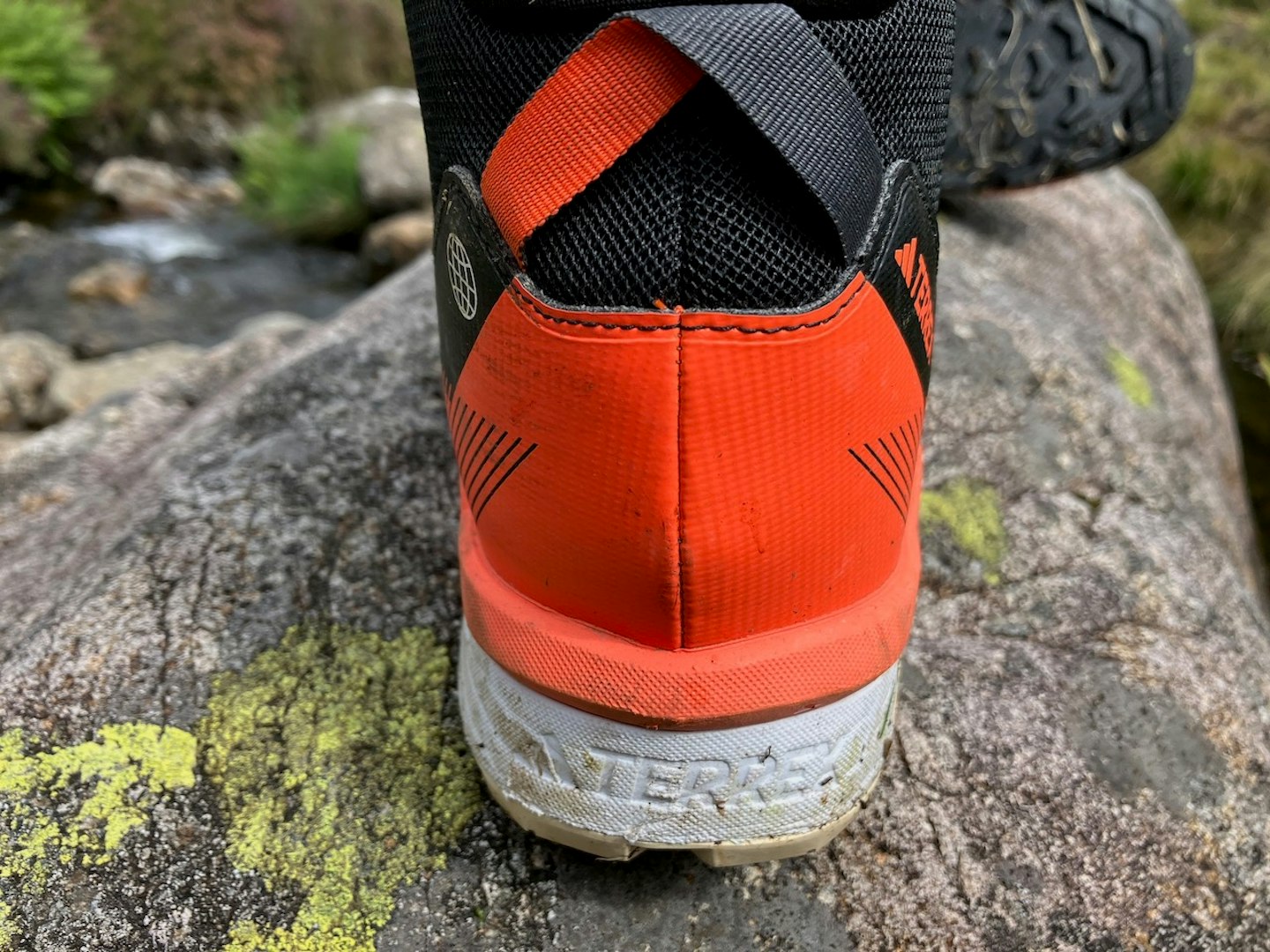 Your tester
Oli Reed is the editor of Trail magazine and has been reviewing hiking boots for this website for more than a decade. He favours lightweight footwear when walking in the hills and mountains, particularly in the summer months, with comfort and flexibility a top priority for long days on the trail. To find out more about how we test gear CLICK HERE.
Get half-price digital OS Maps! Trail and Country Walking magazine members get 50% off an annual subscription to OS Maps for 12 months! Find out more here.
Don't forget to subscribe to the Live For The Outdoors newsletter to get expert advice and outdoor inspiration delivered to your inbox!