Of all the accessories to take hiking, a water bottle is ground zero. It's the very first thing you need above all else.
With that firmly established, the question then evolves into which is the best water bottle? You have a few options, but like boxes of cereal at the supermarket, they're all pretty standard. However, there are a few key considerations you'll want to make when choosing a drink bottle.
These include material, durability, volume, and sustainability. Material and durability have some overlap because metal water bottles are often the most durable. However, material also influences weight too. Volume is one of the most obvious but is influenced by whether you have access to useable water sources during your trek.
Then, of course, it's important to opt for a water bottle that is made in a more sustainable way. That said, a water bottle is immediately and vastly more eco-friendly than disposable plastic bottles, so you're winning already. If it's an insulated water bottle you're after, head to our guide to the best insulated flasks.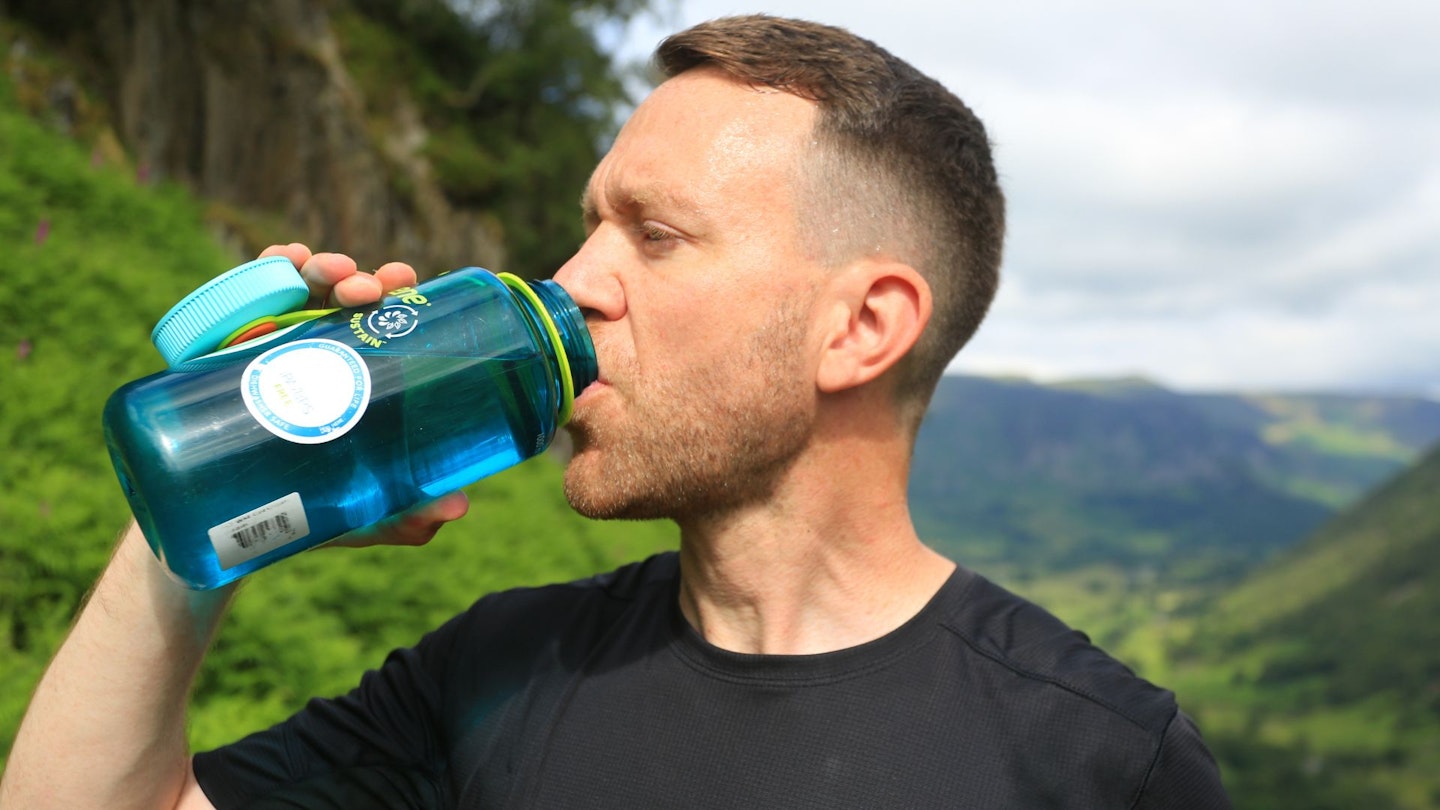 The best water bottles at a glance:
Best in Test: Sigg Water Bottle Traveller MyPlanet - View on Amazon
Best Value: Nalgene Tritan Wide Mouth Sustain 1L - View on Ellis Brigham
Best lightweight water bottle: LifeStraw Peak Series Collapsible Squeeze - View on Alpinetrek
Best filter water bottle: Grayl UltraPress Water Purifier - View on Amazon
This is our buying guide to the best water bottles, featuring our favourite drink bottles of all kinds. There's something for everyone here.
The best water bottles in detail
Description
The iconic Sigg bottle is another stone-cold hiking classic. Made from aluminium (now 100%
Pros
Sustainable
Tough
Good value
Lightweight
Description
Lightweight (177g), leak-proof, free from BPA and BPS (types of harmful Bisphenol chemical), and
Pros
Uses recycled plastic
Tough for a plastic water bottle
Lightweight for its volume
Cons
You might prefer a metal drink bottle
Best lightweight water bottle
Description
At a kilogram per litre, water is weighty; one way to get around that is to filter as you go. The
Pros
Includes a filter
Very lightweight
Very compact
Cons
Other options offer better value
Description
Perhaps it's a little heavier and less practical than a hydration bladder, but because the Klean
Pros
Very robust
Compatible with multiple caps
No weird flavours
Cons
Tad heavier than plastic and aluminium options
Description
We know, the UltraPress is expensive. But we think the price is absolutely justified. If you want
Pros
Very effective filtering system
Fast filtering
Incredibly simple to use
Cons
Not necessary for everyone
Description
The Chute Mag drink bottle is a functional, durable, and lightweight. It also comes in four
Pros
Excellent cap mechanism
Uses recycled plastic
Several volumes available
Cons
Nalgene Tritan Wide Mouth Sustain is lighter
Best for keeping drinks cold
Description
This is a lightweight double-walled stainless steel vacuum flask with a slim, compact design. The
Pros
Keeps liquid cold all-day
Lightweight for an insulated drink bottle
Stainless steel doesn't affect flavour
Cons
Heavier than non-insulated metal water bottles
Best water bottle for kids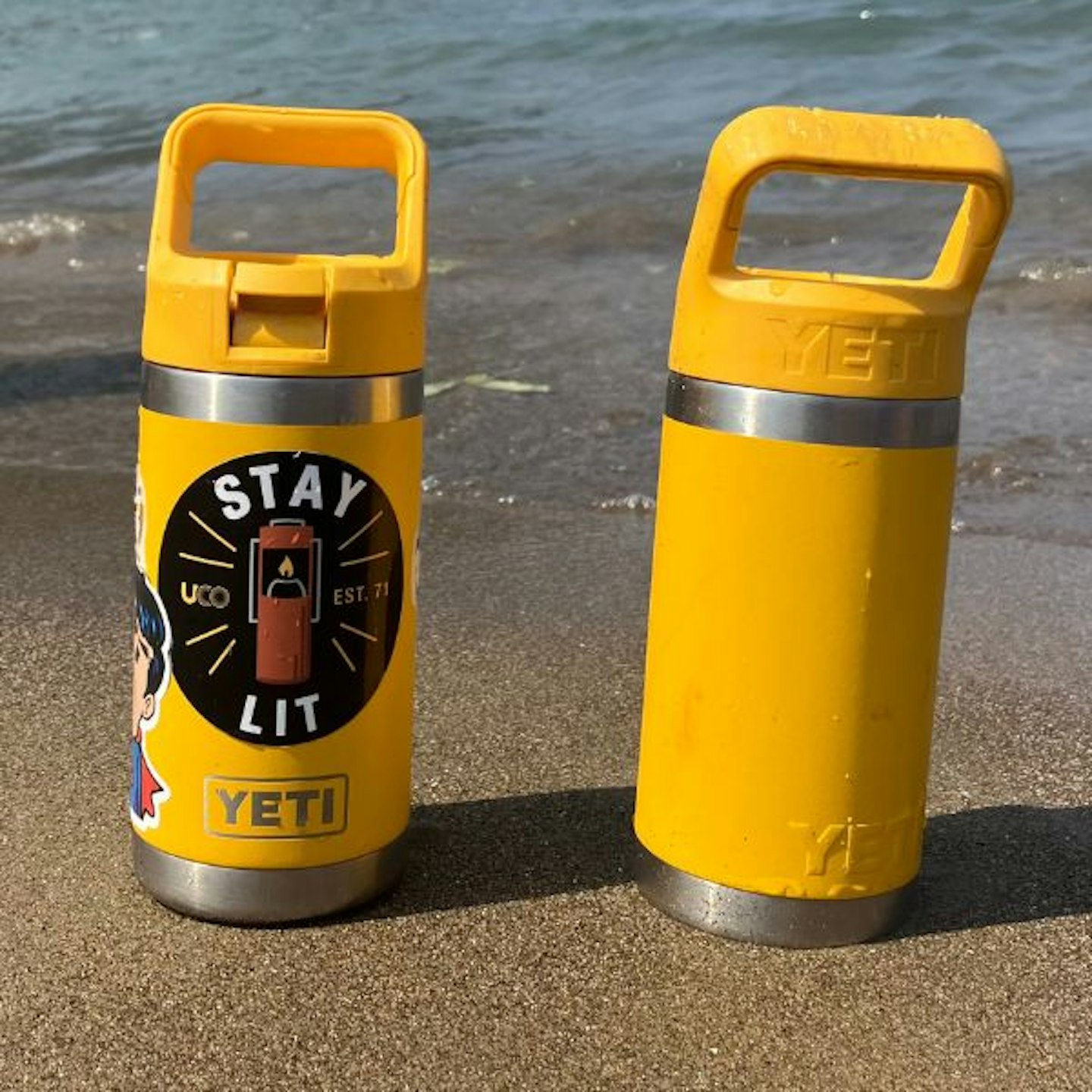 Live For The Outdoors
Description
There are many things that make the Yeti Rambler JR a great water bottle for adventurous kids, and
Pros
Insulation keeps drinks chilled
Feels indestructible
Pop-up straw never leaks
Available in lots of colours
Dishwasher safe
How to buy the best drink bottle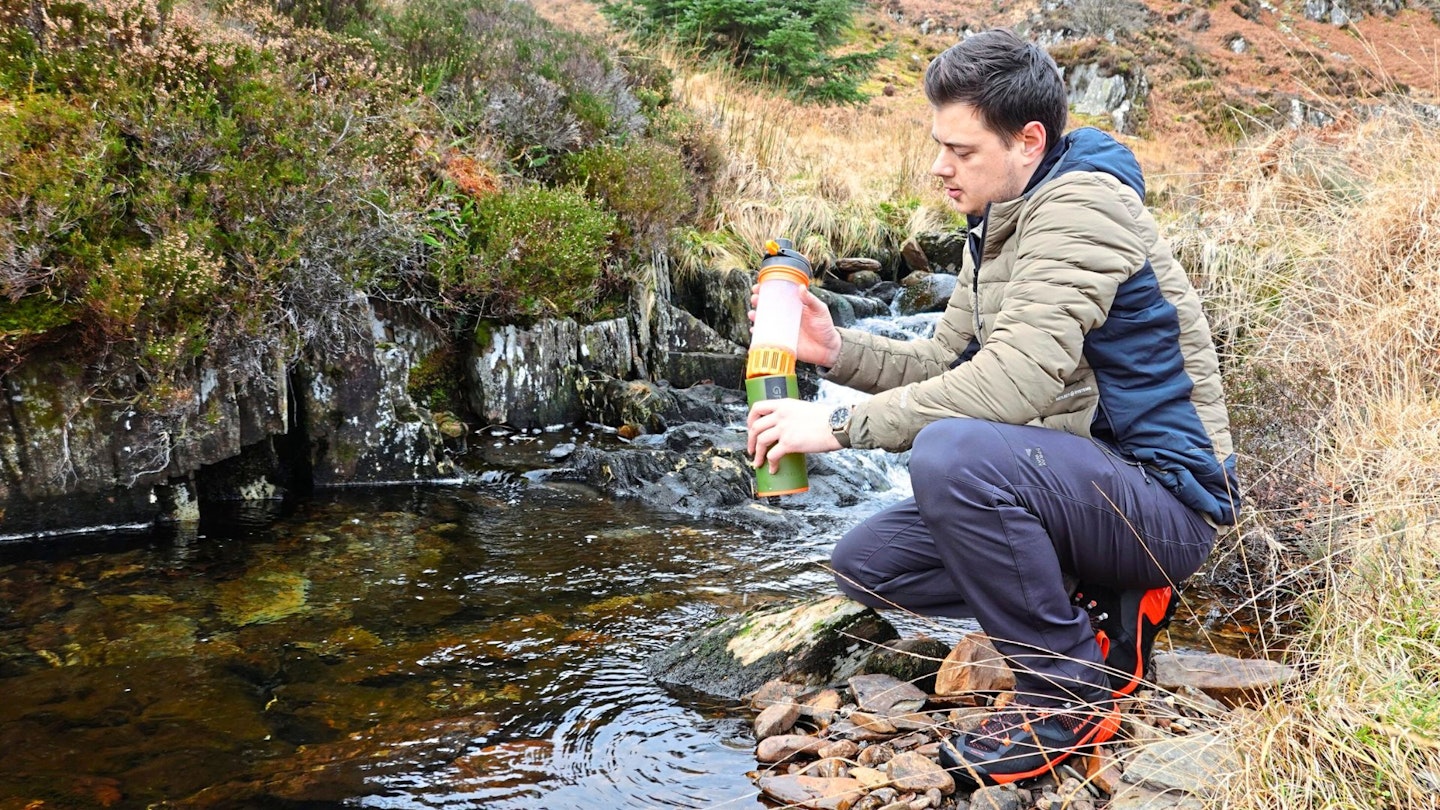 Volume: Whether to go big or small depends on a few things. One is the length and intensity of your hike. For a leisurely two-hour walk you only need a smaller bottle. For longer or harder outings, you need more – you need at least two litres of water if you're bagging a UK mountain peak. But, that doesn't necessarily mean you need a large bottle if you've got access to water sources and a water filter, for example.
Weight: Flexy drink bottles are generally the lightest and most compact design. Plastic and aluminium drink bottles can come a close second, followed by tough but heavier stainless steel.
Material: Plastic and aluminium are great for keeping weight down, and stainless steel for durability. It's also important to note, stainless steel is best for not storing or releasing any funny flavours.
Cap: Loop caps are handy for attaching your bottle to a pack or slinging over your shoulder with the use of some cord. Wide-mouth bottles are easy to fill, clean, and add ice into. Flip-top or sports caps are the easiest to drink from.
Price: Because you can get very good drink bottles for very reasonable prices, the real key is knowing which drink bottles are worth your time and which aren't. That's where this guide comes in very handy.
Sustainability: Metal non-insulated drink bottles offer the greatest durability and therefore score high on the sustainability front. Those few that are made from recycled metal are even better. Plastic ones can be very durable too, if you get the right one. If you do opt for a plastic drink bottle, make sure it is at least partially made from recycled plastic.
Filters: Drink bottles that have built-in water filters are very convenient and handy to take to remote places. However, separate water filters can be very compact and are great for pairing with a standard drink bottle.
How we tested
Testing water bottles is perhaps a more rigorous process than you'd first imagine. Our experienced gear testers do more than just fill up a bottle and take a swig.
We consider not just how capacious a water bottle is but what it's volume-to-weight ratio is. We look at how easy they are to carry; durability; how easy they are to clean; and important extras such as a filter.
Annually, we create the ultimate shortlist of the very best gear in our Gear of the Year Awards.
Get half-price digital OS Maps. Trail and Country Walking magazine members get 50% off an annual subscription to OS Maps for 12 months. Find out more here.
Don't forget to subscribe to the Live For The Outdoors newsletter to get expert advice and outdoor inspiration delivered to you inbox!
Chris Williams is a Digital Content Writer for Live For The Outdoors. He trained as a journalist in New Zealand and has been working on Live For The Outdoors since 2021.