The runners up:
Mammut Kompakt MTI 3-Season (Women)
Tester: Anna Humphries
Lower comfort limit -10°C
Insulation Ajungilak MTI Pro polyester
Size 205x80cm (Regular and Short available)
Men's equivalent Kompakt MTI 3-Season (Regular, Large and Wide available)
Packed size 21 x 30cmn
Weight 1851g (inc 100g stuffsack)
This well-priced bag is warmer than other 3-season bags, with a temperature rating of -10°C, while others are -4°C, -6°C or -8.5°C. So not surprisingly, it's also a little heavier and more bulky when in its stuffsack.
Synthetic insulation means it is less compact but does feel warm instantly, which was a welcome benefit over the down bag I tried, which took more time to become cosy.
The hood, shoulder baffle and zip are all well designed, and there are two sizes each for the women and men's versions. The women's option has the extra benefit of a fleece-lined foot area and a bigger hood.
So, what's not to like? For me this bag's pink colour with a green zip is a real turn-off. It also lacks the stretchy seams of other higher-priced bags, and is heavy, but of course it is warmer too. Oddly the stuffsack colour is a nice red and black, which doesn't match the bag but at least the pinkness is hidden when the bag is packed inside!
Pros: Price, warmth, fleecy foot in women's option, two sizes each for men and for women
Cons: Weight and packed size, no stretch baffles, pink colour for women's version
Overall score: 80%
Vaude Santis 800 SYN
Tester: Graham Thompson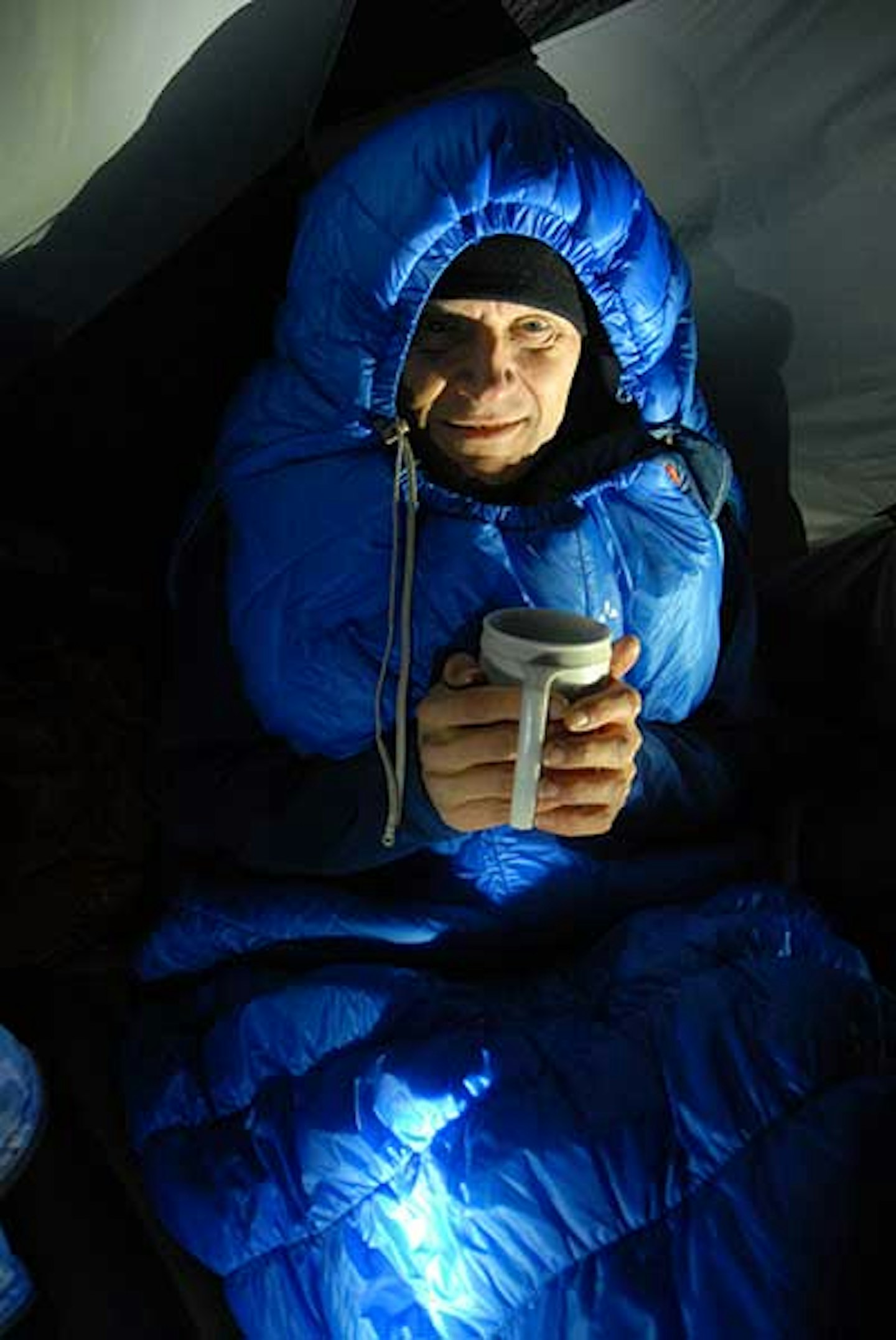 Lower comfort limit -4°C
Insulation Pinnero Mantle 100% recycled polyester
Size 220x80cm (one size)
Women's equivalent n/a
Packed size 22x28cm
Weight 1292g (inc 75g stuffsack)
Like many Vaude products it's the environmental benefits that shine through with this bag, as it's made with 100% recycled polyester insulation and its water- repellent finish doesn't use harmful fluorocarbons (PFC).
Stretch fibres are used in the knee area to allow more comfort, and the shoulder width and length are bigger than some. There's also a unique additional side zipped arm hole, so you can be inside the bag with both arms out (one arm out via normal side zip, the other through the arm hole).
The weight and packed size are good although, of course, a down bag is even lighter. But also note this is rated as -4°C comfort limit, while other bags here are rated as -6°C comfort limit, so this isn't quite as warm as the others. There are no extra size or women's options here either, and the price tag is less friendly than this bag's impressive environmental benefits.
Pros: Environmental benefits, zipped arm opening, stretch panels in knee area, reasonable weight and packed size for a synthetic bag
Cons: Price is relatively high compared to other synthetic bags, slightly lower temperature rating, no extra size options or women's option
Overall score: 76%
Therm-a-Rest Hyperion 20F/-6C
Tester: Tim Butcher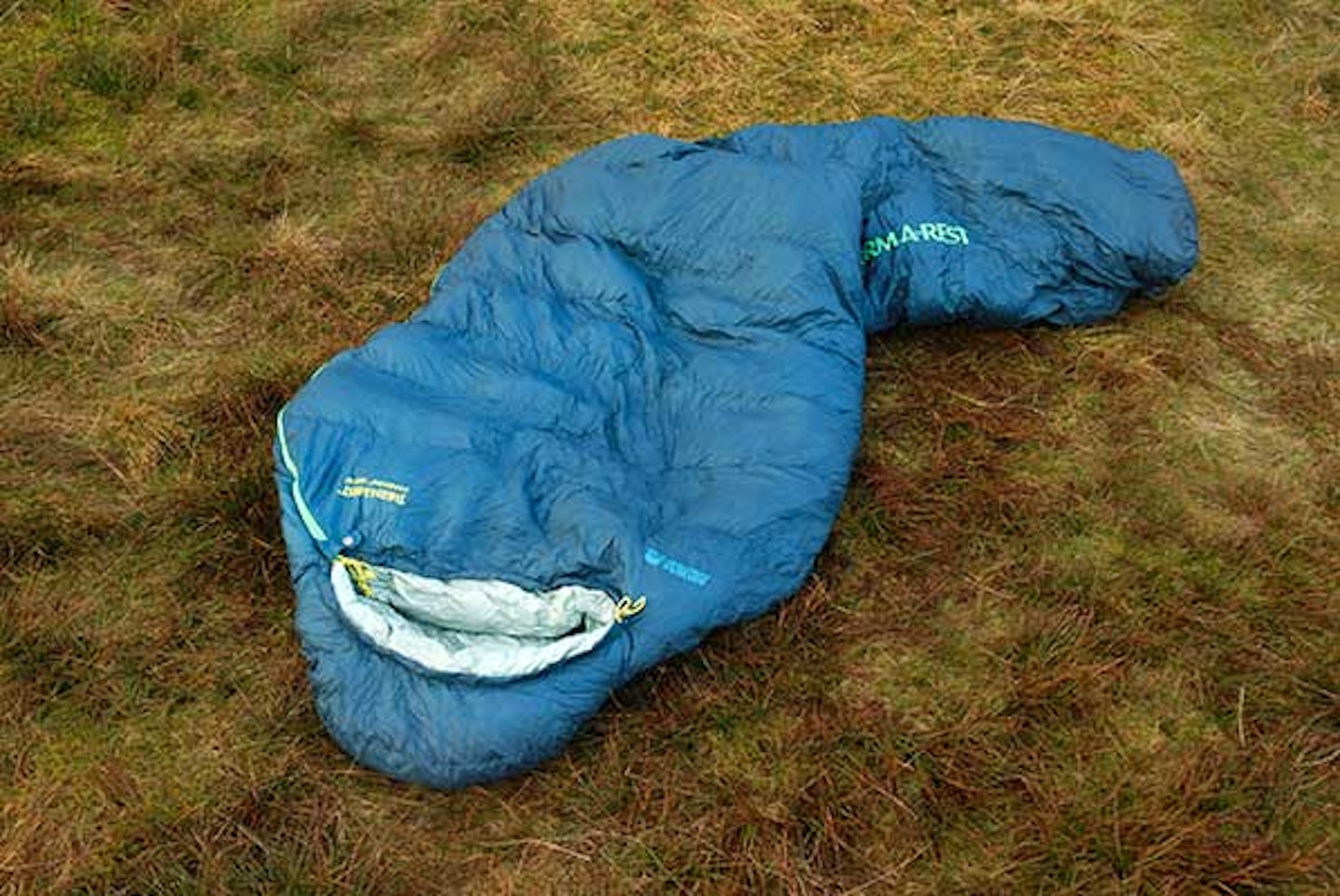 Lower comfort limit -6°C
Insulation Nikwax Hydrophobic 900 fill power goose down
Size 216x74cm (Long, Small and Regular available)
Women's equivalent n/a
Packed size 16x20cm
Weight 688g (inc 50g stuffsack)
New for 2019, this bag is exceptionally lightweight and compact when compressed into its stuffsack. It still carries a temperature rating of -6°C and the weight-saving comes from a numbers of areas. Firstly it uses top quality 900 fill down, so you just need less of it to stay warm, and the shell fabric is very thin 10 denier ripstop nylon.
The side zip only extends to the hip, rather than the foot or calf area, and the zip itself is a lighter-weight design that seems to snag a little easier than others, and tends to open on its own if I didn't secure the press stud at the top of the zip. There is no shoulder baffle either.
Finally you don't get the stretch baffles of other sleeping bags. It comes with a pair of thin webbing straps that can be wrapped around a Thermarest sleeping mat for 'optimal efficiency', but I didn't find this of much benefit and felt if I turned over too roughly I may have ripped out the straps.
Pros: Weight and packed size. Attachment webbing to sleeping mat may be of benefit to some, but I wasn't convinced as I tend to sleep on my side and move around too much
Cons: Price, short side zip, no shoulder baffle, no stretch in bag size, no women's specific design
Overall score: 72%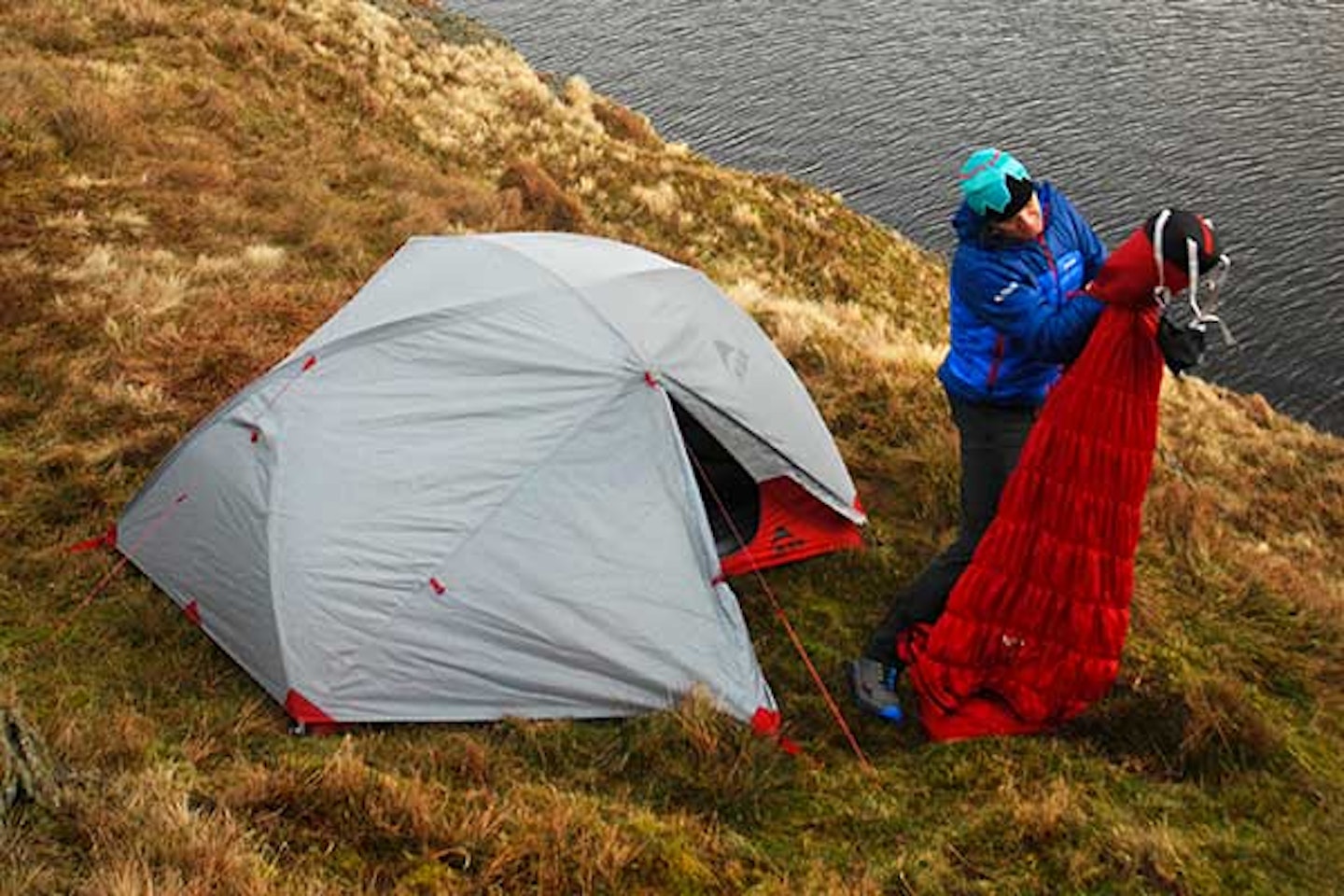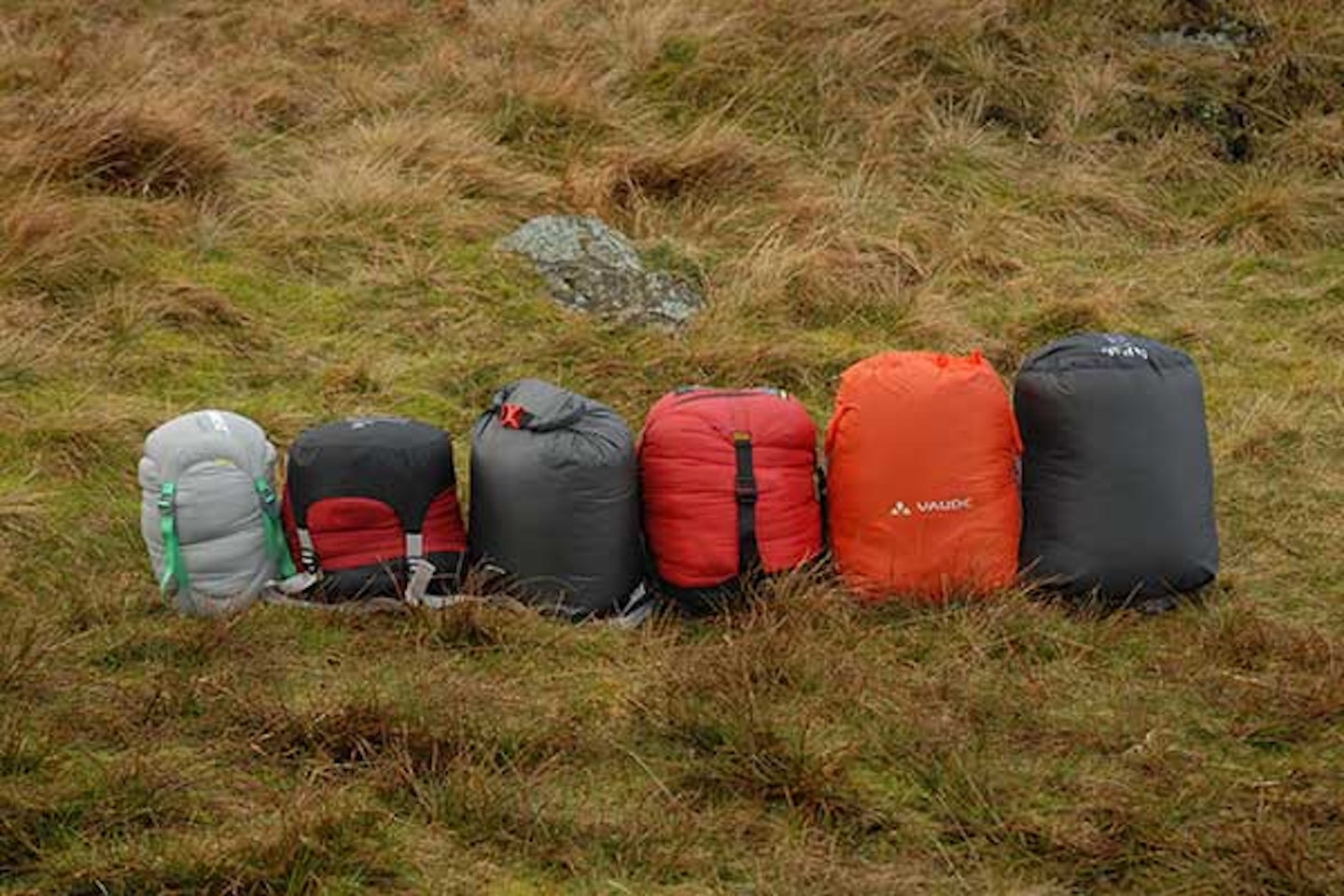 The top three:
Deuter Exosphere -6° £170
Tester: Graham Thompson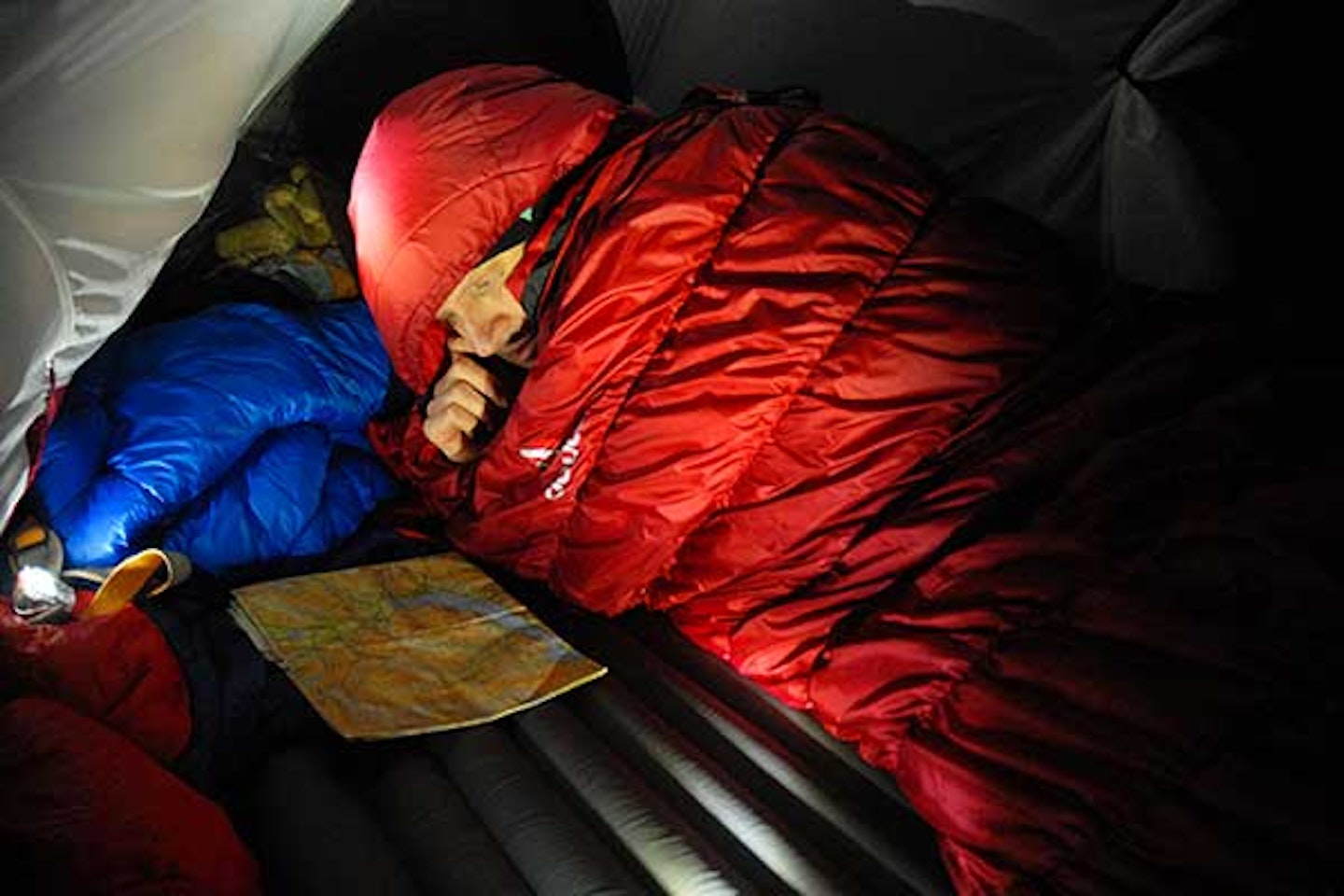 Is this synthetic-insulated bag so good there's no need to spend extra on down insulation?
Lower comfort limit -6°C
Insulation Thermo Proloft synthetic
Size (Length x shoulder width) 205x68cm (Regular and Large available)
Women's equivalent Deuter Exosphere -6° SL (one size)
Packed size 20x23cm
Weight 1319g (inc 88g stuffsack)
It's good
This sleeping bag uses synthetic insulation, so is available at a much lower price than an equivalent down insulated bag. But the weight, packed size and temperature rating are exceptionally impressive, even compared to down-filled bags.
Elasticated construction allows the whole bag to expand in width by 25%. The elastication also holds the insulation closer to the body, resulting in increased efficiency as there are less cold air pockets, so the bag warms up faster and needs less insulation.
In addition the foot and head have been treated to keep moisture at bay, such as when condensation gathers in a tent. You also get a shoulder baffle, a great hood and a side zip with a good anti-snag design.
I found this bag outstandingly comfortable and warm, and perfect for camping without the cost of a down bag. What's even better is it comes in both regular and large sizes, as well as a women's option, and as it is stretchy this bag should fit a wider range of people than most bags.
The compression sack has four webbing buckles to crush the contents, making it easy to create a good packed size.
However
This bag is rated as -6°C comfort, but a similar weight down bag is rated as -8.5°C. And if you have the cash, a top quality -6°C rated down bag is just 866g, so down is going to be lighter if you compare temperature ratings carefully.
If you're really picky then this bag could be lighter, with a skimpier stuffsack that vacuum- packs the bag more efficiently. Some grams could also be shaved off by using thinner shell materials, while you could strip out the shoulder baffle and dryzones to save cash too.
There is a chance you may not like the stretchy, body-hugging design. I love it, but some people may want the more spacious feel of a wider bag that doesn't hug you as closely as this. Finally, some other synthetic bags use more recycled content.
Verdict
An excellent synthetic-insulated bag that would suit the needs of most backpackers and mountain campers. But pay more and you can have a lighter bag, and if you can live with less features you can pay less or reduce weight.
Features 4/5
Fit 5/5
Comfort 5/5
In use 4/5
Value for money 5/5
Overall score: 92%
Rab Ascent 700 (Women's)
Tester: Anna Humphries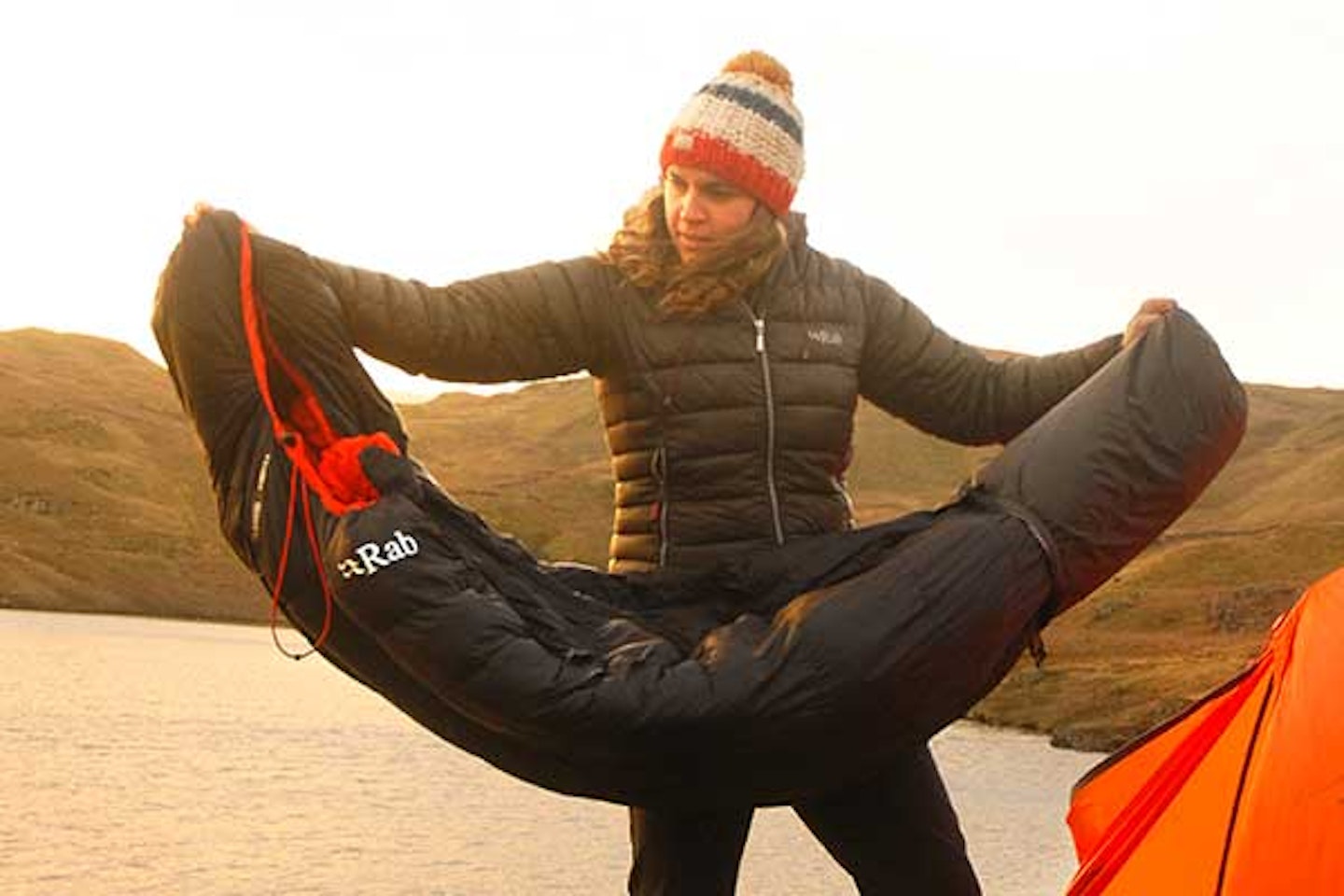 This mid-priced down bag offer lots of benefits over synthetic, but is it worth the cash?
Lower comfort limit -8.5°C
Insulation Nikwax Hydrophobic 650 fill power European duck down
Size 205x70cm (one size, women's)n
Men's equivalent Rab Ascent 700 (Regular and Extra Long available)
Packed size 24x18cm
Weight 1325g (inc 66g stuffsack)
It's good
This is relatively well-priced for a down insulated bag. It uses 650 fill power down (rather than 800 fill power down) to reduce costs, but still has a very reasonable packed size and weight. It also gives you a few extra degrees of warmth compared to some bags, which makes it more suitable for women, who on average feel the cold more than men.
This spacious bag had plenty of room for my hips and legs without feeling tight when I turned over. The side zip extends a good way down to the foot for venting, and there's also a shoulder baffle to trap air inside.
Hydrophobic down (certified by the Responsible Down Standard to safeguard bird welfare) is used to improve the performance a little more, and is treated with Nikwax to resist moisture. I found the bag did take a little longer to warm up than the synthetic option, but once warm I was extremely cosy and comfortable.
The stuffsack is particularly good, as it allowed me to very easily vacuum-pack the bag down to a very small size.
However
It is heavier than a bag using down insulation with higher fill power, but of course that is why its price is more competitive. This bag is only available in one size for women too, so if you're a tall woman you may find you need to look at the longer men's version.
Some bags have stretch linings to make them even more comfortable and efficient, but that isn't on offer here. As with any down insulated bag, if it does get damp then its performance drops off rapidly compared to a synthetic bag, although at least here we do have Nikwax-treated down, so this is less of an issue. Of course, while the price is good for a down-insulated bag, if you find the performance of a synthetic bag acceptable you can save a lot of cash by choosing synthetic insulation instead of opting for feathers.
Verdict
Mid-priced down insulated bag that compares well to costlier down bags. It has most of the key features many mountain campers will need, but pay more and you get a lighter bag, while synthetic options save money.
Features 4/5
Fit 5/5
Comfort 5/5
In use 4/5
Value for money 4/5
Overall score: 88%
Mountain Equipment Firelite
Tester: Tim Butcher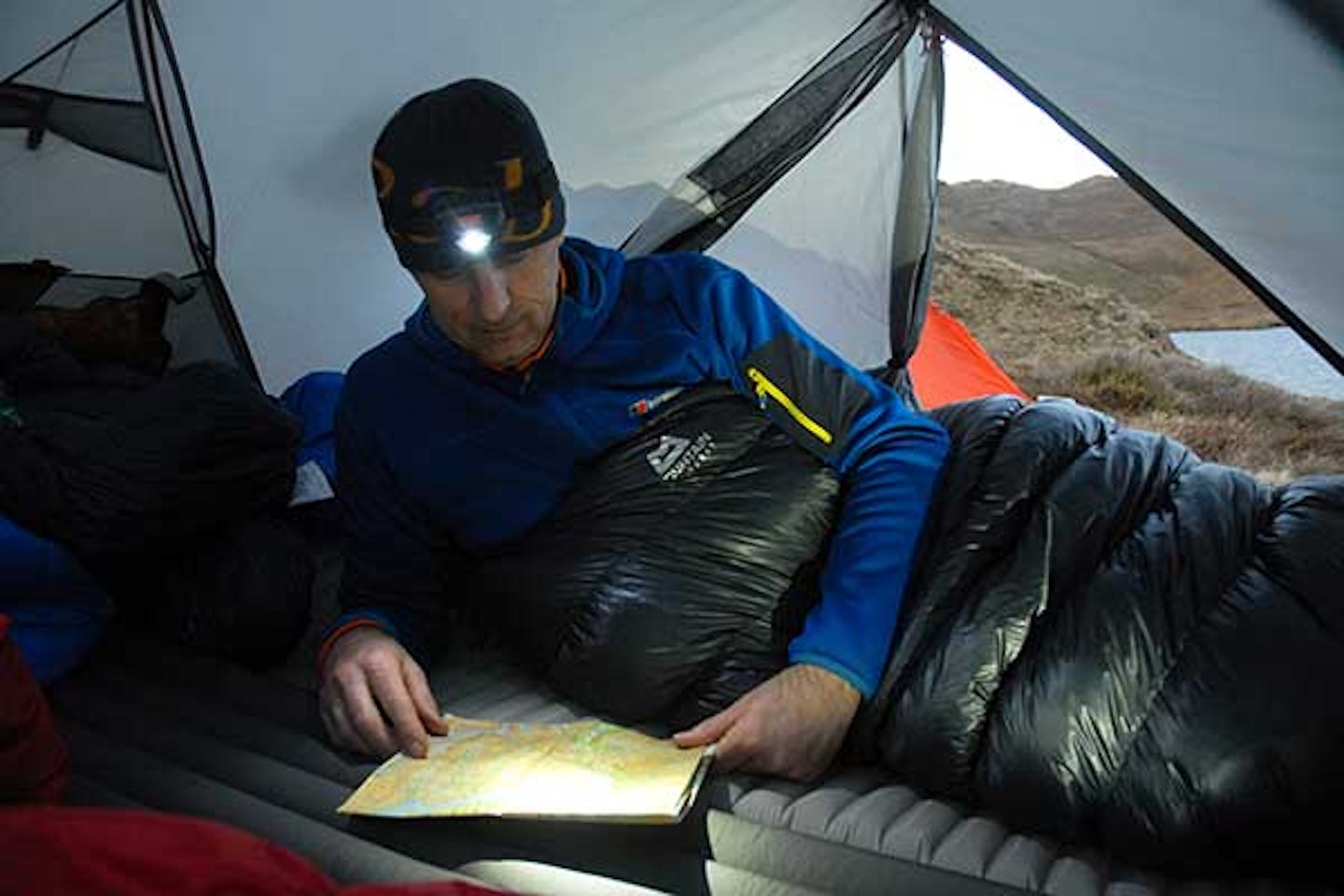 A top quality down-insulated bag with all the features you need, but does it justify the outlay?
Lower comfort limit -6°C
Insulation 800 fill power Russian goose down
Size 215x65cm (Regular and Long available)
Women's equivalent n/a
Packed size 21 x 21cm (size Long)
Weight 866g (Long, inc 59g stuffsack)
It's good
Designed for ultra-light backpacking and high mountain use, this bag certainly meets its brief. At just 866g and a tiny packed size, this was a doddle to pack into my rucksack and it left plenty of space for other camping equipment.
The bag comes in two sizes, and I tested the Long version given my 198cm height. The width is closer fitting than other bags, but this bag features stretch baffles, so it can expand with your body, but also more loft space is created for the insulation when the lining hugs your body, thereby keeping you warmer.
The insulation is a top-quality down, and the shell material is extremely thin and lightweight. You also get an easy-to-adjust hood and the side zip has a good design that didn't snag easily. A neck baffle helps prevent warm air from escaping if the hood is not fully tightened. Together this all adds up to a very comfortable bag that was slightly tight across the thigh area but otherwise unrestrictive and warm.
Insulation comes from an audited supply chain called the Down Codex, to ensure welfare standards and quality are high.
However
To make the bag match my height, sections have been added at the foot, which did mean the side zip doesn't extend as close to the foot as other bags. So you might get overly warm feet. The bag is narrower than others too, and while it isn't generally restrictive, a little more thigh space would have been beneficial.
Any bag with down insulation needs to be kept dry, as the insulation will not trap warm air very effectively if it gets damp, so more care is needed here to keep the bag dry compared to a synthetic insulation bag.
This is pretty much a no- compromises bag, and the result is a hefty price-tag that may cause you to, ahem, lose sleep. But for regular backpacking when all- round performance is your need then this is an acceptable price when compared to other options.
Verdict
Top-quality backpacking bag if you want optimum performance and are prepared to stretch your budget. But the price is quite eye-watering, and synthetic bags perform better if damp.
Features 5/5
Fit 5/5
Comfort 5/5
In use 5/5
Value for money 3/5
Overall score: 92%