Every good wild camp should end with a well-earned, restful sleep – not shivering until 3am in a woefully thin cocoon. That's why finding the right sleeping bag is a must before you head off on any adventure, particularly in the deepest, darkest depths of a British winter.
But doing so can be a total minefield, with many variables at play. How cold will it actually be overnight? What's the R-value of your sleeping mat? Do you feel the cold badly or do you tend to run warm at night? Are you a side sleeper or an on-your-back dozer? And what do you wear to bed – high-grade merino base layers or nothing but your birthday suit?
It's all a very personal thing. Each different answer to these questions alters the criteria matrix for your perfect sleeping bag.
In this guide we've focused on sleeping bags suitable for fully-fledged winter wild camps, with snowy ground and sub-zero temperatures. We have included products with comfort ratings ranging from -4°C to -10°C to enable a finetuned decision to your temperature needs. There's a good range of prices and weights too.
What to look for in a winter sleeping bag
Temperature rating: As a general rule of thumb, use a sleeping bag's EN/ISO standard temperature ratings to direct your decision making. Ignore the 'extreme' rating and focus on the 'comfort' and 'comfort limit' grades. The former is defined as warm enough for the 'average female', the latter for the 'average male'.
How you feel the cold: The best approach is to build a buffer of up to 5°C into your buying decision. If you'll be sleeping at -2°C, choose a bag with a rating of between -4°C and -7°C, for example. You can always unzip a sleeping bag to dump heat if you're getting too toasty. But there's no way to make it warmer if you're shivering at night.
Fill: Down or synthetic? Choose down for a superior warmth-to-weight ratio, or synthetic for better value. For ethical reasons, make sure goose or duck down adheres to the Responsible Down Standard. Recycled and/or bluesign-approved synthetic insulation is always a big plus too.
Zip: A full-length zip makes it easier to get in and out of the bag and permits venting overnight if you're feeling hot. But a 3/4-length zip helps keep the weight down and improves overall warmth.
Warmth-adding features: An insulated, adjustable hood can make a big difference in cold conditions, as will a cinched-in shoulder baffle (draught collar) to lock in heat. Extra baffles in a shaped footbed and a baffle over the main zip add warmth too.
The best winter sleeping bags
Therm-a-Rest Parsec 0F/-18C
Best in Test | Tread Lightly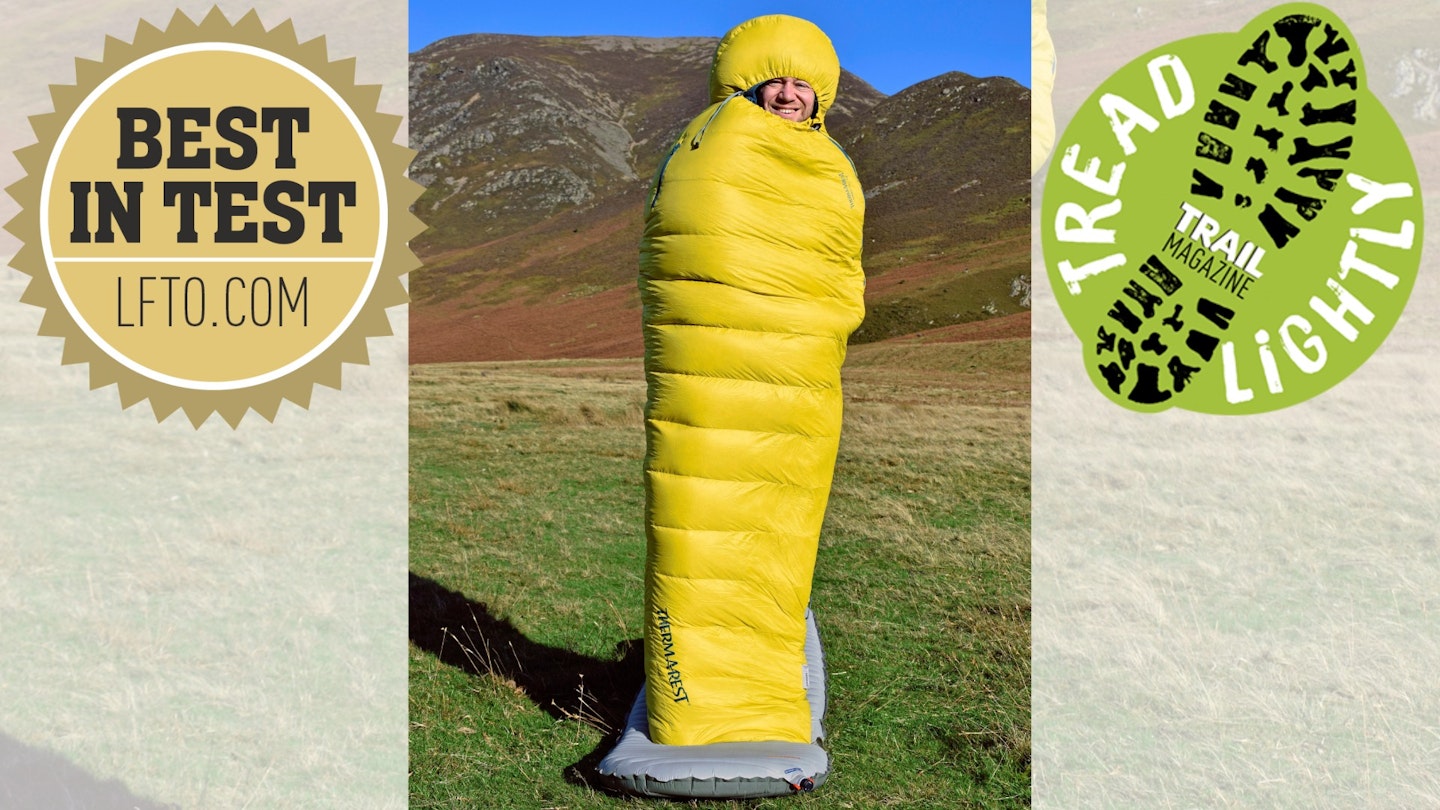 Pros: Excellent warmth-to-weight ratio, sustainable, very cosy
Cons: Expensive, may be overkill for some
Therm-a-Rest makes the best sleeping bags on the market and the superb Parsec -18°C is no exception. It is warm, cosy, light, very packable, fully featured and eco-conscious – aka it ticks all of the boxes.
With a best-in-test -10°C comfort rating but clocking in at just 1155g (excluding compression bag), it offers a phenomenal warmth-to-weight balance. This is achieved through clever 'heat-mapped zoned insulation'. Most (70%) of the down in the top of the bag where you need it most, and 30% below your body. Hence the Parsec is able to deliver better temperature ratings at a similar weight to competitor products – a massive win.
Other features include a 100% recycled ripstop nylon DWR shell and liner, and 'synergy link' connectors that strap your bag to your mat for an integrated sleeping system. The Parsec also has a super-cosy 'toe-asis' footbox, and heat-trapping draft collars and baffles. Compression and stuff sacks are provided too.
Regarding niggles, we wonder about the long-term durability of this bag's lightweight construction – will it cope well with prolonged heavy use in the outdoors? Also, the premium price will be prohibitive for many, and the temperature ratings may be overkill for milder winter camps.
Verdict: A premium-standard down sleeping bag with superb comfort, warmth and features – but it's very pricey.
Kelty Cosmic Synthetic 0
Best Value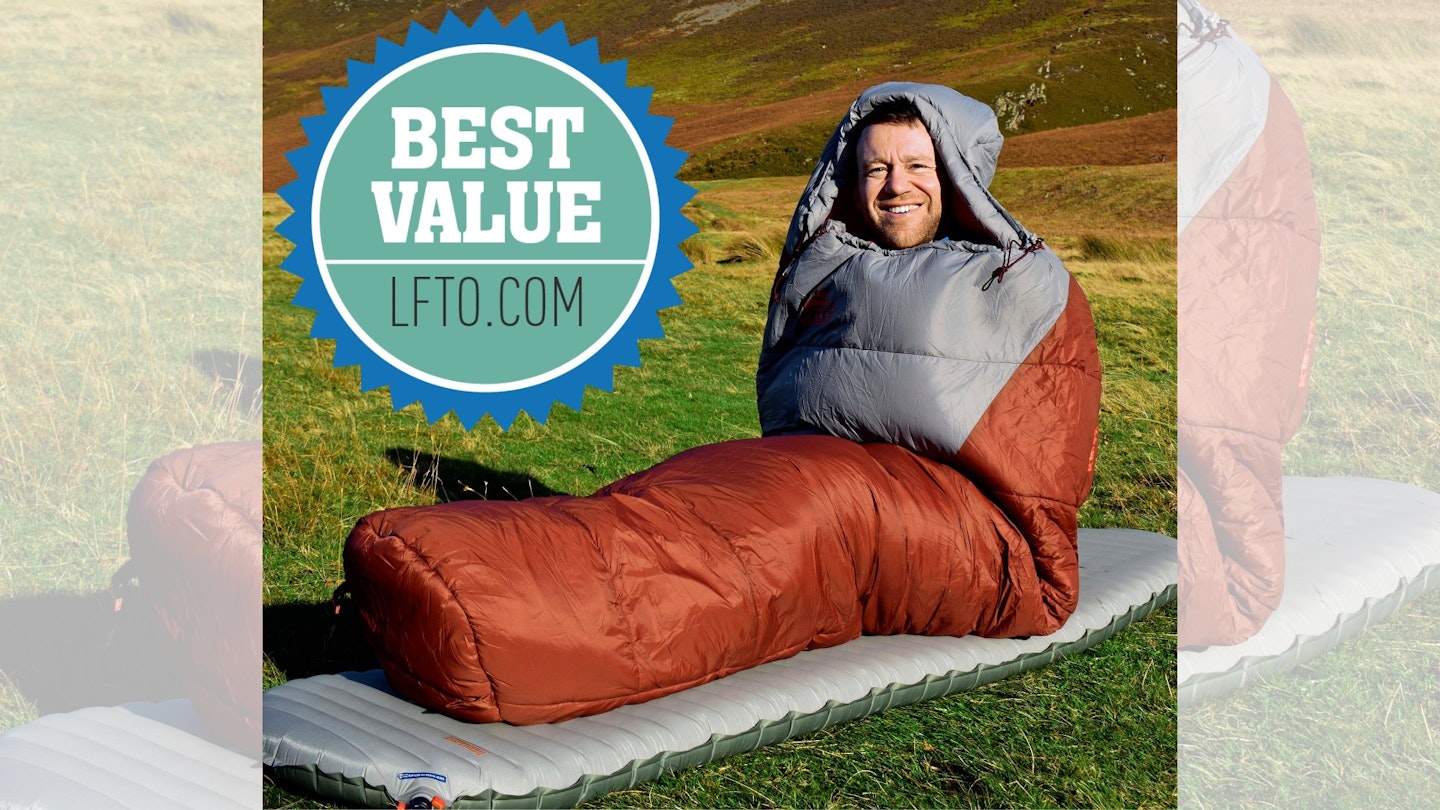 Pros: Affordable, very warm, PFC-free DWR, comfy
Cons: Big, heavy, basic
The Kelty Cosmic Synthetic 0 offers a -8°C comfort rating for a very reasonable sum. Weighing in at 2064g, it's a nice balance for campers more concerned with price than the weight of their backpacks.
The mummy-style bag is filled with Kelty's CirroLoft synthetic insulation, which feels thick and warm (there's a whopping 1560g of it). It fluffs up pretty impressively despite being synthetic. The polyester and nylon taffeta liner and shell, which Kelty describes as "soft as silk", provide a cosy sleeping environment, and warmth is further locked in by a large neck baffle and insulated hood with drawcord adjustment.
You also get a spacious footbox, internal zippered pocket, PFC-free DWR treatment on the shell, compression stuff sack, and a ¾-length, two-way zipper with integrated baffle. In other words, you get a lot of bang for your buck with this bag. But is it too heavy and chunky for your mountain exploits?
As expected with cheap but very warm synthetic bags, the Cosmic is heavy and bulky, and therefore far from ideal for lightweight wild camping. The hood has a slightly odd shape. Build quality and features are relatively basic, and the -8°C comfort limit seems overly optimistic.
Verdict: A thick, warm sleeping bag featuring Kelty's CirroLoft synthetic insulation – but it's heavy and bulky.
Rab Neutrino Pro 700
Best for rugged winter hikes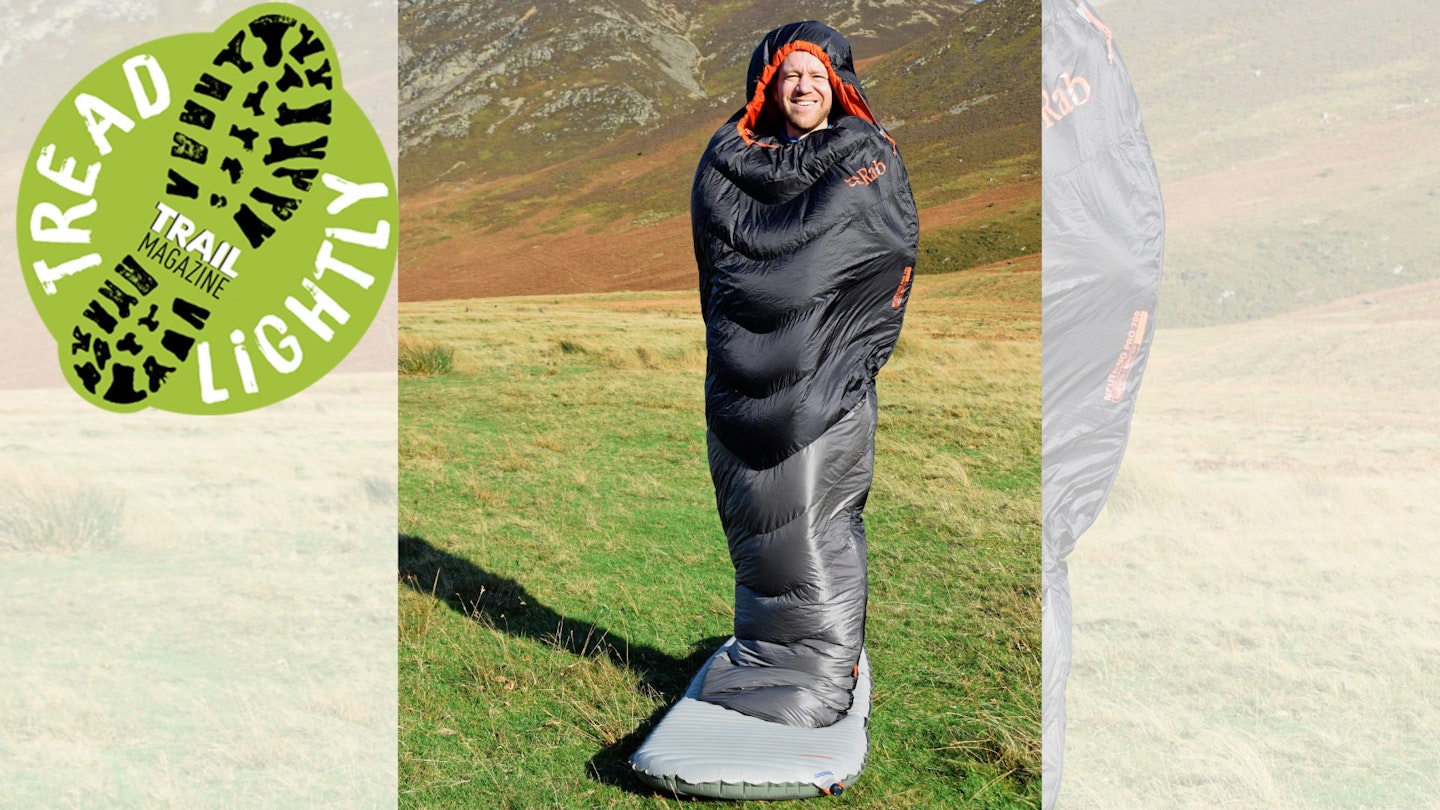 Pros: Rugged, effective baffles, sustainable, waterproof stuff sack included
Cons: Expensive, shape may not suit all
Rab's Neutrino hand-filled sleeping bags are always a safe bet for quality and performance. There are 10 products, each filled with 800 fill power goose down. The fill weight, however, increases in 100g increments from 200g to 900g. Eight bags are unisex, the 400 and 600 are available in women-specific versions too, and the 300, 500, 700 and 900 are 'pro' versions with a more weather resistant Pertex Quantum Pro shell.
We've tested the third warmest option – the Pro 700, which features a highly-tapered mummy design, good warmth-to-weight ratio, and strong weather protection. With a 700g fill weight, the bag is toasty (-4°C comfort rating), and the shell feels reassuringly rugged too.
Weight-saving, chevron-shaped baffles allow the down to fully loft, eliminating cold spots and maximising warmth. Additional zipper and neck baffles further lock in warmth. You also get an adjustable hood, ¾-length YKK zipper, angled footbox, cotton storage sack and waterproof compression sack. The shell and liner are 100% recycled.
The tapered cut might not suit all body shapes, so try before you buy. The price tag is sky-high and only justifiable for serious winter campers, and the -4°C comfort limit is disappointing considering the cost. If the insulation was zoned better, the temperature ratings might improve.
Verdict: A down sleeping bag with a well-proven design and quality materials – but it's pricey.
Deuter Exosphere –10
Best synthetic winter sleeping bag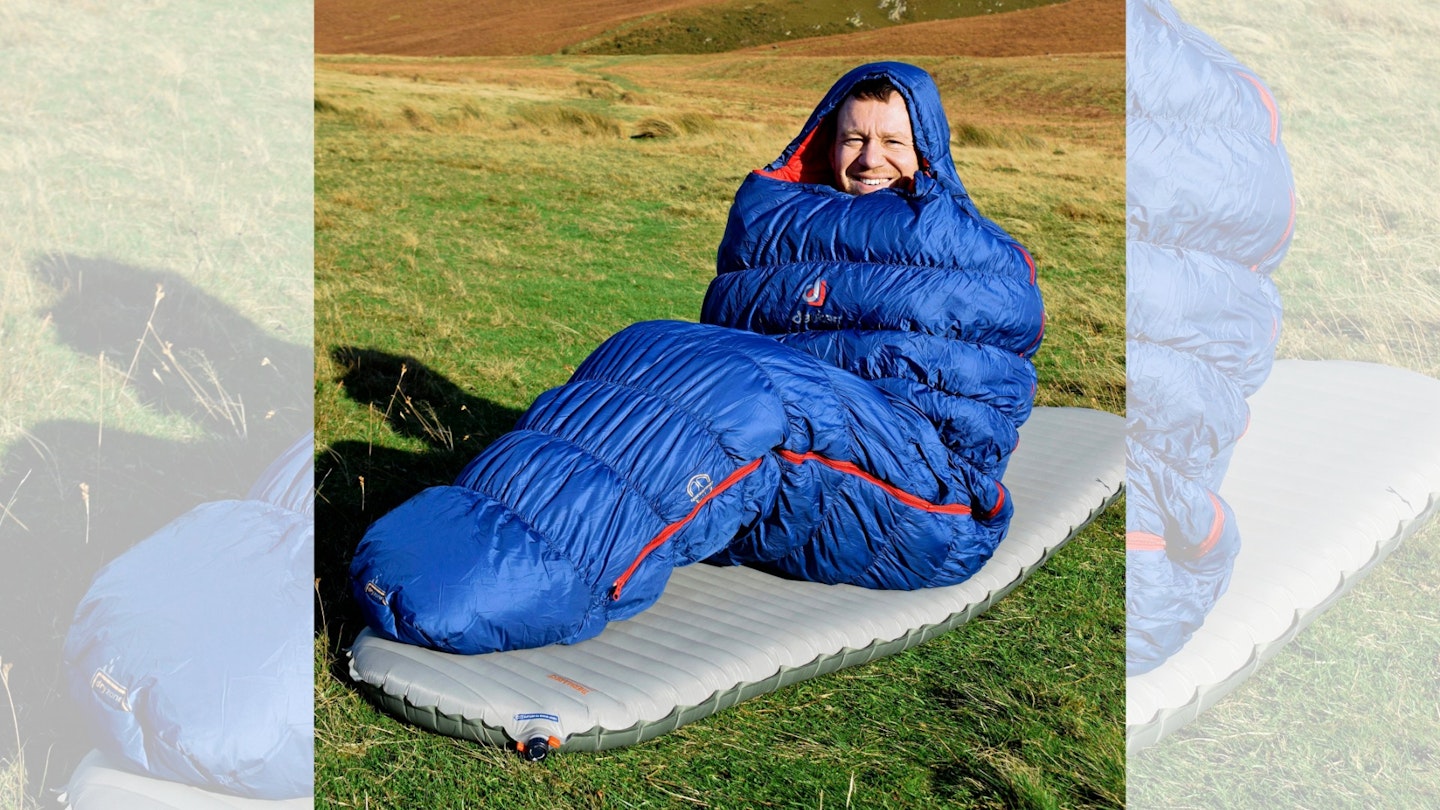 Pros: Good value, clever stretchy design
Cons: Quite heavy and bulky, some may feel claustrophobic
This bag gives you a -4°C comfort rating, lots of features and a good all-round design for an agreeable price.
The fill is Deuter's Thermo ProLoft synthetic insulation, which feels warm and cosy, while the overall design is best described as super-stretchy. It features internal and external elastic chamber seams, which provide 25% expansion and contraction in the bag's width. This means the bag stretches with you as you move at night, but when you're still the insulation is close to the body, eliminating cold spots and making it super-snug.
Other nifty features include the use of brushed fleece inserts inside the bag for a lovely soft feel, extra water repellency at the head and feet via a sturdier Dryzone shell, and Velcro closure to the adjustable neck baffle for a sealed-in feeling around the head.
You also get an adjustable hood, full-length two-way zipper, added insulation in the cosy footbox and a compression sack.
If you're going for a budget synthetic bag, there are far cheaper options out there. It's pretty heavy and big, even when compressed down, and some will find the body-hugging sensation far too tight, narrow and constricting.
Verdict: A super-stretchy, synthetic sleeping bag at a sensible price – but the body-hugging design will polarise opinion.
Robens Couloir 750
Best for sleeping in cramped tents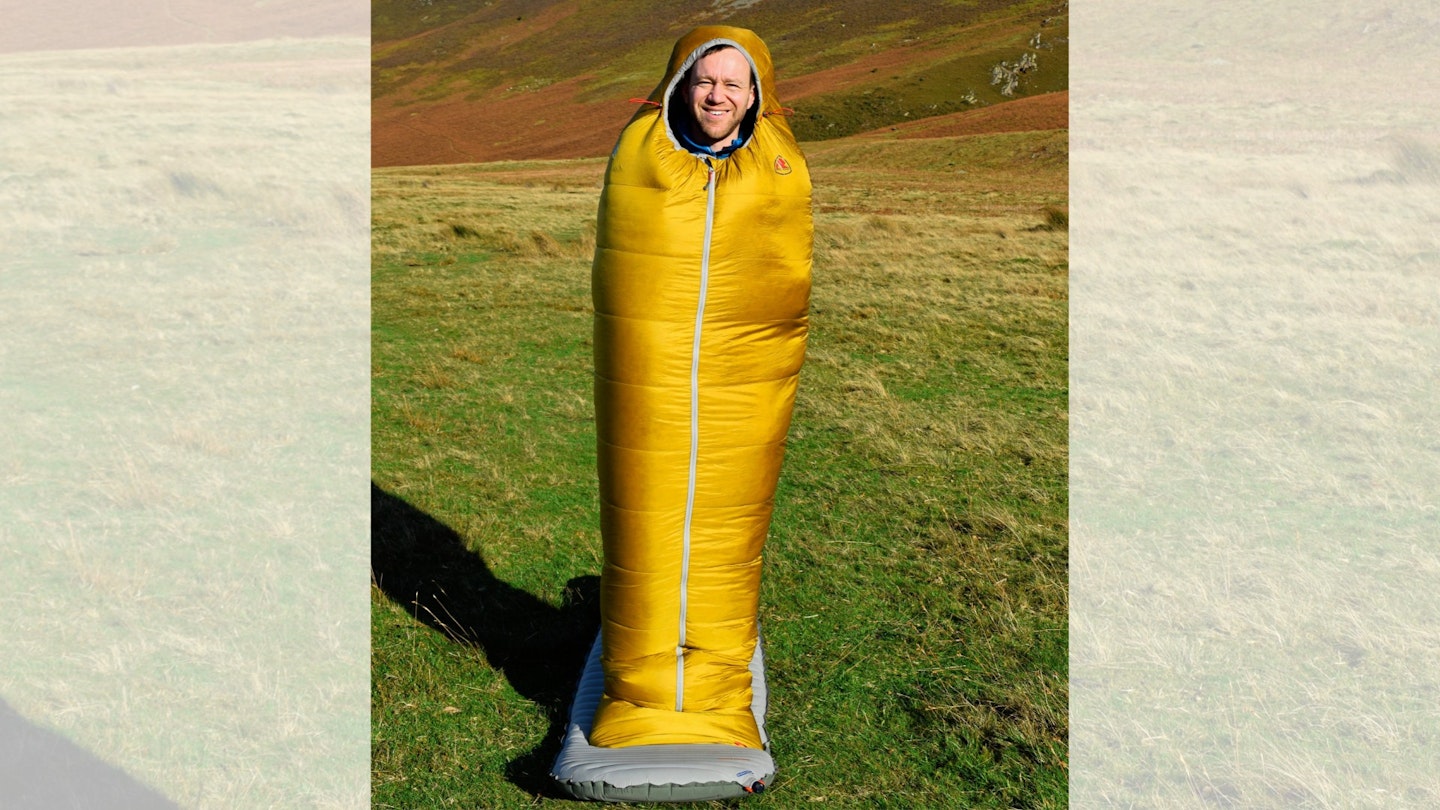 Pros: Handy central zip, impressive comfort rating, cosy
Cons: Tad overpriced, lighter options with same warmth available
Sitting firmly in the mid-range of the market, the mummy-style Robens Couloir 750 is a good all-round package. It's warm, well-designed and fully featured
The insulation is 750g of 700 fill power responsibly sourced duck down, providing an impressive -8°C comfort rating. The standout feature of this bag is its central zip, which makes getting in and out easy in a cramped tent. It also facilitates fine-tuned climate control and adds versatility (completely unzip to use the bag like a quilt). The central zip also enables you to sit up in the bag and use your arms for chores like cooking or gear organisation.
A humongous double baffle underneath the central zipper eliminates heat loss. Warmth is sealed in further by the adjustable 3D hood and super-cosy 'thermocollar'. This is a plush baffle of down providing a snug fit around the neck and shoulders.
You also get a 'shark fin' footbox, body contour profiling, hanging loops, mesh storage sack and compression bag.
At this price you'd expect a higher fill power grade than 700, which means this bag is arguably overpriced. The central zipper may polarise opinion, with some potentially finding it awkward for comfort and venting. Lighter bags are available with similar temperature ratings.
Verdict: A good all-rounder of a down sleeping bag with a central zipper – but the fill power could be higher.
Highlander Serenity 450
Best budget winter sleeping bag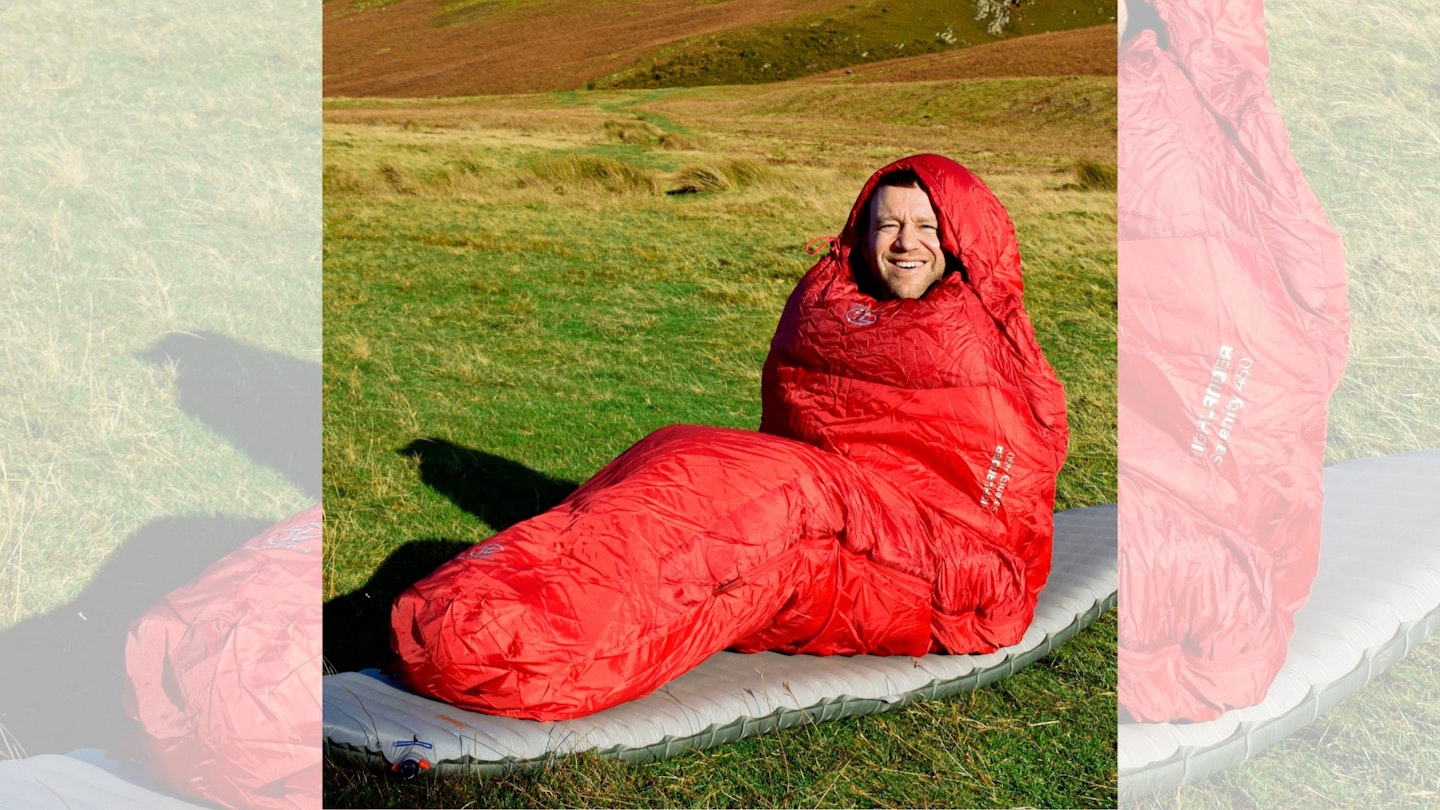 Pros: Very affordable, very warm
Cons: Heavy, bulky, so-so build quality
You can easily spend an absolute fortune on a down winter sleeping bag. But to save hundreds of pounds, instead opt for a synthetic sleeping bag from a price-conscious brand like Scottish firm Highlander
The mummy-shaped Serenity 450 offers superb -4°C comfort and -10°C comfort limit ratings, courtesy of two 225gsm sheets of flat, wadded synthetic insulation. The shell is a 210T ripstop polyester and the lining is a 210T polyester pongee. Features include an adjustable thermal hood, cinchable shoulder baffle, Velcro storage pocket for a phone or headtorch, and a two-way, ¾-length zipper with an integrated baffle.
All-round comfort is more than adequate considering the price. But ultimately, this is not a premium offering for winter camping connoisseurs. Instead, it's squarely targeted at occasional winter campers and bargain hunters, who don't mind the extra weight and bulk.
Weighing in at 2065g, it's very heavy, as well as bulky and chunky, so it takes up lots of space in your backpack. The overall build quality is relatively basic and cheap (as expected at this price). The polyester lining isn't the comfiest, and the shell feels too loose and detached from the insulation.
Verdict: A warm synthetic sleeping bag at a bargain price – but it's rather basic.
Sleeping bag care and cleaning
Like your insulated winter jackets, sleeping bags need special cleaning products to clean and maintain the materials used in them. Don't worry, these cleaning products are affordable and simple to use. Find out all you need to know in our guide on the subject.
Don't forget to subscribe to the Live For The Outdoors newsletter to get expert advice and outdoor inspiration delivered to your inbox.
For the latest reviews - including extra photos and kit that won't appear online - pick up a copy of the current issue of Trail magazine.