As synthetic insulation makes greater improvements in lightness and warmth, closing the gap between it and down, one of the primary advantages down maintains over synthetic insulation is its longevity. The down insulation in hiking jackets and sleeping bags keeps performing for decades, but only if it's taken care of.
Caring for your down gear is simple. It's a case of keeping it clean with the occasional wash and stored properly when not in use.
How to clean down insulation
Down has excellent longevity but those fine feathers are rather delicate. Regular washing detergents are quite harsh and should not be used for cleaning down because they leave behind residue, which hinders down's insulating and breathable properties.
Instead, you should use a dedicated down wash – we recommend Grangers Down Wash and Nikwax Down Wash Direct. Both of these products are water-based, PFC-free, and equally effective at cleaning down insulation without damaging it.
Important note: These products are also very good for use with synthetic insulation too.
How often you use your down gear helps determine how often you should wash it. Down jackets that are used about once a week should be washed every couple of months. If it's less, once or twice a year will be fine. Use your judgement and by all means wash your down jacket if it's endured a particularly long or sweaty outing.
For sleeping bags, you will want to give it a clean if you've been away on a long multi-day hike, but it will be able to cope with a few overnight sessions before needing a clean.
How to clean down insulation after use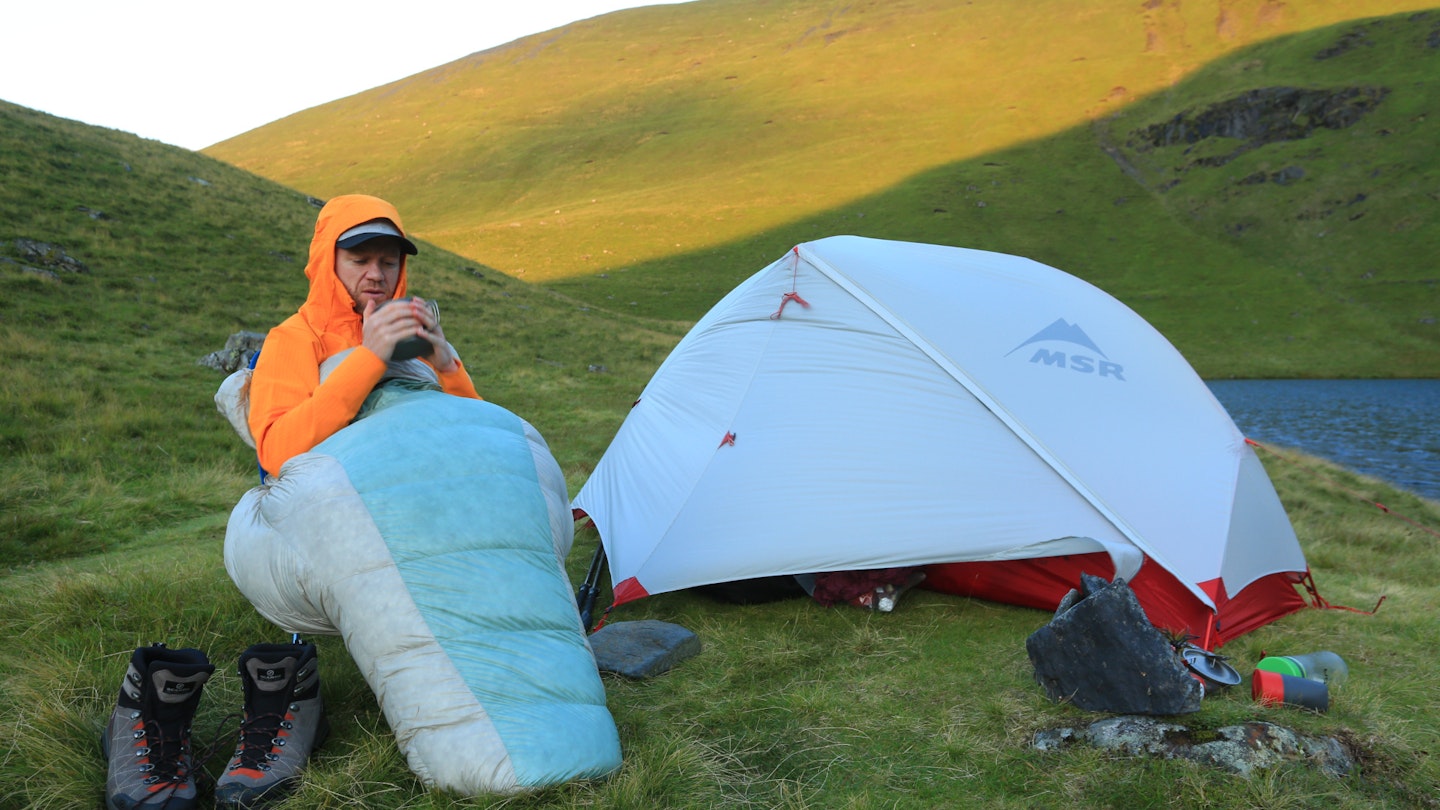 Using either of the down wash products above, you can wash down jackets in a front load washing machine or by hand. For sleeping bags, it will need to be by hand only.
Washing machine
Using the suggested amount of down wash instead of regular detergent, wash your down jacket in a front load washing machine at the temperature suggested on the garment care label. If you have a top load washing machine, wash by hand because top loaders are quite rough.
Put your down jacket through the wash cycle only, and don't put it through the spin cycle because down gets very heavy when wet and such a heavy garment could cause problems for your washing machine.
By hand
1. If washing by hand, soak the down sleeping bag or jacket in a sink or bath from 30 minutes up to two hours, depending on how grubby it is. Remember to include the down wash.
2. Drain the water and rinse the jacket or sleeping bag with fresh water. Press the water into the sleeping bag or jacket to get rid of all the suds.
3. Press the water out to get rid of as much as possible – don't ring it.
Drying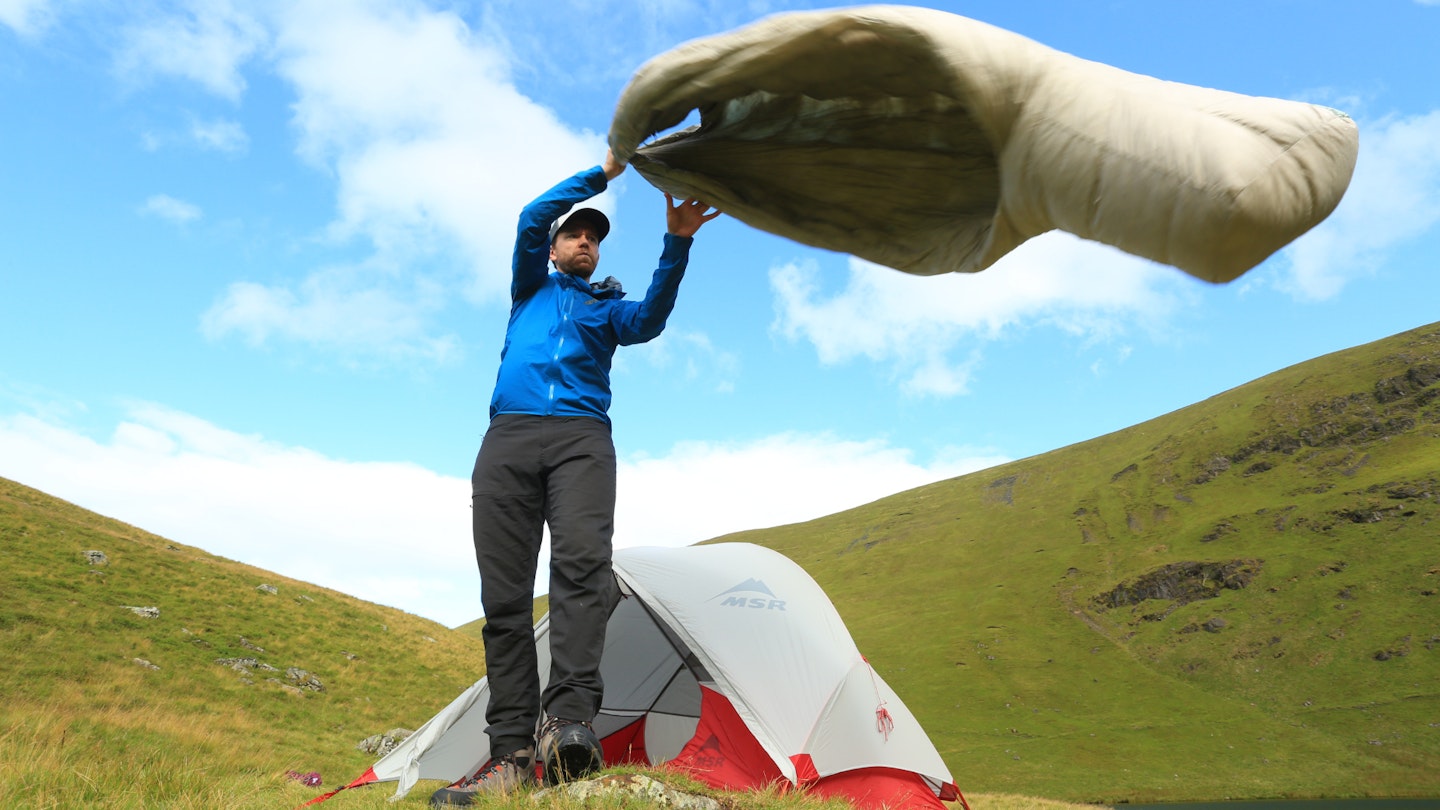 Following the cleaning process, it's a case of letting the down insulation drip dry. Although, with down jackets, you can achieve the final bit of drying in a tumble dryer.
1. Remove your down insulation from the washing machine, bath, or sink. Put the jacket or sleeping bag somewhere well ventilated and out of direct sunlight to drip dry. This will take a day or two.
2. While drip drying, occasionally give the sleeping bag or jacket a gentle fluff up. This helps prevent wet down clumping together. For down insulation to work its best, you want the feathers free and independent, not congregated together.
3. When the down jacket is almost dry you can put in a tumble dryer on a low heat cycle if you wish. If your dryer can accommodate it, you can also do this with your down sleeping bag. Put a couple of tennis balls in there with the jacket or sleeping bag. These will bounce around inside the dryer and help fluff up the down as much as possible, increasing its loft.
Storing your down jacket or sleeping bag
The use of your down insulation is usually seasonal. Therefore, storing it correctly for weeks or months on end makes a big difference to its performance.
Down works best when the feathers are loose and not bunched together. Folding up your jacket in the drawers or stuffing a sleeping bag in its compression sack is not the way to go. For jackets, hang them up in a wardrobe; for sleeping bags, use the loose, breathable storage bag it came with or use a spare pillowcase.
Repairs
Thoroughly engineered gear that is constructed to a high standard will last a very long time and if something goes awry, such as a tear, zip, or piece of stitching, it can certainly be repaired. In fact, you'd be surprised at what can be repaired.
A lot of outfits offer repairs for outdoor gear, from small individual businesses to large nationwide retailers. Make the most of these services. They prolong the life of good gear and it's cheaper for you than getting a new replacement.
Get half-price digital OS Maps. Trail and Country Walking magazine members get 50% off an annual subscription to OS Maps for 12 months. Find out more here.
Don't forget to subscribe to the Live For The Outdoors newsletter to get expert advice and outdoor inspiration delivered to you inbox!