If you live in the northern hemisphere, you likely see your fair share of rain. In fact, training in the rain is pretty unavoidable. What you can control is what you wear. Investing in a running jacket that will keep you protected from light rain and torrential showers will transform your running experience and keep you exploring the trails all year round.
We look for a variety of features in a running rain jacket, but top of the list has to be waterproof and water-resistant capabilities. It might not always be raining though and just because it's raining, doesn't mean the temperature in the single digits. Hence, we also must consider breathability, range of movement, weight, and fit when choosing a waterproof running jacket that needs to be both comfortable and functional.
In particular, a good waterproof jacket will have features designed to keep the rain out. These include the all-important taped or bonded seams to seal out any water ingress through seam stitchings. Go for a jacket with cinched cuffs at the wrists and hem, with some form of adjustability like a drawstring or elastic to create a flush seal.
A high neckline gives you the option to really burrow away from the rain, and a hood can be a deal breaker for some - especially those with long hair! When it comes to a hood, look for one with some rigidity and sort of peaked 'cap' or wire set into the front to shelter the eyes from incoming raindrops. Again, adjustability is also key here to ensure the hood stays firmly in place and doesn't rustle. Along with your waterproof jacket, you'll want to consider levelling-up to some waterproof trail running shoes to keep you feet as bone dry as your top half while you run.
Black Friday deals on waterproof running jackets
Last chance! Black Friday deals are sticking around until the end of November. Here at LFTO, we're tracking and reporting the very best Black Friday discounts on our top-rated trail running shoes and waterproof jackets all month long. Luckily for you, this means you've got even more chance to nab a high-value piece of trail running gear at an affordable price-tag.
It's time to stock up for Christmas gifts and the season ahead! We've gathered some of the best waterproof running jacket deals out there to help you grab a bargain for your next trail running adventure.
Save £95: Inov-8 Stormshell– 60% off on Inov-8
Save £25: Under Armour Outrun the Storm – 25% off on Sportsshoes
Save £160: On Waterproof Anorak – 50% off at On Running
Save £64: Adidas Terrex Agravic 2.5 – 40% off on Adidas
Save £92: OR Helium Rain Jacket – 70% off on Outdoor Research
Find the best Black Friday trail running deals at these retailers: Sportsshoes | Decathlon | Inov-8 | New Balance | Saucony | Wiggle | Amazon | Alpinetrek
up to 60% off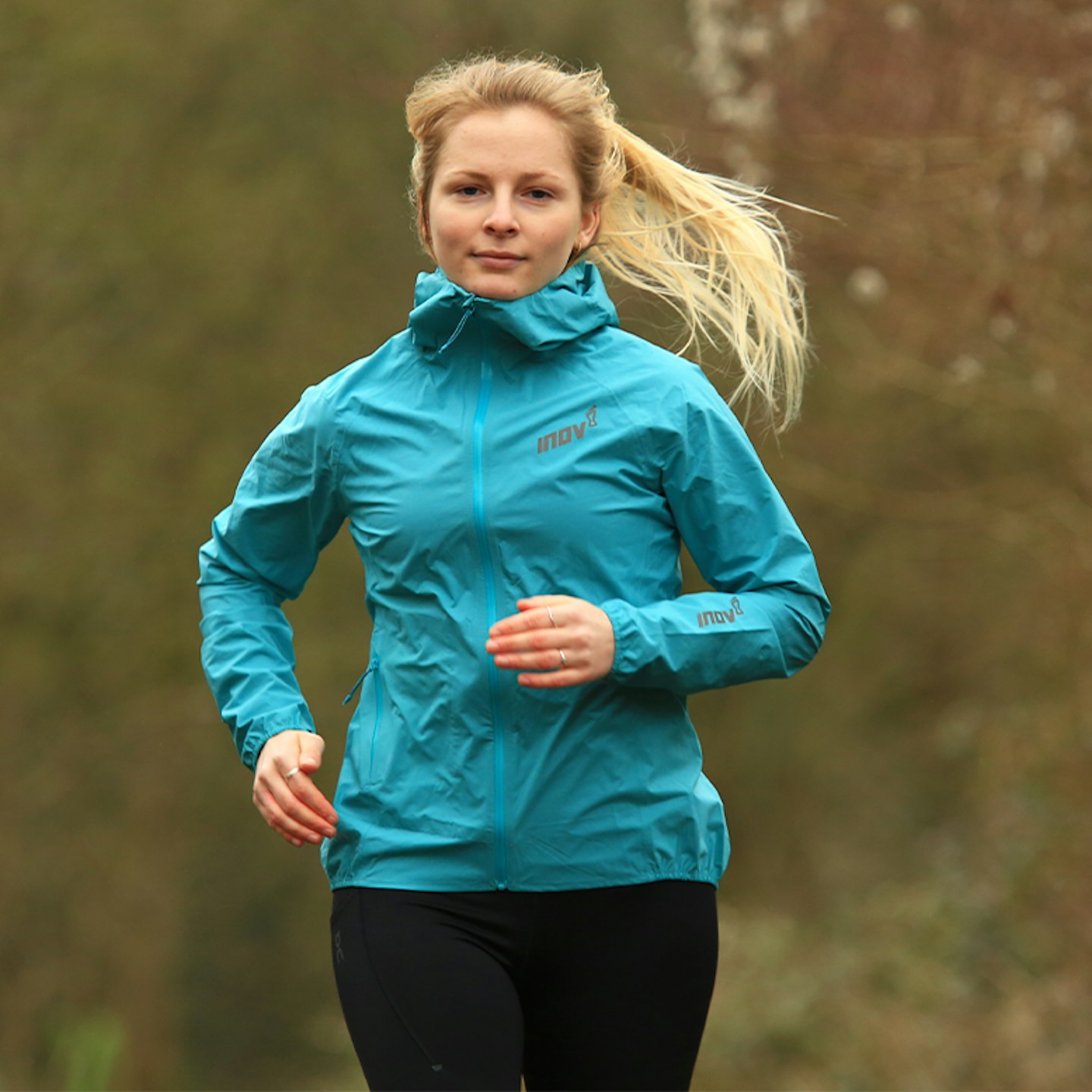 LFTO
Description
Fully waterproof, lightweight and well fitting, the Inov-8 Stormshell is our favourite waterproof
Description
Affordable, stylish and versatile, UA's Outrun the Storm jacket is a great water-resistant layer
Description
With a triple layer design for full weather-proofing, this On Waterproof Anorak is a pull-over
on sale 40% off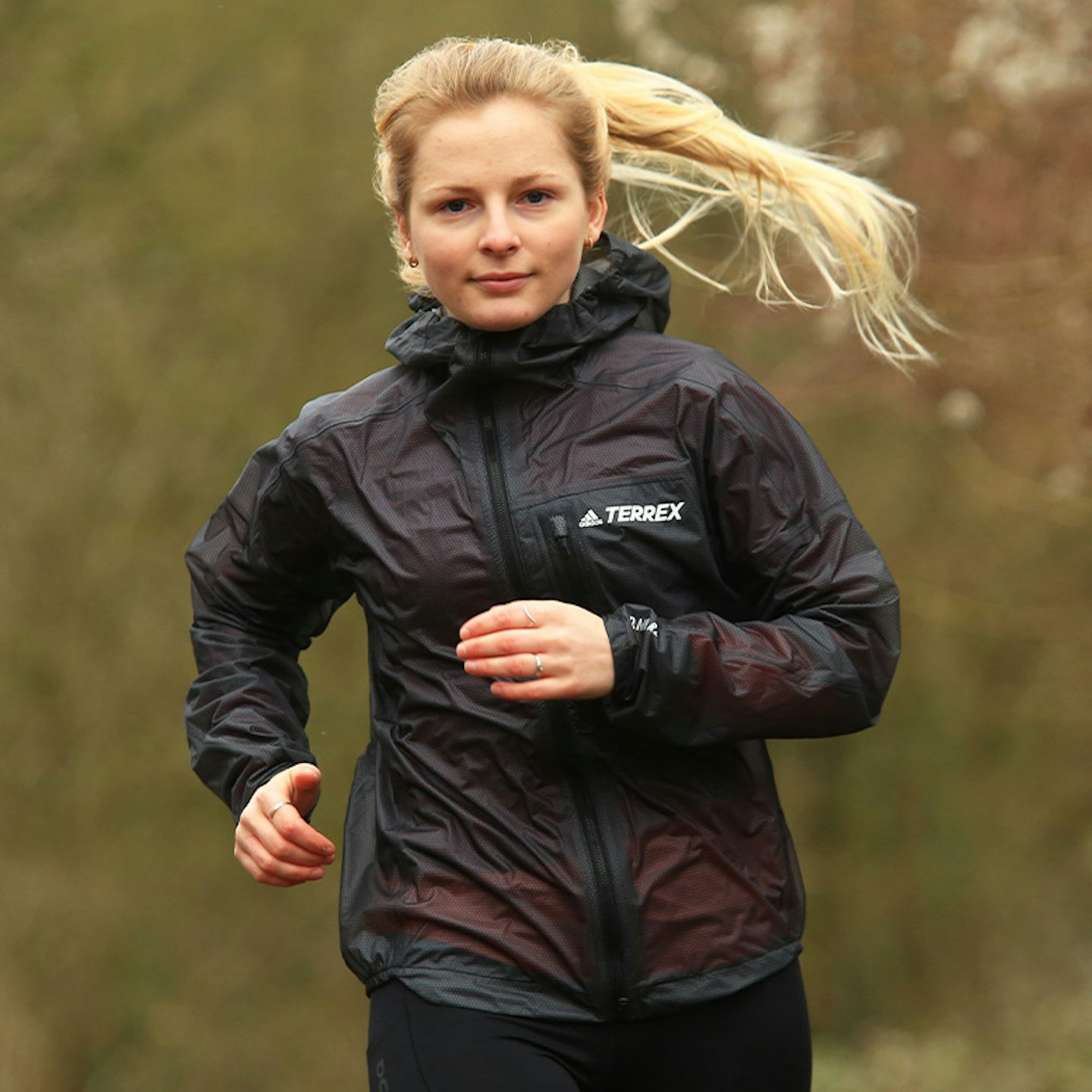 LFTO
Description
A flexible and lightweight rain jacket from Adidas, the Terrex Agravic provides a 2.5 layer
on sale 70% off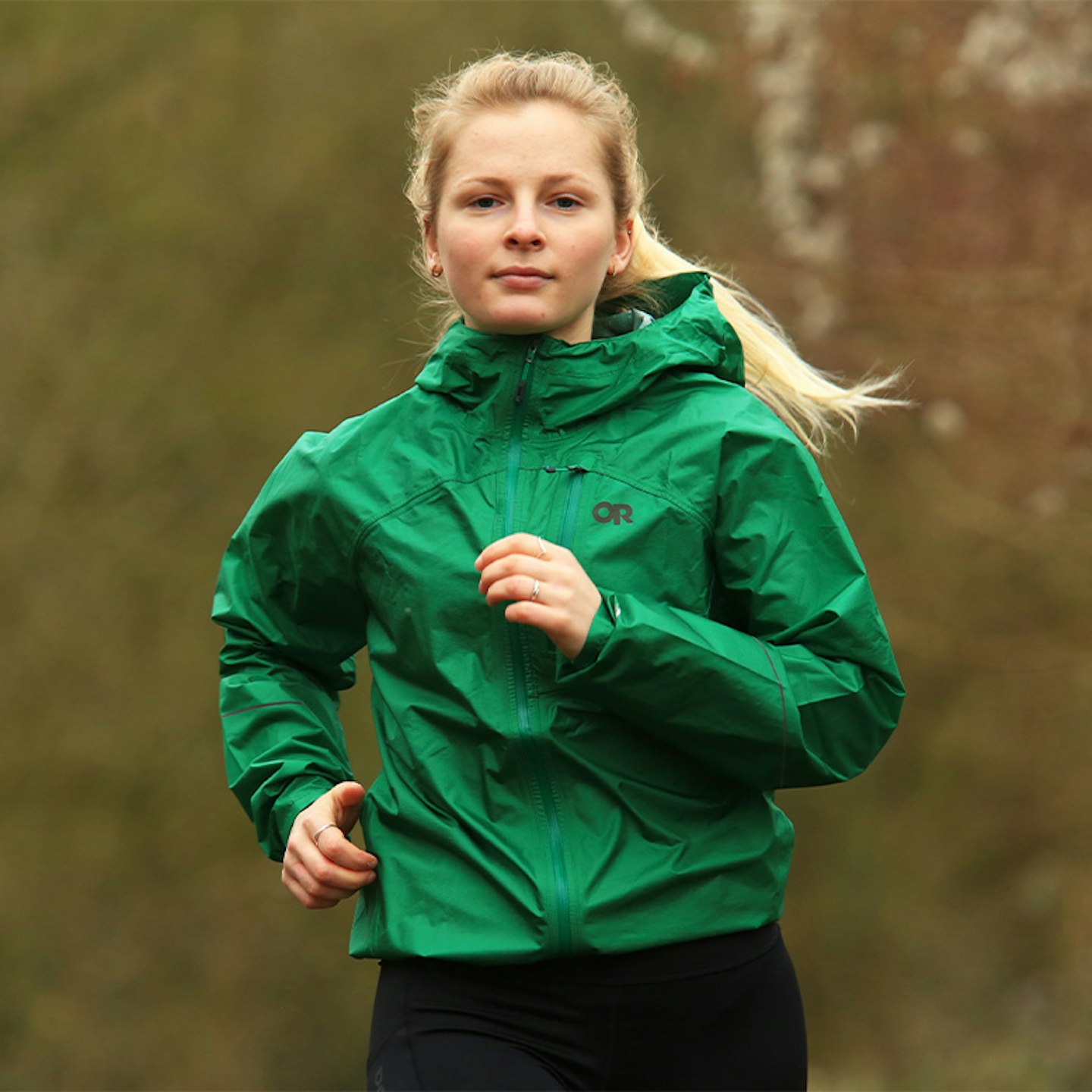 LFTO
Description
The Rain Jacket from Outdoor Research is super lightweight and packable, with an impressive
Best waterproof running jackets at a glance:
Inov-8 Stormshell – Best in Test
Decathlon Evadict – Best Value
Montane Phase Lite – Best for high performance
Rab Phantom – Best pack-down shell jacket
All of the rain jackets on test are made to withstand some level of downpour, keeping you as dry as possible as you run. Thankfully, there is a standardised means to measure the extent to which a material is waterproof, we call this unit of measurement the Hydrostatic Head.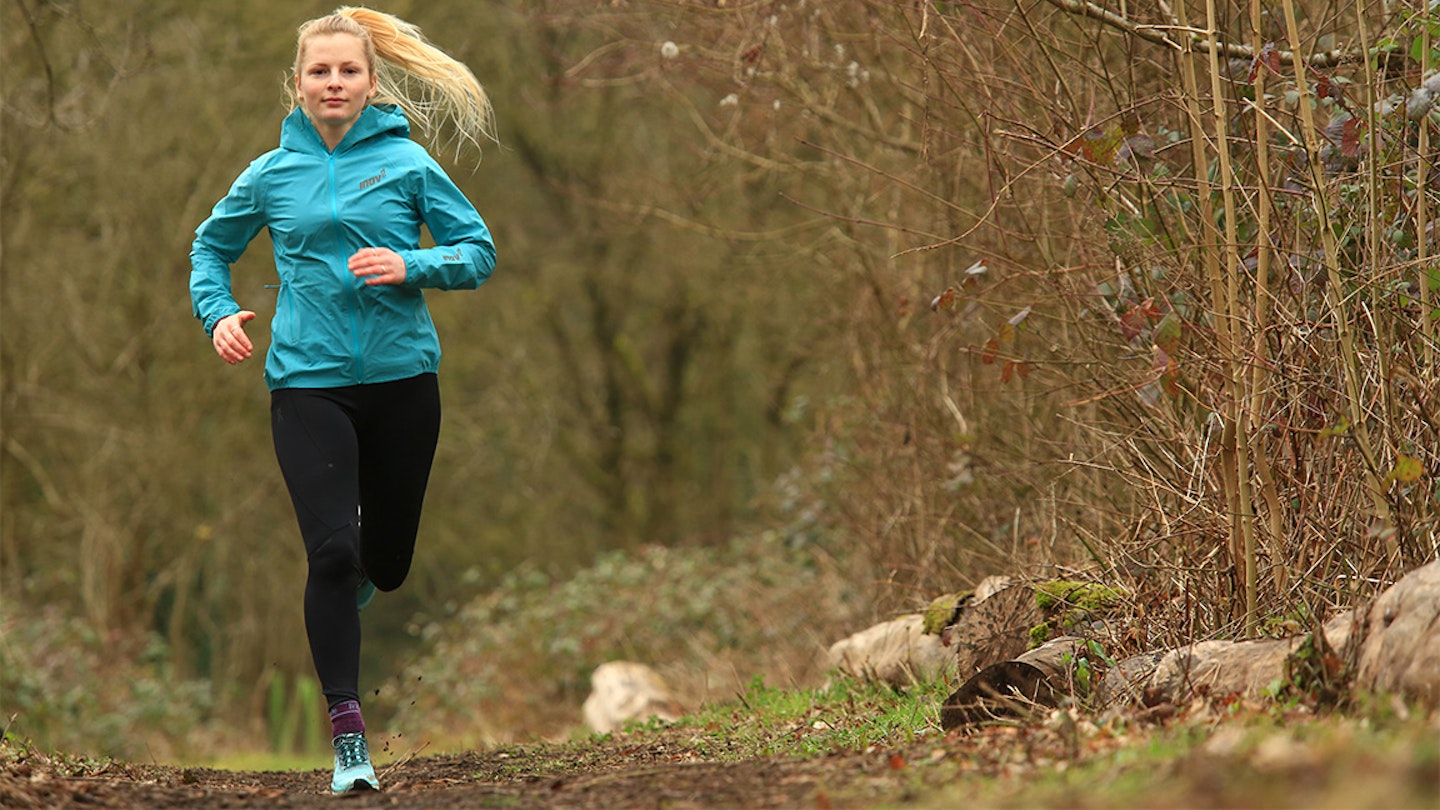 What is Hydrostatic Head?
The Hydrostatic Head (HH) of a material is the height at which a column of water must be held against a fabric, before the build-up of pressure that's created causes the water to start penetrating the material. These days, the test is carried out using a water pressure machine which can replicate the downward pressure created by such a column. Typically, the tighter the denier weave of the fabric, the less moisture that's let through.
In the UK, companies are allowed to claim that a garment is waterproof if it has a HH of at least 1500mm. However, we'd recommend you reach for a waterproof jacket with a HH rating of at least 10,000mm, if not 15,000mm. A high HH would be 30,000mm, which means that the fabric let through water only once the column of water pressure reached 30m high. In other words, this fabric has a high level of waterproofing.
Best waterproof running jackets in detail:
Best in Test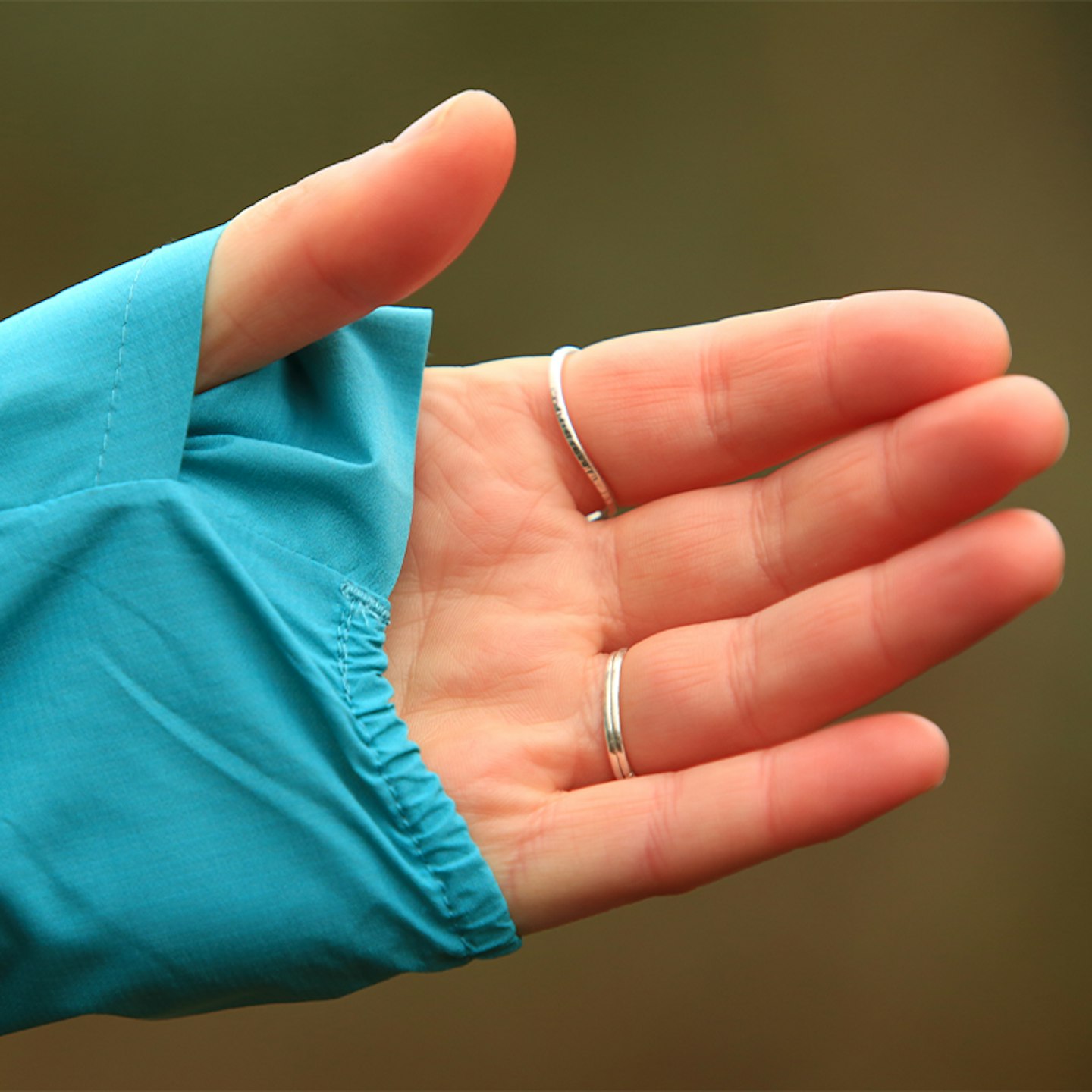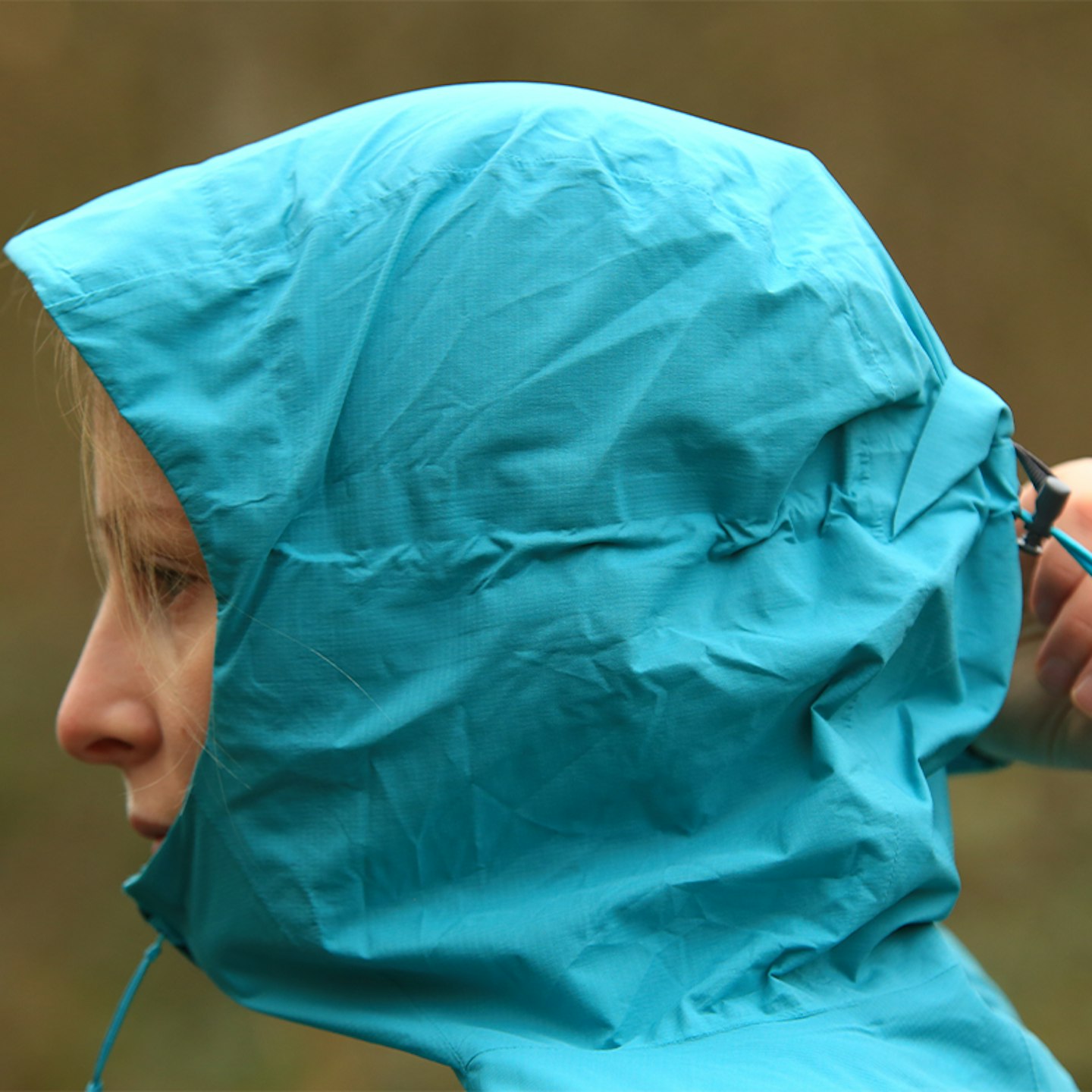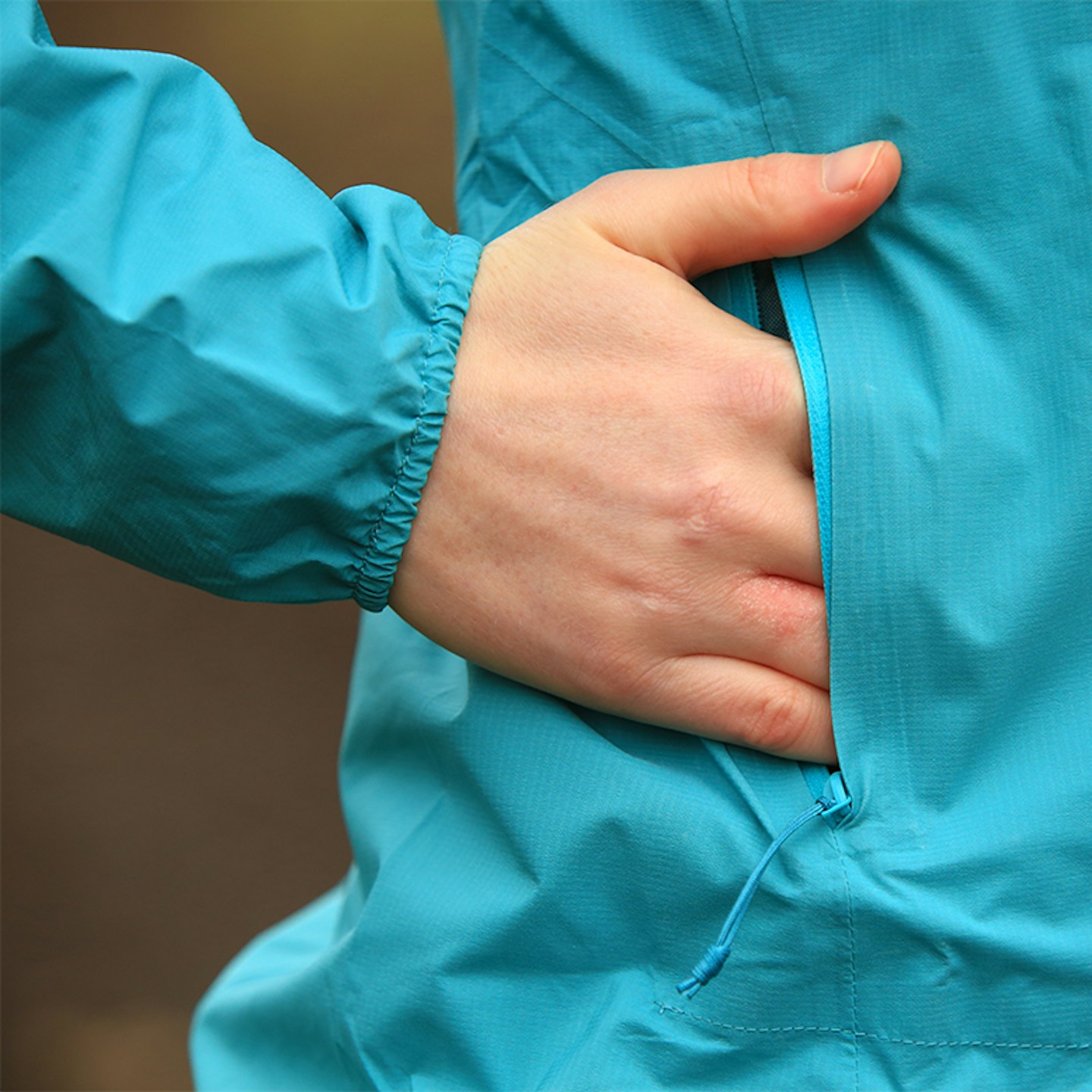 Description
Pros
Fully waterproof
Lightweight
Well-fitting
Cons
A little pricey
Only one pocket
Best Value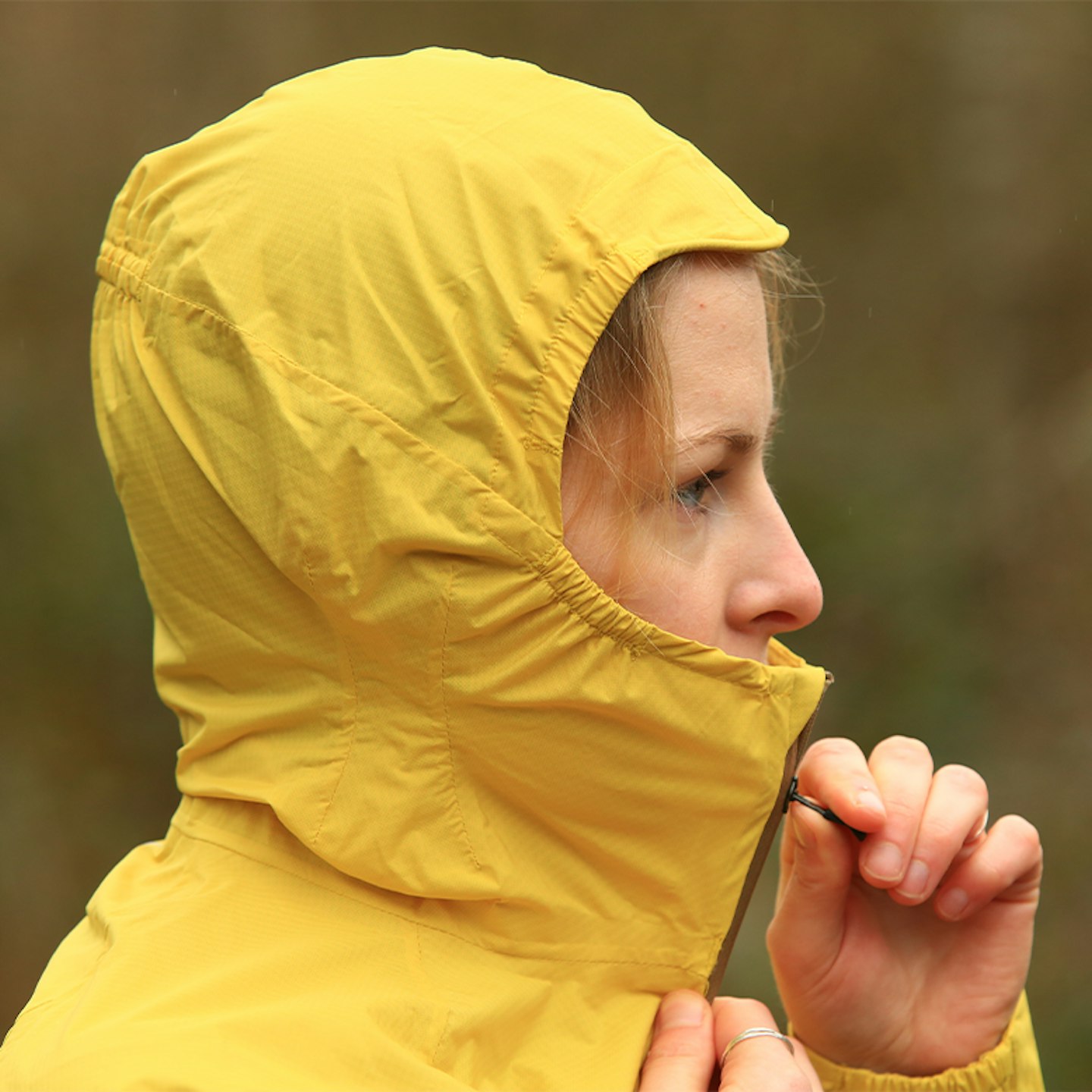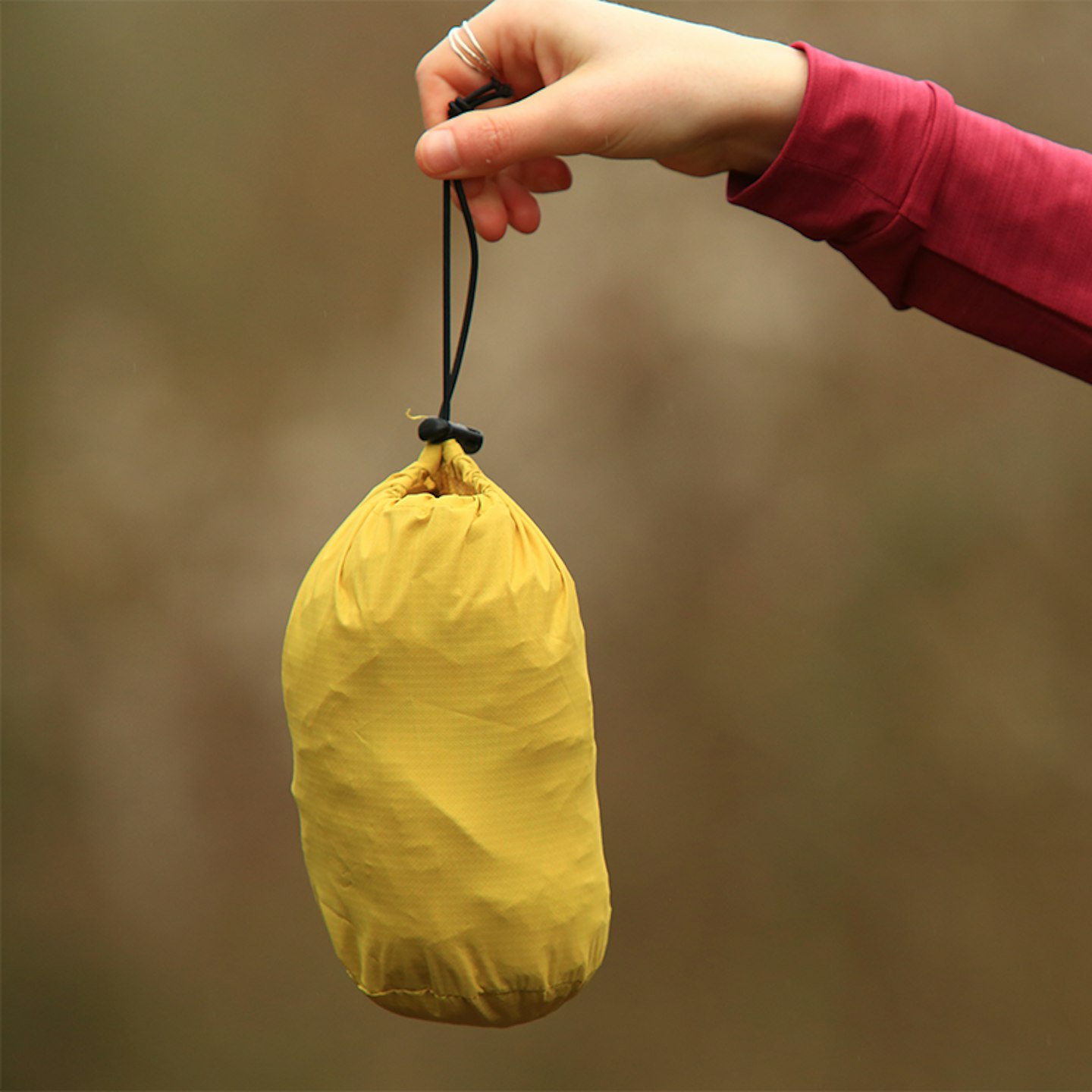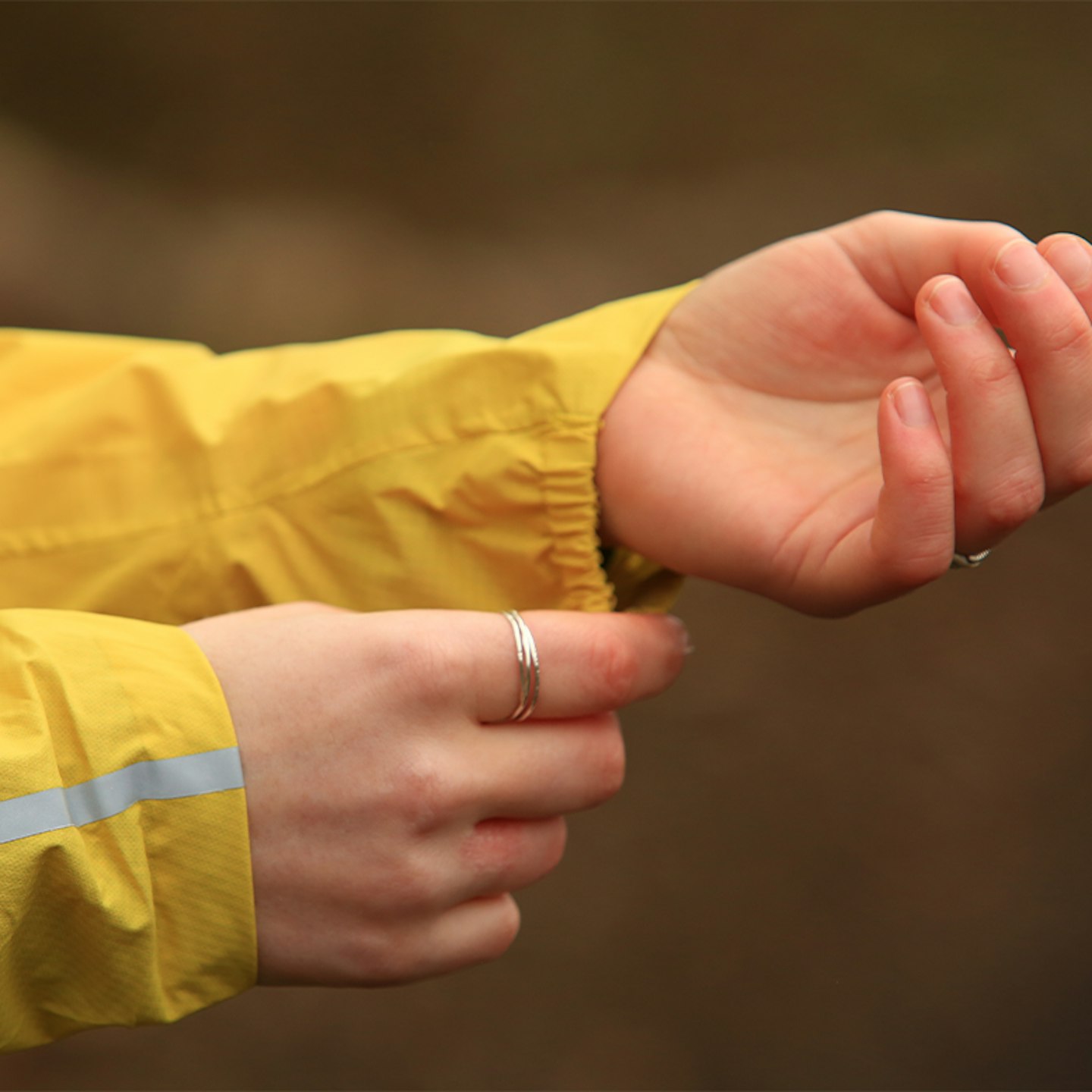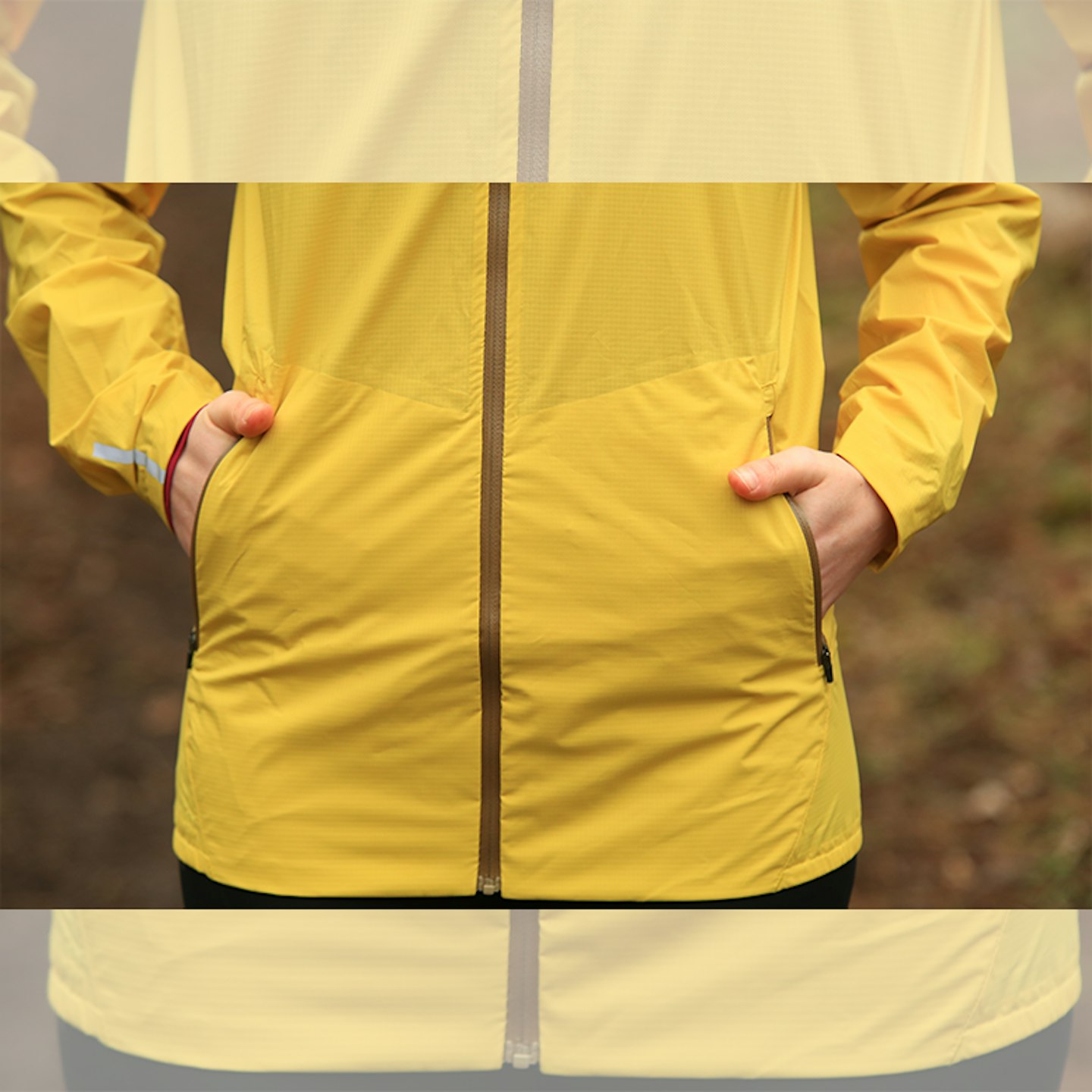 Description
The Decathlon Evadict comes in at the budget end of our selection, yet it has many good features.
Pros
Good value for money
Decent waterproofing
Cons
Lack of breathability or air vents
No storm flap at zip
Best performer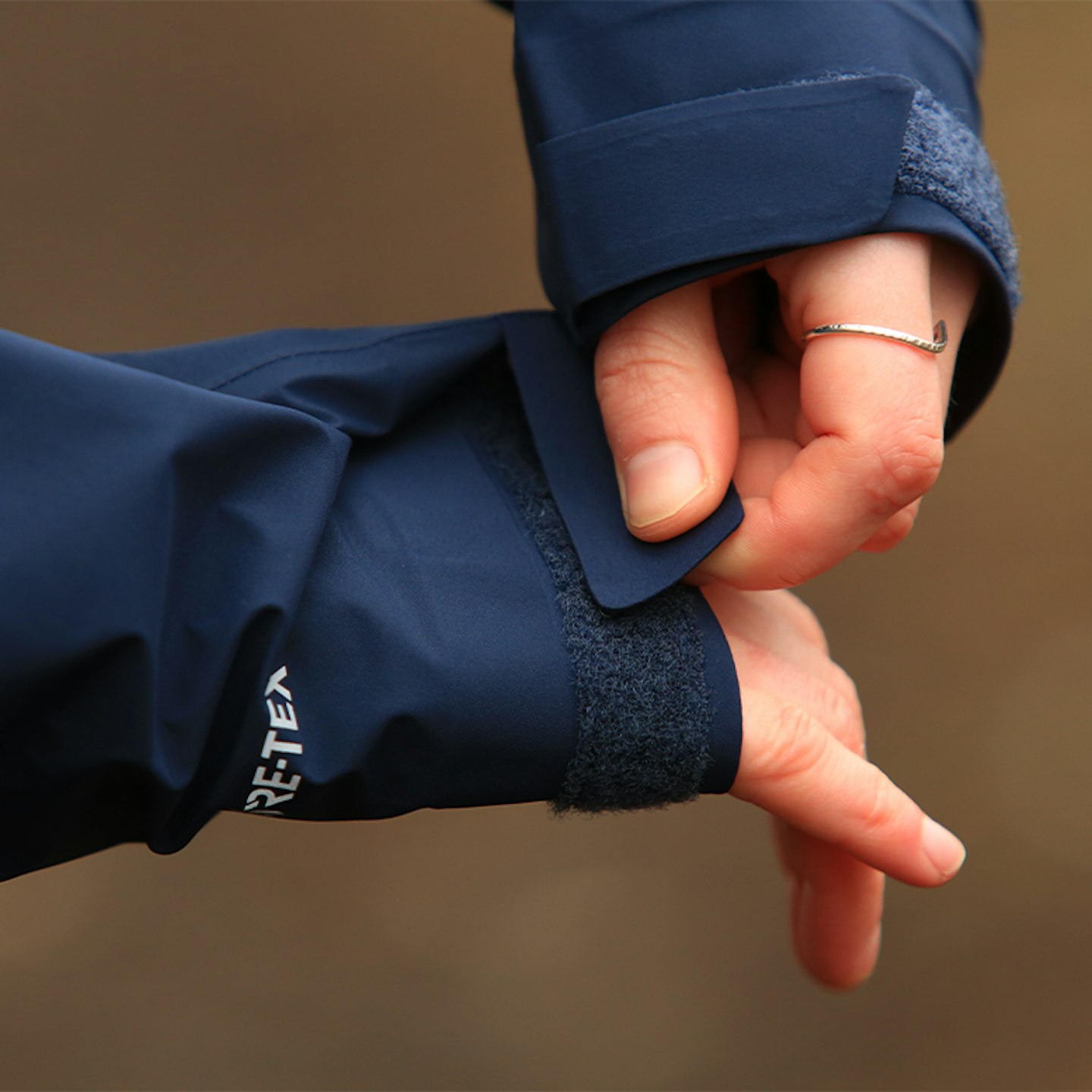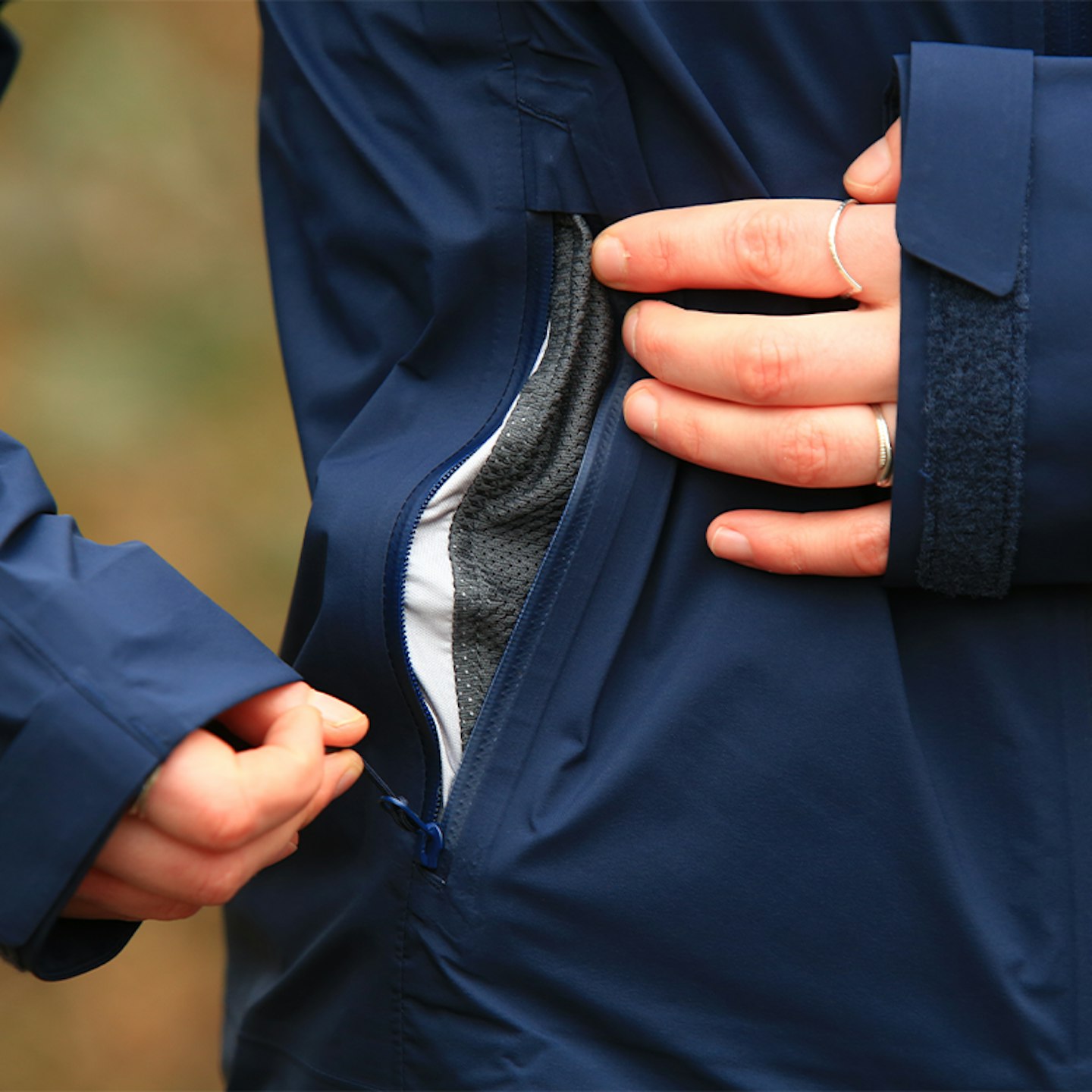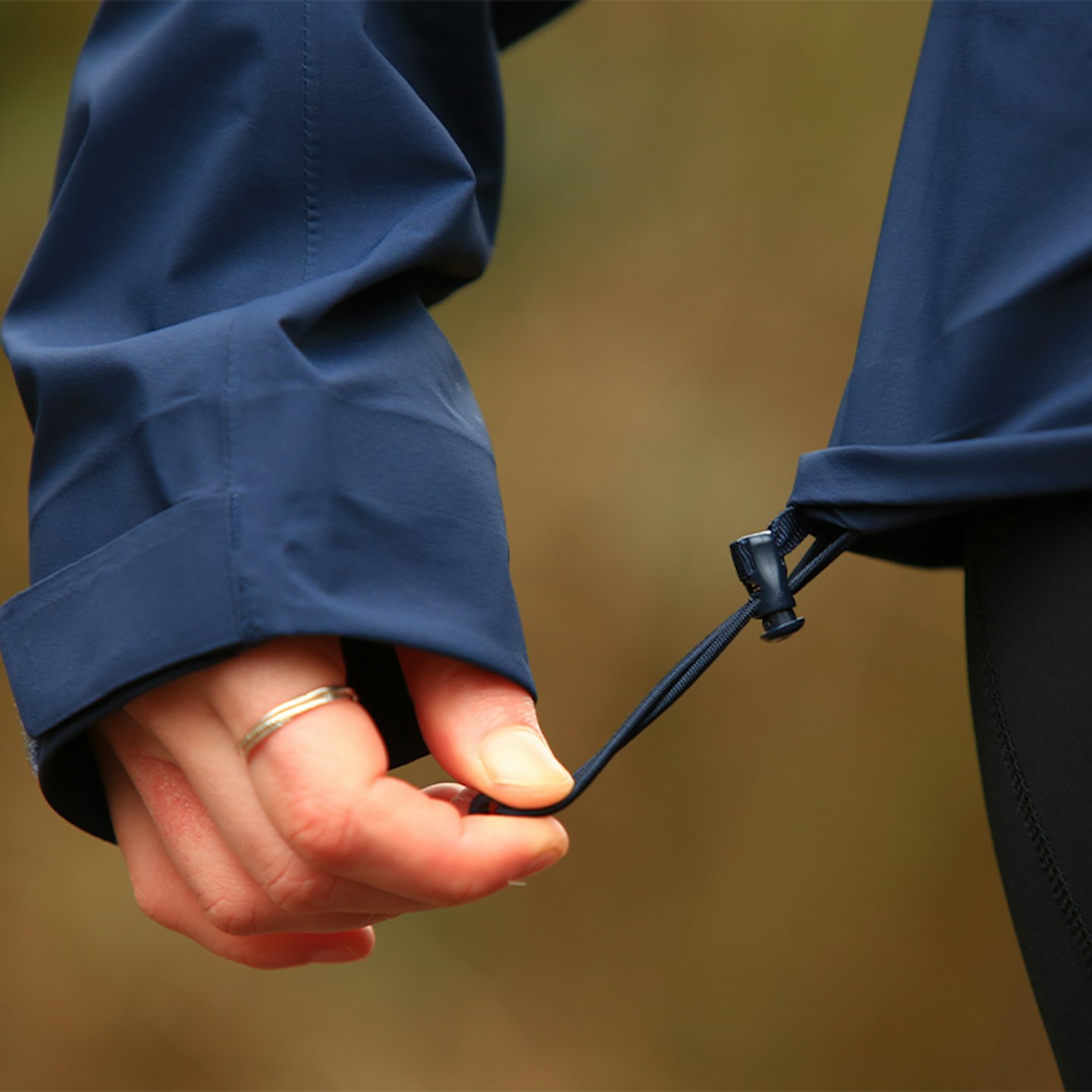 Description
The £300 price tag may cause some to baulk, however the price is supported by some great features
Pros
High overall quality
Waterproof and windproof
Well fitting
Cons
High price-tag
No reflectivity
Best technical jacket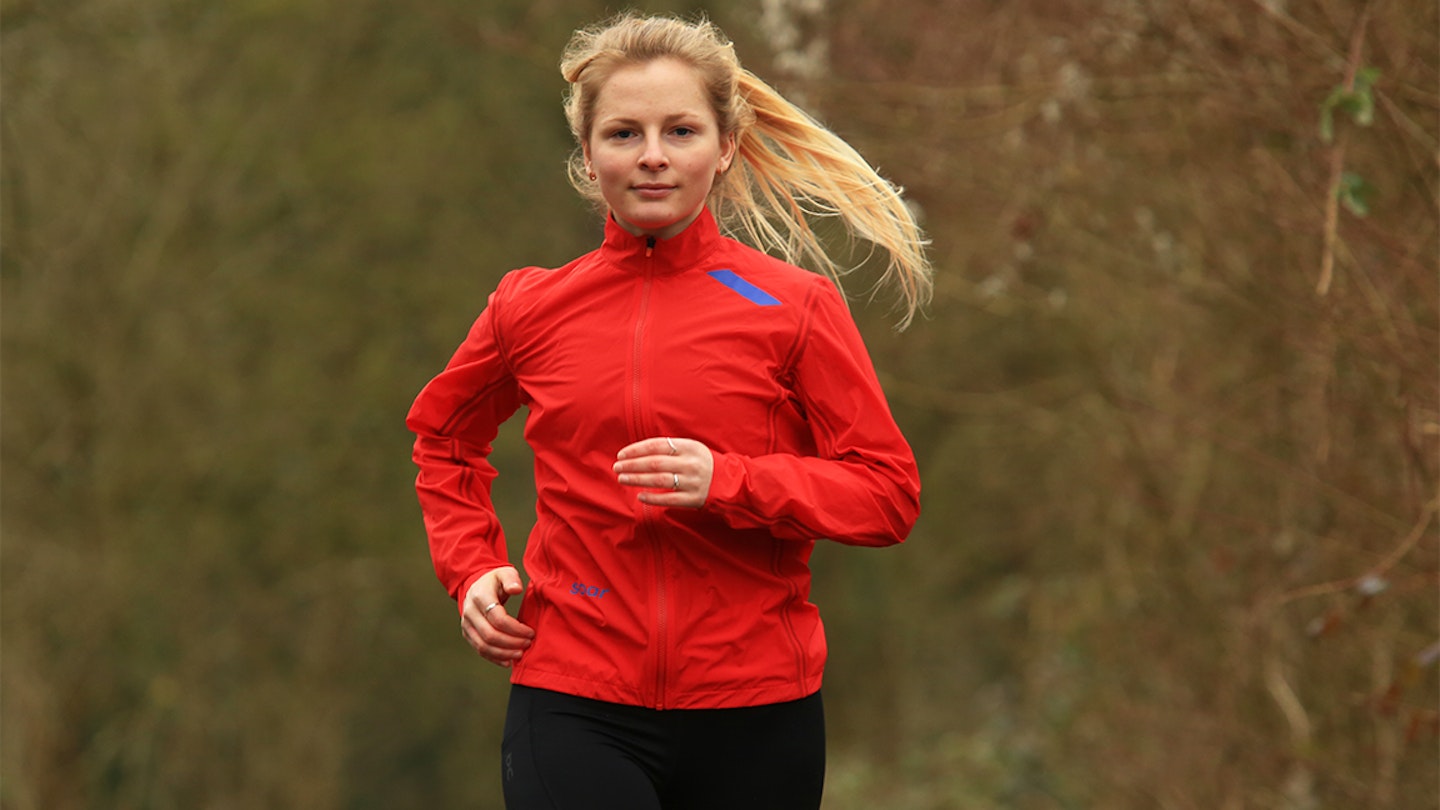 LFTO
Description
When you first get your hands on the Soar Ultra Jacket, you can instantly tell that it's made to
Pros
Technical features
Good waterproofing
Refelctive detailing 
Cons
Large price-tag
Only one pocket
Best shell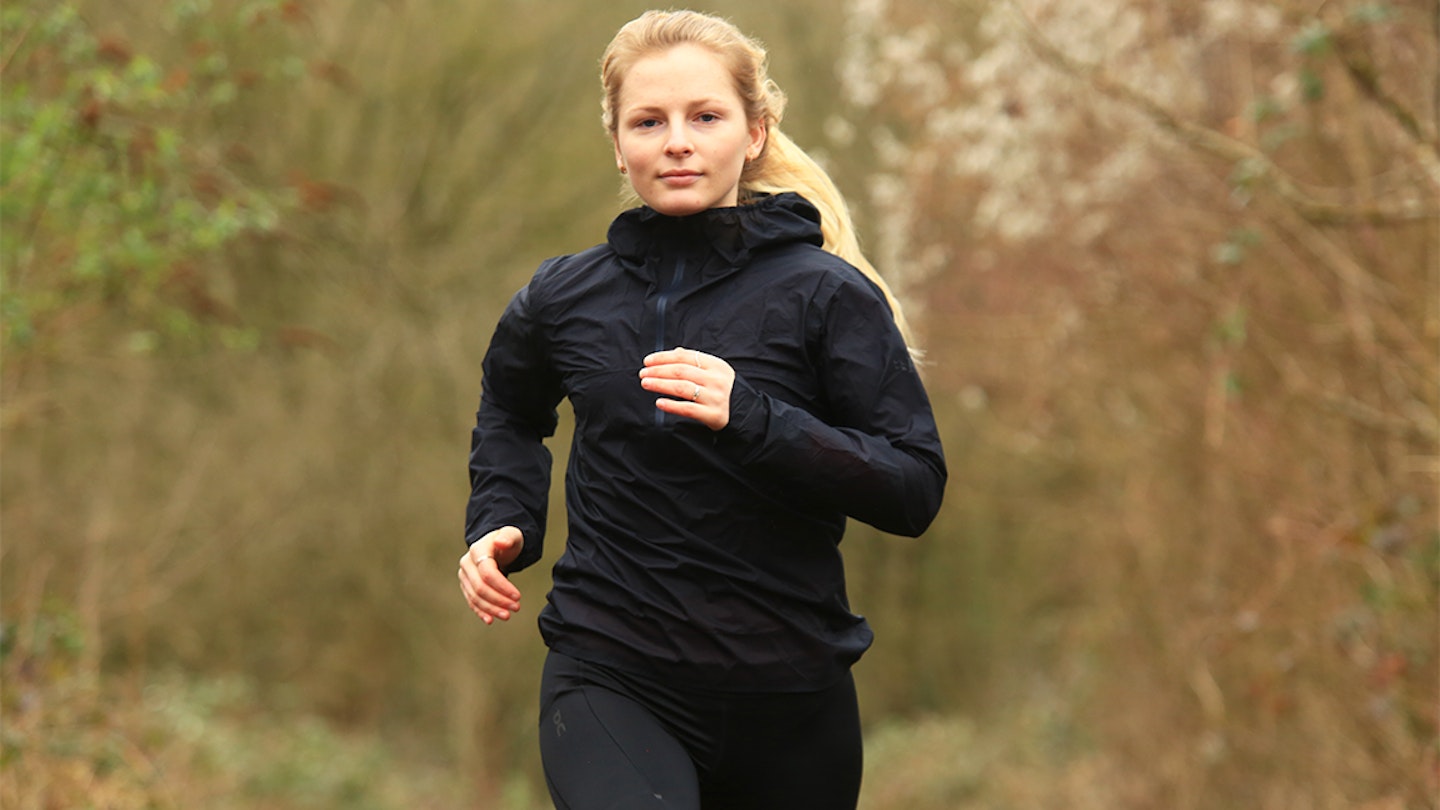 LFTO
Description
At first glance, the Rab Phantom appears pretty simple and straightforward. That's because it is.
Pros
Extremely lightweight and compact
Great race-mandated waterproof
Cons
On the spendier side for a shell
Can't cope with heavy downpours
Best for versatility
LFTO
Description
This suave and streamlined number from Under Armour (UA) is a comfy and practical everyday sports
Pros
Affordable
Stylish
Range of uses
Cons
Not fully waterproof (doesn't claim to be)
Best for visibility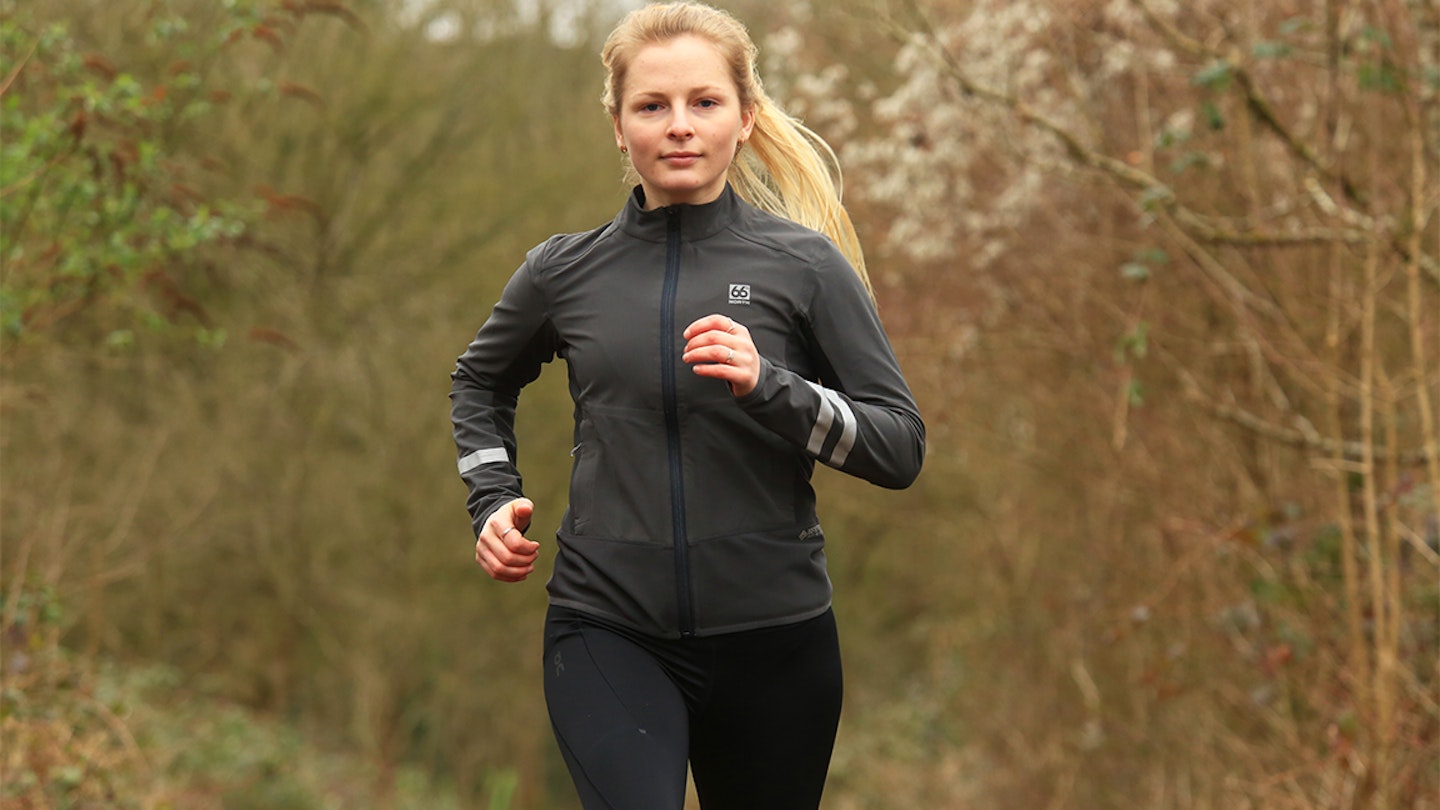 LFTO
Description
Pros
Perfect for running in sub-zero
Very comfortable
Reasonably sustainable brand
Cons
Expensive
Pockets too big for running
Recommended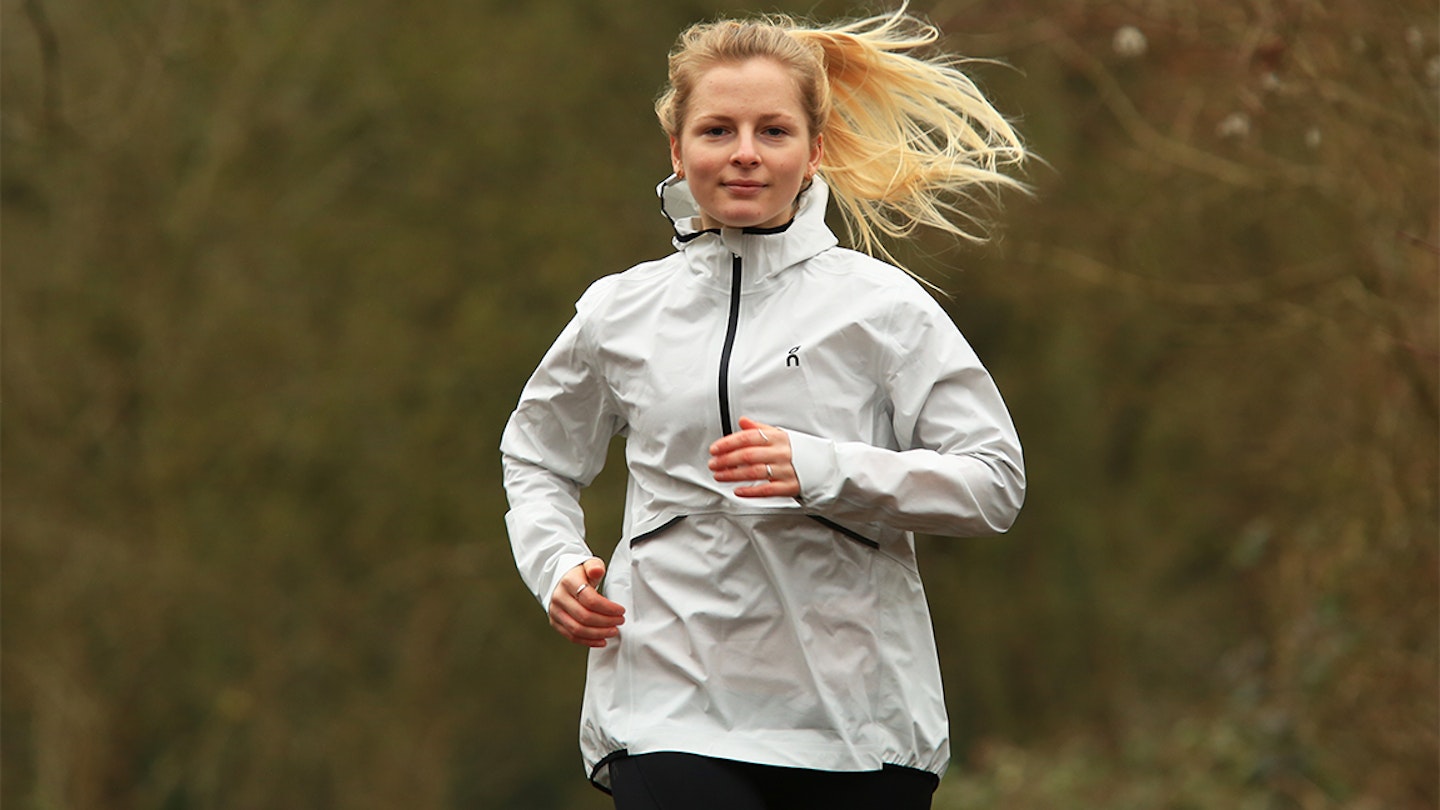 LFTO
Description
The On Running Waterproof Anorak is a triple-layer design with a focus on providing full
Pros
Lightweight
Good waterproofing and breathable
Well designed cuffs
Stylish and unique look
Cons
Vents useless with a backpack
No pockets
Hood adjustment leaves gaps for elements
Recommended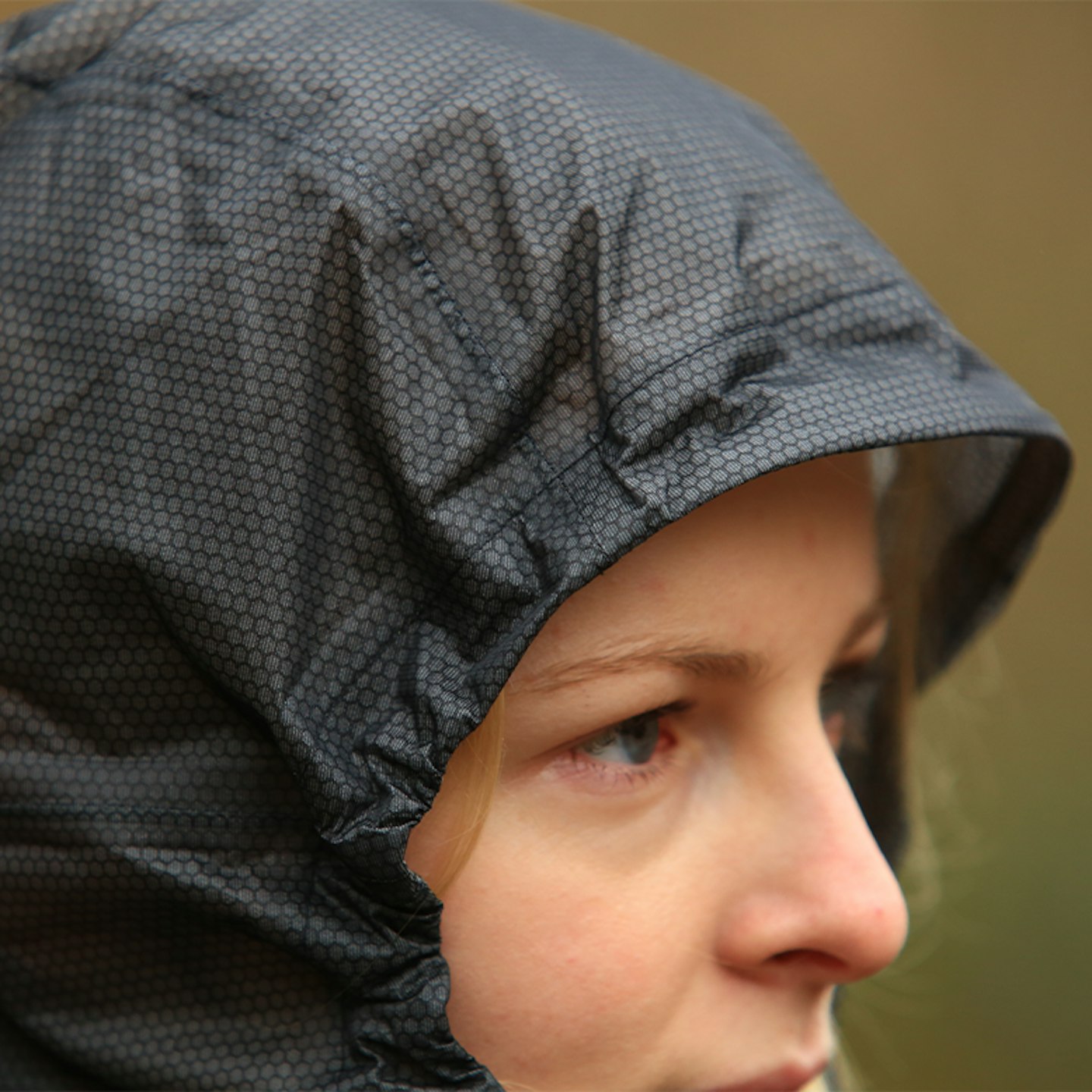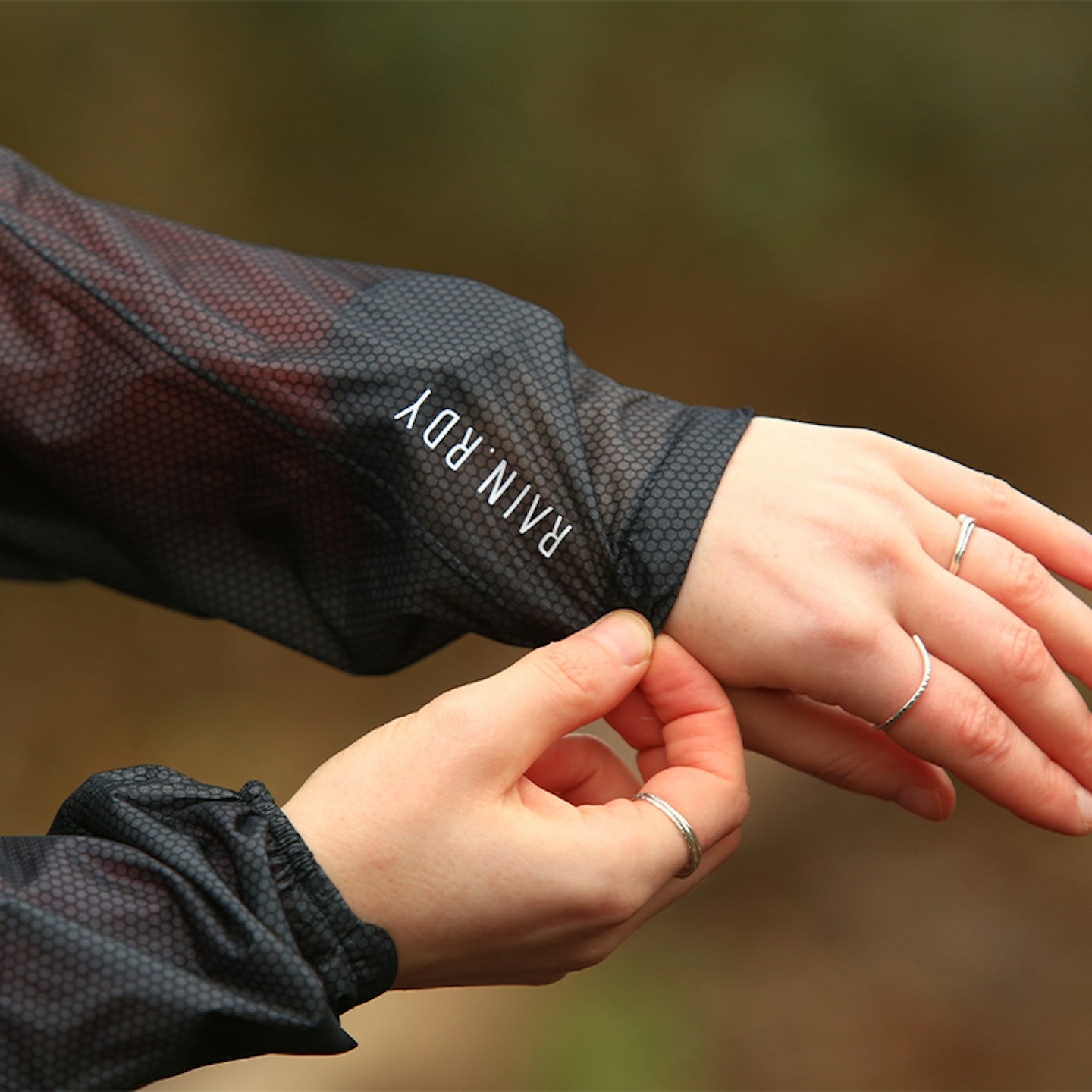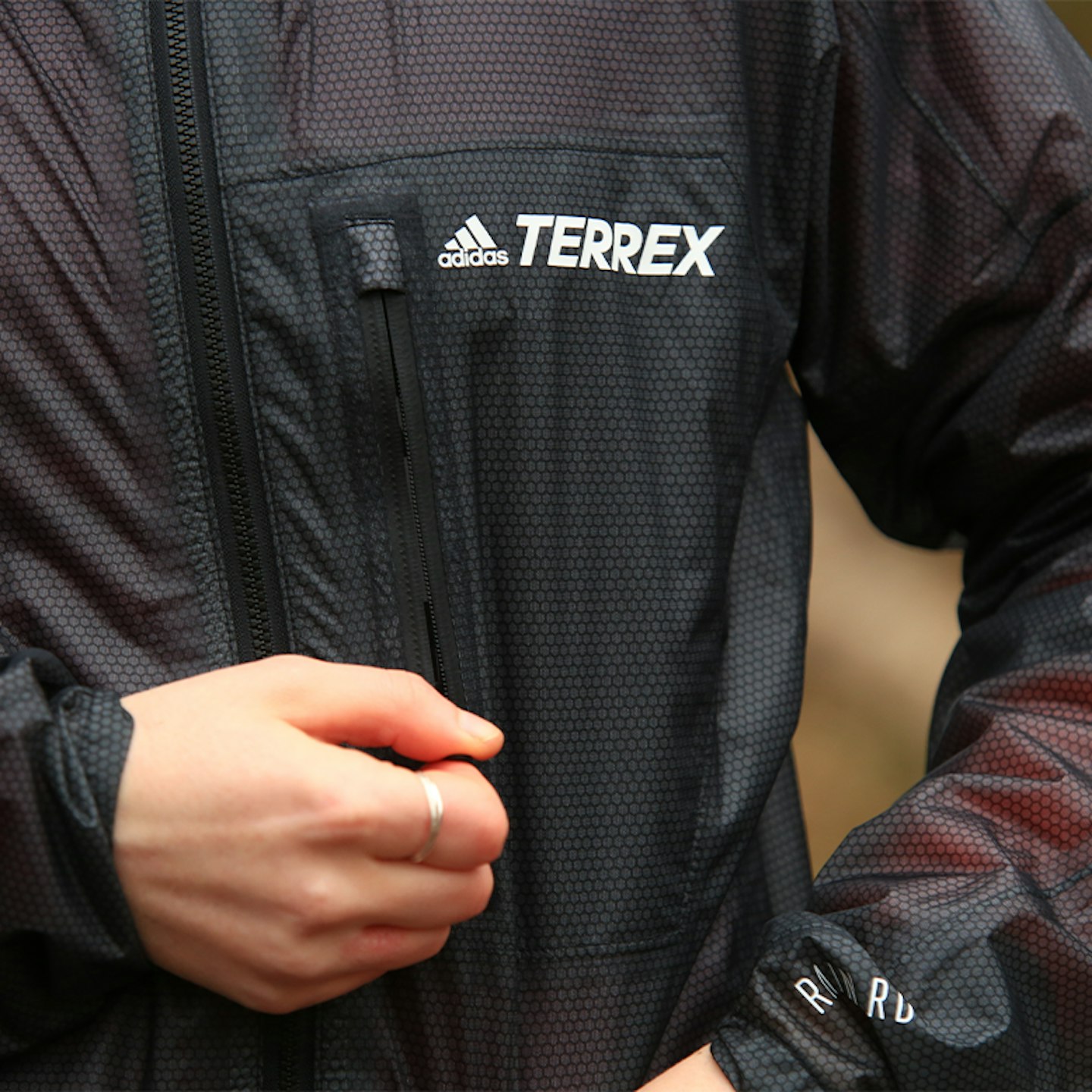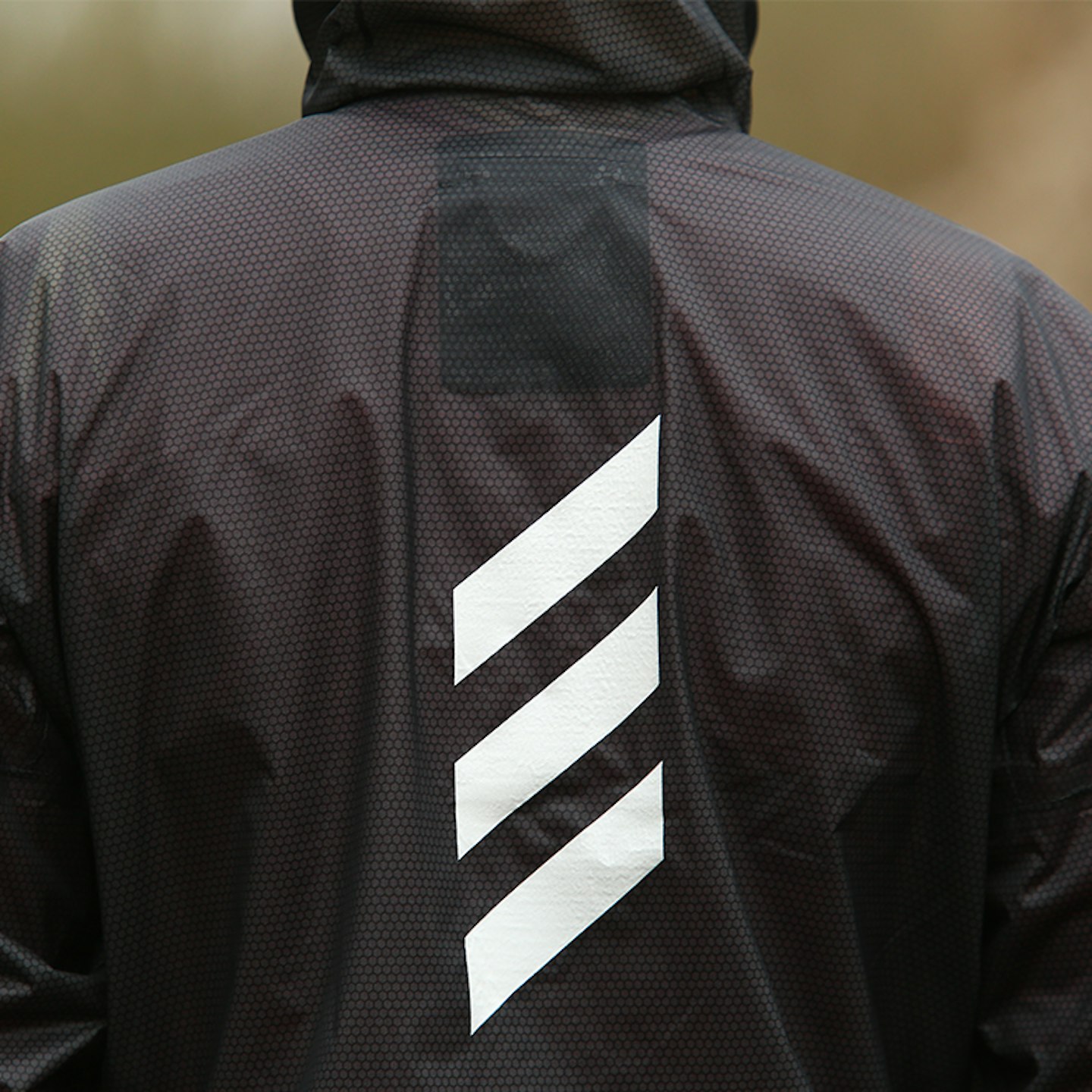 Description
Adidas have produced a super lightweight waterproof jacket in the Terex Agravic 2.5. First off,
Pros
Insanely lightweight
Pocket fits a phone
Packable shell
Quick drying
Cons
Hood gapes and isn't adjustable
Questions over durability
Recommended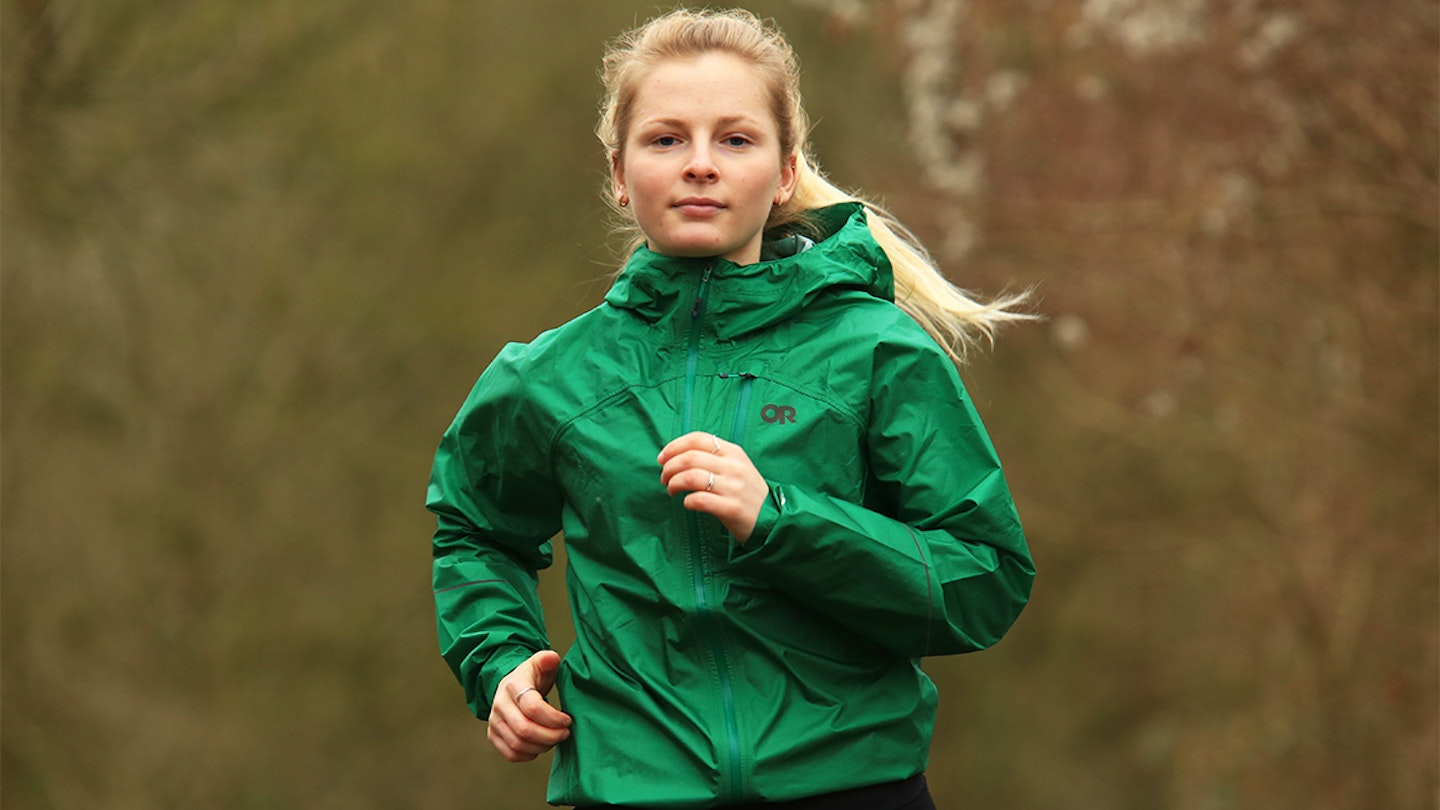 LFTO
Description
A funky looking disco green jacket, the Outdoor Research Helium Rain Jacket its sure to draw
Pros
Good looks and style
Waterproof
Key pocket
Super lightweight
Cons
Cuffs not completely protective
Pocket capacity limited
Recommended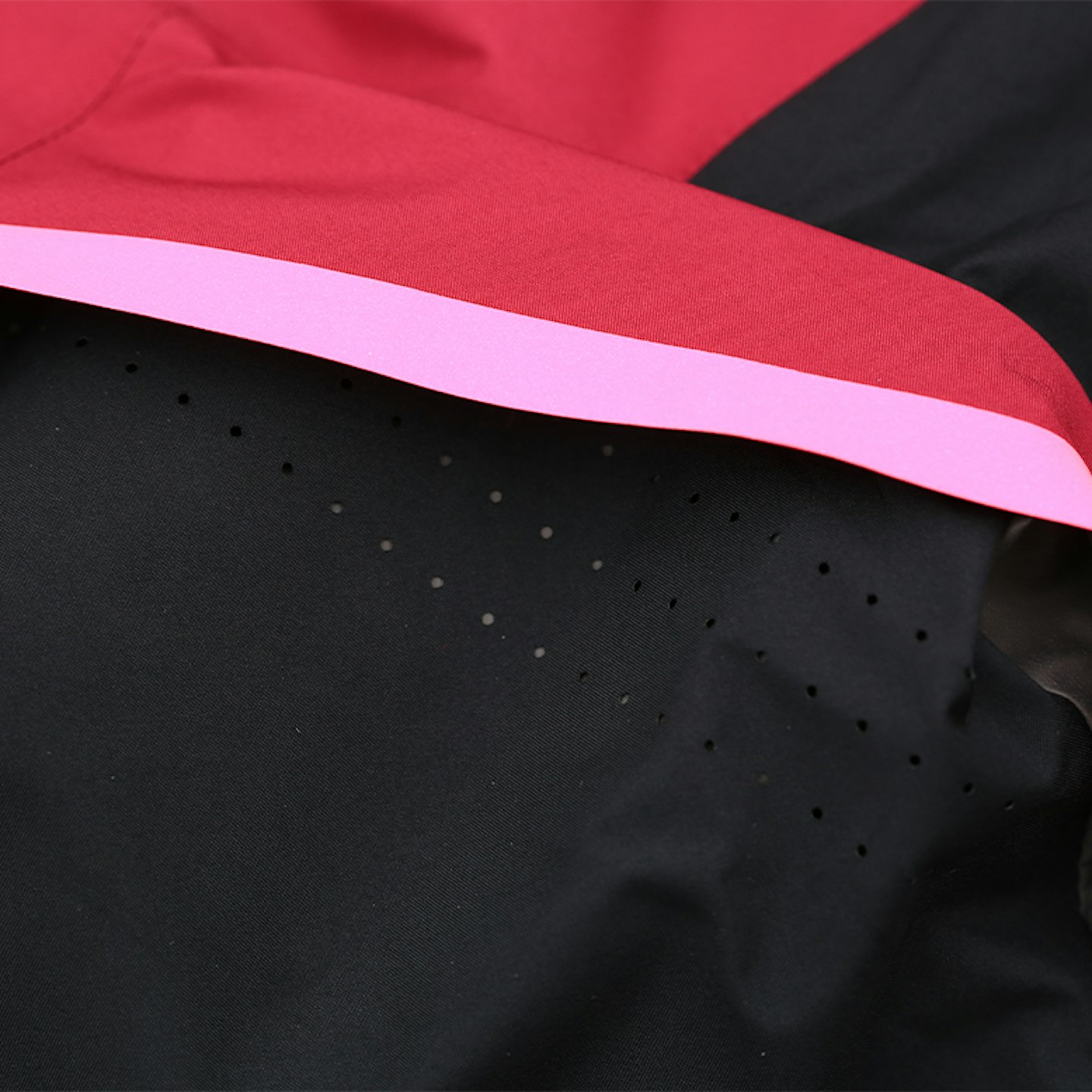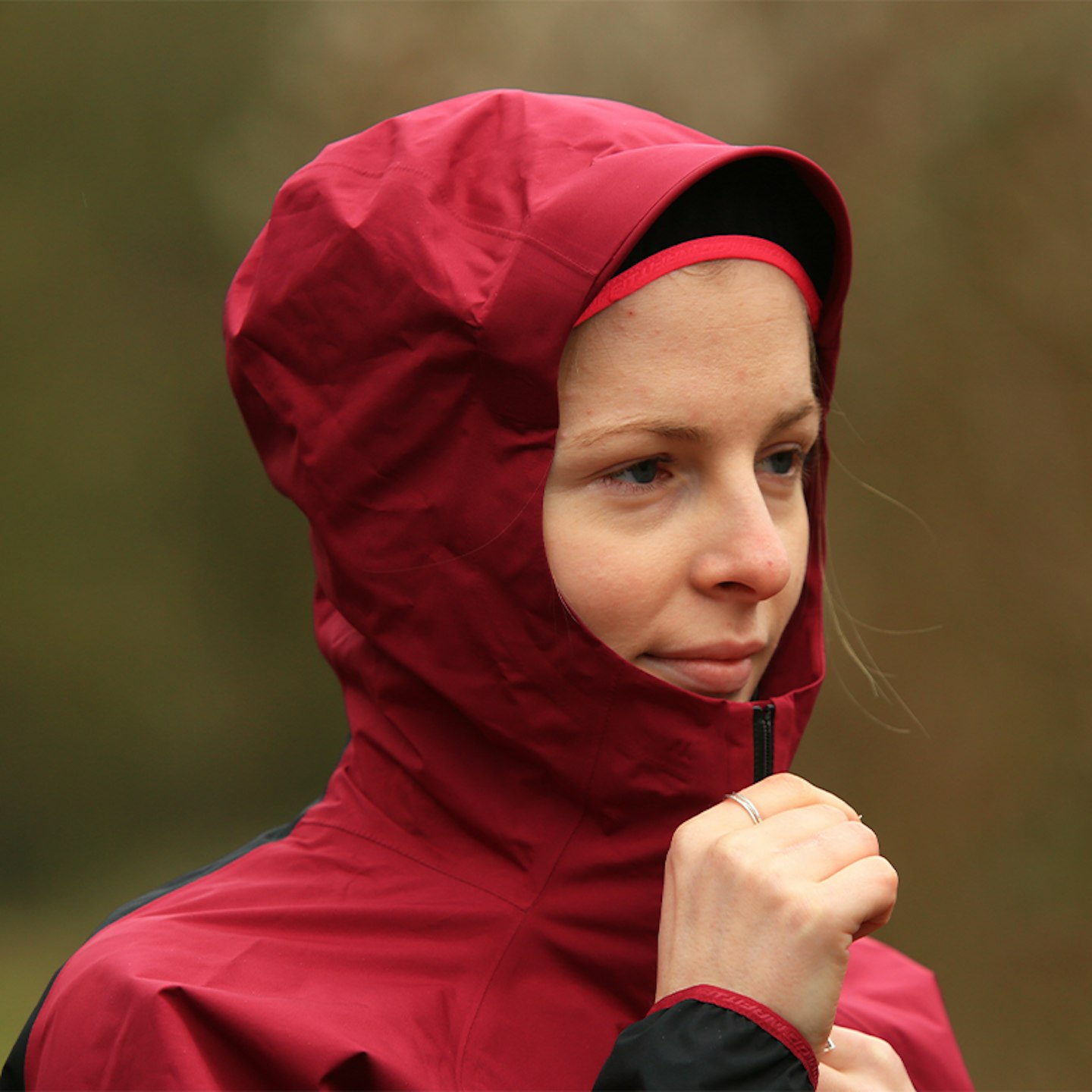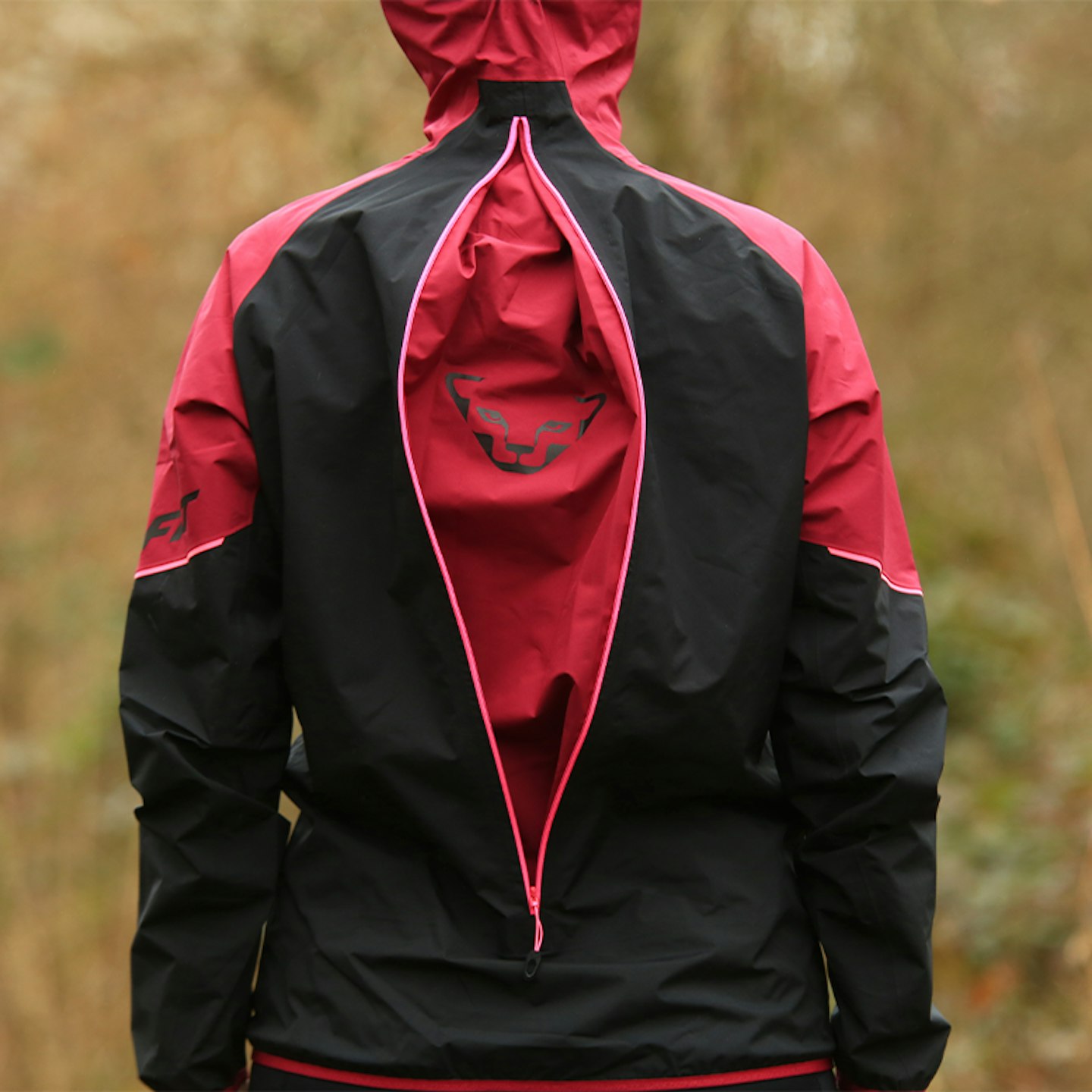 Description
The Dynafit Alpine Gore-Tex running jacket is made to be both breathable, practical and highly
Pros
Great styling and looks
Rear zip feature unique and innovative
Effective hood and waterproofing
Ample ventilation
Cons
Runs small
Lack of waist and cuff adjustments
No pockets
What to look for in a waterproof running jacket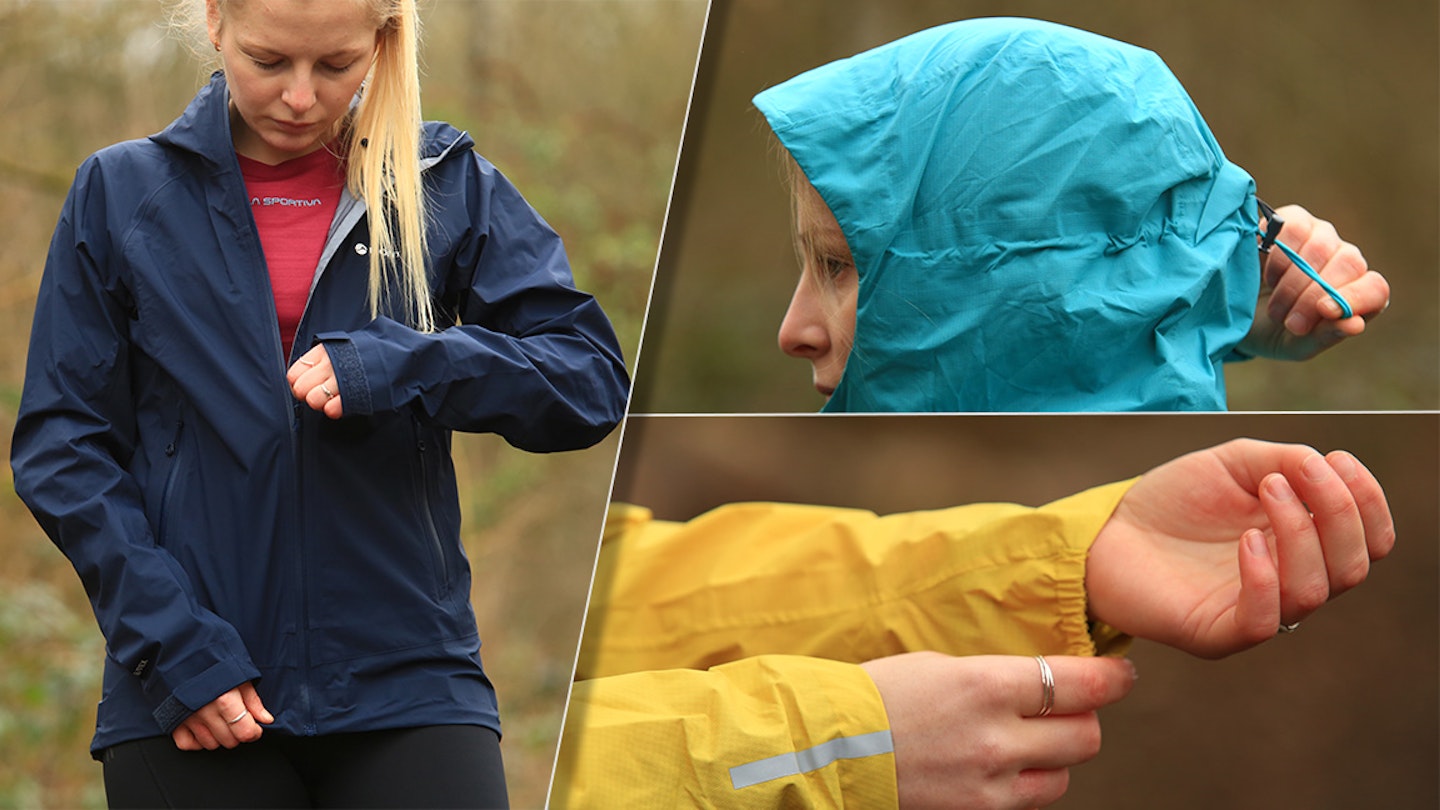 Waterproofing: Jackets will come in varying levels of waterproofing, which is measured by their hydrostatic head (HH) rating. Premium-end gear has a 20,000mm HH or higher, which means a 20m column of water can stand on the fabric before water penetrates it. The minimum you would want for a rain jacket is 10,000mm HH.
Seams: For a garment to be fully waterproof, its seams must be properly sealed so no water can penetrate to the layers below. This means that the seams must be reinforced to keep the rain out, this can be from taping to cover up the tiny holes left in the material from stitching, or welding the seams which should create both a watertight and airtight seal.
Breathability: Waterproof jackets struggle to be breathable as waterproofing creates a seal against the elements, which can also reduce airflow as well as water ingress. Look out for features like breathable materials, vents which can be opened during a break in the clouds, and thinner materials which will be more breathable than layers with thick waterproof membranes.
Hood: Some runners don't like running with a hood, if you like the coverage though, a well-structured hood will keep you even more dry on a rainy run. Look out for internal wiring and structure to the tip of the hood to keep rain off your face, plus adjustability with drawstrings on the side along with a snug fit to keep the hood in place.
Cuffs: Look for jackets with some form of closure along the cuffs to keep the rain out. This could be with a drawstring, elasticated hem, or cuff that keeps the end of the sleeve tight to the wrist.
Zips: A zip is a point of weakness in a waterproof garment as this is an area where rain could seep through. A waterproof jacket should have reinforcement along the zip, which could be in the form of a waterproof coating, or a long zip baffle to provide an extra layer between yourself and the zip.
Visibility: It's likely that with rain will come conditions of low visibility. Grey and dim cloudy skies will make you far less visible to traffic and other runners, so having a jacket with some touches to boost visibility is always a plus in our books. This could mean a completely fluorescent colourway or be in the form of more subtle reflective details.
For all the latest news, tips and gear reviews, sign up to the Trail Running Newsletter.