The Lake District, located in the north west of England, is known as one of the UK's best locations for fell and off-road running. Stretching across an expanse of 51km from east to west and 64km north to south (2,362 sq km), the awe-inspiring jagged peaks and rugged open expanses amass tens of millions of outdoor enthusiasts each and every year.
It is within Lakeland that all of the English peaks above 3,000ft (or 978m) are located. Fell running is not a flat sport, but with the hills come the views, and stunning they are too! Some of the more well known peaks are included in our recommendations below, including the highest of the lot - Scafell Pike.
With more trails and open fells than you can wave a stick at, we asked Cumbrian-based fell runner and running photographer, Danielle Ledbury to narrow down the best seven running routes in the Lake District. If you're planning to visit the rural realms famously depicted by Wordsworth and Potter, then here's the local knowledge you've been waiting for...
1. Abraham's Tea Round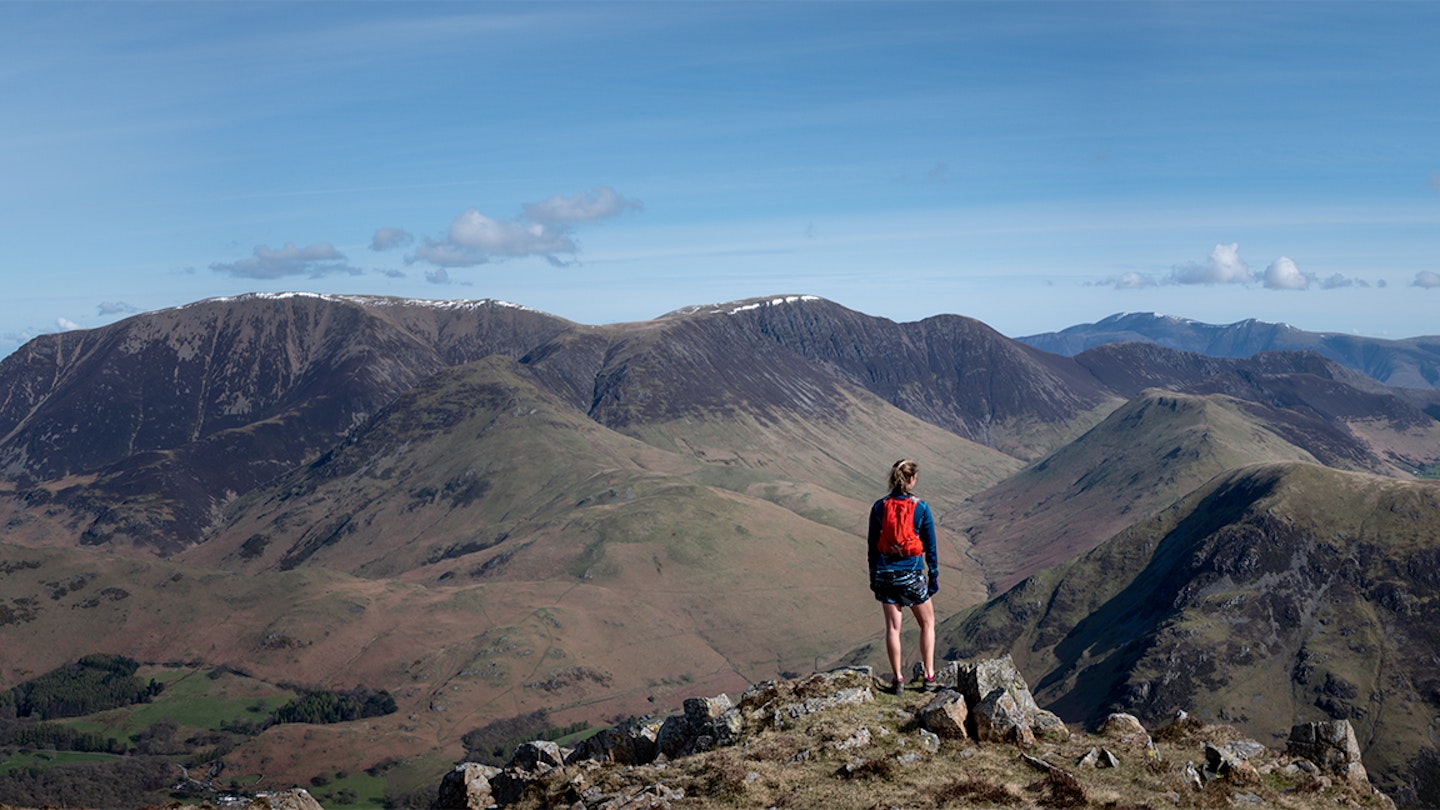 Distance: 47km / 30 miles
Elevation: 3,500m / 11,500ft
A challenging run through some of the Lake District's wildest landscapes, featuring a range of airy ridges and a high-level circuit of remote Buttermere. Setting out from the doors of George Fisher in Keswick, the 50km route tracks the Cumbria Way to bag its first fell, the family-friendly Catbells. The route then heads into cloistered Newlands before descending into Buttemere via Robinson.
An increasingly rocky ascent of High Stile leads onto Red Pike with far-reaching views over Ennerdale to the Irish Sea. Returning via the village of Buttermere, distant Grisedale Pike is the next big peak, before a return to Keswick along one of Lakeland's finest ridges – over Sail, Scar Crags and Causey Pike.
A route originally conceived by Jacob Tonkin, Andy Airey, Alan Porthouse and Mark Wright while working at the George Fisher shop, Abraham's Tea Round visits many of the fell tops as seen from the window of the shop's café. Return to George Fisher to add your name to the round's completer's list.
CLICK HERE to view and download a digital route from OS Maps.
2. Coledale Horseshoe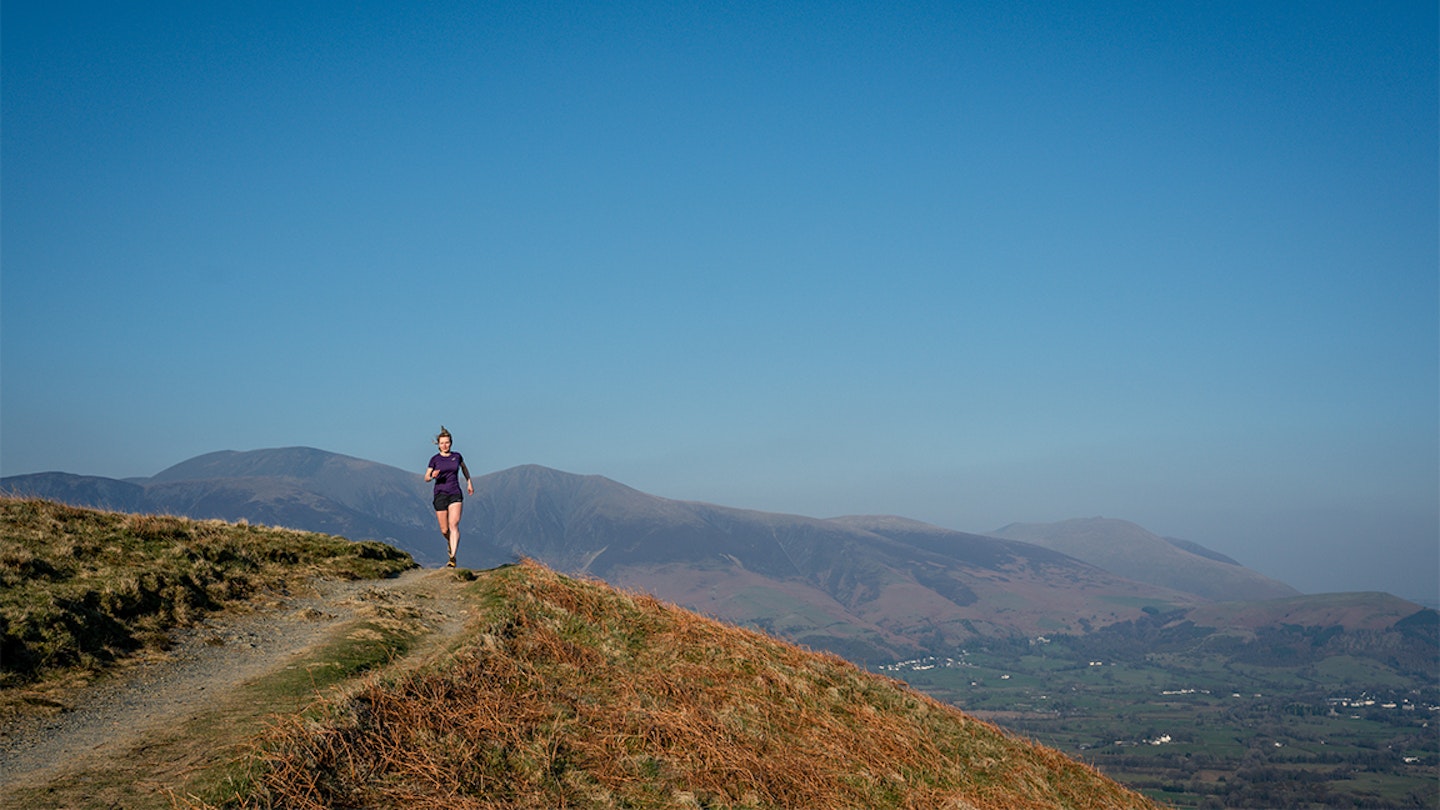 Distance: 13.7km / 8.5miles
Elevation: 915m / 3,000ft
A north Lakes classic, the Coledale Horseshoe starts in the village of Braithwaite, opening with a relentless (if steady) climb of the grand pyramid of Grisedale Pike (791 metres) that gets the heart pumping. This early work pays off with the subsequent loop over shapely Hobcarton Crag then down again to Coledale Hause. That's before a final ascent of lynchpin Crag Hill that pre-empts a fun-filled decent of Barrow, the trail winding as a 360-degree panorama opens around you. It's one of the most enjoyable descents in the Lakes, leading directly back into Braithwaite.
CLICK HERE to view and download a digital route from OS Maps.
3. Gowbarrow Fell loop
Distance: 6km / 4 miles
Elevation: 400m / 1,300ft
For landscape bang-to-buck, this short circular packs in a whole lot of awe and wonder – as well as one of the Lakes' best waterfalls. Parking in the National Trust car park at Park Brow, the run dips down to cross Aira Beck then rises through pasture before a short, steep ascent to the summit of the heathery Gowbarrow Fell, with its open panorama of the northern fells and Ullswater.
The journey home is all pleasure, circling down the popular terrace path above this queen of the Lakes. It's breathtaking at any time, but best seen on a frosty sunrise morning with golden light pouring down the lake. Back at the valley bottom, the trail swings north, tracking Aira Beck upstream through ancient oak woodland and passing the honeypot falls of Aira Force.
CLICK HERE to view and download a digital route from OS Maps.
4. Fairfield horseshoe
Distance: 20km / 12 miles
Elevation: 1,000m / 3,300ft
Possibly, the classic Lake District running round, and one of the most popular fell races for all levels. Starting and ending in Ambleside, the route has an easy start along gravel tracks through Rydal Park. Then, the ascent proper begins – a steep, stepped climb onto Nab Scar then Heron Pike.
With the elevation gain behind you, the rest of the round is stride-out fabulous, with big-sky views up over the high point of Fairfield (873m) before the route swings east then south, with cragged buttresses falling away to the north. The long, beautiful descent takes grassy ridge lines over Hart Crag and High Pike, then back into town. This route is a variant to the one used on the perennially popular fell race organised annually by Ambleside AC.
CLICK HERE to view and download a digital route from OS Maps.
5. Loughrigg and Rydal water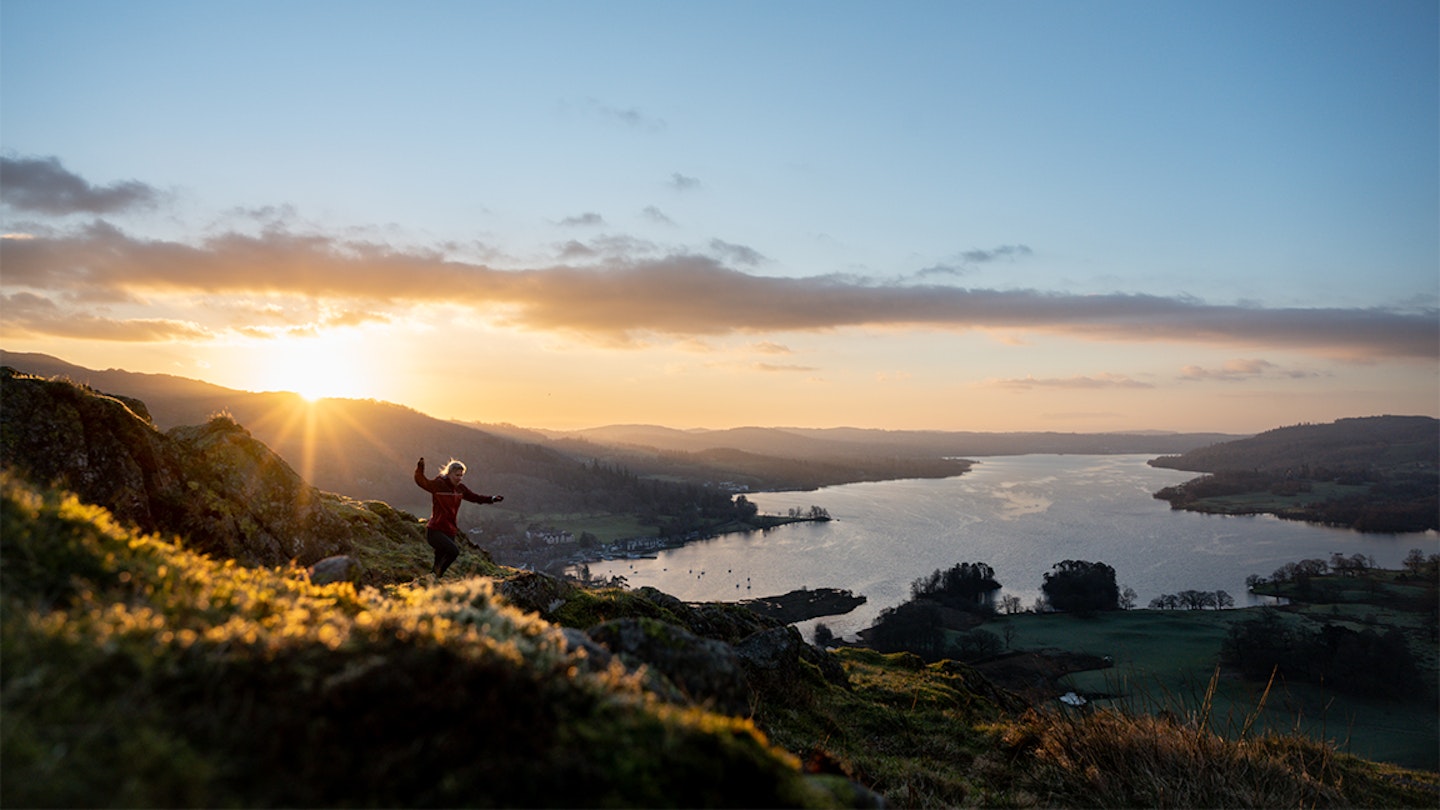 Distance: 10.5km / 6.5 miles
Elevation: 360m / 1,200ft
If you're new to the Lakes, or to fell-running, the up-and-over circuit of lowly Loughrigg Fell and return via Rydal Water – once a much-loved hangout of the Lakeland poets – is a classic. This moderate route climbs out of Ambleside by way of Todd Crag, with its lakeside view over Windermere.
It then takes a meandering course over sprawling Loughrigg, before descending a steep section towards Grasmere. Here Loughrigg Terrace (a fabulous run) switches back east, tracking above Rydal water before the trails return to Ambleside where there are plenty of cafés for that essential post-run cake.
CLICK HERE to view and download a digital route from OS Maps.
6. Glenderaterra Valley and Latrigg
Distance: 11km / 6.8 miles
Elevation: 400m / 1,300ft
The Glenderaterra valley splits two bastions of the northern fells: Blencathra and Skiddaw; and this route, which travels up-valley between the two, pushes deep into wild hill country on a steady, clear trail. Park at the base of Blease Fell behind the Blencathra Centre and head north along a gravel track. This was once the pack-horse route to Bassenthwaite, weaving up the Glenderaterra valley, high above the river that tumbles below.
Every step pushes you deeper into what locals call the 'Back 'o Skidda', an expansive area of isolated moorland that is largely free from tourist hordes. Fording the Glenderaterra below the rising scarp of Burnt House, the route switches back, rising on the far bank as an airy terrace traverse – surely one of Lakeland's finest.
The views, which only hints until now, open out as the route swings west aiming for Latrigg. From here, the Vale of Keswick is framed by the grandest panorama of fells, including Scafell Pike. The trail proceeds to drop through some woodland, up onto an old walled lane, and then across fields back to the Blencathra Centre.
CLICK HERE to view and download a digital route from OS Maps.
7. Helvellyn and the edges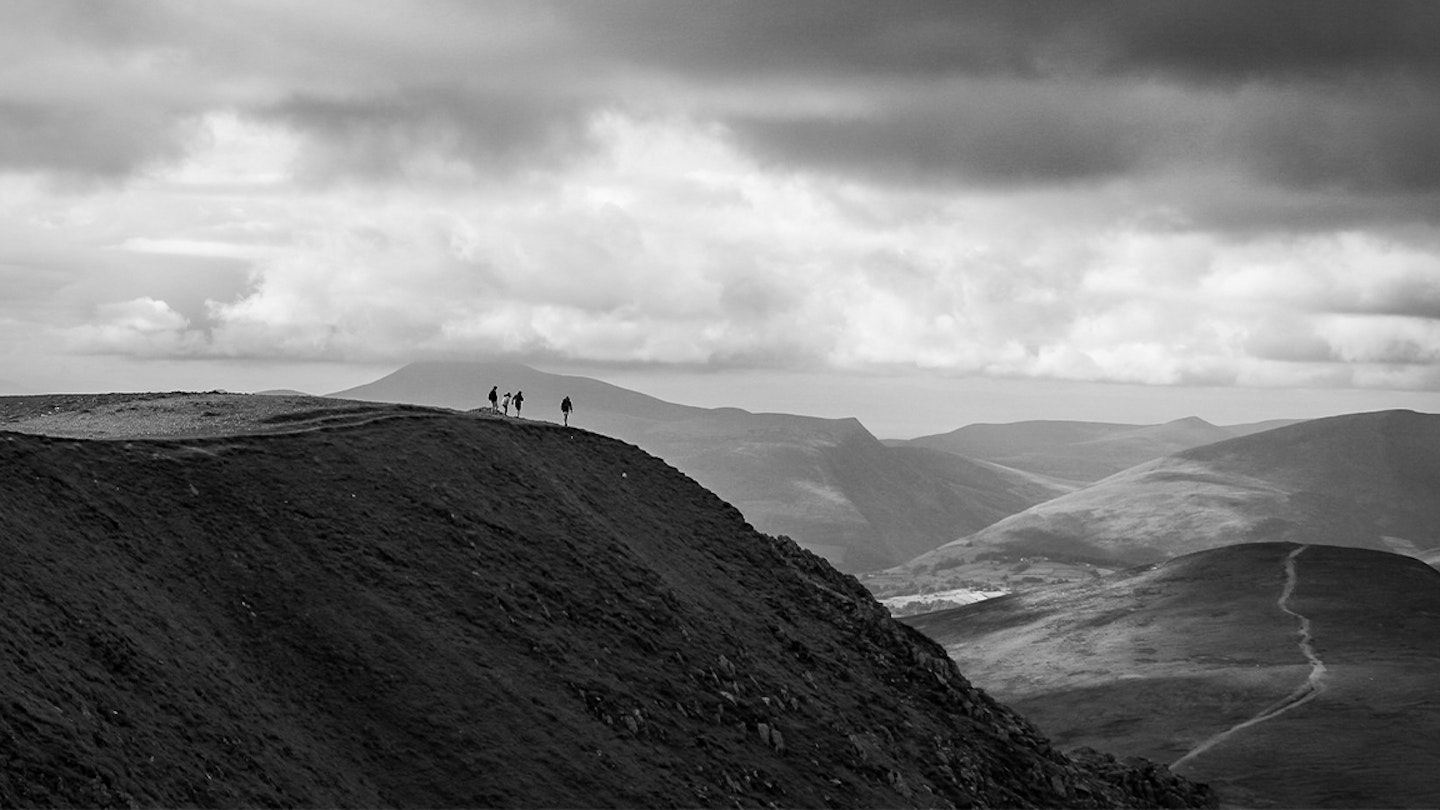 Distance: 14km / 8.7 miles
Elevation: 900m / 2,900ft
Not for beginners, this route is both challenging and technical, and a bonafide Lakeland classic for those who enjoy the thrill of rock underfoot, mild exposure, and adventure. Leaving Glenridding, take the pitched Birkhouse Moor ascent to rise onto Grisedale Brow.
From here, the two knife-edge ridges that veil down from Helvellyn get the pulse rising. Although many tackle Striding Edge first, the safer way is up over Swirral Edge to claim Helvellyn (949m), before descending via the Grade One scramble of Striding Edge.
If you enjoy moving on technical terrain, this horseshoe (always busy in summer) is one of the best in the Lakes, with a big climb, exposed ridge lines and outstanding views. The summit of Helvellyn, with its famous 'cross' shelter, is the perfect place to recharge for the adventurous trip back to base.
CLICK HERE to view and download a digital route from OS Maps.
Who is Danielle Ledbury?
Danielle Ledbury is an outdoors photographer, art educator, and author of newly released book on fell running people and stories - Why We Run. A fell runner herself, Danielle is passionate about the positivity that running can have on peoples lives. Her debut book aims to inspire others through real people and real stories.
Why We Run: Tales of fell and trail running in the Lake District
Why do fell- and trail-runners head into the toughest of landscapes on journeys of adventure, endurance, technical challenge and self-discovery? In this visual celebration of two iconic mountain sports, photographer Danielle Ledbury talks with 28 athletes, from trailblazers like Joss Naylor and Steve Birkinshaw to those taking their first strides into the Cumbrian hills. Their answers – often surprising, sometimes challenging, always candid – cover community, love, addiction, bereavement, passion, solitude, trauma, joy... and an abiding love of the Lake District.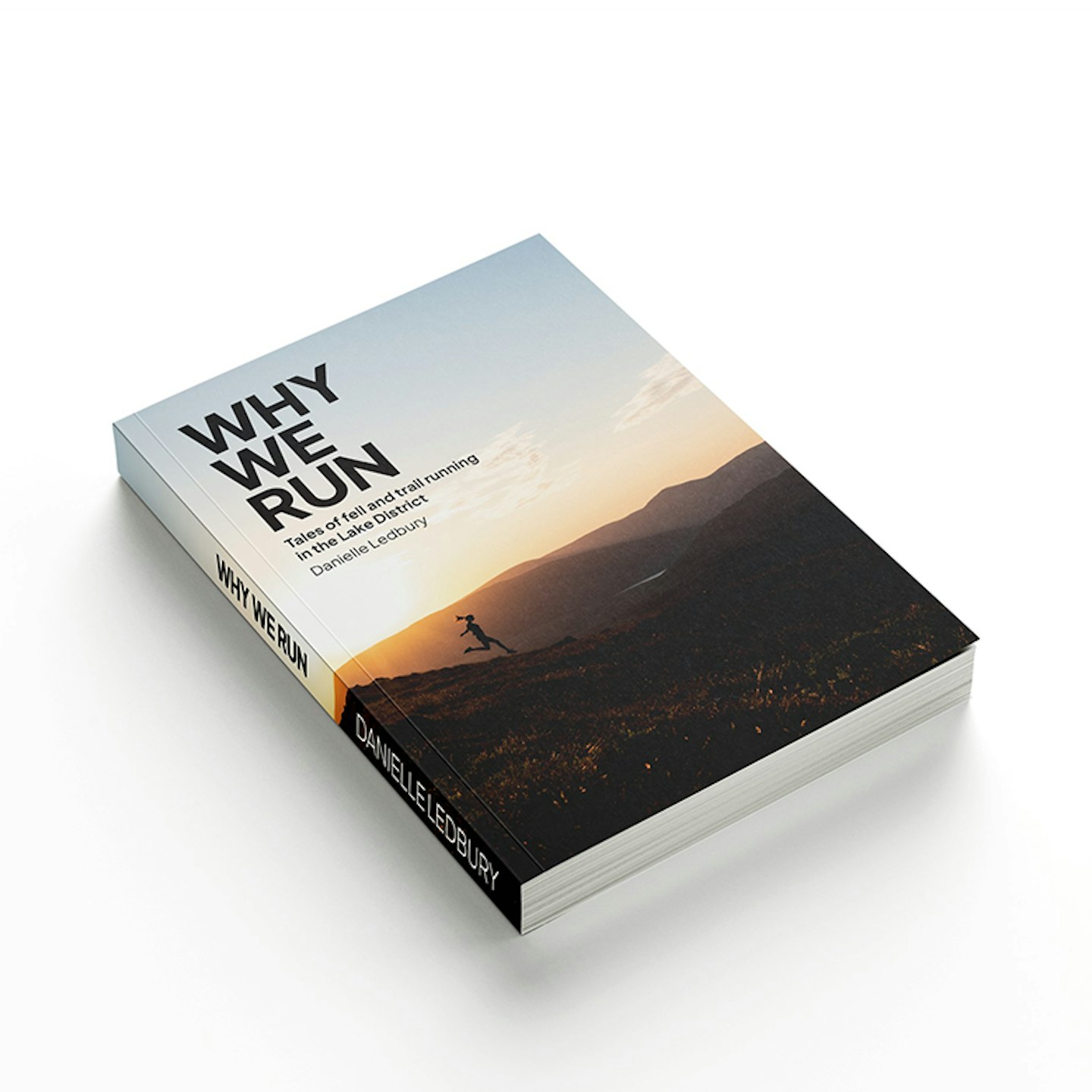 Danielle Ledbury
For all the latest news, tips and gear reviews, sign up to the Trail Running Newsletter.