Ten years have passed since I ran the headline race of the UTMB. If you're not a whizz with the UTMB lingo yet, the Ultra Trail de Mont Blanc a 171km loop around the Mont Blanc massif. Not only was UTMB very different back then, but I also was a very different runner; in fact, my whole life has changed since 2013. This time and a decade later, I would be running the 55km OCC race.
The pull of the UTMB World Series is strong, its iconic status has drawn many runners to test themselves against the backdrop of Mont Blanc. For me, it's even changed my life. The magical alpine town of Chamonix and its surrounding mountain trails are where you can prove yourself. Runners from all over gather on the trails to watch, meet, and run with the very best ultra trail runners in the world, becoming part of the wider trail running community for one week.
What does it take to be part of the UTMB World Series?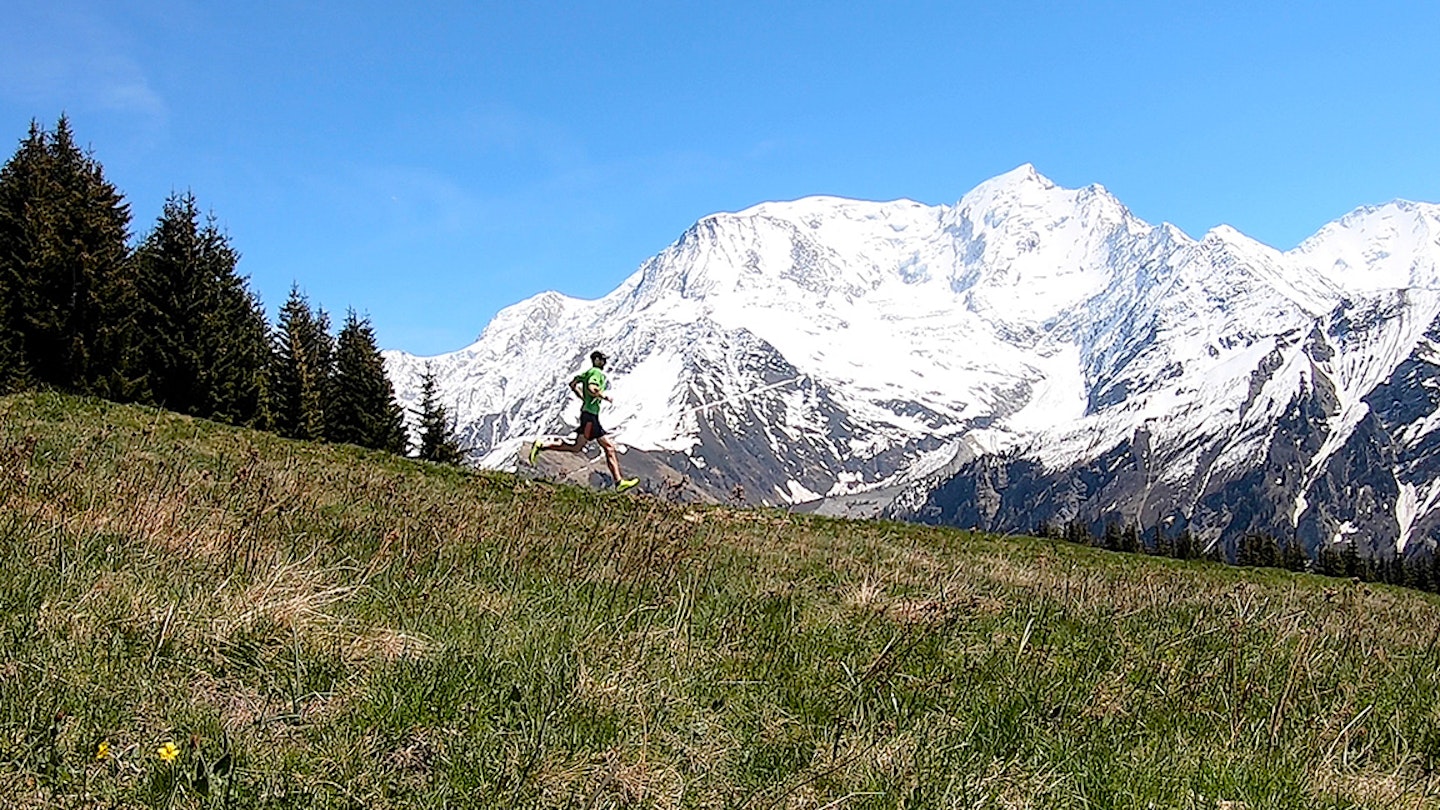 Races start long before the start line, they start with the initial intention. To race in the UTMB, the years leading up to the race must be very intentional. For the first time and in its 20th anniversary year, UTMB is also the world finals. You can't stumble your way to that start. To find your way there you must have done relevant UTMB training, picked up stones (read how here), qualified by doing an index race, and also have had a generous helping on luck on your side.
The challenge to get a race place adds pressure to races which are already some of the toughest in the trail running world. The scarcity value and the high adrenaline energy surrounding the event is pretty unique to UTMB, but it's also something that's often overlooked by runners. If you do manage to secure a place in one of the UTMB races, it could be your only opportunity to run that race. Make sure you're prepared for the fearsome amount vert!
How to train for the OCC race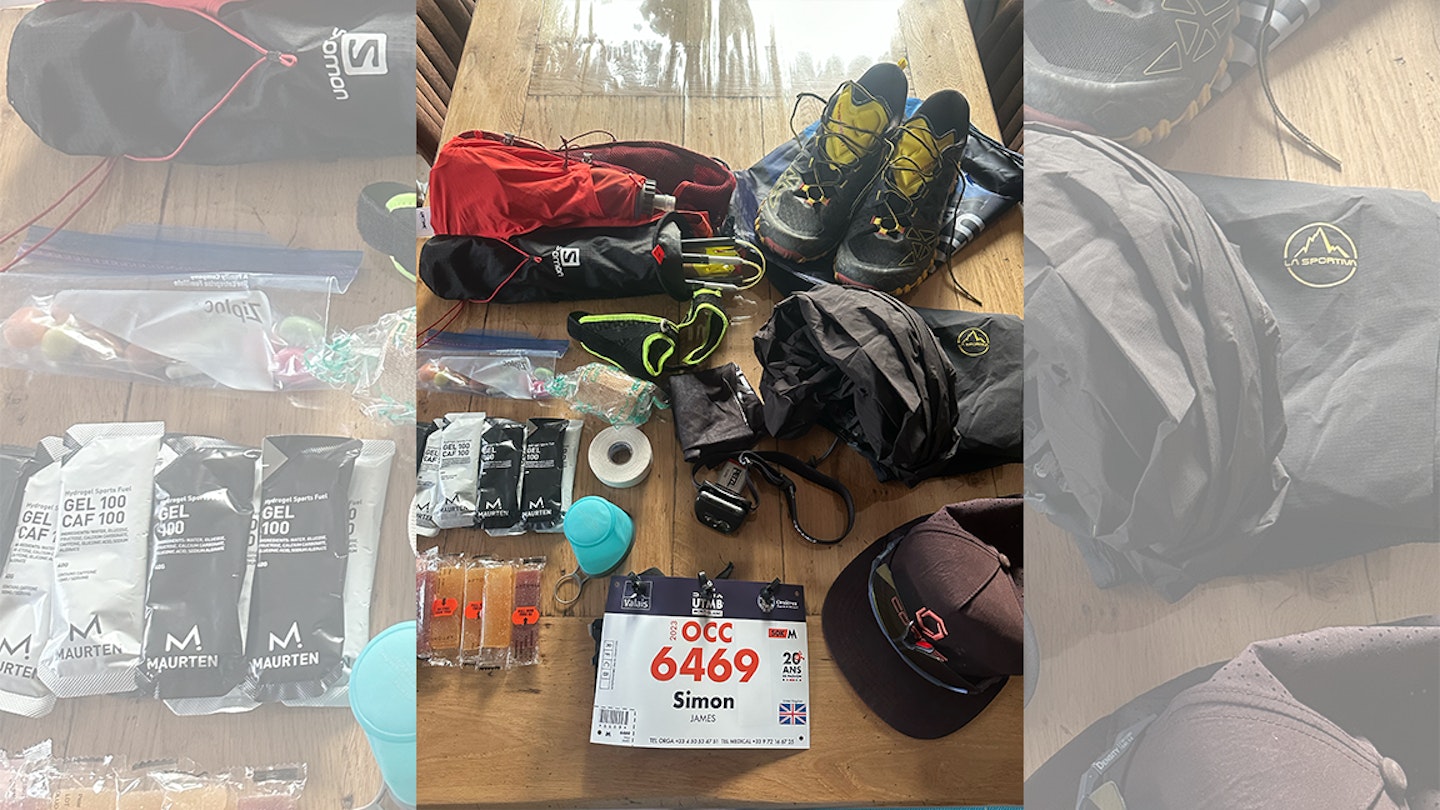 Part of the UTMB World Series, the OCC is a 55km race with around 3500m of vert. Setting off from the Swiss village of Orsieres, the race takes runners through Champex before heading to Chamonix. It'll be my longest single non-stop race since a hip operation eight years ago. Although nowhere near as far as when I completed the 171km full UTMB race, the OCC is my current physical limit. Since running is how I make my living, getting broken again is not an option!
My training had gone well up until race day. Working as an alpine trail running guide for mine and my wife's compay Run the Wild, having my wife as my coach, and being fortunate enough to live in the Alps, I had all the tools needed for the lead up to the race. As with any running injury, my hip is always a limiting factor; often stopping me training and giving me painful nights, but it's a balance I'm willing to make. However, that morning as I stood on the start line of the OCC, my body was not happy. I felt calm, but I'd struggled to eat and sleep for the last couple of days. I'd fallen victim to UTMB nerves.
In 2013, I'd learnt a lot about myself during the 42h I was out on the UTMB course (55km of which is the OCC course). The key learning - don't give up when you want to quit. I'd run the first half in around 12 hours, and as I ran out of the big aid station at Courmayeur, I felt that running was going to be more of a challenge than I'd anticipated. I'd made up in my mind that I would quit at Arnouvaz (99km), what was the point if I couldn't run it anymore?
However, life had different plans for me. I spent the next 30h walking to the finish line with my newfound friend, Stuart. Just because a race isn't going your way, doesn't mean you should quit. I've been forever grateful for that encouragement to finish as that really was my one opportunity to be a UTMB finisher.
Ready, set, race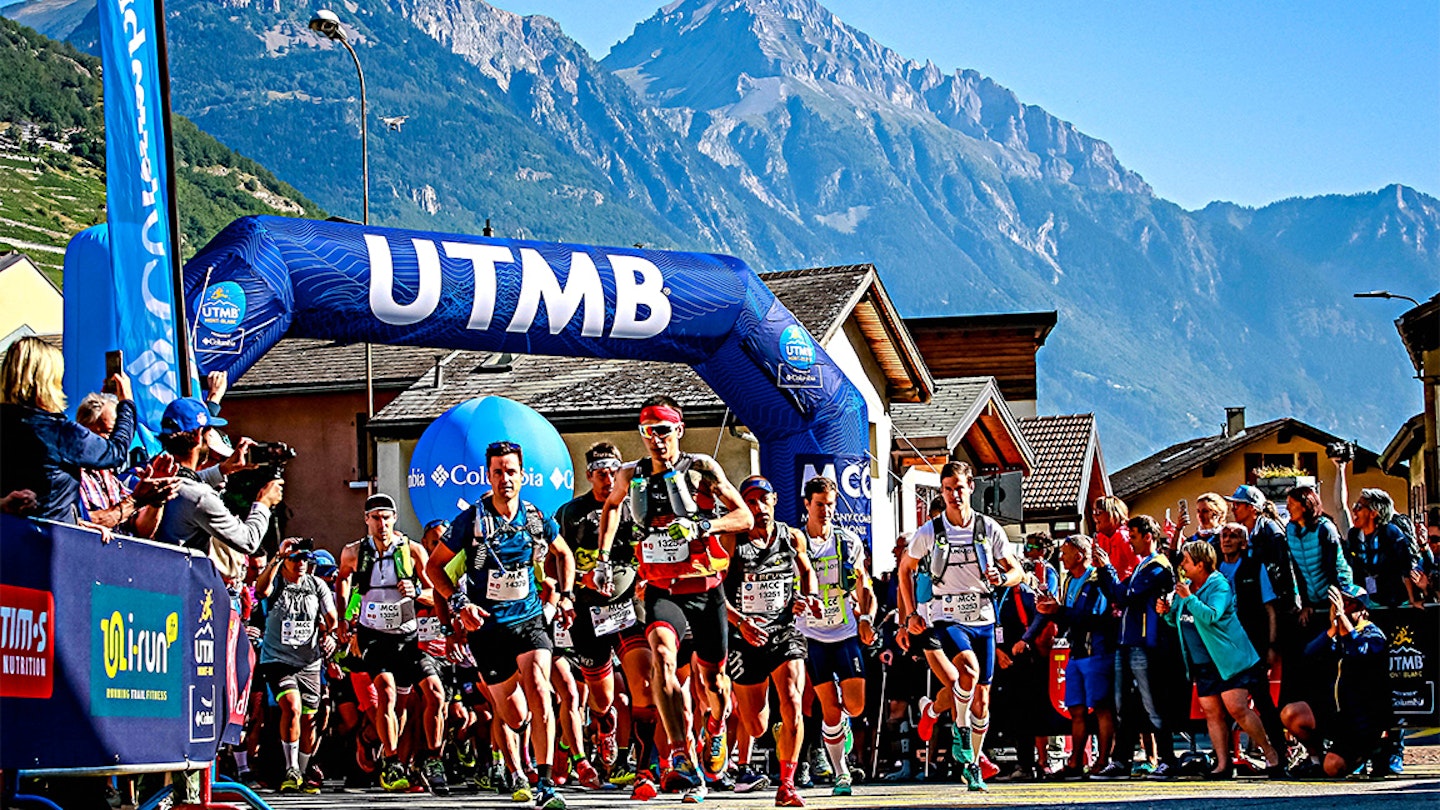 The start in Orsieres is fierce. As we set off on the gradual first climb up to Champex-Lac, we're clocking 4-minute kms. I'm always happy to go with the flow at the start. The race is long enough that if I overcook it, I can find myself again.
As soon as the switch backs start up to the lake, I pull out my poles. I've put myself in a place within the crowd of runners where I can move at my own pace, which is exactly where I want to be. I remind myself that everyone is running their own unique race. Only you have done your training, eaten your food and had your body, but races push you to the limit of what you can personally achieve. I love that.
My climbs feel slow since I usually climb at 1100m per hour, today I was hanging on to 800m. Already, the only thing I can think of is stopping to sleep. That's a new one. The only other time I've had such an urge was at hour 38 of the UTMB course back in 2013! Nevertheless, I push on. The downs feel nice and my La Sportiva Bushido trail running shoes shoes are super technical, no chance of a rolled ankle in those.
The weather's perfect; it's in the low 20s, sunny, with a gentle breeze. A stunning day to be out on the trails. I try to stay on top of my food and hydration, filling what feels like a balloon of pain that's about to explode.
The toughest climb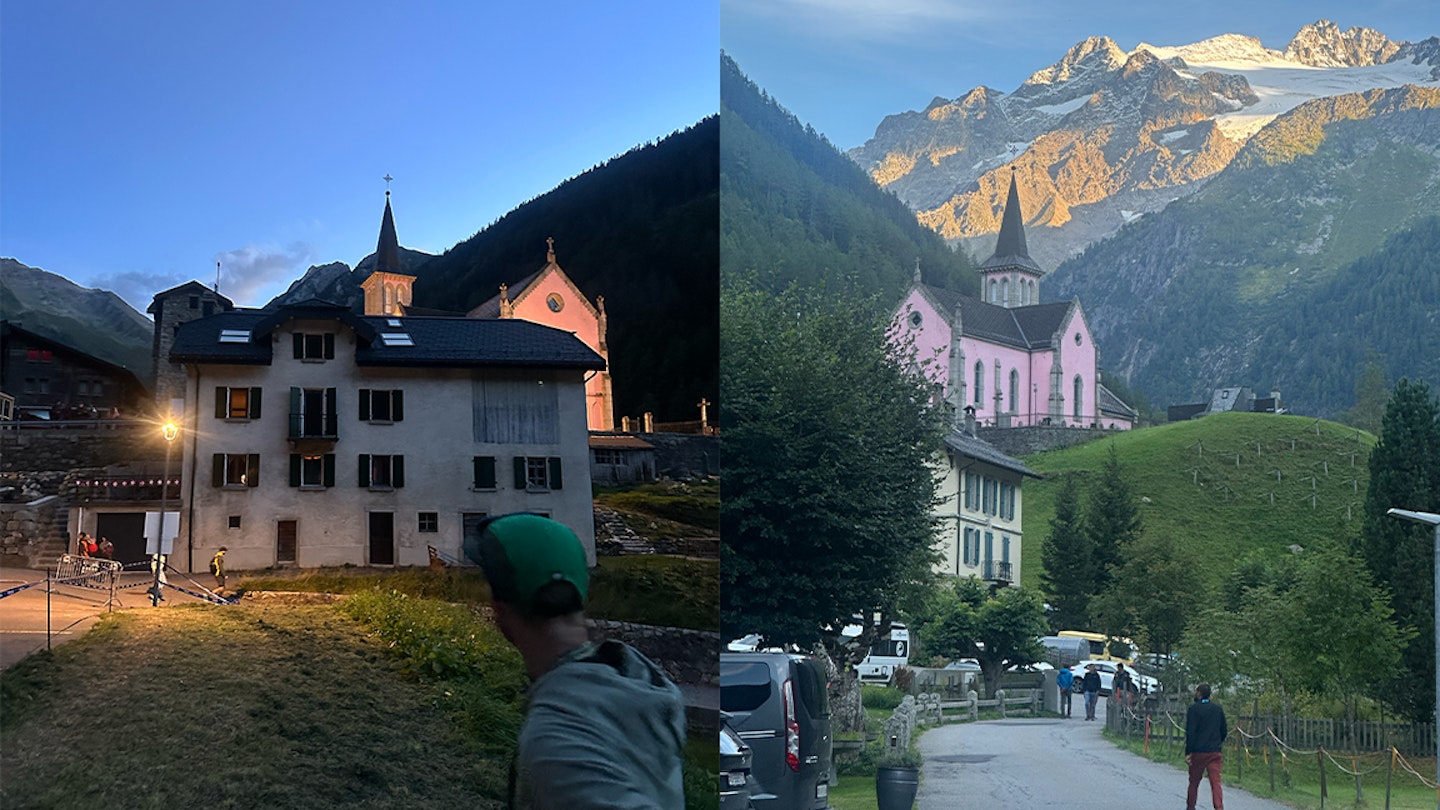 The climb out of Trient is ferocious. I know, I guide the Tour du Mont Blanc each year and it's always tough! In fact, it's the steepest climb on the UTMB. It's at this point that I decide to switch to plan B, that is to finish. My ideal race is now over, but that's ok and that's where I've grown in the last 10 years.
I try to latch on to someone who is passing me, surely at some point I could find someone moving steadily enough who I can focus on. We climb together, my silent and unknowing new running partner. I follow his every step until the top. We switch back into the rough grass for a traverse. But I opt for a small pause, so sit on a rock to catch my breath. I need to pull myself together!
As each runner passes, I wish them well. Someone askes whether I need anything, but unfortunately he's not willing to give me the piggy-back I ask for.
Suck it up buttercup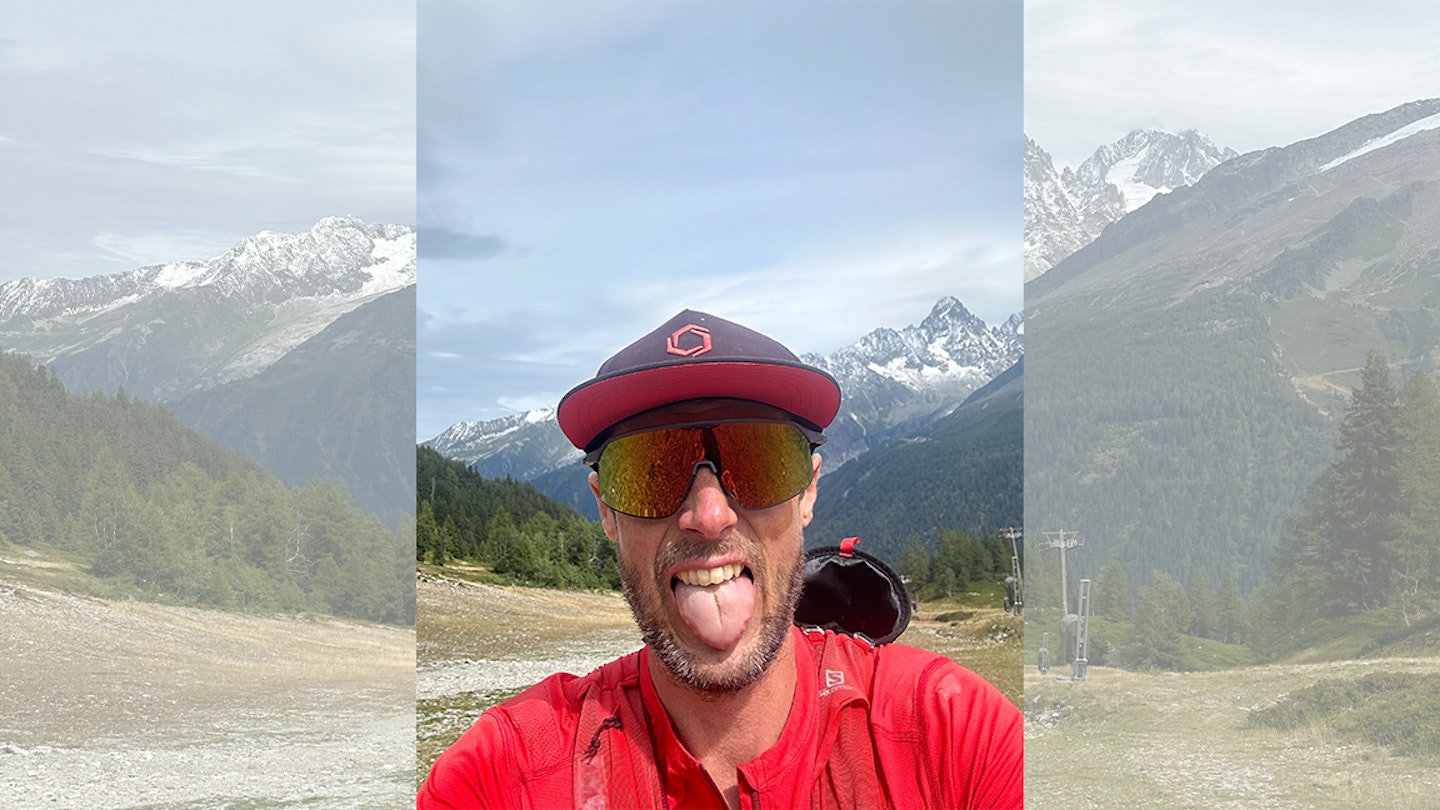 Col de Balme and the epic view towards Mont Blanc behind it is a sight for sore eyes and legs. I refuel, enjoying the cool breeze that funnels over the col, then I start to descend. It's a beautiful long run all the way into Le Tour and onto Argentiere. I keep hoping for a second wind of energy, but there's nothing. At least it's downhill now, and the biggest climb's done.
When I came round from my hip operation years ago, I was told I would never run again. After 18 months on crutches, an amazing surgeon, and an incredible physio, my stubbornness and supportive family helped me to run once more. No matter how tough running is, not being able to run is way tougher. So suck it up buttercup, I tell myself.
As I run into Argentiere, I immediately recognise my dogs Bailey and Lottie, and then my wife (that is usually the order of things, she says the same too). There's a lump of emotion as I know I was letting my coach and best friend down in this race. She'd been up tracking since the crack of dawn, despite having her own 100km CCC race to run the next day. But after some words of encouragement, I leave them behind. Support helps, and this race had plenty: from volunteers to crowds, every cowbell ring, every shout, it all really makes a difference.
The finishing straight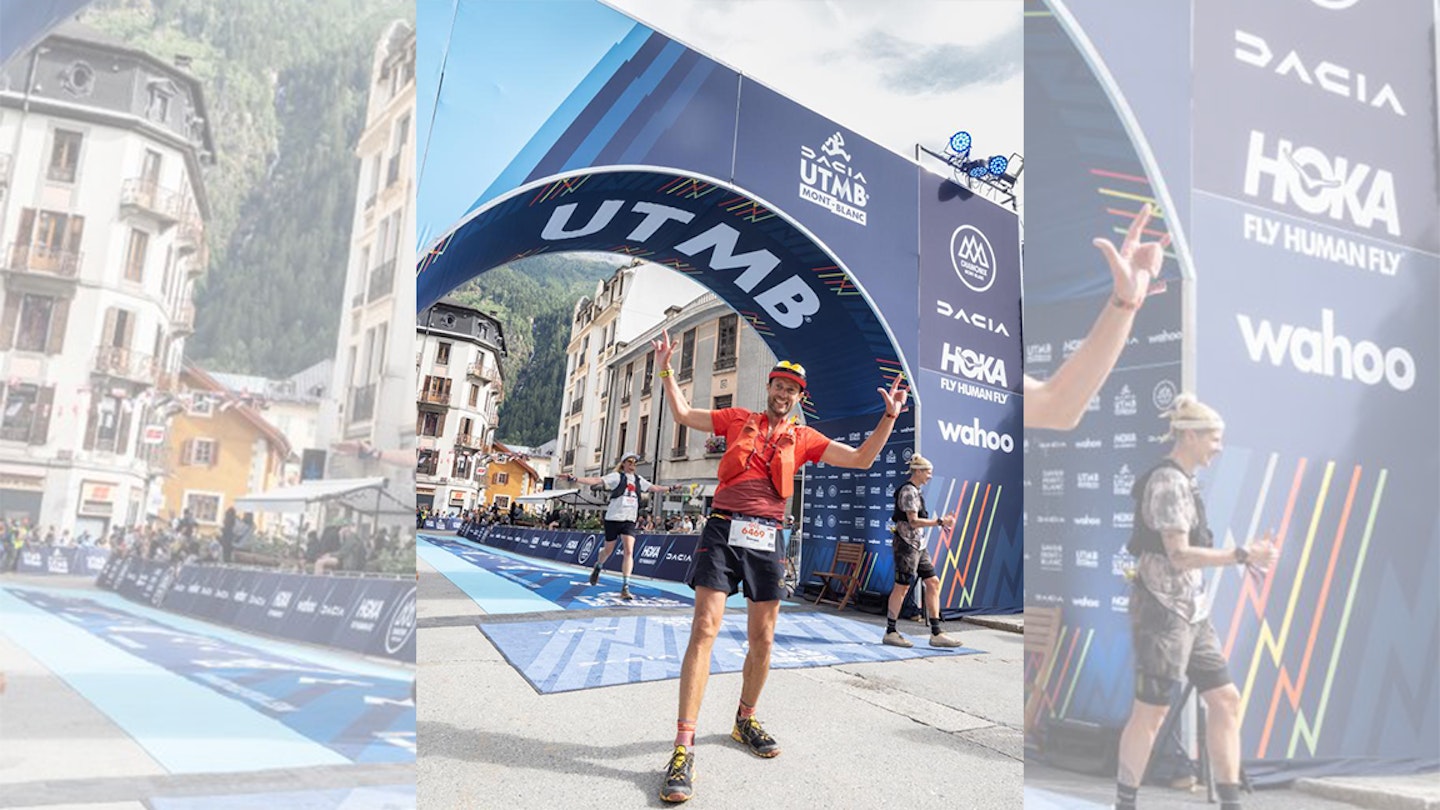 I know this last climb to Flegere is going to be slow. So I walk, stopping to catch my breath every so often. Ever grateful for my running poles and being humbled by the hill. Once I got to Flegere, I tell myself I'll run again, but for now I focus on moving each tired, deadweight leg ever upwards. Finally, the woods clear to reveal a ski run and the last checkpoint, and most importantly, it's all down hill from here.
I swig some coke and run. Not quickly, but I'm doing it. I'm going to finish this. Here I am on the home straight, I am done with being overtaken. Chamonix here I come!
Coming into the town with crowds packing out the streets, I'm spurred on by the ring of cowbells and yells of "allez allez allez!" The finish is lined with supporters and the positive energy is tangiable. I feel energised and run hard, seeing familiar faces in the crowd. It's done. My official time is 7:52:27.
There is something magical about the UTMB series finish line. It really is one of the best welcomes you can have. Even for my mediocre finish, I felt special. That is quite unique. However, it's not just the finish that is special, it's the journey that brought you to that start line. That journey for me started with the intention, the trail running journey of training and completing other races for qualification, the race itself, and ended with writing this. That is the beauty of trail running, it's not just running, it's an adventure and it can take you anywhere you want it to.
Simon James founded Run the Wild in 2013, which has now been delivering incredible trail running adventures for over a decade. Our running events include everything from 10km runs in the Chilterns to multi-day running holidays in the Alps. From guided runs to navigation workshops and running coaching – there is something for you wherever you are on your trail running journey!
Don't forget to subscribe to the Trail Running Newsletter to get expert advice and inspiration delivered to your inbox.