Are you running one of the UTMB races this year? Maybe it's on your trail running bucket list. Here, expert running coach Simon James provides a summary of the essential prep to get you ready to race in the Alps.
Since 2023 is the twentieth anniversary of the UTMB (Ultra Trail du Mont Blanc), it proves to be a memorable event. It draws trail runners and spectators from all over the world to the alpine town of Chamonix which sits at the foot of Mont Blanc. Whether you are running the 15km ETC or the headline UTMB race of over 100 miles you'll be nervously excited about the challenge ahead at the end of August.
There are, however, lots of other races in the Alps, often hosted by the town's themselves with distances from 5km and up. One thing they have in common, is the steep inclines and descents with a backdrop of snow-covered mountains that makes racing in the Alps breathtakingly beautiful but also extremely challenging!
We've put together six top tips to tackle alpine races by local alpine trail running guide and coach Simon James from Run the Wild.
Train for hills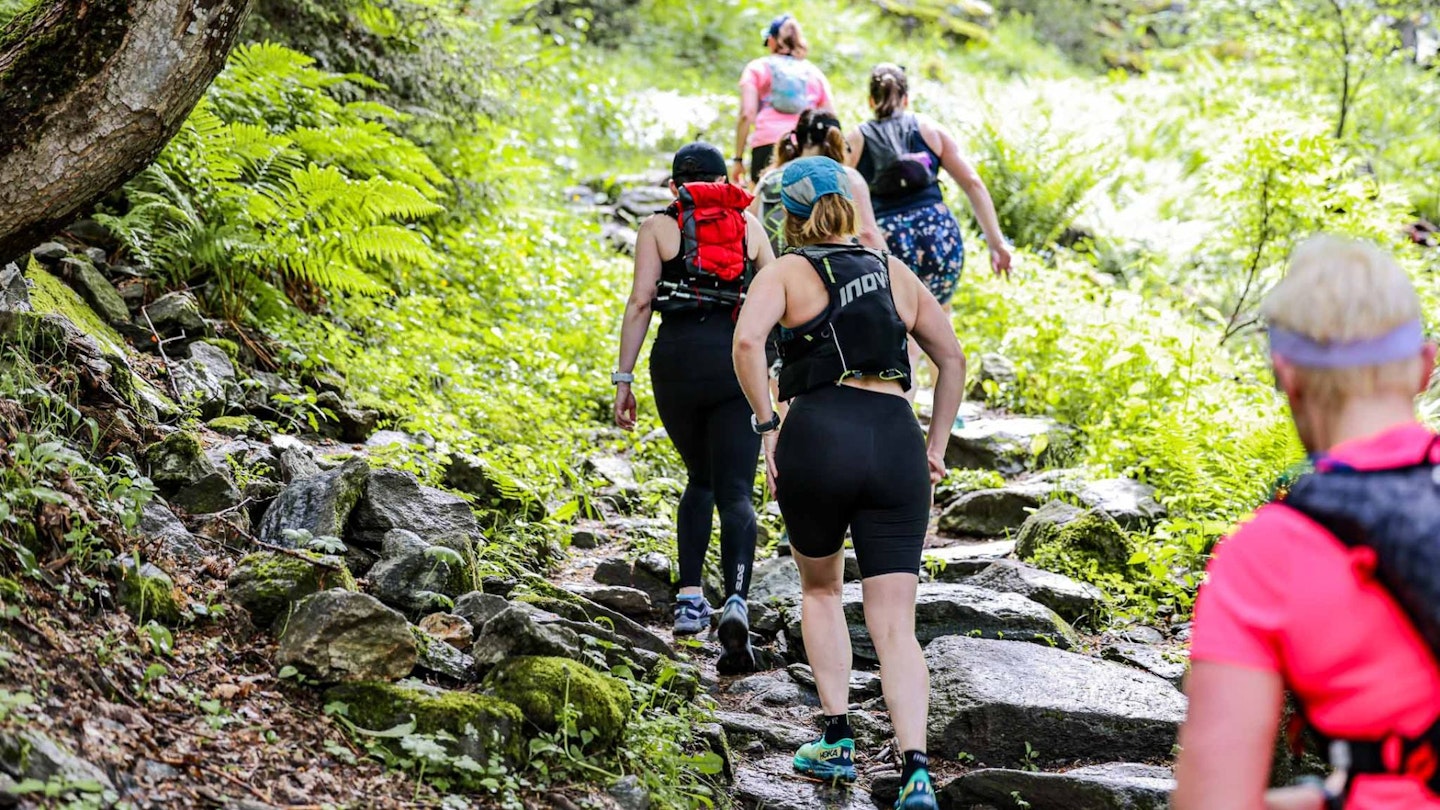 The biggest difference with alpine trails to UK trails is how much ascent can be found within a race. Even short races can have a surprising amount of up. My local 5km training loop has 600m of vertical gain. No amount of road running is going to get your body prepared for those hills, so you need to get yourself out onto hilly terrain.
Assess how much vertical height gain is in your race and aim to obtain the same amount of vert through your weekly training total. Similarly, train for the number of separate ascents. The profile of your race should determine your training plan: steep ups – more strength; long ups – more endurance, etc. If you are struggling to find hills locally then use a treadmill or stair-master in the gym to get some incline on a weekly basis. Speedwork also mimics some aspects of the strength required for hills so be sure to include intervals.
Remember to also train for walking uphill. A lot of trail running in the mountains is actually walking – power hiking. A good power hike can sometimes be quicker than running as well as more efficient on steep ground.
Train for downhills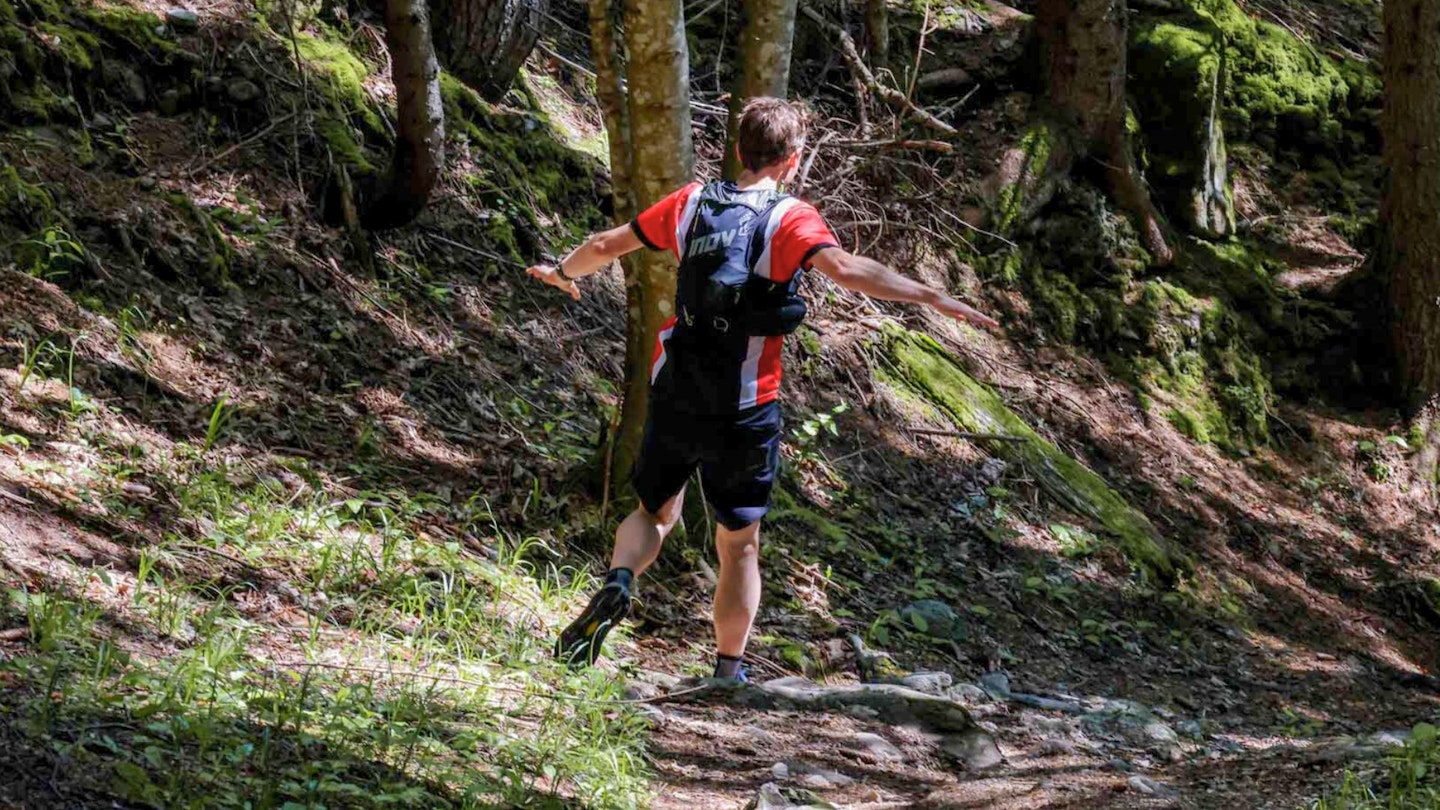 Most people focus on the positive elevation in determining the difficulty of an event, but it's the descent that causes most issues. Humans are better designed for marching uphill as tough as it feels. The main reasons why runners (and walkers) struggle with the descents are fear of falling, muscle fatigue, joint ache, poor technique, poor equipment, and lack of confidence. The good thing about running downhill is that it's lots of fun when you get it right, it's a lot quicker than going uphill and there is a much lower work rate when descending, but it needs to be trained for.
Downhill reps are great to build your confidence and a good place to start in your training. Be prepared to run downhill for hours during an alpine race (dependent on your race profile), for which the only true way to train, is to come out at least two weeks before your event. Muscles get fatigued on the downhill through eccentric and concentric contractions, this can lead to DOMS (delayed onset of muscle soreness) and cramping if you don't have enough salt. If you're muscles aren't doing the work, then your joints will start to take more of the impact so training for downs is essential. The result, lots more fun and a speedier race!
Get strong
The demands from alpine races are significantly more than standard trails. To stay injury resistant both through training and the event, follow a regular strength and conditioning program, ideally three times a week. Strong core, leg muscles and ankles really make a big difference. Just 10 minutes each session will help. To mix up your routine be sure to add plyometric exercises, such as jump based movements as well as varying the routine every few weeks to keep testing and strengthening muscle groups.
Improve your technique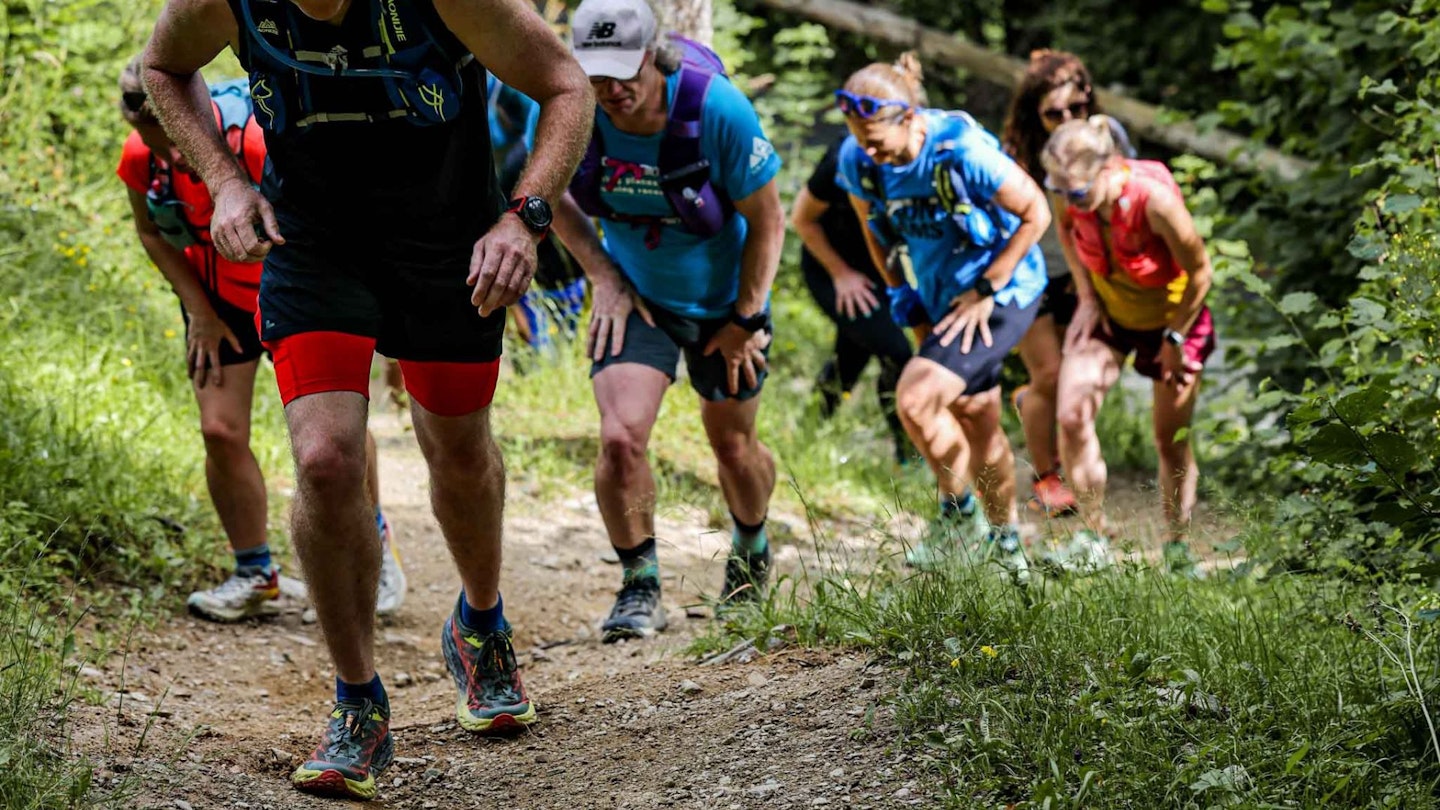 There are a variety of running techniques for different types of terrain and slope and these will make sure you run efficiently and safely. For uphill, work on your power hiking technique, using your hands to push off your thighs. For downhills and technical trails, practice using short strides with a high cadence, core engaged in an almost slightly seated position and looking ahead. If you want to get some top tips and advice on trail running techniques, come along to any one of Run the Wild's events.
Get running poles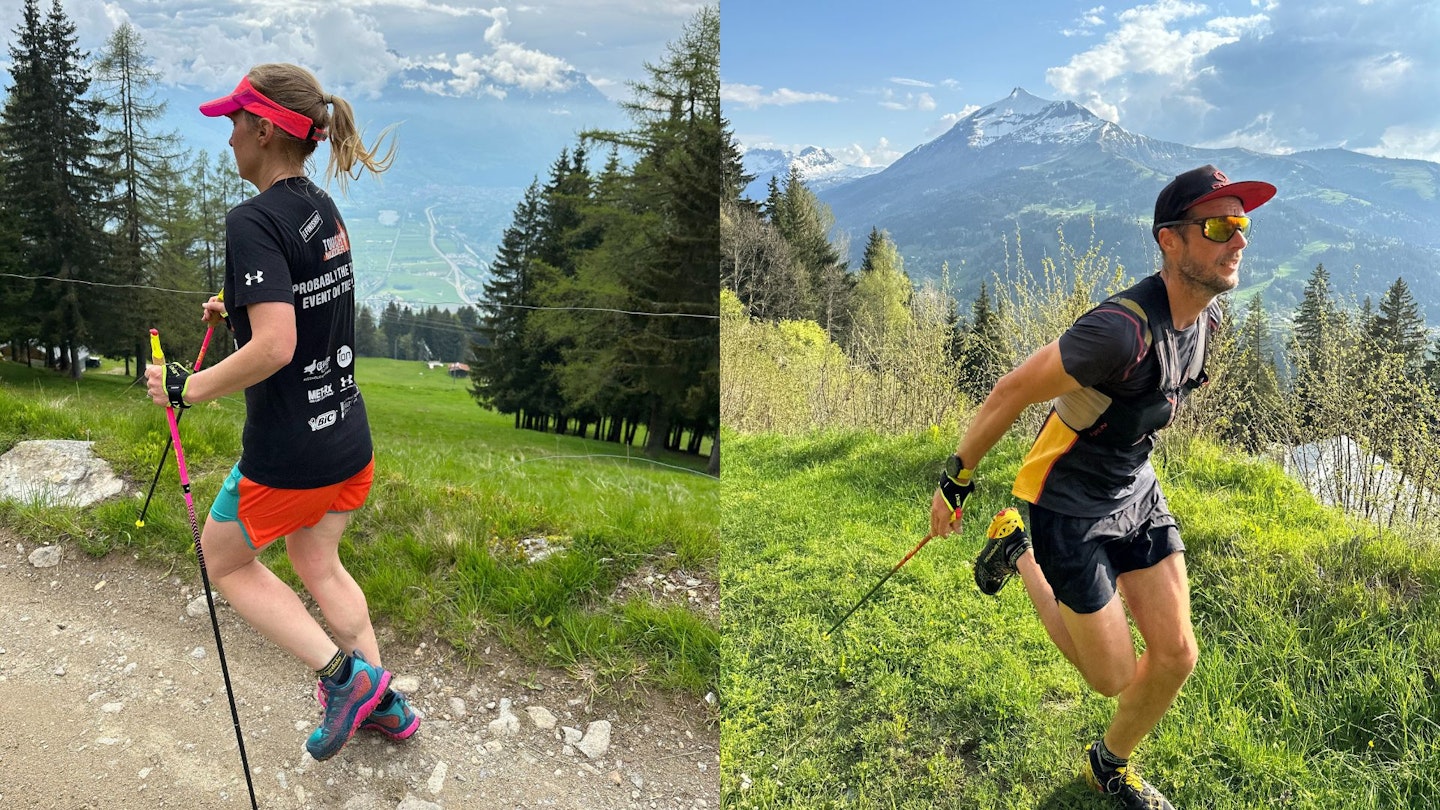 Running poles really help on both running and walking uphill. Not only are you sharing the load with your upper body, but you're also saving your leg muscles for the descents. They take time to hone the correct technique, and you need to train with them ahead of your event. Check out the Trail Running Pole Workshops offered by Run the Wild to put yourself on the right track.
Be prepared
Don't be caught off guard by alpine trails. Being prepared will make a big difference to your result and enjoyment of the race. Weather, profile, terrain, time of year all create significant variations in how a race is run. Many of these factors will determine what kit you wear and how to focus your effort.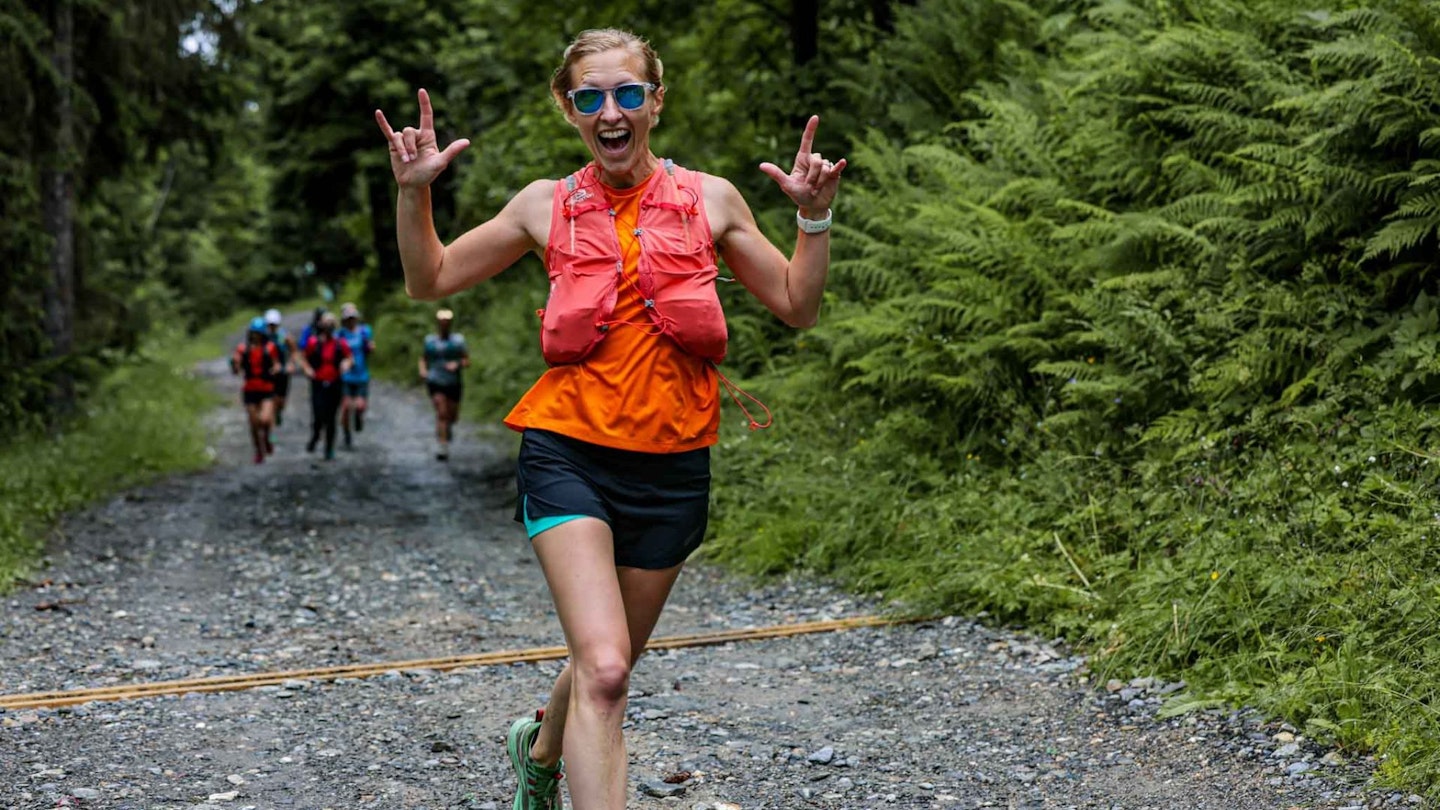 Over the years I've found two bits of kit which make the most significant difference to a runner's confidence and performance, particularly on the downhills. These are sunglasses and trail shoes. Sunglasses are essential in the Alps because the light intensity and UV are strong. With photochromatic sunglasses that change with the intensity of the sun you'll be just as confident in the open as when you are in the shade of the woods. Seeing the trail ahead is a priority!
The second is trail shoes. You must be confident in your shoes. Trails in the Alps around Chamonix are usually gravelly, stony, and dry. That can vary obviously but this is true for the most part. Trail shoes are an extension of yourself, they should hold the ground and feel like ballet shoes with good control. Shoes with short lugs and a high-density pattern, a grippy sole which provides good ground to foot feedback, are perfect for stony technical downhills. Checking out where you are going to race is going determine the type of shoe which is why many people recce their race routes in the Alps, another service Run the Wild can help you with!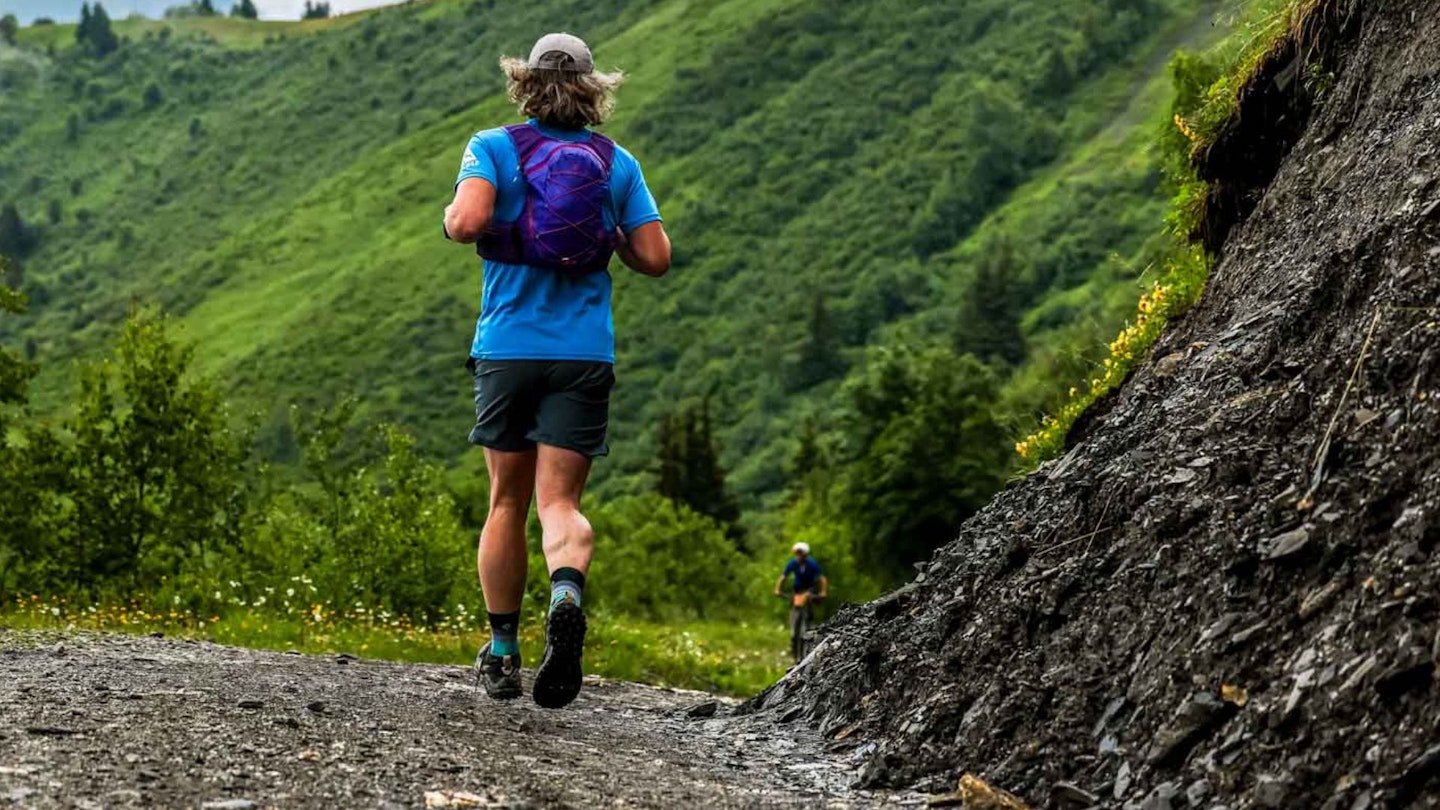 Come up with a race strategy that factors in the race profile, checkpoints, cut-offs, high points, and terrain variation so you can plan timings, where to run, nutrition, hydration and when you are going to find it tough.
Summary
Racing and running in the Alps is such a freeing experience, often really challenging but very rewarding. They will provide incredible memories that last a lifetime. If you are starting out, sign up for a short and maybe small race which will give you confidence, come a long to a Run the Wild event where we can teach you the techniques and then, go have some fun!
Don't forget to subscribe to the Trail Running Newsletter to get expert advice and inspiration delivered to your inbox.