When hunting for a top-end (diplomatic speak for expensive) multisport watch, you have plenty of choice. There are a handful of well known brands all offering a range of models. Garmin is probably the best known of these brands, and its Fenix 7 Sapphire Solar is one of its top predators.
Featuring solar battery boosting and almost countless features encased in a rugged yet subtle exterior, it's a smartwatch that creates an awful lot of expectation in return for the high price.
Aimed directly at athletes, the Garmin Fenix 7 Sapphire Solar is wasted on anyone who wants to show it off at their local café at the weekend. What we want to know, is whether it's the ideal high-end watch for sportspeople.
To do that, we've been using the Garmin Fenix 7 Sapphire Solar for a few months, primarily for trail running and hiking.
Pros
Very accurate location tracking
Suitable for any sport
Plenty of size and colour options
Decent battery life
Very good touchscreen and display
Cons
Heart rate sensor could be more accurate
More viable competition these days
Design and features
Features such as contactless payment compatibility, GPS, and step counter we can take as a given. Of course the Garmin Fenix 7 Sapphire Solar has these. Digging deeper, the key aspect of this watch's features, from GPS to sleep tracking, is accuracy. Then all this data feeds into the watch's Body Battery, health monitoring, and training metrics and features.
It's therefore not just a fitness tracker, but also your performance data analyst and training coach. This not only includes reporting on how you've done, but also suggests what you do next.
The Garmin Fenix 7 Sapphire Solar sat atop the Fenix 7 series pyramid. But now there is also the Fenix 7 Pro Solar and 7 Pro Sapphire Solar. The Pro models feature larger displays and improved battery life.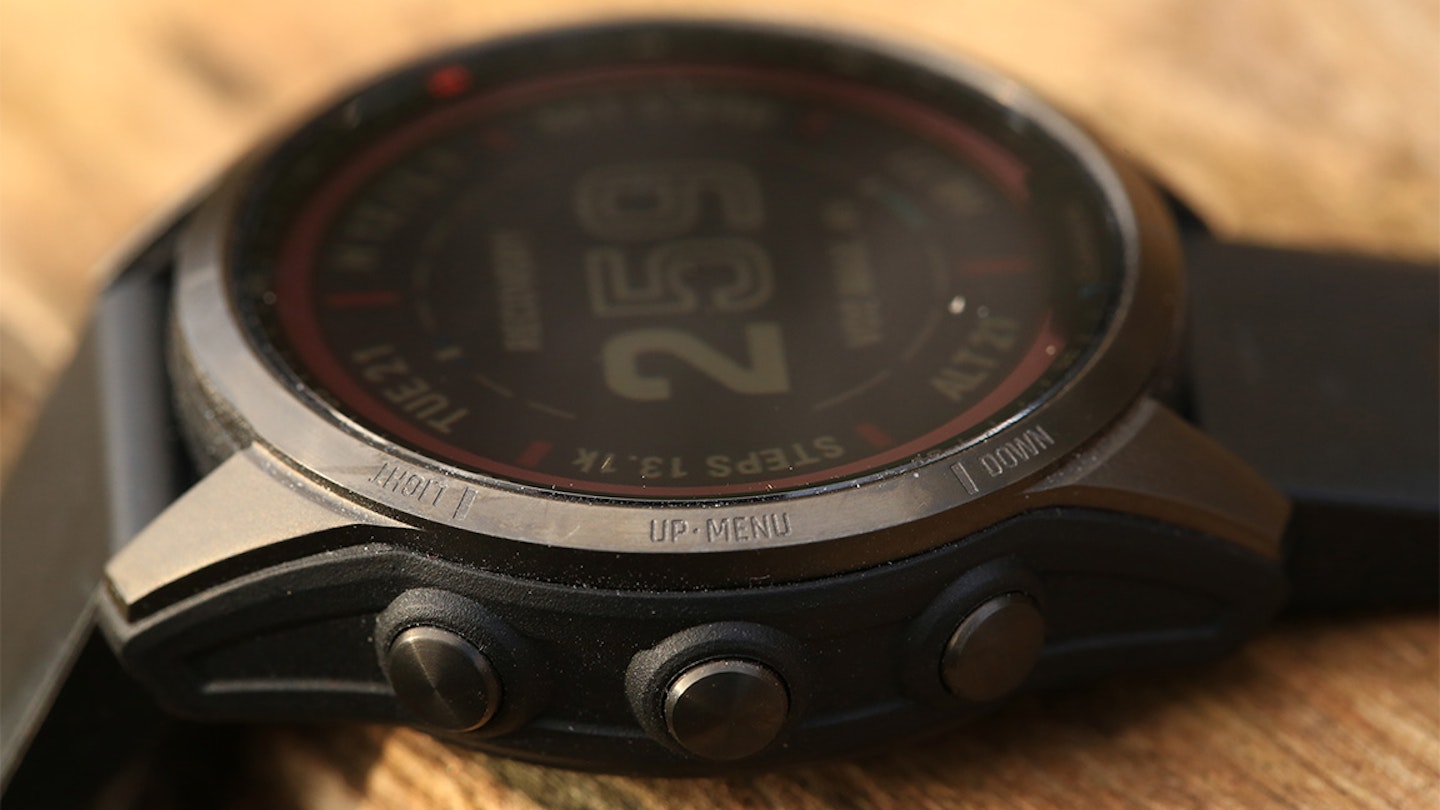 The Pro is also physically larger and heavier than the standard Fenix 7. But the Fenix 7 isn't that small itself, measuring 47 x 47mm, and weighing 73g (standard size). However, there is a smaller 7S and larger 7X version as well. With all the different guises and sizes, there 15 versions of the Fenix 7 these days.
Our Fenix 7 Sapphire Solar has a titanium bezel and Power Sapphire lens. The standard Fenix 7 has a stainless steel bezel and Corning Gorilla Glass, like you get on many smartphones.
Performance
Feature-rich, top-end smartwatches can initially be a bit overwhelming and can therefore struggle to convey their full value. That's why spending a long amount of time with the Garmin Fenix 7 Sapphire Solar is important because we could get a much better and in-depth understanding of it.
Comfort and useability
What we found is that the Fenix 7 Sapphire Solar is incredibly comfortable to wear and laser-point accurate. Addressing the first point, the silicone strap is great for high intensity activities – it doesn't become itchy or unbearable. However like many sports watches, it can feel a bit bulky to wear while you're asleep.
You could criticise the Fenix 7 Sapphire Solar for perhaps not looking the part of a watch that costs as much as it does. Suunto definitely has the edge there with its 9 series watches. However, useability and durability are ultimately far more important, and the Fenix 7 Sapphire Solar delivers these in spades.
Its Power Sapphire lens is far more scratch-resistant than Gorilla Glass and the overall construction is like a little wrist-mounted fortress.
The Fenix 7 watches are now very touchscreen focused. We think that's a good thing, and it works very well. It's responsive and a particularly big useability boost for map features.
The display is also fantastic, and arguably one of the watch's best yet most unappreciated features. It's different to most smart device screens, which simply provide a lot of brightness. Instead, it reflects and transmits (mashed together to make 'transflective') light so that the screen is always clear, even when it's a very bright day. It maintains excellent clarity no matter the conditions and doesn't drain battery life.
How effective the solar charging is depends entirely on where you are. Frankly, in the UK where cloud cover is prevalent, the solar can't boost battery life to the 22 days Garmin claims it can. To get there, the watch needs to be exposed to a couple of hours of strong sunlight every day.
Tracking and accuracy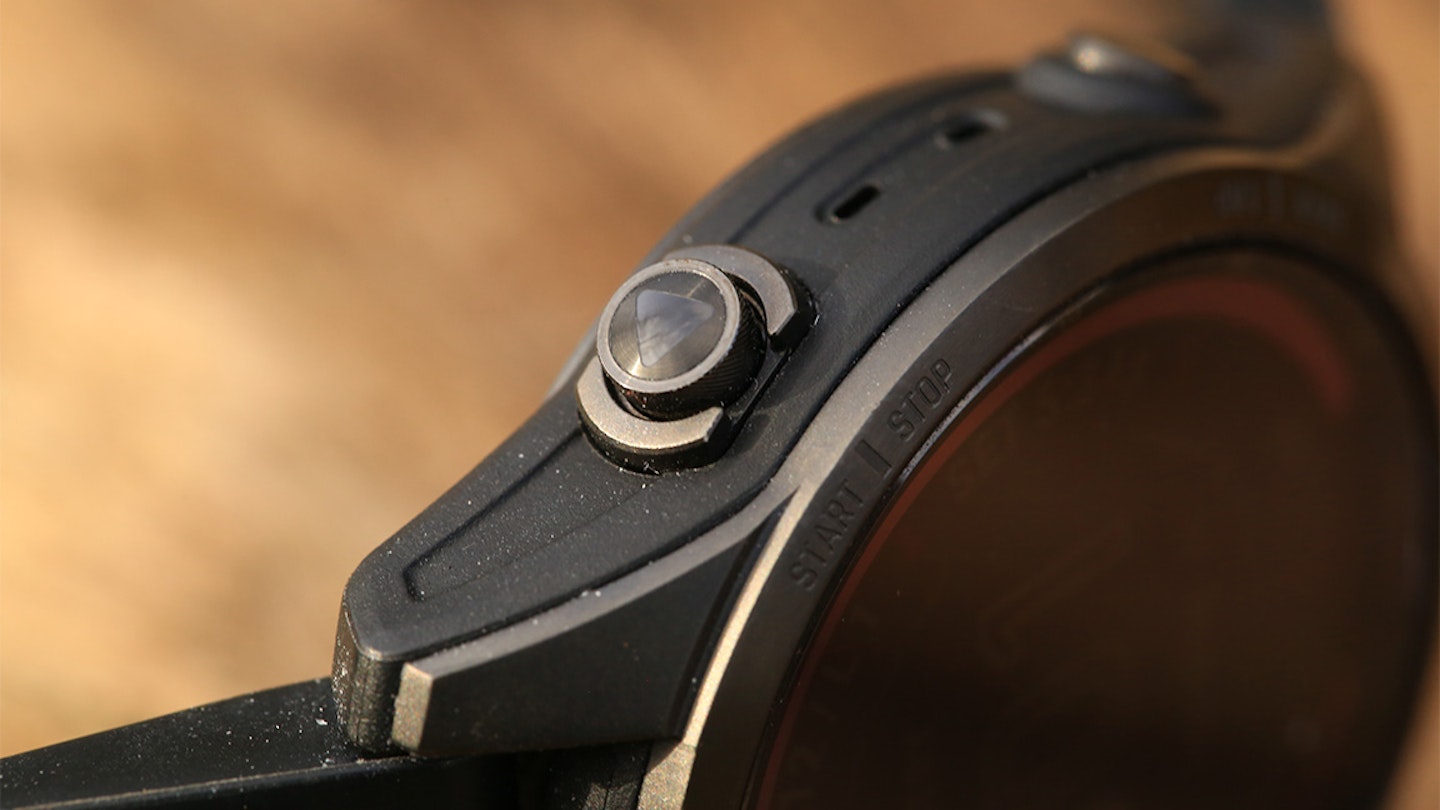 The sheer range of metrics the Fenix 7 tracks is extraordinary, from steps to blood oxygen levels to menstrual cycles – pretty much anything.
Obviously heart rate and blood oxygen levels (Pulse Ox) are two key metrics. The former is pretty good, though if you want truly accurate readings you can use something more accurate like a Polar heart rate monitorinstead. It's a similar story with Pulse Ox – okay but not perfect, so get a dedicated pulse oximeter if you want highly accurate readings.
Pleasingly, location tracking is pretty faultless. It's quick to home in on your location and tracks very accurately and without dropout thanks to its use of multi-band GNSS (Garmin calls this SatIQ technology).
In terms of mapping, the Fenix 7 watches support TopoActive Maps. The Sapphire Solar comes with the region you buy the watch in pre-loaded. You can download more regions too if you want them.
Sustainability
Sustainability efforts for electronics companies aren't often as clear cut as those in the textile industry, for example.
Garmin's commitments thus far are about 'incorporating environmental considerations' throughout its business. It points to its ISO 14001 compliance as evidence of its sustainability credentials. It also states it complies with the European Waste Electrical and Electronic Equipment (WEEE) directive.
Compliance is one thing, but actively going above and beyond is what makes companies stand out, which Garmin unfortunately doesn't.
Price and competition
At the time of writing, the Fenix 7 Sapphire Solar costs between £659.99 and £899.99 depending on the version you get.
Its closest competitor is the Suunto Vertical Titanium Solar, which has an RRP of £725. Where the Suunto has the edge is around style, battery life, and sustainability. The Suunto Vertical Titanium Solar boasts up to 60 days of battery life, though it's subject to the same limitations as any solar-boosted watch.
Suunto Vertical watches are also made with renewable energy and are carbon compensated. The Suunto also uses dual-band GNSS so it also locates your position quickly (a lot faster than other Suunto watches like the 9 Peak Pro).
Verdict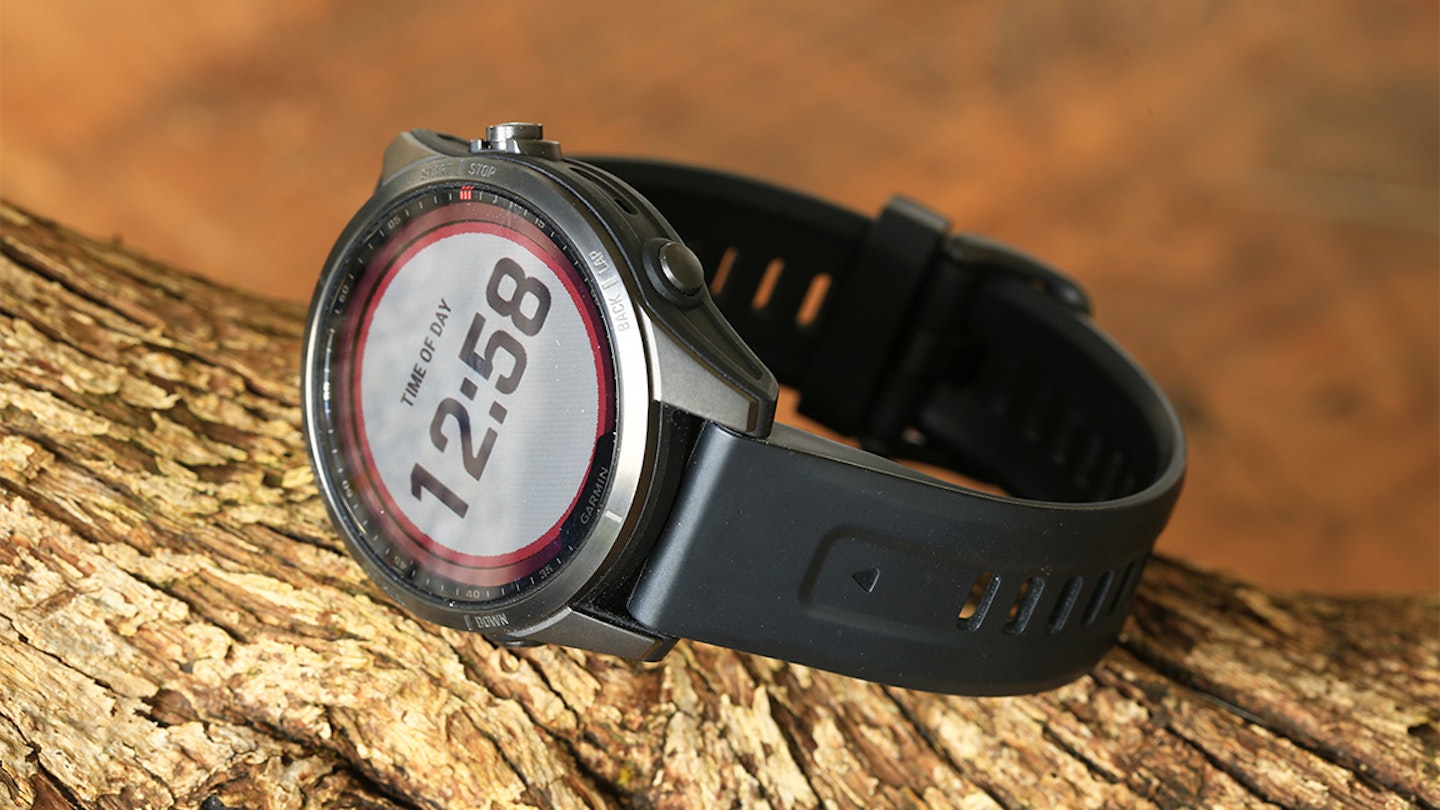 It's unlikely you'll use all the Fenix 7 Sapphire Solar's features. But whatever sports you specialise in, the Fenix 7 Sapphire Solar can support it. For running, its location tracking and 'coaching' abilities are really impressive.
It's also filled with useful touches for everyday use, such as contactless payment compatibility. Whether you'll get your money's worth from the Fenix 7 Sapphire Solar is debatable. You really need to be a dedicated athlete (including amateurs and hobbyists) to make the most of it.
However, the Fenix 7 Sapphire Solar has more competition than it used to, both from other brands and within its own ranks. So it pays to research and compare before making a decision.
How we tested
We've used a Garmin Fenix 7 Saphire Solar for a few months, using it for running, hiking, gym, and climbing. Spending a longer period of time using the watch has allowed us to get a true understanding of how well it works, its features, and its quirks.
For all the latest news, tips and gear reviews, sign up to the Trail Running Newsletter.