There's a modern trend with outdoor gear manufacturers to load each product with as much technology and as many quirky features as possible. But there is also beauty in simplicity, such as the Sea to Summit Rapid 26L Dry Pack.
We've always been big fans of Sea to Summit kit. The Australian outdoor gear brand was founded by Roland Tyson, whose 1991 ascent of Everest from sea-level to its 8849m summit was the inspiration behind the business he would go on to create.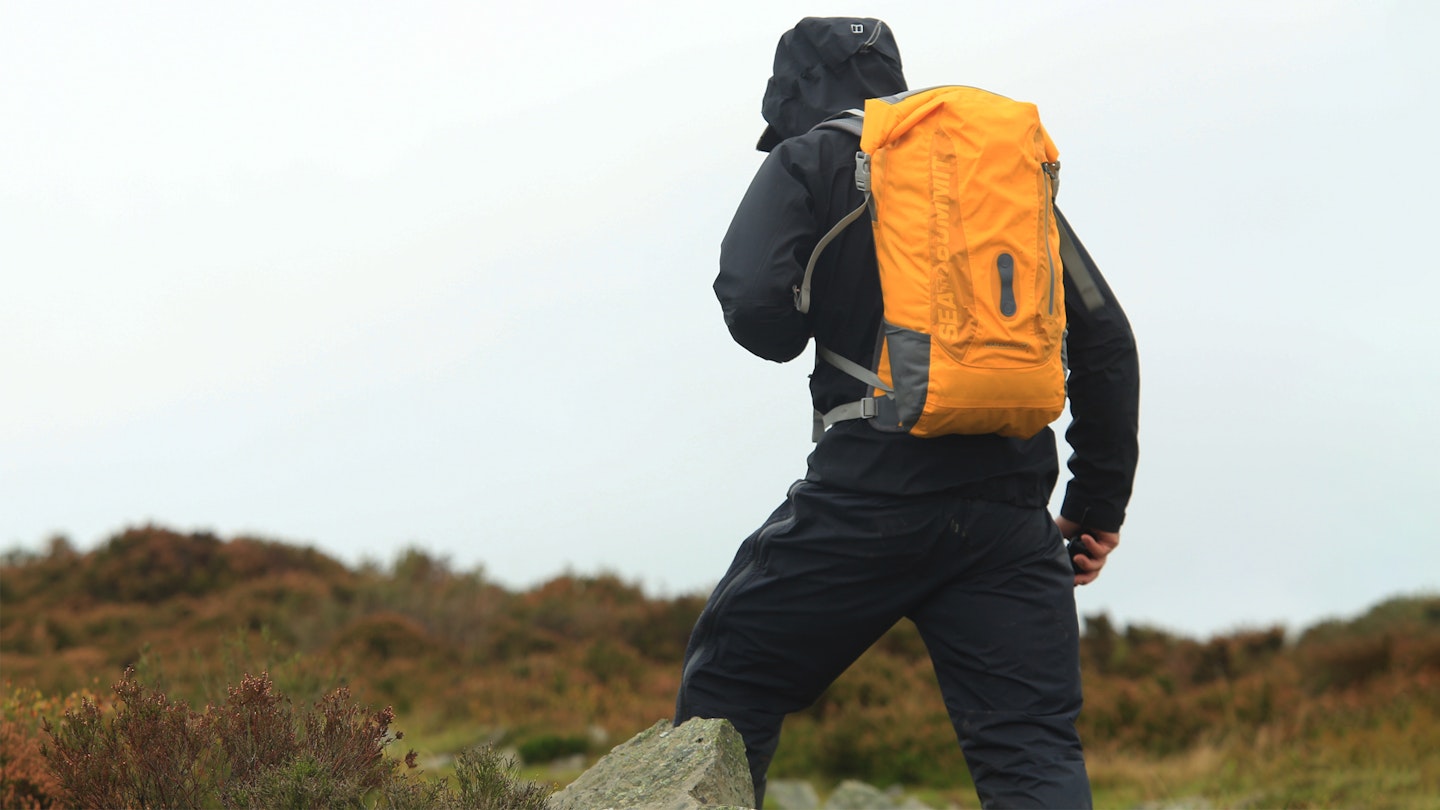 Ever since then, Sea to Summit has prided itself on making high quality, lightweight and durable kit that can be used a wide range of adventures. From tents and sleeping bags to cookware and inflatable pillows, Sea to Summit has long been a big name in camping.
But another product they've always excelled at has been dry bags and stuff sacks, which is why we were keen to see what the Rapid 26L was capable of. If you a picture a big dry bag with bombproof fabric, adjustable straps, a padded back panel, and a simple roll-top closure, you'll come pretty close to the Rapid 26L.
But how does it perform? Let's find out.
Waterproofing
First up, the Rapid 26L Dry Pack is constructed from 420D laminated nylon fabric with a hydrostatic head of 10,000mm. The Sea to Summit website describes this as waterproof and abrasion resistant, and the fact that 420D nylon is considered good enough for everything from gazebos and three-season tents to paddleboarding equipment tells you a lot about the quality of the materials used here.
There are quite a few stitched seams on the outside of the pack, which often sets alarm bells ringing for us in terms of potential waterproof weakness points. But on closer inspection inside the pack, those seams are all fully sealed and have thrown up no issues for us when we've tested it both in the mountains of Wales, and in one of the biggest storms to hit Britain this autumn.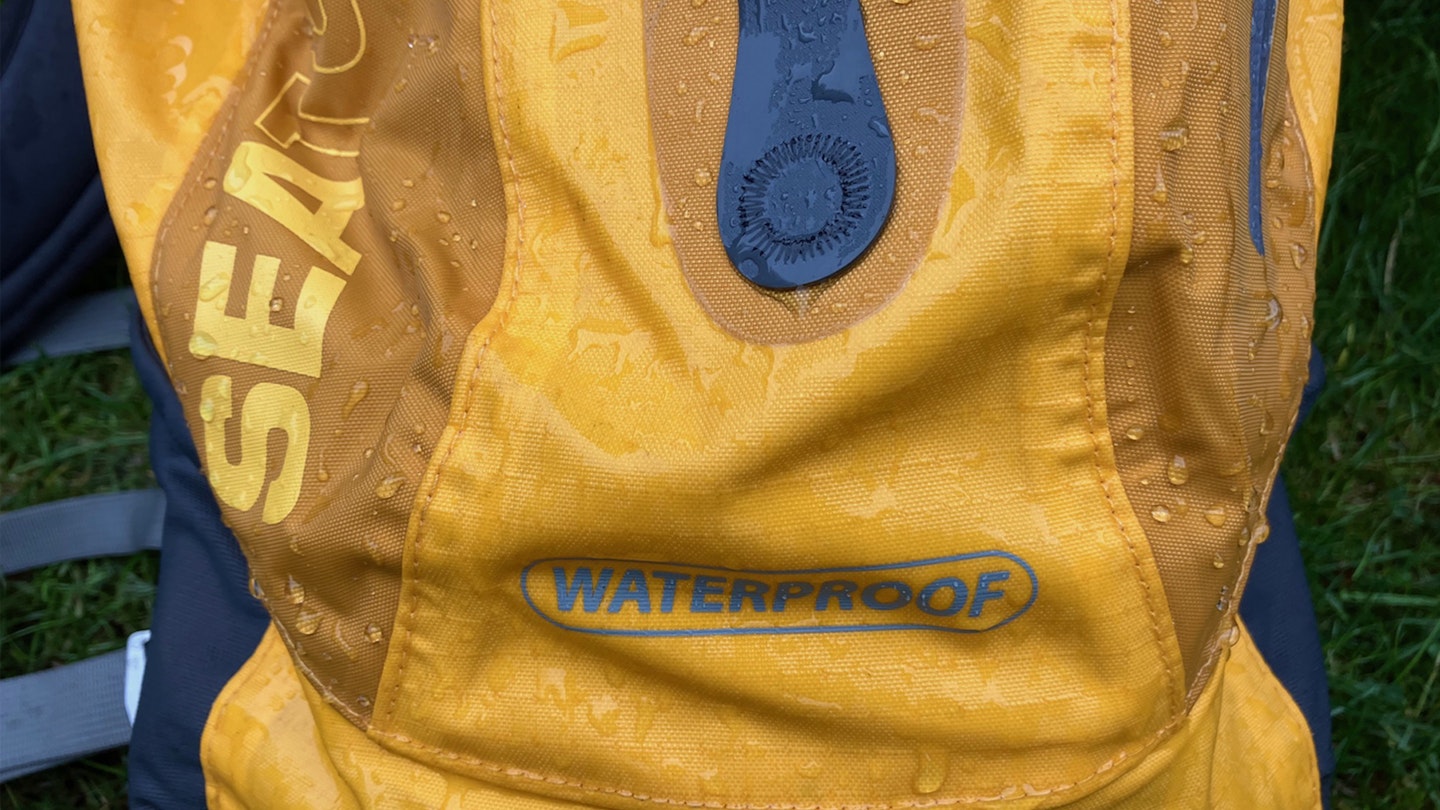 Talking of that storm, we left the Sea to Summit Rapid 26L outside for a full 9 hours in torrential rain and were impressed with the results. That 420D fabric did its job well, with water mostly beading on top of it then rolling straight off.
Such was the sustained level of the downpour that the outer fabric did seem to absorb some water, which meant it took a few hours to fully dry out when we brought it back inside. But crucially, the contents remained completely dry.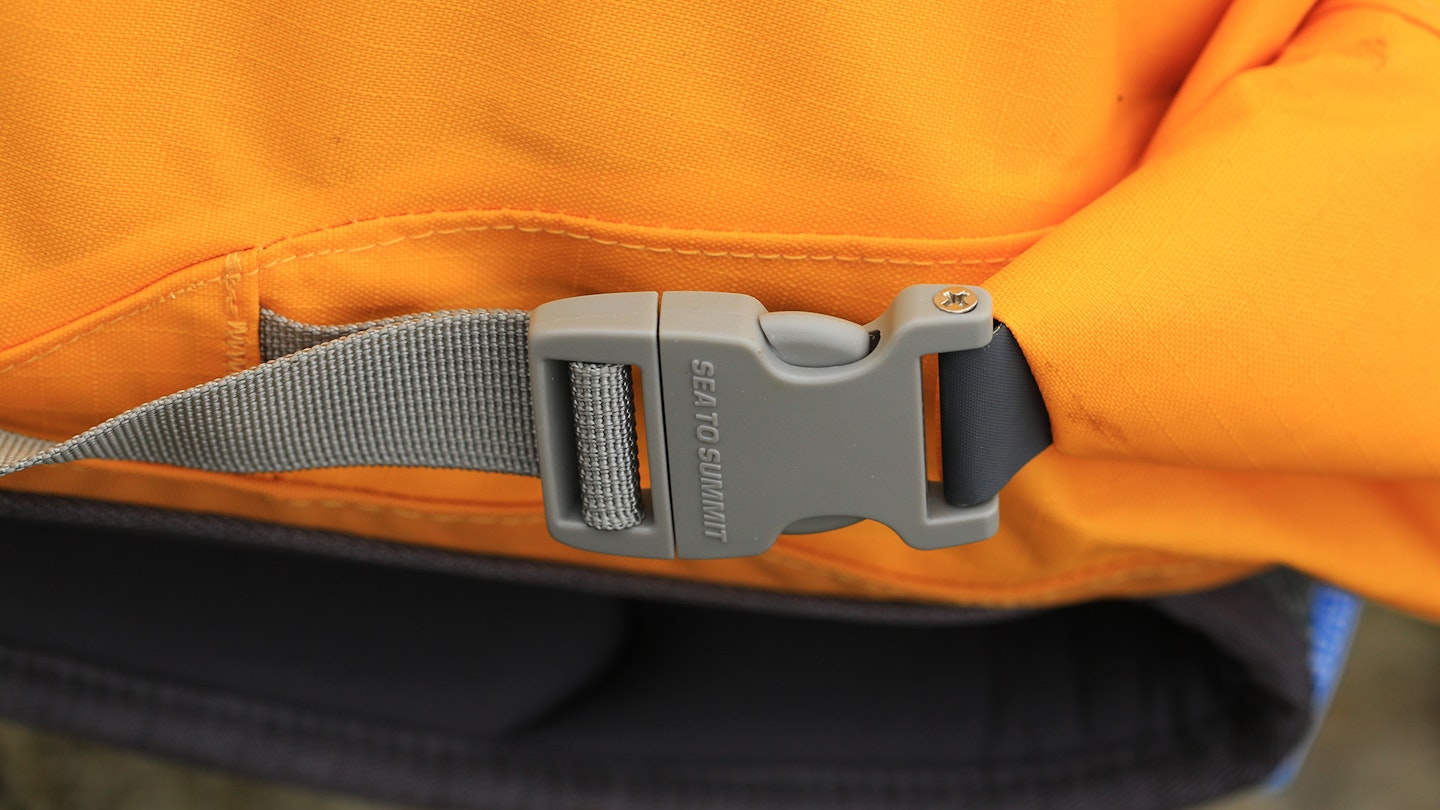 The rolltop closure is excellent too. It rolls over really easily (Sea to Summit recommend three times), then clips at the sides rather than across the top so you can easily access the carry handle. This also makes the closure feel very secure, adding a further barrier to any potential water ingress.
Comfort
As with most stripped-back waterproof backpacks, you can't expect the same comfort levels as you would from a fully-featured hiking rucksack. But that's also not to say the Rapid 26L is in any way uncomfortable.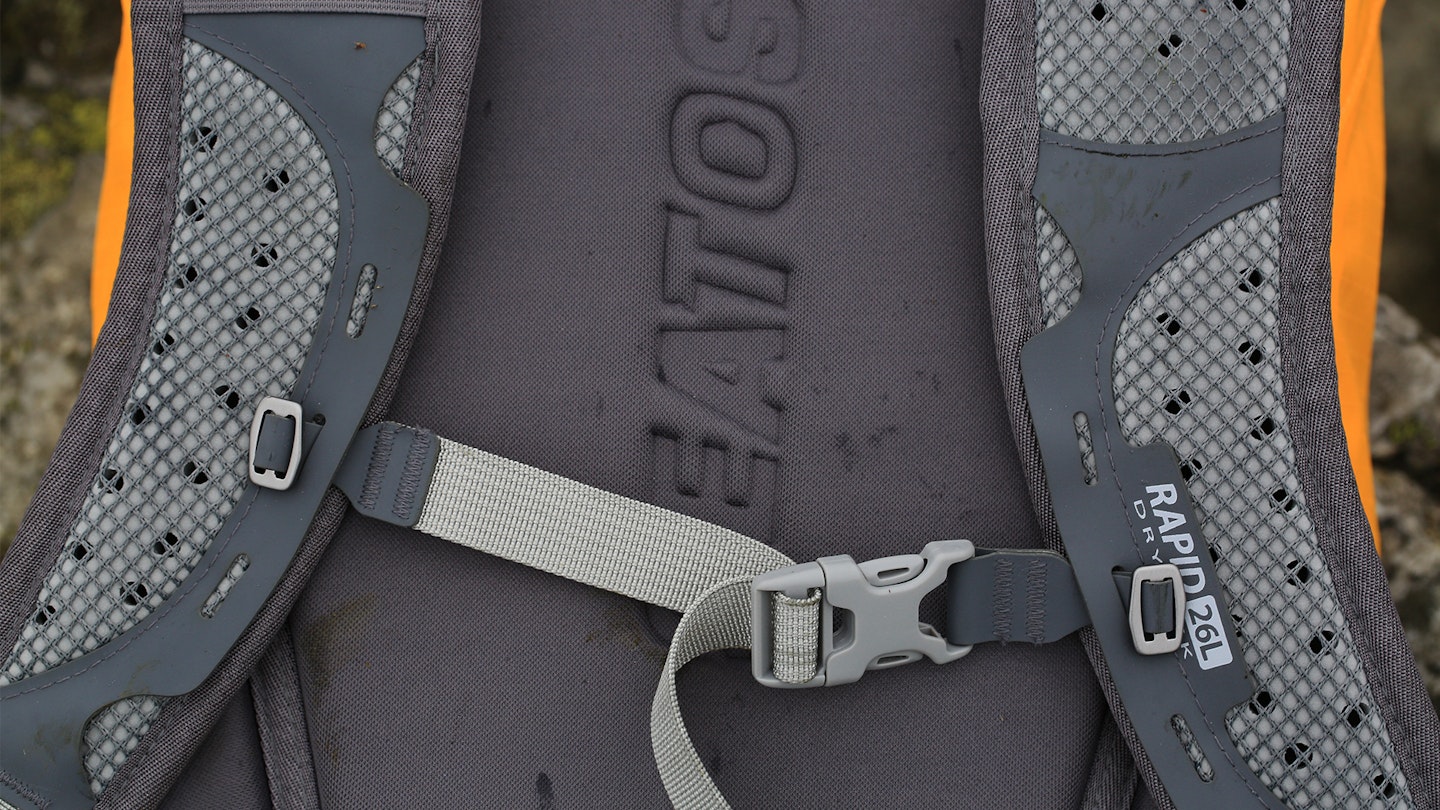 You don't get any body-hugging hipbelts or adjustable back systems, but there is a good level of padding across the back and shoulders. So even when fully loaded, it feels comfortable and you won't feel anything jabbing into your back.
The pack also feels very stable when it's full, with no sagging in specific areas, so the weight distribution is nice and even too. The back panel, however, is just one big solid piece of padded foam that doesn't make any claims about breathability or air flow. So there's potential for a sweaty back if you're working hard.
Features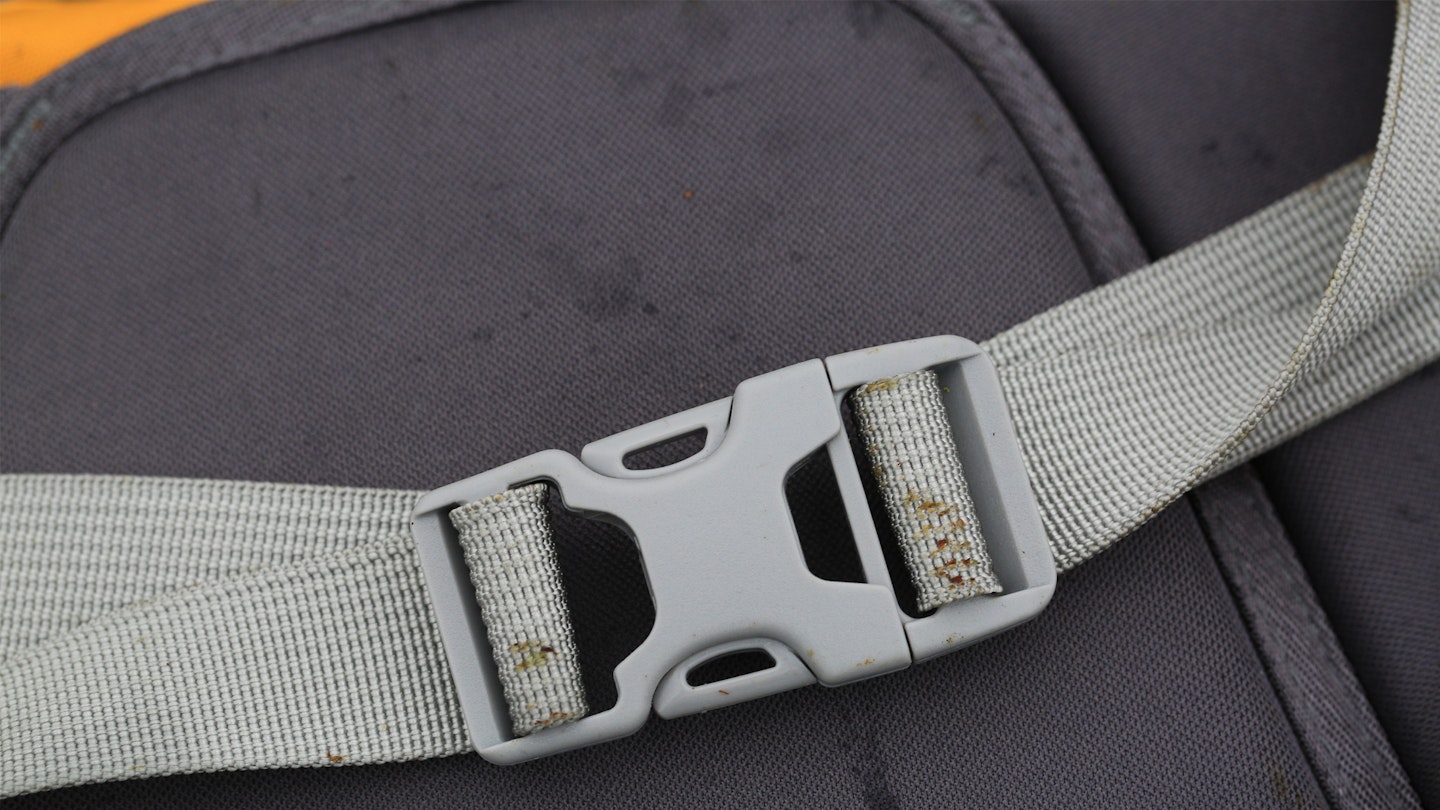 There's not a whole load to write about here, because the Sea to Summit Rapid 26L Dry Pack is quite light on features. Which we very much like in this style of pack because we prefer a more stripped-back approach, but that style won't be for everyone.
There's a rubberised gear loop (at least we think that's what it is) and a zipped pocket on the outside of the pack. That external pocket has a large zip opening and the inside is a decent size for stashing things like waterproofs or maps. Important to note, though, that the pocket is only described as water-resistant. So if you really want to keep things dry, get them in the main chamber.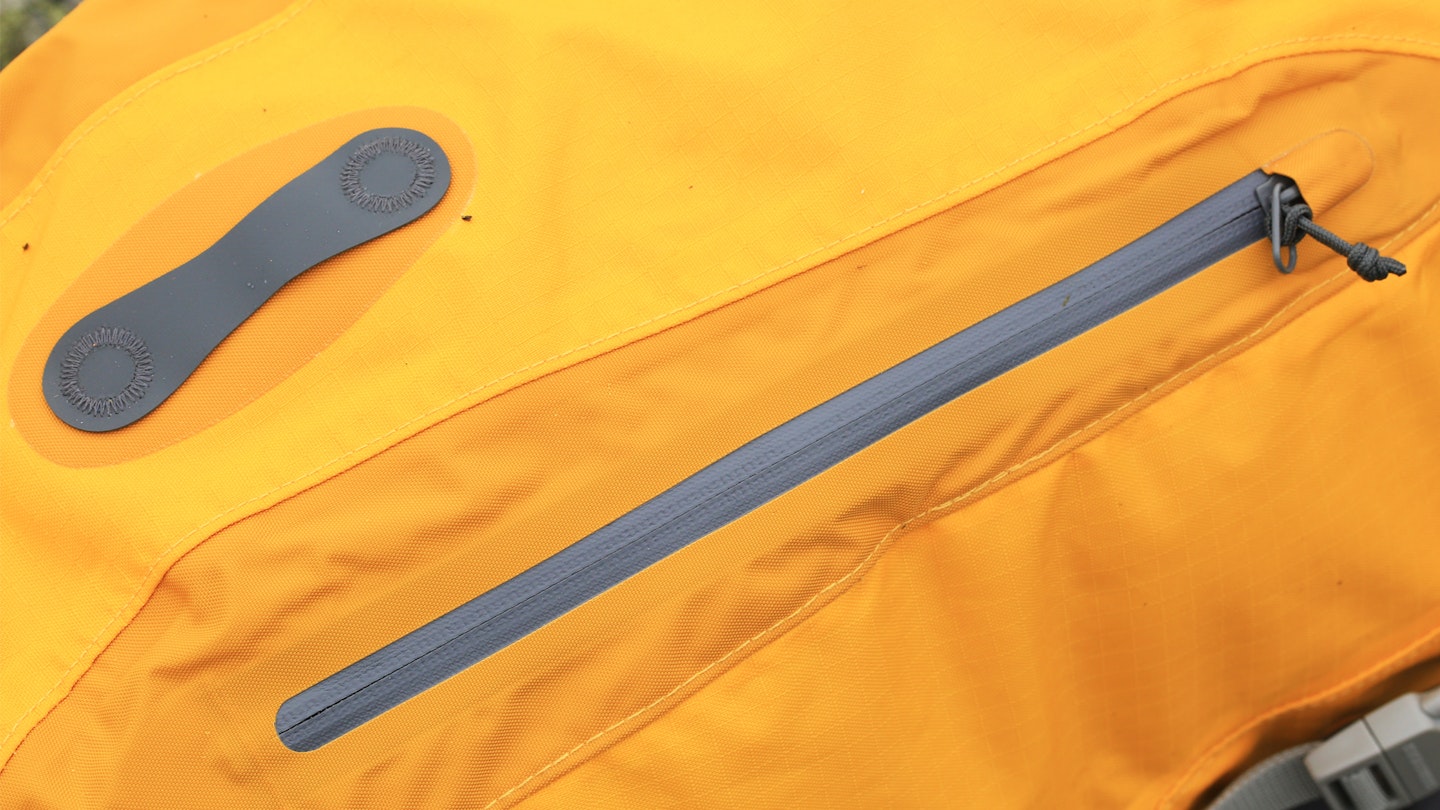 There's also a small and stretchy zipped internal pocket (perfect for keys), a couple of quite shallow stretch mesh side pockets (decent for water bottles), and a mixture of plastic and alumiumium buckles.
Plus, we've already mentioned the excellent roll-top closure, which clips down the sides and can be tensioned by straps for extra security. As you can probably tell, we like it a lot!
Capacity
The capacity of the Sea to Summit Rapid 26L is 26 litres, and like most bags of this style it feels very roomy thanks to the fact it just has one cavernous internal chamber.
It's big enough to handle all the gear you'd need for a day of hiking, paddleboarding, kayaking, cycling or just commuting to work. For testing purposes we stuffed it with two large adult winter sleeping bags that it had no problem holding, with a few other products like water bottles and jackets shoved inside too.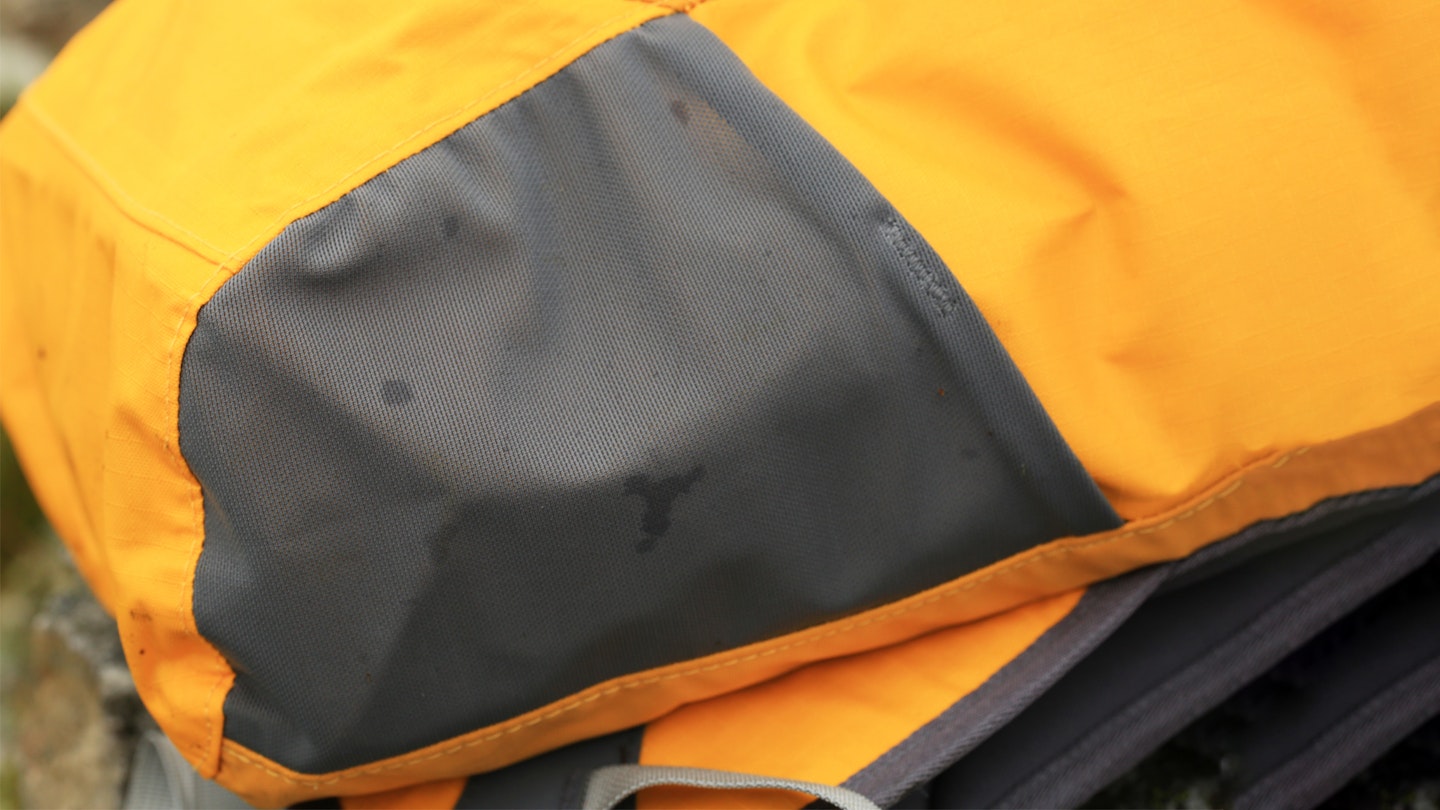 If you're looking for something slightly bigger from the same brand, check out the Sea to Summit Flow 35L or the Big River Dry Backpack range.
Durability
We've only been testing this pack for around 2 months and so far haven't taken it on anything more material-shredding than a North Wales mountain. And although some of the ridges in Snowdonia are sharp enough to shave your legs on, we can't honestly say we've dragged it across any of them in an attempt to butcher that 420D nylon fabric.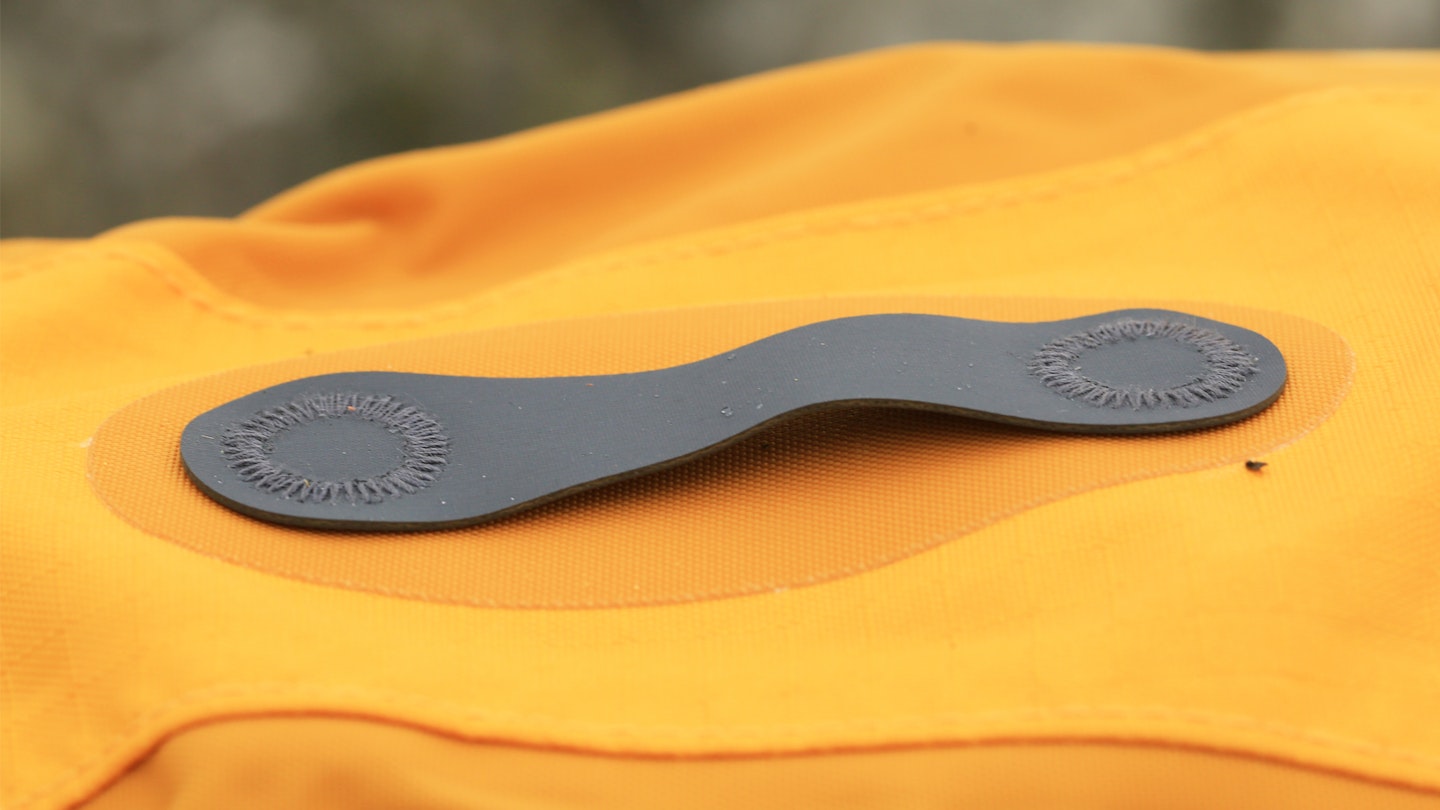 Sea to Summit say the Rapid 26L can "survive rough and tumble just fine", and that the outer material is puncture, tear and abrasion resistant. And we can definitely agree with all that. They also say to "avoid sharp rocks and blades", just in case you were thinking about pitting this pack against either.
The same 420D fabric is used in Sea to Summit's Big River Dry Bags and Flow Drypacks, as well as the SUP Deck Bag and other paddle accessories.
Price and Competition
The Sea to Summit Rapid 26L Dry Pack is a high-spec waterproof backpack that outperforms many of its competitors. It's certainly not a cheap rucksack, but when you consider the brand it's made by and the materials it's constructed from, the price isn't outrageous either.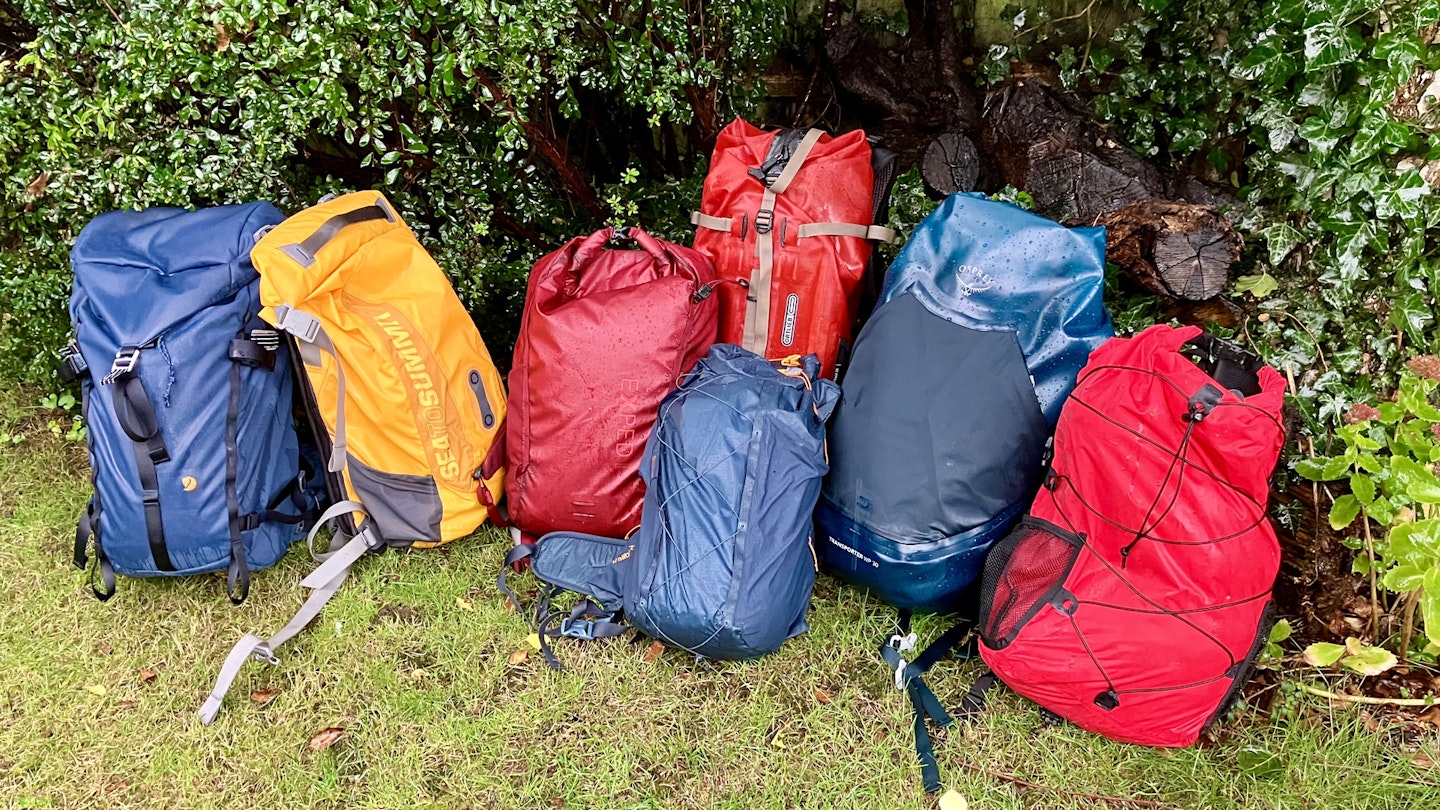 We'd say its performance stacks up against other industry giants such as the Osprey Transporter Rolltop, while coming in at around £30 cheaper. It isn't as feature-heavy as something like the Ortlieb Atrak, but anyone with a keen eye will realise how much tech has gone into this pack.
For durability and protection, you really do get what you pay for, with alternatives such as the Alpkit Orion 45 doing well enough in light rain, but not being up to the torrential conditions that this offering from Sea to Summit has battled with ease.
Verdict
The Sea to Summit Rapid 26L is a top quality, well designed waterproof pack that can be used for multiple activities and should last you many years.
How we test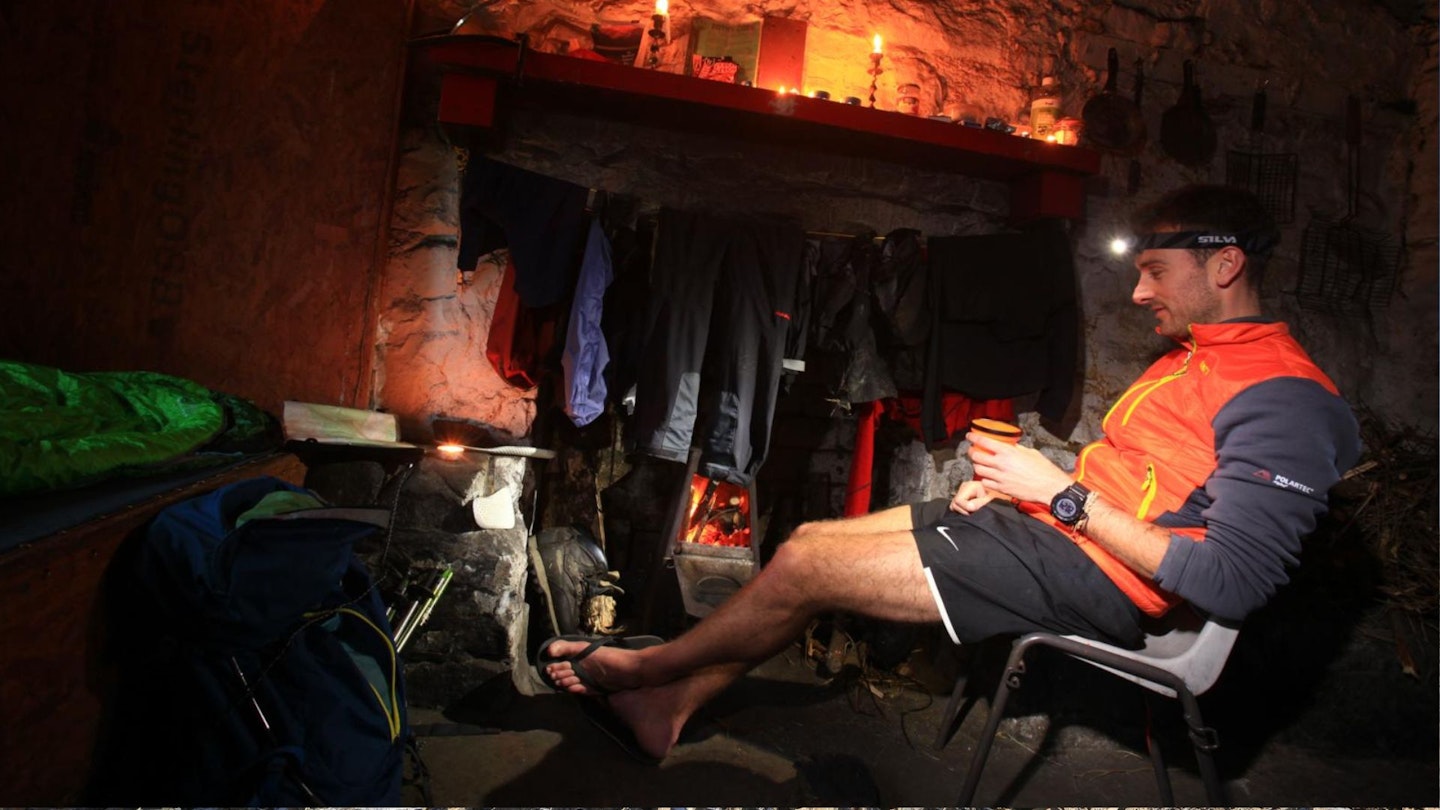 The Sea to Summit Rapid 26L was tested on hikes in the hills of North Wales in typically gloomy and drizzly October weather, and then on local trails when heavy rain and strong winds battered Britain during the autumn storms. This gave us the opportunity to test in the conditions it was designed for, and on a wide variety of terrain.
Your tester Oli Reed is the editor of Live for the Outdoors and Trail magazine. Oli's a lifelong hiker who's climbed hills and mountains everywhere from the Lakes and the Dales to the Dolomites and Yosemite. He loves a night in a tent somewhere wild, is rarely seen wearing long trousers, and can usually be spotted walking, cycling or paddling along a trail or river with his two young boys in tow. Which also makes him our go-to tester for family outdoor kit.
CLICK HERE for more information about how we test gear at LFTO.
Subscribe to the Live For The Outdoors newsletter to get expert advice and outdoor inspiration delivered to your inbox!